20 Healthy Blueberry Muffin Recipes
Blueberries are like the Blake Lively of superfoods—they steal the red carpet without even trying. One tiny blue bullet can shrink your waist, fight cancer, lower your risk for disease, boost your brainpower, spot reduce belly fat, and more.
There is endless scientific evidence to back up the benefits of blueberries In fact, researchers at the University of Michigan conducted a 90-day trial that fed rats a blueberry-enriched diet, and the results showed significantly-reduced abdominal belly fat. Another long-term study published in Annals of Neurology highlights that eating blueberries can lower the overall rate of cognitive decline by as much as 2.5 years in adults over the age of 70, as tested with six different cognitive tests. And if sugar is your enemy in the battle of the bulge, blueberries are your weapon of choice. Their high fiber, low sugar, and low cal profile will squash any case of the munchies.
Fortunately, we've just begun the peak season for fresh blueberries in North America and we've got till mid-August to splurge on their plethora of health benefits. Make the most of this rockstar fruit and check out this curated list of blueberry muffin recipes that will tickle your fancy and slay your fat cells. Once you're ready to head to the farmers' market for your berries, why not pick up some watermelon, too? These 25 Watermelon Recipes You'll Crave are delicious ideas, too!
LEMON CRUMBLE MUFFIN FUDGE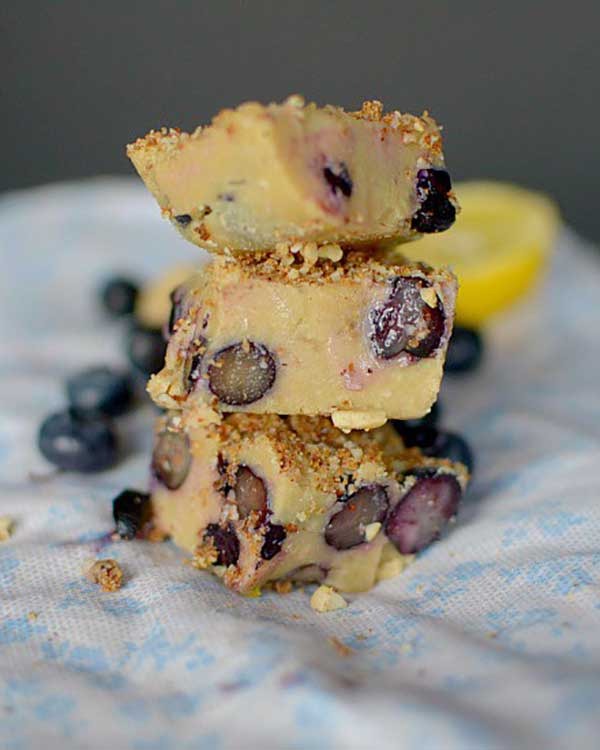 Nutrition: 246 calories, 21.2 g fat (6.8 g saturated),12 mg sodium, 10.9 g carbs, 1.5 g fiber, 5.2 g sugar, 5.7 g protein
Aside from making this fudge extremely satiating, almond butter delivers a serious dose of cancer-fighting flavonoids, antioxidant-rich vitamin E, and riboflavin (vitamin B2). Not to mention it boasts magnesium and manganese, which play a significant role in metabolism regulation. According to the U.S. Department of Agriculture, approximately 37 percent of Americans don't meet their daily recommendation for manganese and more than 50 percent don't meet their magnesium quota. It's not often you'll find a piece of fudge with this many health benefits, so take advantage!
Get the recipe from Athletic Avocado.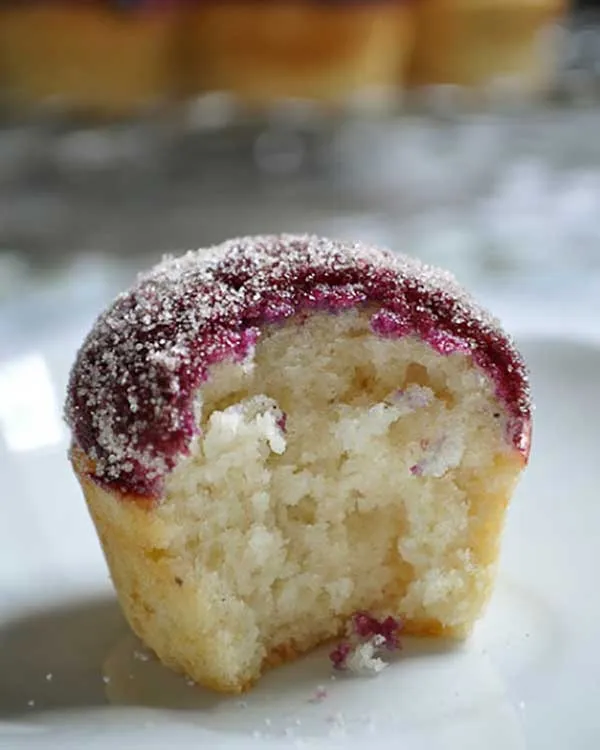 Nutrition: 231 calories, 8.3 g fat (6.7 g saturated), 18 mg sodium, 37.7 g carbs, <1 g fiber, 22.3 g sugar, 3.1 g protein (calculated with whole wheat flour, coconut oil, and no salt)
Coconut oil kills bacteria, helps build lean muscle, curbs appetite, boosts brain power, promotes heart health, and shrinks your waist. The oil's effects on weight loss started being documented in 1985, when a study published in the Journal of Toxicology and Environmental Health found that a single injection of capric acid (which abounds in coconut oil) resulted in "initially rapid, then a gradual decrease in food consumption and a parallel loss of body weight" in male rats. Anytime a muffin doesn't contribute to a muffin top, it's a win!
Get the recipe from The Ginger Snap Girl.
LOW CARB BLUEBERRY MUFFINS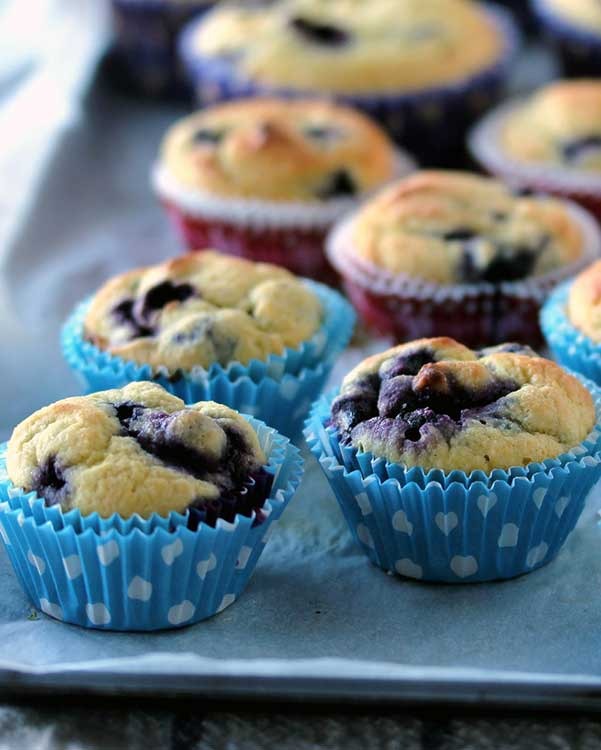 Nutrition: 132 calories, 7.5 g fat (4.3 g saturated), 55 mg sodium, 10.8 g carbs, 1 g fiber, 2.6 g sugar, 6.2 g protein
Carbs' rep is always changing. Either they're the most adaptive macronutrient or scientists can't seem to get it right.The truth is carbohydrates are part of a balanced diet. However, following a low carb meal plan has been shown to improve health and increase weight loss. In fact, the University of Exeter Medical School conducted a two-year study comparing low-carb, low-fat, and Mediterranean-style diets. The results: increased weight loss and maintenance from those who followed a low-carb meal plan. Get started with this recipe and check out these 25 Best Carbs for Weight Loss!
Get the recipe from Low Carb Simple.
TURMERIC BREAKFAST MUFFINS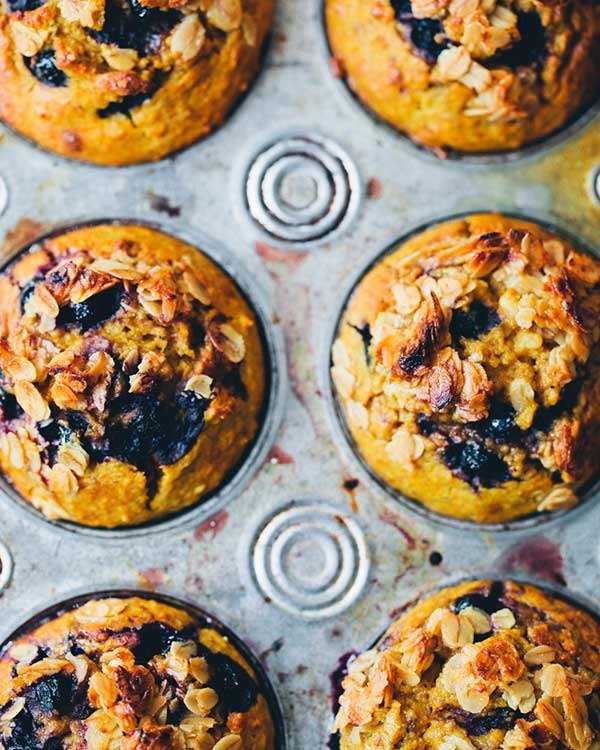 Nutrition: 246 calories, 15.9 g fat (2.2 g saturated), 160 mg sodium, 22.1 g carbs, 3.1 g fiber, 7.5 g sugar, 6.8 g protein
Turmeric reduces body inflammation, aids digestion, clears acne, shrinks your waist, fights free radicals, boosts heart health, and is even successful in treating depression— thanks to its main antioxidant, curcumin. In fact, a study published in the journal Phytotherapy Research examined 60 volunteers with major depressive disorder and split them into three groups: one that just took turmeric; one that just took fluoxetine (Prozac); and one with a combination of both turmeric and Prozac. The results? The spice was just as effective as Prozac. If you suffer from a case of the occasional blues, we couldn't think of a better way to start your day than with these turmeric muffins.
Get the recipe from Green Kitchen Stories.
DATE WALNUT BLUEBERRY BREAKFAST MUFFINS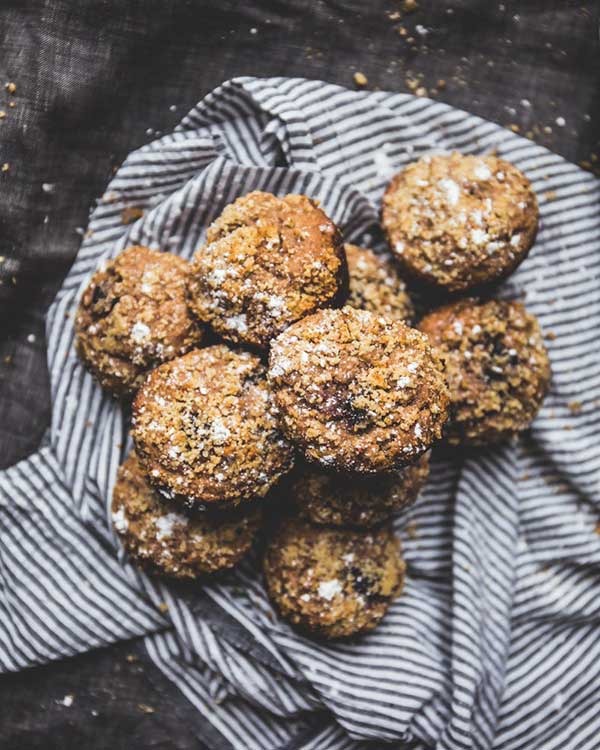 Nutrition: 257 calories, 17.9 g fat (8.2 g saturated), 93 mg sodium, 21.4 g carbs, 3 g fiber, 6.5 g sugar, 6 g protein
Walnuts are one of our 6 Best Nuts For Weight Loss because they help you sleep, destress, fight cancer, and most importantly, keep you in your skinny jeans. Not only are these nuts one of the best dietary sources of polyunsaturated fats—the "good" fats that keep you slim—but they contain copper, manganese, molybdenum, and biotin—all essential nutrients.
Get the recipe from The Bakers .
VEGAN BLUEBERRY BRAN MUFFINS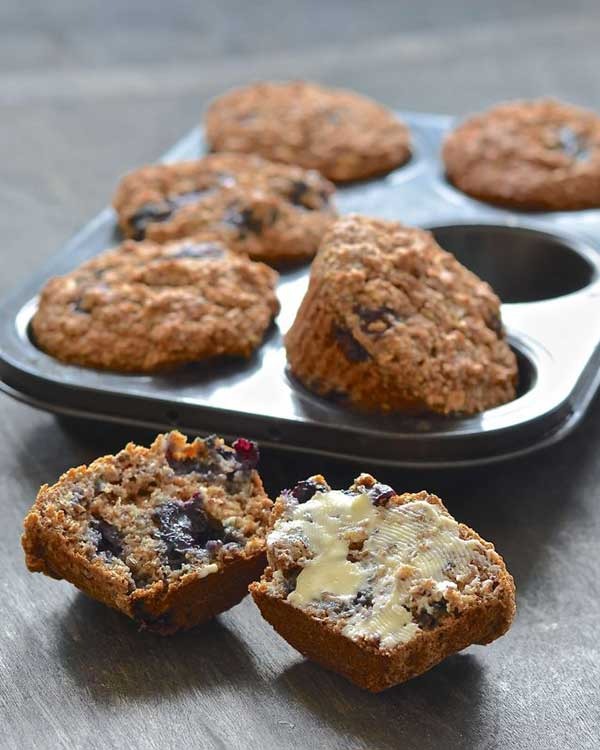 Nutrition: 224 calories, 2.1 g fat (0 g saturated), 185 mg sodium, 49.9 g carbs, 9.5 g fiber, 13.8 g sugar, 7.3 g protein
If you're looking to start your day with a healthy serving of gut-friendly fiber, satiating protein and selenium—a mineral that supports both thyroid and immune function, and knocks out free radicals, this recipe has you covered. Just in case you aren't exactly sure what bran is, it's the husk (outside casing) of the oat grain. And it's why you can have a muffin for breakfast and feel good about it.
Get the recipe from A Virtual Vegan.
BAKED LEMON BLUEBERRY DOUGHNUTS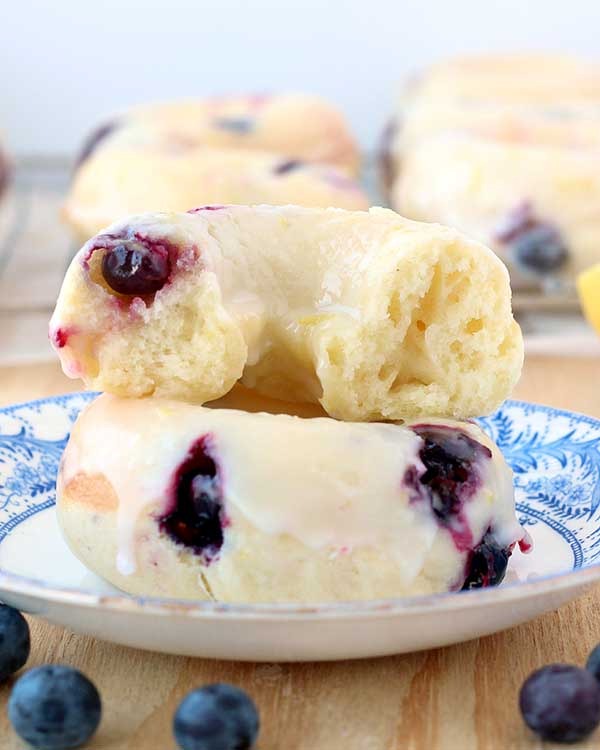 Nutrition: 192 calories, 9.5 g fat (3.8 g saturated), 187 mg sodium, 25.9 g carbs, 0 g fiber, 24.8 g sugar, 2 g protein
Save 228 calories, 7.5 grams of fat 193 milligrams of sodium, and 34.1 grams of carbs when you skip the drive through at Dunkin' and whip up a batch of these blueberry doughnuts instead. Frequent DD at little too often? Check out The Best and Worst at Dunkin Donuts.
Get the recipe from The Recipe Rebel.
BLUEBERRY RICOTTA MUFFINS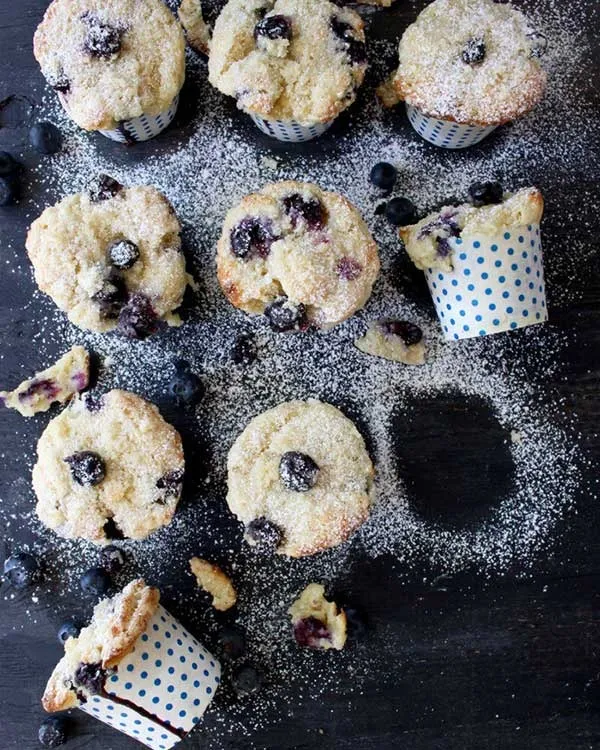 Nutrition: 246 calories, 10.6 g fat (8.3 g saturated),117 mg sodium, 34.9 g carbs, 1 g fiber, 19.4g sugar, 4.4 g protein
You're probably tempted to sub in fat-free ricotta to lower the fat count—after all, it's summer! But maybe you should read this first: In a 2013 European Journal of Nutrition research review, 11 of the 16 studies included found that participants who consumed more high-fat dairy products either weighed less or gained less weight over time than their counterparts who didn't consume fat-laden dairy. Why? They felt more satisfied and didn't feel the need to overcompensate later on. If you absolutely refuse to go full-fat, at least reach for part-skim. Fat-free is usually a red flag for added sugar.
Get the recipe from Ciao Florentina.
FLOURLESS BLUEBERRY BANANA MUFFINS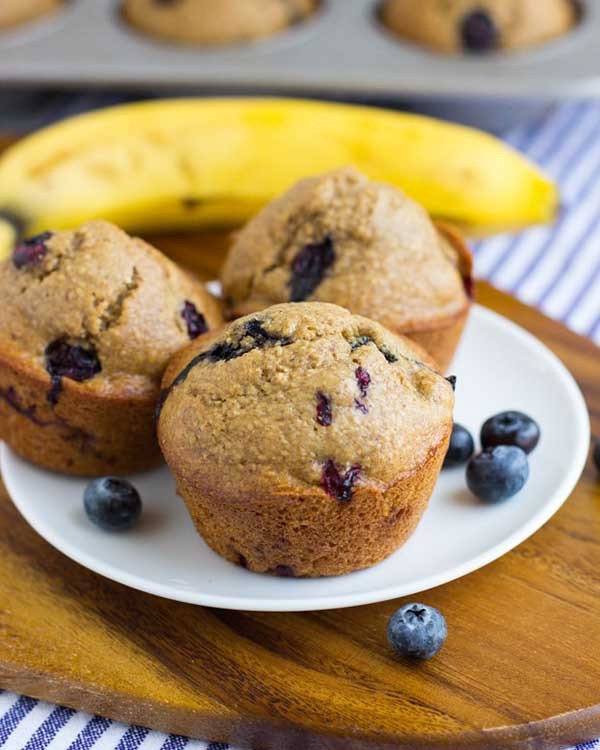 Nutrition: 117 calories, 6.7 g fat (<1 g saturated), 218 mg sodium, 11.7 g carbs, <1 g fiber, 8.6 g sugar, 3.2 g protein
If you're a fasted cardio queen (or king)—what you eat for breakfast can make or break your body goals. Bananas are amazing post-workout fuel because they contain potassium, an electrolyte that wards off post-pump muscle cramps and dizziness, that's often lost through sweat. In fact, a study published in the Journal of Proteome Research found that athletes who were given bananas as opposed to just water after cycling 75 kilometers, recovered 50 percent faster. They also performed better. And did we mention bananas are also rich in resistant starch, which literally resists digestion, keeping you fuller longer? Get baking, rockstars.
Get the recipe from Making Thyme For Health.
DOUBLE BLUEBERRY MUFFIN BARS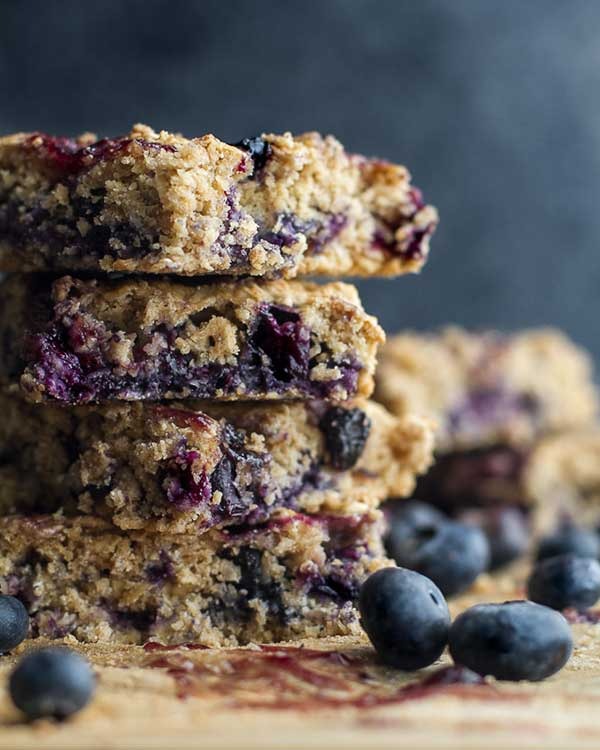 Nutrition: 154 calories, 1.4 g fat (0 g saturated), 123 mg sodium, 32.3 g carbs, 2.2 g fiber, 11.4 g sugar, 3.3 g protein
Muffins in bar form? Yes, please. These babies are low-cal, gluten-free, vegan, easy to eat on-the-go and almost fat-free. Case in point: Muffins don't have to be limited to their traditional shape (or nutrition).
Get the recipe from Running With Spoons.
BLUEBERRY ZUCCHINI MUFFINS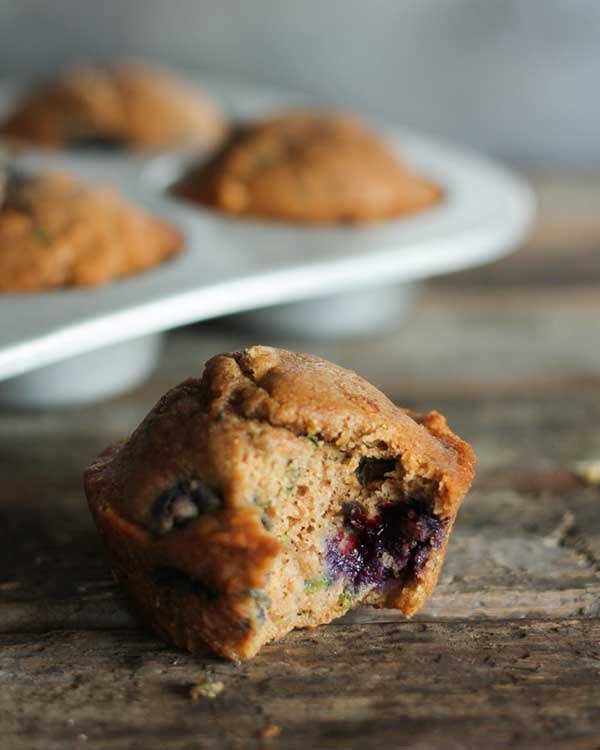 Nutrition: 121 calories, 3.1 g fat (0 g saturated), 15 mg sodium, 21.9 g carbs, 2 g fiber, 11.2 g sugar, 2.7 g protein (calculated without salt)
Here at ETNT, we are diehard zucchini fans. They're wicked low in calories, super versatile and transform our cookbooks, along with our bodies. I mean, which other veggie can be flawlessly swapped into weight loss recipes like pizza, pasta, fries, and muffins (besides cauliflower)? And even though they're virtually water, the squash contains riboflavin, a B vitamin essential for red blood cell production and carb burning.
Get the recipe from Ambitious Kitchen.
BLUEBERRY MUFFIN SMOOTHIE
Nutrition: 156 calories, 2.8 g fat (1.1 g saturated), 106 mg sodium, 25.5 g carbs, 3 g fiber, 13.3 g sugar, 7.1 g protein
You can even drink your blueberry muffin—with six wholesome ingredients and one simple whirl, breakfast is one tasty breeze. P.S. Sunrise smoothies are one of these 20 Easy Ways to Lose Weight Like a Celebrity!
Get the recipe from Iowa Girls Eats.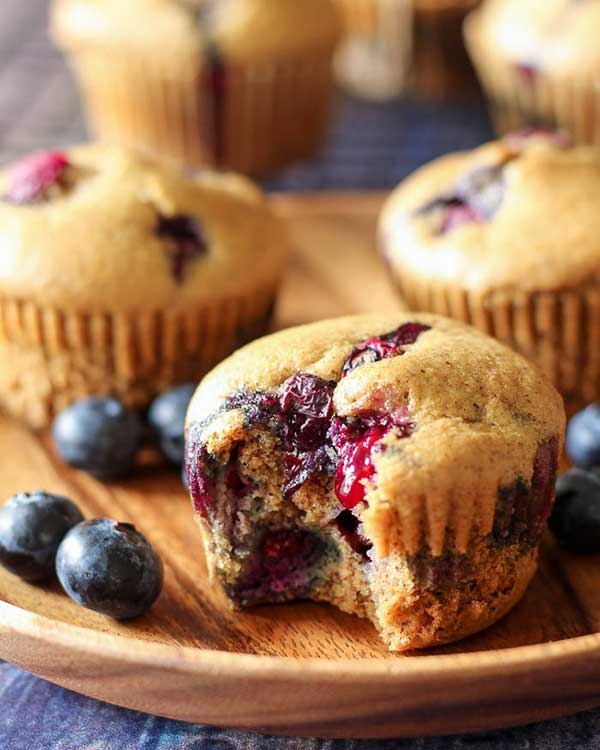 Nutrition: 222 calories, 15.7 g fat (1.8 g saturated), 147 mg sodium, 13.3 g carbs, 1.4 g fiber, 1.3 g sugar, 8.2 g protein
The Paleo diet (AKA the caveman diet) is based on foods presumed to be available to Paleolithic humans. We're talking humans who roamed the earth roughly 2.6 million years ago. Not only did they eat from nature's bounty, but they hunted and gathered their food instead of reaching for whatever was as convenient as possible. They didn't just roll up to the McDonald's drive through to get dinner; they had to work for it.
Get the recipe from Paleo Running Momma.
ORANGE SCENTED BLUEBERRY MUFFINS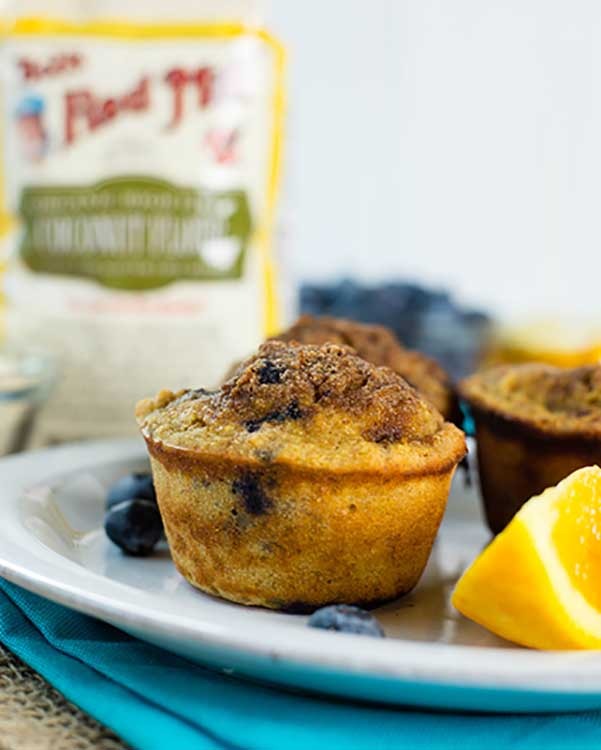 Nutrition: 191 calories, 5.6 g fat (2.3 g saturated), 30.3 g carbs, 5.3 g fiber, 14.9 g sugar, 6.6 g protein
While you may know oranges for their impressive vitamin C content, there is certain nutrition you can only get from their peels. This recipe uses orange zest to acid a tangy flavor, but that's not all it brings to the mixing bowl. Orange peels can improve digestion, skin appearance, and weight loss. They also boast polyethoxylated flavones (PMFs) and according to a joint study by the U.S. Department of Agriculture and KGK Synergize, PMFs lower cholesterol more effectively than prescription drugs. That's reason enough for us to add them to our blueberry muffins.
Get the recipe from A Sweet Pea Chef.
BLUEBERRY MUFFIN MUG CAKE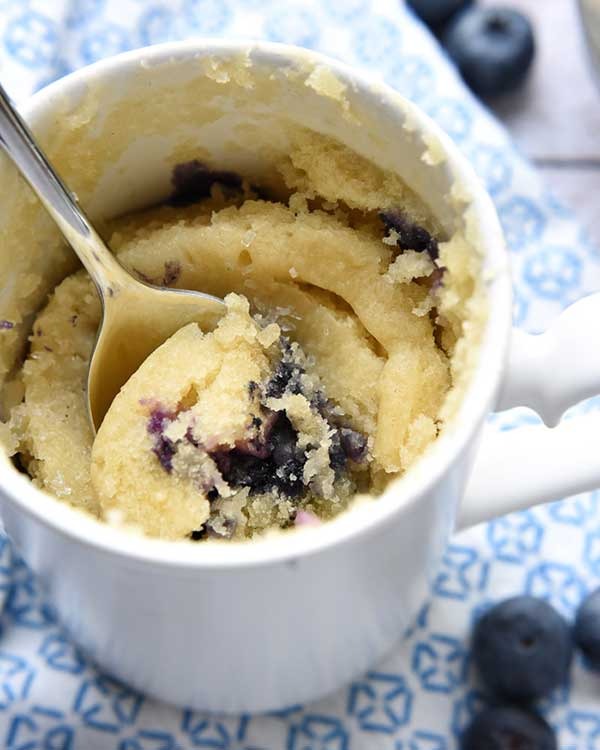 Nutrition: 233 calories, 12.3 g fat (7.7 g saturated), 97 mg sodium, 28.5 g carbs, 1 g fiber, 15.4 g sugar, 3 g protein
Craving a muffin, but would rather not be tempted by an entire batch? We get it. Practicing self-control is one decision at a time. Struggling to get started on your body goals? Check out these 50 Best Weight Loss Tips.
Get the recipe from Fire Heart Home.
GLUTEN FREE BLUEBERRY SWIRL MUFFINS
Nutrition: 199 calories, 8.2 g fat (4.8 g saturated), 113 mg sodium, 29 g carbs, 1.2 g fiber, 14.8 g sugar, 3.5 g protein
Gluten is a protein found in wheat, rye, barley, and other similar grains. Unfortunately, store bought products that remove the gluten usually replace it with worse-for-you ingredients that have are usually more processed and have higher sugar and fat content. Whether you're part of the seven percent of Americans who either suffer from celiac disease of gluten sensitivity, or just want to try it out, homemade recipes like this one are the way to go.
Get the recipe from Gluten Free On A Shoestring.
BLUEBERRY LEMON POPPY SEED PROTEIN MUFFINS
Nutrition: 117 calories, 3.7 g fat (2 g saturated), 463 mg sodium, 23.4 g carbs, 13.3 g fiber, 3 g sugar, 9 g protein
According to a report published by The Centers for Disease Control and Prevention that ranked 27 "powerhouse fruits and vegetables," lemons took the crown of all the fruit-bowl varieties analyzed. And it's no wonder—the juice of just half a lemon knocks out more than 100 percent of the daily recommended intake of vitamin C, a vitamin that can boost fat-burning by as much as 25 percent! No love handles here.
Get the recipe from Amy's Healthy Baking.
BLUEBERRY AVOCADO MUFFINS
Nutrition: 281 calories, 7.3 g fat (2.7 g saturated), 105 mg sodium, 49.9 g carbs, 2.7 g fiber, 26.5 g sugar, 5.3 g protein
Our obsession with avocado wouldn't let us turn away from this one—after all, no other fruit is credited with spot-reducing belly fat, warding off hunger, boosting nutrient absorption, lowering cholesterol and fighting free-radicals. They're best known for their high healthy fat content—9 percent!—and it's this richness of monounsaturated and oleic fatty acids that gives the amazing produce its viral-worthy status.6254a4d1642c605c54bf1cab17d50f1e
Get the recipe from Gimme Some Oven.
BLUEBERRY CREAM CHEESE MUFFINS
Nutrition: 267 calories, 13.6 g fat (5.6 g saturated), 199 mg sodium, 33.9 g carbs, 1 g fiber, 19 g sugar, 3.4 g protein
Cream cheese filled anything is nothing short of a foodgasm. And while we don't recommend you starting your day with these muffins, life is too short not to find a way to bite into bliss.
Get the recipe from Crazy For Crust.
BLUEBERRY OAT GREEK YOGURT MUFFINS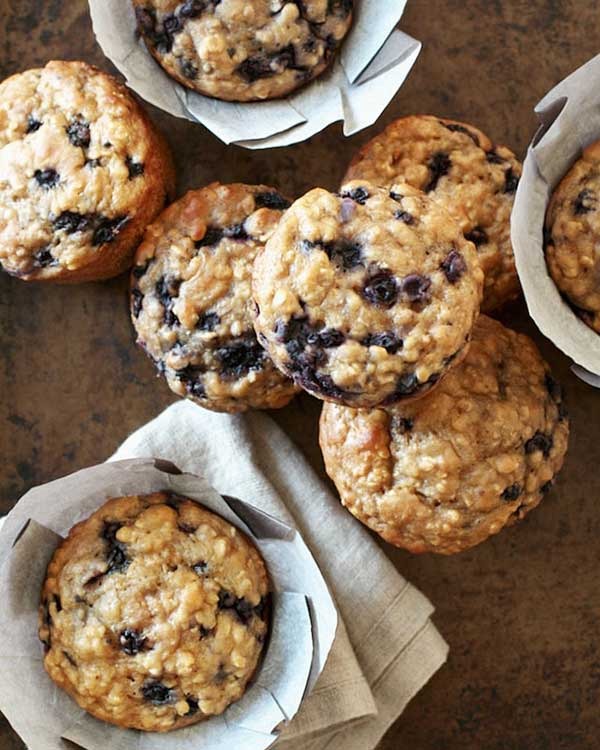 Nutrition: 175 calories, 2 g fat (<1 g saturated), 118 mg sodium, 33.2 g carbs, 2 g fiber, 13 g sugar, 6 g protein
We doubt Starbucks will show you how flawlessly greek yogurt blends into muffin batter, packing in protein, calcium, and vitamin D—but this recipe will. Thank the Greek Gods for this one.
Get the recipe from Running With Spoons.