24 Best Watermelon Recipes for July 4th
Take your watermelon to the next level with these inventive, delicious—and healthy!—spins on a summer classic.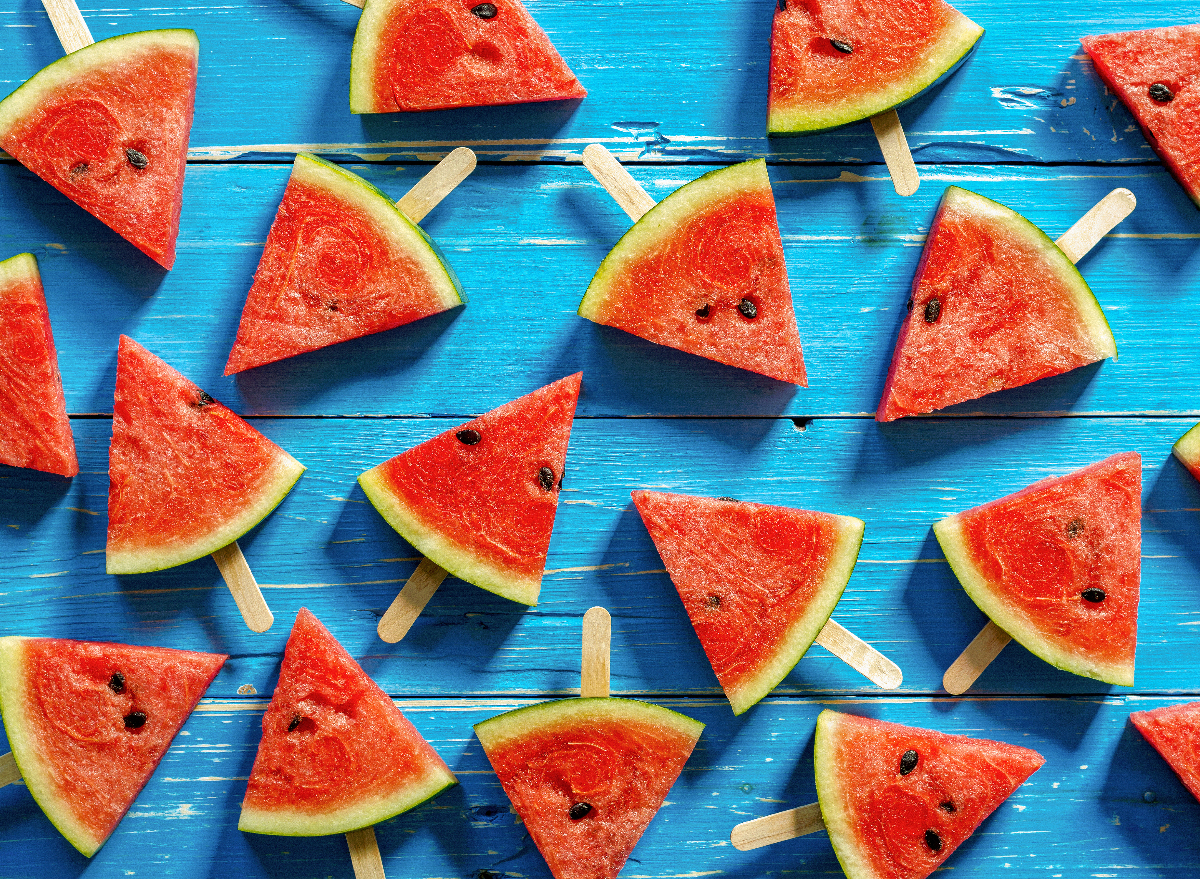 There's no fruit more synonymous with summer than watermelon. Not only is the red-hued fruit tasty, beautiful, and widely available, but because it is comprised of 90% water, it's a fantastic option if you're trying to lose weight, because it's a sweet and satisfying treat that also keeps you feeling fuller, longer compared to many other snacks. In fact, research from the University of Kentucky suggests that eating watermelon improves lipid profiles and lowers fat accumulation, thanks to the fruit's high concentration of anthocyanin, a compound that calms the action of fat-storage genes and gives watermelon its signature hue. It gets better: Watermelon may also help reduce the level of muscle soreness after a tough workout.
Whether you're trying to lose weight, looking for the perfect post-workout snack, or just want a more inventive way to incorporate watermelon into your July 4th BBQ, we've got you covered. Make the most of watermelon season by loading up on these healthy watermelon-based recipes. You'll be shocked to learn how versatile this fruit is!
Watermelon Margaritas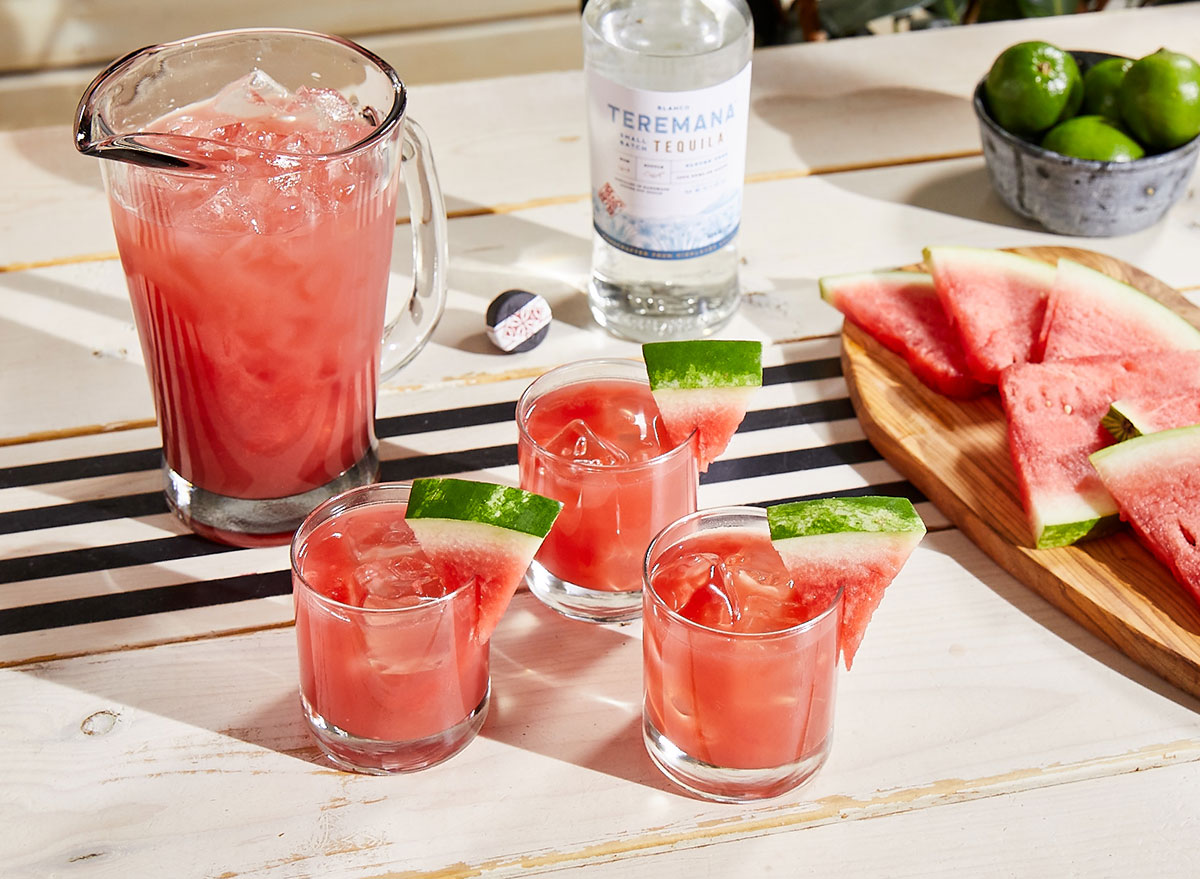 What's a cookout without a refreshing drink? This recipe from Teremana tequila is the most delicious way to stay hydrated this weekend.
Get our recipe for Watermelon Margaritas.
Watermelon & Kiwi Pops
Can't take the heat and humidity? Cool off with a homemade popsicle you can feel good about. Its short ingredient list and low sugar count knock the majority of packaged pops out of the water. The best part: These treats are extremely easy to make; all you need is a watermelon and a few kiwis.
These easy, delicious treats require only two ingredients—puréed watermelon and puréed kiwi (and technically, some popsicle sticks). Just blend them together and freeze them in a popsicle mold for the perfect watermelon snack!
Get the recipe from Real Food by Dad.
Balsamic Watermelon Chicken Salad
Seven ingredients and about 30 minutes are all you need to whip up this refreshingly sweet and crunchy salad. We love that it's built on a bed of spinach—a muscle-builder that's a rich source of fatigue-crushing iron, plant-based omega-3s, and folate, a nutrient that helps reduce the risk of heart disease and osteoporosis.
Get the recipe from Pinch of Yum.
Watermelon Blueberry Salsa
Kick that salty jar of salsa to the curb and whip up this simple—yet remarkably healthy—dip at home. Paired with veggies or tortilla chips, it makes a creative addition to party platters. If you can't stand to share, it also fares well as a grilled chicken or salad topper. All you need to make this recipe is a knife, a cutting board, and a food processor.
Get the recipe from Love and Olive Oil.
Watermelon, Feta, & Basil Quinoa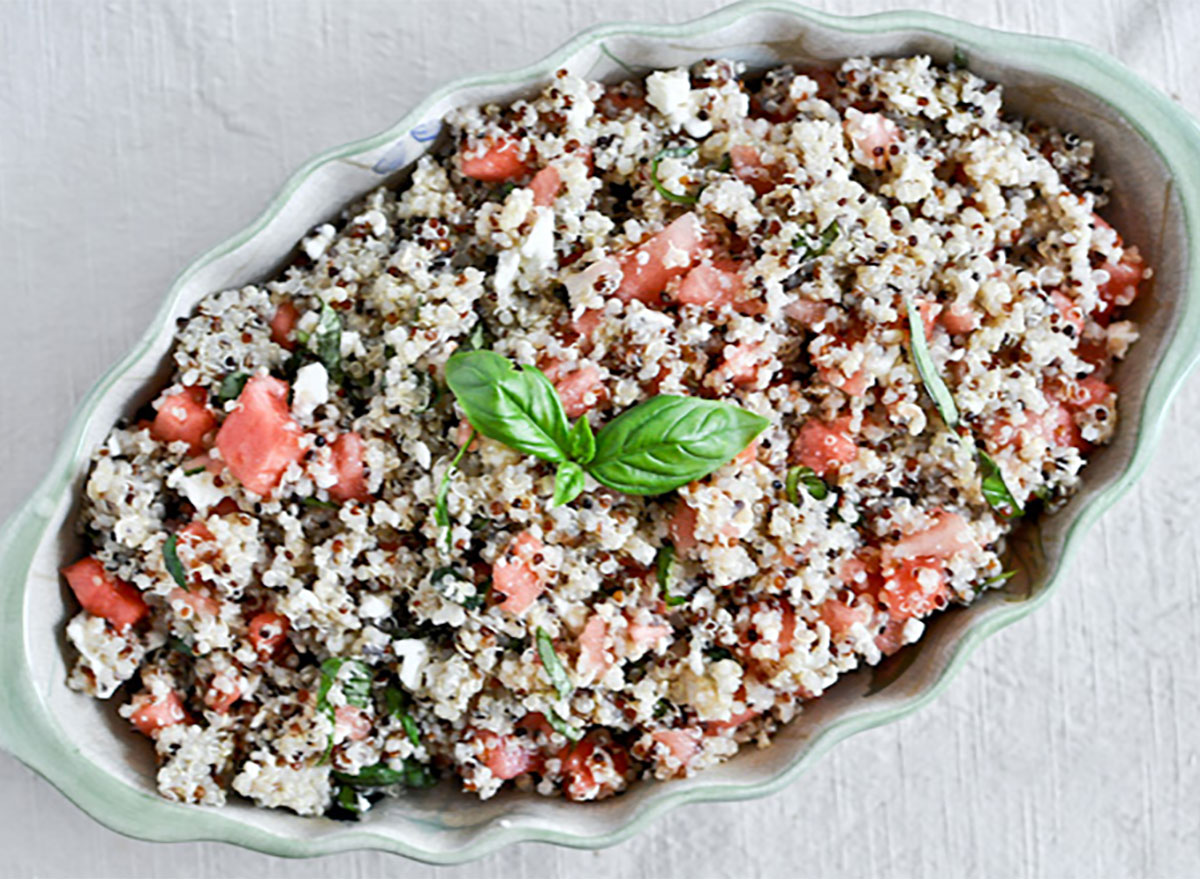 If you haven't paired grains with watermelon before, this summer dish is about to change your life. All you'll need to whip this up is quinoa (the only grain that's a complete source of protein), watermelon, honey, feta, basil, lime juice, and a few simple seasonings. The simple yet bold flavors are sure to please kids and adults alike. Serve it with BBQ chicken and veggies for a crowd-pleasing family meal.
Get the recipe from How Sweet Eats.
The Perfect Summer Salad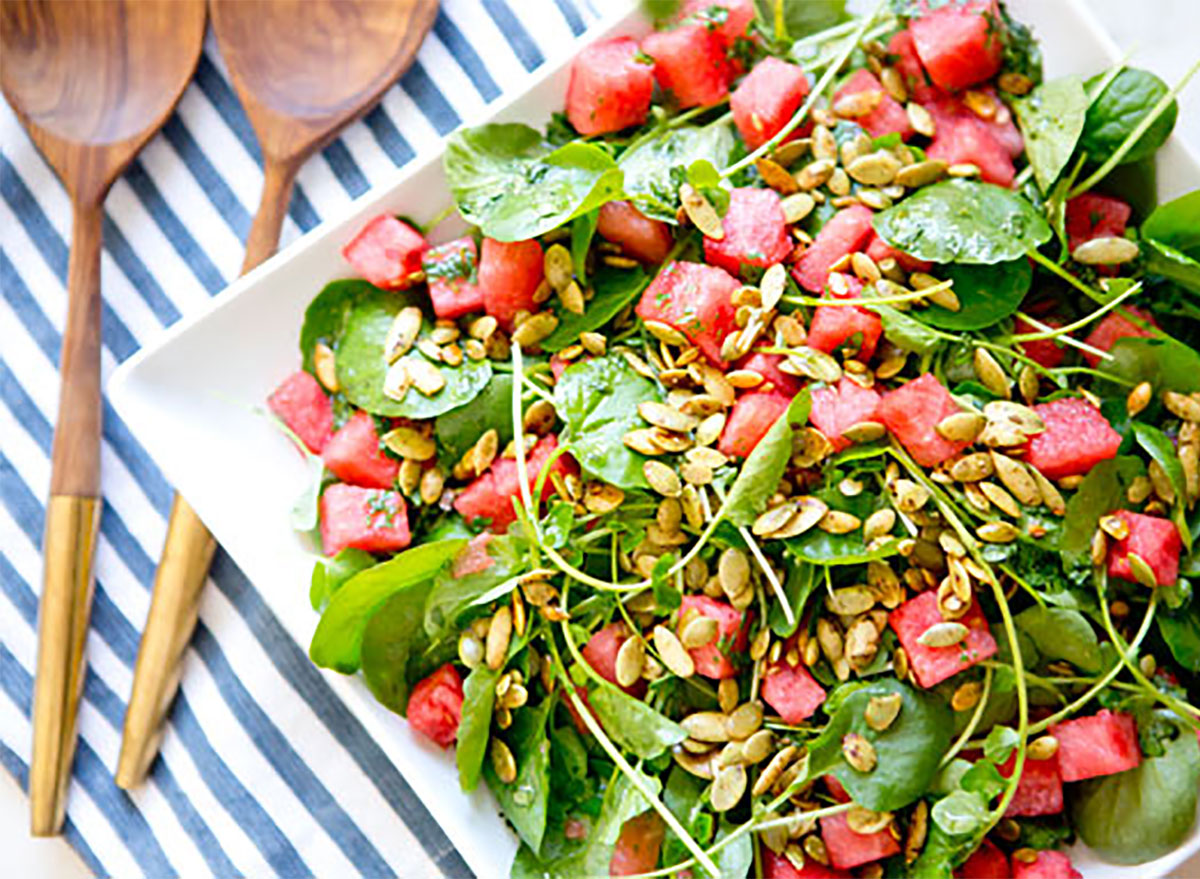 The name of this dish doesn't lie; it really is the perfect summer salad. Sure, it's tasty, but it's also brimming with health benefits, thanks to its watercress base. A report published by the Centers for Disease Control ranked 47 fruits and vegetables by their amounts of 17 disease-fighting nutrients, and the CDC crowned watercress number one. Gram for gram, the mild-tasting green contains four times more beta carotene than an apple and a whopping 238 percent of the daily recommended vitamin K, an oft-overlooked bone builder and heart protector.
Get the recipe from A House in the Hills.
Chili Lime Cucumber Noodles on Salted Watermelon with Mint & Basil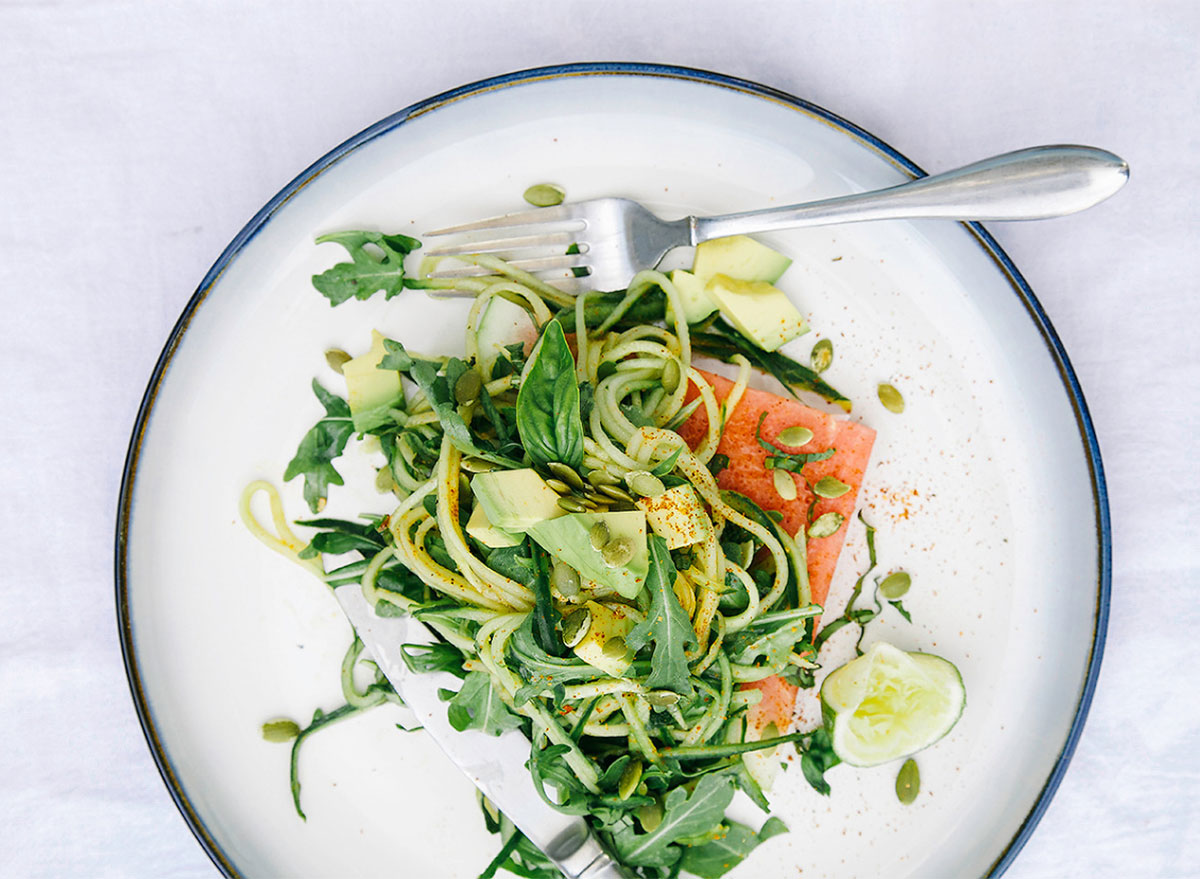 This no-cook watermelon dish is overflowing with flavor thanks to the addition of lime juice, chili powder, honey, mint, and basil. And just one serving will provide 62% of the day's vitamin C and 37% of the daily recommended amount of vitamin A, an antioxidant that plays a vital role in immunity, vision, bone growth, and cell function.
Get the recipe from The First Mess.
Watermelon Gazpacho
Who knew you could make chilled soup with watermelon? This ingenious blogger. All you need to make it is a blender, meaning cleanup is minimal, which is always a bonus. Enjoy this refreshing soup as an appetizer or alongside a sandwich, wrap, or veggie-packed salad as a full meal.
Get the recipe from Gimme Some Oven.
Watermelon Bacon Salad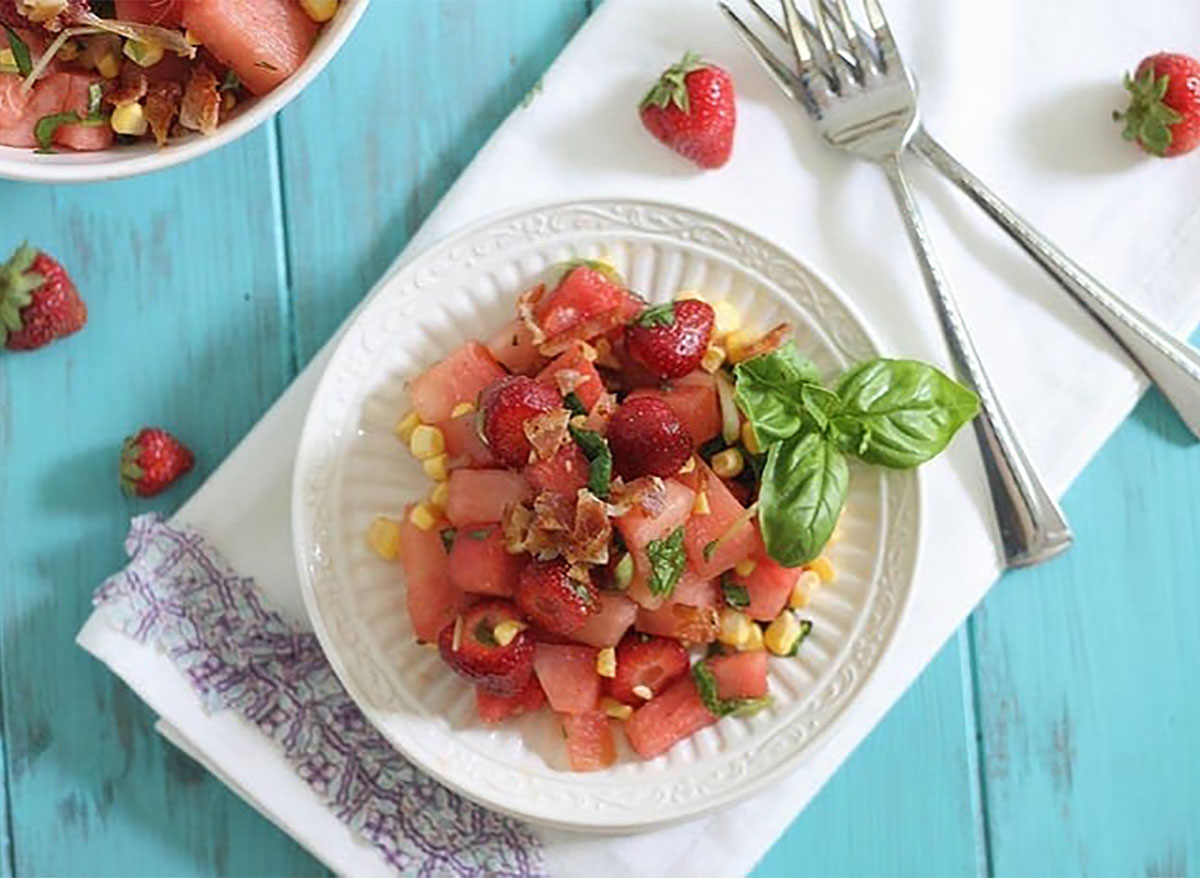 This one's for you, bacon lovers. Though watermelon and bacon may be an unusual combination, we can assure you it's a delicious one. This creative salad is sweet, salty, crunchy, and refreshing—all the essential elements of a satisfying dish, and clocks in at just 150 calories.
Get the recipe from Running to the Kitchen.
Grilled Watermelon Caprese Salad
If you've never grilled watermelon before, this is the summer you should try it out. In this recipe, the charred fruit serves as a delicious base for a new take on the classic tomato Caprese salad you already know and love.
Get the recipe from How Sweet Eats.
Fresh Mint Granita with Watermelon & Raspberries
Enjoy this sophisticated pick-me-up of tart raspberries, sweet watermelon, and a hint of cool mint leaves with your next meal.
Get the recipe from Gourmande in the Kitchen.
Grilled Shrimp Tacos with Corn & Cotija Salsa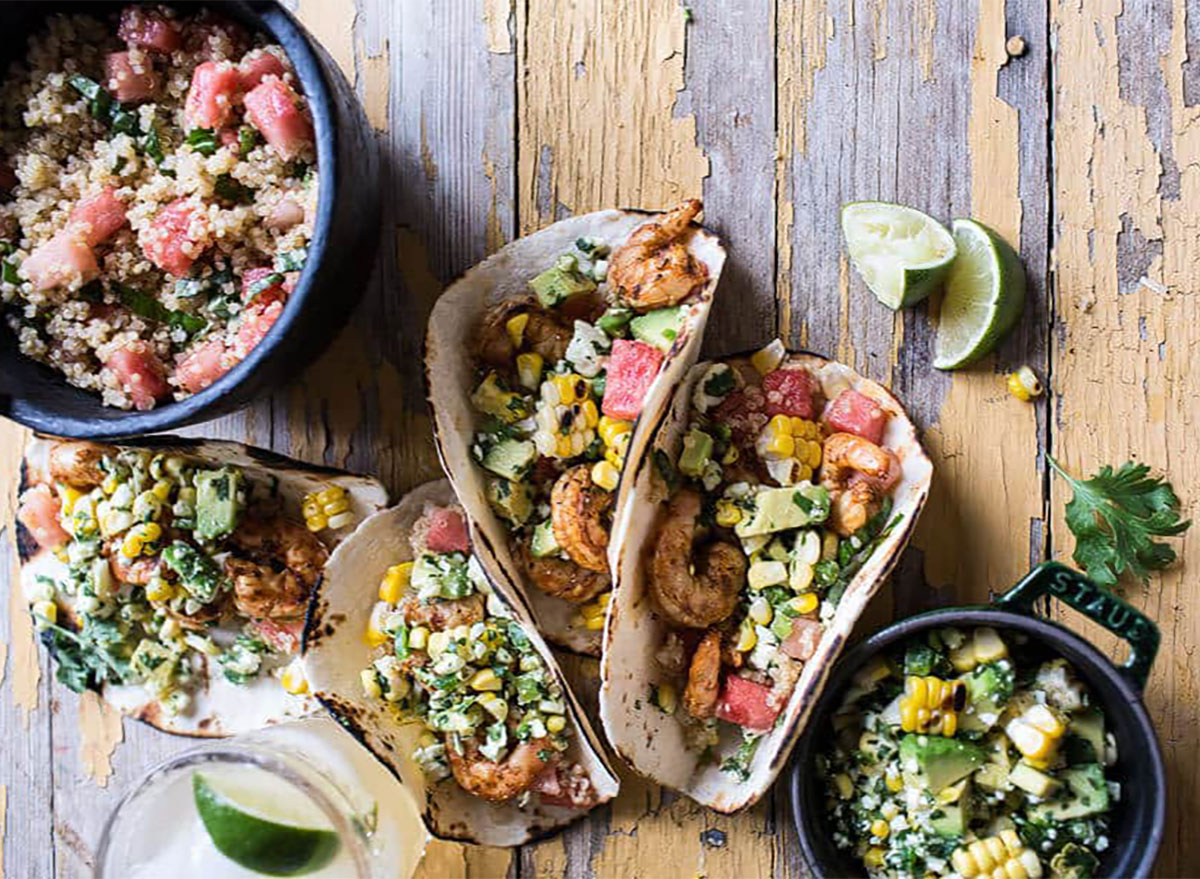 In 2023, July 4th also happens to fall on Taco Tuesday! But whether you make it for the holiday or not, this meal can be enjoyed every day of the week. Packed with zesty shrimp, corn, and diced watermelon, this recipe delivers an explosion of diverse flavors with each bite.
Get the recipe from Half Baked Harvest.
Chili Lime Watermelon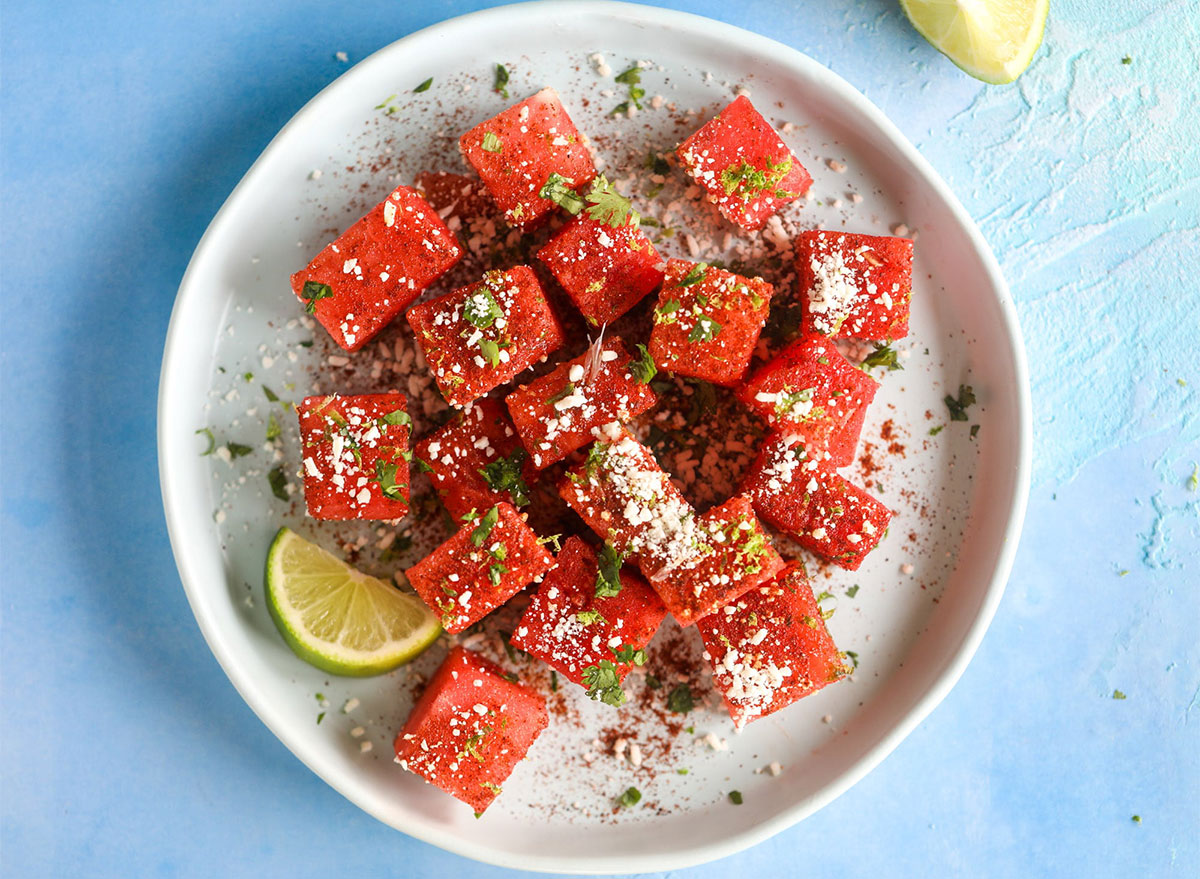 For another watermelon snack idea, give these chili-lime cubes a try. The simple sweet-spicy combo is to die for.6254a4d1642c605c54bf1cab17d50f1e
Get the recipe from How Sweet Eats.
Watermelon Salad with Basil Ginger Dressing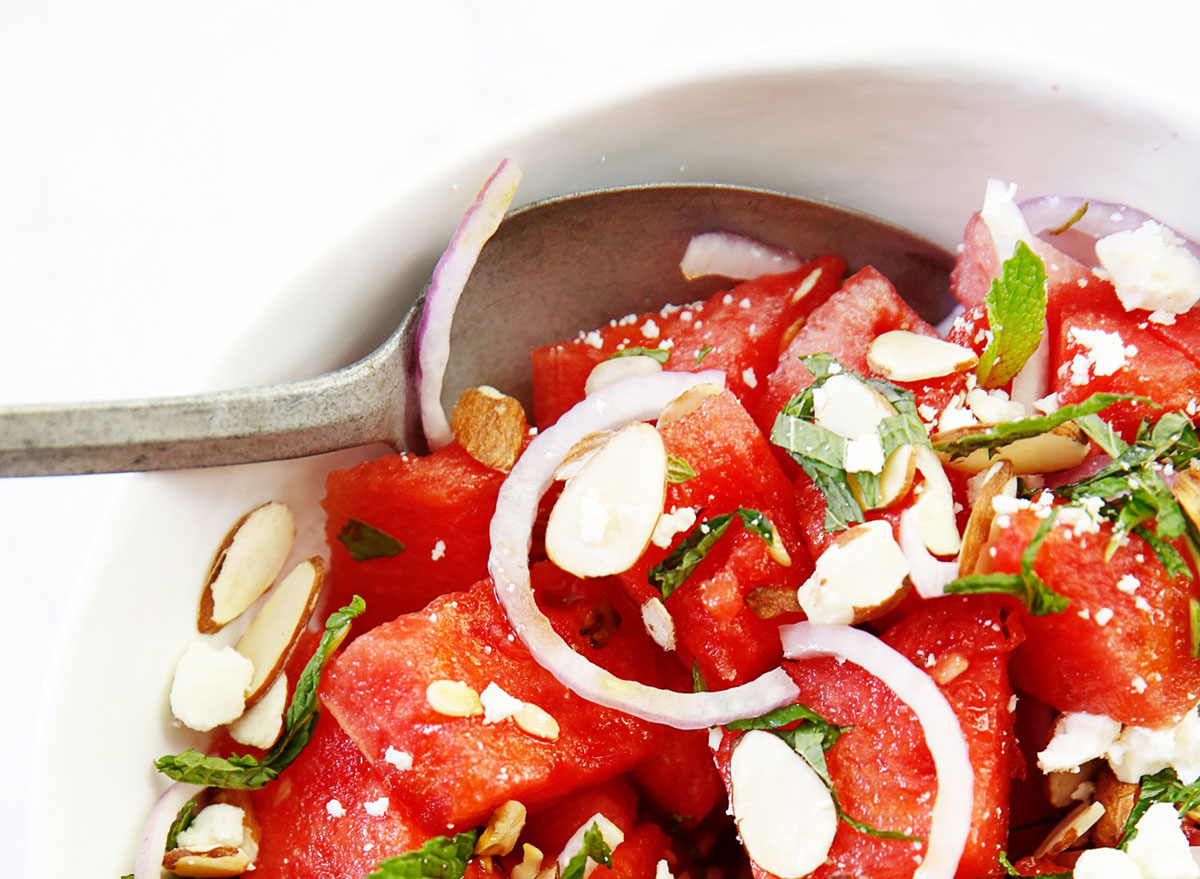 This salad is higher in protein than other fruit salads, thanks to the slivered almonds sprinkled on top. The light drizzle of the basil-ginger dressing complements the heat from the red onion that is interspersed throughout an abyss of sweet watermelon. Plus, the only sugar in this dish comes from the honey and, of course, the watermelon itself. Give your body the cooling effect it deserves with a refreshing bowl of fruit that ends with a spicy kick!
Get the recipe from Lexi's Clean Kitchen.
Watermelon Frosty
Wendy's Frosty just got kicked to the curb with this drink. That's right: the genius behind Running to the Kitchen has blessed us with a lower-cal, lactose-free version of America's favorite fast-food dessert. Cool down and drink up with this chill drink. The best part? It only has five ingredients!
Get the recipe from Running to the Kitchen.
Spinach, Watermelon, & Zucchini Salad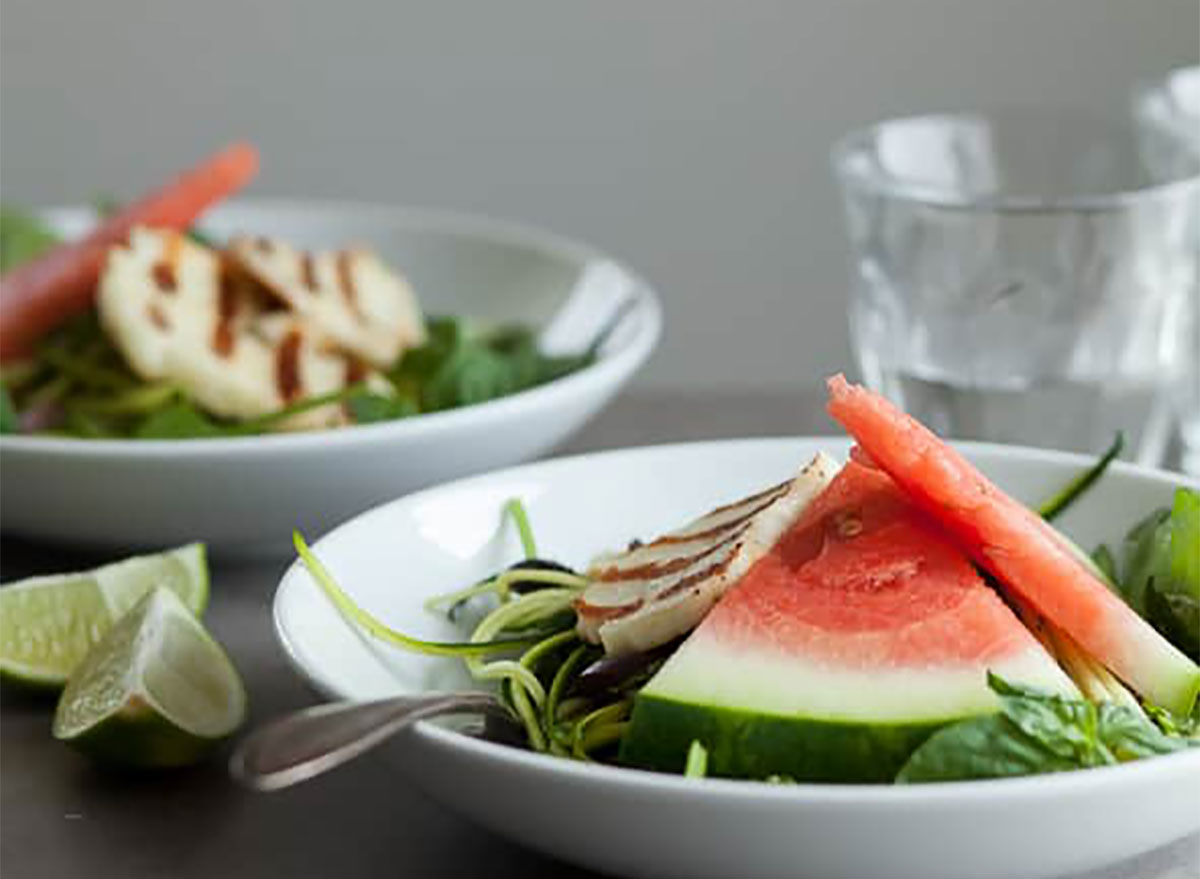 As we said earlier, watermelon is mostly comprised of water, but zucchini is even more full of H2O—about 95%, according to WebMD. Combining the two makes this salad super hydrating, and super filling. That grilled masterpiece laying across the bed of greens (and a splash of pink from the watermelon) may look like a chicken breast, but it's actually grilled Halloumi cheese. Halloumi remains solid, even when heated, which is why it works so well when it's grilled. It's also one of the most delicious cheeses ever!
Get the recipe from Gourmande in the Kitchen.
Strawberry Chia Watermelon Smoothie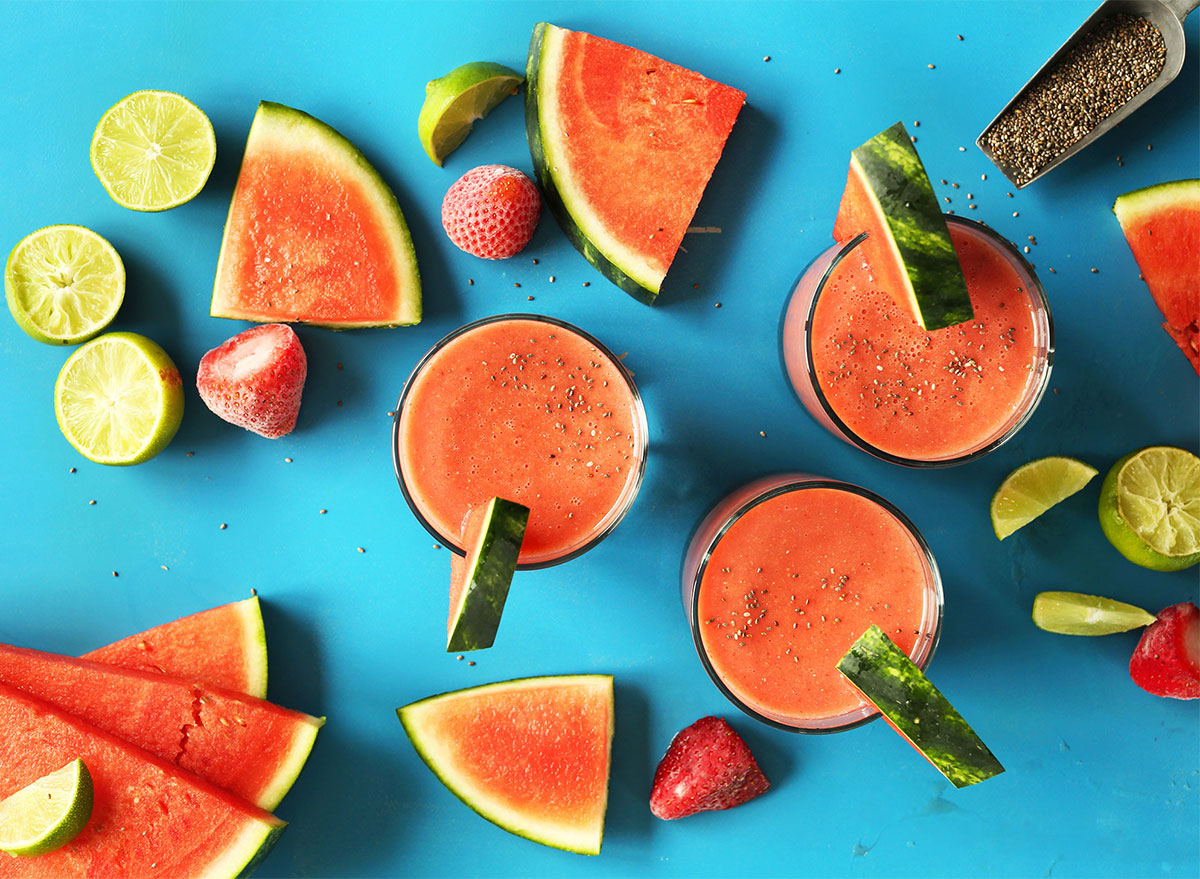 Chia seeds can be mixed into bowls of fruit, smoothies, oatmeal, yogurt parfaits, and plenty more. With five grams of fiber per tablespoon, why wouldn't you use this wonder ingredient? In addition, chia seeds have a special liquid-binding power, which means that they physically expand and thicken the liquid they're immersed in. Translation? You'll feel fuller, faster!
Get the recipe from Minimalist Baker.
Heirloom Tomato, Watermelon, & Fennel Salad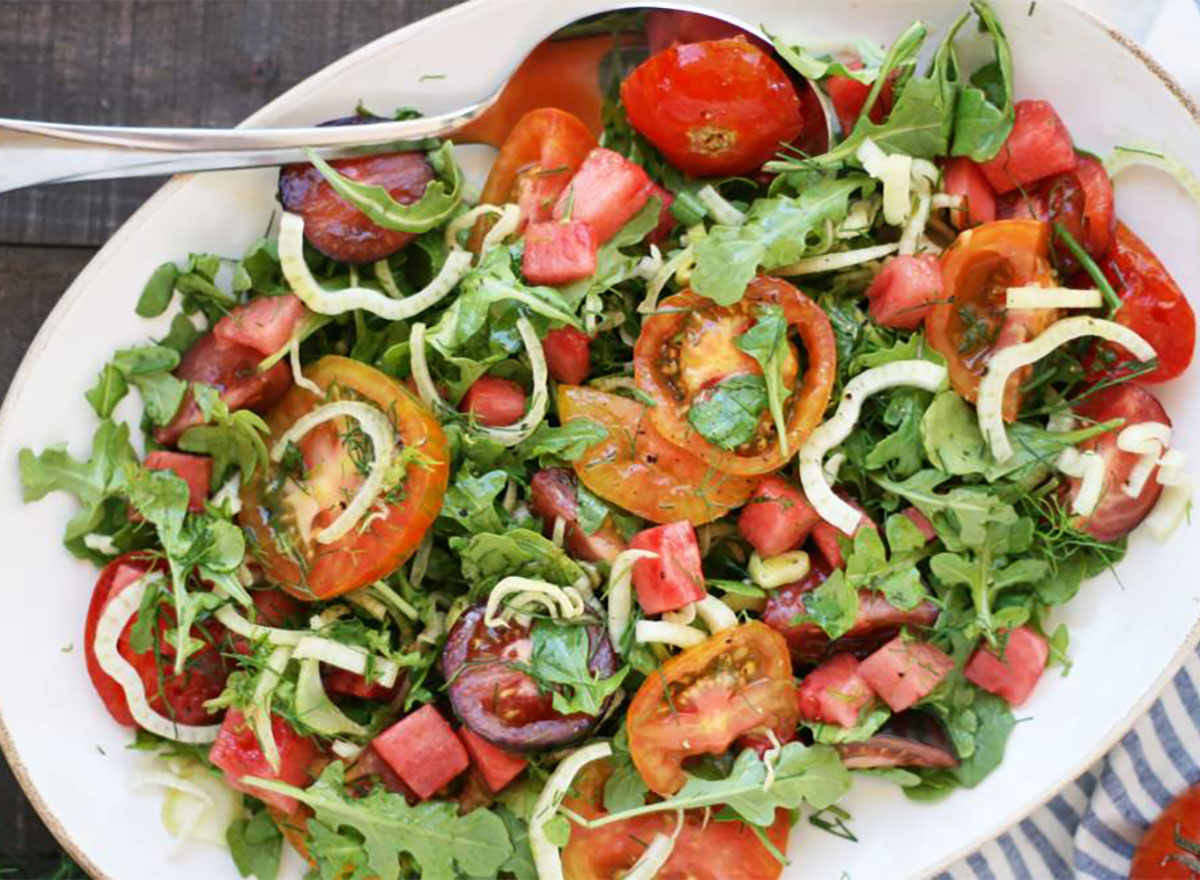 Fennel is one of the quirkier superfoods that you don't hear about as often as powerhouses like beets and kale. But don't overlook the value of fennel, because it carries a specific amino acid called histidine. Histidine is a protein that stimulates the production of hemoglobin (the protein in red blood cells), and when paired with iron, has been shown to help combat anemia. Women who are not pregnant need about 15 to 18 milligrams of iron per day, and thankfully, the vitamin C-rich tomatoes and watermelon aid in the absorption of iron in your bloodstream. Reap the energizing benefits of this salad, stat!
Get the recipe from VeguKate.
Watermelon Feta Salad with Cornmeal Crusted Fried Scallops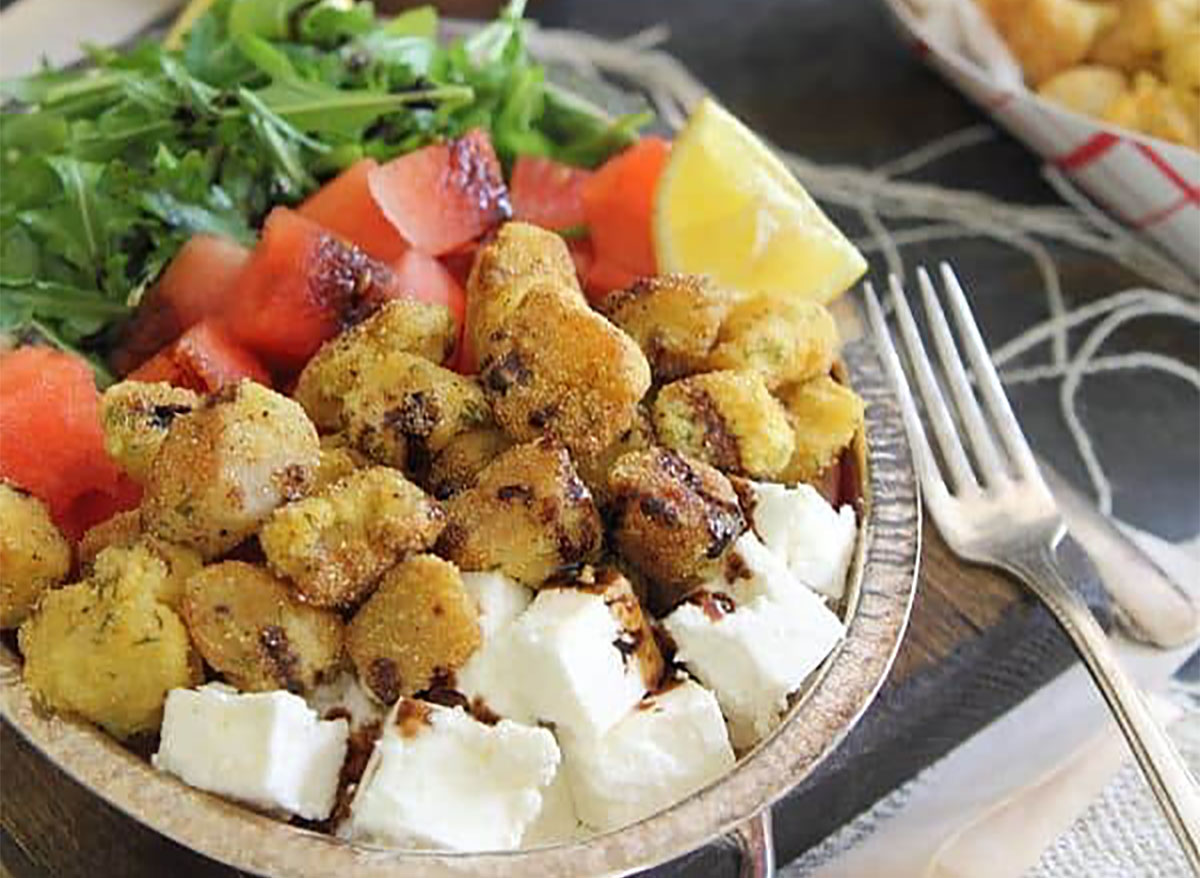 This isn't perfectly healthy—fried scallops are not something you want to consume regularly—but we couldn't pass up this creation. It's chock-full of protein, so you certainly won't need to eat more than a serving size in order to feel satisfied. Fun fact: Your body can only synthesize 20 to 30 grams of protein in a single sitting, so anything more just turns straight into fat. You've been warned!
Get the recipe from Running to the Kitchen.
Watermelon Lime Slushie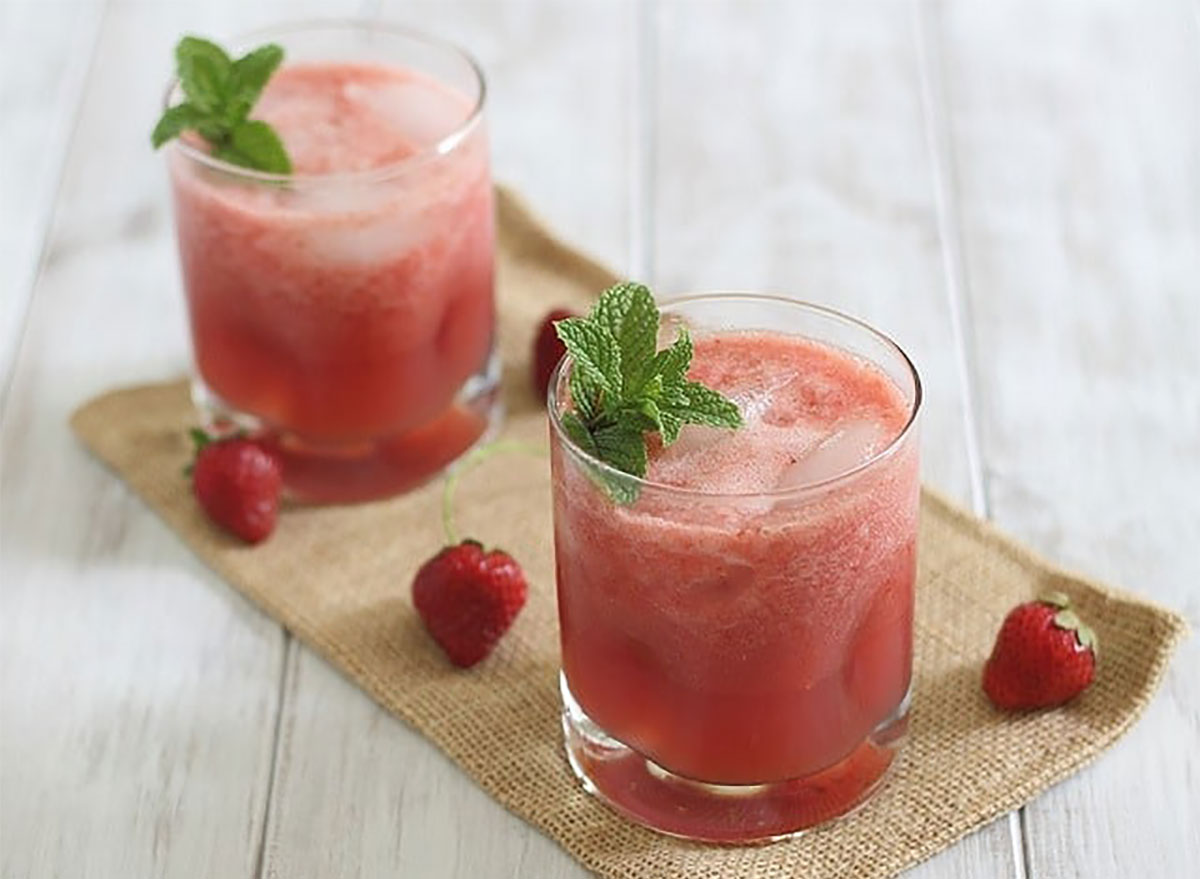 Talk about refreshing! The lime adds a tangy twist to this mega-sweet drink and will help you stay hydrated throughout the course of a sunny day. Opt for a glass of this slushie rather than a beer or margarita, which will only dehydrate you—which could even put you at risk for heatstroke.
Get the recipe from Running to the Kitchen.
Watermelon Salad with Feta & Mint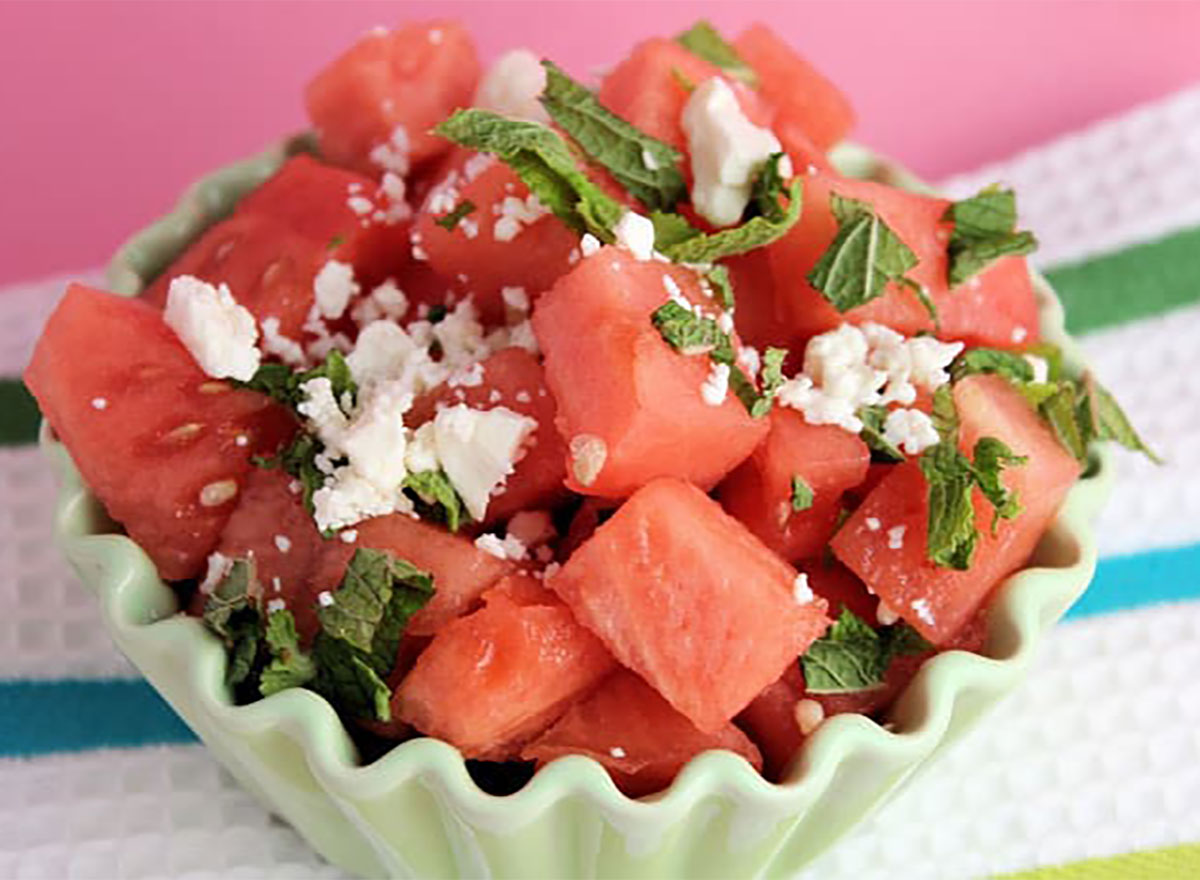 So, here's a fun fact about pairing fruit with cheese: It actually helps stabilize your blood sugar. Thankfully, most fruits have a low glycemic index, which just means your sugar levels won't spike immediately after you eat it. Watermelon actually has a medium glycemic index, so your body breaks it down a bit quicker, which may lead to an immediate sugar spike and typically a hankering for more food. This can happen if it's eaten alone—but when paired with a protein, the effects of sugar will mellow out, helping you to feel full. The addition of protein even boosts your metabolism!
Get the recipe from Lexi's Clean Kitchen.
Summer Melon Fruit Salad
Sometimes, you just want a classic side dish, and that's where this fruit salad comes in. Made with watermelon, cantaloupe, honeydew, strawberries, blueberries, and more, this just might be the most colorful side dish at your Fourth of July gathering.
Get the recipe from Creme de la Crumb.
Coconut Lime Watermelon Slushie
Have you ever enjoyed a frozen drink straight from a hollowed-out pineapple? What if we told you that you can do the same thing with a watermelon? Did we just blow your mind?
Get the recipe from Minimalist Baker.
Watermelon Juice
Don't feel like making the slushie? Juice your watermelon instead! Easy as pie—and way better for you!
Get the recipe from Cookie + Kate.
A previous version of this article was originally published in 2017. It has been updated, fact-checked, and partially rewritten. 
Sources referenced in this article