Breakfast Burrito Taste Test: Taco Bell, McDonald's, & Burger King
The winner didn't live up to its name, but we loved it anyway.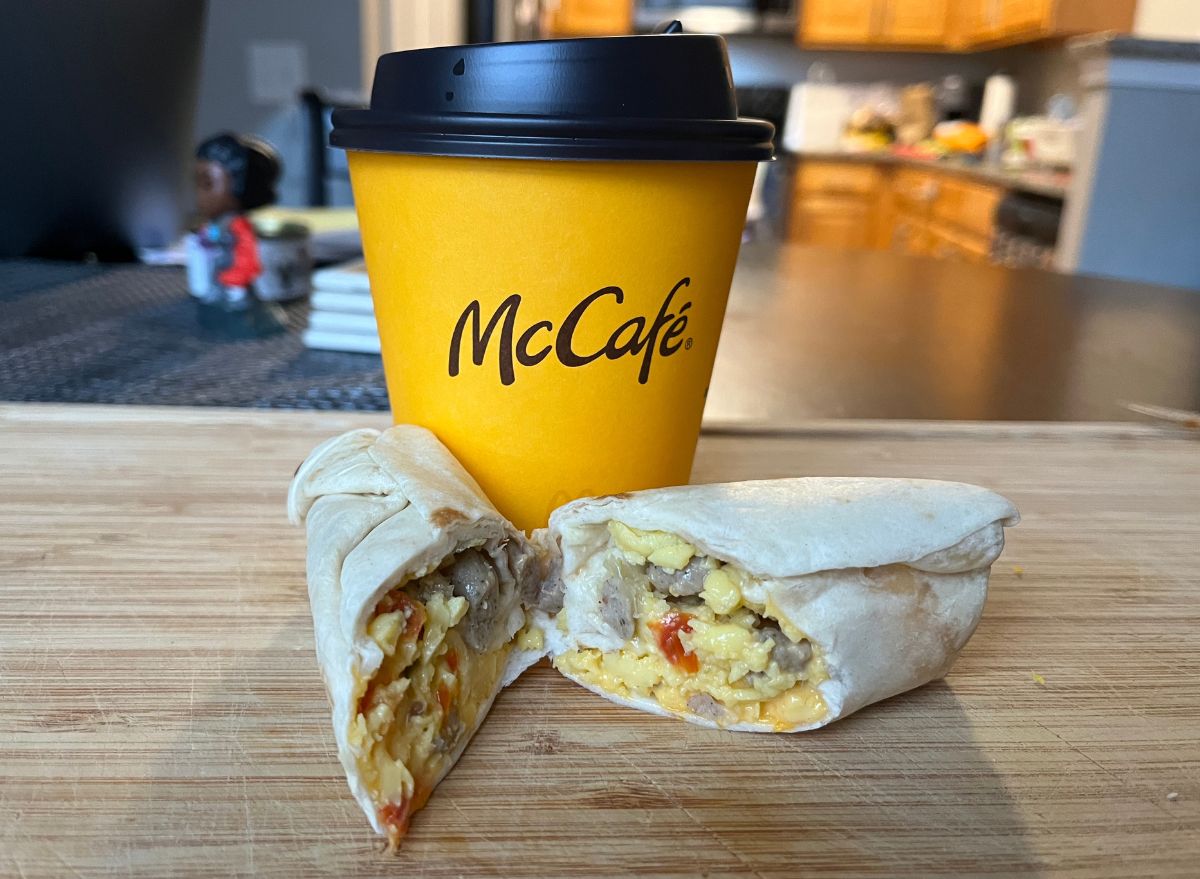 When you think of Mexican-inspired fast food you immediately think of Taco Bell. And, with over 7,700 locations throughout the United States, chances are there is one near you. When you think of a quick hand-held breakfast option, a cheesy breakfast burrito is the way to go. So, naturally, if you're craving one, you'd hop over to the nearest Taco Bell for the breakfast burrito of your choice. But have you ever considered McDonald's or Burger King for your burrito fix? Both also serve delicious-looking options for reasonable prices.
Granted, it can be hard to go to a new place and gamble on a tasty breakfast, so I did the hard work for you. I pitted McDonald's Sausage Burrito and Burger King's Egg-Normous Burrito against Taco Bell's Grande Toasted Breakfast Burrito to find out which tastes the best.
All three of these options are widely available but only one struck the right balance of tortilla, cheese, and meat to give you a tasty boost in the morning. Read on to see which breakfast burrito you should grab when only a cheesy burrito will do.
Taco Bell's Grande Toasted Breakfast Burrito With Sausage
1 sandwich
: 570 calories, 31 g fat (7 g saturated fat), 1,190mg sodium, 51 g carbs (4 g fiber, 3 g sugar), 21 g protein
There are a few different kinds of breakfast burritos from Taco Bell. My co-tasters and I (aka my family) went with Grande Toasted Breakfast Burrito With Sausage, because it came packed with tasty-sounding ingredients. It is made with scrambled eggs, potatoes, sausage, tomatoes, and the chain's signature three-cheese blend.6254a4d1642c605c54bf1cab17d50f1e
The look: Taco Bell should know a thing or two about burritos right? At first glance, the burrito looked better than the others. It was fat and looked well-stuffed, and was the only one that was grilled on a flat top. That should have made a big difference, but, spoiler alert, it didn't.
The taste: The burrito gave a nice big bite with fluffy scrambled egg, but it fell flat in just about every other way. It has size on its side, but not flavor. Everything was a bit bland, and it 100% needed more salt or at least something that dominated to give it a focal flavor. It also needed a lot more cheese as it didn't have a pleasing cheesy element to it. If I got this again, I would add one of the sauces like the creamy jalapeño sauce or guacamole. Those are an extra fee, though.
McDonald's Sausage Burrito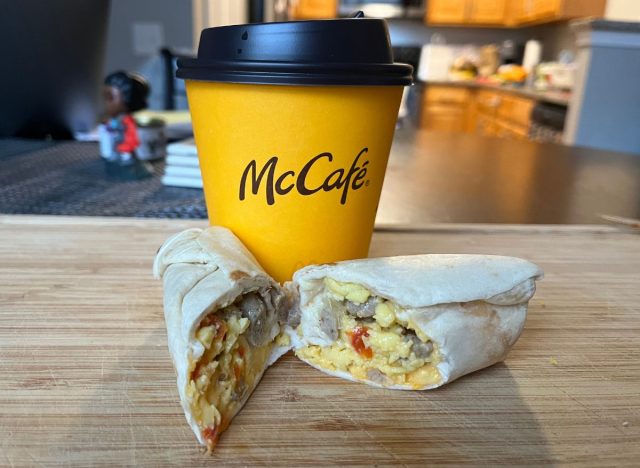 1 sandwich
: 310 calories, 17 g fat (7 g saturated fat), 800mg sodium, 25 g carbs (2 g fiber, 12 g sugar), 13 g protein
McDonald's Sausage Burrito is a good hand-held alternative to one of the many McD's breakfast sandwiches. It's smaller than the other two burritos, but also cheaper and available as a two-piece meal deal if you're truly hungry.
The look: These are definitely smaller than the other two, but, as I said, they are also easily held with one hand. The inside looked packed as much as possible with soft eggs, creamy cheese, and bits of spicy sausage. Sometimes burritos can be a mess of ingredients, but this looked uniform.
The taste: True to the look, we got a bit of everything in one bite: the signature creamy American cheese spread and the pleasantly spiced sausage that carried through the soft eggs. Because these were so small, the only issue we ran into was extra flour tortilla where it was folded over. The burrito didn't need sauce, and that's a good thing because the mild Picante sauce that was offered on the side was far too sweet and almost masked all the other flavors.
Burger King's Egg-Normous Burrito
1 sandwich
: 780 calories, 42 g fat (15 g saturated fat), 1,960mg sodium, 68 g carbs (3 g fiber, 12 g sugar), 28 g protein
Burger King's Egg-Normous Burrito is packed with a lot of good things—scrambled eggs, bacon, hash brown coins, and a spicy sauce—but I wouldn't call it enormous. As you can see it was rather flat.
The look: The burrito was long but, as mentioned, a bit flat considering all the ingredients it supposedly contained. We weren't feeling too good about the look of the burrito, but as we saw in the Italian Chicken Sandwich Taste Test and the International Chicken Sandwiches taste test, Burger King still has a few tricks up its sleeve in terms of taste.
The taste: In a word: yum. The scrambled egg was buttery and soft and the bacon, while not crispy, gave the burrito a nice smoky flavor. The cheese and the sauce melted together into a saucy cheesiness that permeated the whole burrito and softened and moistened the flavorless flour tortilla. The only miss was the hash brown coins which would have been better in patty form because we only realized their existence in a few bites. Did it live up to its name? No. But its flavor won us over in the end.