The 10 Worst Menu Items At Buffalo Wild Wings
The B-Dubs menu is not the place to wing it. Order blind and your favorite entree may go straight from the table to your waistline.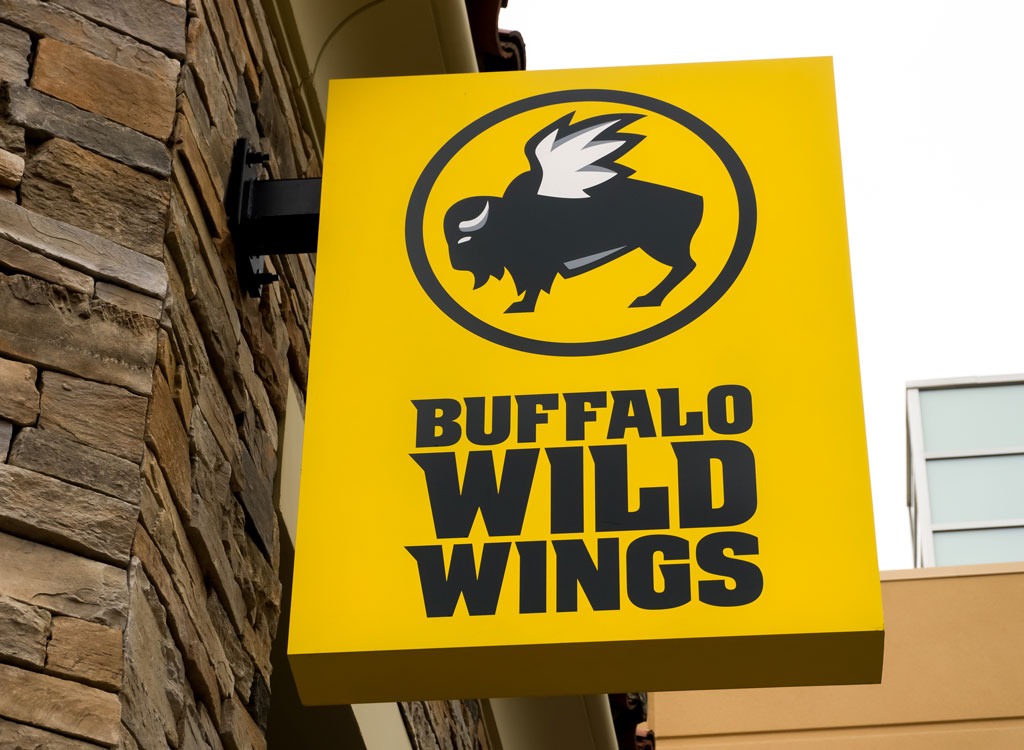 Whether you go to Buffalo Wild Wings for the wings, the beer, or the sports, odds are good that you'll leave the restaurant with more than your daily recommended intake of calories, fat, and sodium if you aren't careful. Their menu is so full of traps that navigating it can be harder than getting a table during the World Series. To make sure you don't strike out, stay away from these ten menu no-no's. And while you're at it, be sure to steer clear of The #1 Worst Menu Option At 41 Popular Restaurants.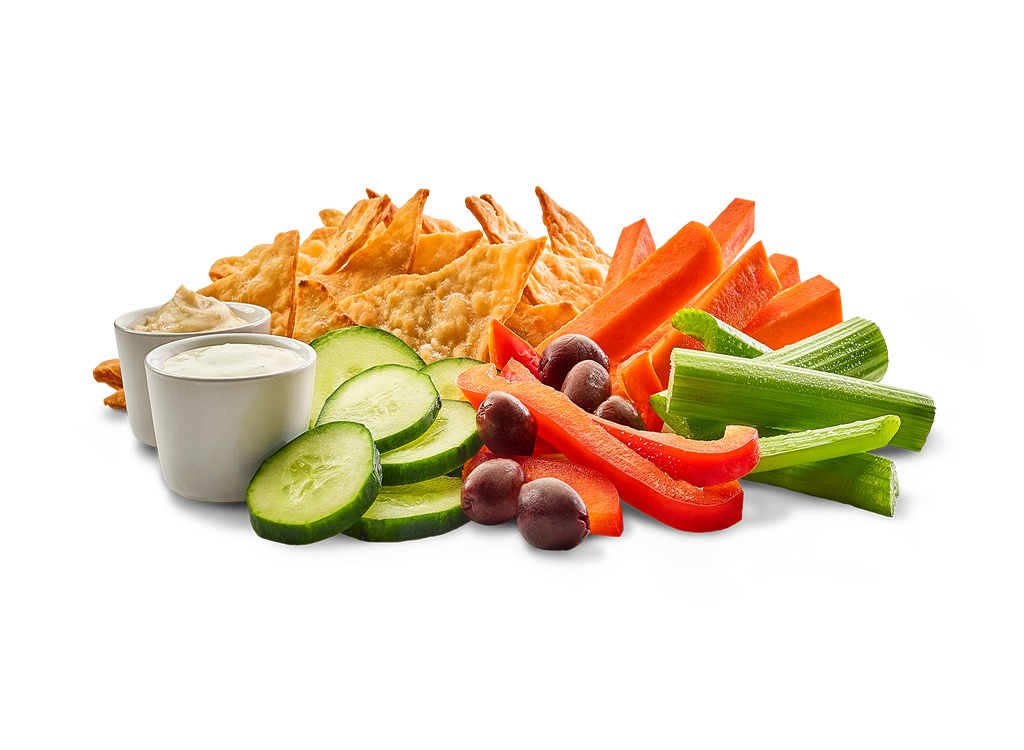 Per 1 appetizer: 1,310 calories, 101 g fat (25 g saturated fat), 2,410 mg sodium, 86 g carbs (10 g fiber, 10 g sugar), 19 g protein
Don't be fooled by the word "garden" or even by the colorful plate of veggies. This innocent-looking pile of fresh carrots, celery, red peppers, olives, and cucumbers is paired with pita chips, hummus, and tzatziki sauce for a whopping total of 1,310 calories. Who would have guessed that such a seemingly healthy appetizer could be hiding over 100 grams of fat — that's almost as much as three Big Macs — and more salt than you should consume in an entire day? Definitely not us, but we'll take their word for it and order something else.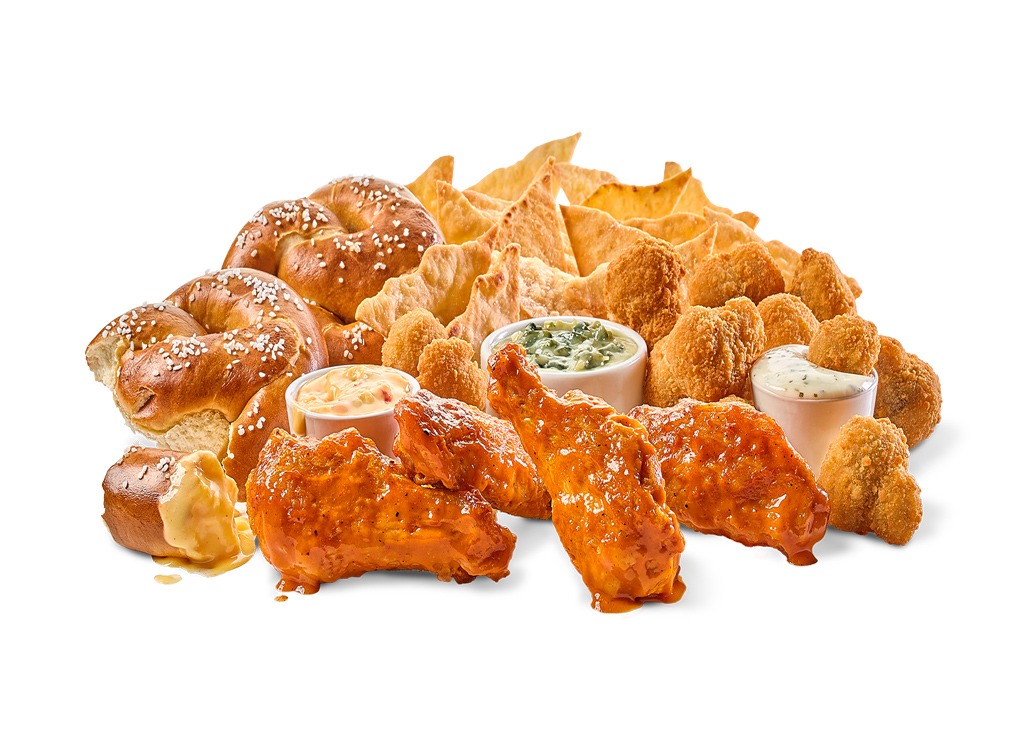 Per 1 appetizer: 2,980 calories, 169 g fat (60 g saturated fat), 6,880 mg sodium, 283 g carbs (15 g fiber, 23 g sugar), 80 g protein
Sure, this is a shareable appetizer, but that doesn't mean there aren't customers out there tackling this sampler on their own. It's easy to mindlessly pack away more than you intended when there's a football game in front of you, so don't ever let a Buffalo Wild Wings server put this plate of wings, soft pretzels, pita chips, and roasted garlic mushrooms in front of you. With the queso and spinach artichoke dip, you're risking tripling your daily sodium intake and blowing your calorie and fat consumption through the roof. We're a fan of the 80 grams of protein, but you'd be much better off getting that elsewhere, like in The 29 Best-Ever Proteins For Weight Loss.
Spicy Garlic Boneless Wings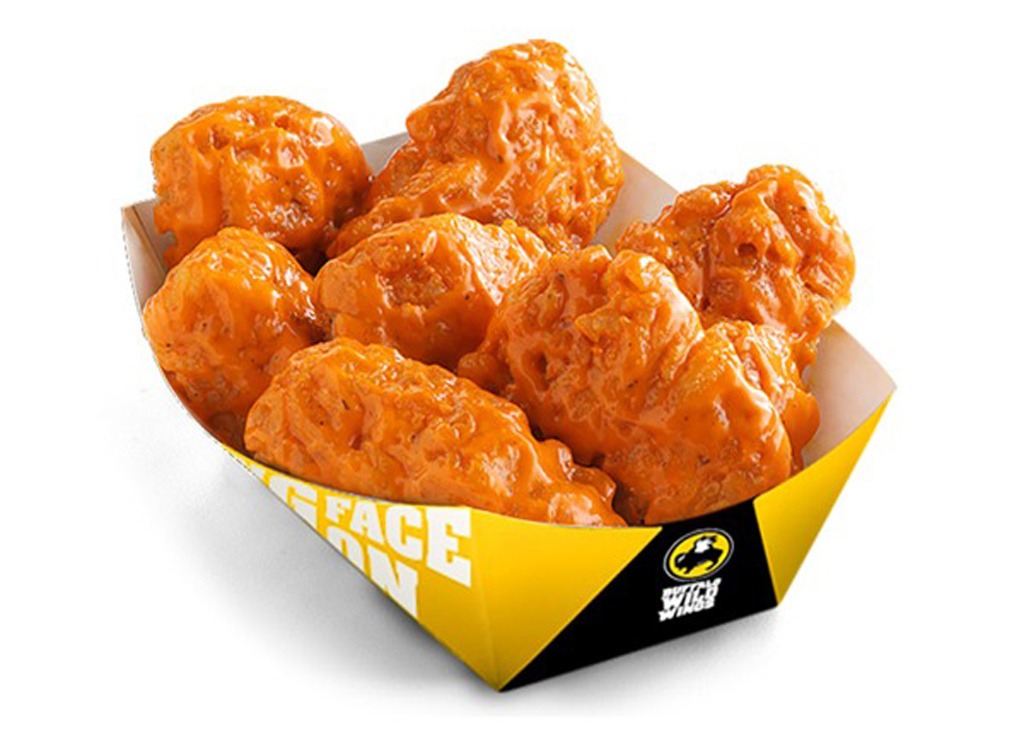 Per 1 medium order (12 wings): 1,230 calories, 67 g fat (24 g saturated fat), 5,840 mg sodium, 98 g carbs (9 g fiber, 1 g sugar), 58 g protein
With over 20 sauces to choose from, it shouldn't be too hard to avoid this one. We know the spicy garlic is an all-star combo as far as your taste buds are concerned, but it loses when it comes to nutrition. A medium order will set you back almost 6,000 milligrams of sodium and 24 grams of artery-clogging saturated fat. Ordering the lemon pepper seasoning will save you 140 calories and 2,760 milligrams of sodium.
6254a4d1642c605c54bf1cab17d50f1e
Per 1 burger: 1,320 calories, 110 g fat (31 g saturated fat), 2,650 mg sodium, 46 g carbs (5 g fiber, 9 g sugar), 49 g protein
If you're in the mood for beer-braised mushrooms and garlic mustard sauce on a Swiss cheeseburger, you'd better be ready for triple-digit grams of fat as well as a day's worth of sodium. Buffalo Wild Wing's Boston Lager Burger is a worthy opponent you'll need to clock in lots of gym time to fight off, so don't even think about ordering it.
Pulled Pork Santa Fe Salad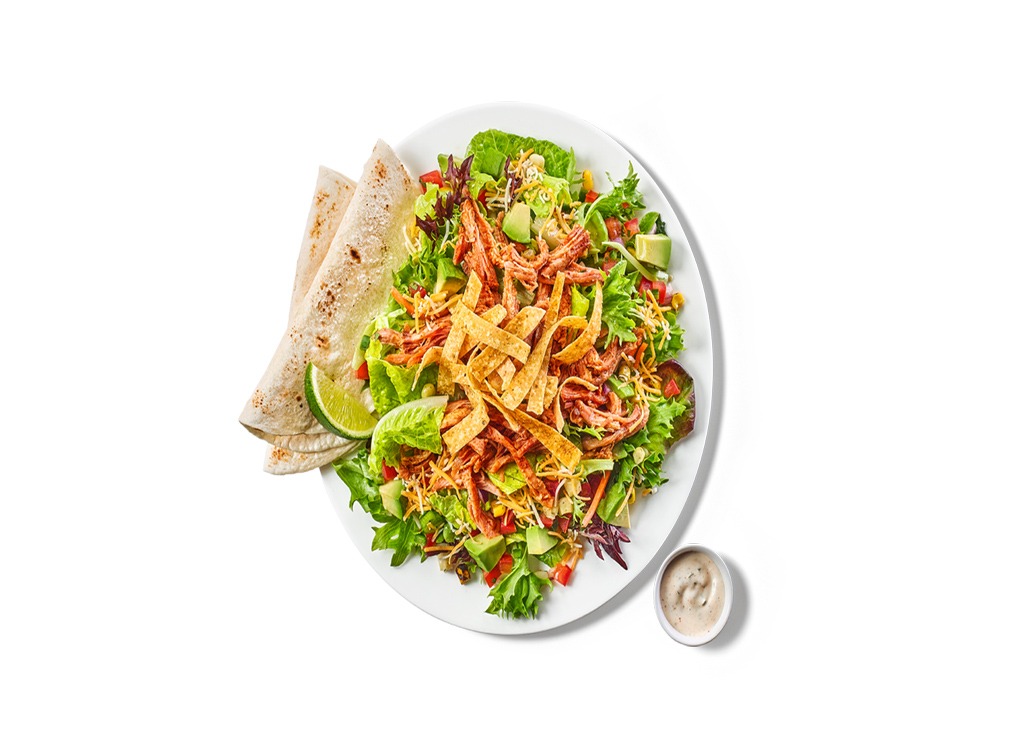 Per 1 salad: 1,440 calories, 97 g fat (24 g saturated fat), 2,480 mg sodium, 92 g carbs (16 g fiber, 17 g sugar), 50 g protein
B-Dubs is out to trick you again with a fatty, salty entree disguised as a colorful salad. While we're in full support of the fresh greens, pico de gallo, roasted corn, jalapenos, cheddar jack cheese, and avocado, we recommend asking your server to leave off the tortilla strips, cilantro lime ranch dressing, and tortillas that are bumping this plate up to 2,480 milligrams of sodium and almost 1,500 calories. Replacing the pork with grilled chicken would be even better unless you're in the mood to sprint to the gym and sweat as much as the basketball players on the screens.
Per 1 medium order (15 wings): 1,100 calories, 64 g fat (21 g saturated fat), 2,750 mg sodium, 5 g carbs (1 g fiber, 1 g sugar), 124 g protein
The traditional wings at BWW are always a better choice than the boneless since they're far lower in carbs and higher in protein. That being said, don't make the right wing choice only to choose the wrong sauce. The medium sauce on this entree may be described on the menu as "comfortably hot," but it's going to make your jeans fit a little less comfortably if you indulge in all 15 wings. These contain a day's worth of sodium and according to a Queen Mary University study, every extra gram of salt you eat a day can heighten your obesity risk by 25 percent. So stay away from these and anything else on the list of 20 Saltiest Restaurant Meals On The Planet — Ranked!.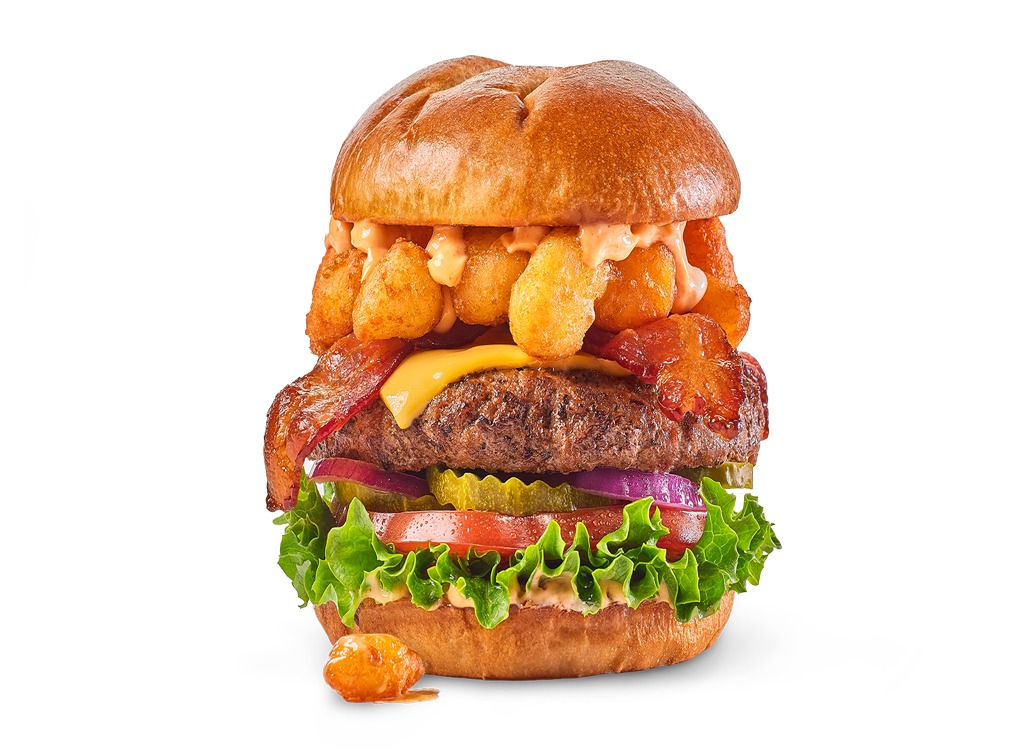 Per 1 burger: 1,620 calories, 127 g fat (46 g saturated fat), 3,760 mg sodium, 54 g carbs (4 g fiber, 10 g sugar), 65 g protein
Piling Wisconsin cheddar cheese curds onto a bacon burger clearly doesn't sound like something that will do your insides — or your outsides — a favor, and it isn't. No amount of protein is worth packing away 127 grams of fat in one sitting, not to mention 46 grams of the saturated stuff. Combine this with an appetizer or even just a couple wings off of your friend's plate and you're looking at a serious strike-out.
Buffalo Mac And Cheese, Hot Sauce
Per 1 bowl: 1,410 calories, 88 g fat (33 g saturated fat), 4,790 mg sodium, 110 g carbs (9 g fiber, 5 g sugar), 44 g protein
Don't want to double up on your daily dose of salt with one meal? Then don't order this bowl of mac and cheese. Filled with chicken and creamy sauce, Buffalo Wild Wing's breadcrumb-topped entree delivers entirely too much sodium and more fat than 25 bowls of Kraft Mac and Cheese. Although hot sauce is generally a healthy choice, its metabolism-boosting benefits are irrelevant in this case since this dish has 88 grams of fat and a day's worth of calories.
Thai Curry Boneless Wings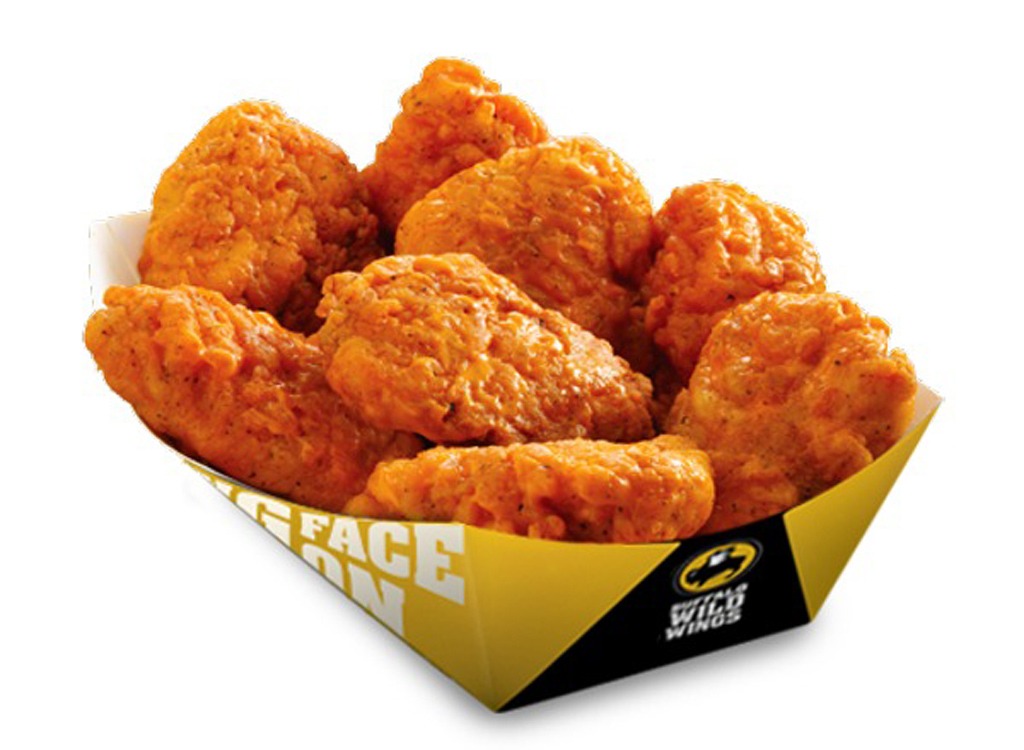 Per 1 medium order (12 wings): 1,560 calories, 103 g fat (30 g saturated fat), 5,500 mg sodium, 101 g carbs (9 g fiber, 8 g sugar), 59 g protein
Although we'd normally encourage you not to be a chicken when it comes to wings higher up on BWW's heat scale, feel free to skip over this one. The Thai Curry sauce blends sweet chilis, spices, coconut, and curry, which all sounds great until you realize that 12 wings dunked in all this will ring in at over 1,500 calories and 100 grams of both fat and carbs. So scurry away from this curry sauce before it tackles your weight-loss progress.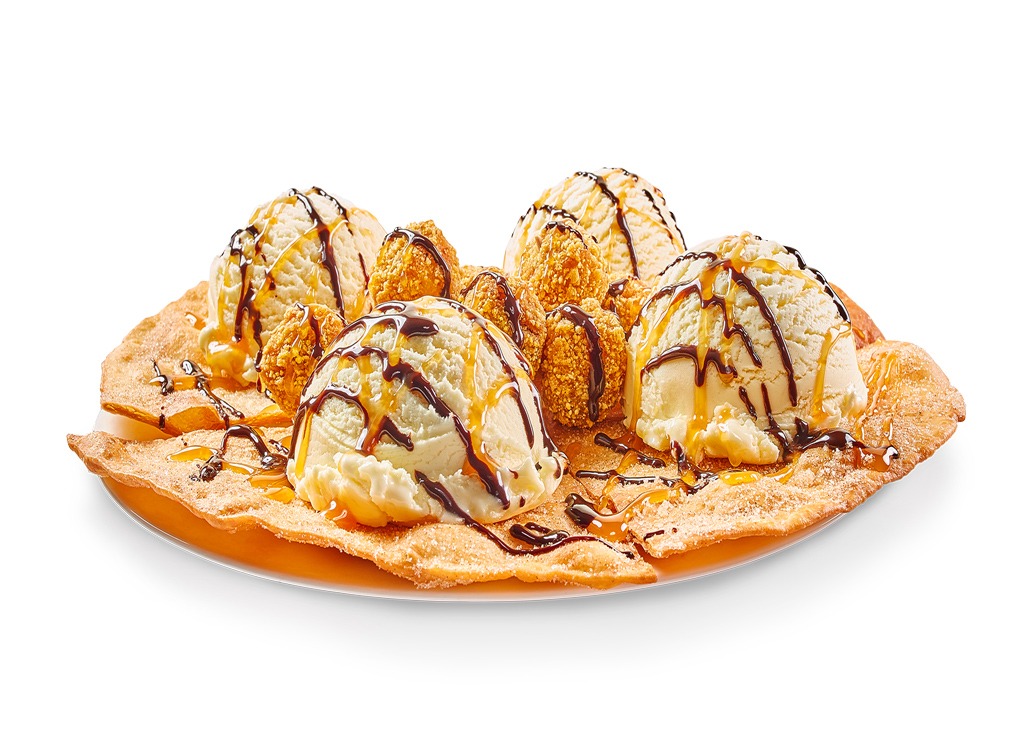 Per 1 dessert: 2,100 calories, 119 g fat (64 g saturated fat), 1,660 mg sodium, 230 mg carbs (5 g fiber, 125 g sugar), 29 g protein
If you're going to order these Dessert Nachos, please share with other people, we're begging you. Otherwise, consuming this cinnamon sugar tortilla, ice cream, and cheesecake bite combo will fill you up with 125 grams of the sweet stuff. We're not sure what's worse — the sugar content or the 2,100 calories — but either way, we're sitting this one out. We certainly wouldn't add Dessert Nachos to the list of 12 Desserts That Actually Help You Lose Weight.
Chipotle BBQ Boneless Wings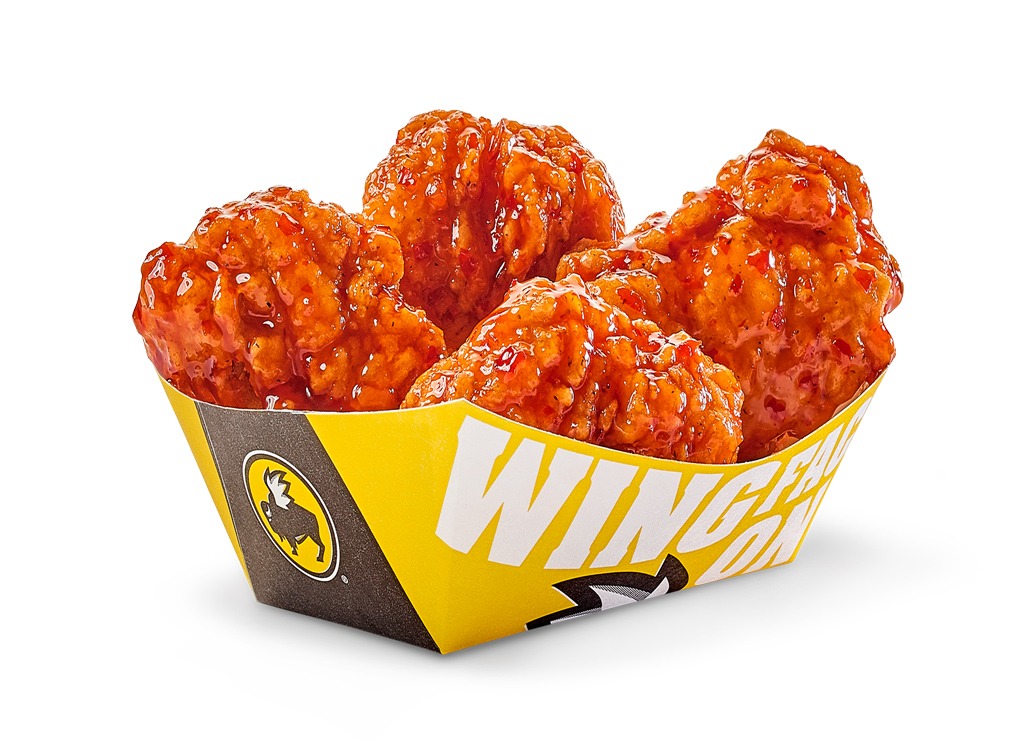 Per 1 snack order (8 wings): 510 calories, 26 g fat (10 g saturated fat), 1,450 mg sodium, 42 g carbs (3 g fiber, 0 g sugar), 26 g protein
We get it: It's crazy to go to a wing joint and not indulge in some saucy chicken. That's why we scoured the wing list at Buffalo Wild Wings to find an entree we approve of. It was harder than it sounds, but we've got good news! If you can limit yourself to just eight wings, the snack size order of boneless Chipotle BBQ wings is just above 500 calories with over 25 grams of protein. And while this choice is more salty and fatty than we'd like, it's leaps and bounds better than the rest of the menu — unless you want to go all the way there for a side Caesar salad.