I Tried Burger King's New Spicy Chicken Fries & They Definitely Bring the Fire
Turns out one of the world's hottest peppers fuels the heat in these fiery little sticks.
You're familiar with chicken fingers and chicken nuggets, but Burger King bucked the trend in 2005 by coming out with something called Chicken Fries. Chicken Fries—which are long thin strips of chicken coated in seasoned bread crumbs and fried—became a part of the permanent menu in 2015. This week, Burger King upped the ante and released Spicy Chicken Fries, a new snack that promises convenience and a blast of heat—and naturally, I wanted to find out if they were truly spicy.
Chicken Fries are a fun invention because they are a step beyond the juvenile chicken nugget but handier than a chicken tender. You can easily eat these high-protein sticks on the go. The box is designed to fit in your car cup holder and the top of the box has a spot for a sauce. The Spicy Chicken Fries have the same convenient design but with an angry-looking chicken surrounded by flames.
Since I had never tried the original Chicken Fries, I decided to try them alongside the Spicy Chicken Fries to compare the flavors. Here's what I thought about each one and the little tweaks I'd need to eat either of them again.
Chicken Fries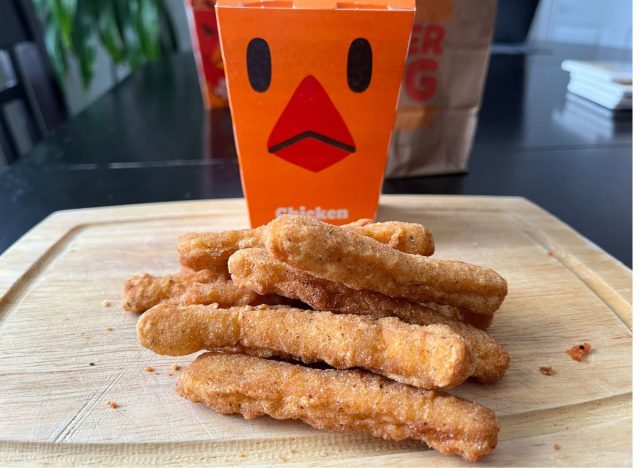 Per serving
: 240 calories, 13g fat (3g saturated fat), 780mg sodium, 20g carbs (1g fiber, 0g sugar), 15g protein
These sticks of fried chicken are about the size of a large finger and have specs of spices. They come in a nine-piece size or you can get them as part of a meal.
The look: The fries were a lovely golden brown. They didn't come with a sauce, I guess I needed to ask for one. They held up well on their delivery journey in the cut chicken box, but I just can't understand why Burger King can't get anything to me hot.
The taste: These have a very good spice level as it is, and the chicken, though lukewarm, was still slightly juicy. The chicken is meaty and there is a good ratio of breading to chicken. The fries are very flavorful and they don't need a sauce, but sending a default barbecue sauce would have been nice (you know, like McDonald's does.)
They leave a little heat in the back and sides of the tongue and they are really easy to eat. They are wildly better than McDonald's Chicken McNuggets, but a little kid might find them over-spiced. Honestly, these are giving me a blast from the past because they taste like the old, misshapen BK chicken tenders from the 90s, that didn't look good but smoked McD's nuggets.
Spicy Chicken Fries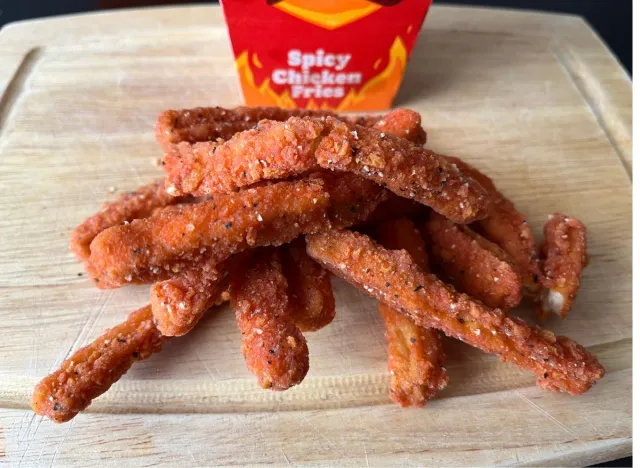 Per serving
: 250 calories, 14g fat (2g saturated fat), 750mg sodium, 17g carbs (1g fiber, 0g sugar), 14g protein
Burger King's Spicy Chicken Fries dropped into stores this week and have a special fiery coating. Turns out one of the world's hottest peppers, the Ghost Pepper, brings the beat to these chicken bites. "We've looked at a bunch of different cool peppers to innovate with (Carolina Reaper, Red Naga, Trinidad Scorpion), but we ultimately settled on Ghost Pepper to bring the heat for Spicy Chicken Fries," said Burger King's house chef.
The look: The bright red and orange box with an angry bird face surrounded by flames is the first hint of the spice to come. Since the traditional chicken fries are a little spicy, I'm curious to taste how these stack up. The fries have more flecks of black pepper and a deep orange, Cheeto-like color, overall.
The taste: The spicy fries had the same good crunchy texture and tender chicken as the classic ones and a front-of-the-tongue tingle that is not powerful at first bite. But, it spread across my tongue and made my mouth water as I chewed. While I have a very high tolerance for spice, these were definitely spicy and if you take a big bite it could be too much. A cooling blue cheese or ranch sauce would be perfect with them.
The spice does dissipate after 30 seconds or so, making it safe to go back in for more. The mild chicken flavor plays nicely with the spice and doesn't disappear into it. Again, a cooling sauce would be perfect with these.
Overall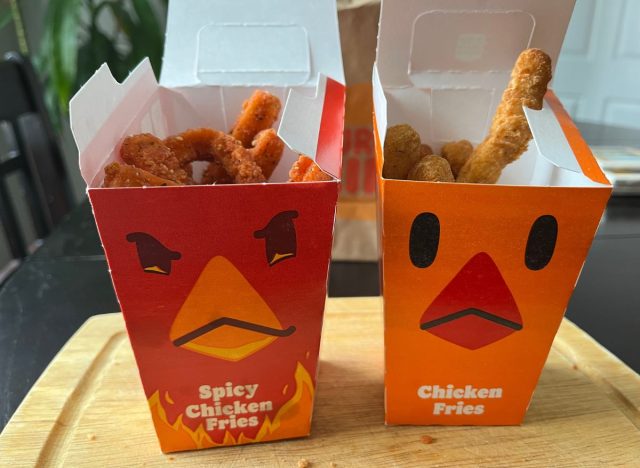 While I love spice, I think I'd stick with the traditional Chicken Fries because they are spicy enough for the casual eater. Plus, the Spicy version overwhelms the really good balance of flavor that Burger King seems to have brought back from the past in these thin sticks of chicken. If I want some extra spice I'll get them with the Buffalo sauce.6254a4d1642c605c54bf1cab17d50f1e
If you truly love spice these are the snack for you, but for the average person, regular Chicken Fries are spicy enough. I can't wait to see if the test market Churro Fries and Mozzarella Fries hit Burger King's around the country, I'll be the first in line.