7 Fast-Food Chicken Sandwiches Made With a Real, Whole Piece of Chicken
Sandwiches that feature processed and reformed chicken can often be a downgrade in quality and texture.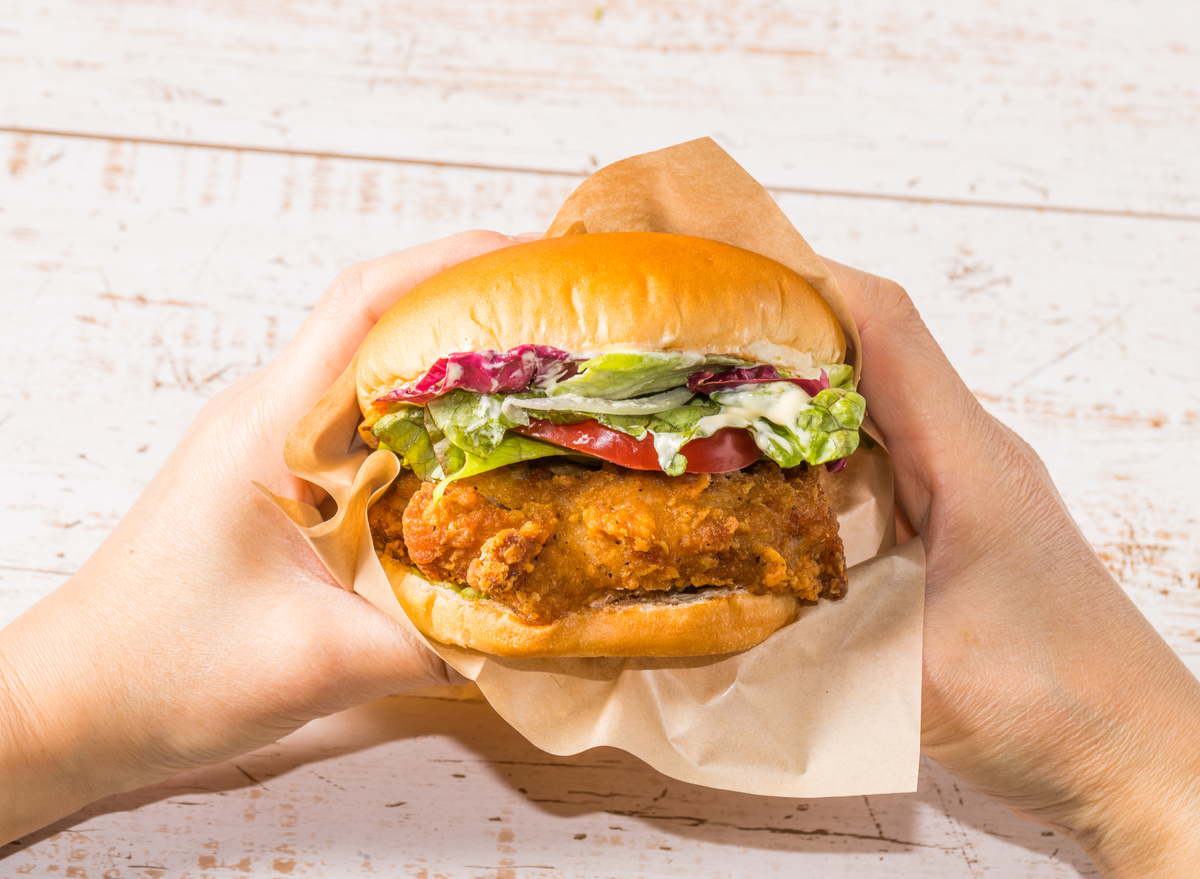 The product recommendations in this post are recommendations by the writer and/or expert(s) interviewed and do not contain affiliate links. Meaning: If you use these links to buy something, we will not earn a commission.
If the ongoing chicken sandwich wars are any indication, Americans haven't lost their appetite for the ever-growing range of fried and grilled chicken sandwiches on the market. But customers looking for a well-made, high-quality sandwich may sometimes find a menu item that features something more akin to a glorified chicken nugget rather than an actual piece of real chicken.
The McChicken at McDonald's, for example, uses a chicken patty rather than a bonafide chicken fillet. The star of Burger King's line of international chicken sandwiches is also a chicken patty, albeit an extra long one.
Though every customer has different preferences and dietary needs, chicken sandwiches that feature highly-processed poultry instead of whole pieces of chicken can often be a downgrade in both quality and texture.
Luckily, there is a strong lineup of offerings at some of the largest and most popular fast-food chains that leave those processed options behind. While this is not an exhaustive list, here are some fast-food chicken sandwiches that use actual, whole pieces of chicken.
Shake Shack's
Chick'n Shack
Shake Shack's take on a fried chicken sandwich, the Chick'n Shack, hasn't received quite as much attention and fanfare as similar offerings from Popeyes and Chick-fil-A. But it is still touted as one of the best chicken sandwich options currently on the market.
Seeing as Shake Shack uses a piece of real, whole chicken to make the Chick'n Shack, this is no surprise. Per Shake Shack, the poultry in this fan-favorite sandwich is a "100% all-natural and antibiotic-free chicken breast." 
Popeyes' Classic Chicken Sandwich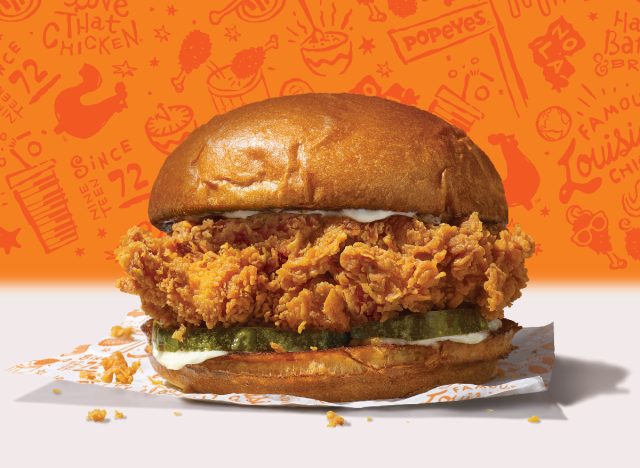 How could we possibly do a roundup of GOAT chicken sandwiches without mentioning the one that started the chicken sandwich craze? Between the toasted brioche bun, barrel cured pickles, and crispy breading, there are many reasons to love Popeyes' Fried Chicken Sandwich. 
But the fact that it features a whole chicken breast fillet marinated in Popeyes seasonings is yet another plus. For any spice lovers out there, Popeyes' Spicy Chicken Sandwich is also made with a whole chicken breast fillet.
Chick-fil-A's Chicken Sandwich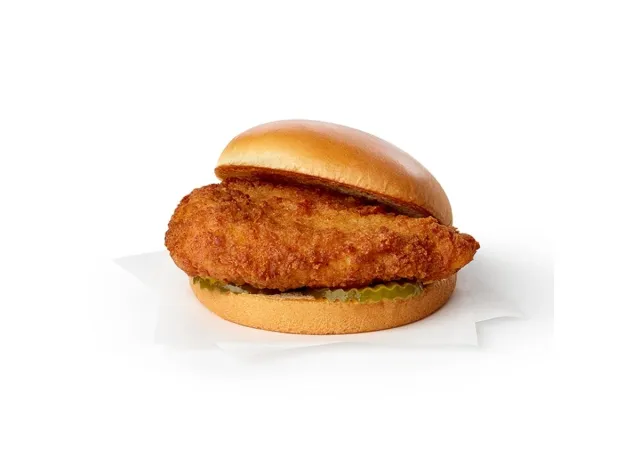 Another veteran of the chicken sandwich arena, Chick-fil-A has rigorous standards when it comes to its poultry.
"Chick-fil-A sources 100% real, whole, boneless breast of chicken that has never been ground or separated, and that contains no fillers or added steroids or hormones," the chain states on its website.
So, not only can Chick-fil-A customers find real, whole chicken in the classic fried chicken sandwich, but also across its entire menu of grilled and fried chicken nuggets, sandwiches, and strips. 
Raising Cane's Chicken Sandwich
Despite offering a minimalist menu, Raising Cane's has made a name for itself in the fried chicken market with its popular lineup of chicken tenders, sides, and the famous Cane's Sauce.
The Louisiana-based brand only uses real chicken breast tenderloins that have never been frozen to make its classic chicken tenders, according to co-founder Todd Graves. And these tenders act as as the base for Raising Cane's Chicken Sandwich, served with lettuce and sauce on a bun.
So while quality-conscious customers may drop by their local Raising Cane's for an order of chicken tenders, they also can't go wrong if they decide to give the chicken sandwich a try.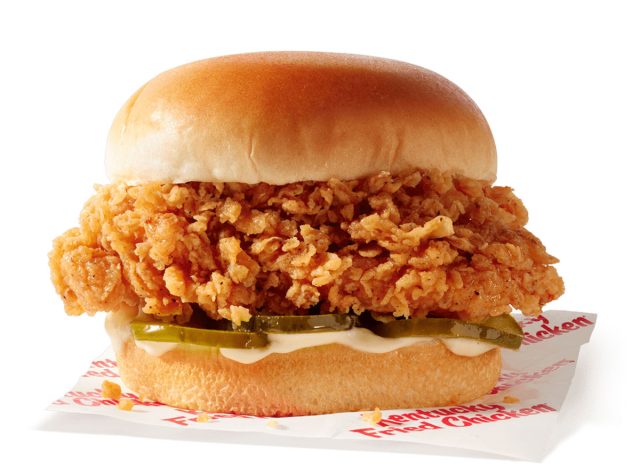 When Popeyes made waves in 2019 by introducing its ultra-popular fried chicken sandwich, competitors like KFC were seemingly inspired to up their own chicken sandwich game.6254a4d1642c605c54bf1cab17d50f1e
Fast forward to January 2021, KFC announced a new offering that it proclaimed would be its "best chicken sandwich ever." The KFC Chicken Sandwich, which remains on menus to this day, uses a quarter-pound, all-white meat breaded chicken breast fillet that is served on a toasted brioche bun with pickles and sauce. 
According to KFC's company guidelines, all of the poultry it uses is 100% real chicken that is free of hormones and inspected by the USDA for quality before it heads to KFC kitchens.
6
Carl's Jr.'s/Hardee's Charbroiled Chicken Club Sandwich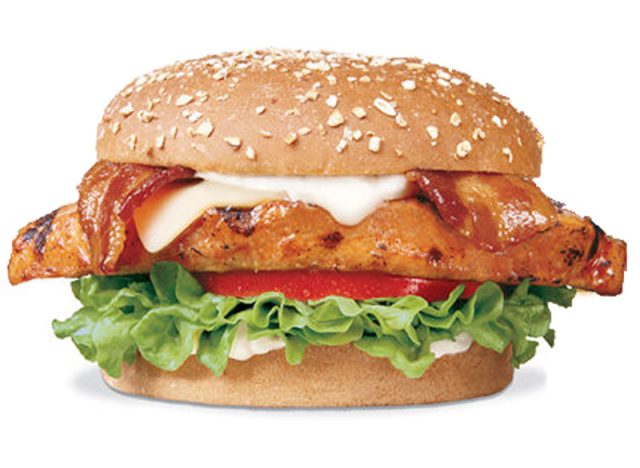 This list isn't only limited to fried chicken sandwiches. For consumers who want a grilled option that still uses a real whole piece of chicken, look no further than the Charbroiled Chicken Club Sandwich that can be found at both Carl's Jr. and Hardee's. 
Both this sandwich and the similar Charbroiled BBQ Chicken Sandwich use an all-natural charbroiled chicken breast fillet, according to the sister fast-food chains.
While the fact that it uses a whole piece of chicken is a plus, the Charbroiled Chicken Club Sandwich does have some room for improvement when it comes to calories and fat content.
Bojangle's Bo's Chicken Sandwich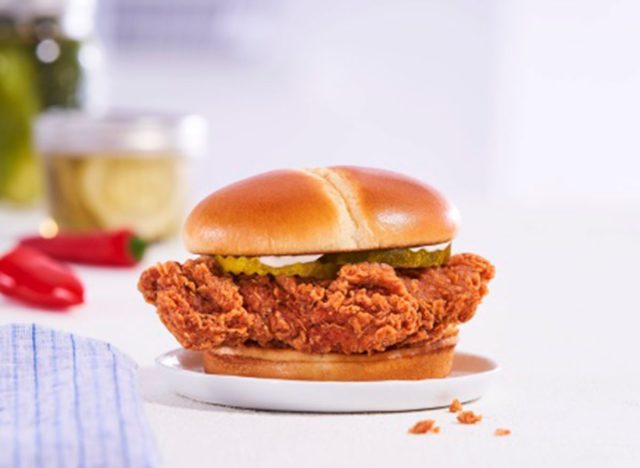 Bojangles has largely focused on bone-in fried chicken and biscuits for the approximately 46 years it has been in business. But the chain jumped on the chicken sandwich trend in 2021 with an offering that features a hand-breaded, whole marinated chicken breast served on a toasted bun with creamy, zesty mayonnaise and dill pickles.
Bojangles has seen so much success with its boneless offerings, including the sandwiches, that it has been testing a smaller menu at some locations which foregoes bone-in chicken altogether.
Zoe Strozewski
Zoe Strozewski is a News Writer for Eat This, Not That! A Chicago native who now lives in New Jersey, she graduated from Kean University in 2020 with a bachelor's degree in journalism.
Read more about Zoe