This Kitchen Staple Is Still Flying off Grocery Store Shelves
Land O' Lakes Inc. is on target to hit record-breaking butter sales this year.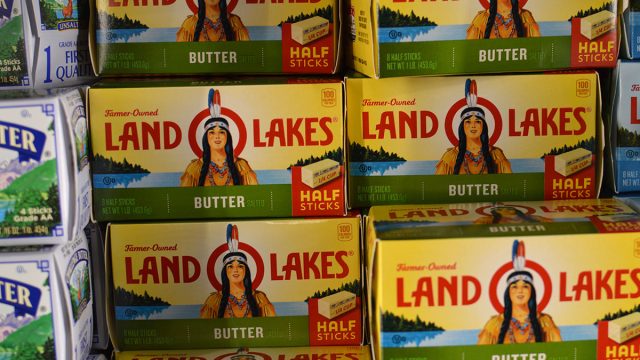 Kitchen staples like flour and canned corn have been in high demand as more Americans are cooking at home this year. One food, in particular, that's seen sales skyrocket is a Julia Child-approved ingredient that's versatile enough to use in both cooking and baking: butter.
As a third wave sweeps the country, people are becoming more familiar with food shortages. Several shortages have been reported since late March because of disruptions in the supply chain. At the same time, various big-name food companies have had stellar years due to a huge spike in demand for their products.
While Land O' Lakes Inc. is on track to sell a record-breaking amount of butter by the end of the year, it has yet to announce a shortage. The Minnesota-based company projects butter sales will reach between 275 million and 300 million pounds in 2020. (Related: 8 Grocery Items That May Soon Be in Short Supply.)
To lend perspective, those numbers represent a greater than 20% increase in sales than a typical year, Chief Executive Officer Beth Ford told Bloomberg Quint. The massive incline in retail sales was enough to offset the decline in sales from restaurants the company suffered at the height of the pandemic as the lockdown forced these establishments to shutter their doors. In a normal year, butter sales from restaurants account for 15% and 20% of the company's business. (For more, check out 7 Butter Hacks You Should Definitely Know.)
As stay-at-home orders went into effect, U.S. dairy farmers were forced to dump millions of gallons of fresh milk amid a severely curbed demand for food services, which included school cafeterias in addition to restaurants. Despite the abrupt decline in milk consumption, Land O' Lakes reported that butter was flying off the shelves and that is still the case months later. With so many more people cooking meals at home, it's no surprise the company has experienced such a rapid surge in sales.
To stay informed on the latest grocery news, be sure to sign up for our newsletter.
Cheyenne Buckingham is the news editor of <Eat This, Not That!, specializing in food and drink coverage, and breaking down the science behind the latest health studies and information.
Read more