20 Best Nut and Seed Butters You Can Buy Online
From peanut and pistachio butter to seed blends and beyond, you'll go totally nuts over these click-to-buy spreads.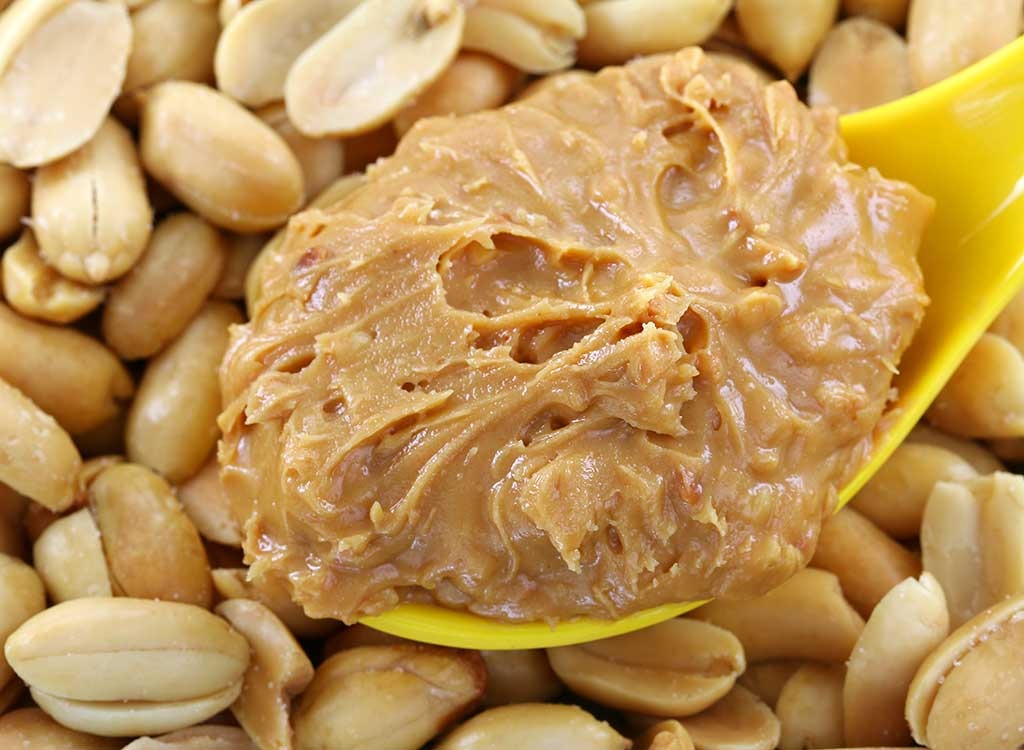 From $2 jars of Skippy to $25 artisanal jars filled with sprouted seeds, there's definitely no shortage of nut butters in the supermarket. But with such a variety of products on the shelf, it can be hard to know which jars are worth your cash. Is almond butter healthier than cashew butter? Can a $3 jar of "natural" peanut butter actually be healthy? If we're being honest, no one has time to ask Siri all of these questions while staring at the display in the store—which is the very reason why we scoured the web for the best nut butter options online. This way, you can simply click, buy, and get your spoons ready.
Whether your grocery story lacks unique flavor varieties or you simply have no idea which jars are the healthiest picks, we've got you covered. Read on to discover the very best spreads you can nab at the click of a button. And if you wind up with some creamy leftovers, polish off your jars with the help of these 20 Delicious Nut Butter Recipes.
Crazy Richard's Chunky Peanut Butter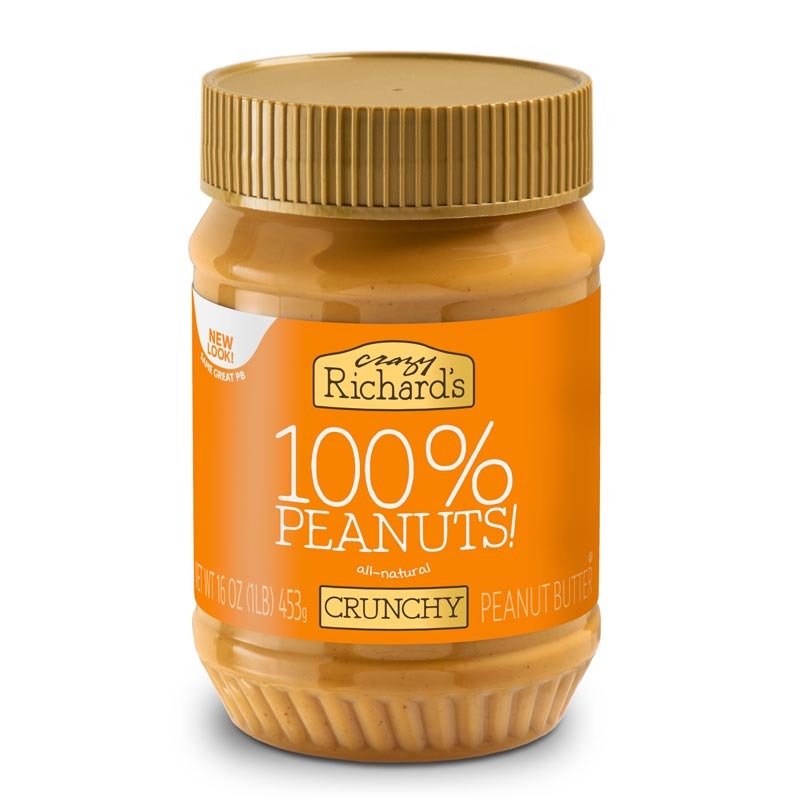 Classic jars of Jif and Skippy are highly processed and loaded with sugars and trans-fatty oils. But Crazy Richard isn't about that life. All you'll find in his jar of creamy goodness are peanuts, a legume that's packed with heart-healthy monounsaturated fats that aid weight loss. You'd be hard-pressed to find a more wholesome spread for just $3, so be sure to snag a jar—stat!
Buy a jar online here, $3.19
Wild Friends All Natural Peanut Butter Cinnamon Raisin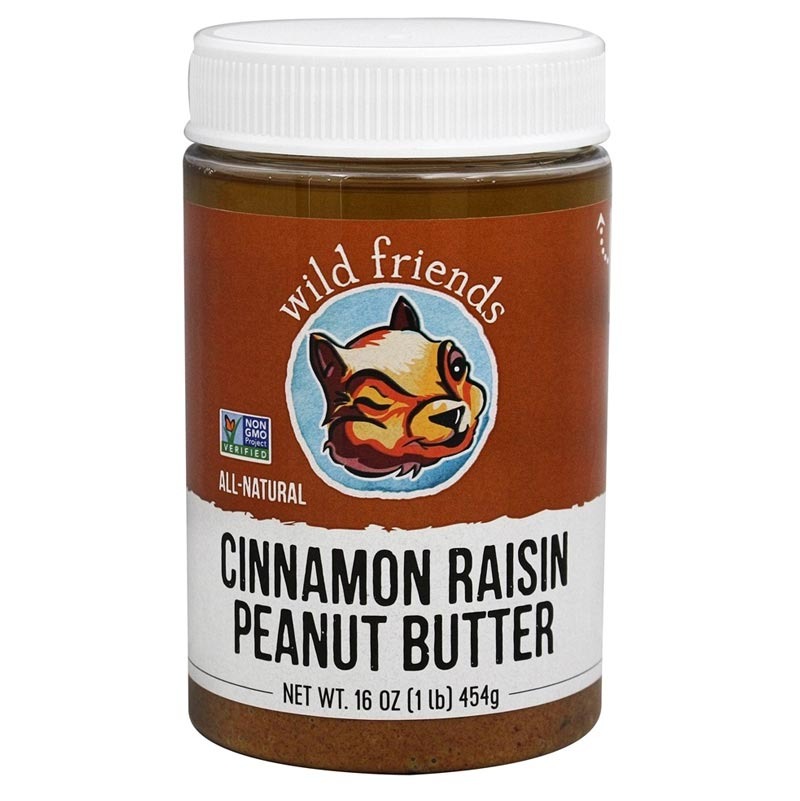 This delicious cinnamon raisin spread is perfect for those who need a little bit more than just nuts and salt. Thanks to the addition of agave, raisins, and cinnamon, this PB has a ton of flavor. Fair warning, though: a 2 tablespoon serving has 4 grams of the sweet stuff—not that that's a lot, but if you're not eating the stuff carefully, you risk taking in too much sugar and too many calories. To keep portions in check—and really let the spread's flavor shine through—we suggest smearing some onto apple or banana slices or enjoying a single, decadent spoonful as a high-protein dessert.
Buy a jar online here, $7.20
(Hate the idea of paying for shipping? Use code ZB667PEN during checkout to offset the cost!)
Once Again Organic Sunflower Seed Butter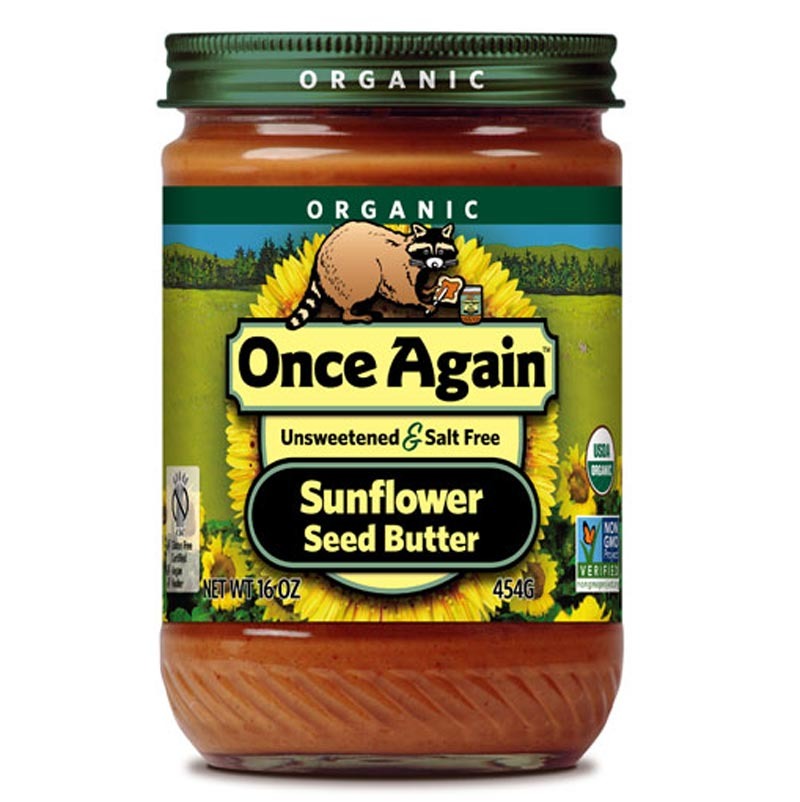 Whether you're following the Paleo diet or hoping to start a family soon, this sunflower butter is the perfect go-to. Not only does the creamy spread provide the same protein and healthy fats you'd find in traditional peanut butter, a single serving has 15 percent of the day's folate, a nutrient that helps prevent birth defects of the brain, spine, and spinal cord.
Buy a jar online here, $7.54
Nuttzo Organic Smooth Power Fuel Seven Nut and Seed Butter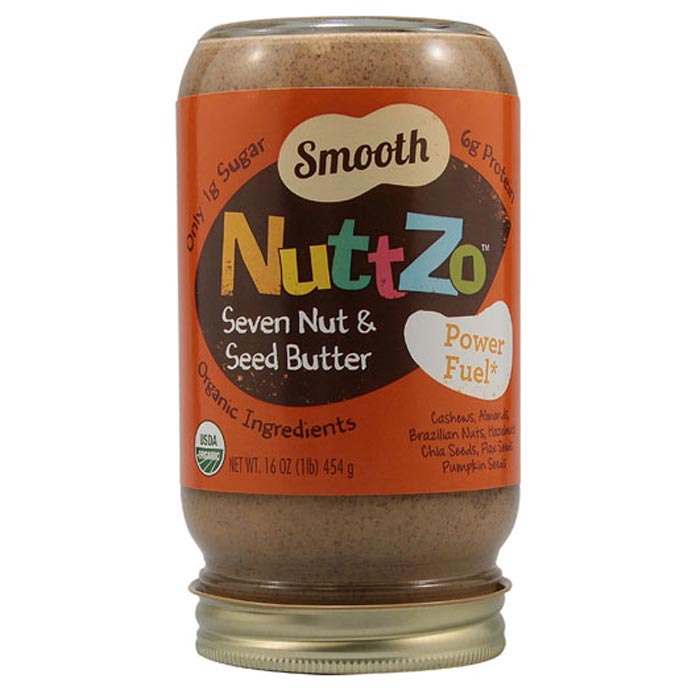 Each type of nut has its own unique set of health benefits. While Brazil nuts are the richest known food source of selenium, almonds have been shown to aid weight loss, and cashews are filled with protein-building amino acids. This spread blends all of these health heroes, along with other superfoods like chia seeds, flax seeds, hazelnuts, and pumpkin seeds. The result is a product with a wider array of nutrients than you'd find in a spread made from a single nut or seed.
Buy a jar online here, $15.79
Simple Truth Cashew Butter Smooth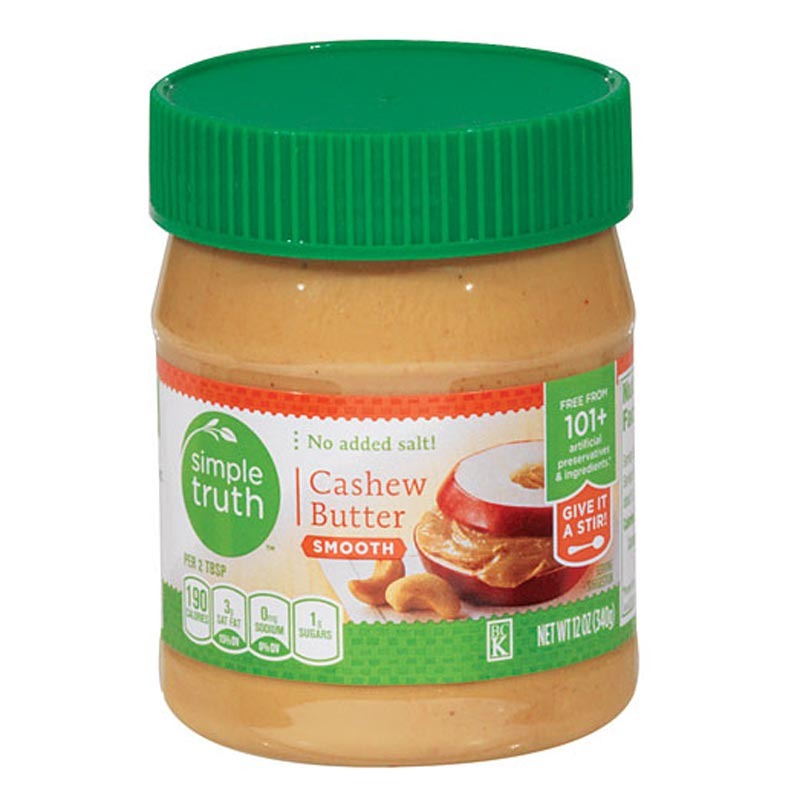 While you may have never paid it much attention before, cashew butter is a nutritional goldmine that's worthy of your attention. Made from dry roasted cashews and sunflower oil, Simple Truth's version is a potent source of calcium, copper, and magnesium, a nutrient that helps ward off headaches and muscle cramps. Cashew butter also contains a good amount of biotin, which will help keep your mane shiny and lustrous. For even more foods that will help keep you looking beautiful and young, don't miss these 18 Health Foods with Big Beauty Benefits.
Buy a jar online here, $6.99
Georgia Grinders Premium Nut Butter Georgia Grinders Pecan Peanut Butter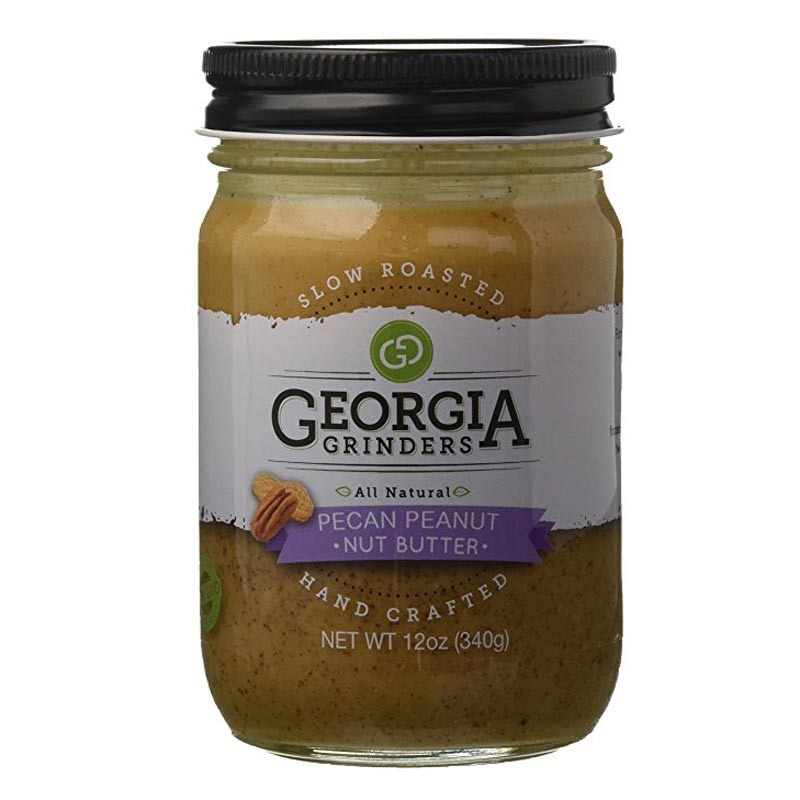 If you only enjoy pecans in Thanksgiving pie, you're totally missing out. Never tried this type of spread before? Pecan butter is exactly what you'd imagine: smooth and creamy like PB but with pecan flavor notes. A serving of this spread serves up more iron than peanut butter without slacking on protein, making it a good pick for women and vegetarians: two groups that tend to not get enough of this vital nutrient.
Buy a jar online here, $9.71
Windy City Organics Dastony Sprouted Pumpkin Seed Butter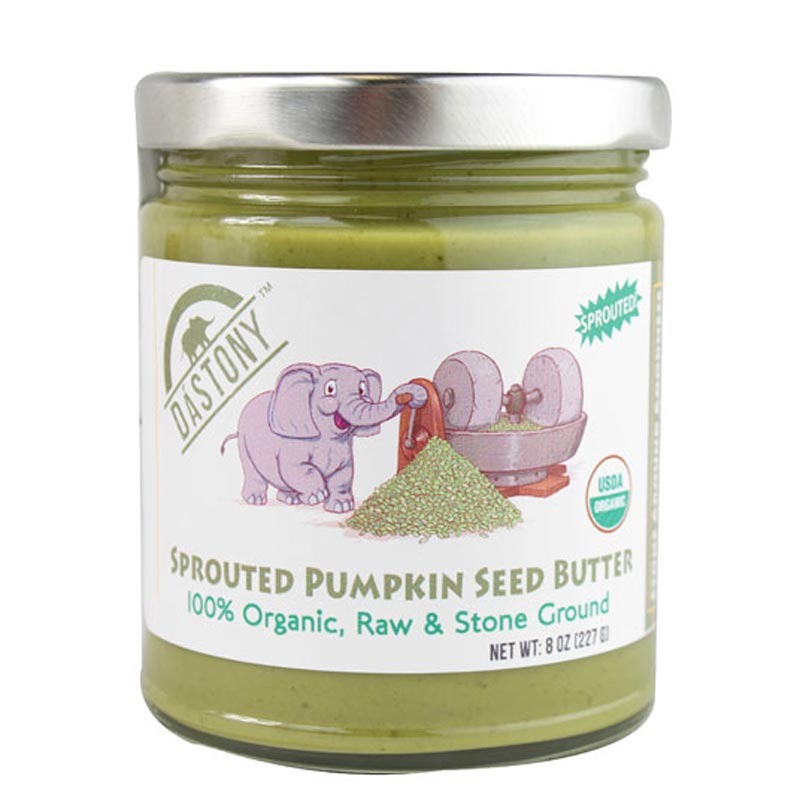 6254a4d1642c605c54bf1cab17d50f1e
Hate Greek yogurt? Get your paws on this sprouted pumpkin seed butter. Sprouted seeds contain active digestive enzymes, which can help improve gut health, similar to the probiotics found in the very dairy product you so despise. Pumpkin seed butter is also lower in calories than peanut butter and just two tablespoons of the stuff contain 20 percent of the day's recommended iron intake—something few other nut or seed spreads can claim.
Buy a jar online here, $11.59
Manna Organics Manna Butter Coconut Cashew No Added Sugar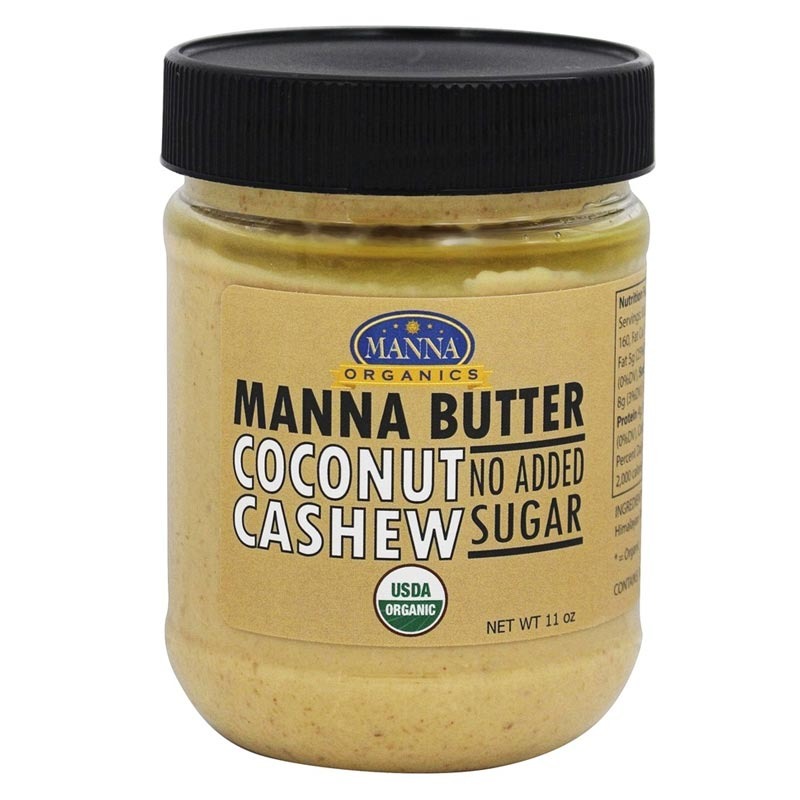 If you tend to head spoon first into nut butter, you'll love this dressed up cashew version, complete with dried coconut and Himalayan pink salt. Unlike most other spreads with flavor additions, this jar has no added sugar, making it a perfect treat for those following the Zero Sugar Diet.
Buy a jar online here, $11.69
(Hate the idea of paying for shipping? Use code ZB667PEN during checkout to offset the cost!)
Nutraw Organic Pistachio Butter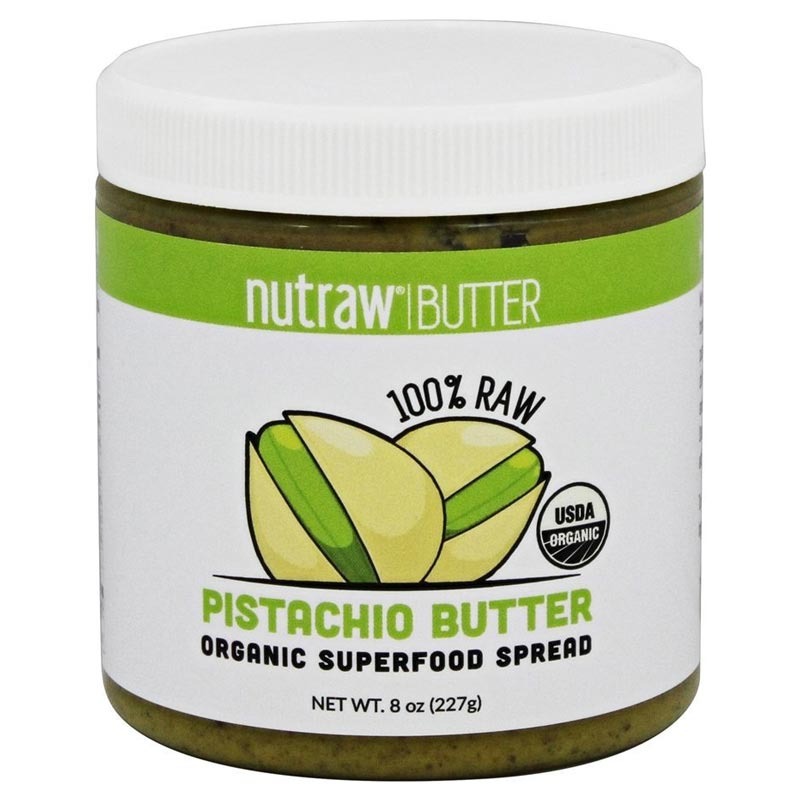 Pistachio butter is a bit like buried treasure: Hard to find, but totally worth the hunt once you finally find some. We did all the legwork, so all you have to do is add a jar to your online shopping cart and enjoy all of its nutritional goodness. Believe it or not, pistachios—and its butter—are a more potent source of healthy omega-3s than fish oil and also carry more potassium in a 2-ounce serving than a medium banana. To bring out the natural flavor of this mighty green nut, Nutraw combines raw pistachios with organic extra-virgin coconut oil and organic vanilla. Can you say "yum?!"
Buy a jar online here, $15.85
Buff Bake Protein Peanut Spread Chocolate Chip
Thanks to the addition of whey protein, flax, and chia seeds, this spread has a bit more protein and fiber than your typical PB spread. Even so, this shouldn't be considered a staple. Think of this delicious dark chocolate-infused spread as a healthy-ish way to quell a sweet tooth craving—not something you should smear between two slices of bread on the daily. We like it mixed in with oatmeal, blended into smoothies, spread on fresh fruit, or straight from the jar and eaten with a spoon.
Buy a jar online here, $10.10
Vitacost Powdered Peanut Butter Slim with Chocolate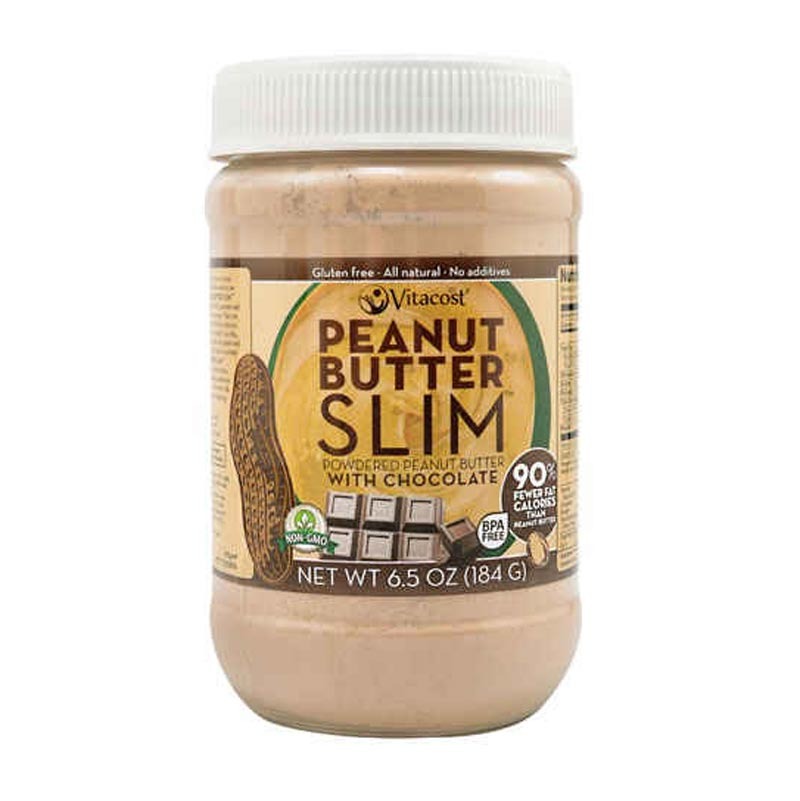 What happens when you remove oil from the peanut and then dehydrate what's left? A peanut powder that's up to 90 percent lower in fat. Though it's free of the healthy fats that make it a superfood, we're still fans because it can be added to pretty much any recipe with minimal caloric costs. And even though this chocolate rendition contains a bit of added sugar (3 grams/2 tbsp), it's still our go-to flavor pick. Unlike plain powdered peanut butter, which you'll automatically compare to the full-fat variety, chocolate PB powder has a taste all its own, so you're bound to find it more enjoyable. Mix it with some H2O and enjoy as a low-cal chocolate "mousse."
Buy a jar online here, $4.32
Artisana 100% Organic Raw Walnut Butter with Cashews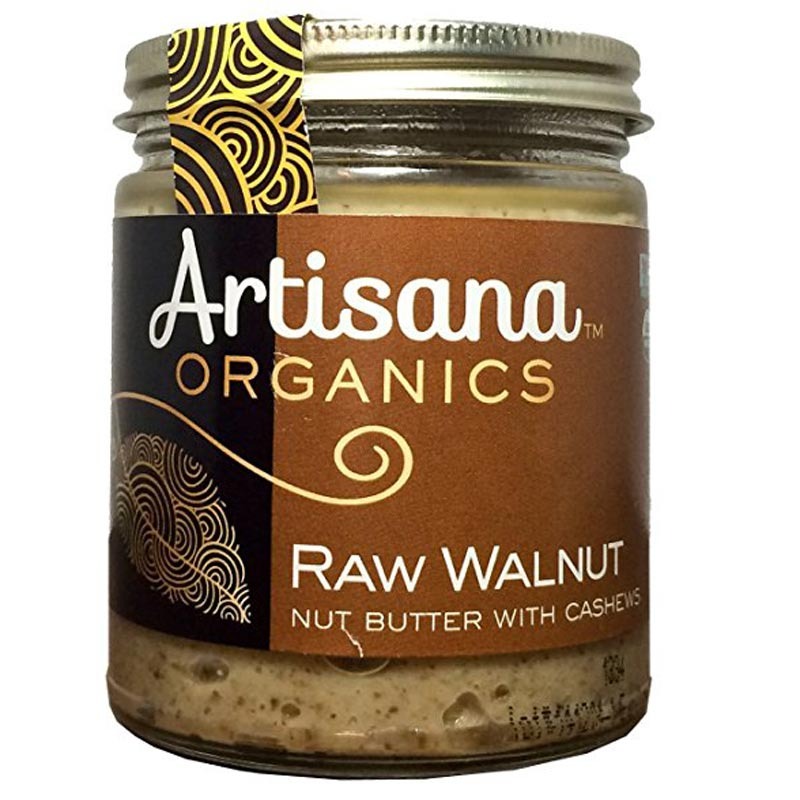 Raw walnuts and raw cashews join together to this waist-whittling healthy spread. It's teaming with polyunsaturated fats, which activate genes that reduce fat storage and improve insulin metabolism. Oh, and not to mention, the combination of the two nuts creates a delicious flavor that's all its own. So, if you're burnt out on peanut buttered, this is definitely something you'll want to try!
Buy a jar online here, $14.13
Windy City Organics Dastony Hazelnut Butter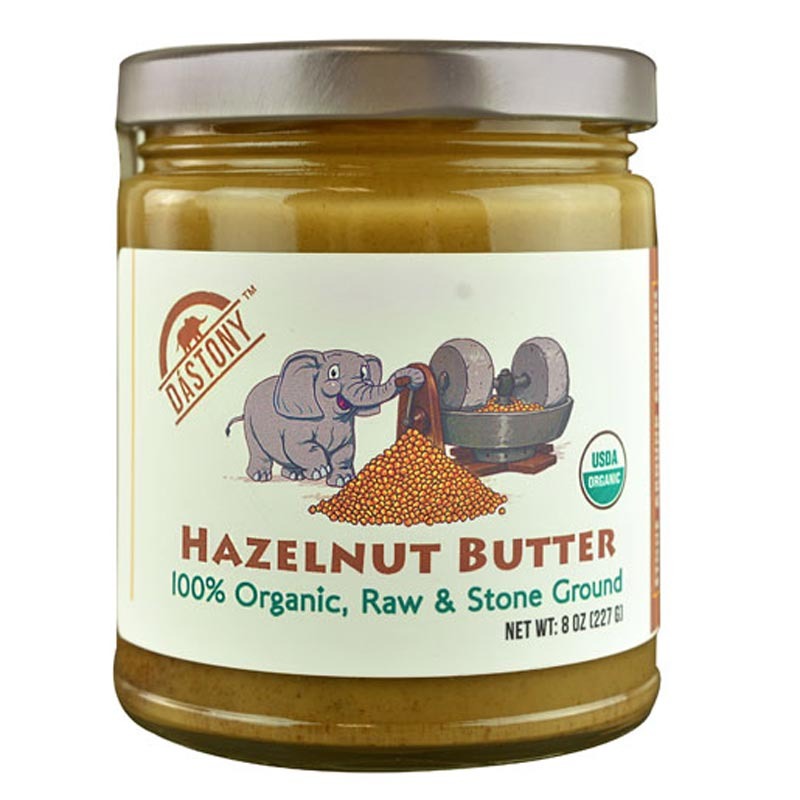 While hazelnut-based Nutella is an infamous Not That!, this spread is a completely different story. Unlike its sugary counterpart, Windy City Organics makes their rendition without sugar, cocoa, or palm oil. That said, the taste will be a bit different than what you may be used to—but it's a far healthier spread. Worth it? We think so!
Buy a jar online here, $13.49
Wholegood Organic Raw Macadamia Nut Butter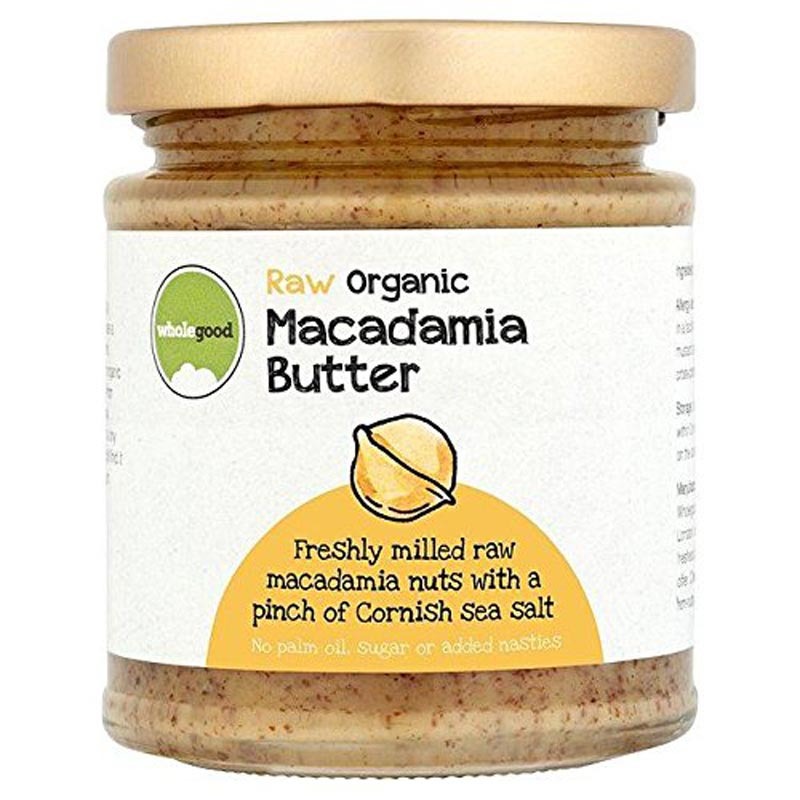 Yes, it's pretty pricey, but macadamia nuts have a ton of health benefits. The bold and buttery nut is a potent source of phytosterols, a plant-derived compound that's been associated with decreased cancer risk. What's more, the bulk of the fat in macadamia nuts is the heart-healthy monounsaturated kind, and it has a very high percentage of omega-3s fatty acids. Smear some onto celery or apple slices to reap the benefits.
Buy a jar online here, $27.19
Jiva Organics Raw Sprouted Almond Butter Creamy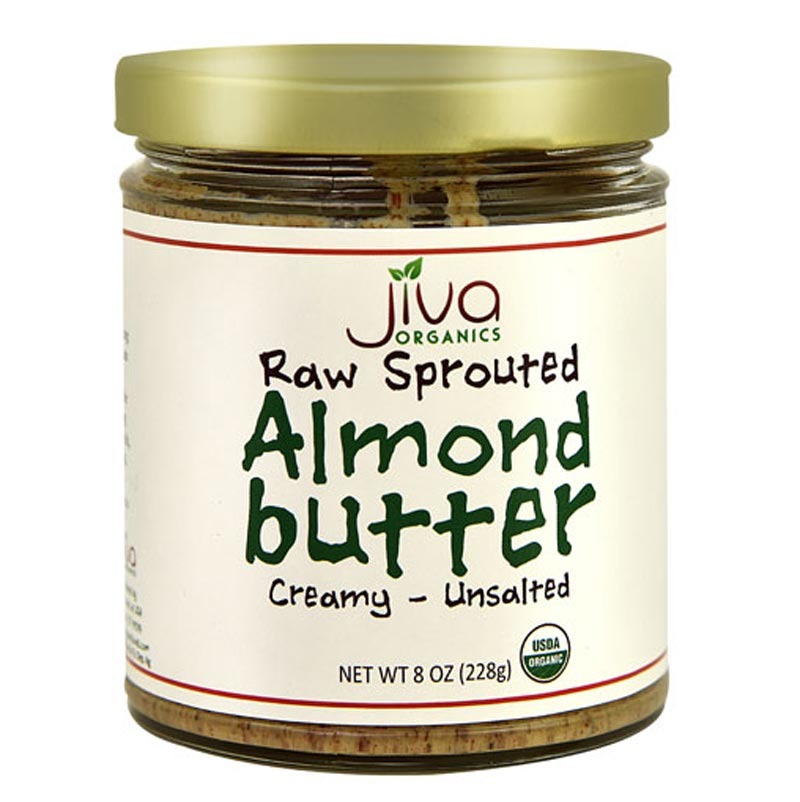 Buy a jar online here, $16.99
All you'll find in this jar are organic raw sprouted almonds. It's simple and nutritious, just as a healthy nut butter should be. To learn more about the benefits of sprouted fare, dig into our report Why Sprouted Foods Deserve a Place in Your Diet.
Nutrawbar 100% Raw Pistachio + Almond Butter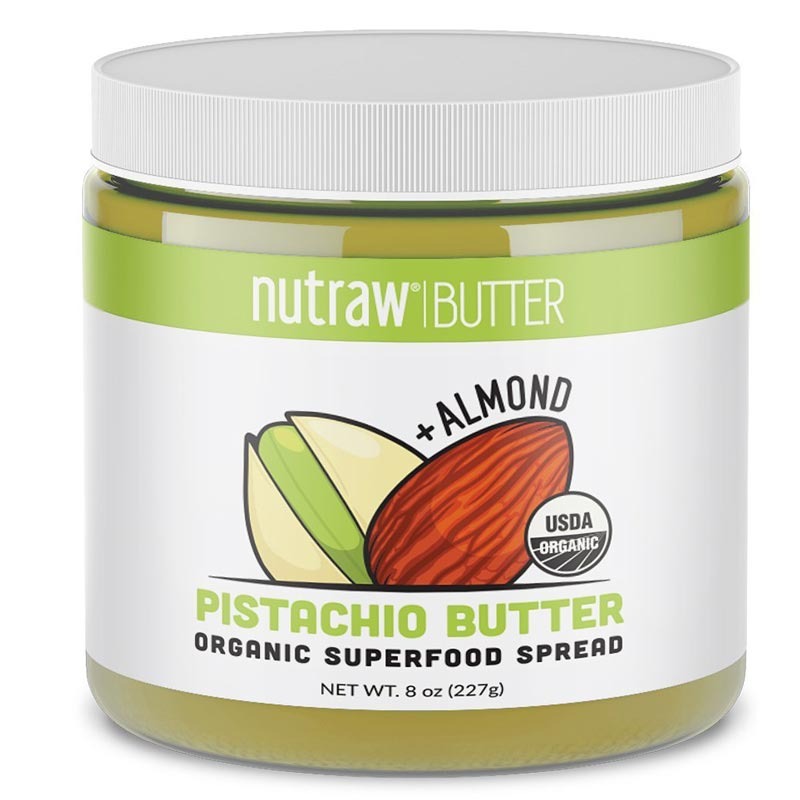 The health benefits and distinct flavors of almonds and pistachios join together to create a spread that has 21 percent fewer calories than traditional peanut butter. For even more simple ways to dial back on calories, don't miss our report 36 Easy Ways to Cut 50+ Calories.
Buy a jar online here, $14.99
Once Again Natural Crunchy Almond Butter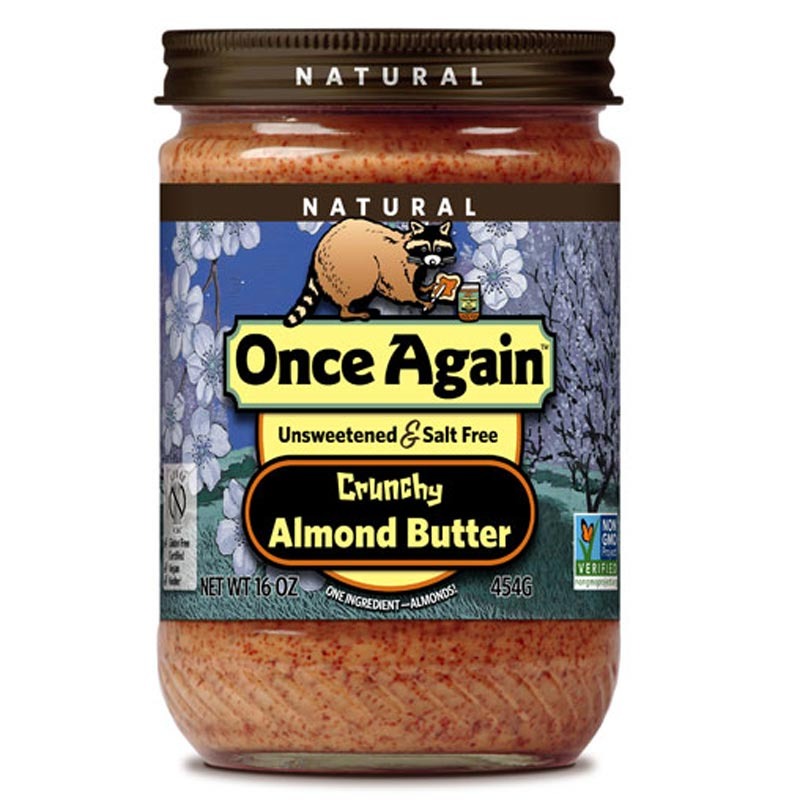 This is one the cheapest jars of crunchy almond butter you'll find—when it comes to those with a clean ingredient label, at least. All you'll find in this jar are dry roasted almonds, making it an Eat This pick.
Buy a jar online here, $11.69
(Hate the idea of paying for shipping? Use code ZB667PEN during checkout to offset the cost!)
Manna Organics Manna Butter Sprouted Fig & Nut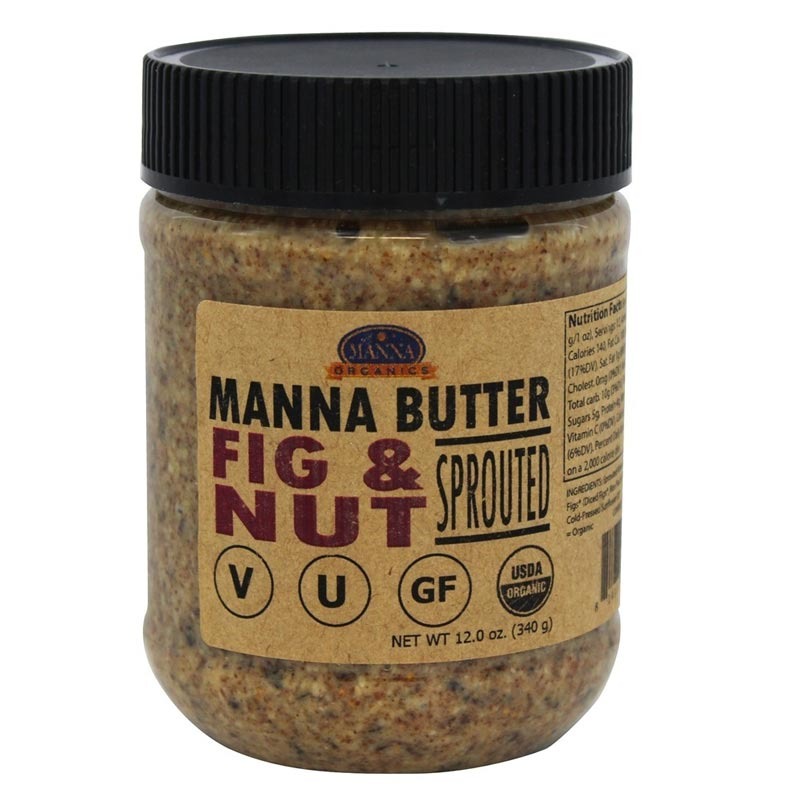 If you love the idea of a sweet, flavored nut butter, but aren't too crazy about the idea of contributing more added sugar to your diet, this spread is for you. Made with a sprouted almond and cashew base and enhanced dried figs, this Manna butter is perfect for health-minded foodies with a sweet tooth.
Buy a jar online here, $12.20
(Hate the idea of paying for shipping? Use code ZB667PEN during checkout to offset the cost!)
Wilderness Poets Raw Macadamia Butter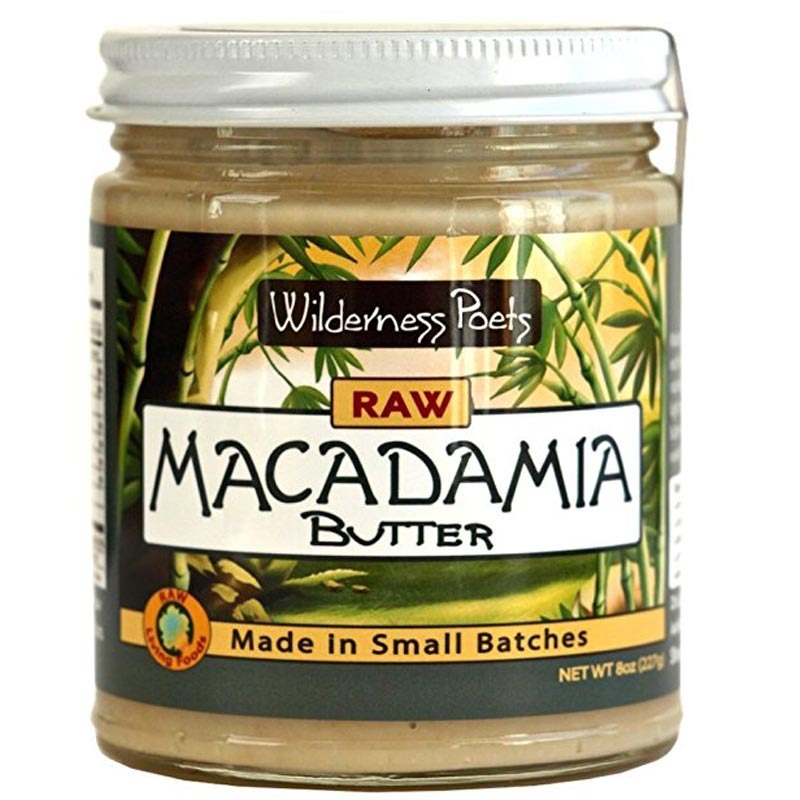 This rich and buttery nut butter has a gritty texture and a bit of crunch. Fans of the product say it tastes great mixed into oatmeal or enjoyed solo with a spoon.
Buy a jar online here, $18.07
Yumbutter Superfood Peanut Butter
Not only does this yummy Yumbutter come in a handy squeeze pouch, it's sprinkled with superfoods like chia seeds, hemp, goji berry powder, and lucuma powder. Fair warning, though: the brand uses palm oil in its recipes to help prevent oil separation. Though the verdict is still out, the European Food Safety Authority recently discovered that the oil is a potential carcinogen. Buy a pouch from time to time if the product piques your interest, but it may be best not to make it your go-to spread until we learn more about any potential dangers.
Buy a jar online here, $6.06