30 Things You Can Make with Peanut Butter
Peanut butter is good for way more than PB&J sandwiches—these creative peanut butter recipes are proof.
It's a staple in your cupboard, it was on your sandwich for lunch every day when you were a kid, and it's just an all-around fantastic snack. Peanut butter is always delicious, but these 25 peanut butter recipes will take your love for the classic spread to a whole new level. The creamy (sometimes crunchy), thick, lip-smacking, nutty taste of home that is peanut butter will never be replaceable, but it's always great to find new ways to use old classics.
If you're looking to start your day with a powerful peanut butter breakfast, we've got you! These peanut butter recipes are filled with sweet and savory combinations you never thought were possible and will come in handy when you need a quick and easy dinner recipe that will also squash your peanut butter cravings. Who knew, for example, quinoa and peanut butter could be the perfect match? Or, even peanut butter and kale? After recreating all of these recipes, you'll agree: There's nothing peanut butter can't do.
And for more, don't miss these 15 Classic American Desserts That Deserve a Comeback.
Breakfast
Oatmeal with Peanut Butter and Banana
Oatmeal and peanut butter are bold classics on their own. But brought together in this recipe, they'll pack a power punch to start your day. With only seven simple ingredients, this breakfast bowl is super easy to assemble. This recipe is also a great source of natural sugars and healthy fats to help with weight loss or just to boost your energy on a slow morning.
Get our recipe for Oatmeal with Peanut Butter and Banana.
Peanut Butter Overnight Oats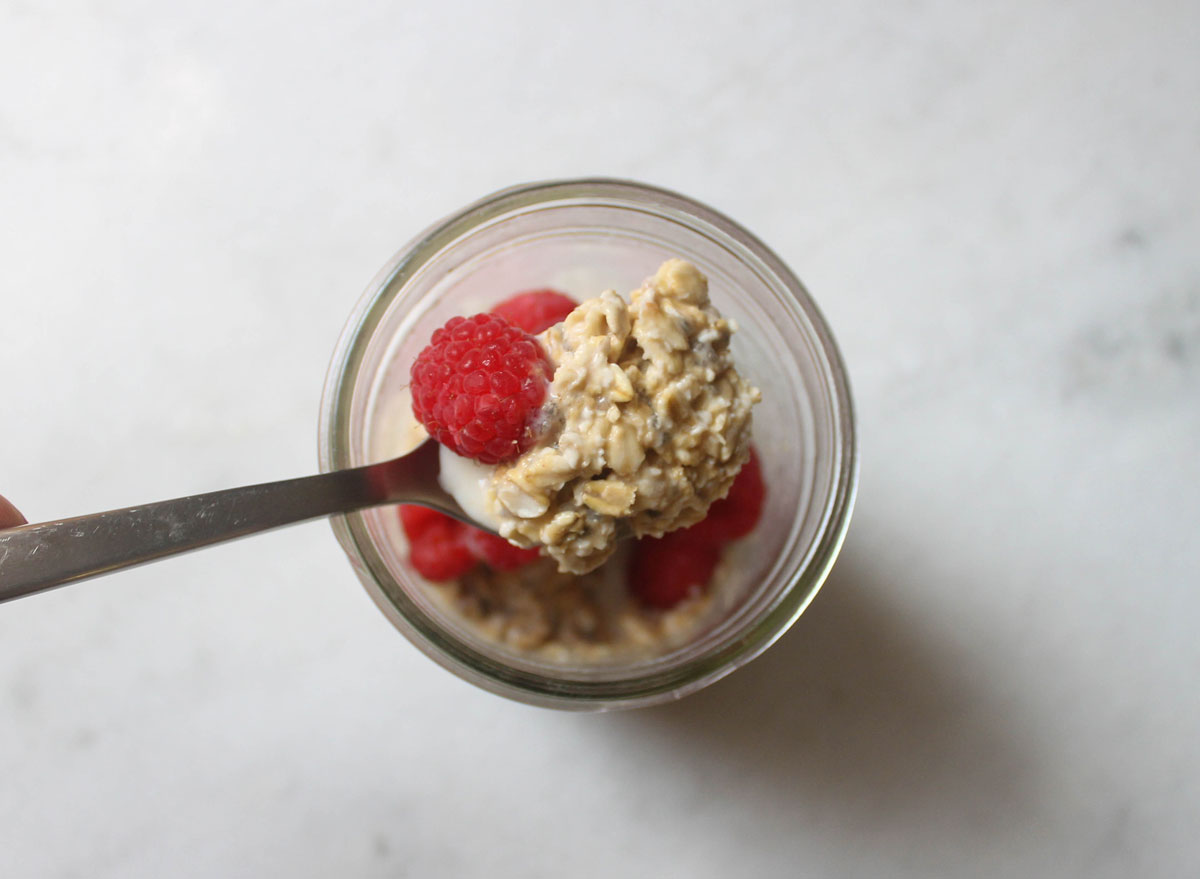 This overnight oats recipe uses just five ingredients, but it tastes absolutely delicious when mixed together. Not only is this recipe bound to produce an Instagram-worthy picture, but it's also a great meal prep idea for the inevitable mornings you're running out the door. With simple ingredients and a healthy dose of protein, you can't go wrong.
Get our recipe for Peanut Butter Overnight Oats. 
(And for even more ideas, check out these 17 Peanut Butter Overnight Oats Recipes.)
Chocolate Peanut Butter Protein Smoothie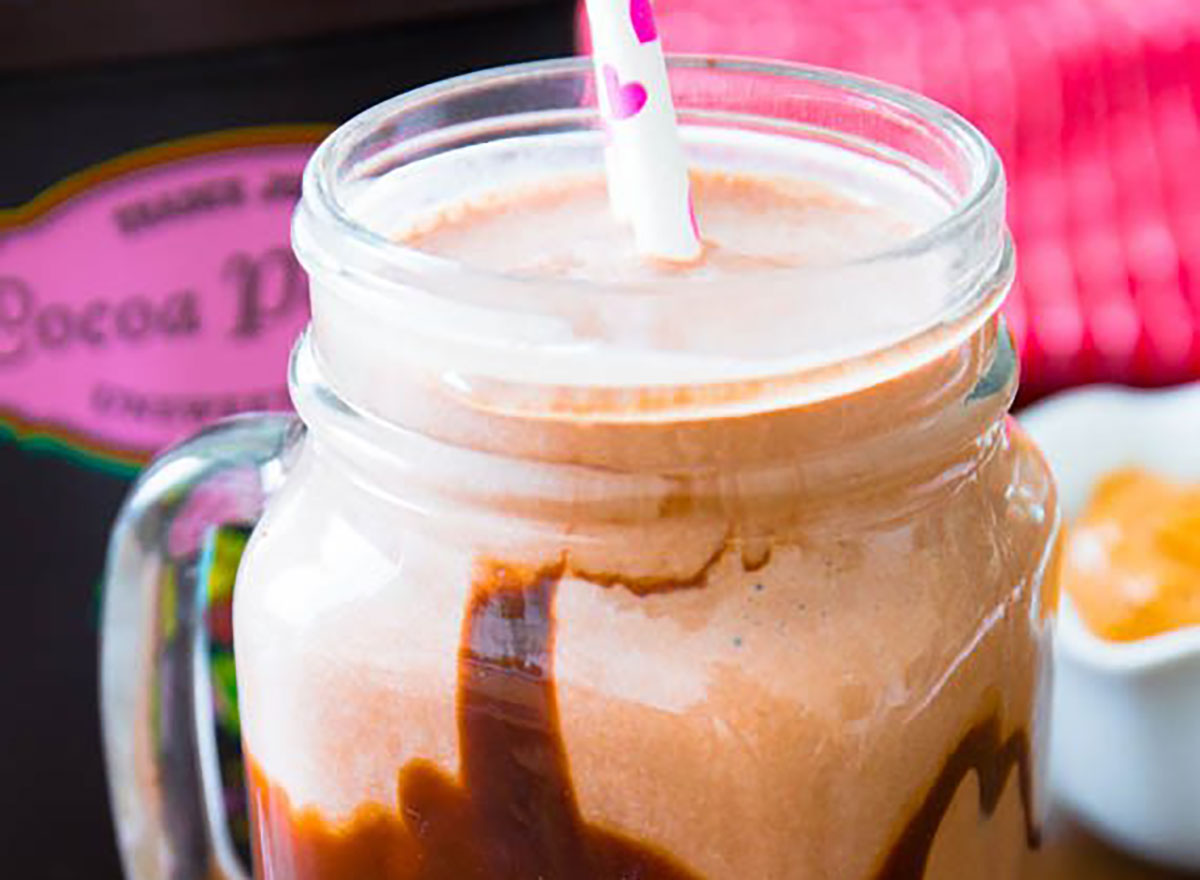 After your morning workout, you'll want to reach for this heavenly protein smoothie. This smoothie is all-natural, with 28 grams of protein and no added protein powders. Bananas and peanut butter are always great together, but the honey, maple syrup, and cocoa powder in this recipe will give your go-to protein powder a run for its money.
Get the recipe from Sally's Baking Addiction.
Chocolate Peanut Butter Quinoa Breakfast Parfait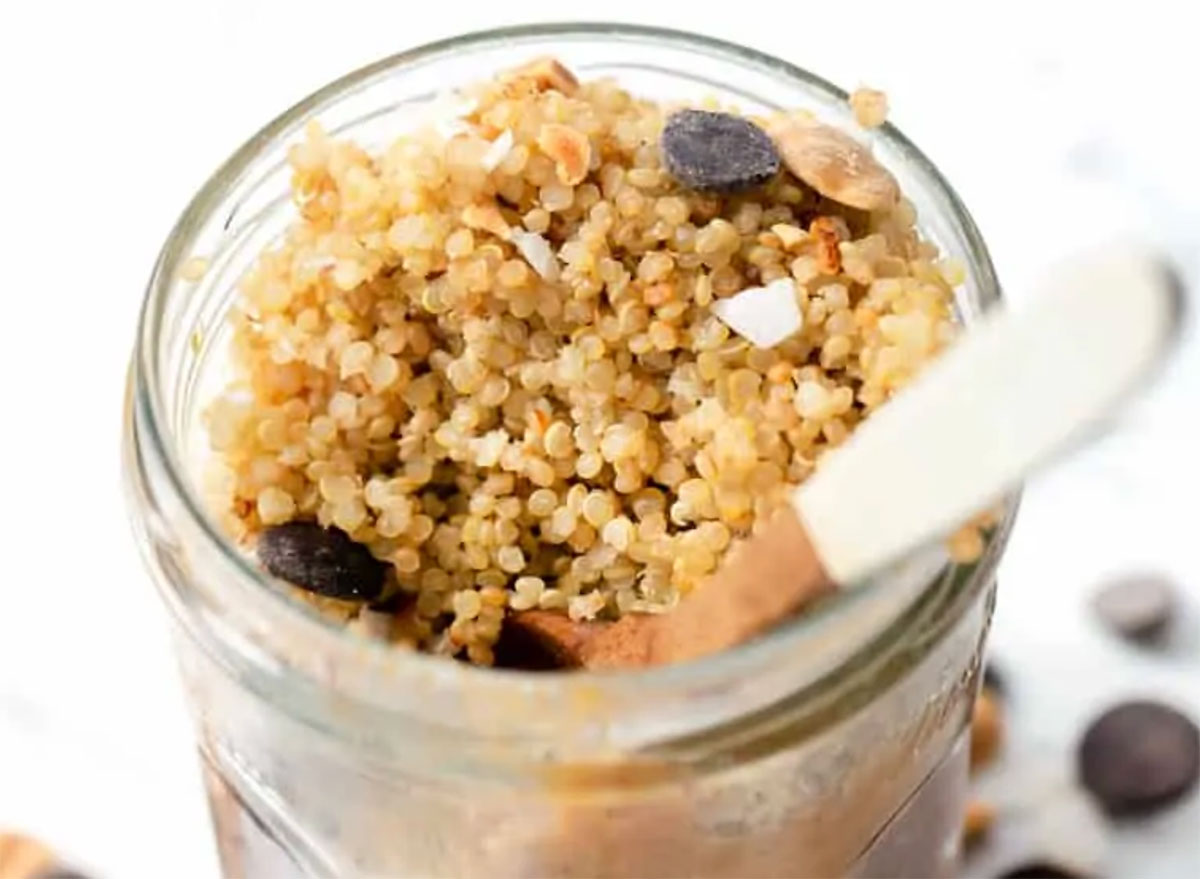 Who knew quinoa could go so well with peanut butter? Try it for yourself and find out! This sweet and salty parfait is as nutritious as it is delicious, with 19 grams of protein and 14 grams of fiber. The blending of the chocolate pudding and chia seeds, along with the creamy peanut butter quinoa sauce, is spot on for a healthy version of a Reese's peanut butter cup. Make sure you scoop all the layers for a flawless bite every time!
Get the recipe from Simply Quinoa.
Peanut Butter & Jelly Acai Bowl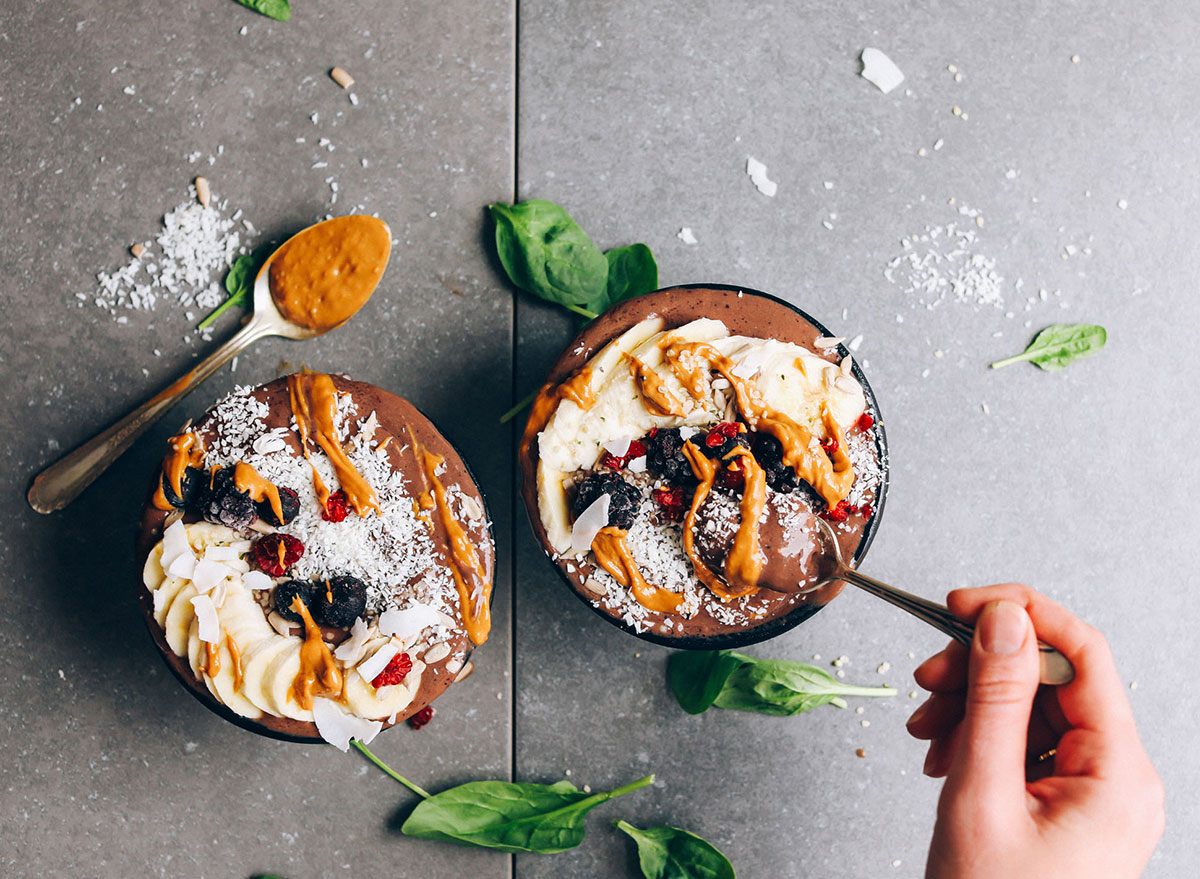 Talk about taking an all-time classic and giving it a whole new meaning. The fresh fruit that's mixed into this acai bowl, along with a peanut butter drizzle really brings a peanut butter and jelly sandwich to shame. The acai base in this recipe features berries, coconut, spinach, and bananas for a healthy, flavorful bowl. It's a great way to power start your day.
Get the recipe from Minimalist Baker.
Peanut Butter and Banana Belgian Waffles with Dark Chocolate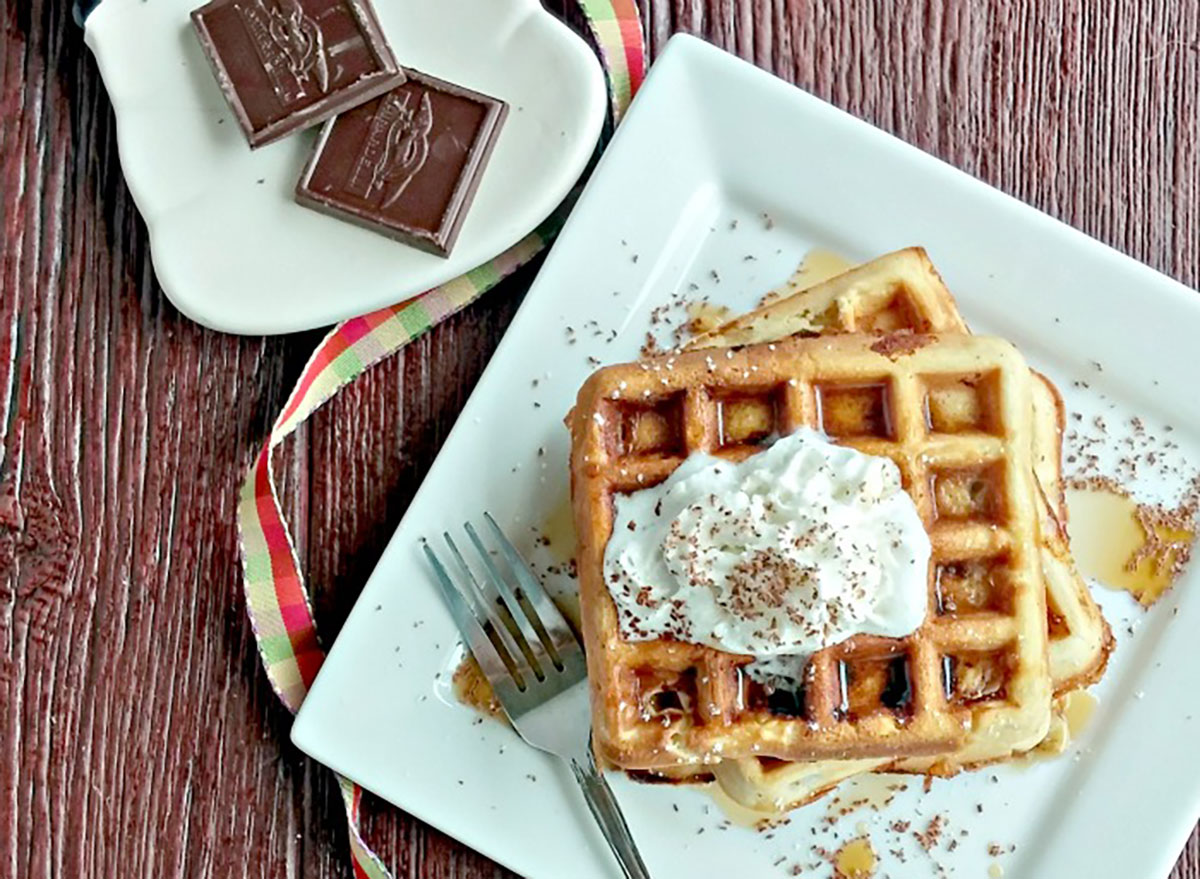 Waffles are always a good idea for breakfast. But with peanut butter added, they're total perfection. Peanut butter and banana are the perfect combination for a filling, decadent breakfast. Don't forget the dark chocolate drizzle!
Get the recipe from The Gardening Cook.
Peanut Butter & Honey Muffins
If you're looking to try out a new breakfast pastry, these peanut butter and honey muffins are definitely worth your time! They're light and fluffy, they pack a whole lot of nutty and honey flavor. This is a great recipe if you have a little extra time in the morning and want to treat yourself to a tasty peanut pastry.
Get the recipe from Pinch of Yum.
Peanut Butter Chia Pudding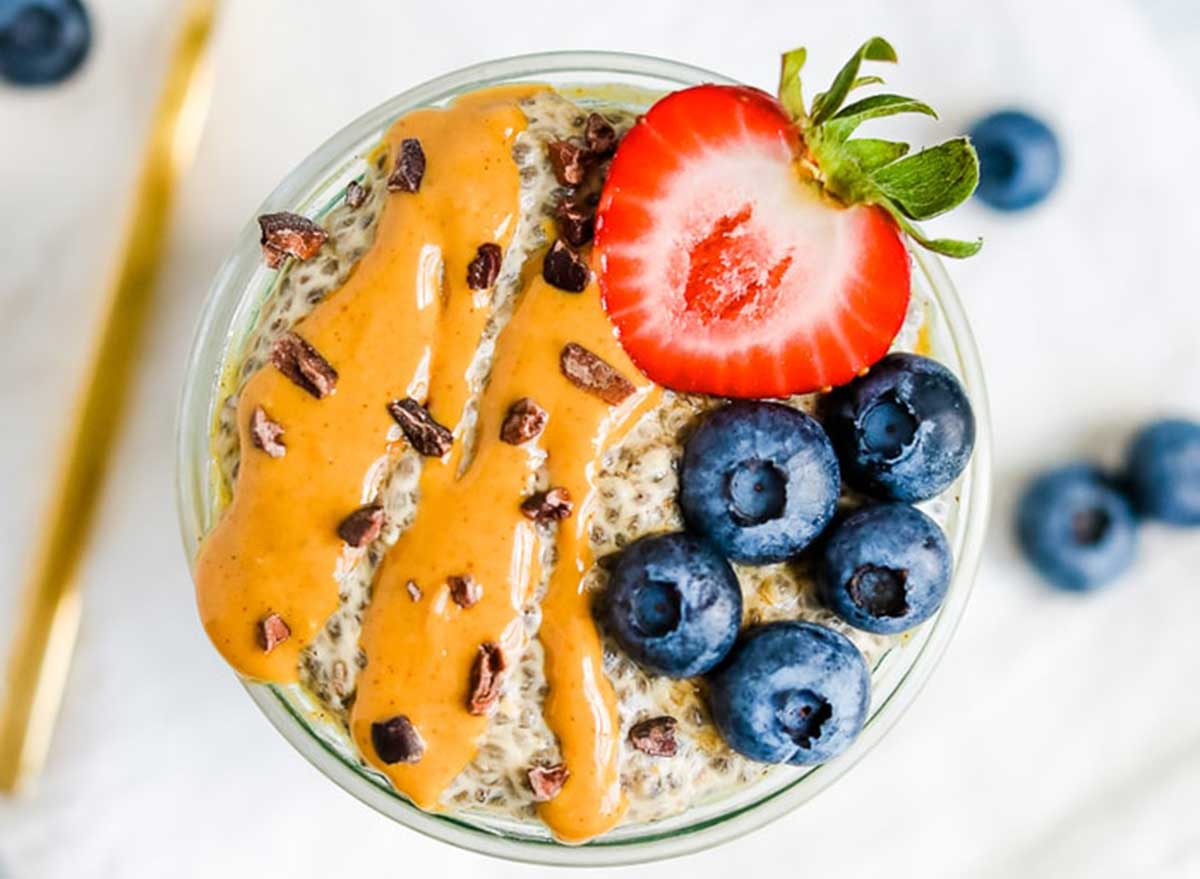 This healthy breakfast pudding is a delightful choice if you love peanut butter and want a light breakfast to give you energy for the rest of your day. The peanut butter mixes perfectly with the chia seeds and almond milk, along with your choice of honey or maple syrup. Not only are all the ingredients of this breakfast great for you, but it's also a recipe that is gluten-free, dairy-free, grain-free, refined sugar-free, AND paleo-friendly!
Get the recipe from Eating Bird Food.
Lunch and Dinner
Peanut Butter, Strawberry & Banana Quesadillas
This recipe brings together two great inventions: the quesadilla and peanut butter. This is a fast and easy lunch you can throw together, and it's just as decadent as a crepe you'd find at a restaurant. Switch it up and add your favorite fruits or keep the banana and strawberry mash-up for a classic combo. This quesadilla really comes to life with a slight touch of cinnamon, which goes quite nicely with the fruit and peanut butter.
Get the recipe from Ambitious Kitchen.
African Peanut Soup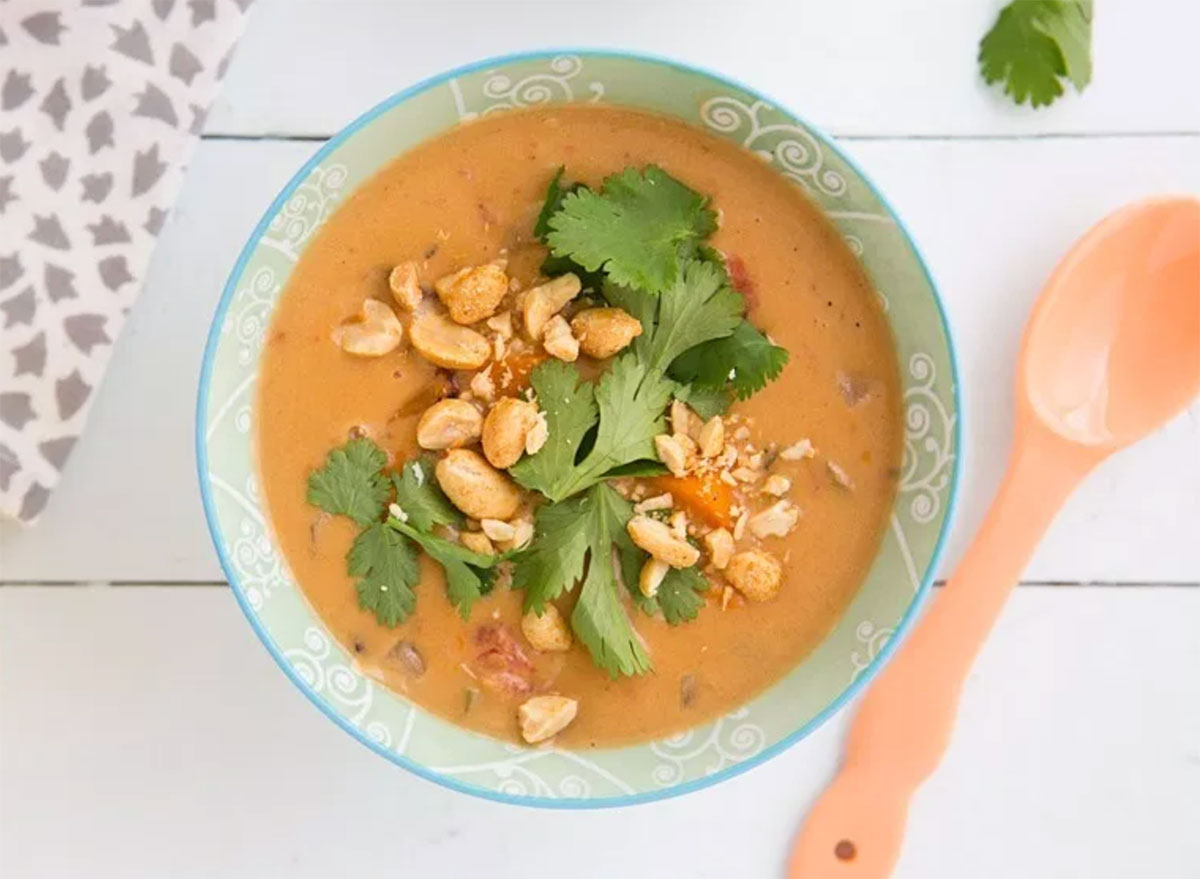 This dish is a lighter take on a cultural staple. All of the intense flavors of this dish, from the sweet potatoes and hot chili peppers to the tomatoes and celery, are bolstered by the peanuts and peanut butter, making this a real powerhouse meal.
Get the recipe from Oh My Veggies.
Crunchy Rainbow Thai Peanut Chicken Wraps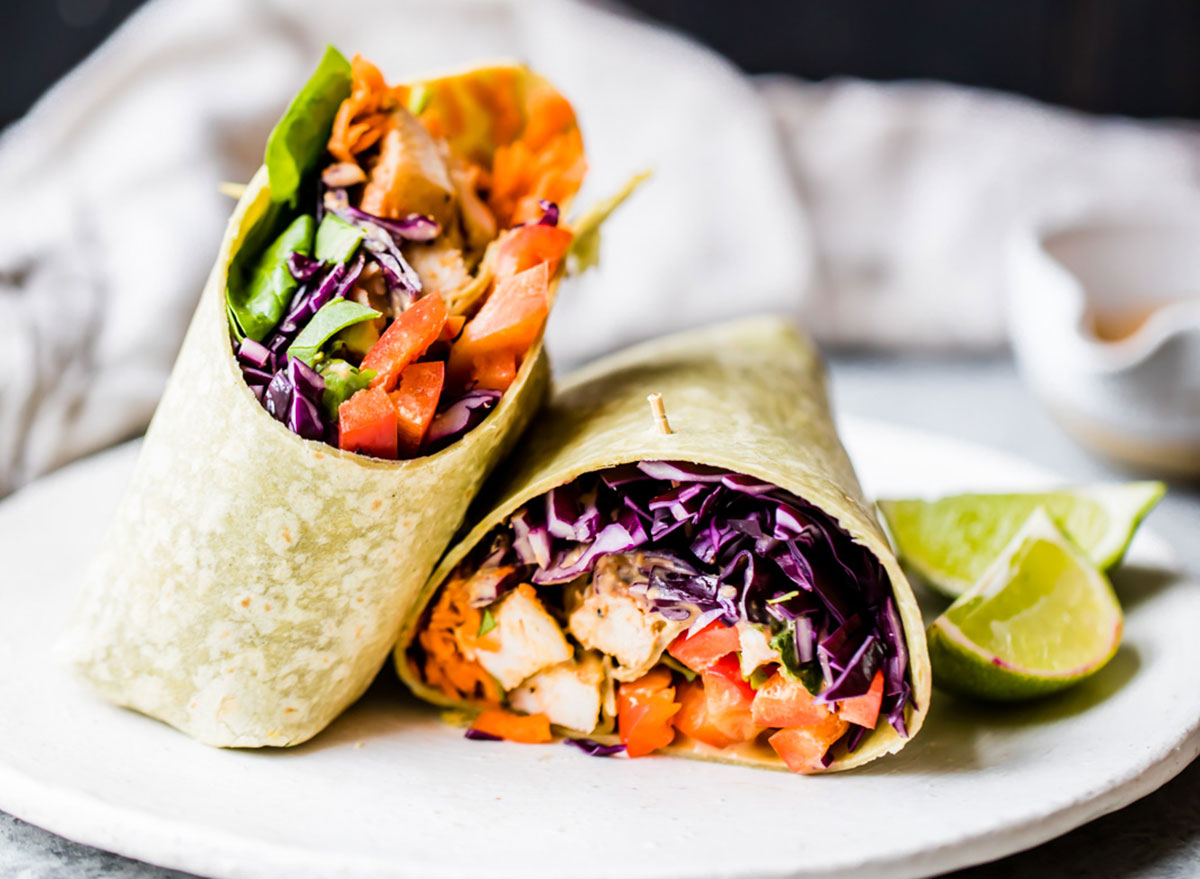 This recipe features creamy peanut butter and crunchy veggies, all wrapped together in a tortilla. The ingredients are visually vibrant, hence the fitting rainbow title, but the flavors don't fall short whatsoever. With cabbage, green onions, bell peppers, and carrots, this recipe will give you a wide variety of veggies at lunchtime.
Get the recipe from Ambitious Kitchen.
Kale and Peanut Butter Fried Rice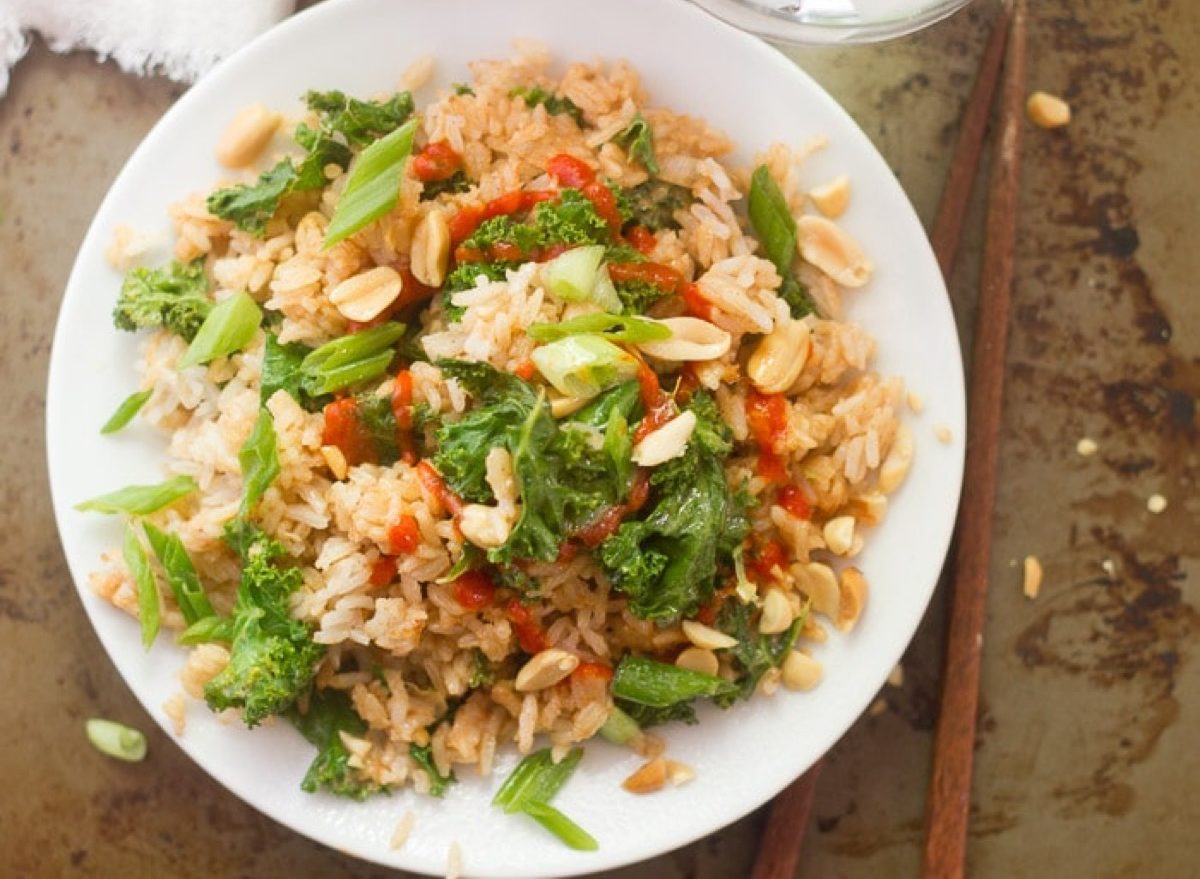 This peanut butter-infused fried rice is totally unique, and the mix of flavors is to die for. This recipe takes fried rice to a new level by incorporating crunchy kale and adding in a generous portion of peanut butter. It's an easy and low maintenance dish that takes only 20 minutes and uses ingredients you probably already have in your fridge.
Get the recipe from Connoisseurus Veg.
One-Pan Ginger Chicken Meatballs with Peanut Sauce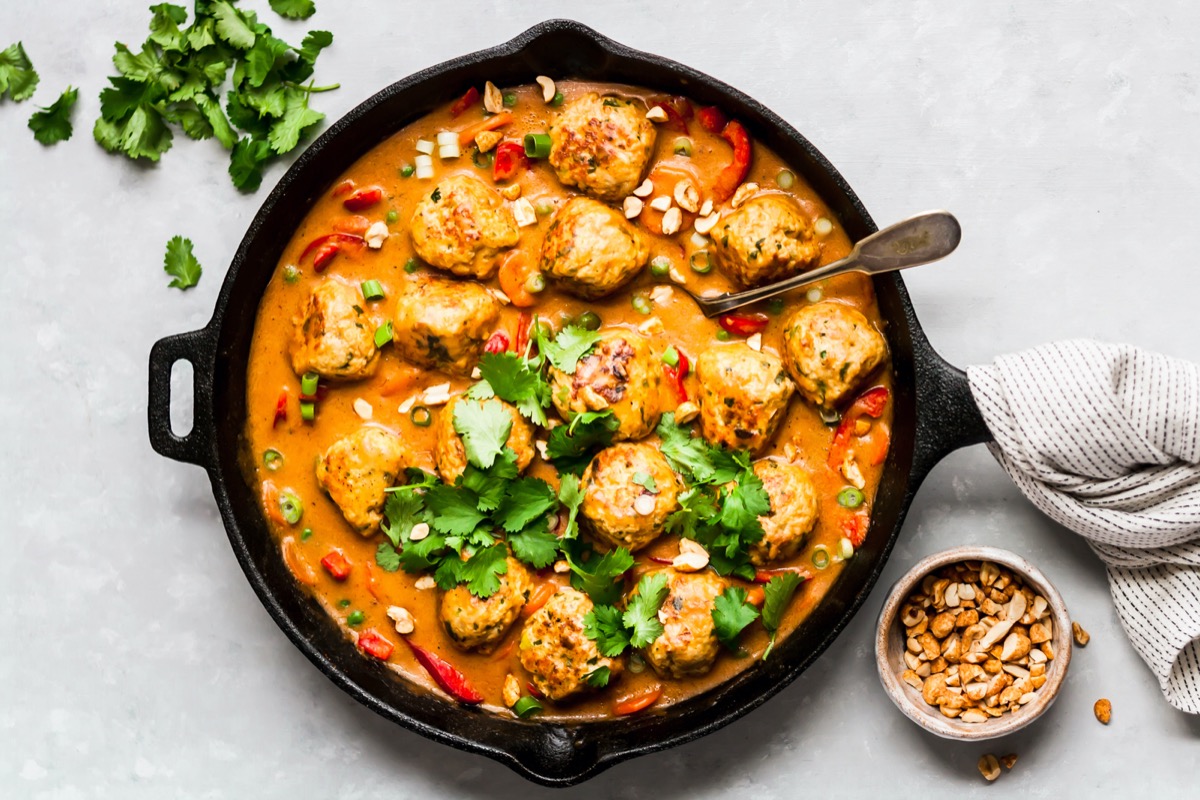 This one-pan dish is a really fun way to combine a basic Thai peanut sauce with a great source of protein like chicken meatballs. The herbs and spices in the chicken meatballs are a perfect match for the soft, creamy peanut sauce.
Get the recipe from Ambitious Kitchen.
Slow Cooker Pumpkin Peanut Butter Chicken Soup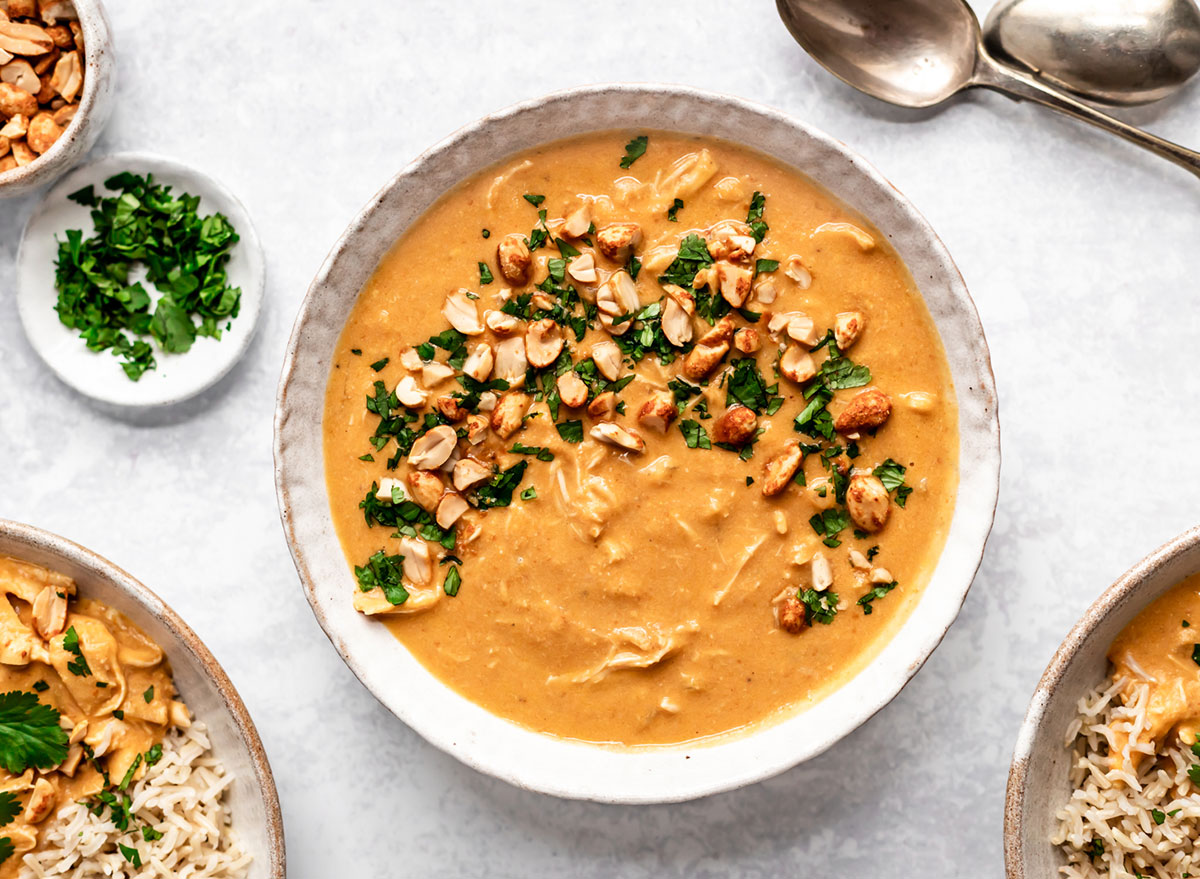 This recipe includes an underrated combination: peanut butter and pumpkin. This dish is also a great meal option for those looking for a healthy recipe, as it has 30 grams of protein and five grams of fiber.
Get the recipe from Ambitious Kitchen.
Mango Burrito Bowls with Crispy Tofu and Peanut Sauce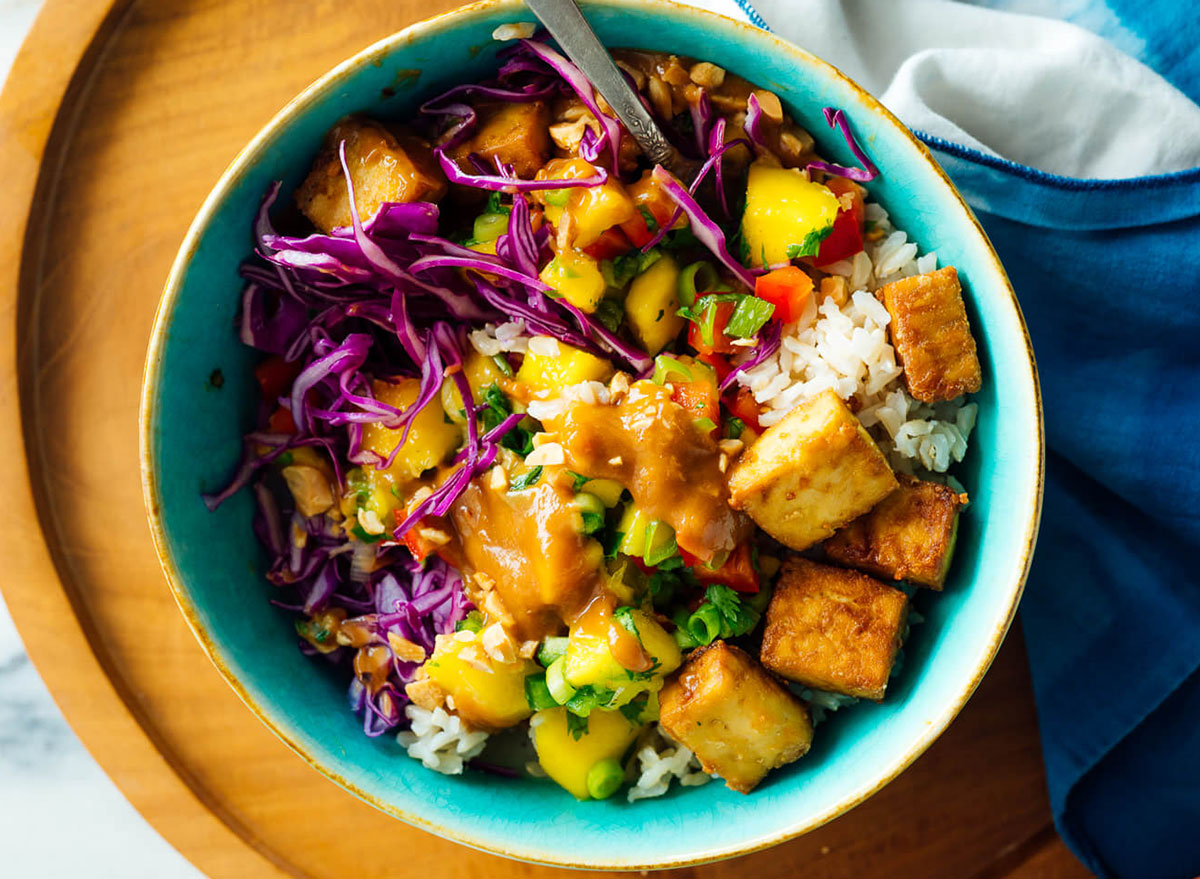 This vegetarian peanut butter recipe is a new take on a burrito bowl, as it uses brown rice, cabbage, tofu, a mango salsa, and a peanut sauce. It's a great recipe to meal prep for up to four days' worth of lunches—we promise you won't get bored of this flavor-packed dish.
Get the recipe from Cookie + Kate.
Crunchy Kale Salad
This salad recipe is simple but also exciting because of how the ingredients mesh so well. When the five-ingredient peanut dressing is paired with the kale, veggies, and tofu, it's simply genius.
Get the recipe from Minimalist Baker.
Thai Peanut Chicken Ramen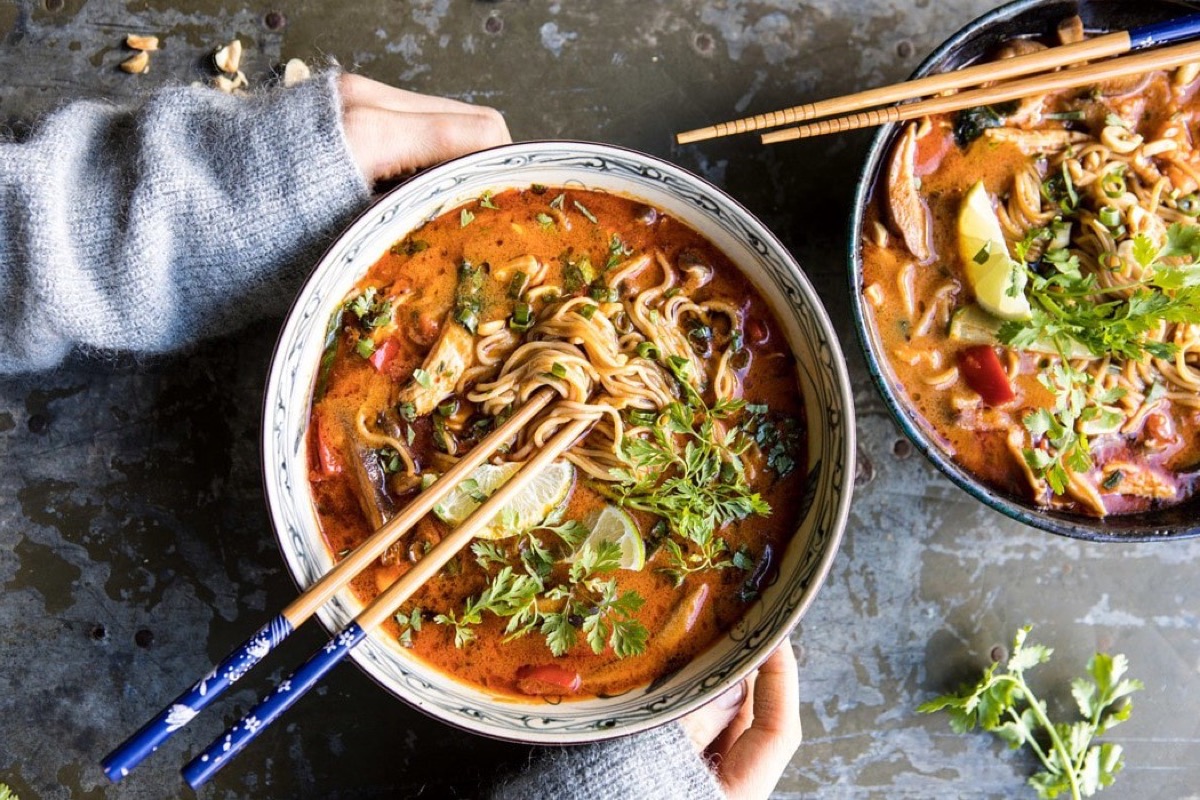 This recipe only takes 30 minutes and is a great option for a healthy last-minute meal. You can even make this recipe gluten-free and vegan, as long as you use the right type of noodles.
Get the recipe from Half-Baked Harvest.
Firecracker Vegan Lettuce Wraps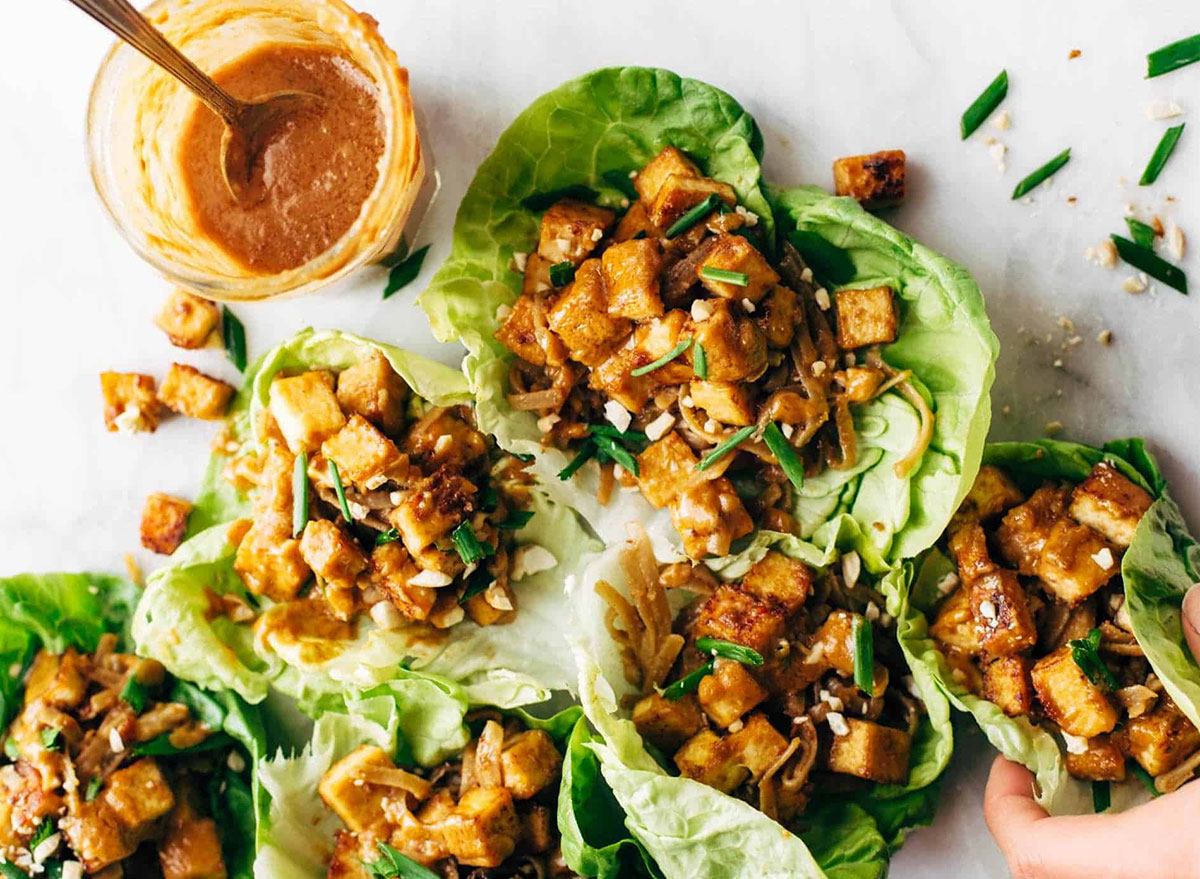 These lettuce wraps are filled with an amazing homemade noodle stir fry with tofu. This recipe includes a firecracker sauce, which is a peanut butter sauce concoction with a sweet and spicy kick.
Get the recipe from Pinch of Yum.
Crunchy Thai Peanut & Quinoa Salad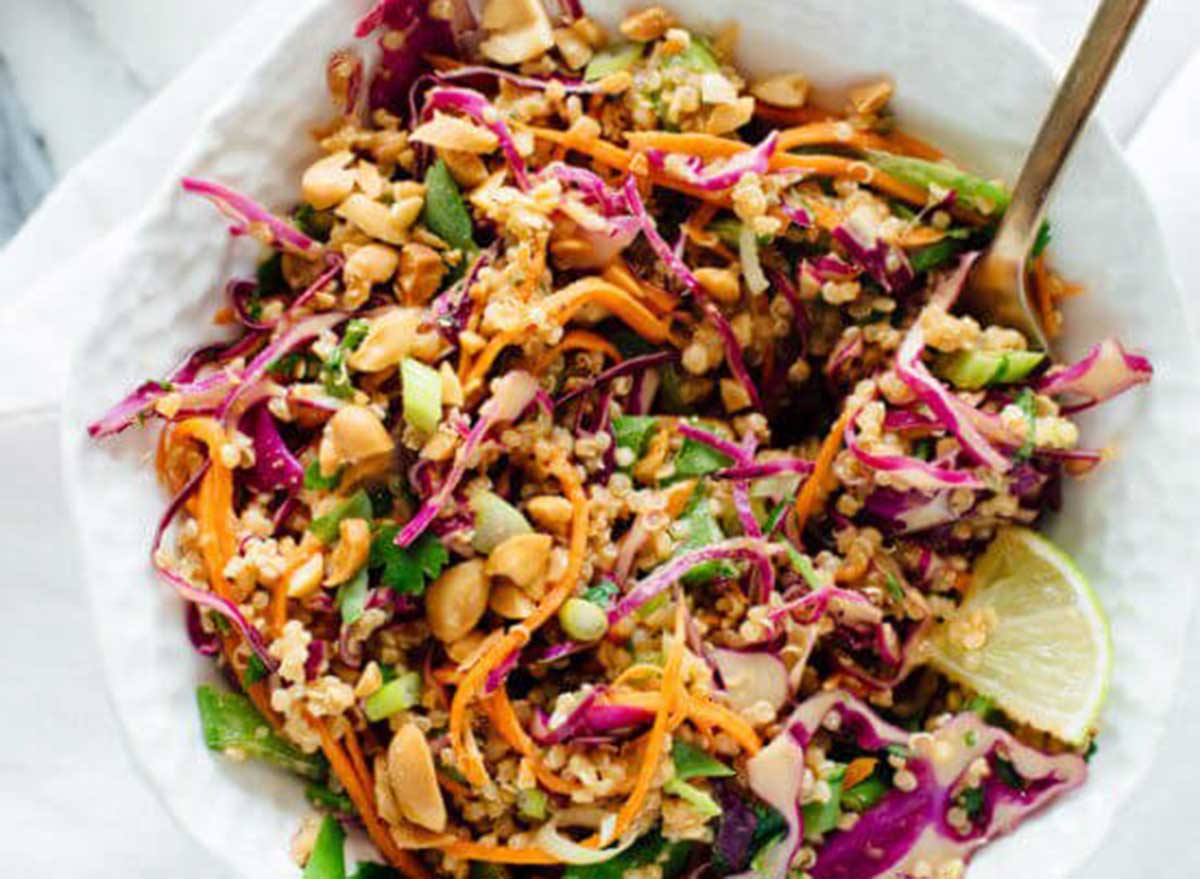 This is not your average quinoa salad. This crunchy Thai peanut and quinoa salad is a unique vegan recipe that blends bold veggies—like carrots, cabbage, and snow peas—and crisp quinoa with a delicious peanut sauce. The rich, smooth peanut sauce is the best part of this salad and gets better with every bite!
Get the recipe from Cookie and Kate.
Peanut Chicken with Veggies and Rice
A simple and easy recipe you can make any day of the week. If you tend to purchase shredded chicken or want to spice up your leftover chicken, this recipe is exactly what you need. The best part is, you can recreate this creamy, flavorful peanut sauce just with your standard pantry items!
Get the recipe from Well Plated.
Dessert
Peanut Butter Blossoms Cookies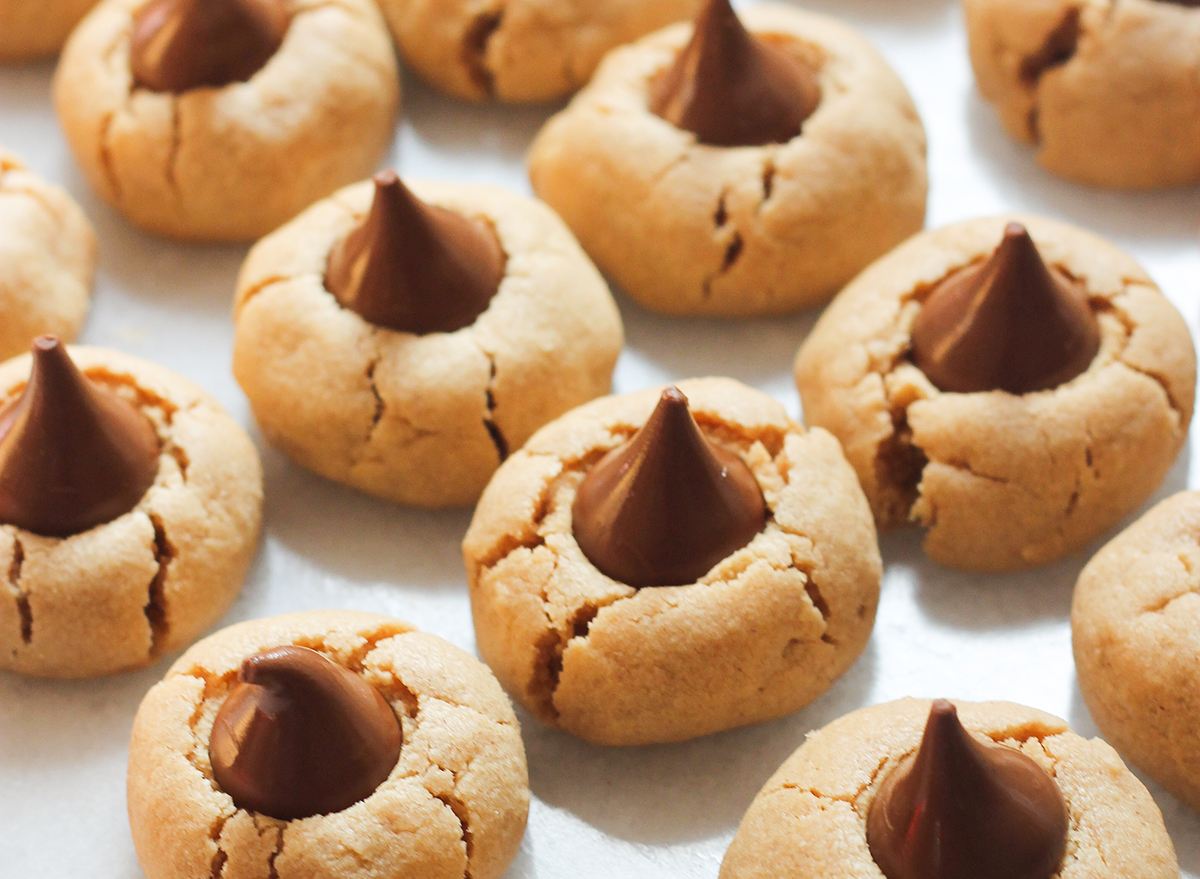 This is a great recipe for beginner bakers who love the peanut butter and chocolate blend. It's a super-easy recipe, and they're great cookies for parties or kid-friendly gatherings.
Get our recipe for Peanut Butter Blossom Cookies.
Peanut Butter M&Ms Truffles
This recipe is reminiscent of Peanut Butter M&Ms but takes on the vision of a peanut butter cake pop (without the cake, of course). The taste of the velvety peanut butter inside, coated with semi-sweet chocolate and crunchy M&Ms, puts this recipe in the sweet tooth hall of fame.
Get the recipe from Sally's Baking Addiction.
Chocolate Peanut Butter Avocado Pudding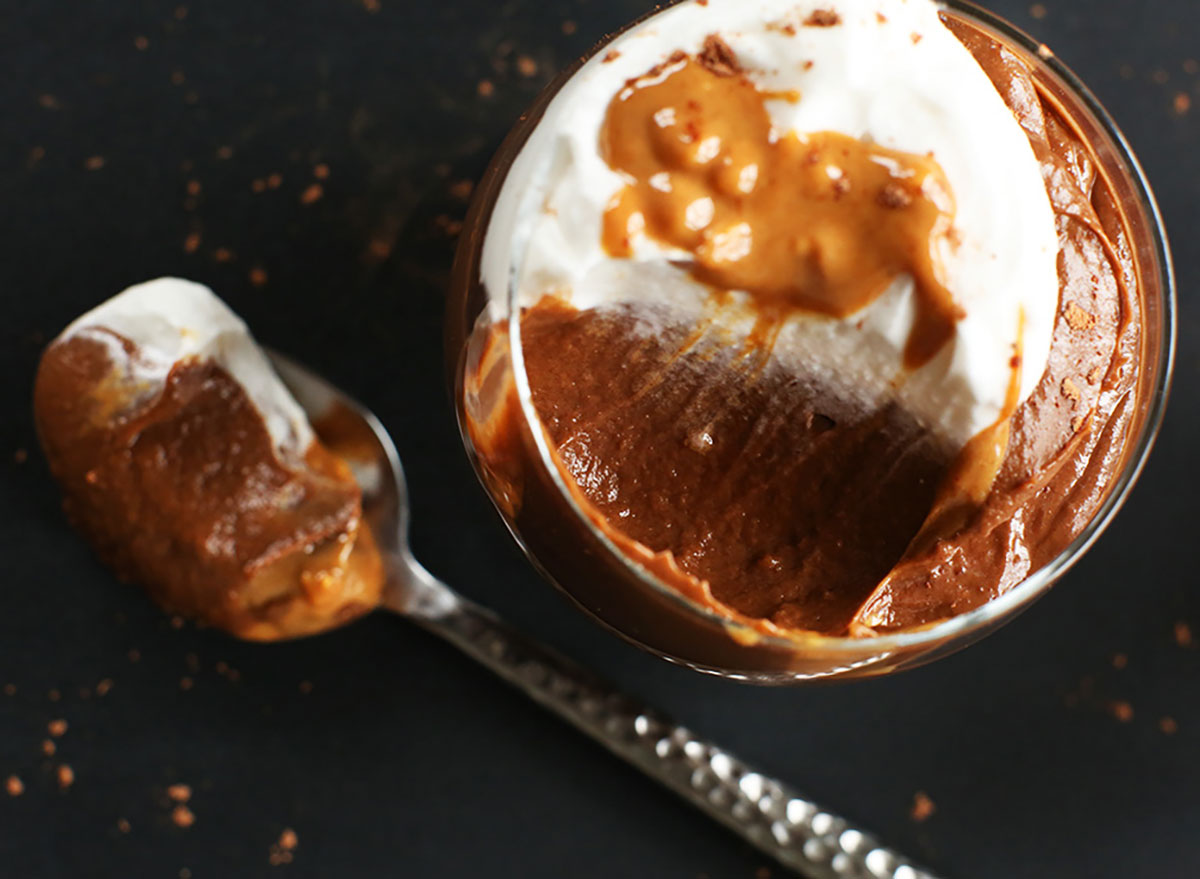 It looks like pudding, smells like pudding, and tastes like pudding, but there's a catch. The avocado component of this pudding recipe makes this dish even creamier and healthier while never taking away the natural sweetness from the chocolate, peanut butter, or bananas. This dessert is rich and savory in every bite,
Get the recipe from Minimalist Baker.
Peanut Butter Oreo Chocolate Bark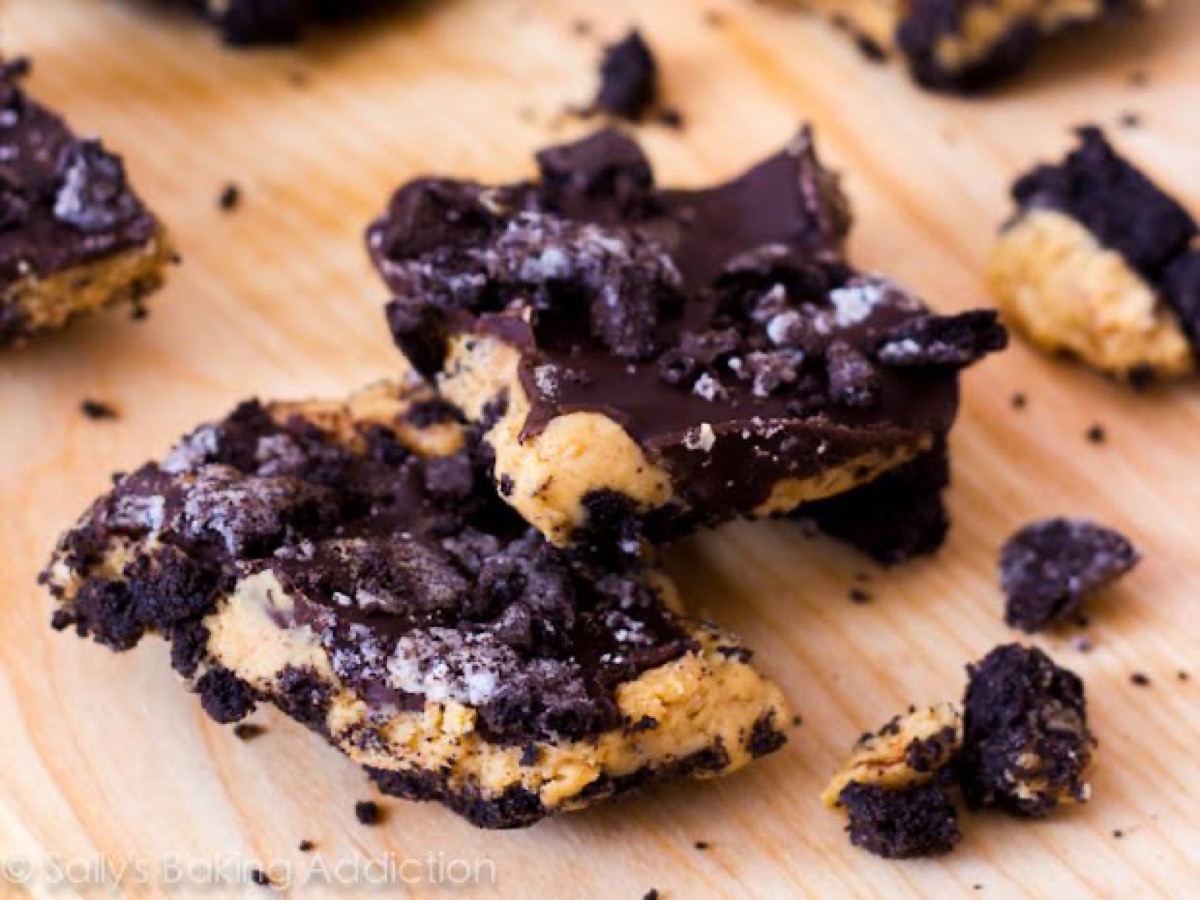 If you're a fan of dipping your Oreos straight into the jar of peanut butter, this recipe was made for you. This no-bake dessert recipe has minimal ingredients, which is just fine because peanut butter and Oreos are already shining stars. This bark recipe is very easy and crumbly, but the taste makes it worth getting a little messy.
Get the recipe from Sally's Baking Addiction.
Pretzel Peanut Butter Chocolate Pie
This recipe will hit the spot any time of the year and for any occasion. The dish is a dream, with its moist, crumbled pretzel crust and a peanut butter-infused chocolate mousse. Those layers are topped with more pretzel pieces, a peanut butter drizzle, and fluffy coconut whipped cream. You might go into a food coma after tasting this rich dessert!
Get the recipe from Minimalist Baker.
Peanut Butter Cup Cookies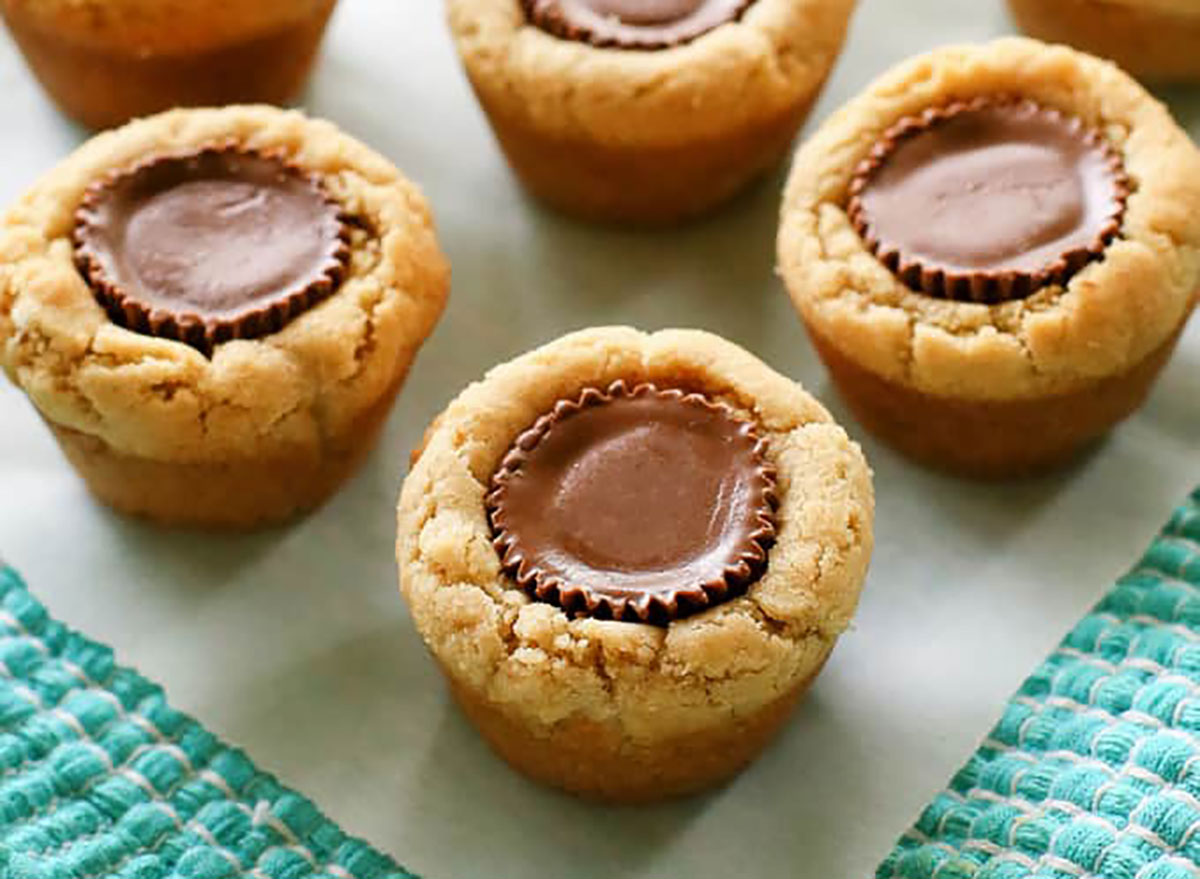 If you love peanut butter cookies, you've found the goldmine. This recipe combines both peanut butter pastry and peanut butter candy to create a peanut butter-filled dessert. There's no such thing as too much peanut butter, right?
Get the recipe from The Girl Who Ate Everything.
Vegan Peanut Butter Chocolate Chip Cookie Dough Ice Cream
This recipe is a two-in-one because you learn how to make peanut butter chocolate chip cookie dough and vanilla ice cream all at once! This vegan ice cream is super refreshing and always something great for sharing.6254a4d1642c605c54bf1cab17d50f1e
Get the recipe from Minimalist Baker.
Frozen Peanut Butter Banana Bites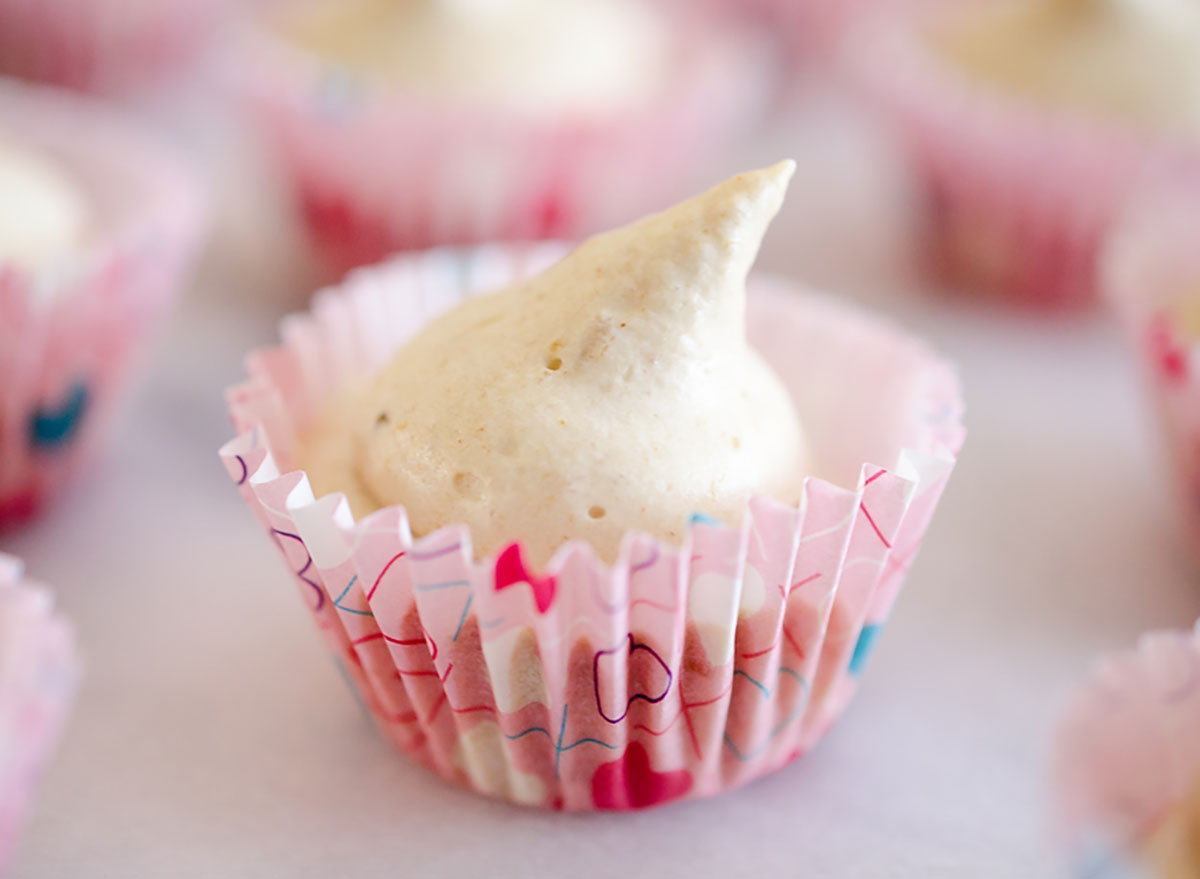 These little treats are a great easy and healthy way to soothe any sweet and savory cravings. This recipe only calls for four ingredients—just put them all together, let them chill out for a bit, and enjoy!
Get the recipe from The Creative Bite.
Peanut Butter & Basil Milkshake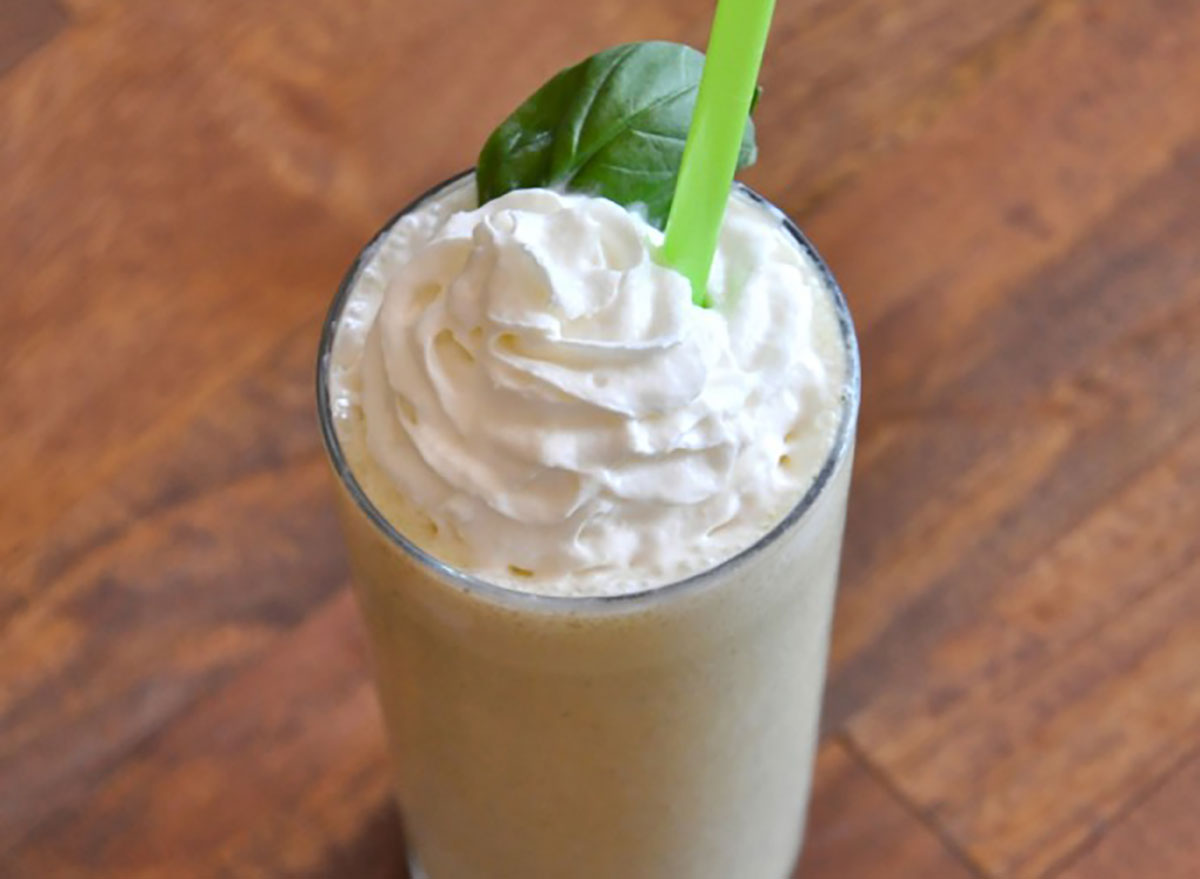 This milkshake recipe is an interesting mixture that works like magic. The blend of the smooth peanut butter and light taste of the basil go wonderfully with the vanilla ice cream. It's an unexpected pairing that really pays off.
Get the recipe from Minimalist Baker.
Peanut Butter Butterfinger Cheesecake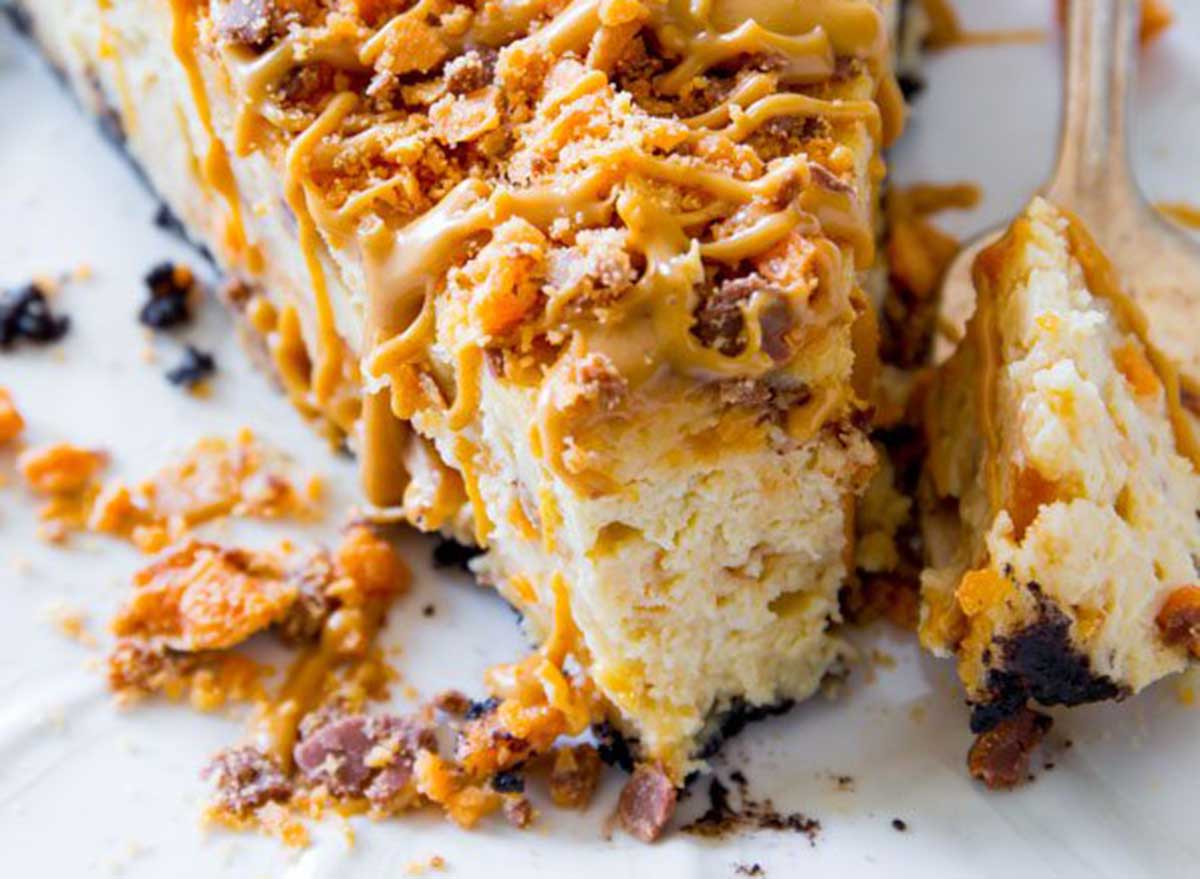 A candy that's been around for generations and full of the wonders of peanut butter, Butterfingers are the key ingredient for this recipe. For anyone who loves peanut butter, Butterfingers or cheesecake, this is a fun and tasty dessert that throws them all together. The rich peanut butter flavor throughout the dense cheesecake is topped with just the right crunch from a good-old Butterfinger candy bar!
Get this recipe from Sally's Baking Addiction.
For more, check out these 108 most popular sodas ranked by how toxic they are.
Jordan Summers-Marcouillier
Jordan Summers-Marcouillier was born and raised in San Jose, California and now works as a writer in New York, NY.
Read more about Jordan