The One Thing to Remember About Calorie Counts on Menus
Which meal would you prefer: One in which you know all the ingredients, or one in which the ingredients—and what they might do to your body—are hidden from you?
There's simply no argument here: It's always better to know what you're eating than not to know. In fact, in a recent Eat This, Not That! poll on Twitter, 80 percent of the nearly 1,000 respondents said that calorie counts on menus helped them make better food decisions, whether they wanted quick weight loss, to feed their families or just, you know, live the healthiest and happiest life possible. So we at Eat This, Not That! were befuddled by the recent New York Times article called "The Surprising Failure of Calorie Counts on Menus."
In it, author Aaron E. Carroll argues that adding calorie counts to menus at major food chains, like on the McDonald's Menu, hasn't helped Americans control their weight. But that assertion is anything but conclusive.
For instance, one study he cites looked at calorie intake in restaurants in Seattle and San Diego. After Seattle instituted calorie-labeling laws, adult customers ordered foods that were about 100 calories less than they had before the laws went into place. But the same behavior was seen in San Diego, where those laws weren't enacted. Proof that calorie labels don't make a difference?
Maybe. But it's worth noting that posting calorie counts does more than just educate consumers; it also educates restaurants. As a result, items average 139 calories less in chains that post their nutritional information. Oftentimes, when restaurants become aware of the damage they are doing, they change their menus to become healthier; numerous restaurants like Jamba Juice, Carl's Jr., Dairy Queen and Red Lobster have altered their menus in the past in direct response to unflattering coverage from Eat This, Not That! And the same rub-off effect may improve the diets of consumers in areas that haven't yet enacted label laws.
Knowing what we're eating at our favorite restaurants has become more important than ever: In 2010, Americans got 33 percent of their calories from food prepared outside the home. By 2015, that number had soared to 43 percent, according to the USDA. (In the 1980s, that number was more like 20 percent.)
The mistake is in stopping at mere calories. We may be able to walk into a Cosi and know that its Chicken Caesar Salad and its Bacon, Turkey and Cheddar Melt have almost identical calorie counts (534 to 538). But only one of those items (the salad) packs nearly an entire day's worth of sodium. When we go to the grocery store, we can see how much fat, how much sugar and how much fiber we're getting from a food, and we can make an educated purchase. We can't do that at restaurants. What we need is more information, not less. (For a look at what we mean, don't miss this essential list: Every Meal at Chipotle—Ranked!)
The question isn't whether or not calorie labels work. The question is, do they go far enough? If we just stop at calorie counts, we won't have the information we need to truly manage our diets. What we need is true nutritional transparency, and the ability to use that information to better our lives.
And we can start by looking at portion sizes.
Imagine you walk into a restaurant with your date. The hostess sizes the two of you up, then bends her head and announces into the microphone, "Table for five!"
Nasty, embarrassing—and inconceivable, right? So why do you let that very same restaurant serve you with exactly that attitude—as though you're eating for two or more?
Oversized meals at restaurants are not only more common than ever, but they may be the number-one reason why we can't lose weight. That's the finding of a recent review of more than 60 studies by researchers from the University of Cambridge. The scientists found that if we simply eliminated large serving sizes, we would cut up to 527 calories off of our daily intake—enough to make a swing of more than 50 pounds in just one year.
While they advised using smaller plates and reduced portion sizes at home, the researchers said that jumbo meals at restaurants were a major issue: If restaurants stopped training us to expect enormous portions, it would help us to understand what a proper serving size looked like. But until that happens, be on the lookout for heaping plates of crazy calories. The editors of Eat This, Not That! put their waistlines on the line to suss out the 13 Most Over-the-Top Servings in America's Restaurants. See why steering clear of outrageous portions is one of our 50 Best-Ever Weight-Loss Secrets from Thin People!
MOST OVER-THE-TOP DINER BREAKFAST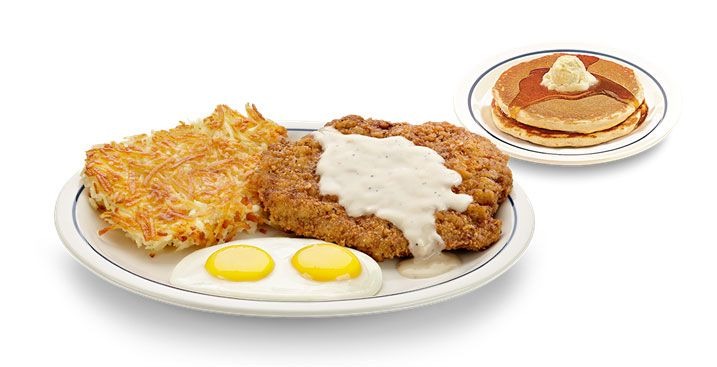 IHOP Classic Skillet with Country Fried Steak with Sausage Gravy
2,350 calories, 155 g fat (51 saturated), 5,180 mg sodium
That's the calorie equivalent of: 25 ½ fried eggs!
Even if you didn't consume another bite for the next 24 hours, you'd still have eaten more calories than an average man should consume in a whole day. IHOP should change its name to IROLL, because that's how you're going to be getting out the door.
Eat This Instead!
Classic Eggs and Bacon with Breakfast Potatoes and Seasonal Fruit
610 calories, 37 g fat (11.5 g saturated), 1,220 mg sodium
A nice punch of protein to start your morning, even if it is a bit high in sodium.
MOST OVER-THE-TOP "HEALTHY" BREAKFAST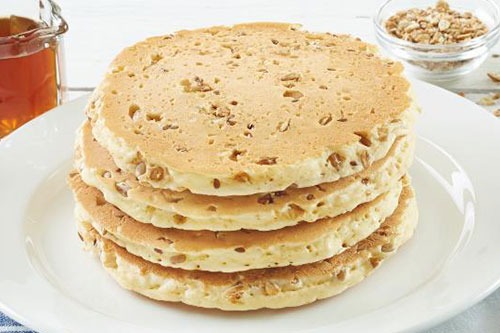 Bob Evans Multigrain Hotcakes
1,030 calories, 18 g fat (5 g saturated), 1,320 mg sodium
That's the calorie equivalent of: 10 Pepperidge Farm Whole-Wheat Mini Bagels!
A great example of how too much of a good thing can go bad: While these hotcakes boast flax, sunflower and sesame seeds—giving them 5 grams of protein per disk—there are four enormous pancakes stacked up here. And more than 200 grams of carbs is no way to start your day unless you really are a lumberjack, especially since the more pancake you have, the more syrup and butter you need to add.
Eat This Instead!
Fruit & Yogurt Plate and Cup of Oatmeal
439 calories, 4 g fat (0 saturated), 78 mg sodium
Oatmeal is a slow-burning carb that provides long-lasting energy. Make similar smart choices all day long with these 11 Eating Habits That Uncover Your Abs!
MOST OVER-THE-TOP APPETIZER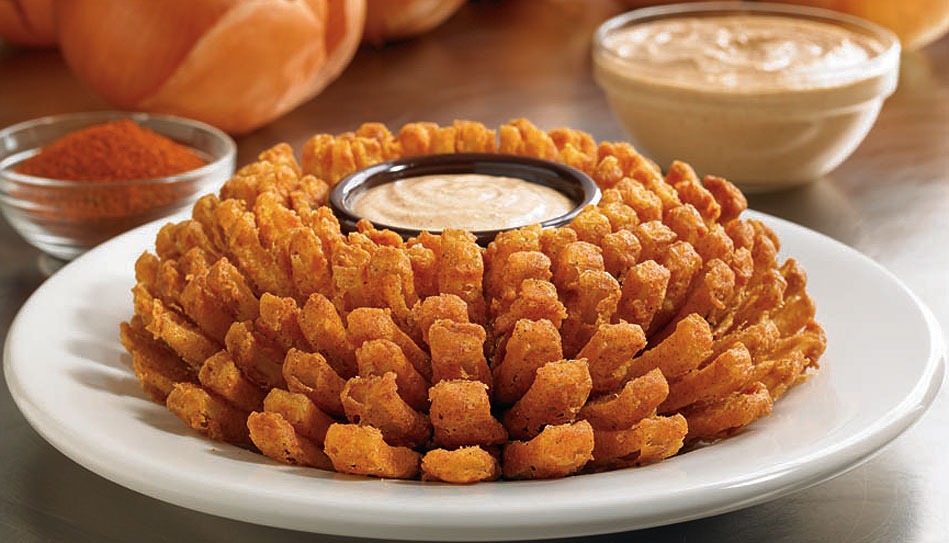 Outback Steakhouse Bloomin' Onion
*1,956 calories, 156 grams fat (56 saturated), 3,841 mg sodium
That's the calorie equivalent of: 43 Wendy's Chicken Nuggets
Okay, we'll concede that Outback claims their Bloomin' Onion is meant to serve six, but let's face it: how often do you see half a dozen folks at one table? By training us to see such monstrosities as appetizers, Outback completely distorts our normal view of portion size.
Eat This Instead!
Crab and Avocado Stack
582 calories, 37 g fat (3 g saturated), 1,320 mg sodium
Not only do you strip away nearly 1400 calories, but you get a nice dose of healthy monounsaturated and omega-3 fats, instead of the inflammatory omega-6 fats in the Bloomin' Onion.
MOST OVER-THE-TOP GLUTEN-FREE DISH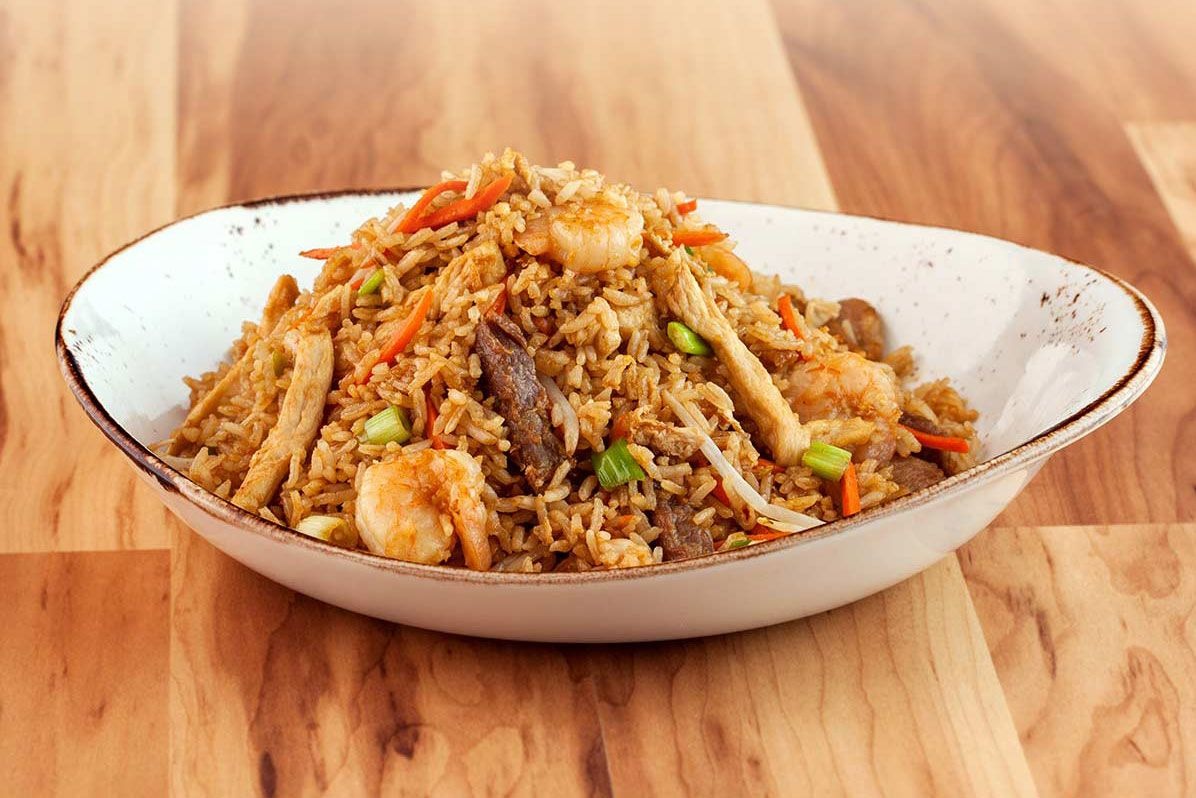 P.F. Chang's Fried Rice Combo
1,360 calories, 33 g fat (7 g saturated), 2,580 mg sodium
That's the calorie equivalent of: 4.5 boxes of Kashi Lemongrass Coconut Chicken
It's great that Chang's offers gluten-free options, but do they have to pack so much fat onto your glutes? With more than a day's worth of sodium, this is probably the least healthy item on the menu, and gives the distinct impression that if it's gluten-free, you can eat all you want. Wrong. Many gluten-free foods cover up the missing wheat by adding additional fat and sodium.
Eat This Instead!
Gluten-Free Cantonese-Style Lemon Chicken
750 calories, 37 g fat (7 g saturated), 1,140 mg sodium
Like the rest of its menu, most of Chang's GF entrees top 2,000 mg of sodium. That's why giving up gluten isn't always the best way to lose weight. What is? You can satisfy your cravings for almost any cuisine (and leave nasty restaurant additives behind) with the 150+ delicious, fat-melting recipes in the new Zero Belly Cookbook!
MOST OVER-THE-TOP MEXICAN MEAL
On the Border Dos XX Fish Tacos
2,030 calories, 134 g fat (27 g saturated), 3,830 mg sodium
That's the calorie equivalent of: 5 ½ Taco Bell Chili Cheese Burritos!
A taco is a sandwich. So why would you think that three sandwiches makes for a normal serving? But that's what this standard order comes with, and On the Border ups the nutritional insanity by coating these slabs of fish with a thick jacket of oily breading.
Eat This Instead!
Grilled Chicken Fajitas
550 calories, 10g fat (0 g saturated), 1,480 mg sodium
On the Border doesn't offer a healthy fish alternative, but these tacos are a solid protein option, and they deliver 11 grams of fiber.
Better yet, put some salmon on the grill at home — it's one of the 29 Best-Ever Proteins for Weight Loss!
MOST OVER-THE-TOP PASTA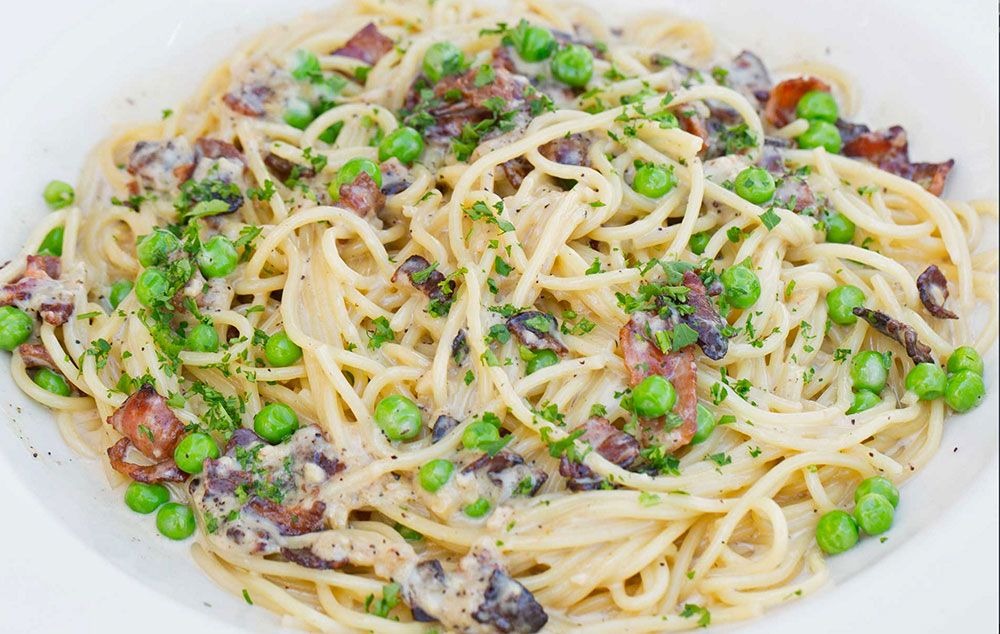 Cheesecake Factory Pasta Carbonara with Chicken
2,290 calories, N/A fat (81 g saturated fat), 1,630 mg sodium
That's the calorie equivalent of: 11 Stouffer's French Bread Pepperoni Pizzas in a bowl
Cheesecake Factory won't release their nutritional information, and when you understand just how loaded their entrees are with unnecessary calories, you'll understand why. This dish alone has more than a day's worth of calories—and that's before you order a slice of cheesecake, which rates anywhere from 800 to 1,110 calories per serving.
Eat This Instead!
Rigatoni with Roasted Tomato Sauce
990 calories, N/A fat (2 g saturated fat) 450 mg sodium
One of the few pasta dishes at the Factory that won't leave you feeling like you've been through the mill.
MOST OVER-THE-TOP STUFFED PASTA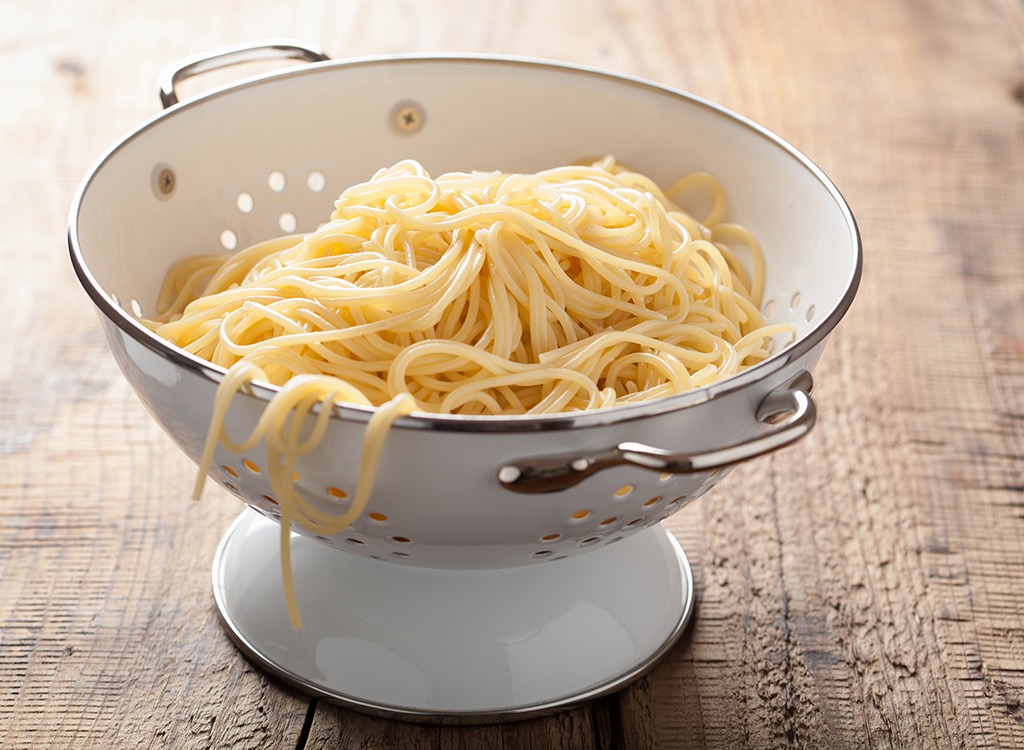 Romano's Macaroni Grill Mama's Trio
2,040 calories, 127g fat (53g saturated), 4,160mg sodium, 20g sugar
That's the calorie equivalent of: 367 Cheez-It Crackers
The saturated fat content of the Three Tenors. A combo of chicken parmesan, lasagna bolognese and cannelloni bolognese, it's cheese on meat and meat on cheese wrapped in a noodle coffin.
Eat This Instead!
Spaghetti Verdi
640 calories, 36 g fat (9g saturated), 590 mg sodium
Given that Romano's invented the "Fatbread," their commitment to carb overload is well established. This new lunch menu item is one of the few pasta meals that will satisfy your carb cravings with some measure of caloric restraint. To get your carb fix and melt fat at the same time, seek out these 25 Carbs That Will Uncover Your Abs!
MOST OVER-THE-TOP SANDWICH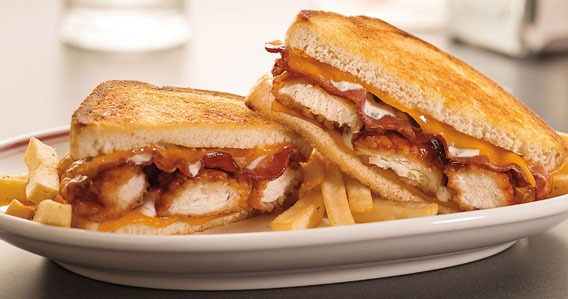 Friendly's Honey BBQ Chicken Supermelt
1,550 calories, 81 g fat (24 g saturated fat), 2,840 mg sodium, 152 g carbohydrates
That's the calorie equivalent of: 3 McDonald's Big Macs
This supermelt has every diet-busting base covered—fried chicken strips, Ranch dressing and bacon. Add a classic Friendly's dessert and you've got a day's worth of calories, easily.
Eat This Instead!
Grilled Chicken Breast Sandwich on Grilled Wheat Bread with Monterey Jack & Cheddar Blend
590 calories, 26 g fat (11 g saturated fat), 1,220 mg sodium, 48 g carbohydrates
The majority of the fat in this sandwich comes from the bread. If you can go without having it grilled, you can save 11 grams of fat. "Grilled" food that's actually cooked on an oil-soaked griddle is one of the 11 Restaurant Scams That Sabotage Weight Loss — don't fall for it!
MOST OVER-THE-TOP SALAD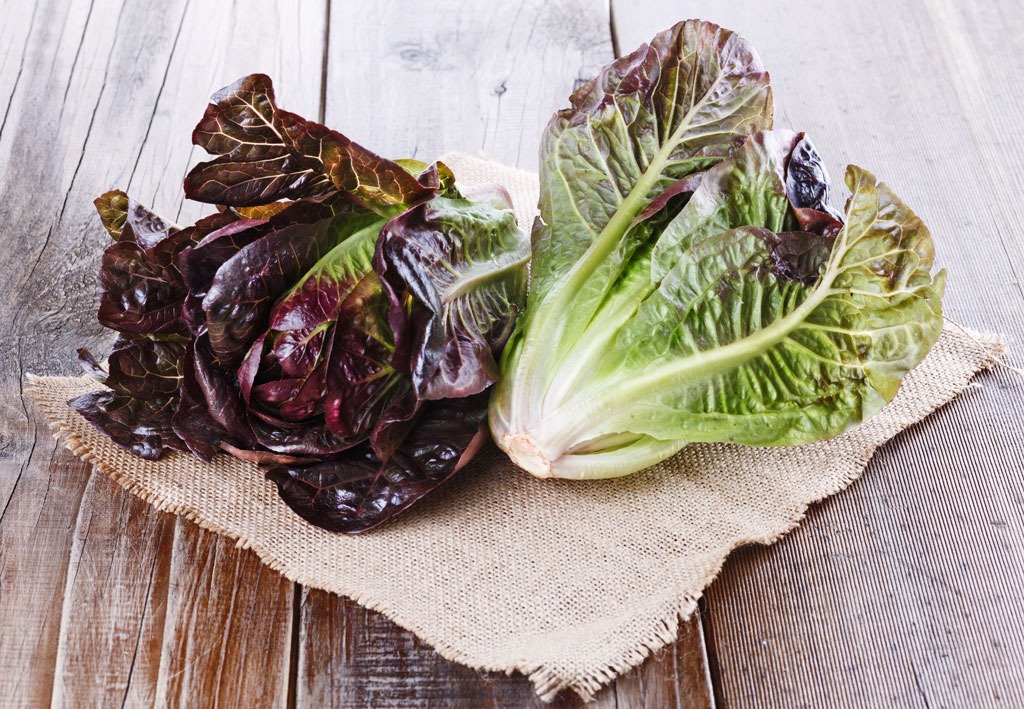 Cheesecake Factory Santa Fe Salad
1,720 calories, N/A fat (17 g saturated fat), 2,636 mg sodium
That's the calorie equivalent of: 3 Whoppers
Yes, Cheesecake Factory appears again, this time with the absolute worst salad in America. Truth be told, nearly every Cheesecake Factory salad dwarfs a Whopper (or two, or even three). The exception is the Weight Management salad menu, which provides rare decent options.
Eat This Instead!
Weight Management Spicy Chicken Salad
440 calories, N/A fat (1 g saturated fat), 771 mg sodium
Unfortunately, the Cheesecake Factory isn't alone in serving up belt-busting salads. Stay far away from these 19 Salads That Are Worse Than a Whopper!
MOST OVER-THE-TOP BURGER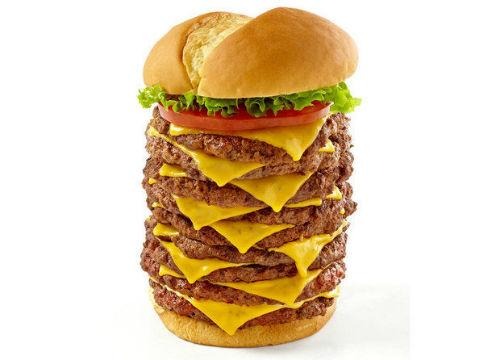 6254a4d1642c605c54bf1cab17d50f1e
Wayback Burgers Triple Triple Burger
1,780 calories, 108 g fat (42 g saturated fat), 700 mg sodium, 30 g carbohydrates
That's the calorie equivalent of: 4 Steak 'N Shake Double Steakburgers with Cheese
It'd be one thing if this were a one-time gimmick just to nab headlines, but the chain proudly features the Triple Triple front and center in its marketing and website: 9 burger patties with 9 slices of American cheese, stacked high. This one will take you way, way back—ideally to a time before you ordered it, so you can make a smarter swap. Throw in a side of fries (260 calories) and a Regular Mint milkshake (1,070 calories) and you've got a 3,110 calorie meal.
Eat This Instead!
Philly Burger Single
440 calories, 22 g fat (8 g saturated fat), 970 mg sodium, 35 g carbohydrates
Better yet, stay at home and make the #1 Burger For Weight Loss! It's just one of the 150+ easy and delicious recipes in Zero Belly Cookbook, the brand-new book from Abs Diet creator David Zinczenko that helped panelists lose up to 16 pounds in 14 days: Find out more now!
MOST OVER-THE-TOP PIZZA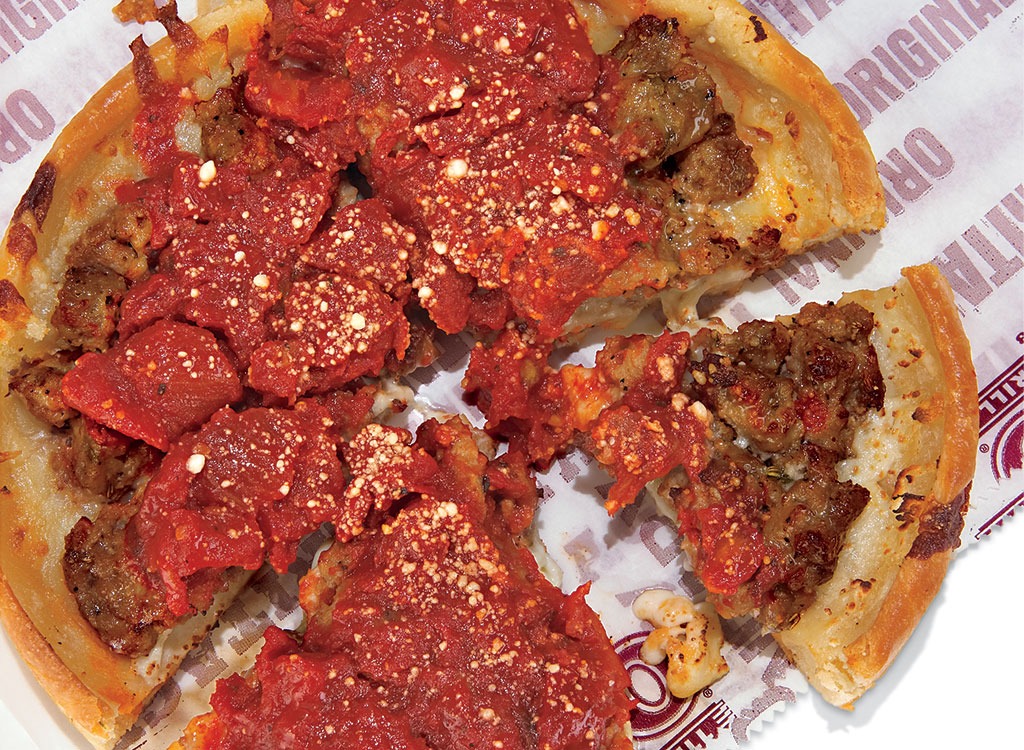 Uno Chicago Grill Prima Pepperoni Individual Deep Dish Pizza with Traditional Crust
1,750 calories, 121g fat (33g saturated), 3,010mg sodium
That's the calorie equivalent of: 7 slices of Domino's Crunchy Thin Crust Sausage Pizza
The thick crust is obviously the main caloric culprit, but we are baffled how they manage to fit that much fat into a small circle of dough. A Frisbee-sized pizza that's as thick as your wrist does not make for an "individual serving."
Eat This Instead!
Margherita Flatbread Artisan Crust Pizza (½ pie)
445 calories, 14.5 g fat (7.5 g saturated), 750 mg sodium
The only way to get your pizza fix at Uno without ingesting 1,000 or more calories in one sitting is to eat half of a thin-crust pizza.
MOST OVER-THE-TOP FISH DISH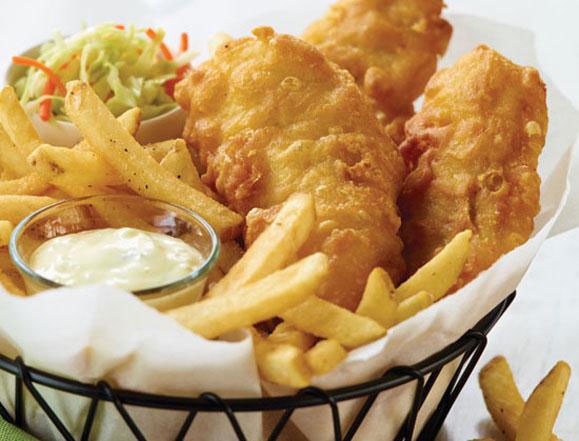 Applebee's New England Fish and Chips
1,970 calories, 136 g fat (24 g saturated fat, 1 g trans fat), 4,180 mg sodium, 134 g carbohydrates
That's the calorie equivalent of: 85 Mrs. Paul's Fish Sticks
Attack of the beige! Whenever your dinner is monochromatic (in this case, the off-brown hue of deep-fried junk), you know you're in trouble. Don't blame the fish—seafood is packed with lean, muscle-building protein and heart-healthy fats. No, the trouble here lies with a massively unbalanced fish-to-fat ratio. A coating of crispy batter and a heaping pile of deep-fried potatoes is no way to treat the golden child of nutrition—and this dish has twice the calories of most entrées at Red Lobster. Plus, trans fats? Really? When it comes to seafood, always abandon ship on fried fish and opt for grilled instead.
Eat This Instead!
Northern Walleye
690 calories, 36 g fat (13 g saturated fat), 1,770 mg sodium, 91 g carbohydrates
A simple swap that saves you an amazing 100 grams of fat! Keeping a handle on portion control is just one of these 33 Lazy Ways to Flatten Your Belly — Fast!
MOST OVER-THE-TOP DESSERT
Uno Chicago Grill Mega Size Deep Dish Sundae
2,700 calories, 130 g fat (76 g saturated fat), 1,820 g sodium, 365 g carbohydrates
That's the calorie equivalent of: 14 Original Glazed Krispy Kreme doughnuts
To give you an idea how crazy this dish is, a 180-pound man would need to run 20 miles to burn off that many calories. And this is only the dessert! Add your appetizer, entrée and your drink, and it's easy to amass three day's worth of calories in one meal at this restaurant.
Eat This Instead!
Uno Chicago Grill Mini Hot Chocolate Brownie Sundae
320 calories, 16 g fat (7 g saturated), 170 mg sodium, 47 g carbohydrates
And instead of a coffee, pair it with a cup of green tea!
LOSE UP TO 14 POUNDS—FROM YOUR BELLY FIRST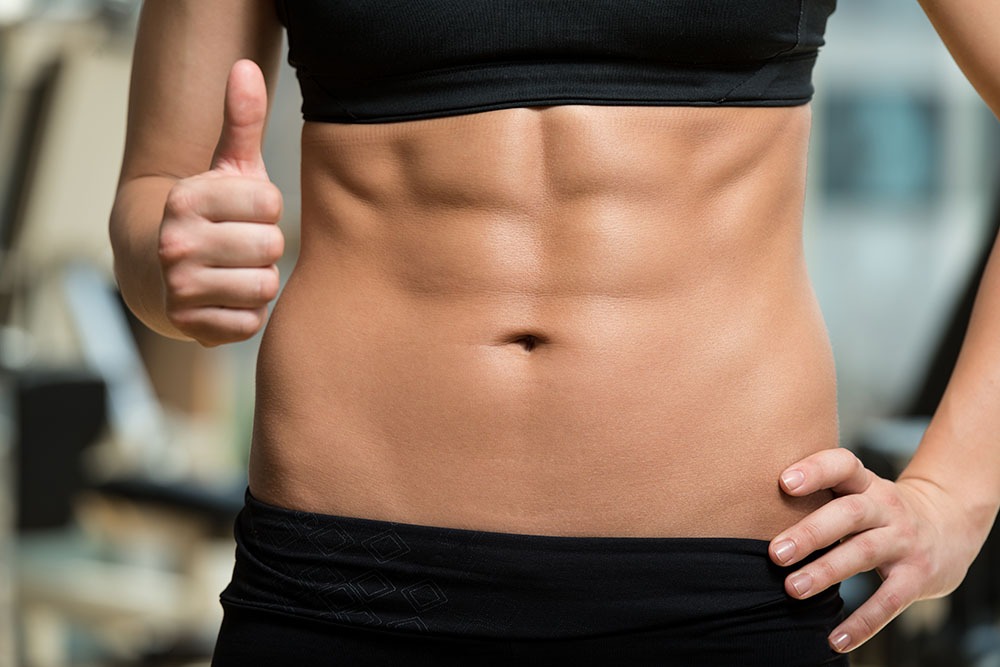 All it takes is a humble bag of tea. Find out how in THE 17-DAY GREEN TEA DIET, developed by the bestselling authors of Eat This, Not That!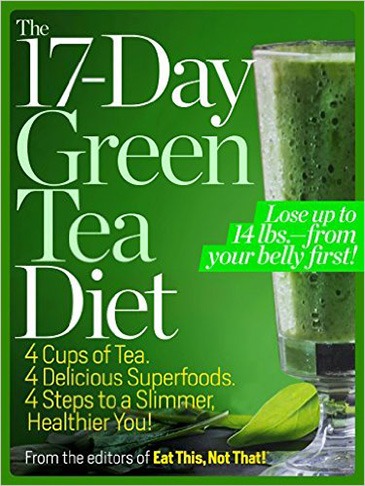 BUY NOW ON AMAZON or IBOOKS!
Eat This, Not That!
Inspired by The New York Times best-selling book series, Eat This, Not That! is a brand that's comprised of an award-winning team of journalists and board-certified experts, doctors, nutritionists, chefs, personal trainers, and dietitians who work together to bring you accurate, timely, informative, and actionable content on food, nutrition, dieting, weight loss, health, wellness, and more.
Read more about Eat This