A Caprese Tomato Tower Salad Recipe
This sweet and creamy salad brings all the fresh flavors to the Italian classic.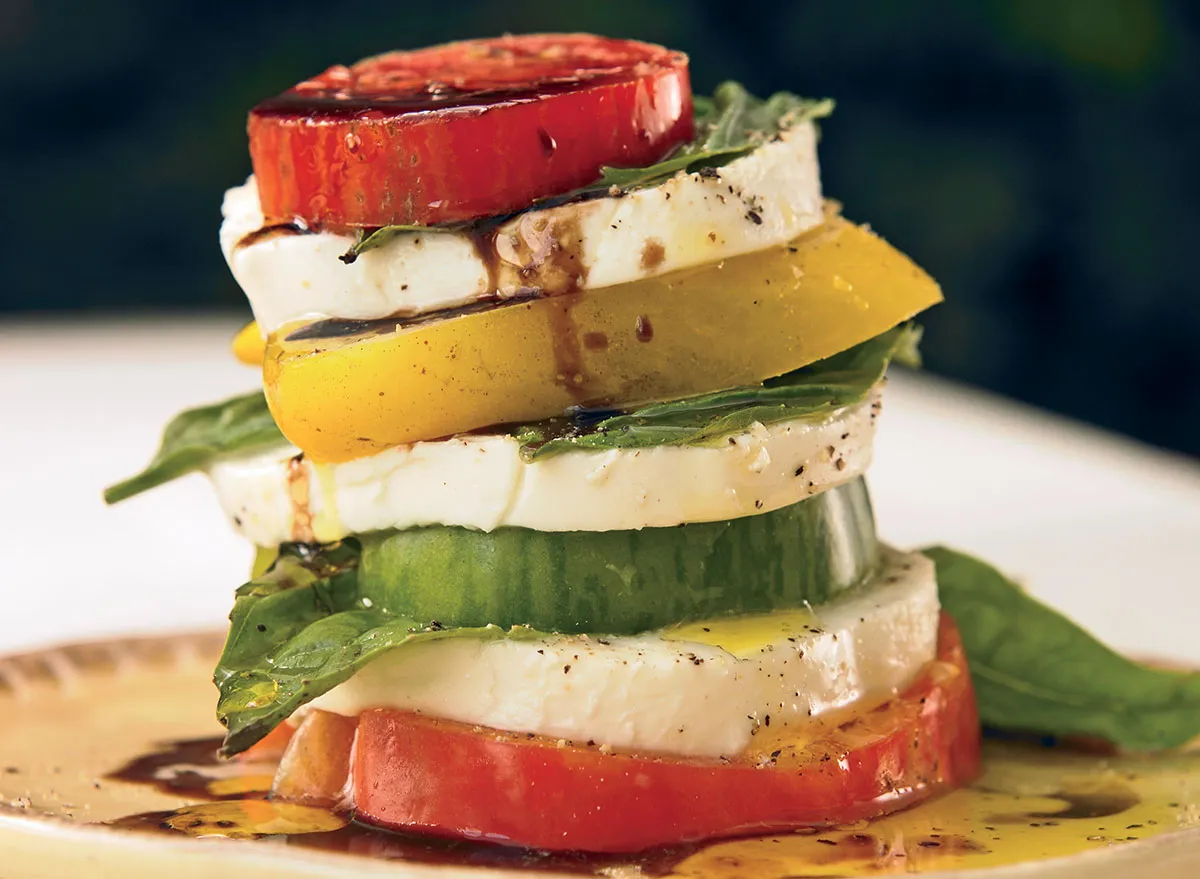 The classic tomato salad from Capri, Italy, is a study in simplicity: sweet, acidic tomatoes contrasted with creamy mozzarella slabs and the bright herbal bite of fresh basil, yet with a complex taste you'll crave. Why pay good money for such a simple pleasure you can make yourself, only to let a restaurant screw it up with cheap parlor tricks? Make this caprese salad one of your go-to summer salads. It's great for appetizers or as a salad served with dinner.
Nutrition: 170 calories, 13 g fat (6 g saturated), 290 mg sodium
Serves 4
You'll Need
4 medium tomatoes (Preferably different color heirloom tomatoes. Whether rare heirlooms or just a better beefsteak, tomatoes are best from farmers markets. Seek out a local market and show up at the end of the day, when vendors are offering up great deals.)
6 oz fresh mozzarella
16 large fresh basil leaves
1 Tbsp olive oil
1⁄2 tsp balsamic vinegar
Salt and black pepper to taste6254a4d1642c605c54bf1cab17d50f1e
How to Make It
Slice the tomatoes into thick slices (each tomato should yield 4 or 5 slices). Slice the cheese into slightly thinner disks. There should be an equal number of tomato and cheese slices.
Place a tomato in the center of small salad plate.
Top with a mozzarella slice and a single basil leaf. Repeat until you've used up a quarter of the tomatoes, cheese, and basil (if you really want to nail this, salt and pepper each individual layer). If using different color tomatoes, alternate the slices throughout.
Repeat with the rest of the tomatoes, cheese, and basil, making 4 towers in all.
Drizzle each tower with a bit of olive oil and balsamic and season again with salt and pepper.
Eat This Tip
This salad is probably not worth making in the winter, when lifeless tomatoes are flown in from below the equator. Come summer, though, when local tomatoes are abundant, there's nothing better to eat. Break out of the beefsteak box and explore the depth and variety of heirloom tomatoes. Each shape and color offers different levels of sweetness and acidity, and even just sliced and salted, make for an amazing salad. Plus, the variations in color add something extra special to your table on top of tasting just plain delicious.
Love this recipe? Subscribe to our Eat This, Not That! magazine for even more at-home cooking and healthy eating ideas.