Vegetarian Mozzarella Spiedini Recipe
You won't feel the need to turn to a deep-fried mozz stick ever again.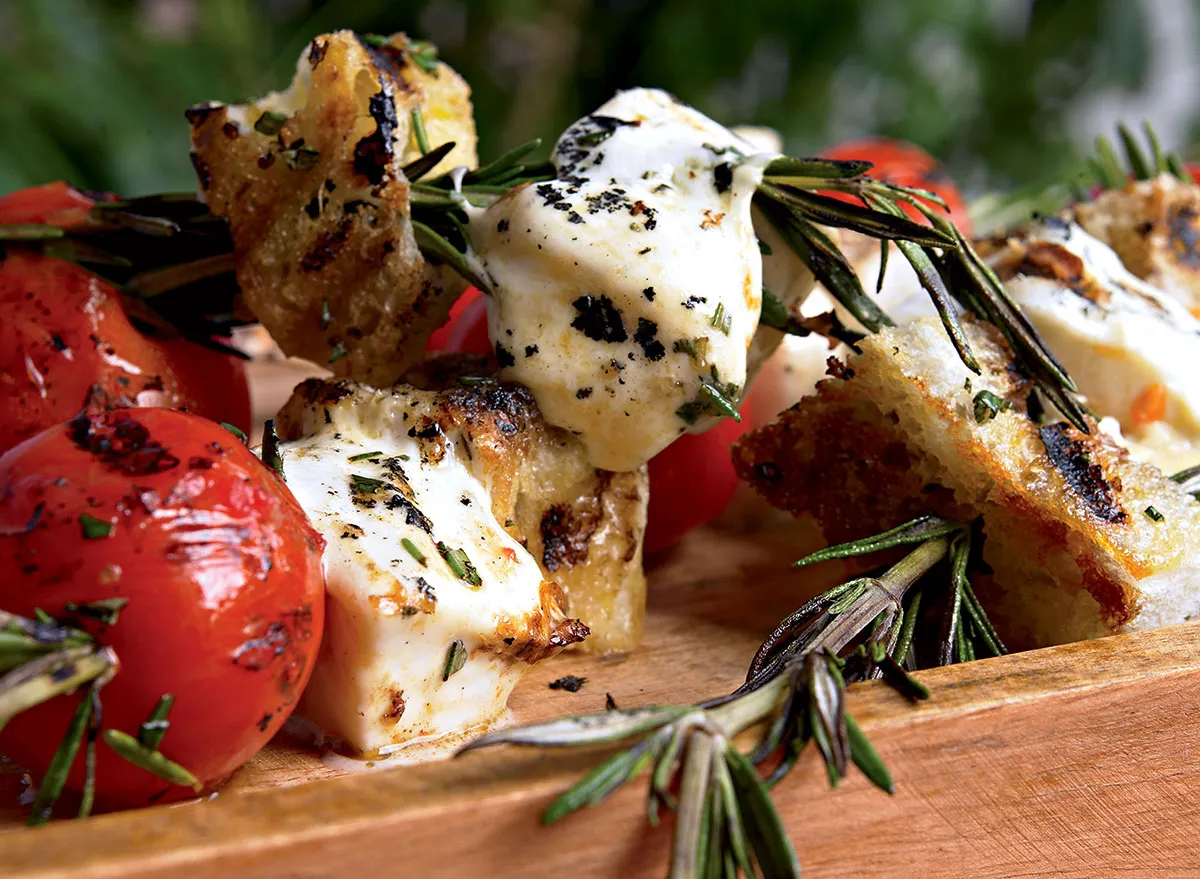 We're not sure what type of diabolical mind dreamed up the idea of deep-frying cheese, but we probably don't need to explain why it's a bad thing for your waistline and overall health and well-being. Rather than chase fried mozz down its dubious rabbit hole, we decided to reinvent the concept entirely. By grilling cheese, bread, and tomatoes together, you've essentially re-engineered the whole fried mozzarella package on skewers (spiedini in Italian): gooey melted cheese and crunchy bits of bread, plus a burst of tomato to finish it off. A traditional Italian spiedini is essentially thin pieces of beef or other meat on a skewer that is then rolled in bread crumbs, olive oil, garlic, onions, and marinara sauce. In this vegetarian-friendly version, we replace the meat with fresh mozzarella cheese, the bread crumbs with baguette crust, and the rest of the filling with cherry tomatoes and the skewers (or spiedini) with rosemary branches. Great for a party where you don't want to have to wash a single set of silverware after!
Nutrition: 160 calories, 10 g fat (4 g saturated), 270 mg sodium
Serves 4
You'll Need
8 rosemary branches
16 cherry tomatoes
1⁄2 baguette, crust removed, cut into 3⁄4" cubes
6 oz fresh mozzarella, cut into 1⁄2" cubes
1 Tbsp olive oil, plus more for drizzling
Salt and black pepper to taste
How to Make It
Preheat a grill. Strip the rosemary branches of enough of their leaves to make room for the tomatoes, bread, and cheese.
Chop the leaves and reserve.
Alternating between each, thread the tomatoes, bread cubes, and mozzarella cubes onto the rosemary skewers (cutting the tip of the branch into a sharp point makes this easier).
Drizzle with the olive oil and season with salt and pepper.
Place the skewers on a cooler part of the grill and cook for 7 to 10 minutes, until the bread toasts and the cheese begins to melt. (This can happen very quickly if the grill is too hot. Either way, it's important to turn the skewers throughout so that all sides are exposed to the heat.)
Serve with another drizzle of olive oil and garnish with the reserved rosemary leaves.
This recipe (and hundreds more!) came from one of our Cook This, Not That! books. For more easy cooking ideas, you can also buy the book!