The Best Copycat Carrabba's Chicken Marsala Recipe
You can make one of the most popular Carrabba's chicken dinners right at home with this copycat recipe!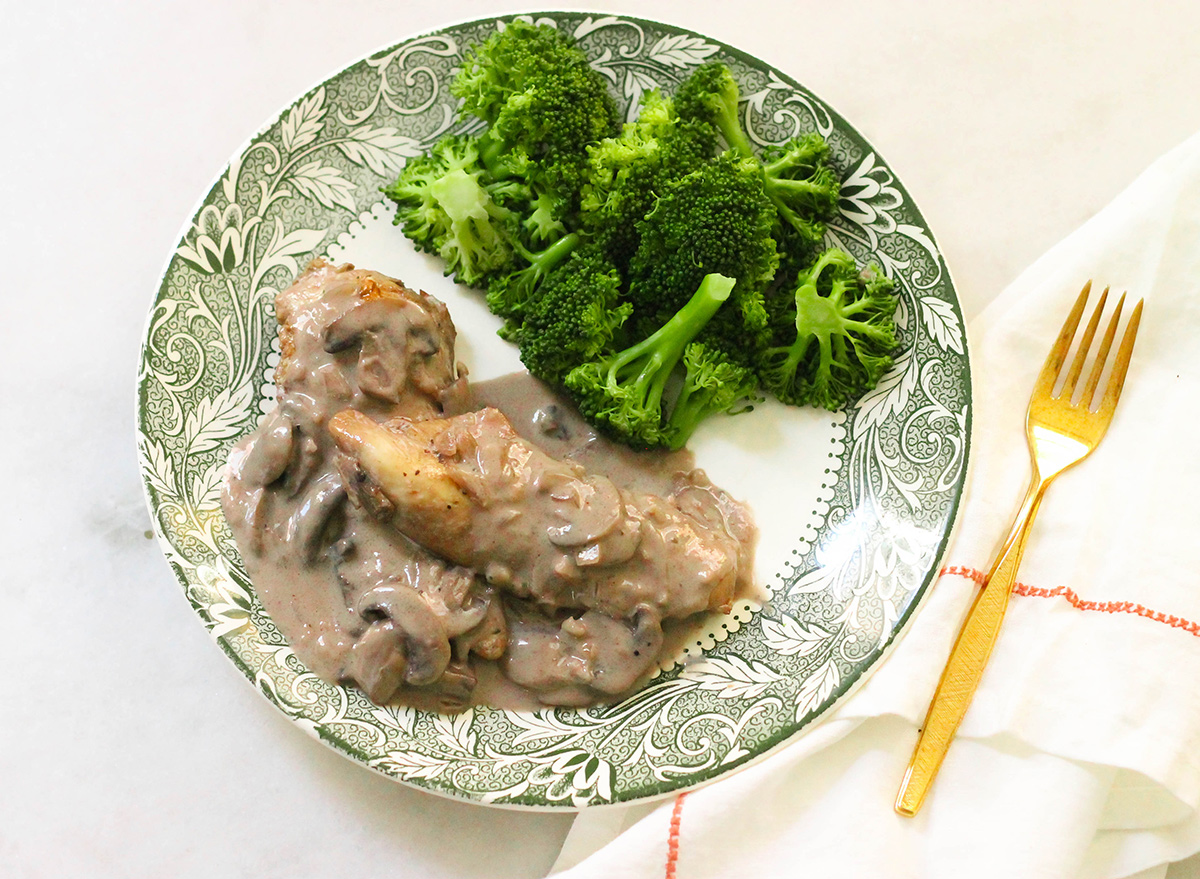 When people head to Carrabba's for a night of Italian dining, there's one chicken dish in particular that they can't get enough of: the Carrabba's chicken marsala. This creamy, delectable dish—served with a side of the greenest, freshest broccoli you have ever seen—is certainly a crowd-pleaser at this famous restaurant chain. So, of course, I had to throw together a copycat recipe for it!
Why it's called chicken marsala
Chicken marsala got its name thanks to the Marsala cooking wine that is used for this recipe. Marsala cooking wine is easy to grab at your local supermarket, or you can even order a few bottles online. It has a brown color to it, which gives the Carrabba's chicken marsala that nutty brown color you know.
However, if you cannot find Marsala cooking wine at the store, you could try this out with leftover red wine. While the recipe wouldn't exactly be chicken marsala, the sauce would still have the same concept.
Creating the perfect Carrabba's chicken marsala sauce
While it is possible to create a creamy sauce with heavy cream, I find it easier to get that desired thickness by adding an extra thickener to the sauce. An easy thickener would be flour, which can be cooked with some butter before adding in the rest of the sauce ingredients. However, for this recipe, I skipped the extra butter and carbohydrates and used a cornstarch slurry instead.
Making a cornstarch slurry is a very important step for this particular sauce thickener. You want the cornstarch to mix evenly within the sauce, which is why you wouldn't want to just sprinkle the cornstarch in. Instead, you want to mix the cornstarch with some water to create a slurry. Pour that into the existing sauce, and it will soon start to thicken.
The trick for perfectly cooked chicken breast
Unless you purposely bought smaller chicken breast or tenderloins, you'll typically end up buying large chicken breasts. Trying to cook a larger chicken breast takes more time, and the last thing you want to do is serve your guests uncooked chicken.
My trick for cooking perfect chicken breast is slicing it in half. You'll want to slice the breast from the side, leaving you with two breast pieces that almost look the same as before, just thinner. This way your chicken breast will cook evenly and quickly!
Now, let's make some creamy Carrabba's chicken marsala.6254a4d1642c605c54bf1cab17d50f1e
Kiersten Hickman/Eat This, Not That!
Makes 4 servings
Ingredients
1 tbsp olive oil
2 tbsp butter, separated
4 chicken breasts
10 oz. sliced mushrooms
1 garlic clove, minced
1/2 onion, finely chopped
1/2 cup Marsala cooking wine
1/2 cup chicken stock
1/2 cup heavy cream
1 teaspoon cornstarch
1 tablespoon water
2 cups broccoli
Salt and pepper
How to Make It
Bring a skillet to medium heat. Once the skillet is heated, melt 1 tablespoon of butter on the skillet.
Season both sides of each chicken breast with salt and pepper. Sear them on the skillet until the outside has started to brown, about 2-3 minutes each side. Remove to a separate plate.
In the same skillet, add the olive oil and the other tablespoon of butter.
Add the minced garlic and cook until fragrant, about 30 seconds.
Throw in the mushrooms, and cook for about 5 minutes.
While the mushrooms are cooking, boil some water in a large pot. Cook the broccoli for 5 minutes in the boiling water, then strain.
Slowly pour in the Marsala cooking wine, the chicken stock, then the heavy cream.
In a small bowl, mix together the cornstarch and the water to make a small slurry. Pour into the skillet.
Add in the chicken breast to the sauce, making sure each breast is covered with some of the sauce in the skillet.
Simmer for 10 minutes, or until the chicken is fully cooked (no longer pink on the inside) and the sauce has thickened.
Serve with the boiled broccoli.