How to Make Cauliflower Rice at Home Using This Simple Recipe
Make your meals low-carb by substituting rice with this easy cauliflower rice recipe.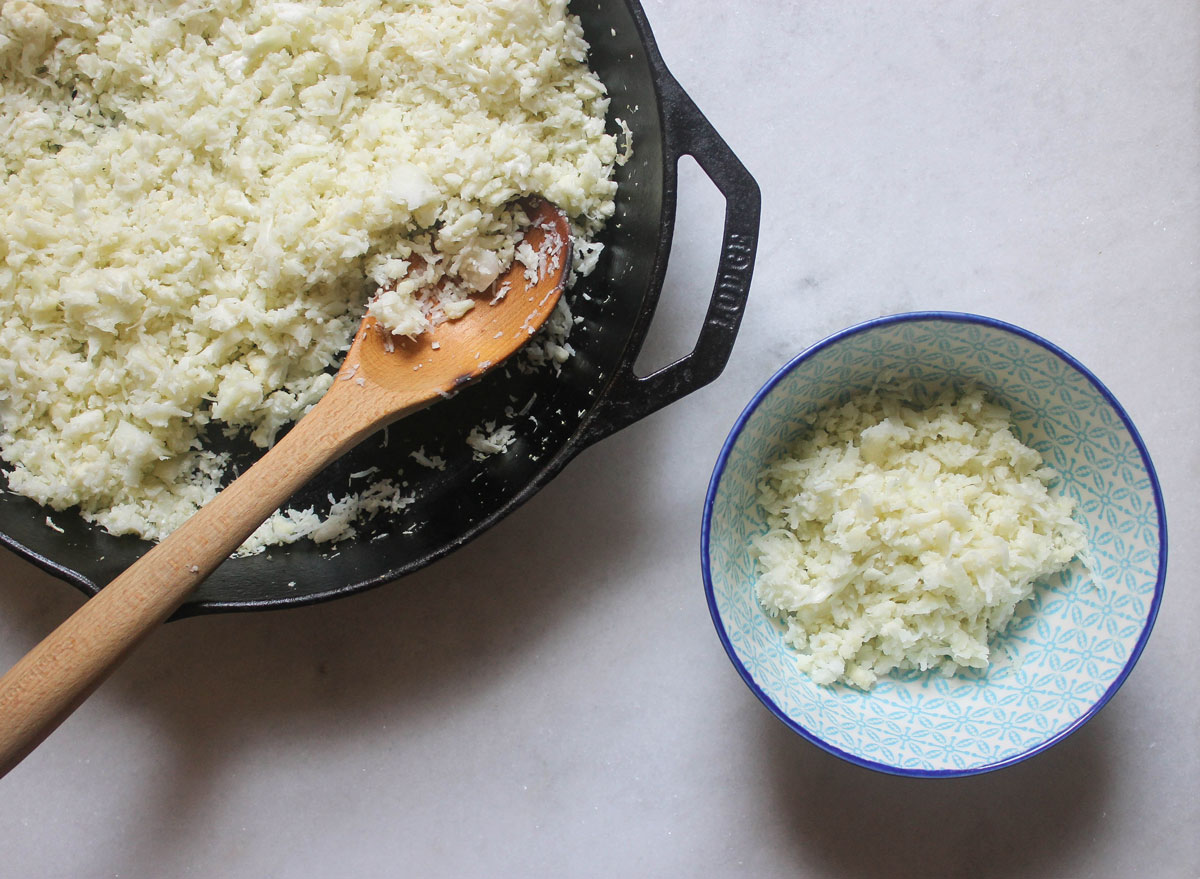 While I sure do love a good serving of carbs, I always like to find ways to lower the carb count on my meals. I'm a huge fan of making zucchini noodles (also known as "zoodles"), and more recently I have discovered a love for cauliflower rice recipes, too.
Now I've never been a huge fan of rice in general. Unless it's fried rice mixed with pork and steamed vegetables from our go-to Chinese takeout spot down the road, I'm usually not one to make it. I have experimented with some recipes using rice before, and while they turned out just fine, it's still not my cup of tea. This is where cauliflower rice, thankfully enough, has come to the rescue.
Some recipes even call for cauliflower rice specifically, like this Paleo Tomato Chicken Curry, keeping it low-carb yet tasty for all. You could also attempt to make a cauliflower crust for pizza using this rice, or even some cauliflower "tater tots" if you're feeling extra adventurous. Or, my personal favorite, a simple fried rice with teriyaki sauce, soy sauce, sauteed vegetables, and a scrambled egg.
There are so many creative uses for cauliflower rice, your possibilities are endless. I'm sharing my easy step-by-step guide to making cauliflower rice at home. This recipe can easily be doubled so you can meal prep and save some for future meals, too!
Homemade Cauliflower Rice Recipe
Makes 6-8 servings
Ingredients
1 head cauliflower
1 tablespoon olive oil
How to Make It
Grab a head of cauliflower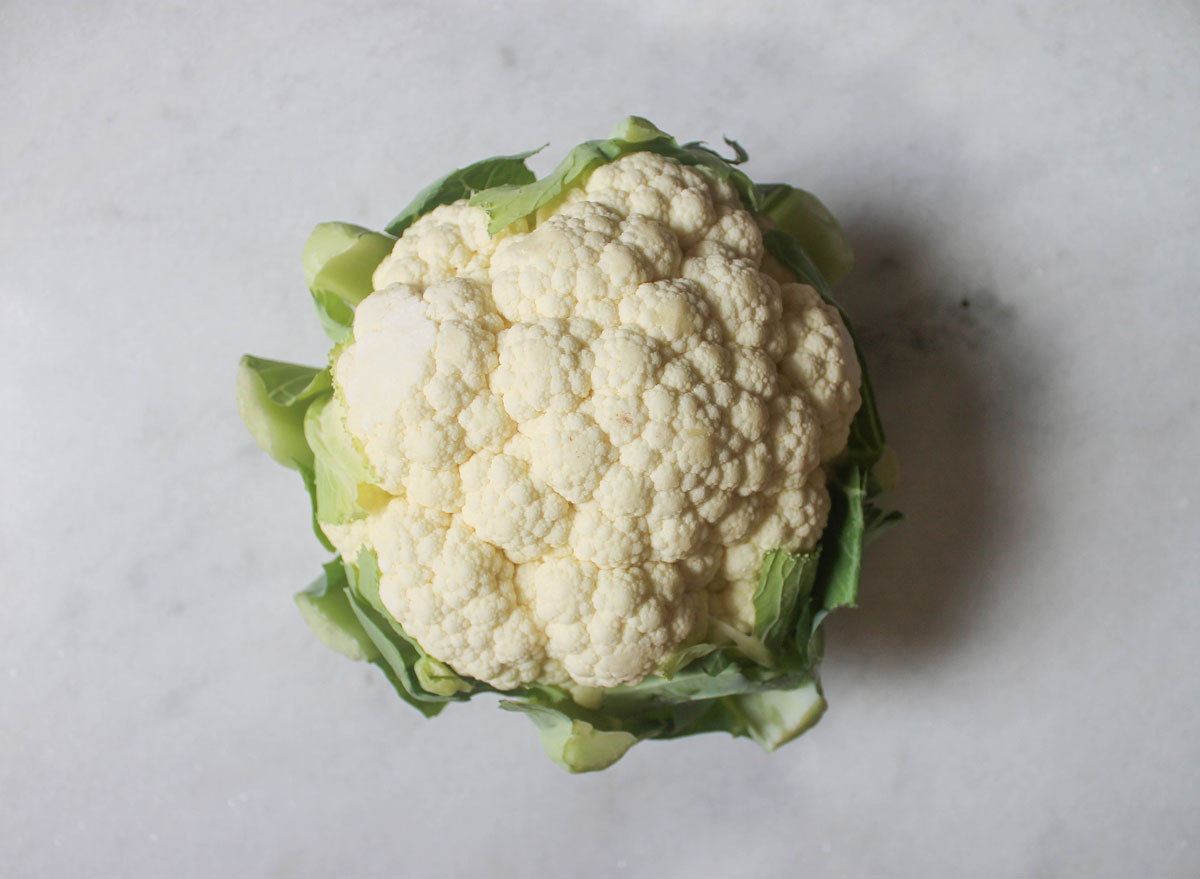 When I shop for cauliflower, I like to look for one with a lot of florets. That way I can have an even larger amount of cauliflower rice to work with. I usually find cauliflower near the lettuce or broccoli in the produce section of the grocery store.
While you could try to dig into the cauliflower and break it up without removing the stem, I find that to be challenging. I like to remove the bottom of the cauliflower first, making it easier to break up the cauliflower into florets.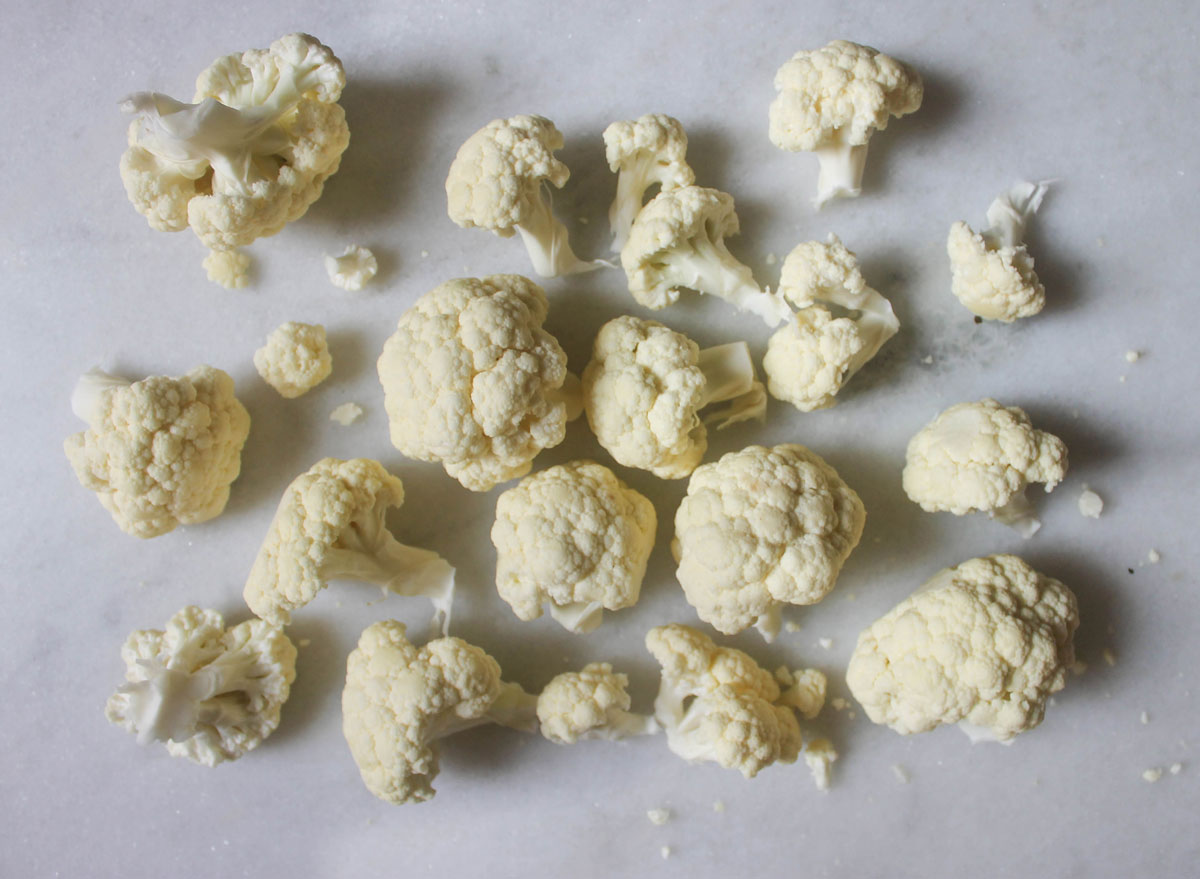 As you are breaking up the cauliflower into florets, the size will matter depending on the type of method you plan on "ricing" the cauliflower. If you plan on grating the cauliflower, keep the florets bigger. If you're using a food processor, make them smaller.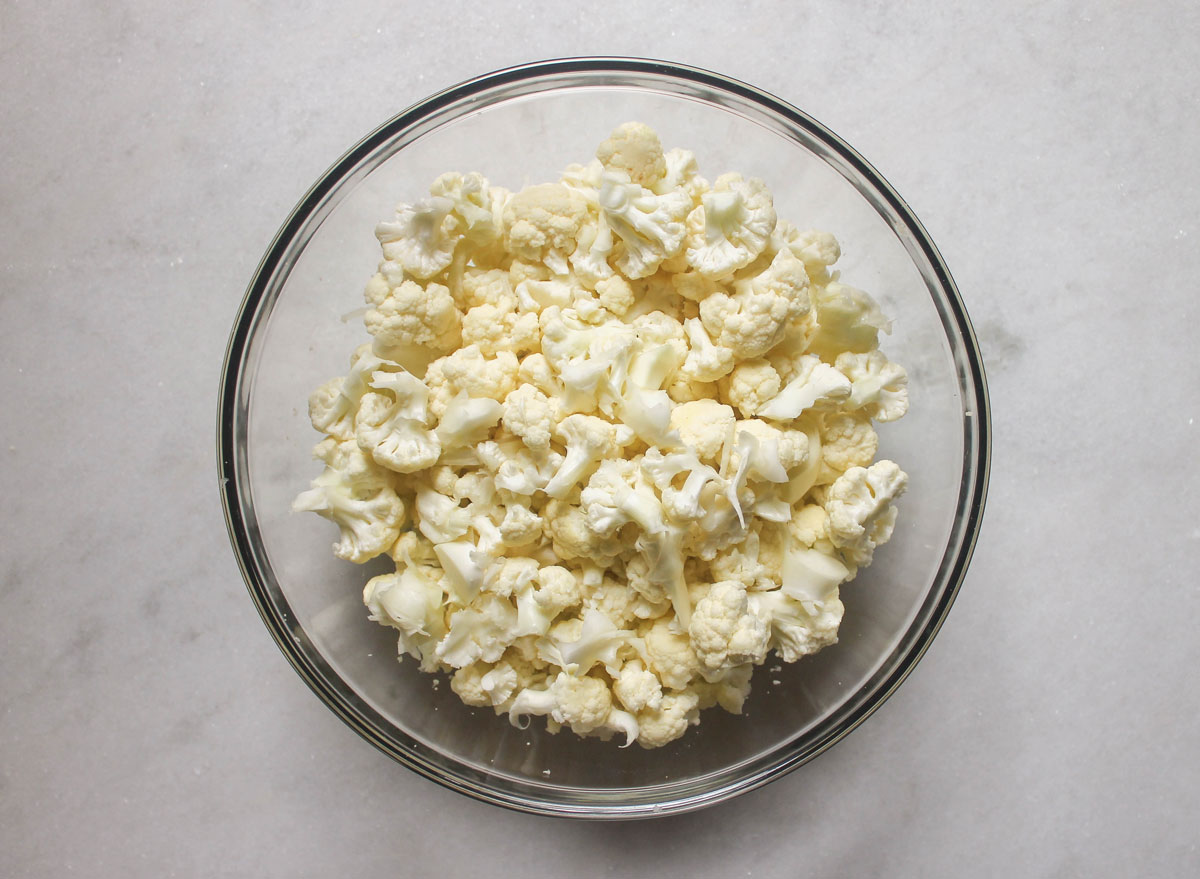 Also, you don't always have to cut off the stem of the cauliflower. The whole thing will rice just fine, and will give the rice a texture variety. So once you break it up, you can grate (or process) the whole floret, too, if you wish.6254a4d1642c605c54bf1cab17d50f1e
There are two ways you can rice cauliflower: you can use a food processor, or simply grate it by hand.
Rice Method #1: Food Processor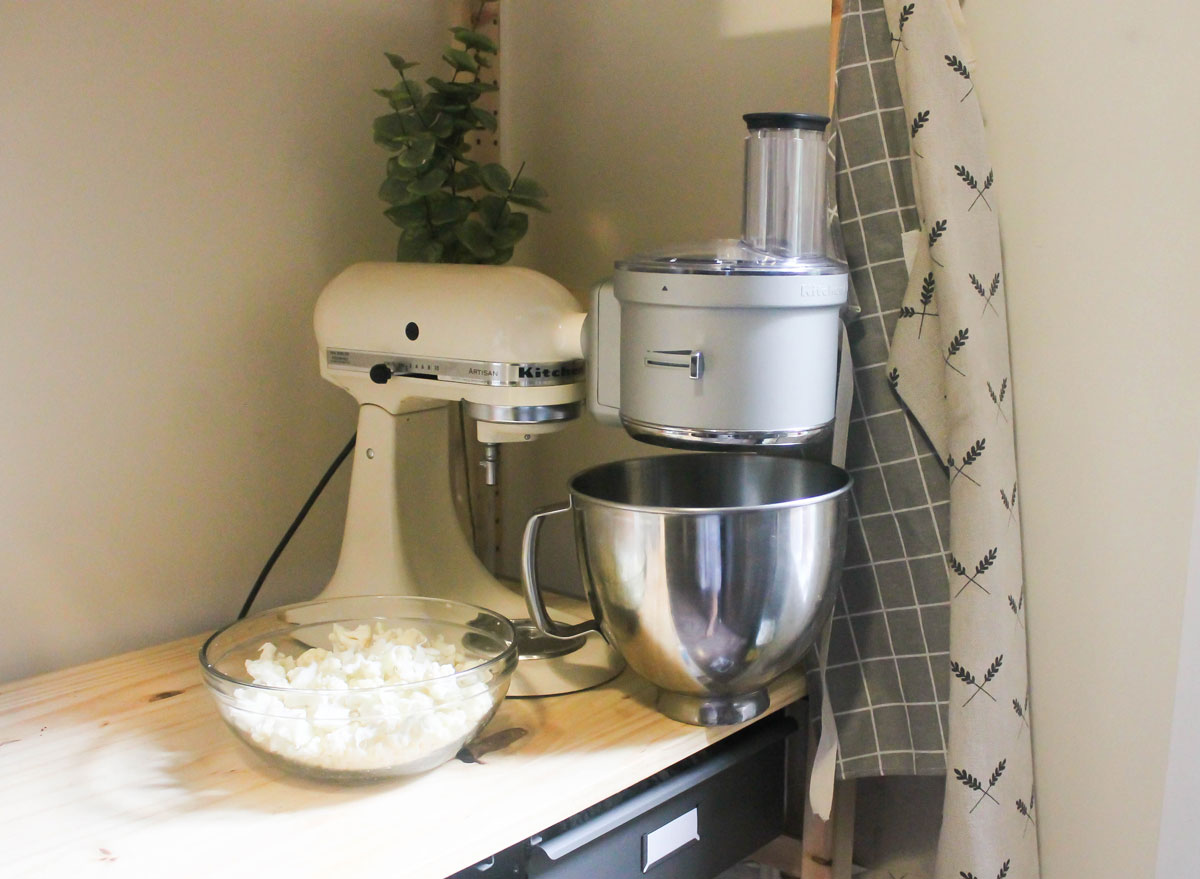 Processing the cauliflower will probably be the easiest method for ricing in a shorter period of time. Run the cauliflower through the food processor using the grating disc. My food processor attaches to my KitchenAid stand mixer, so I placed the KitchenAid bowl underneath it to catch the rice.
Rice Method #2: Grate
If you don't have a food processor, grating it is the next best thing. It will take a bit of time (and some arm strength) to get through all the florets, but it will rice just the same. I chose the largest grating holes when using this method, simply because it made thicker rice. But if you would rather have a thinner rice (more like couscous or quinoa), you could always use a different grating size.
Cook on a skillet with oil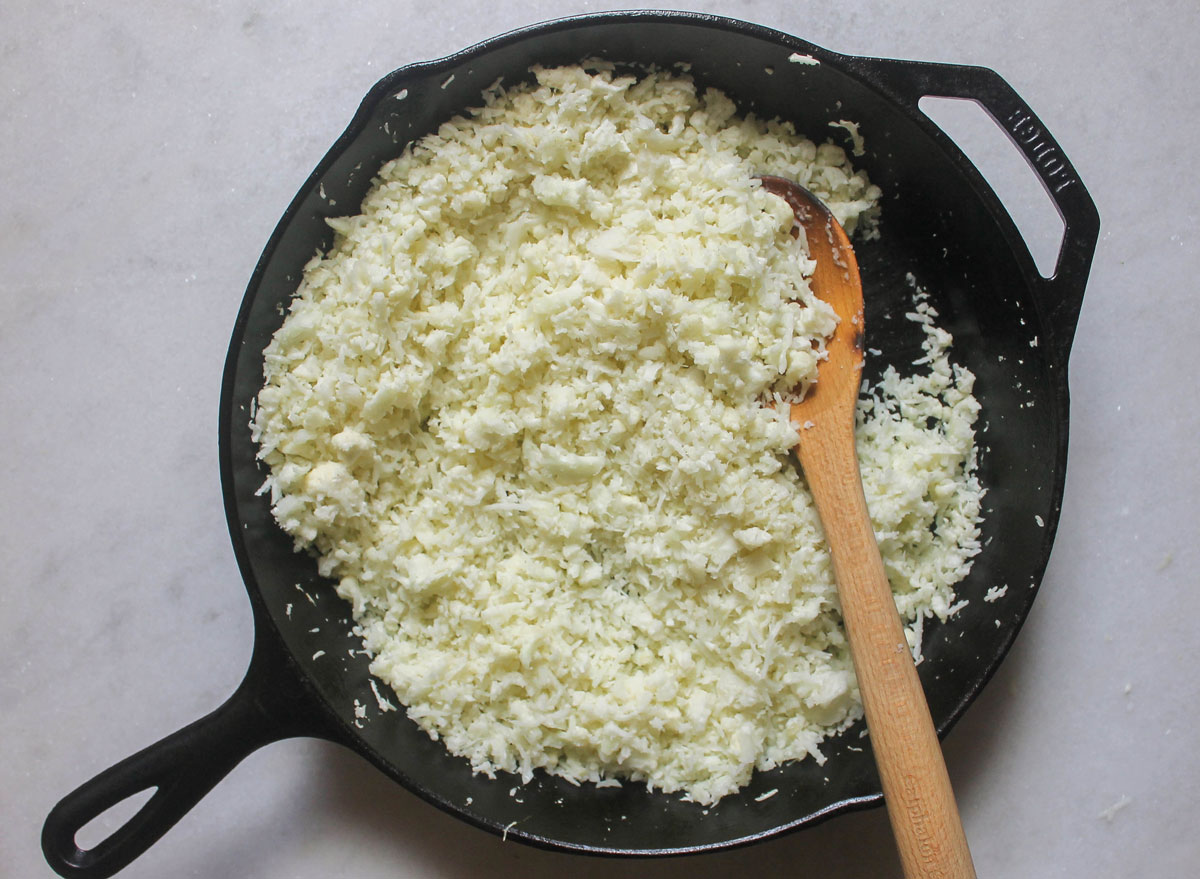 Cooking cauliflower rice is even easier than the process of ricing it! All you have to do is cook the cauliflower rice on a skillet on medium to medium-low heat with some olive oil, and any other seasonings if desired. Cook it for three to five minutes, but don't let it sit there long. The last thing you want is mushy rice! The texture will be pleasant to eat if you limit the cooking time on the skillet.
Cauliflower Rice Full Recipe
Cut off the bottom of the cauliflower. Compost the scraps.
Break off large pieces of cauliflower florets. If you decide to grate the cauliflower by hand, do this with the larger florets. If you are putting the cauliflower through a food processor, break the cauliflower into small florets.
Grate (or process) the florets into a small, rice-like texture.
Heat up a skillet on medium to medium-low heat with olive oil.
Cook the cauliflower rice for 3-5 minutes, until it is tender but not mushy.
Serve in substitute of rice for any rice-based dish!
Not sure if you want cauliflower rice? You could try making mashed cauliflower instead!