5 Major Changes You'll See In Restaurant Dining Rooms This Year
Big chains are becoming customer-focused for the modern day.
If the kitchen is the brain of the restaurant, the dining room is undoubtedly the heart.  A busy, buzzing dining room tells passersby a restaurant is the place to be, whereas there are few sights quite as pitiful as a deserted eating area on a Friday or Saturday night. Traditionally, of course, restaurants of all varieties and sizes have devoted considerable resources toward getting as many customers in the door as possible.
The last few years, however, have been anything but traditional or typical. The COVID-19 pandemic left the entire restaurant industry reeling, and recent nationwide inflation has complicated operational considerations and costs significantly. The restaurant industry actually proved quite resilient during the pandemic, thanks in large part to a pivot toward delivery and take-out options.
Interestingly, though, even as the pandemic finally begins to fade, this clear societal shift toward delivery over dining rooms appears here to stay. In 2022, an astounding 85% of all fast food orders were to-go. Meanwhile, per the National Restaurant Association, just about three years since the emergence of COVID-19, 16% fewer diners are eating on-premises at restaurants than prior to 2020. Drive-thru activity, on the other hand, has never been more prevalent; accounting for 39% of all restaurant traffic at the end of last year.
Executives and decision-makers across the restaurant industry quickly took note of this change in consumer behavior, and we're now beginning to see a number of brands implement major changes to their dining room setups (and entire restaurant layouts) in pursuit of meeting the demands of the modern consumer.
"Dine-in service looks different than it did just a few years ago, and customer preferences have changed," Wendy's President, International and Chief Development Officer, Abigail Pringle, told QSR.
Here are some of the biggest changes you'll see in restaurant dining rooms this year, ranging from some of the biggest brands in the world to smaller, more localized eateries.
Fewer Seats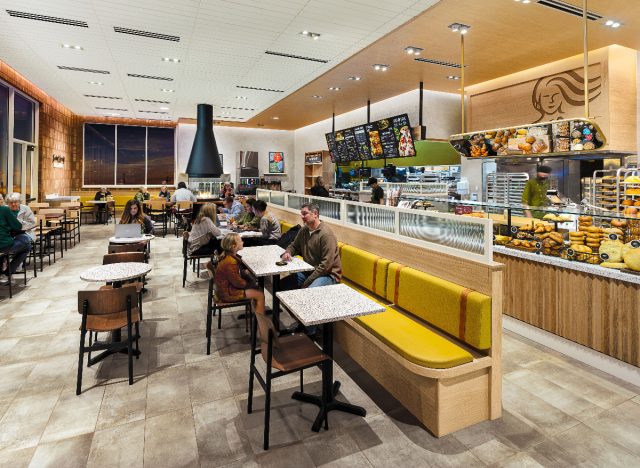 Dining rooms all over America are set to shrink considerably across a number of major chains. Some brands, such as McDonald's and Wingstop, are even experimenting with totally seat-free locations focused entirely on pickup, drive-thru, and delivery services.6254a4d1642c605c54bf1cab17d50f1e
While those examples represent the more extreme end of the seat spectrum right now, a long list of restaurant brands are actively experimenting with reduced-size dining areas; Panera Bread, Starbucks, and IHOP—just to name a few.
Meanwhile, Outback Steakhouse recently announced ambitious plans to open anywhere between 75-100 new-look locations in the years to come. These new units will be decidedly smaller than the average Outback location right now (about 17% smaller)—and that includes the dining areas.
After conducting a "table efficiency study" Outback determined it could replace a number of four-top tables with two-top tables while still seating the same number of patrons (187). All in all, the new layout is as efficient as it is compact.
Indoor Pickup Shelving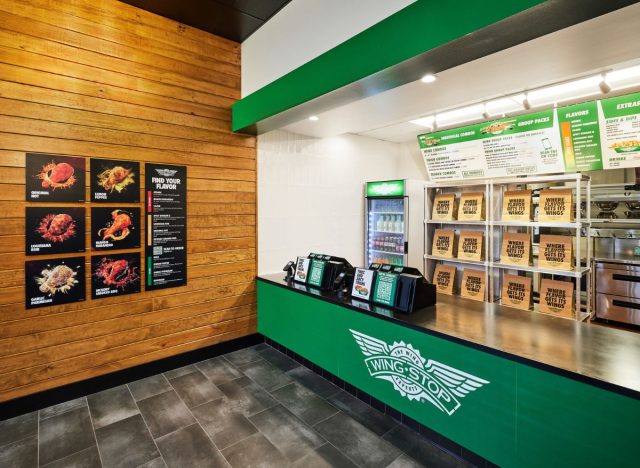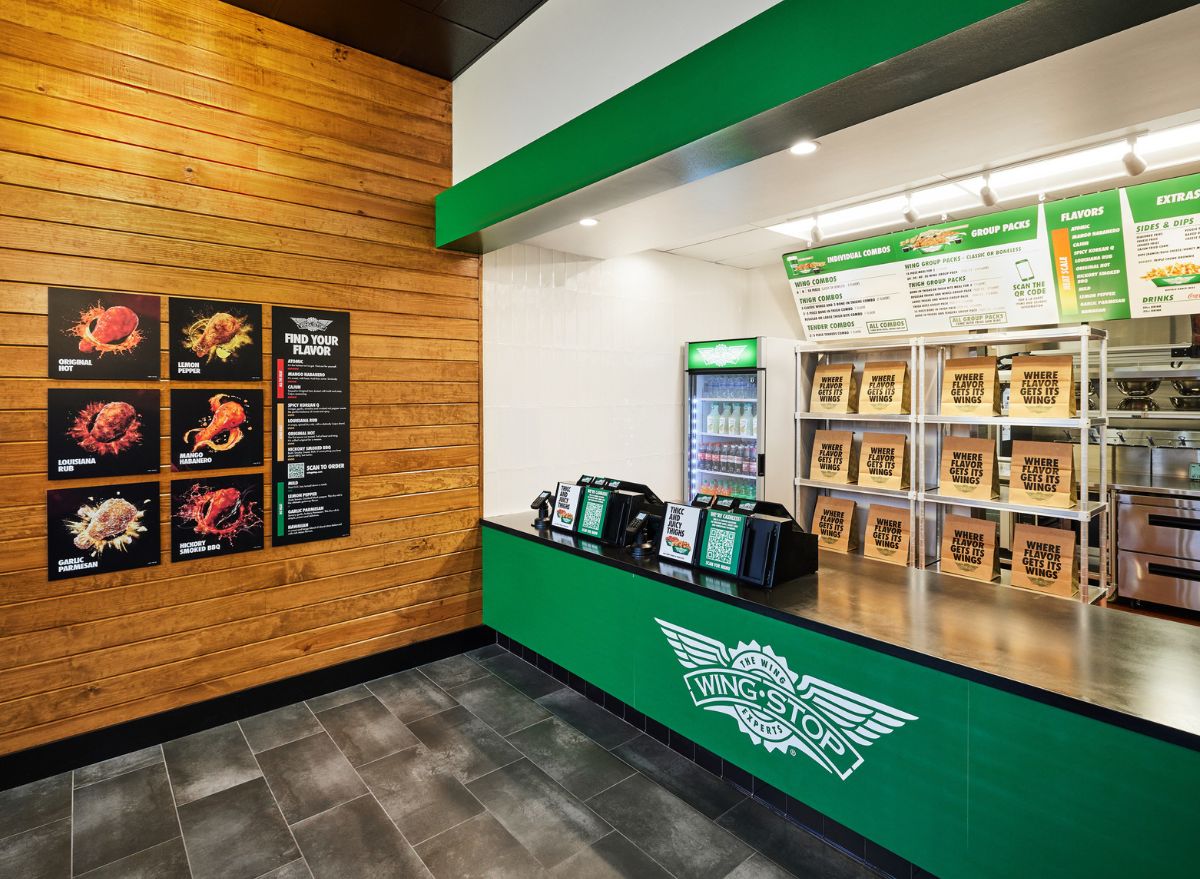 Fast -ood juggernaut Wendy's also announced comprehensive plans for redesigned global restaurants last year. These slimmed-down, digital-first, restaurants will feature a number of futuristic innovations such as a new galley-style kitchen and a dedicated pick-up window outside for delivery drivers to pick up orders.
Patrons sitting down to eat in Wendy's dining rooms will also notice a big change. These new locations will feature a dedicated mobile order pick-up shelving area just to the side of the main counter. Hungry customers will be able to order online, select a specific pickup time, park in a dedicated spot, and simply stroll in to grab their meal.
"As the first restaurant brand to offer a modern pick-up window more than 50 years ago, Wendy's continues its legacy of design and innovation with Global Next Gen," said Wendy's CEO and President Todd Penegor in a press release. "Our new global restaurant standard unlocks opportunities at the intersection of innovative design and technology, bringing us one step closer to our vision of becoming the world's most thriving and beloved restaurant brand."
Less Crowds, Better Service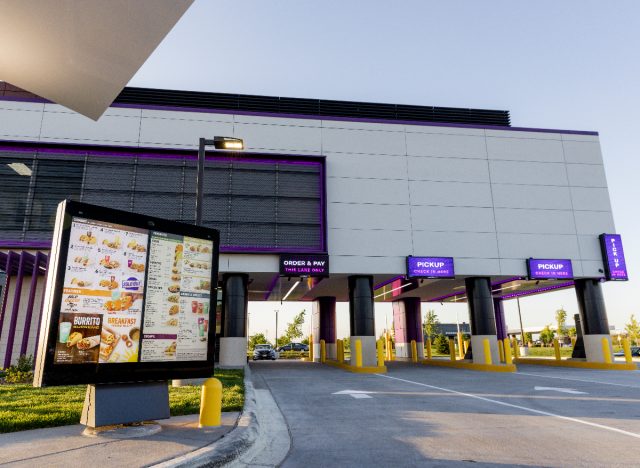 One of the most common changes seen across the industry, even among different brands and chains, is an emphasis on spreading store traffic across different service channels to increase efficiency. Just like Wendy's, many new Burger King locations will feature specific pickup lanes for delivery drivers, and KFC's units of the future will deliver orders straight from the kitchen to "cubbies" for mobile and delivery order pickup.
All of these changes are designed to ensure units run smoothly all around, and customers across all ordering channels encounter fewer delays and long lines. Redirecting delivery traffic away from drive-thru windows, and eliminating the need for people picking up orders to approach the front counter, should free up staff to better serve dine-in customers and promote shorter wait times all around.
"This ensures the crew are focused on taking and fulfilling dine-in customer orders quickly, efficiently, and accurately,"  Pringle explained. "Less traffic at the POS also makes it easier for our digital customers to quickly locate their orders on the new integrated front counter grab-and-go shelving."
Kiosks, Kiosks, Everywhere
Another hallmark of the new-look restaurant experience is the automated kiosk. Why spend time talking with a human when you can browse the menu, make your order, and pay all on a sleek digital kiosk?
These automated ordering systems are a key aspect of redesigned fast-food units like McDonald's or KFC, but even brands considered a bit more eloquent are embracing the kiosk in a big way. Shake Shack, founded by Michelin-starred restaurateur Danny Meyer, is aiming to have kiosks installed at all 460 unit locations by the end of this year, and the technology has been a key aspect of the chain's success recently.
Per QSR, kiosks represent Shake Shack's most profitable channel, and CFO Katie Fogertey adds a "good portion" of guests would rather interact with a digital kiosk than approach a human cashier given a choice. Another big plus is the opportunity to upsell; kiosks provide a crisp snapshot of the entire menu, and often suggest additional options, giving guests the chance to perhaps indulge in a particular menu item they wouldn't have considered normally.
"Our digital team developed a kiosk experience that helps guests navigate our menu and premium add-ons more easily for some than the traditional menu board," she continued. "Kiosks also help our team members be more efficient and, over the long term, our investments will allow us to expand our digital and omnichannel ecosystem."
Robotic Waiters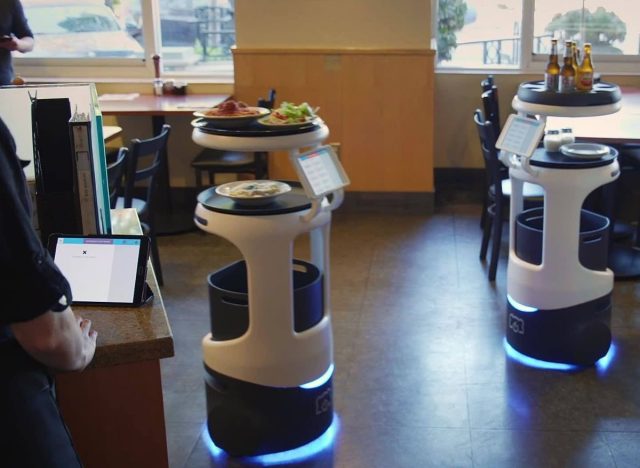 It's tough to browse the news these days without seeing something about AI and automation. The restaurant industry clearly hasn't been immune to this trend, but are customers truly ready to be served by robotic waiters?
Ready or not, they're already here. Robot servers have been undergoing trial testing at a Chick-fil-A location in Atlanta. "So I was shocked to see it, but it was also pretty exciting and exhilarating," local patron Dana Hannah told Atlanta's 95.5 WSB last year after encountering the robotic waiter.
It's not just major chains like Chick-fil-A that are experimenting with automated dining room help. Many smaller restaurants have opted to try robotic servers in the wake of labor shortages and rising costs. Li Zhai, the owner of Noodle Topia in Madison Heights, Michigan, recently told AP he bought his first server robot in 2021 due to staff shortages. Now, he has three; one bot leads customers to their seats, another delivers the food to tables, and the third takes care of table cleanup.
There's also a notable cost benefit to these automated servers. Depending on the model and producer, a robotic server can cost around $10,000 to $15,000 in total. Employing a human server, on the hand, usually costs roughly $5,000-$6,000 per month.
John Anderer
John Anderer is a writer who specializes in science, health, and lifestyle topics.
Read more about John