7 Surprising Facts You Didn't Know About Cheez-Its
Get to know the organge snack with a cult following.
Cheez-Its, the little orange square crackers that give us salty satisfaction, are a guilty pleasure for many of us. No wonder they have a cult following which has spawned everything from wine pairings to casserole recipes. Aficionados voice their opinions on the crackers' best uses and write odes to their inability to say no to them.
So we thought it would be fun to bring you some of the die-hard fan knowledge about Cheez-Its which might surprise you. Despite being on the market for almost 100 years, there are still things you probably don't know about them.
Cheez-Its come in almost every cheese flavor imaginable
There have been over forty different flavor varieties of Cheez-Its since the brand was introduced in 1921. They include such notables as Hot & Spicy made with Tabasco, Italian Four Cheese, Buffalo Wing, Smoked Cheddar, Nacho, Chipotle, Provolone with a hint of smoke, Asiago, Parmesan, Garlic and Swiss, Romano, and White Cheddar and Bacon. Special flavors were created for the 2017 football season like Cheeseburger, Cheddar Nacho, and Cheese Pizza.
The Cheez-It mascot is a wheel of cheese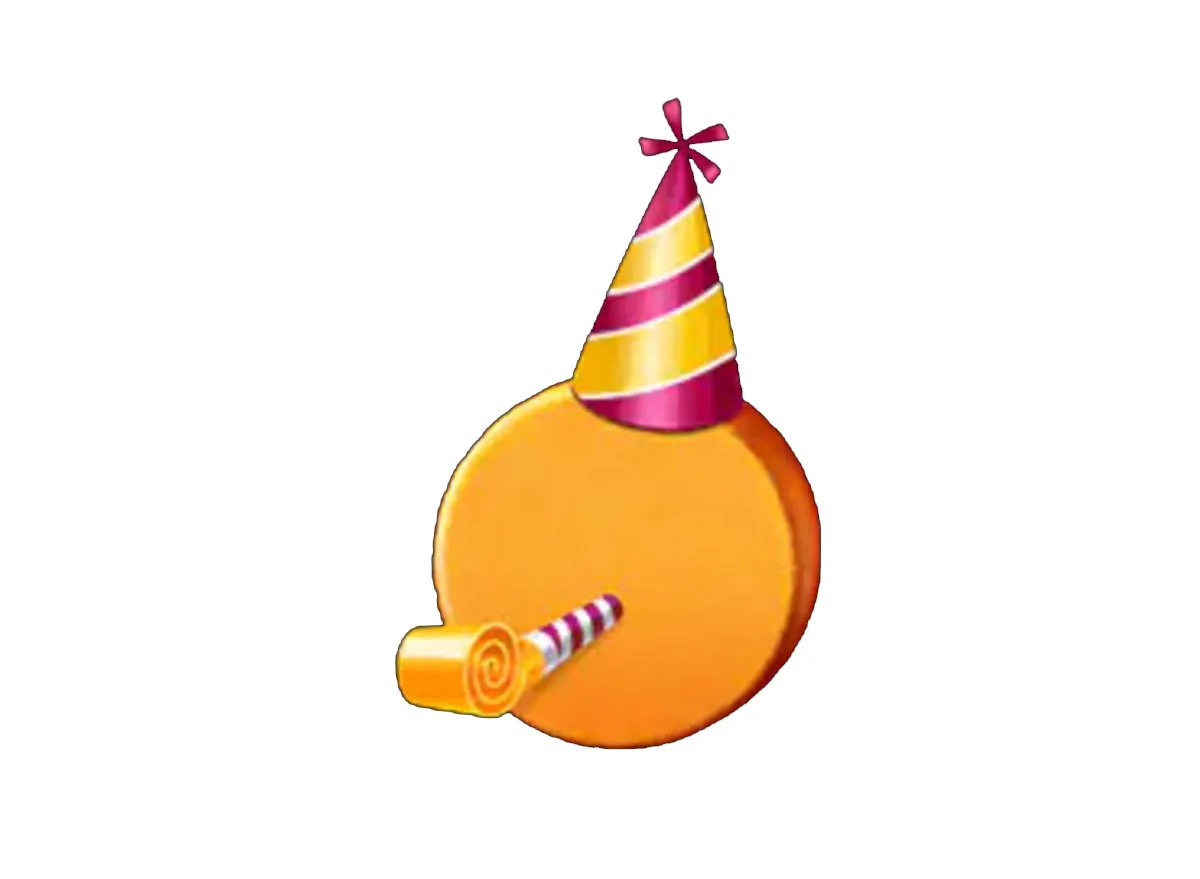 Simply named 'Cheese' the mascot is often portrayed in advertising, where he's going through various stages of maturity, sometimes behaving like an sassy teenager. Only when he starts behaving more appropriately, aka "maturing", is he ready to become part of a batch of Cheez-It crackers. A clever way of emphasizing that the secret to the well-known flavor is mature cheese.6254a4d1642c605c54bf1cab17d50f1e
Cheez-It was sued over whole grains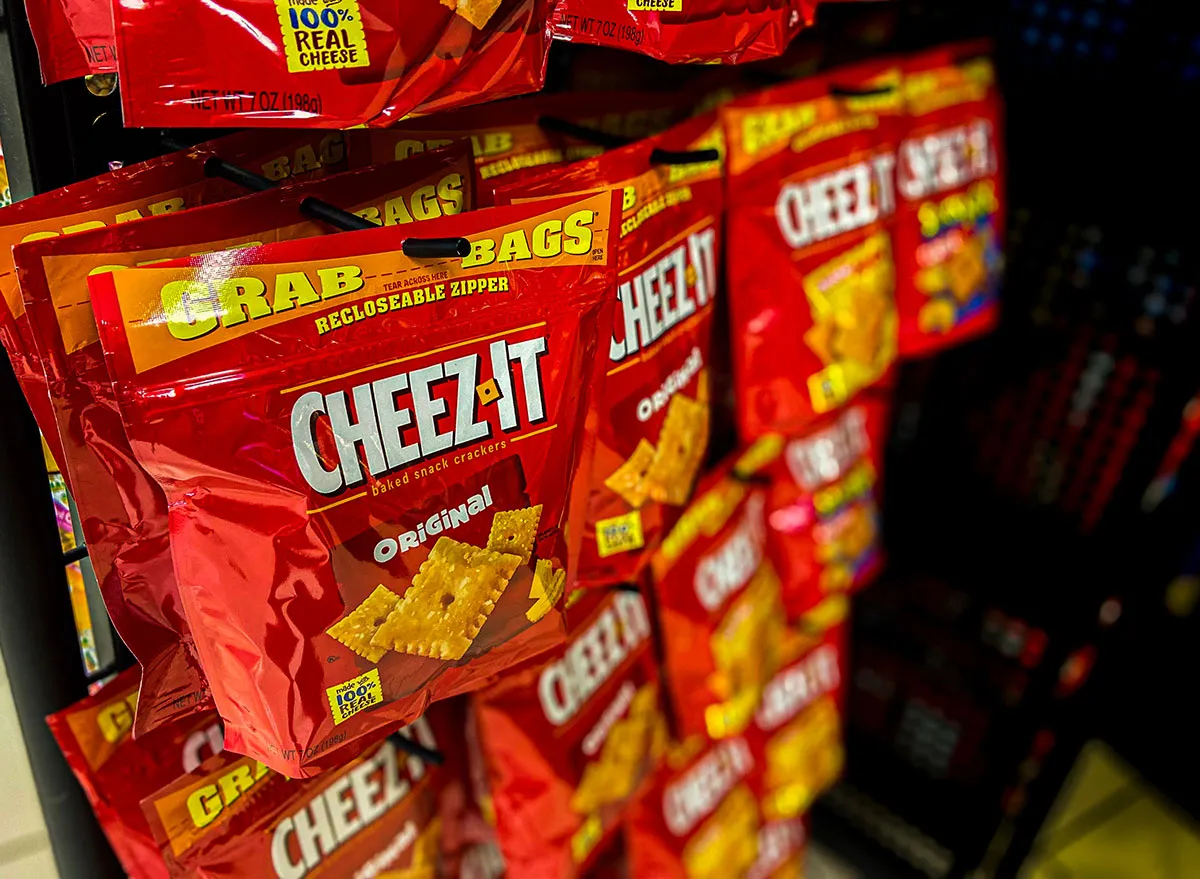 The Center for Science in the Public Interest, a health watchdog group, filed a lawsuit on behalf of consumers in the states of New York and California accusing the Kellogg Company of misleading consumers with their branding. The product in questions was Cheez-It Whole Grain Crackers and the lawsuit stated there wasn't enough whole grain in the product to allow Kellogg to claim the healthy benefits. In fact, the crackers contain a greater amount of enriched flour than whole grain flour. The claim asked for the courts to force Kellogg to stop labeling the crackers 'whole grain'. The case was dismissed in 2017, but that decision was overturned in New York's Second Circuit Federal Appeals Court in 2018, paving the way for the lawsuit to proceed. Stay tuned!
Yes, they're made with cheese, but that's not what makes them orange
Cheez-Its are made with skim milk cheese. But their signature color actually comes from annatto extract, a natural food dye made from the seeds of the achiote tree. It grows in the tropics of Central and South America and is used to add a nutty taste to dishes. Paprika and paprika extract are also ingredients in the cracker, adding to the orange hue.
Michael Bloomberg is addicted to them
In 2008, Cheez-It caused this democratic presidential hopeful some bad press. Michael Bloomberg fought for a healthier environment in New York City during his 12-year stint as mayor, attempting bans on things like trans fats, indoor smoking, styrofoam, and large sodas. However, a photographer caught him enjoying Cheez-Its, generating a round of criticism for his own snacking choices. Cheez-Its have a small amount of trans fats which are a byproduct of processing the soybean oil. The amount is small enough so that it doesn't have to be reported on the nutrition label, but it still adds the dangerous fat content proven to increase your levels of bad cholesterol. Despite the controversy, Bloomberg later admitted to a Cheez-It addiction on The Late Night Show with David Letterman in 2013, citing big corporation's manipulation of labels as a problem and saying everyone should be allowed to make their own educated food choices.
Cheez-Its go well with wine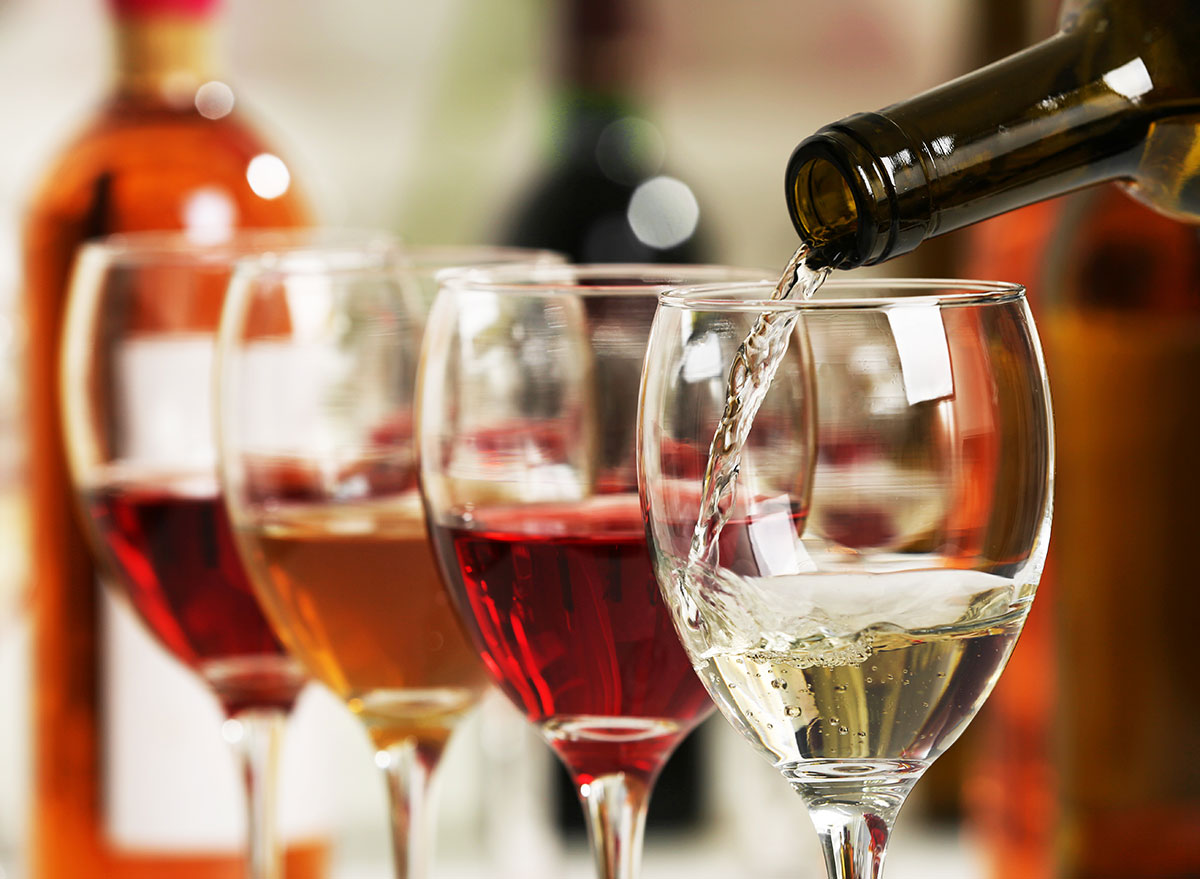 In a demonstration of the greatest idea ever, The Kellogg Company partnered with minimalist wine company House Wine to create a limited edition dual box of wine and Cheez-Its last summer, which promptly sold out. It featured the company's original red wine blend by winemaker Hal Landvoigt. He also created wine pairings for the snack, like the combination of Original Cheez-It & Red Blend or White Cheddar and Rosé.
They have their own namesake bowl game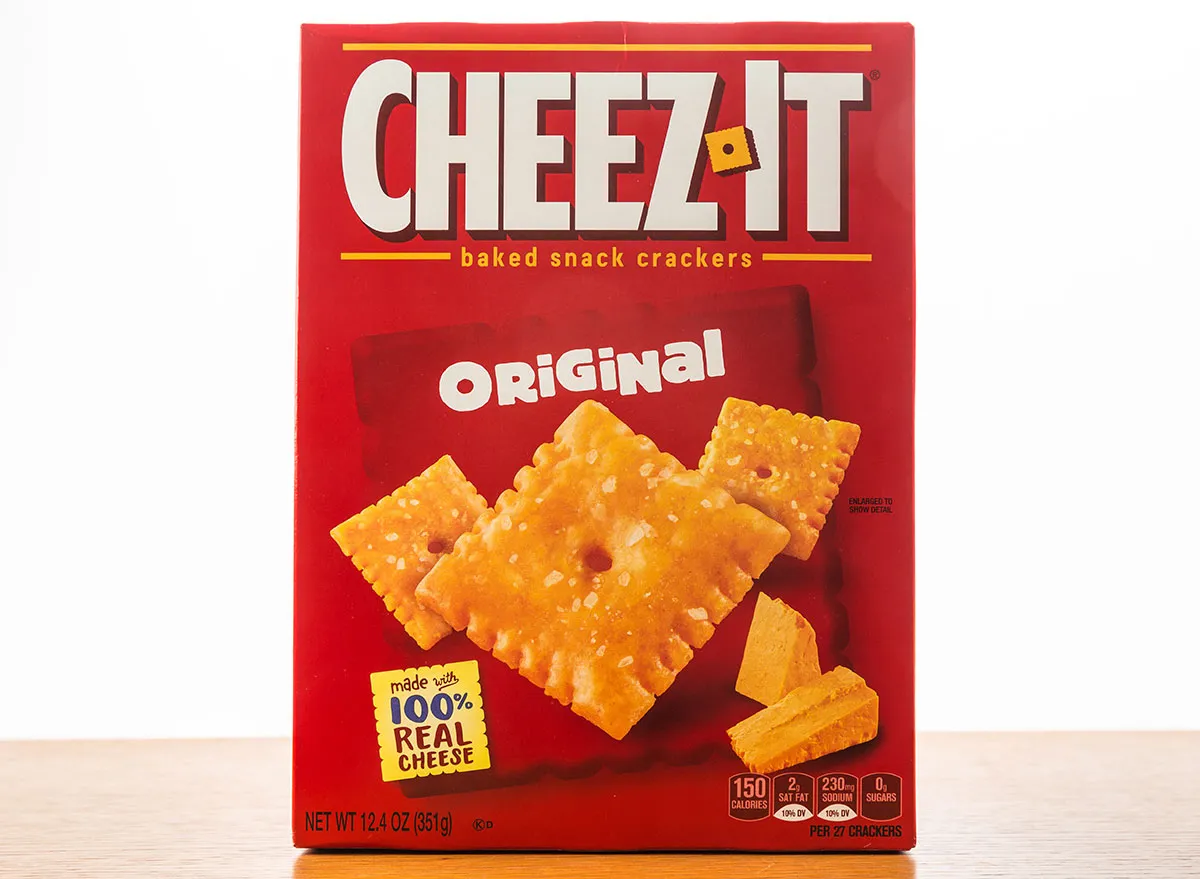 In 2018, Cheez-It started sponsoring a bowl game in the state of Arizona, which is now officially played under the name "Cheez-It Bowl." In 2019, the executive chef of the Chase Field stadium created a Cheez-It infused menu for the event, including Cheez-It Walking Tacos, Cheez-It Popcorn, salads with Cheez-It croutons, and a Coney Island Cheez-It dog. Fans were able to post pictures tagged #ScoreCheezItEntry to enter a sweepstakes for a year's supply of the snack. If you are curious, Air Force topped the Washington State Cougars in the game with a score of 31-21.