Things Chefs Are No Longer Allowed to Do
The food industry might not be the same anymore in a post-coronavirus world.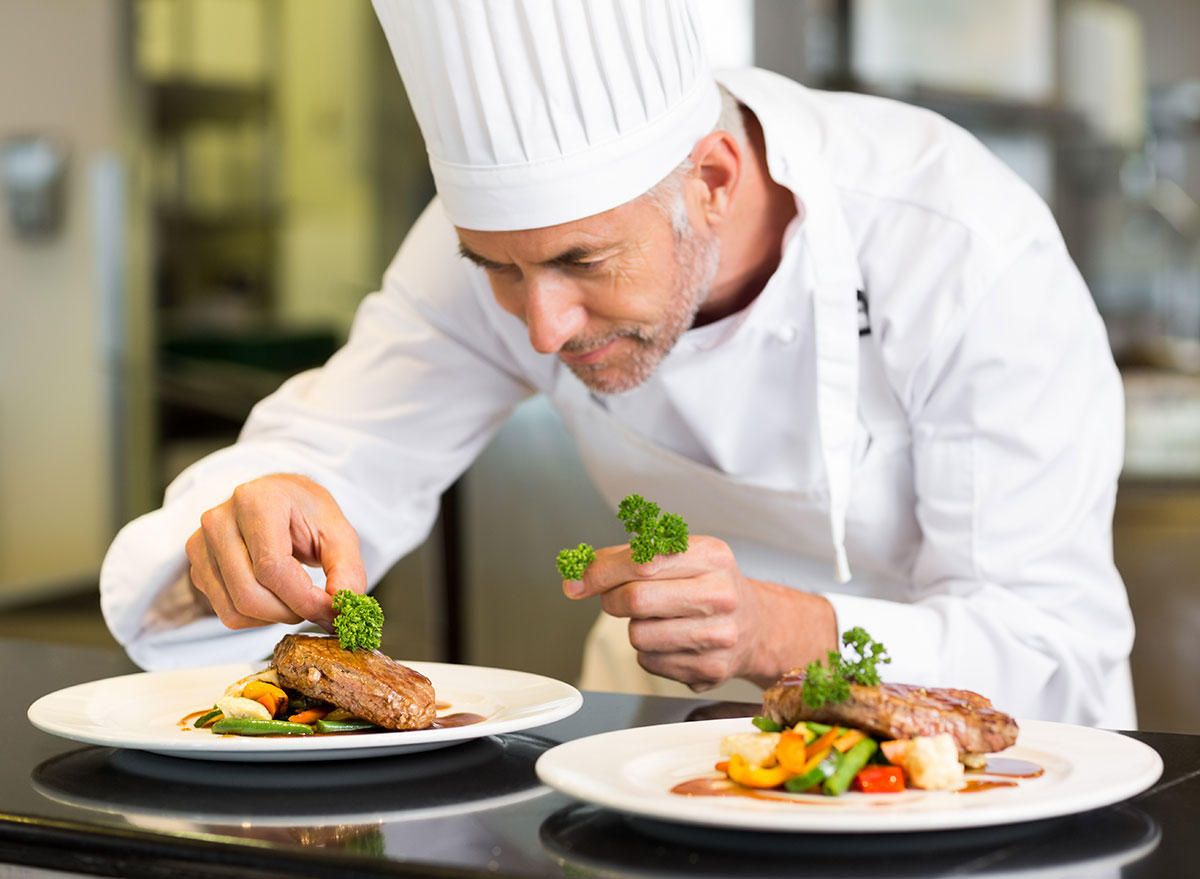 With states like Georgia and Texas re-opening their stores and restaurants for service, there is a lot of decision-making on how the restaurant world should proceed post COVID-19. (If you want a little sneak peek, make sure to glimpse on How Dining Out Post-Lockdown Will Look Like.)
Texas has released a standard health protocol checklist for restaurants and how they can apply these guidelines to ensure the safety of their customers and workers. As restaurants across the country start to reopen, these essential workers who are ready to get back to work must now learn new procedures. It's very clear that dining out won't be the same for a while. The experience of a customer will be different, as waiters will have to wear gloves at all times, including when handling your food dishes and bills, and even chefs will have to adhere to new guidelines.
Here are a few changes that chefs will have to follow in order to keep the restaurants clean and customers safe. And to keep yourself informed, sign up for our newsletter to get the latest coronavirus food news delivered to you.
Chefs won't be able to cook without a mask.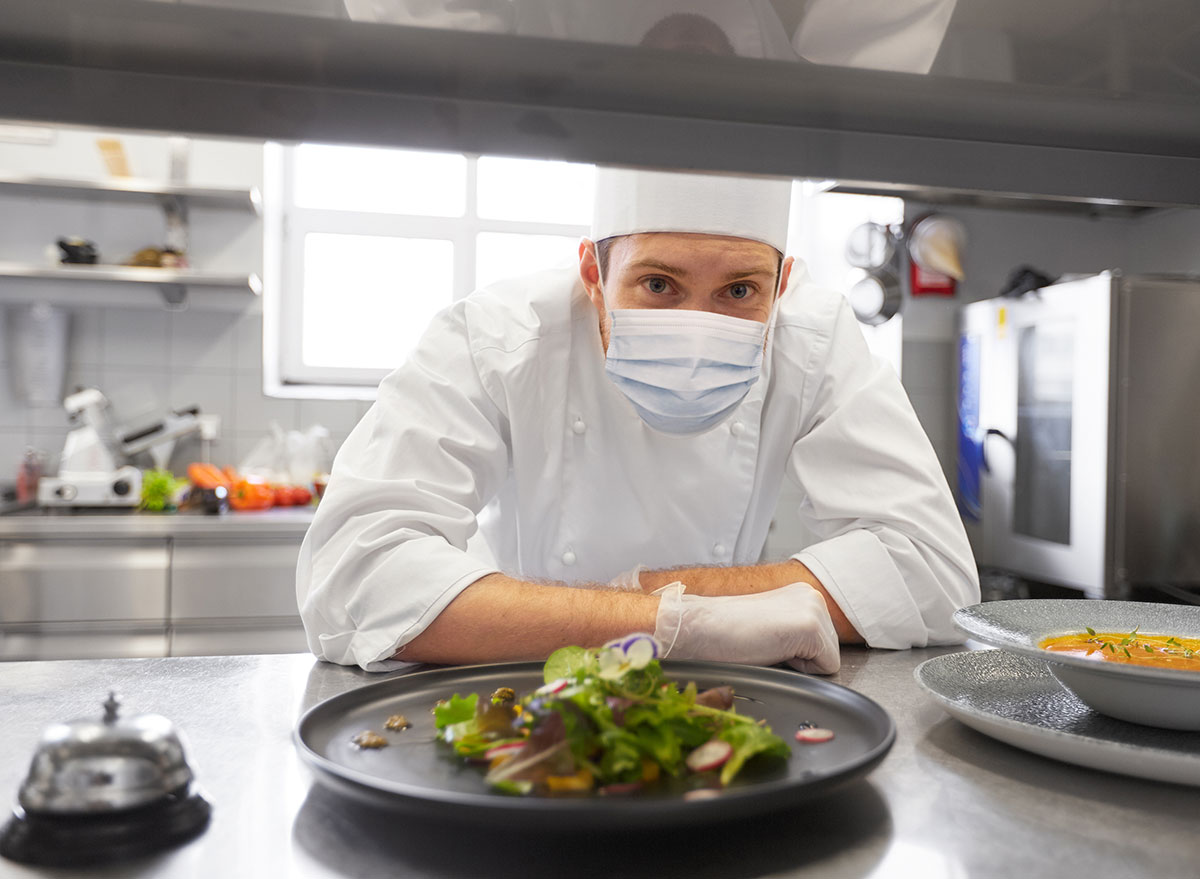 After Governor Kemp's executive order on allowing stores and restaurants to re-open, a series of executive orders outlining restaurant and dining service guidelines were issued. One of the guidelines requires that, "all employees wear face coverings at all times. Such coverings shall be cleaned or replaced daily." That includes chefs, waiters, bartenders, and cleaning staff.
STAY INFORMED: Sign up for our newsletter to get the latest coronavirus foods news delivered straight to your inbox.
They won't be able to have a large staff.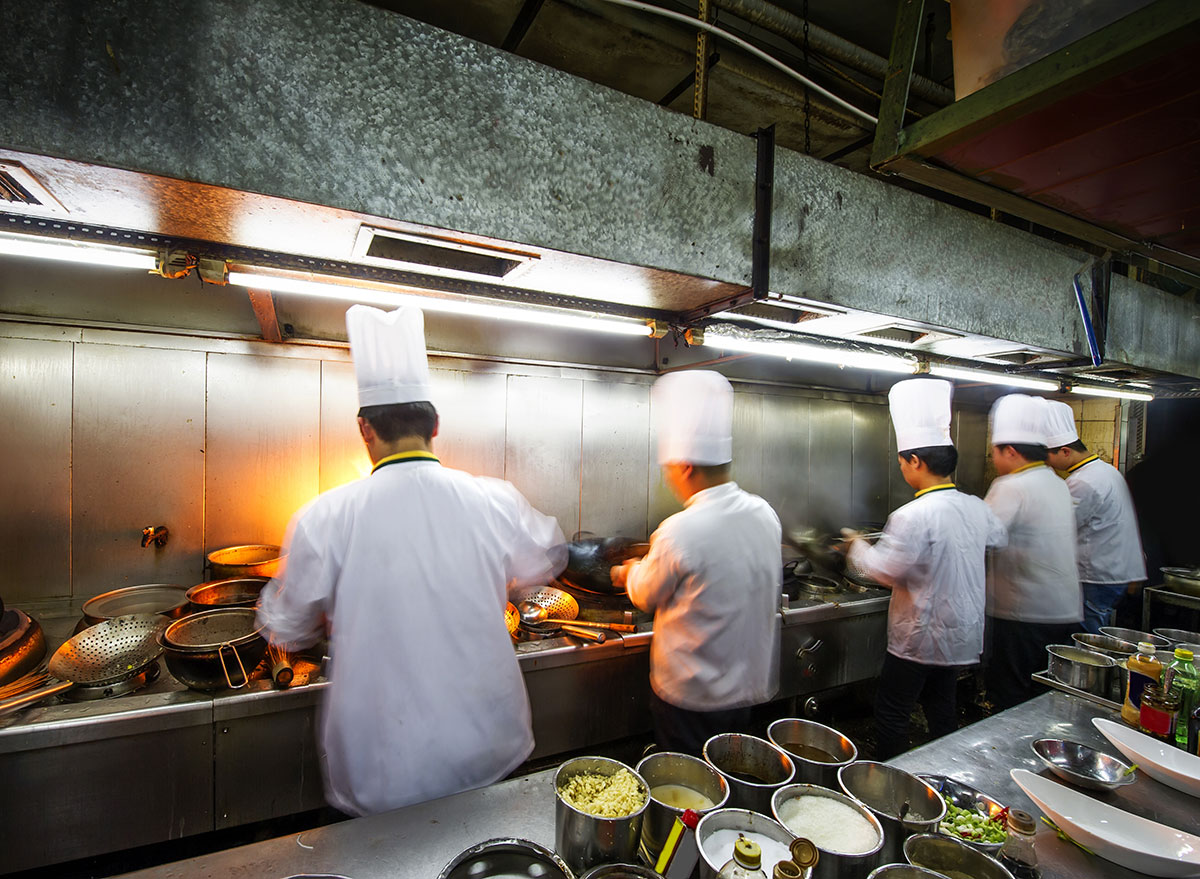 This news might not be the best for workers in the restaurant industry. One of Georgia's guidelines is that restaurants have to limit, "the number of patrons to no more than 10 per 500 square feet." Chefs and owners who own a restaurant can only allow a certain amount of customers in their establishment. The possibility of not needing to hire their entire staff again is strong. Small restaurants are on the brink of closing, and other big chain restaurants are in a financial crisis. Saving money is a priority, and if that means eliminating a chef's staff by a lot to save more or to be able to follow social distancing guidelines, it is very possible.
STAY INFORMED: Sign up for our newsletter to get the latest coronavirus foods news delivered straight to your inbox.
They won't be able to serve food buffet-style.
Restaurants like Golden Corral, who serve food buffet-style and have salad bars, may no longer be allowed to do that for the time being. Another one of Governor Kemp's guidelines is to "discontinue use of salad bars and buffet." Chefs will no longer be able to cook buffet-style dishes and restaurants will have to remove and reevaluate their menus for the foreseeable future.6254a4d1642c605c54bf1cab17d50f1e
They won't be able to share work tools.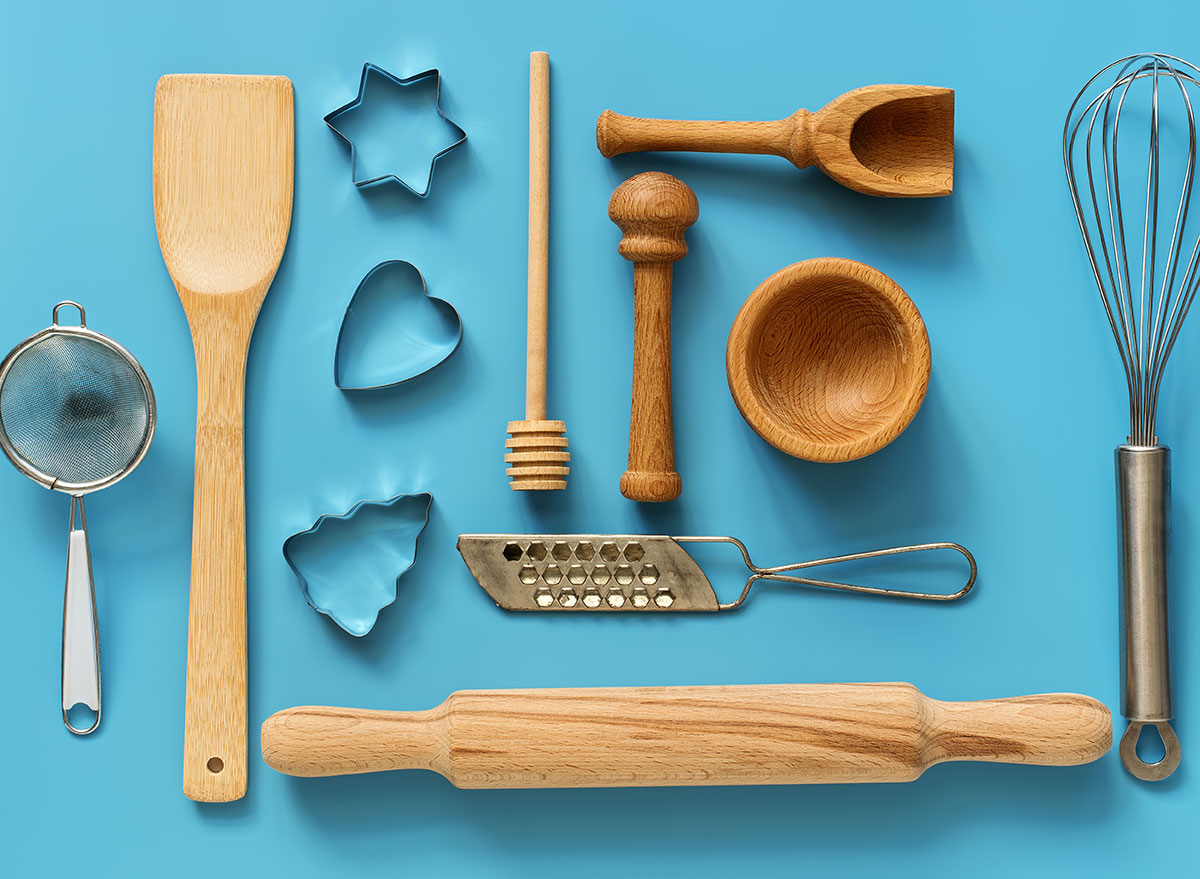 The Occupational Safety and Health Administration released procedures that all workplaces must do in order to reduce the risk of spreading coronavirus. In order to prevent people from getting sick, restaurants are to "discourage workers from using other workers' phones, desks, or other work tools and equipment." By implementing this guideline to all restaurants, chefs will have to use their own work tools and equipment. It's very likely that every cook will have to invest and keep their own tools clean from now on in order to work.
Just like any other professional, chefs will have to learn and abibe by new protocols in order to keep their restaurant and the industry alive. To find out about more changes in the restaurant industry, here are 10 Changes Restaurant Owners are Considering.