5 COVID Food Safety Questions—Answered
Let's put to rest any concerns about how COVID-19 could potentially affect the way you eat.
The U.S. is currently experiencing an all-time high of coronavirus cases, with a record of 227,885 new cases popping up daily. While we know much more about the virus than we did back in March, many Americans are still struggling to understand which precautions must still be taken in order to keep family members safe—especially those who fall within the high-risk category.
This holiday season is especially proving to be a critical time for Americans to bunker down and do their best to avoid group gatherings and routinely wear masks out in public. These precautions, among others, at the very least, should be taken until most people have access to the vaccine. (Related: The One Vitamin Doctors Are Urging Everyone to Take Right Now.)
So much has changed since March, which is when we first asked readers on Twitter and Facebook to share their concerns about coronavirus and food safety. Now, we've updated our answers to your questions with the latest research so you are equipped with the best practices.
Should I be cooking for other people?
During this time, minimizing interactions with friends and people, in general, is of the utmost importance, as COVID-19 is most transmissible through people who are in close contact with one another.6254a4d1642c605c54bf1cab17d50f1e
According to the CDC, the disease is transmitted through respiratory droplets that are projected from an infected person's mouth or nose either via a cough or sneeze. If you're hosting a dinner party, and someone in the room has COVID-19 and coughs or sneezes on another guest or on their silverware, that puts everyone else in the room at a higher risk of contracting it.
Bottom line: It's best, to skip the dinner party this holiday season until a vaccine is widely distributed.
Should I be ordering food for delivery or takeout?
Again, the virus is contracted through human contact, so the best way to keep you and the delivery person safe is if you're both wearing a mask when answering the door. Alternatively, nearly all third-party delivery services have introduced a "no contact" feature at this point. Right now, local restaurants are heavily reliant on your support, so absolutely continue to patronize these businesses this winter.
Bottom line: Ordering food for delivery is much safer than indoor dining, especially if you choose to omit human contact from your delivery transaction. That said, you should still wash your hands after you've touched the packaging and before you start eating something like tacos or a sandwich—both of which require you to use your hands.
Is COVID-19 transmissible through food?
In March, the European Food Safety Authority stated, "There is currently no evidence that food is a likely source or route of transmission of the virus." In addition, The Food Safety Authority of Ireland says that coronavirus needs a host, aka a human or a live animal, to grow in. While both the CDC and WHO also say that the chances of contracting the virus from food or food packaging are extremely low, studies have shown that the virus can survive on raw, frozen salmon, chicken wings, pork, and on the packaging of frozen shrimp.
Bottom line: The risk of contracting COVID-19 through food is very low.
Does cooking kill any traces of coronavirus on food?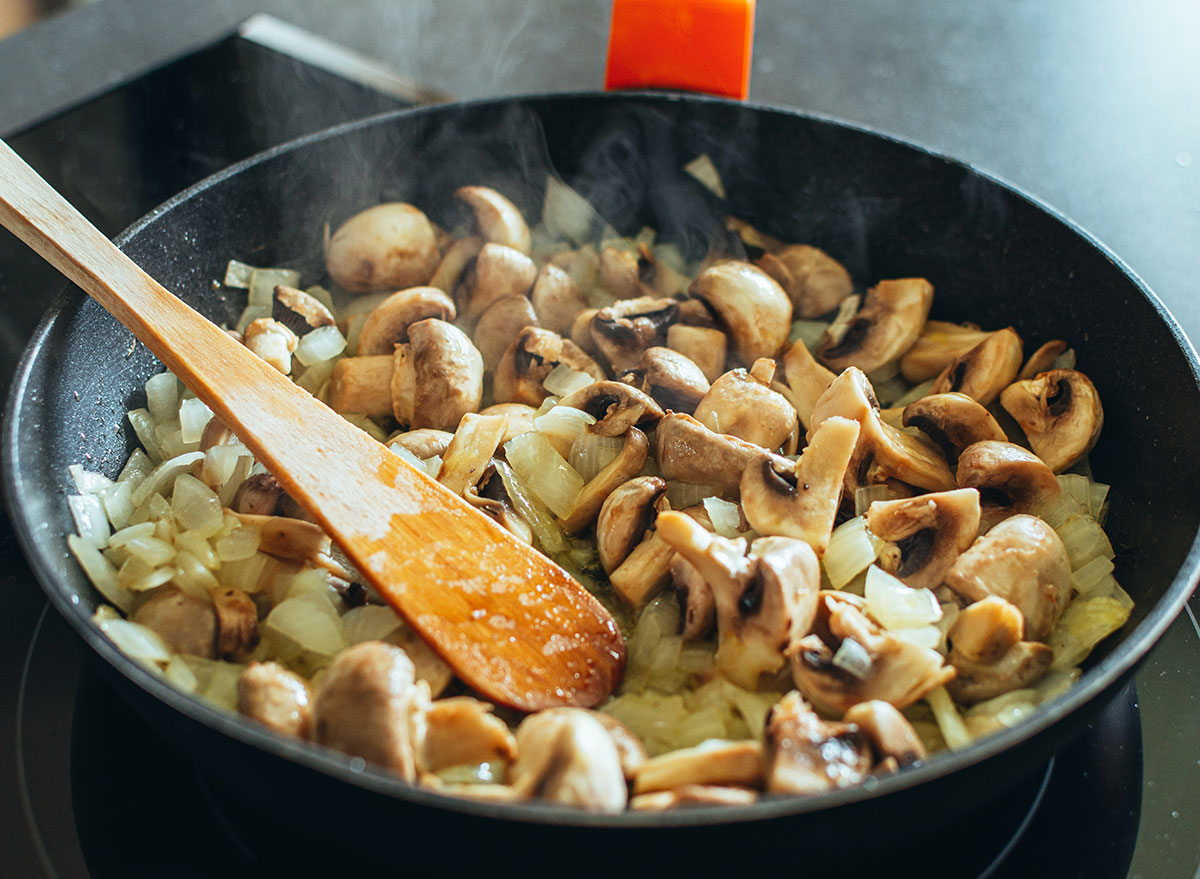 According to an article published by Harvard Medical School, "In the case of hot food, the virus would likely be killed by cooking." In addition, the University of Maryland Medical System said that cooking food to a safe temperature, specifically 165 degrees Fahrenheit, "is going to kill any virus particles that might have gotten onto food."
Bottom line: Heat will more than likely kill any trace of COVID-19 on your food, as long as you do so thoroughly.
How should I wash produce that doesn't have a rind, peel, or skin?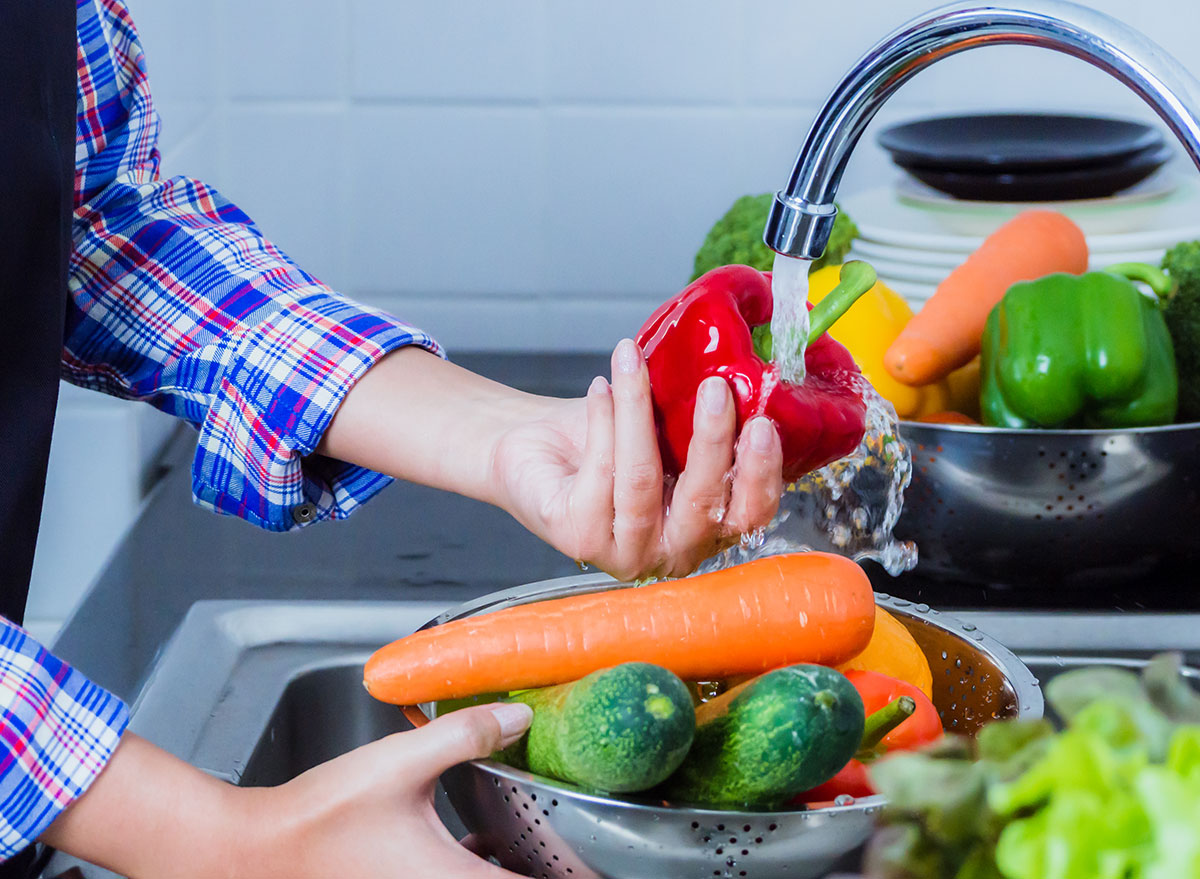 The short answer? Water. Just plain old water. In an article from Best Food Facts, horticulture professors at Auburn University, Dr. Floyd Woods and Dr. Joe Kemble said, "research has shown that using just plain old water can remove 98% of the bacteria when it is used to rinse and soak produce. Simply washing produce will remove any bacteria or other residues on your produce."
Bottom line: Soak your fruits and vegetables in water, or briefly dunk produce in boiling water. For the produce that has a peel, skin, or rind, consider scrubbing those down with a stiff brush while running it under water.
For more, be sure to sign up for our newsletter.