Classic Slow-Cooker Chicken in Red Wine Recipe
Prepare to impress with our easy to make version of the Coq au vin dish.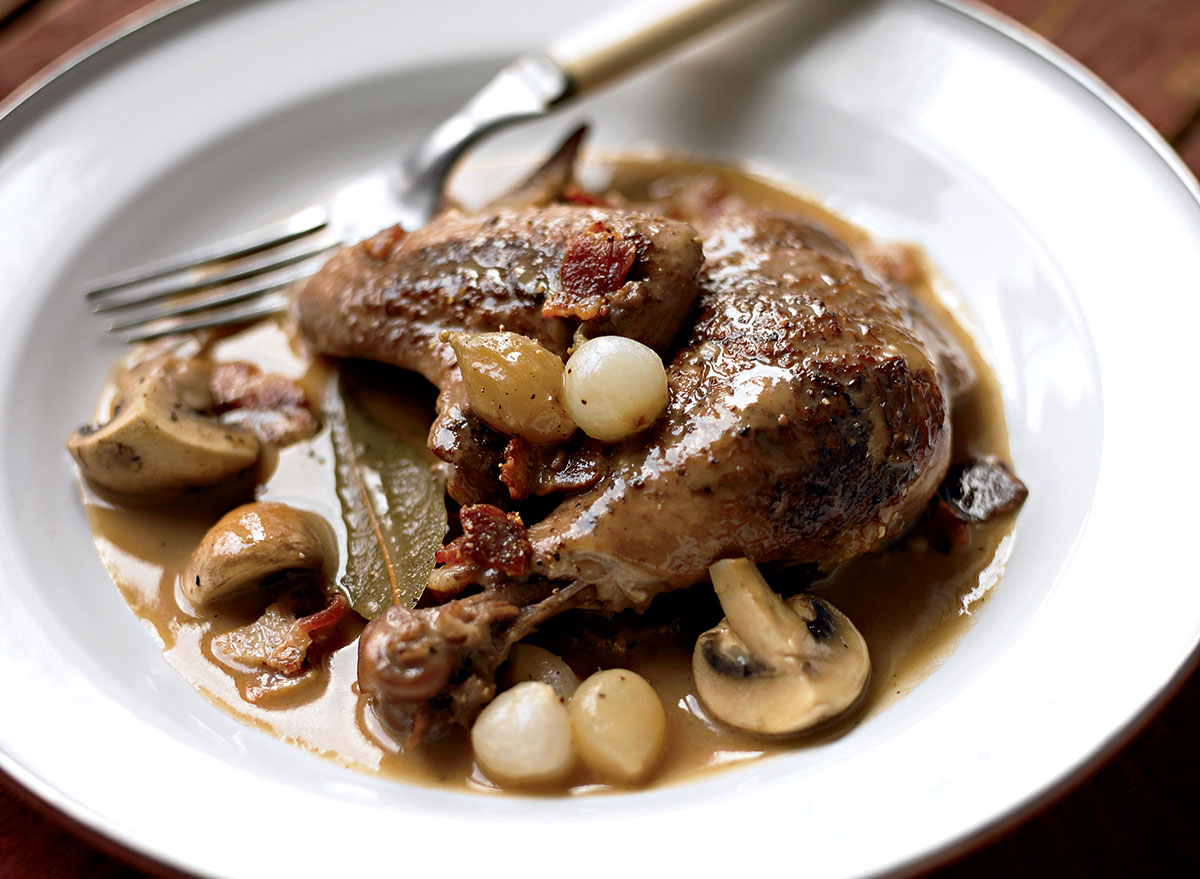 Coq au vin, as it's known in France, is one of the world's great dishes and all it takes to create it is a whole chicken, half a bottle of wine, and a few vegetables. A slow cooker makes matters even easier, but a good old-fashioned pot will do, too for this classic chicken in red wine recipe.
Nutrition: 365 calories, 11 g fat (4 g saturated), 590 mg sodium
Serves 4
You'll Need
2 strips bacon, chopped
1 whole chicken, cut into 8 pieces (or 11⁄2 lb drumsticks and thighs)
Salt and black pepper to taste
2 cups red wine
2 cups low-sodium chicken stock
1  bag frozen pearl onions
2  bay leaves
2 cloves garlic, peeled and smashed
8 oz button mushrooms, quartered
1 Tbsp butter
1 Tbsp flour6254a4d1642c605c54bf1cab17d50f1e
How to Make It
Cook the bacon in a wide cast-iron skillet or sauté pan until crispy. Reserve.
Discard all but a thin film of the bacon fat from the pan.
Season the chicken all over with salt and pepper.
Add to the pan and cook for 7 to 10 minutes, until well-browned all over. (Work in batches if you must; crowding will prevent it from properly browning.)
Transfer the chicken to the base of a slow cooker.
Add the wine to the skillet and use a wooden spoon to scrape loose any browned bits from the bottom.
Pour the wine over the chicken, then add the reserved bacon, the stock, onions, bay leaves, and garlic, along with another good pinch of salt and pepper.
Cook on high for at least 2 hours (or cook on low for most of the day), until the meat is falling off the bone.
In the final 30 minutes, stir in the mushrooms and allow them to just cook through.
When ready to serve, cook the butter and flour in a saucepan over medium heat for 1 minute.
Ladle in 11⁄2 cups of the cooking liquid and cook until it has thickened enough to coat the back of a spoon.
Serve the chicken with the onions and mushrooms, then drizzle over the thickened sauce
Eat This Tip
Stovetop Slow Cooking
Don't have a slow cooker at home? Don't fret. Any recipe in this book that calls for a slow cooker can be executed in a pot on the stovetop or in a low oven. Rather than dump all the ingredients in the base of the slow cooker, simply combine them in a pot or pan large enough to fit them comfortably, then cover and simmer over very low heat or bake in a 250°F oven. Because slow cookers braise at such a low temperature, stovetop or oven cooking will always be faster—which may be exactly what you're looking for.