Chicken Panini With Pesto and Peppers Recipe
Topped with some fresh melted mozzarella, this becomes the perfect grilled sandwich.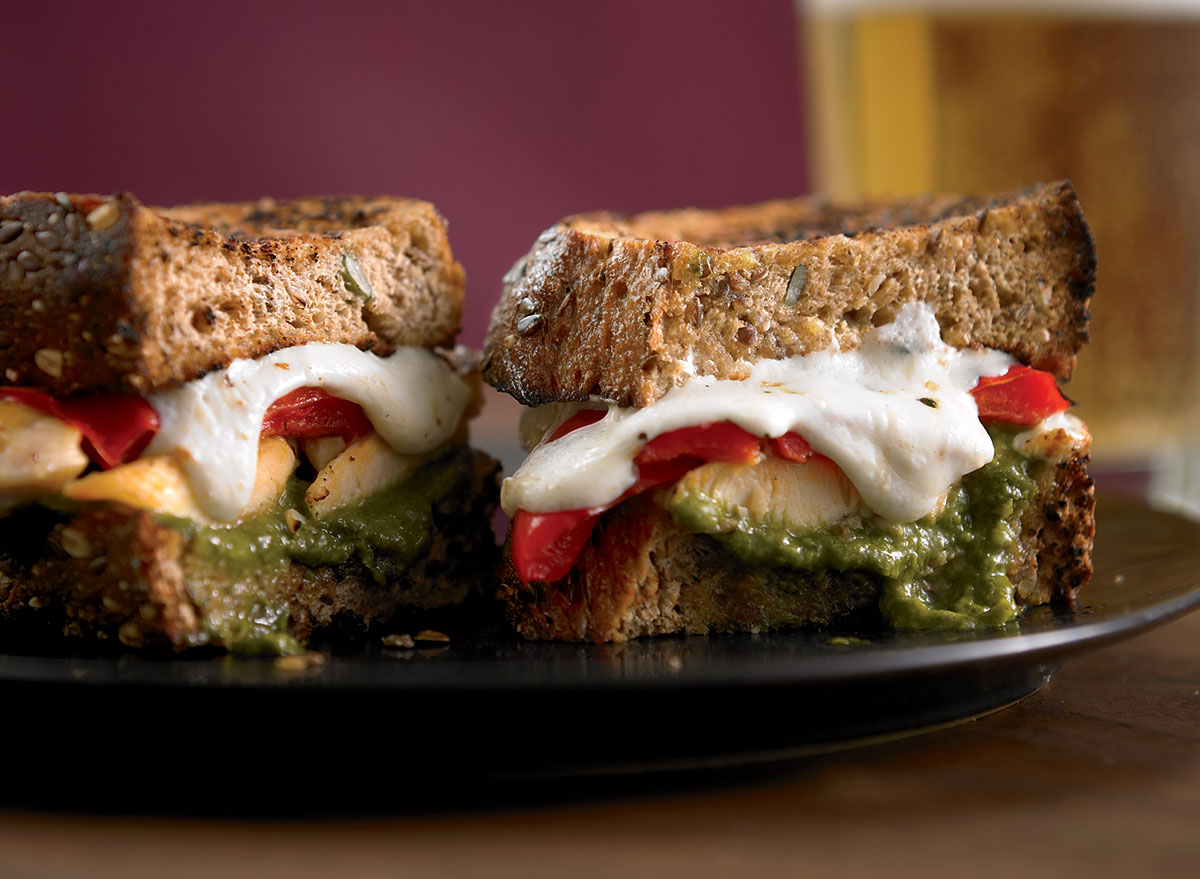 Paninis began their American invasion in the late '90s, taking over menus in big city Italian restaurants and corner cafés alike. Now they've spread nationwide, popping up on menus at places like Panera, Cosí, Au Bon Pain, and even Dunkin' Donuts. Problem is, these sandwiches usually suffer from a cheese and condiment overdose, racking up caloric totals akin to a half-pound hamburger. Keep it simple with this chicken panini recipe: A light, healthy spread like pesto, a low-calorie cheese like fresh mozz, and a layer of lean white meat chicken deliver all the same flavor and a tasty crunch for a fraction of the calories.
Nutrition: 450 calories, 15 g fat (8 g saturated), 820 mg sodium
Serves 4
You'll Need
8 slices whole-grain sourdough bread
4 Tbsp homemade or prepared pesto
4 oz fresh mozzarella, thinly sliced (Fresh mozzarella is both tastier and lower in calories than regular mozz, but it's also more expensive. Any shredded part-skim mozzarella will work as a solid substitution, but if you can, support a local farmers market and pick up some fresh.)
3⁄4 lb cooked chicken
1⁄2 cup roasted red peppers
Olive oil
How to Make It
Heat a large cast-iron skillet or stovetop grill pan over medium heat.
Spread 4 pieces of the bread with 1 tablespoon of the pesto each.
Layer each piece with equal amounts of the mozzarella slices, chicken, and red peppers.
Add a light film of olive oil to the pan; when hot, cook the sandwiches (2 at a time, if necessary) until the bread is crispy and the cheese is melted, 3 to 4 minutes each side. (For the best results, use a heavy pan to weigh down the sandwiches.)
Eat This Tip
Don't bother dropping $100 on a panini machine—they're one-trick ponies that take up precious kitchen storage space. (In fact, never buy any single- purpose kitchen equipment.) Instead, try using a George Foreman grill, which millions of Americans already keep on hand for indoor grilling. Simply slide the sandwich onto the preheated grates (sans butter or oil) and grill until crispy on the outside and melted on the inside. Don't have a Foreman? A hot skillet and something heavy to weigh down the sandwich work great in a pinch.
This recipe (and hundreds more!) came from one of our Cook This, Not That! books. For more easy cooking ideas, you can also buy the book!