A Seared Chicken Pizzaioli Recipe
This healthy take on chicken parm ditches the fried meat and soggy breadcrumbs.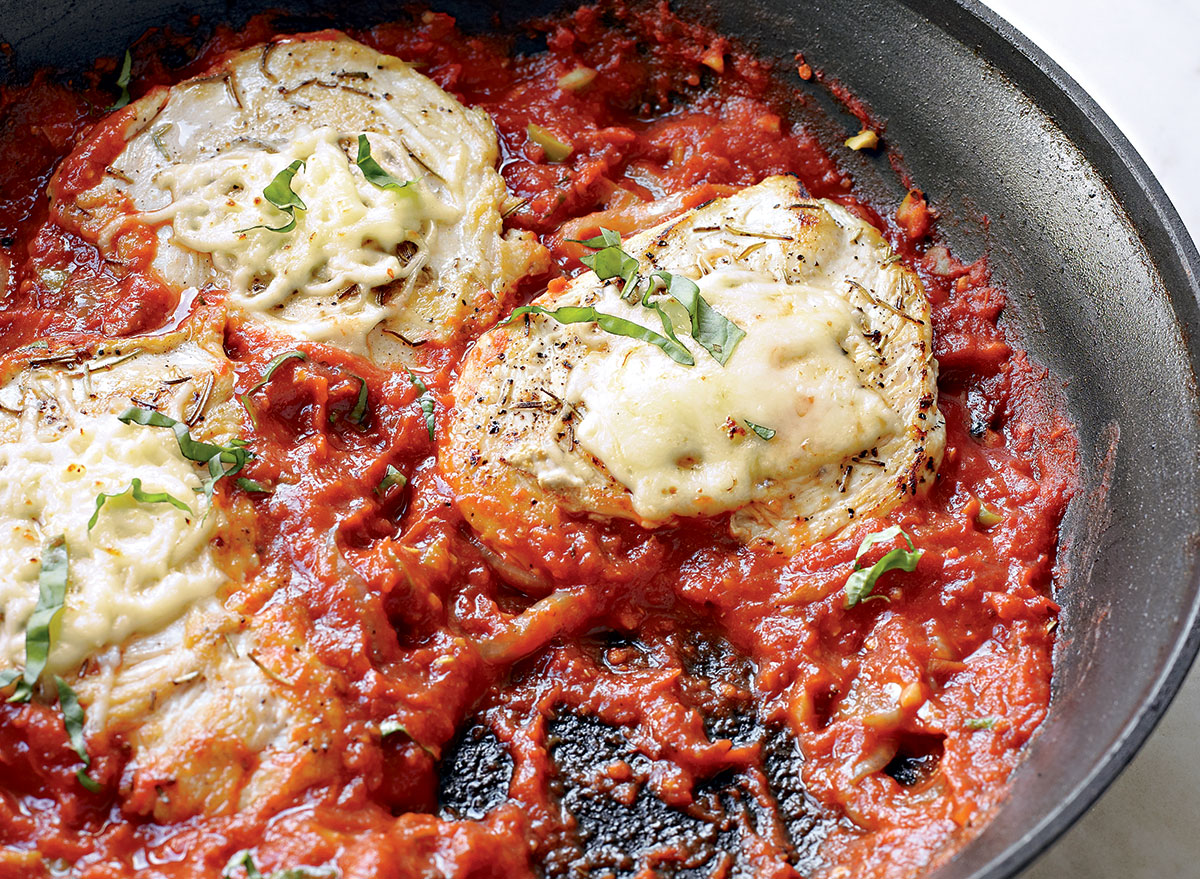 Chicken parmesan is not only one of the most popular dishes in America, but it may be the single dish that best encapsulates the Big Three behind our obesity epidemic: fried food, melted cheese, and massive portion sizes. Olive Garden's rendition represents the average plate of chicken parm in the U.S. of A—a scary proposition given the fact that it packs an entire day's worth of saturated fat into a single meal. Well, we've got a healthy alternative for you that packs a lot of great taste with a lot less calories.  To lighten things up without losing flavor, we ditch the breading (which gets soggy underneath the sauce anyway) and sear the chicken rather than fry it. A ladle of red sauce and a thin layer of bubbling mozzarella rounds the dish out—without rounding you out.
Nutrition: 369 calories, 15 g fat (3 g saturated), 812 mg sodium
Serves 4
You'll Need
1 Tbsp olive oil
4 chicken breasts (6 oz each)
1 tsp dried thyme or rosemary
Salt and pepper to taste
1 medium yellow onion, sliced
1⁄2 cup chopped green olives
4 cloves garlic, minced
1 tsp red pepper flakes
1 can (28 oz) crushed tomatoes
1 cup grated mozzarella
How to Make It
Place the chicken breasts on a cutting board, cover with plastic wrap, and use a meat mallet or heavy-bottomed pan to pound the chicken into 1⁄2-inch thick cutlets. Season with thyme or rosemary and a healthy sprinkle of salt and pepper.
Heat the oil in a large cast-iron skillet or oven-safe pan over medium-high heat.
When hot, add the chicken and cook for 3 to 4 minutes, until a nice crust has developed on the surface of the chicken, then flip and cook for another 3 to 4 minutes.
Remove and reserve the chicken.
Preheat the broiler.
In the same pan, add the onions, olives, garlic, and red pepper flakes.
Sauté until the onions have begun to lightly caramelize, about 5 minutes, then add the tomatoes.
Cook for another 3 minutes, then slide the chicken back into the pan.
Divide the mozzarella between the chicken breasts, then place the whole pan into the oven.
Broil for 3 to 4 minutes, until the cheese is melted and bubbling.
Serve the chicken with a generous scoop of the spicy red sauce.
This recipe (and hundreds more!) came from one of our Cook This, Not That! books. For more easy cooking ideas, you can also buy the book!