Every Pasta Dinner at Olive Garden—Ranked!
Home of 'unlimited' and 'never ending,' Olive Garden's oversize portions put your discipline to the test.
Cheat meals at Olive Garden don't even feel like cheat meals because Olive Garden doesn't really feel (or taste) like your typical fast-food restaurant. We know you're probably justifying dinner here instead of McDonald's because it's Italian food, and Italian is supposed to be good for you! And your assumption would be right. In fact, when people at high cardiovascular risk switch to a Mediterranean diet—such as Italian— supplemented with olive oil, fish, fruits, and vegetables, they can prevent about 30% of heart attacks, strokes, and deaths from heart disease, according to a study in the New England Journal of Medicine. But unlike traditional Italian food, Olive Garden upends the nutritive properties of these ingredients by loading you up with high calories dishes that are giving you extra-large servings of carbs, sodium, and trans fats.
We know that sometimes all you're in the mood for is a hearty, satisfying helping of pasta, and there is no denying that Olive Garden has just what you're looking for. Because certain menu items aren't as healthy as they sound, we ranked every pasta dinner from worst to best so you can treat yourself wisely. (And when you go, take a word of advice from nutritionist Jessica Fishman Levinson, MS, RDN, CDN, who says the key to eating at Olive Garden is portion control. Either share a pasta dish or minimize temptation by eating just half of your meal and packing up saving the other half.)
Check out our ranking of the pasta dish entrées currently offered at Olive Garden, ranked from worst to best. And for more on exactly what you should be eating more of, here are The 7 Healthiest Foods to Eat Right Now.
Asiago Tortelloni Alfredo with Grilled Chicken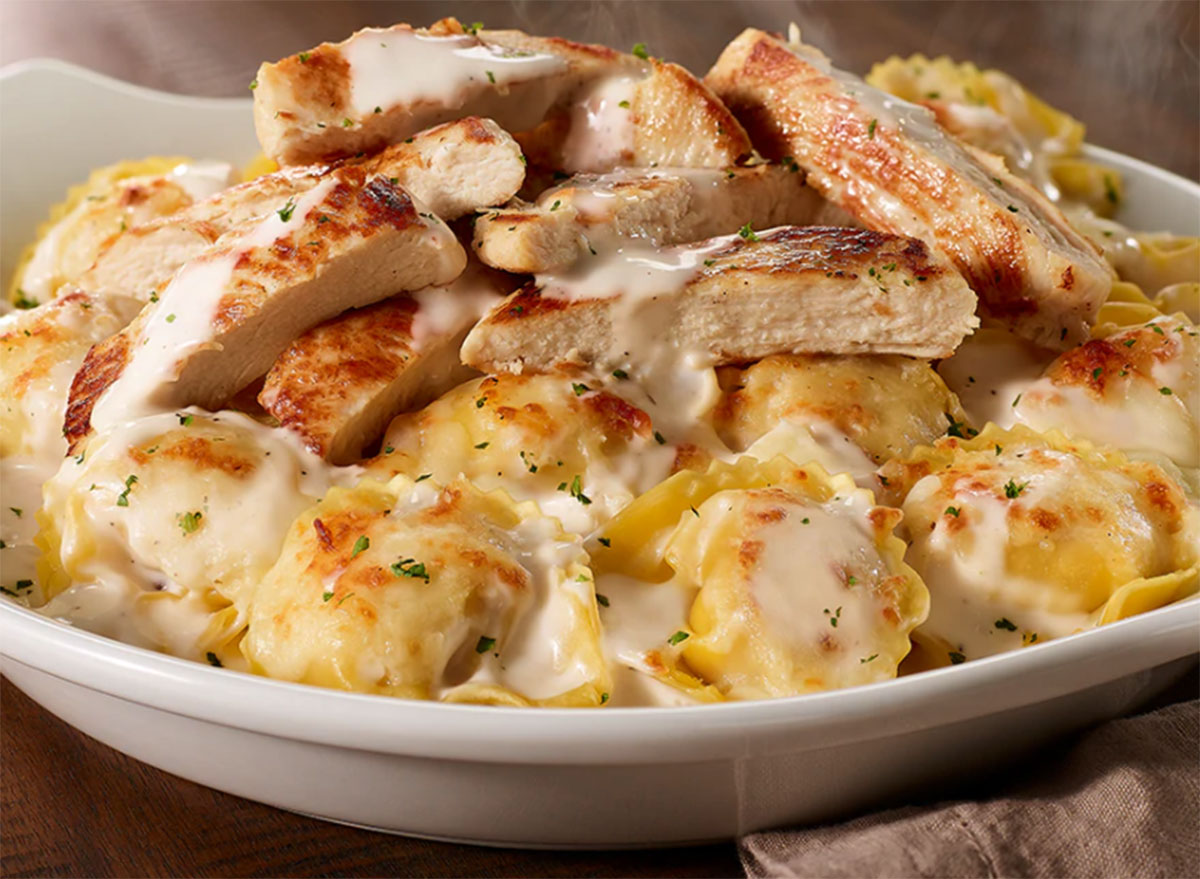 1,980 calories, 131 g fat (76 g saturated fat, 2.5 g trans fat), 3,720 mg sodium, 95 g carbs (5 g fiber, 9 g sugar), 112 g protein
Olive Garden brought back this creamy pasta dish in 2020, but it's, well, rather excessive. The entrée far exceeds the recommended amounts for calories, fat, and even protein a person should have in one sitting. In fact, those who eat a high-protein diet have a higher risk of developing kidney stones.
Then, you take a look at the sodium. The American Heart Association recommends most adults consume no more than 2,300 milligrams a day and this dish clearly blows way beyond that limit.
Chicken & Shrimp Carbonara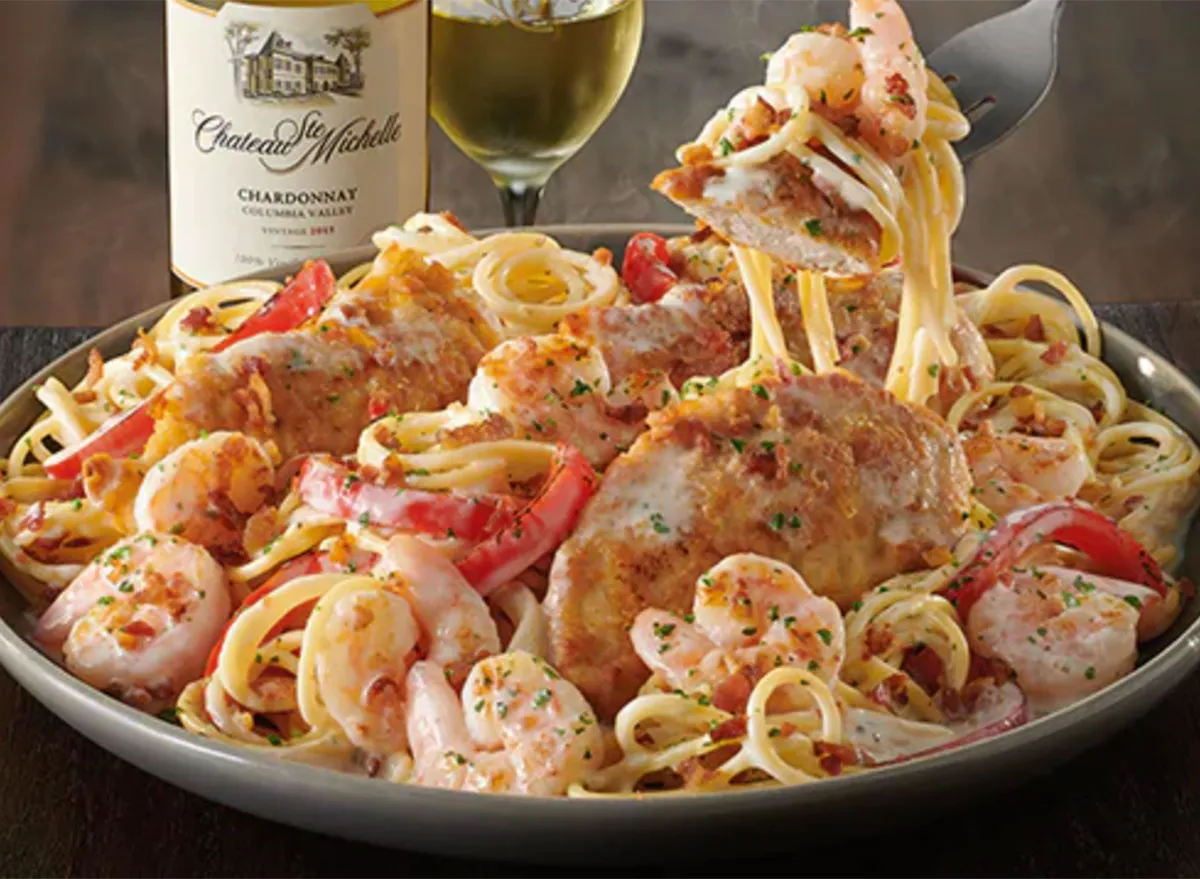 1,390 calories, 94 g fat (50 g saturated fat, 3 g trans fat), 2,050 mg sodium, 75 g carbs, (3 g fiber, 10 g sugar), 64 g protein
Chicken and shrimp mixed into pasta does sound delicious. But one look at the nutritional breakdown of this dish and you're going to want to stop right in your tracks. It's serving up three grams of heart-harming trans fat. See, trans fat raises your LDL, or "bad" cholesterol, and lowers HDL, or "good" cholesterol. This is trouble, as frequent consumption can trigger heart disease, stroke, diabetes, and other chronic conditions, according to Harvard Health. It's recommended that people should eat zero trans fat, or come as close to zero as possible.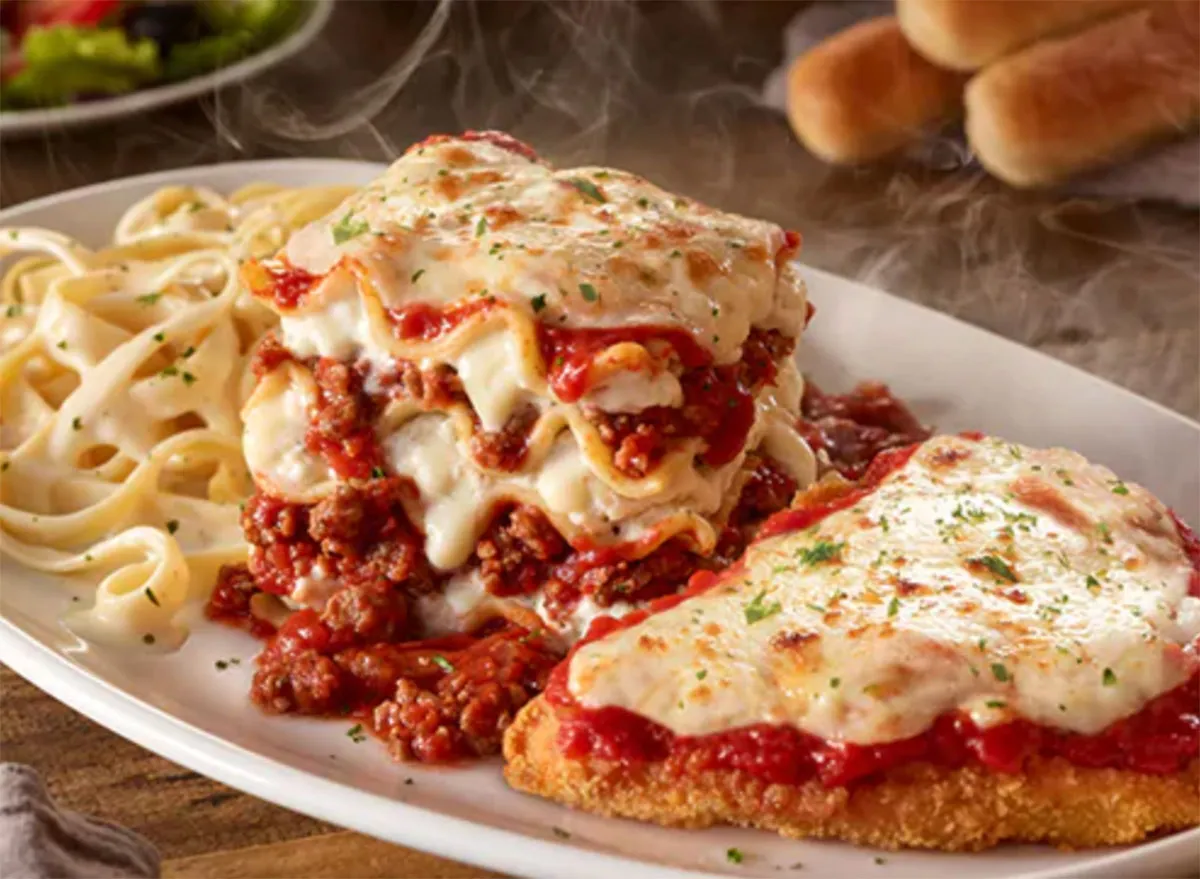 1,550 calories, 98 g fat (50 g saturated fat, 1.5 g trans fat), 3,150 mg sodium, 99 g carbs, (7 g fiber, 12 g sugar), 72 g protein
The Tour of Italy guides you from the leaning tower of lasagna to the Colosseum of fettuccine alfredo, to the ruins of chicken parmigiana. This trip sets you back a day and a half's worth of sodium, and although this dish may be cheaper than a plane ticket, your waistline will pay the price.
1,570 calories, 95 g fat (56 g saturated fat, 2 g trans fat), 2,290 mg sodium, 96 g carbs, (5 g fiber, 6 g sugar), 81 g protein
Although we typically recommend pairing a lean protein with carbs to fill you up and give you the most energy, in this case, you should think twice before ordering the Chicken Alfredo. Adding chicken bumps up the protein count of this dish, but it also layers extra calories, fat, saturated fat, trans fat, and sodium.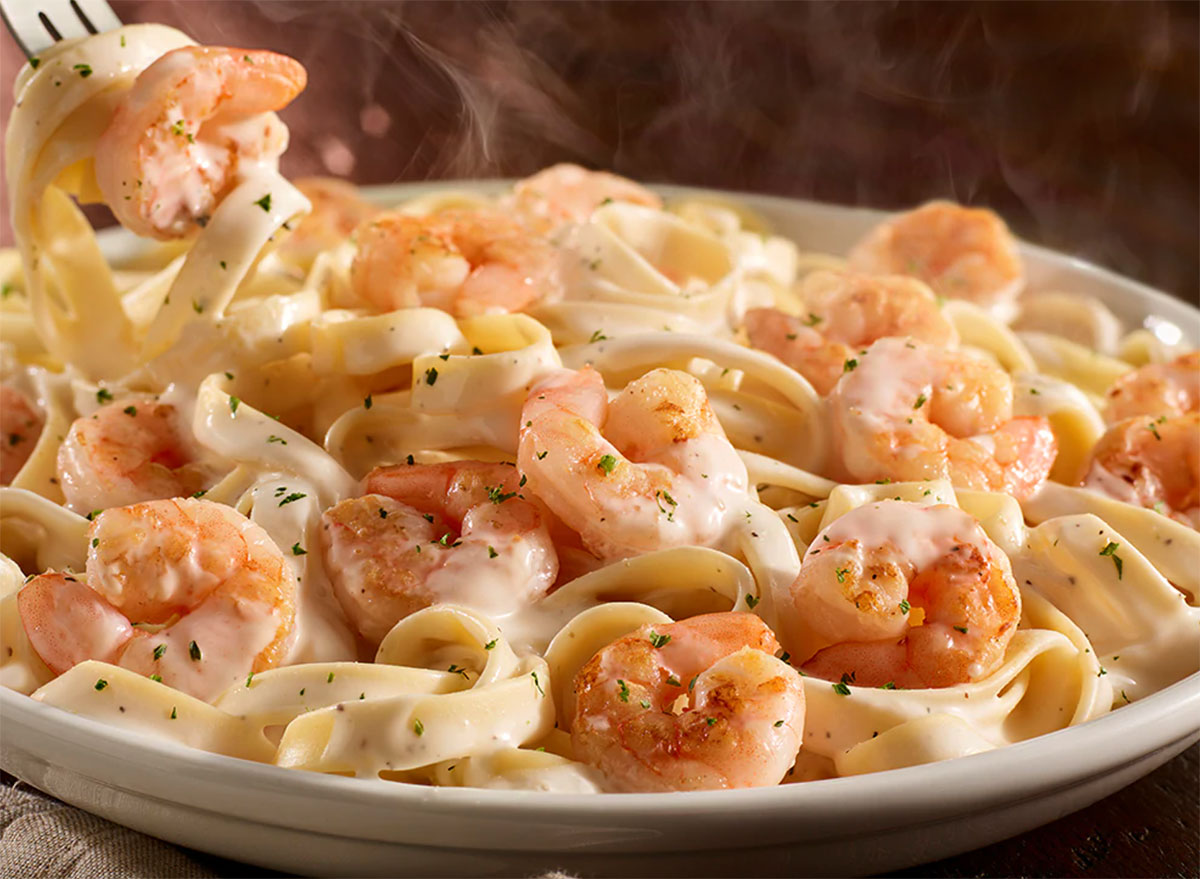 1,450 calories, 91 g fat (55 g saturated fat, 2 g trans fat), 1,620 mg sodium, 96 g carbs, (4 g fiber, 6 g sugar), 63 g protein
Olive Garden's seafood riff on the classic Chicken Alfredo is a slightly healthier choice for dinner, but we'd still be wary about diving in. Why? This Olive Garden dish isn't up to par on the nutrition board: It only has the same amount of trans fat as the chicken option, although lower in sodium. So at least there's that.
1,310 calories, 90 g fat (55 g saturated fat, 2 g trans fat), 1,210 mg sodium, 95 g carbs, (4 g fiber, 5 g sugar), 30 g protein
The chain claims their alfredo sauce in this super-sized entrée is made in-house throughout the day, but all the butter, parmesan cheese, and heavy cream eliminate any benefits from this commitment to freshness. If you really want to indulge, just don't eat the entire meal in one sitting!
Five Cheese Ziti Al Forno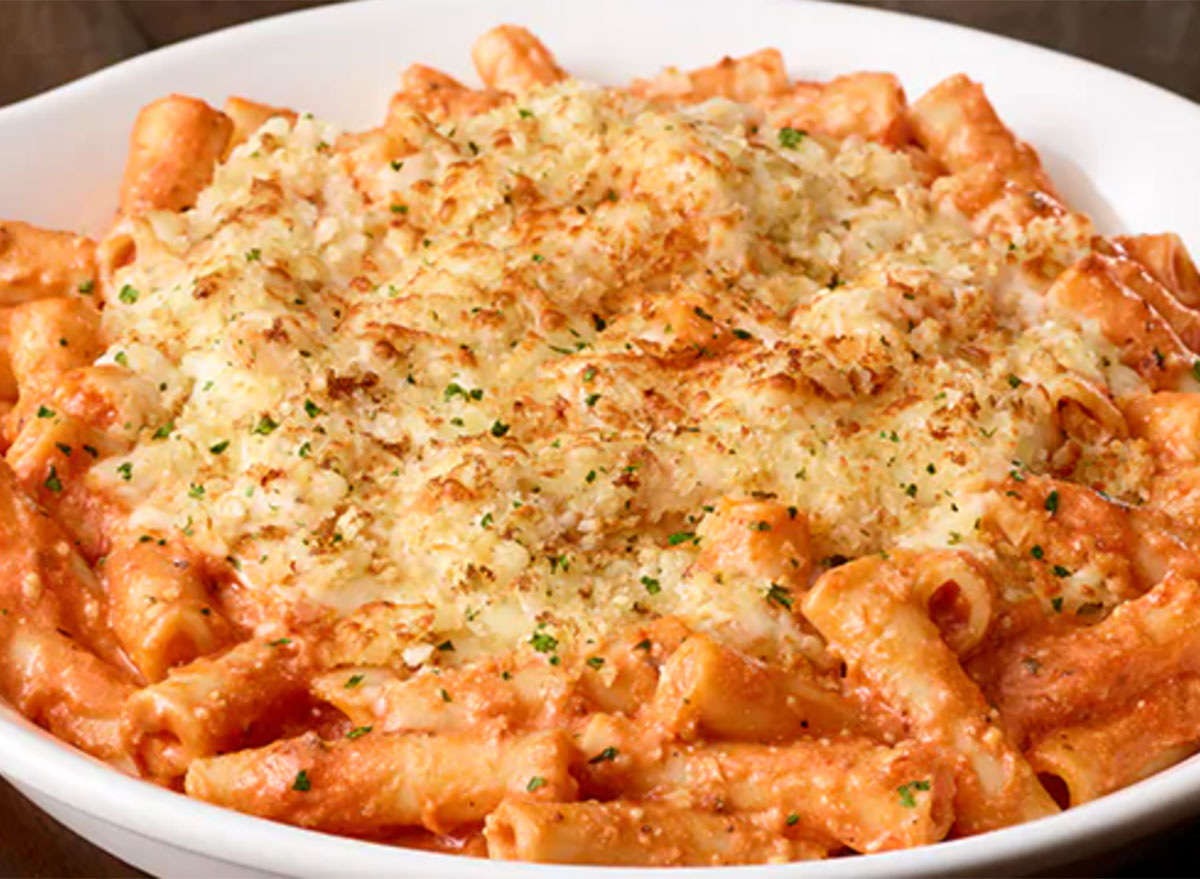 1,220 calories, 71 g fat (36 g saturated fat, 1 g trans fat), 2,160 mg sodium, 103 g carbs, (6 g fiber, 19 g sugar), 45 g protein
Five cheeses = five more ways trans fat can get into your meal. Somehow Olive Garden keeps it to 1 gram. That's still one more than you should have in your food! If you're looking to indulge in the oozy goodness of ziti al Forno, this blend of Italian cheeses, pasta, and marinara is better off baked at home with a slimmed-down version packed with two fewer cheeses.
Giant Cheese Stuffed Shells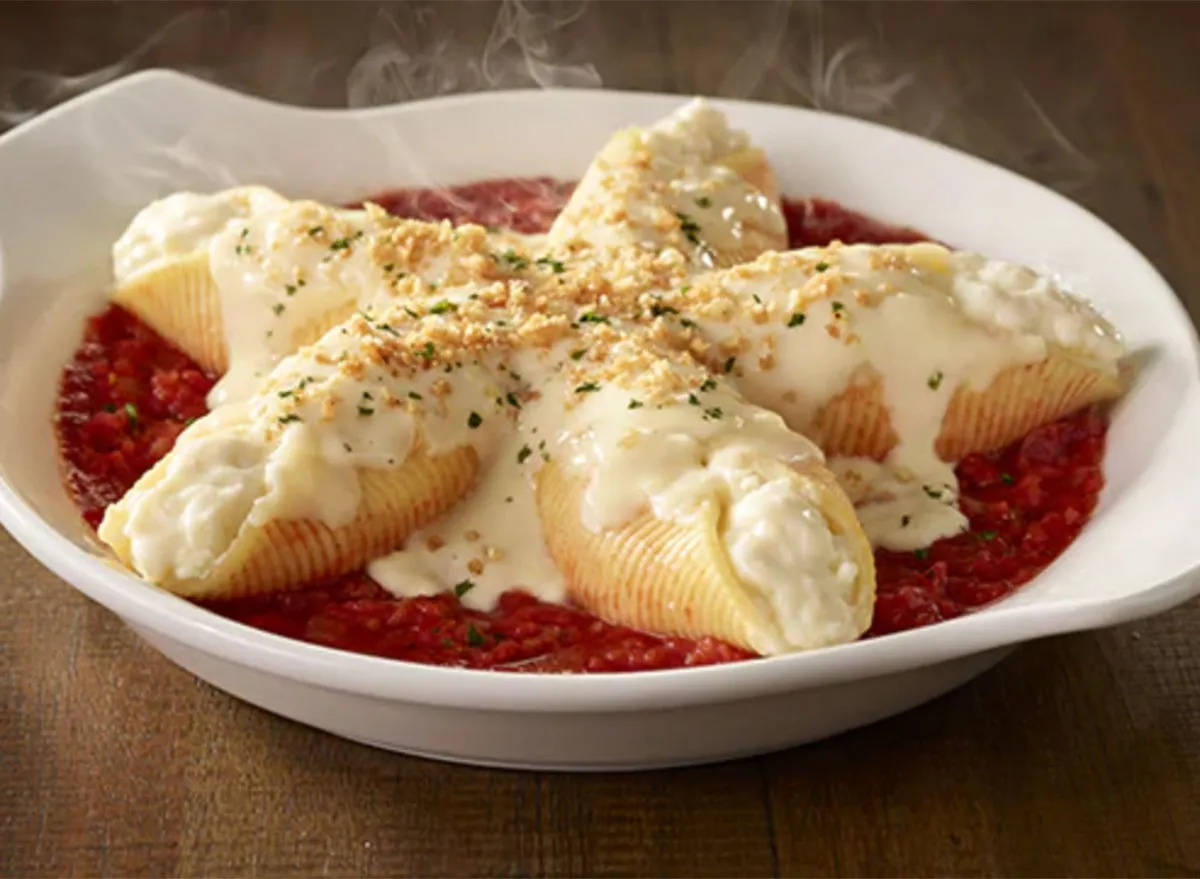 1,140 calories, 68 g fat (39 g saturated fat, 1.5 g trans fat), 2,260 mg sodium, 91 g carbs, (6 g fiber, 22 g sugar), 44 g protein
Here, five giant tubes of pasta are filled with four-cheeses and topped with marinara, alfredo, and toasted breadcrumbs. Besides the pasta, the other giant element in this dish is the sodium level. Yikes.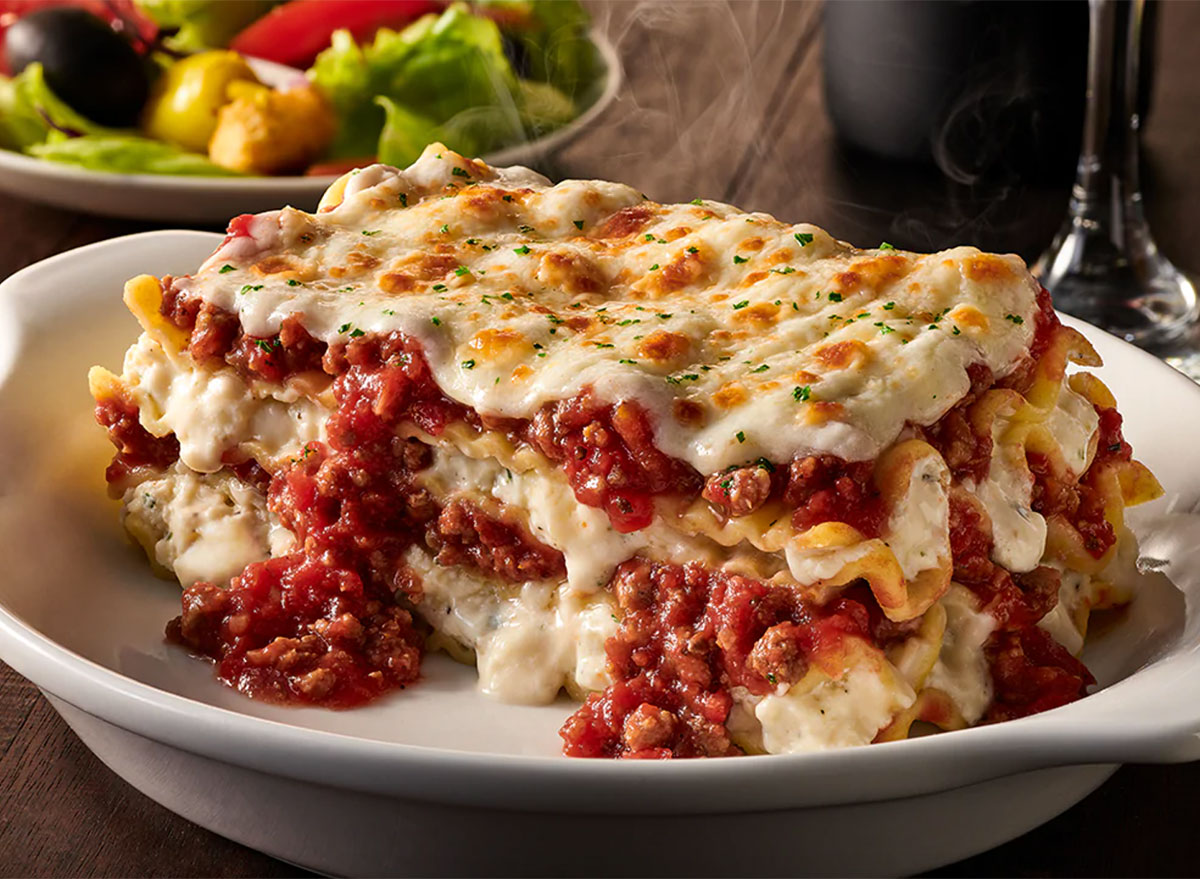 940 calories, 55 g fat (30 g saturated fat, 2 g trans fat), 2,260 mg sodium, 61 g carbs, (6 g fiber, 11 g sugar), 54 g protein
When nutritionist Christine M. Palumbo, MBA, RDN, FAND goes to Olive Garden, she orders this dish but eats only half.
"I'll box up the remaining half for another day. A half-serving has 470 calories, 27 grams of protein, 27.5 grams of fat, and 1,130 milligrams of sodium. While this meal isn't necessarily low in fat, sodium or calories, it's incredibly delicious and satisfying and doesn't totally derail my diet." Consider half of this dish as a diet-expert-approved order at Olive Garden!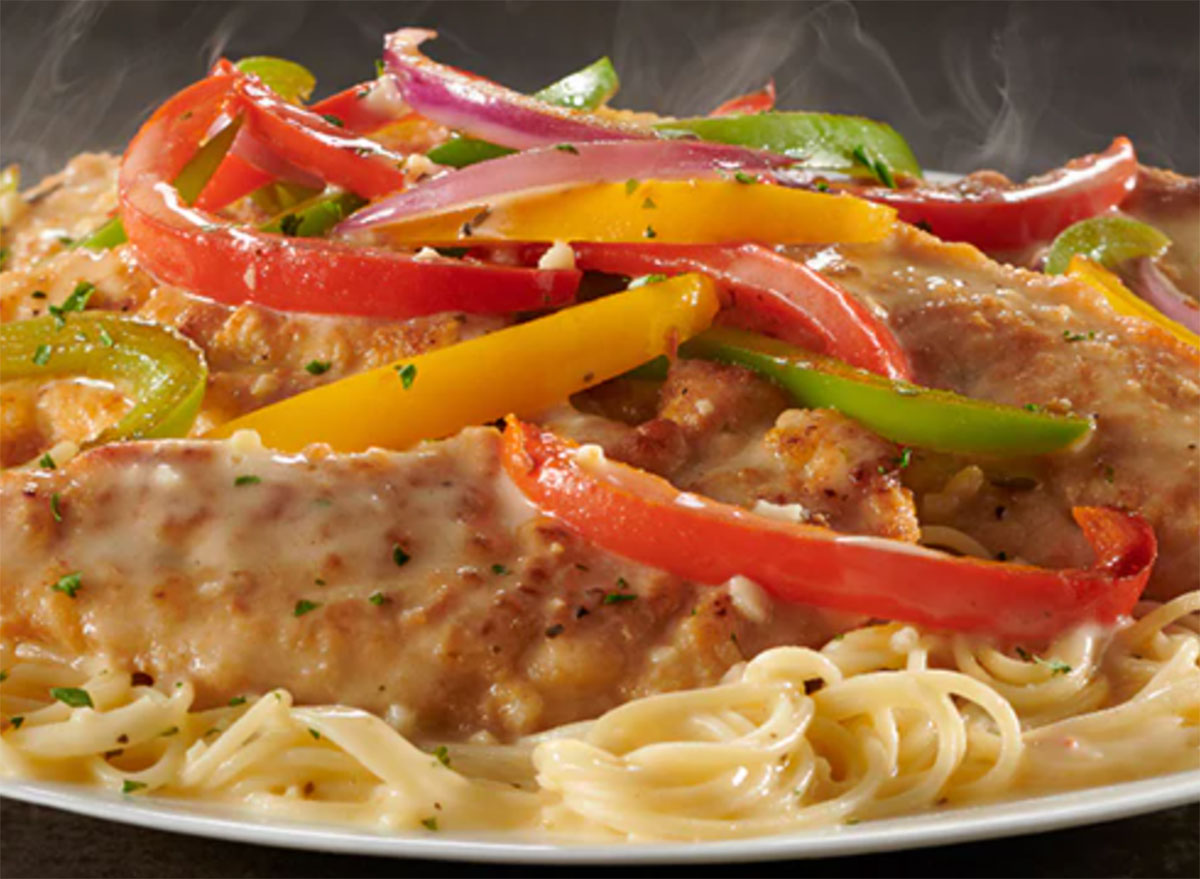 1,260 calories, 72 g fat (28 g saturated fat, 0 g trans fat), 1,990 mg sodium, 105 g carbs, (4 g fiber, 7 g sugar), 49 g protein
This dish contains chicken tenderloins, bell peppers, and red onions in a creamy scampi sauce. We're happy to see no trans fat, which is why it falls under the "better" category, as it's clear it's hard to find a pasta dish without any at this chain! Still, it's rather high in fat and saturated fat and contains more than 1,000 calories so just be mindful of how much you're eating at one time.
(With marinara sauce)
: 780 calories, 39 g fat (20 g saturated fat, 0 g trans fat), 2,140 mg sodium, 68 g carbs, (5 g fiber, 11 g sugar), 41 g protein
Like we always say, when it comes to fast food, simple is always better. This cheese ravioli is definitely high on the sodium side because of the indulgent cheeses packed into and on top of the pasta, but it remains one of the lowest dishes in calories, fat, and trans fat. The tomato-based marinara sauce is a great source of vitamin C, and if you go for the meat sauce option, it's one of the leanest of Olive Garden's sauce options. Stick to this classic!6254a4d1642c605c54bf1cab17d50f1e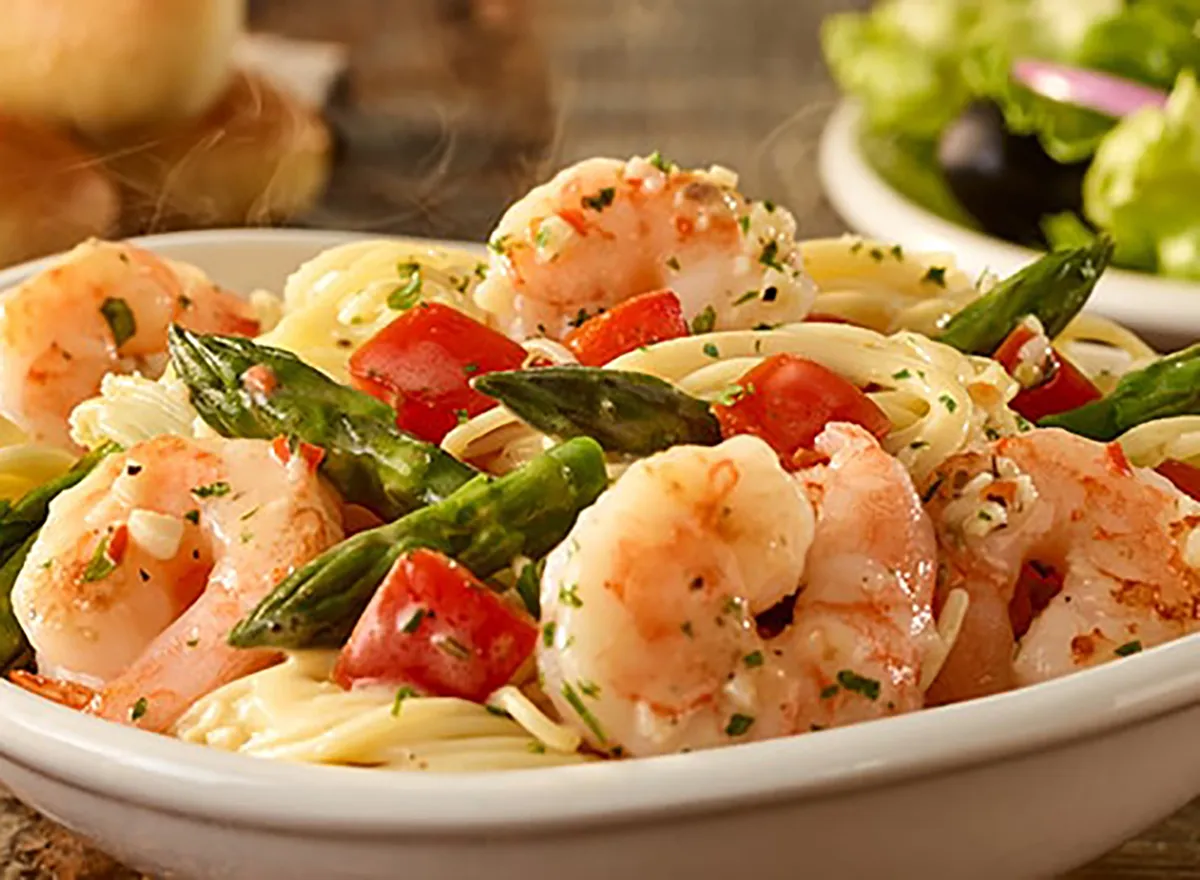 510 calories, 20 g fat (7 g saturated fat, 0.5 g trans fat), 960 mg sodium, 54 g carbs, (4 g fiber, 5 g sugar), 29 g protein
Shrimp scampi is one of those dishes in which Italian techniques were applied to American ingredients. Here, though, shrimp are sautéed in a garlic sauce, tossed with asparagus, tomatoes, and angel hair pasta for a relatively low-calorie entrée option. There is a pesky half gram of trans fat, but considering all the other menu options, this one you can easily enjoy.
Olivia Tarantino
Olivia Tarantino is the Managing Editor of Eat This, Not That!, specializing in nutrition, health, and food product coverage.
Read more about Olivia