Best-Ever Healthier Chicken Pot Pie Recipe
Say goodbye to unnecessary calories while still indulging in the beloved comfort food.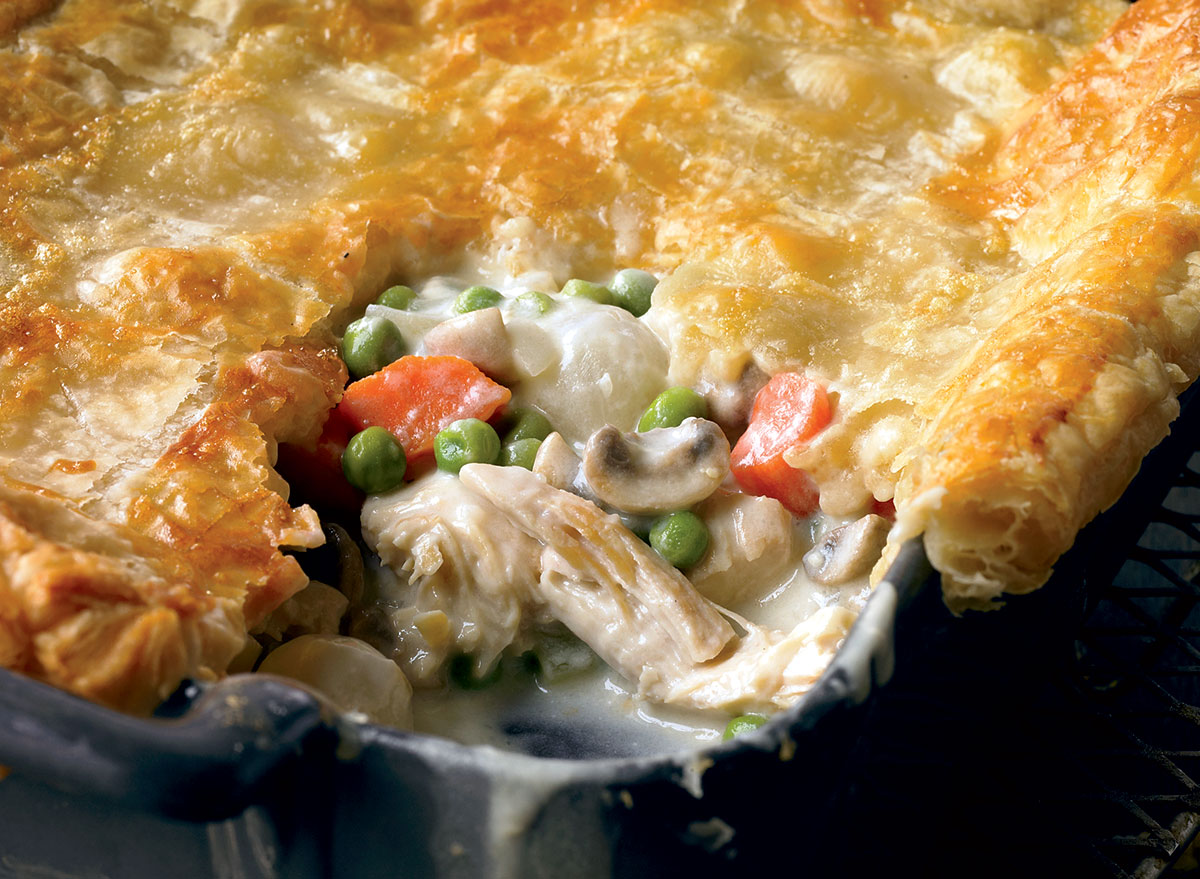 Pot pies may be one of America's favorite comfort foods, but there's nothing comforting about a dish that can swallow up an entire day's worth of calories, fat, and sodium, as many restaurant renditions do. We clear out the artery-clogging fats, cut the calories by more than half, and deliver an easy chicken pot pie recipe you're bound to love.
Nutrition: 350 calories, 15 g fat (8 g saturated), 650 mg sodium
Serves 4
You'll Need
2 Tbsp butter
1 onion, chopped
2 carrots, chopped
2 cloves garlic, minced
2 cups stemmed and quartered white or cremini mushrooms
2 cups frozen pearl onions
2 cups chopped cooked chicken (leftover or pulled from a store-bought rotisserie chicken)
1⁄4 cup flour
2 cups low-sodium chicken broth, warmed
1 cup 2% or whole milk
1⁄2 cup half-and-half
1 1⁄2 cups frozen peas
Salt and black pepper to taste
1 sheet puff pastry, defrosted
2 egg whites, lightly beaten
How to Make It
Heat the butter in a large sauté pan or pot over medium heat.
When it's melted, add the onion, carrots, and garlic and cook until the onion is translucent and the carrots begin to soften, about 5 minutes.
Add the mushrooms and pearl onions and cook, stirring occasionally, for another 5 minutes.
Stir in the chicken and the flour, using a wooden spoon to ensure the vegetables and meat are evenly coated with flour.
Slowly pour in the chicken broth, using a whisk to beat it in to help avoid clumping with the flour (having the broth warm or hot helps smooth out the sauce).
Once the broth is incorporated, add the milk and half-and-half and simmer for 10 to 15 minutes, until the sauce has thickened substantially and lightly clings to the vegetables and chicken. Stir in the peas. Season with salt and pepper.
Preheat the oven to 375°F. Cut the pastry into quarters. Roll out each piece on a floured surface to make a 6" square.
Divide the chicken mixture among 4 ovenproof bowls. Place a pastry square over the top of each bowl, and trim away the excess with a paring knife; pinch the dough around the edges of the bowl to secure it.
Brush the tops with the egg whites and bake until golden brown, about 25 minutes.
Eat This Tip
The bulk of the calories in pot pies comes from the butter-laden pastry that crowns the bowls. This recipe calls for puff pastry rolled extra thin to minimize the caloric impact, but to further reduce your fat intake, you can make two quick substitutions:
1) Instead of puff pastry, try a few layers of phyllo dough brushed with a bit of butter. Even then, it's still lighter and less caloric than puff pastry.
2) Replace the half-and-half with another 1/2 cup milk.