5 Junk Foods Made Way Healthier With This One Ingredient
In light of national chickpea day, here are some of your favorite guilty pleasures made healthy.
Do you know what today is? It's the first-ever National Chickpea Day and in honor of the new holiday, we wanted to showcase just a few of the delicious chickpea snacks available on the market right now.
Believe it or not, for one of your favorite junk foods, there's a snack made from chickpeas that mirrors it in flavor, but is notably higher in nutritional value. From Cheetos to Doritos, here are five junk foods that are made way healthier when the focal ingredient is chickpea.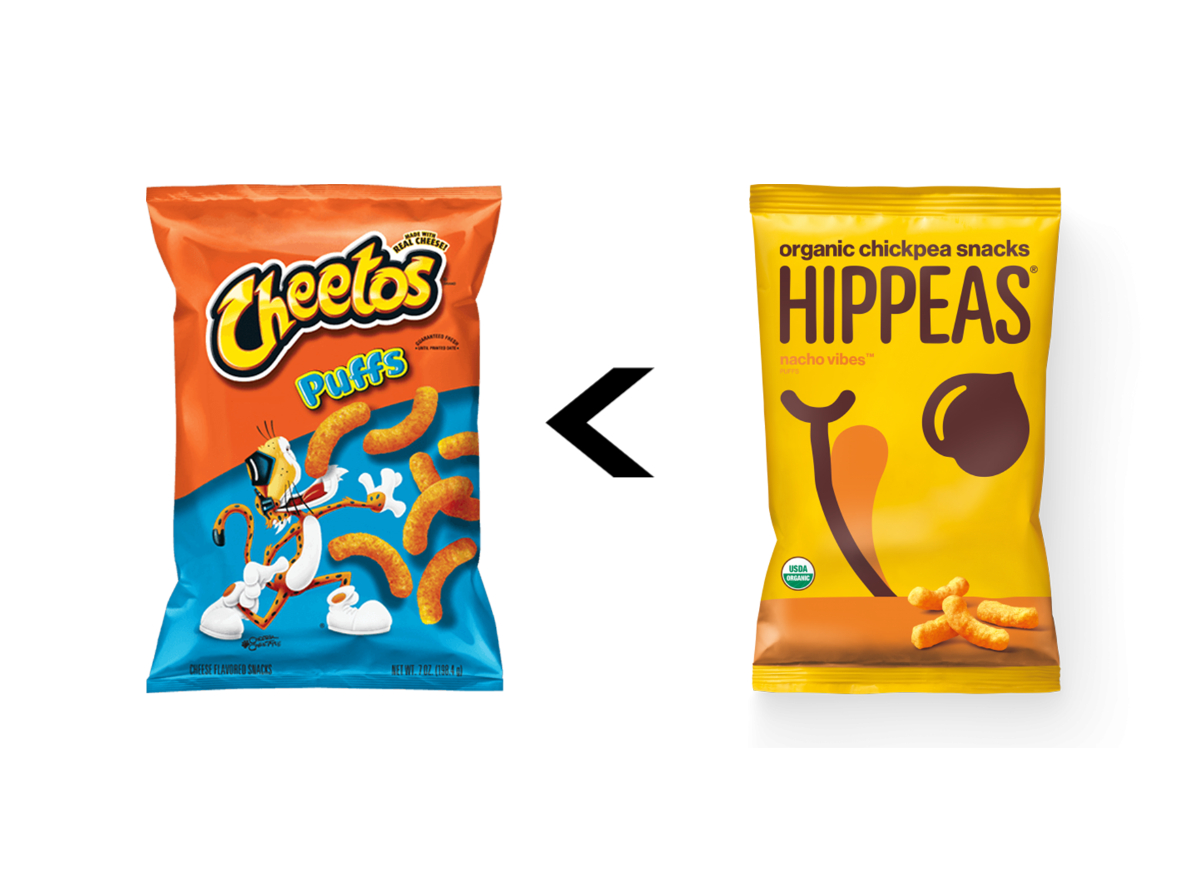 Just when you thought Cheetos Puffs were absolutely matchless, Hippeas entered the snack food scene and disrupted the cheesy snack kingdom forever (and for the better). Here's why. One serving of Cheetos Puffs—which are made from enriched cornmeal—contains 160 calories, 1o grams of total fat, 1.5 grams of saturated fat, 270 milligrams of sodium, and just 2 grams of protein.
On the contrary, one serving of Hippeas Nacho Vibes—made predominantly of chickpea flour—only costs you 130 calories, 5 grams of total fat, 0 grams of saturated fat, 125 milligrams of sodium, and 4 grams of protein. The difference in nutritional value couldn't be any more clear. Hippeas offer more protein, for less fat, calories, and sodium.
Crunchy Chocolate Candies
Aside from popcorn, one of the best snacks to accompany your at-home movie night is a crunchy, chocolate candy such as Pretzel M&Ms. However, one serving (or 17 pieces) of this candy clocks in at 180 calories, 3.5 grams of saturated fat, 1 gram of fiber, 20 grams of sugar, and 2 grams of protein.
The Good Bean's chocolate-covered chickpeas, on the other hand, are a slightly better choice. For the same number of these bite-size candies, it will only cost you 130 calories, 2.5 grams saturated fat, and 12 grams of sugar, while providing 2 grams of fiber and 3 grams of protein.
To be clear, Quaker's Caramel Rice Crisps are not awful for you by any means, as it is a better snack in comparison to many others that are on the market. Still, Saffron Road's Crunchy Chickpeas are just a bit more nutritionally sound, boasting four times the amount of protein for less than half of the sodium. Not to mention, the caramel crisps don't provide any fiber, whereas the chickpeas boast 2 grams.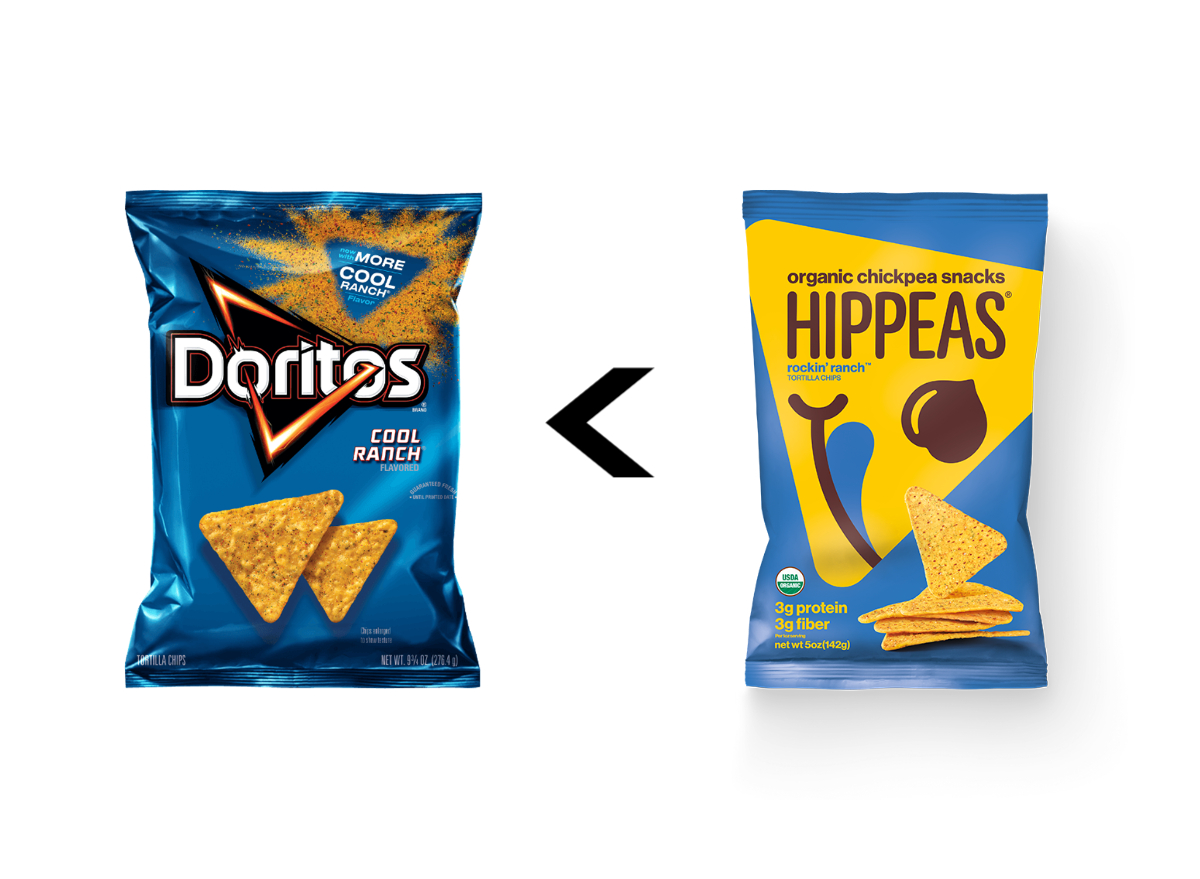 One serving of Doritos (28 grams or 12 chips) only pack one gram of fiber and are loaded with artificial ingredients and colors such as corn syrup solids and Red 40, Blue 1, and Yellow 5. For comparison, Hippeas Rockin' Ranch tortilla chips contain a fraction of the ingredients, nearly all of which are organic. A few of those ingredients include chickpea flour, sunflower oil, pea fiber, and onion powder. When it comes to quality, Hippeas is the clear winner.
Chili Lime-Flavored Chips
6254a4d1642c605c54bf1cab17d50f1e
Last but not least, On The Border Taste of Tajín, Chili & Lime chips are considerably less healthy than Saffron Road Chili Lime Chickbean Crisps. For example, 11 On The Border chips it cost you 150 calories, 9 grams of total fat, 310 milligrams of sodium, and only contains 2 grams of protein and no fiber. But, you can have 15 Chickbean Crisps for only 120 calories, 4 grams of total fat, 270 milligrams of sodium, 4 grams of protein, and 2 grams of fiber.