A Perfectly Crispy Chipotle Shrimp Quesadilla Recipe
Crunchy, spicy, cheesy, and half the calories of a restaurant version? You can get this winning combination right at home.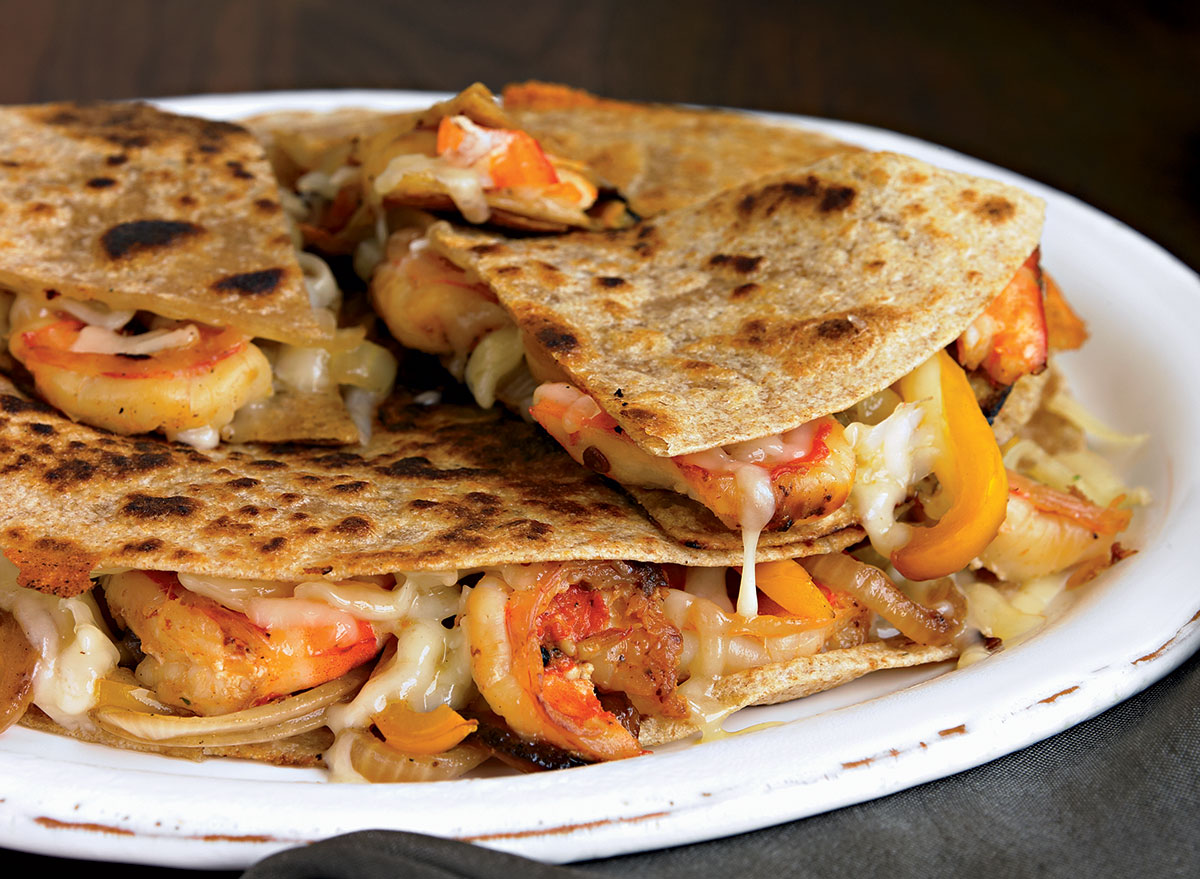 The key to a world-class quesadilla is careful crisping of the tortilla exterior. Restaurants make up for their sloppy cooking by adding more cheese and oil to the equation, which is why we've never, in years of analyzing nutritional information, found a restaurant quesadilla with fewer than 900 calories and 50 grams of fat. This quesadilla is plenty cheesy, but the abundance of spicy shrimp and caramelized vegetables teamed with the shattering crust of the tortilla means we can cut fat without sacrificing flavor in this recipe.
Nutrition: 340 calories, 15 g fat (8 g saturated), 750 mg sodium
Serves 4
You'll Need
8 oz medium shrimp, peeled and deveined
1⁄2 cup orange juice
1 Tbsp canned chipotle pepper
2 cloves garlic, minced
1⁄2 Tbsp canola oil
1 medium onion, sliced
1 red or yellow bell pepper, sliced
Salt and black pepper to taste
4 large whole-wheat tortillas
2 cups shredded Monterey Jack cheese
Salsa
Guacamole6254a4d1642c605c54bf1cab17d50f1e
How to Make It
Combine the shrimp with the orange juice, chipotle pepper, and garlic. Marinate for 15 minutes.
Heat the oil in a large cast-iron skillet or sauté pan over medium-high heat.
When the oil is lightly smoking, add the onion and pepper and cook for about 10 minutes, until lightly charred on the outside.
Push the vegetables to the perimeter of the pan and add the shrimp to the center.
Sauté until cooked through, about 10 minutes.
Season with salt and pepper to taste. Remove from the heat.
Coat a separate nonstick pan with cooking spray, oil, or butter and heat over medium-low heat. Place one tortilla in the bottom, sprinkle with half of the cheese, then top with half of the shrimp mixture and a second tortilla.
Cook for about 5 minutes, until the bottom is very crisp, then flip and cook for another 2 to 3 minutes.
Cut the quesadillas into wedges and serve with salsa and a bit of guacamole, if you like.
Eat This Tip
Want a crispy quesadilla? Cooking quesadillas, one side at a time, in a cast-iron or non-stick skillet is the best, but by no means is it the only method. Have a big batch? Fire up the grill and place them directly on the well-oiled grates for a few minutes a side, or pop them in a 450 ̊F oven for 12 minutes, flipping them once midway through.