Oatmeal Pancakes With Cinnamon Apples Recipe
You'll never think about buying supermarket syrup again once you try this sweet homemade topping.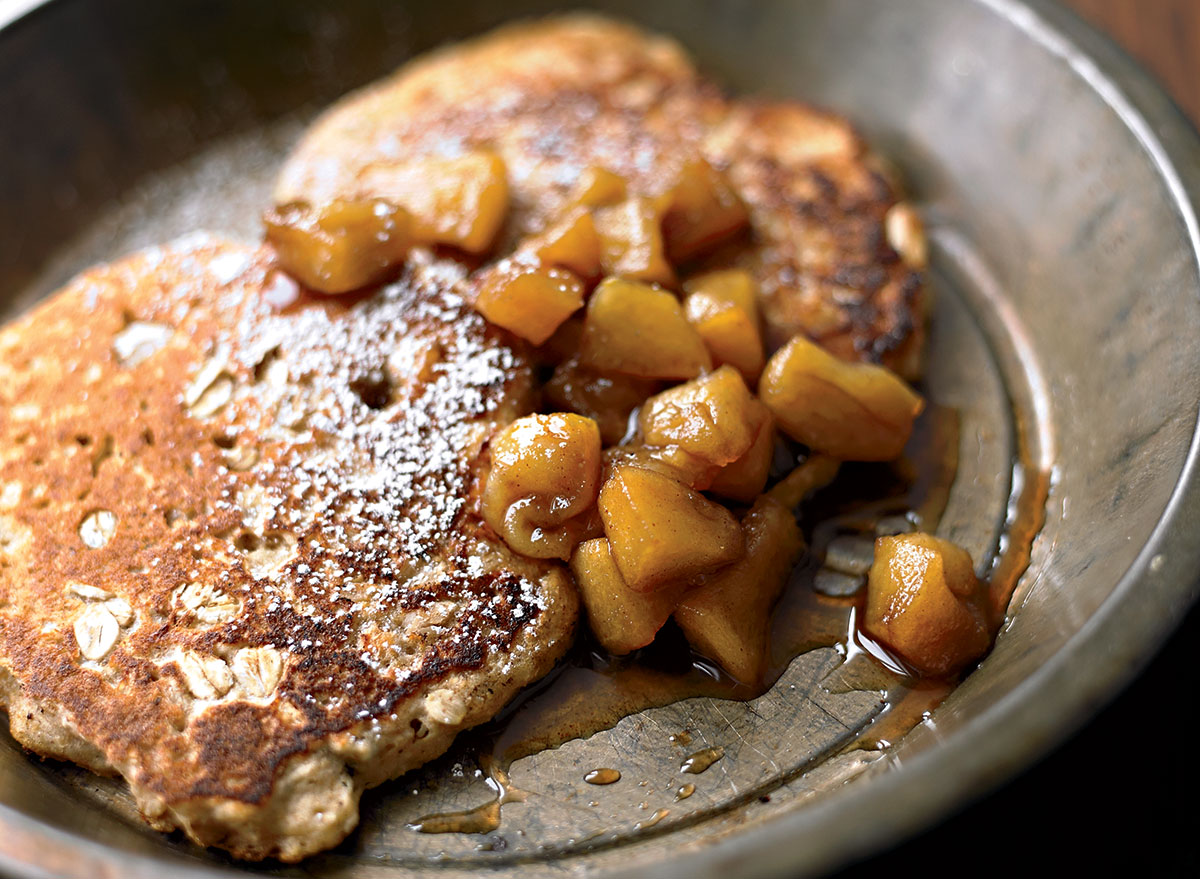 Banish the Bisquick! The ubiquitous dry mix is fine in a pinch, but if you could make healthier, more delicious pancakes by spending an extra 2 minutes at the mixing bowl, why wouldn't you? Oats and wheat flour give these pancakes a fiber and protein boost, helping stabilize your blood sugar levels as your body absorbs the rush of carbs that comes with a stack of flapjacks.
Nutrition: 260 calories, 6 g fat (2.5 g saturated), 19 g sugar
Serves 4
You'll Need
1 1⁄2 cups buttermilk
3⁄4 cup instant rolled oats
3⁄4 cup whole wheat flour
2 Tbsp milk
1 Tbsp melted butter
1 1⁄2 tsp baking powder
1⁄2 tsp baking soda
Pinch of cinnamon (plus 1⁄8 tsp for the apples)
Pinch of nutmeg
1 Granny Smith apple, peeled, cored, and chopped
1⁄2 cup apple juice
2 Tbsp brown sugar
Butter or cooking spray
Confectioners' sugar
How to Make It
In a large mixing bowl, combine the buttermilk, oats, flour, milk, butter, baking powder, baking soda, pinch of cinnamon, and nutmeg. Stir to gently combine, then set aside to rest for a few minutes.
Combine the apple, apple juice, brown sugar, and remaining 1⁄8 teaspoon cinnamon in a small saucepan and bring to a simmer. Cook until the apple has softened and the liquid has thickened.
Preheat the oven to 200°F. Heat a large nonstick or cast-iron skillet over medium heat. Adding a bit of butter or cooking spray before each round, scoop 1⁄4-cup portions of batter into the skillet and use a spatula to spread into thin, even circles. Cook until small bubbles form in the top of the batter, 2 to 3 minutes, then flip and cook for another 2 minutes. Keep pancakes warm in the oven while you finish cooking. Serve topped with the warm apples and a bit of confectioners' sugar, if you like.
Eat This Tip
Supermarket maple syrup is either a) incredibly expensive or b) totally fake, awash in high-fructose corn syrup. Either way, you lose. Fret not, for all of these fruit toppings are not only better for you than normal syrup, they're also considerably more exciting. Combine in a small saucepan and simmer for 10 minutes:6254a4d1642c605c54bf1cab17d50f1e
2 cups frozen (or fresh) blueberries, 2 tablespoons sugar, and 1 tablespoon grated ginger
2 cups frozen strawberries, 1 tablespoon sugar, and 2 tablespoons balsamic vinegar
2 cups diced pineapple simmered in 1 cup lite coconut milk and 2 Tbsp shredded coconut