A Lighter Clam Chowder Recipe
Say goodbye to all that cream with our low-calorie version of the soup. Don't worry—there's still bacon.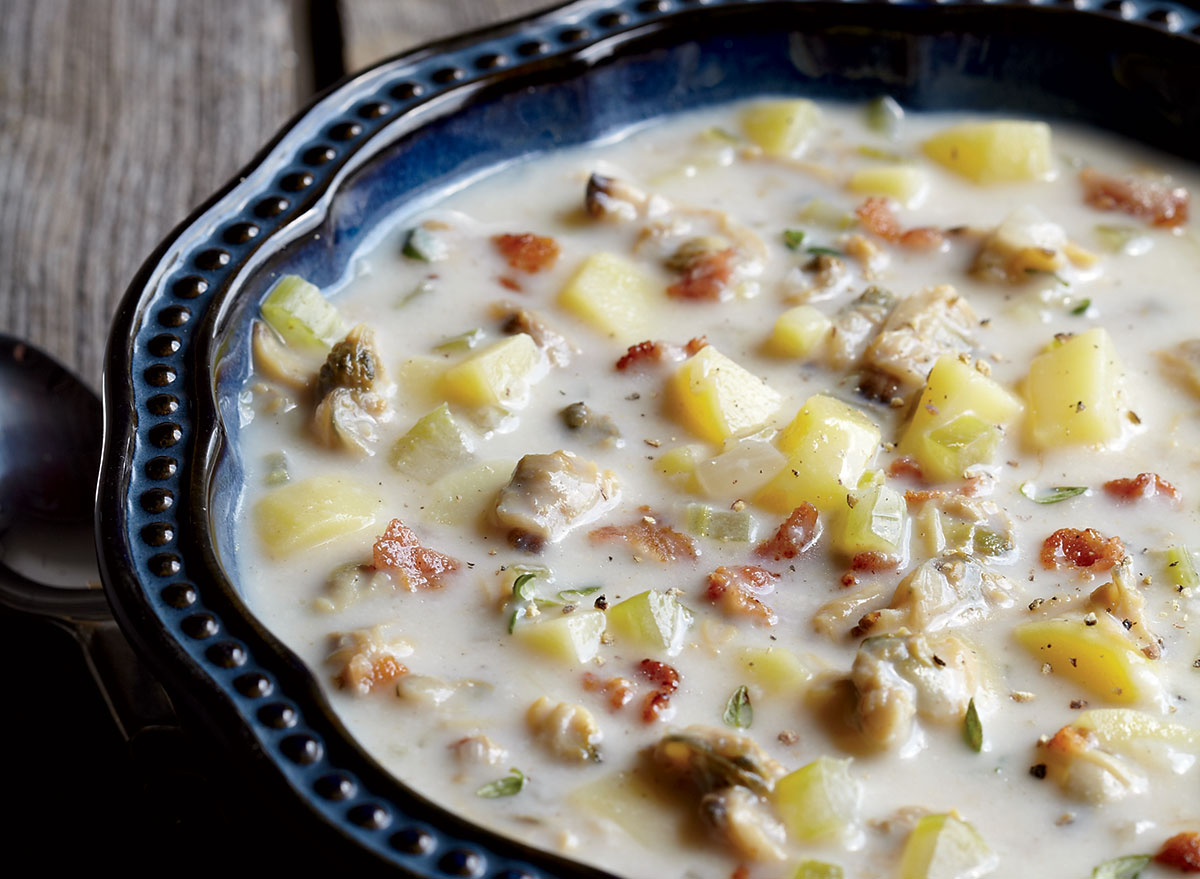 When ordering (or avoiding) clam chowder, for better or worse, most people expect a bowl of soup so thick and creamy you can stand a spoon up in it. However, the real truth is clam chowder—real clam chowder, that is—has always been about the clams, with a thin but bracing broth of clam juice, and just a hint of dairy, rather than a whole carton of cream. In this healthy version of the well-loved and classic soup, we chose to employ milk instead of cream, which makes for a light, clean, low-calorie alternative that won't sit in your stomach all afternoon. But don't get us wrong—we're willing to skimp on cream, but there are some ingredients that make a given dish what it is, and should not be removed for any reason. And in our healthy clam chowder, there is one item we won't compromise on: Bacon. The smoky bacon flavor will pair perfectly with the brine of the clams, and while you shouldn't skip it, you can pull back on the quantity. You don't need much—just one strip of bacon per serving.
Nutrition: 270 calories, 6 g fat (2 g saturated), 650 mg sodium
Serves 4
You'll Need
4 strips bacon, chopped
1 small onion, diced
2 ribs celery, diced
1 Tbsp flour
1 can (6.5 oz) clams, drained, juices reserved
2 cups clam juice
1 cup milk
2 medium Yukon gold potatoes, peeled and diced (about 1 1⁄2 cups)
2 branches fresh thyme (optional)
Salt and black pepper to taste
How to Make It
Cook the bacon in a large saucepan or pot over medium heat for about 5 minutes, until browned and crispy.
Transfer to a paper towel-lined plate and reserve.
Add the onions and celery to the bacon fat and cook for about 5 minutes, until soft.
Stir in the flour and cook for 1 minute to eliminate that raw flour taste.
Pour in the reserved juices from the clams, the bottled clam juice, and the milk, stirring steadily to ensure the flour is evenly incorporated.
Bring the mixture to a simmer and add the potatoes and thyme, if using. Simmer for about 10 minutes, just until the potatoes are tender.
Season with salt and black pepper.
Just before serving, add the clams and simmer long enough to heat them through.
Garnish with the reserved bacon.