This Is the Mess-Free Way to Clean Your Microwave
We talked to cleaning expert Beth McGee to find out what the best methods are for cleaning the microwave.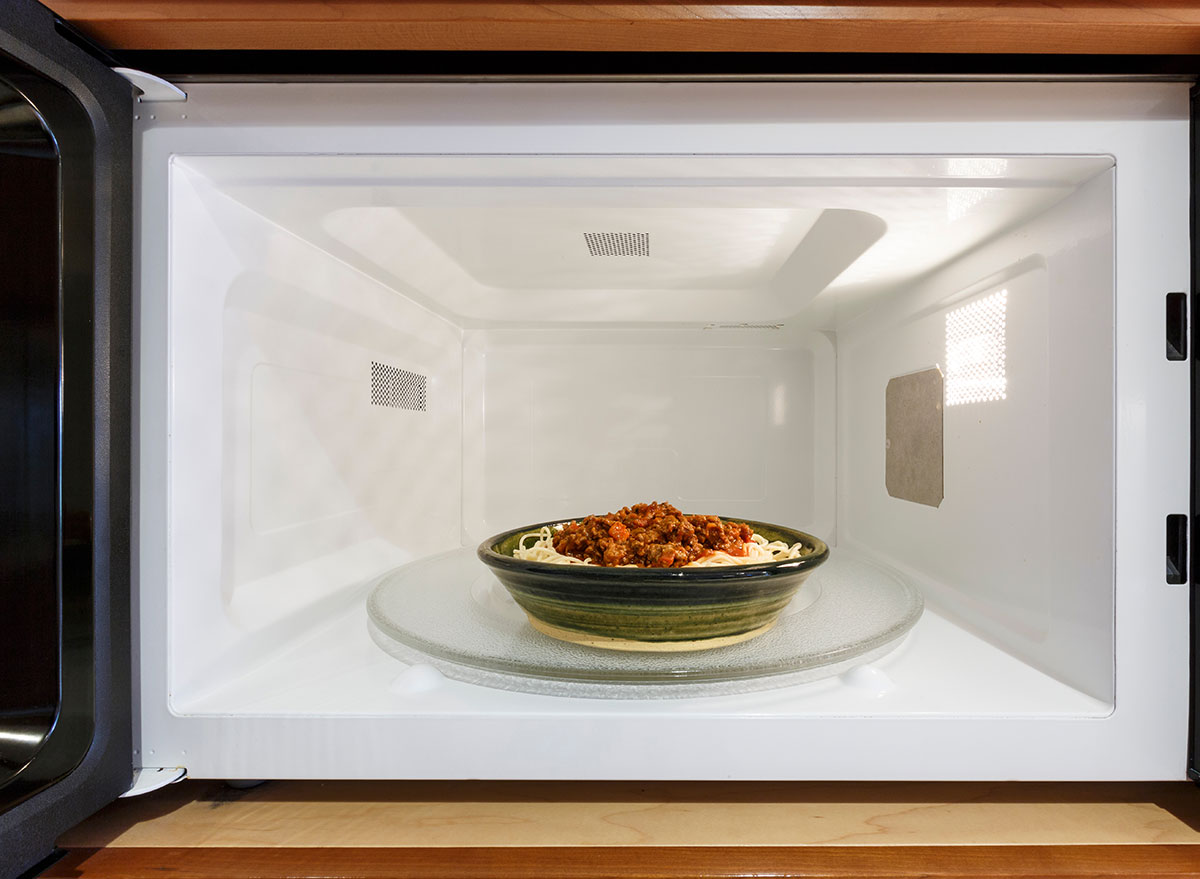 It's safe to say that almost everyone with a microwave has experienced something exploding inside of it due to the intensity of the heat. The question is, do you know how to clean a microwave so that it's spotless and doesn't forever smell like the marinara sauce that splattered all over the inside of it?
Beth McGee, author of Get Your House Clean Now: The Home Cleaning Method Anyone Can Master gave us detailed instructions on how to take care of those pesky stains and messes that inevitably occur when reheating leftovers in the microwave. Never let that bowl of spaghetti and meatballs sabotage the inside of your microwave ever again with these tips and tricks.
Now, here is the best way to clean a microwave.
What are some of the best ways to clean the inside of your microwave?
McGee has a cleaning mixture that you can make right at home that will remove light stains and eliminate odors from the inside of the appliance.
What you'll need:
1/2 cup of water
1/2 cup of vinegar
1 Tbsp grease-cutting dish soap
one spray bottle
Instructions:
Remove trays and turntables and soak in warm, soapy water.
Spray the inside of the microwave and door liberally with homemade cleaner, and close the door.
Set the timer to one minute and press start.
Open the door and let the inside cool.
Use a damp microfiber cloth to wipe the inside top, sides, and bottom clean.
Don't forget to wipe down the inside of the microwave door with the microfiber cloth as well.
How do you clean tough stains in the microwave?
"For cooked-on foods, you may need to repeat the process more than once," says McGee. "For red food stains, a bleach spray cleaner may help remove these stains."
Take note, though: General Electric advises against using bleach due to its ability to make the plastic brittle, so be sure to identify the type of microwave you have at home before you apply bleach.
McGee also suggests that you never use an abrasive sponge or cleaner in the microwave, no matter how stained the interior is.6254a4d1642c605c54bf1cab17d50f1e
"If the inside is discolored from cooking or burning, these stains will not come out," she says. At that point it's time to throw in the towel, or should we say microfiber cloth?
She also says that magic erasers are best used to wipe off scuff marks, and therefore aren't suitable for cooked-on stains.
"Food stains need moisture to come off easily," she explains. "And discoloration stains from cooking or burning are a result of a change in the surface that isn't going to come out. Bleach cleaner spray will take out red sauce stains."
What are some ways to prevent messes from occurring in the microwave?
The key is to use a microwaveable plate cover, whether that be a BPA-free plastic cover or a paper towel.
"Use only paper towels and dishes that you know to be microwave-safe while cooking," advises McGee. "Be sure to use recommended cooking times to avoid burning food and creating stains and odors that are difficult to remove."