A Lean Spaghetti and Turkey Meatballs Recipe
It's a lighter version of the classic comfort dish you can eat again and again.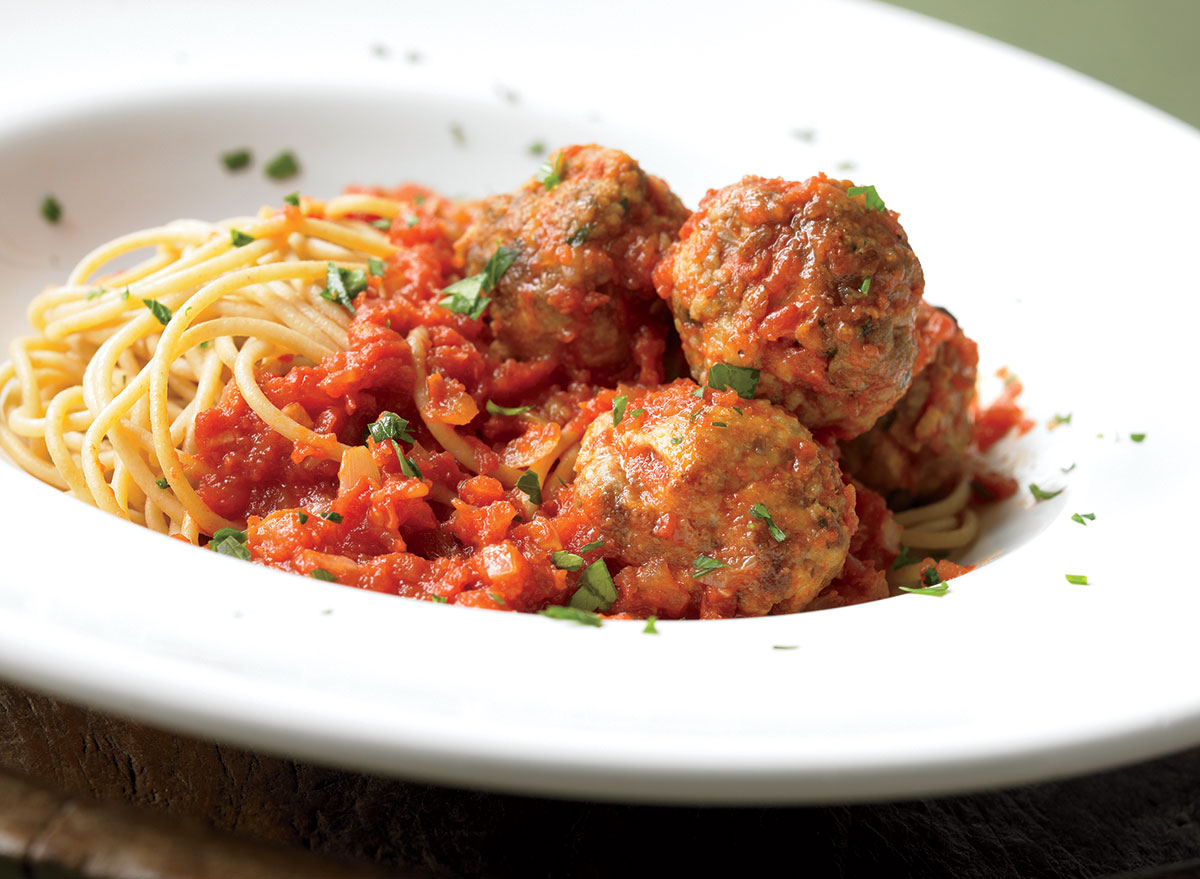 Traditional meatballs are made with a mixture of beef, pork, and veal. Turkey, lean and tender, replaces the latter two in these meatballs, saving you major calories while simultaneously providing your taste buds with major yum. And if anything, go heavy on the meatballs and light on the pasta. Either way, you'll save 600 calories alone by just avoiding Olive Garden's Spaghetti and Meatballs, plus, you'll save nearly 7 bucks by cooking at home. Now that's all kind of delicious, right?
Nutrition: 510 calories, 12.5 g fat (5 g saturated), 740 mg sodium
Serves 4
You'll Need
2 slices bread, soaked in milk for 5 minutes
12 oz ground turkey breast
12 oz 85% lean ground beef
1 egg
1⁄2 cup chopped parsley, plus more for garnish
2 Tbsp grated Parmesan, plus more for garnish
3⁄4 tsp salt
1⁄2 tsp pepper
1 onion, minced
3 cloves garlic, minced
2 Tbsp olive oil
1 can (28 oz) whole peeled tomatoes (we love Muir Glen)
1 lb DeCecco Whole Wheat Spaghetti
How to Make It
Remove the bread from the milk, squeeze out most of the liquid, and tear into tiny pieces.
Mix the turkey, beef, egg, parsley, Parmesan, salt, pepper, half of the onion, and half of the garlic. Form into golf ball–size balls.
Heat half of the olive oil in a large nonstick skillet or sauté pan and cook the meatballs over medium heat until well browned. Set aside.
Heat the remaining tablespoon of olive oil in a saucepan and cook the remaining onion and garlic over medium heat until translucent.
Add the tomatoes and bring to a simmer.
Add the meatballs and cook for 15 to 20 minutes.
Cook the pasta according to the package instructions until al dente.
Divide it among 6 plates or bowls, top with meatballs and sauce, and garnish with parsley and Parmesan.
Eat This Tip
Save Money Strategy6254a4d1642c605c54bf1cab17d50f1e
Think fresh tomatoes are the key to a great pasta sauce? Think again. Not only are they up to three times as expensive as canned tomatoes, they also require more prep work and produce inconsistent results (especially during winter, when tomatoes are shipped in from the southern hemisphere). Canned tomatoes are picked at the height of tomato season and canned on the spot. Whole peeled tomatoes are your best bet, since they're minimally processed and retain the most intense tomato flavor.
This recipe (and hundreds more!) came from one of our Cook This, Not That! books. For more easy cooking ideas, you can also buy the book!