8 Coffee Chains That Serve The Best Cold Brew
These chains are the specialty destination for chilled coffee.
If you're like a growing number of coffee drinkers in America, you prefer cold brew over hot coffee during any season. This cold coffee drink isn't just for summer anymore and can be served in many different ways. Maybe you like yours black with no milk or creamer, or perhaps you prefer a few pumps of simple syrup in it.
No matter how you like it, there are countless coffee shops out there, so how can you tell which ones have the best cold brew? To begin with, it's first important to understand what exactly takes it from good to great.
Heather Calatrello, the owner and head coffee roaster at ShedLight Coffee Roasters, a San Diego-based coffee roastery that runs on solar power, shares that the best cold brew will be smooth with delicate nuances and low acidity. "Cold brew should be significantly less bitter than other brews, as the extra coarse grind prevents over-extraction during the long steeping time," she says.
Calatrello points out that any roast of coffee can be used to make a cold brew, but she finds that a medium or medium-dark roast tends to work best as it produces a bolder cold brew. "For those who drink their coffee without any milk or sweetener, a lighter roast will yield a fruitier, almost tea-like brew," she explains.
There are also a few essential factors people must consider when making this chilled beverage, "and this goes for coffee shops, individuals at home, and major coffee chains alike," she says. For starters, Calatrello points out that the long steeping time is "critical." "Cold brew should be steeped for at least 12 hours for optimal results," she says. "If the time is cut in an effort to expedite the process, the flavor of the cold brew will be weak and underdeveloped."
Another essential detail is the size of the grind, which Calatrello says must be extra coarse. "Or the cold brew may over-extract, resulting in a bitter and bland brew," she adds. And lastly, the quality of the water used is also paramount. "It's best to use pure, filtered water because, unlike hot brews where the heat may mask any unwanted mineral notes from the water, cold brew is brewed and served cold, so any unwanted flavors will be more pronounced."
From large national chains with tons of different menu choices to smaller but still exciting spots that offer innovative twists, here are eight coffee chains that serve the best cold brew.
Starbucks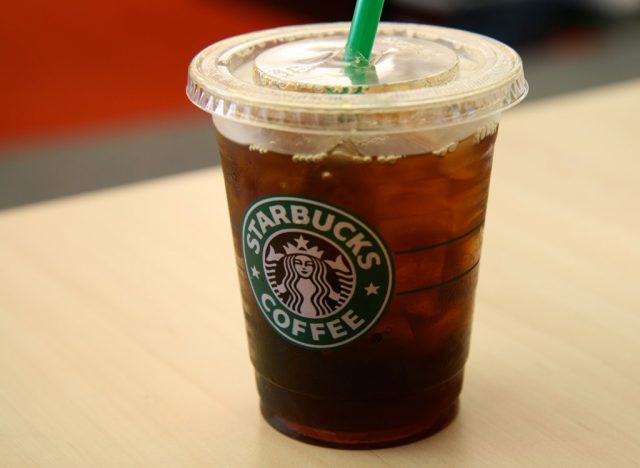 You can't make this list without mentioning Starbucks. The popular coffee chain, which has been around since the 1970s, is known for its delicious caffeinated drinks, including lattes, espressos, frappuccinos, and cold brews.6254a4d1642c605c54bf1cab17d50f1e
Calatrello shares that many major national coffee chains serve diluted cold brew that doesn't have much flavor. However, Starbucks' nitro cold brew is one "notable exception," she says. In fact, Calatrello recommends ordering it any time you see it offered on a menu. "The addition of nitrogen creates tiny bubbles and a rich crema, making the drink irresistibly smooth and decadent," Calatrello says. Even better? She points out that the popular chain typically serves theirs sans ice. "So that means you get more cold brew for your money—a huge plus!"
Starbucks currently offers nitro cold brew in three different flavors—plain, cinnamon cream, or vanilla sweet cream—which means there's something for everyone.
Blue Bottle Coffee
Blue Bottle Coffee was founded in 2002 in San Francisco but now has over 100 cafes throughout the United States and Asia. Not to mention, its e-commerce platform and subscription service are growing.
"Blue Bottle's cold brew is perfectly balanced, smooth, and refreshing," says Calatrello. " We love that it is full-bodied and tastes delicious on its own or with milk." She also points out that the brand sells a canned version that can be purchased if you don't live close to one of its shops.
The chain also has a menu full of delicious drink items such as macchiatos, lattes, hot chocolates, flat whites, espressos, and more. In addition, its cafes are often minimalistic and chic and well worth the visit.
Bluestone Lane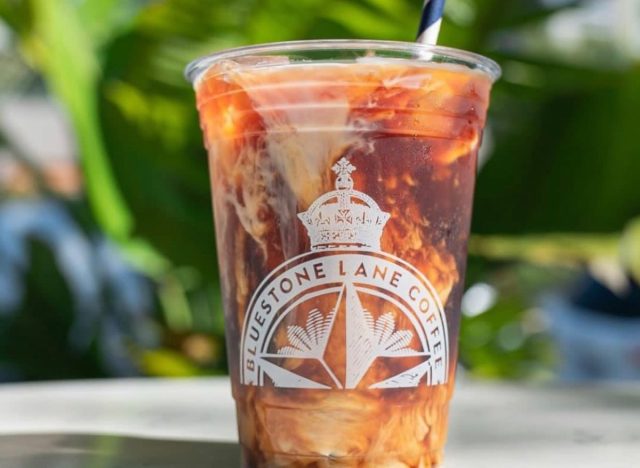 Bluestone Lane is one of those coffee chains that will have you hooked on your first visit. Founded in 2013 in Midtown Manhattan, the popular coffee spot now has over 55 cafes and coffee shops located throughout the United States.
Jordan Rogers, Area General Manager at Bluestone Lane, shares that the chain's cold brew is made using the brand's signature Flagstaff coffee blend that's brewed to perfection in 12 hours to allow the create a mouth-watering flavor profile that includes notes of toasted almond, vanilla, and milk chocolate. "It is expertly crafted with care so guests can enjoy it black—the true test of any good cold brew—or with a gentle splash of milk," Rogers adds.
Bluestone Lane's menu is packed with other tasty drinks too, like Aussie iced lattes, cappuccinos, and berry smoothies, and seasonal food items, including delicious options like avocado toast, a chicken and ancient grains bowl, and delectable banana bread.
Peet's Coffee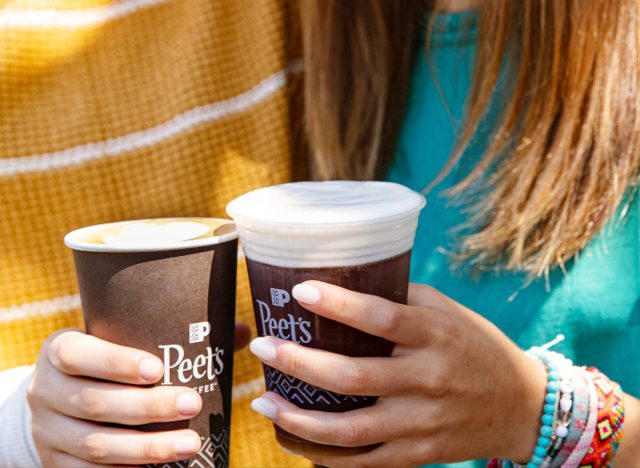 Peet's Coffee, the famous coffee chain that first popped up in California in the 1960s, now has hundreds of locations and counting. Beyond its welcoming atmosphere, it serves up a top-notch cold brew.
Patrick Main, Senior R&D Manager of Beverage at Peet's Coffee, explains that the chain uses its signature Baridi Blend which features medium-roasted East African and South American coffees. "Baridi is the Swahili word for cold," Main mentions. This combination creates a rich and complex yet refreshing drink with a pleasant chocolate taste paired with citrus and dark berry notes.
"The best coffees to brew cold are coffees that naturally have refreshing flavor attributes," adds Main. Because of this, East African coffees are popular to use when cold brewing because they have plenty of fruity, berry, citrus, and floral notes. "And those flavor notes express really nicely in a cold brew."
PJ's Coffee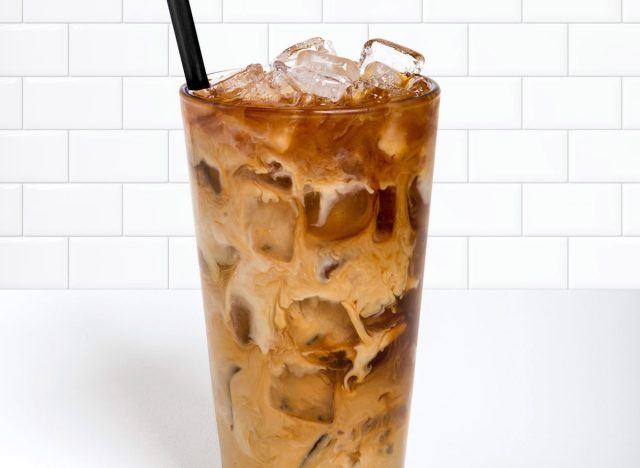 Main says he also can't get over PJ's Coffee, a New Orleans-founded coffee shop that started in 1978. "I also have to mention PJ's Coffee of New Orleans, who were way out ahead of the cold brew craze. I remember them brewing it in their cafes back in the mid-'90s," he says.
The spot is famous for the delicious nitro cold brew that's infused with nitrogen gas to help give it a creamy texture. It's brewed using a special cold-drip process that results in coffee that is two-thirds less acidic. Some other menu standouts at PJ's include the Southern Wedding Cake Iced Latte, which is made with whole milk and almond and vanilla syrups, that's available for a limited time, and the hot mocha sweetened with Ghirardelli cocoa. The chain has nearly 170 locations throughout the country.
La Colombe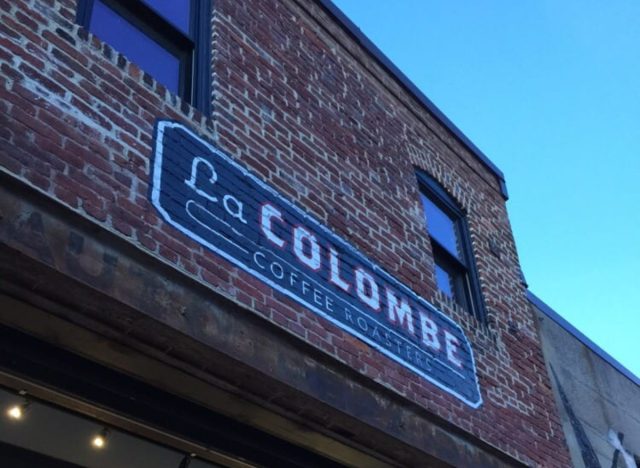 La Colombe has over 30 coffee shops in New York, Austin, Philadelphia, and Chicago (with more opening soon), and is known for its excellent coffee that always hits the spot.
Those who don't live close to a La Colombe shop are in luck—the beloved chain, which has been around since 1994, also has its cold brew available for purchase via its website. Choose from fun options, like nitro extra bold cold brew, the limited edition nitro cold brew with lemon, and Colombian cold brew. La Colombe even sells it on tap fridge pack.
Stumptown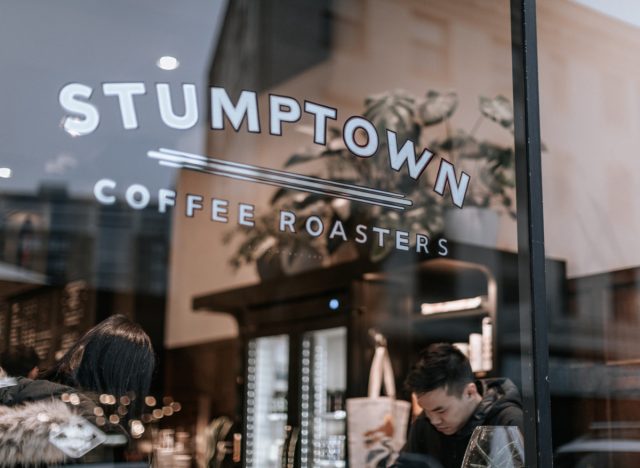 Although a smaller chain—with a handful of locations in Portland, New York, Los Angeles, and Kyoto—Stumptown is still considered one of the best places to enjoy a cup of cold brew. "I really love the cold brew that I have had at Stumptown cafes in Portland and New York," shares Main. " It's very different from [Peet's], with a lighter roast style that produces a super bright, sweet, acidic brew."
The chain offers its original blend for sale right on its website as well. Beyond the cold brew, they also carry a wide range of coffee beans and a list of other innovative chilled options, including horchata and chocolate cold brews made with oat milk. Stumptown also sells its Strange Magic fizzy drink, a plant-based drink made from cascara, aka the dried fruit taken from the coffee plant.
Dunkin'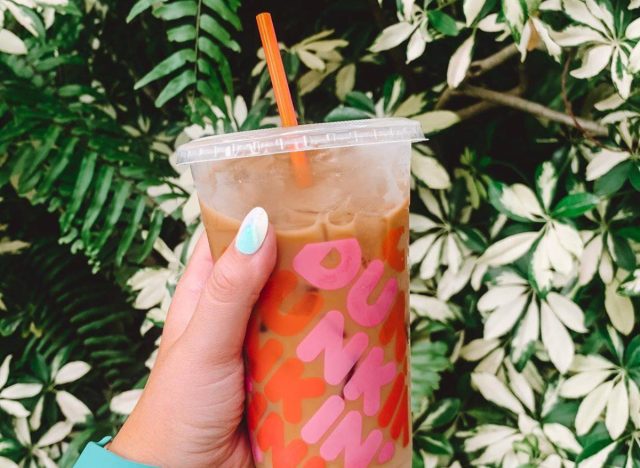 Dunkin' makes some tasty cold brew that is a favorite among many. Started in 1950, the famous coffee and donut shop has over 11,300 locations worldwide—pretty impressive, huh?
Its cold brew is made with 100% Arabica beans steeped in cold water overnight for 12 hours. This helps extract the flavor better and create an incredibly smooth, full-bodied drink with a sweet, chocolate taste. Even better? Dunkin' likes to craft-brew this drink in small batches, so you know it will be good.