7 Big Changes You'll See at Starbucks This Year
Expect to see new and improved food and more innovative beverages at America's favorite coffee chain.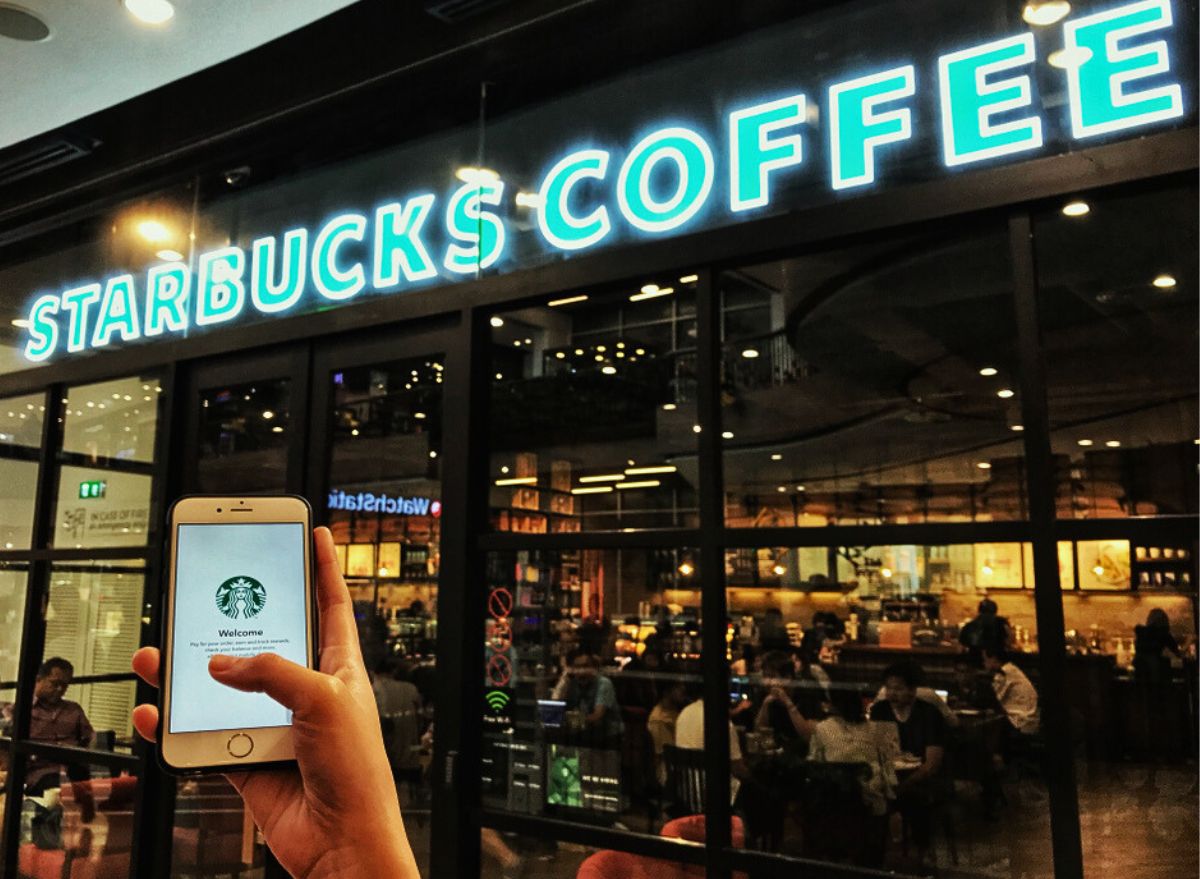 Since brewing its first cup of fresh-roasted coffee in 1971, Starbucks has become one of the largest and most well-known chains in the world. The brand is constantly growing, both in the U.S. and abroad, and it's fully committed to a multi-decade company improvement plan focused on sustainability and overall customer experience. Starbucks has a few changes planned for this year to improve its food and drinks, streamline its cafes, support its workers, and expand its loyal fanbase. 
From seasonal menu launches and new flavor palettes to upgrading in-store technology and customer rewards programs, Starbucks is always planning innovative new ways to better serve its customers and further the business. Within the past year, the coffee company has implemented a new digital tipping system to encourage customers to give back to baristas, created a revolutionary line of olive oil-infused coffee beverages, added upcharges for common customizations, and planned a huge change to its cold drinks that people seem to love.
While some of these changes could take some time to flow through to every cafe, a Starbucks spokesperson said, here's what you can expect from Starbucks in 2023 and beyond.
An Upcharge for No Water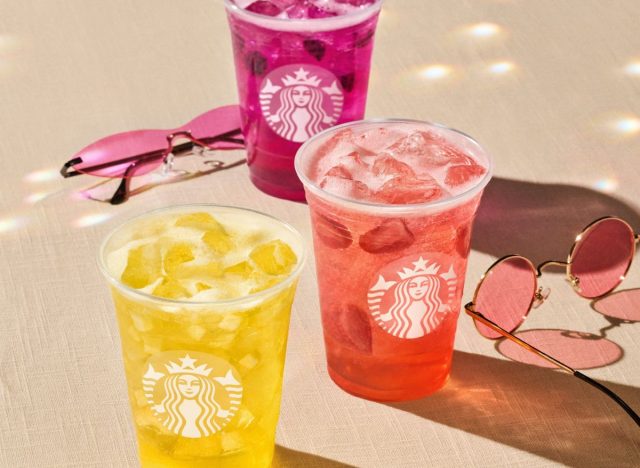 Many fast food chains upcharge for extras or additional add-ons to menu items, and Starbucks is no exception. In the past, Starbucks has reportedly made billions of dollars off of customers adding little extras to drinking including more pumps of syrup or using alternative milk options. And as of May 2023, the brand announced it will begin charging customers an additional $1 for the "no water" customization on its line of Refreshers like many fans enjoy doing for the Strawberry Açaí and Mango Dragonfruit variations. 
However, "Starbucks Refreshers Beverages can still be customized with light or no ice free of charge," a Starbucks spokesperson said in a statement, responding to a rumor that the chain would soon be charging for that common customization as well. 
New Ice and Upgraded Drink Toppings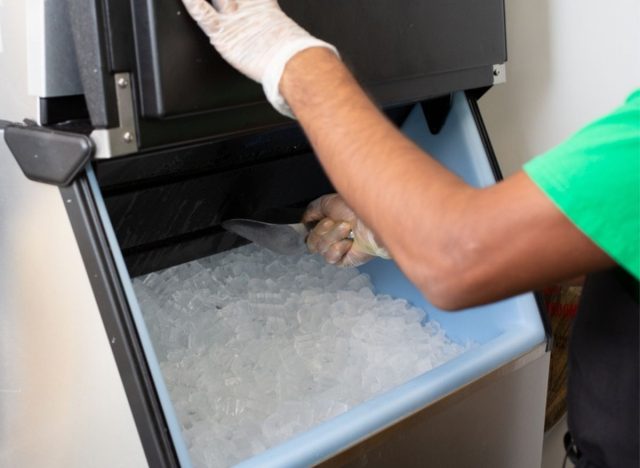 Speaking of ice, it's a major component of many drinks at the coffee chain, as cold beverages bring in 75% of its sales. Starbucks has officially confirmed that it will be introducing a new type of nugget ice, or the "good ice," as some customers call it. Many fans are eager for this big ice change, due to the size and texture of the so-called "pellet ice." While it's wonderful to see such a positive response from customers, this is also a huge deal for Starbucks since the new ice machines use far less water and will support the company's goal of reducing water usage by half in the next decade, according to CNN Business.
In addition to what's in your drink, Starbucks is making sure that its popular drink toppings are satisfying customers. Since Sweet Cream Cold Foam and its unique counterparts (like the Salted Caramel and Chocolate variations) have become wildly popular, the company created stand-alone blenders specifically for making the said topping to help baristas with the flow of making drinks, according to a recent TikToker. 
Expanded Delivery Channels
As takeout and delivery services become increasingly preferred by customers, Starbucks plans to shift gears and accommodate such wants. The brand's website states that it will begin, "Innovating with more responsible stores, operations, manufacturing and delivery." How so you may ask? By partnering with Doordash to make the coffee menu widely available in America and provide a more "convenient" way to sip and snack on your favorite Starbucks items.  
Upgraded Food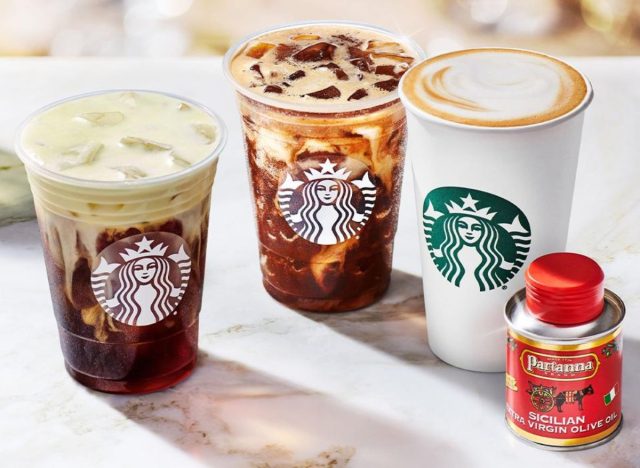 "Our beverage innovation is strong, food could use more work. And our innovation could be more purposeful and targeted," said  Starbucks' CEO, Laxman Narasimhan during an earnings call in May. Even though Starbucks currently offers a range of sandwiches, wraps, pastries, snacks, and desserts, Narasimhan made it very clear that revamping the food is a top priority going forward.
While the food case hasn't seen any major updates in 2023 yet, the brand has disclosed the possibility of more plant-based items (not just the Impossible Breakfast Sandwich!) in the near future, as well as vegan and vegetarian choices in the form of bagels and special snack boxes.
In terms of drinks, a new season isn't complete without a taste of the new flavors at Starbucks. The coffee giant often creates new beverages, food, and merchandise when the weather begins to shift and to celebrate the major holidays. Rarely, the chain releases something brand new like the olive oil-infused coffee line called Oleato.
The Oleato line launched in select states in March with mixed reviews and concerns about unintended stomach issues from customers. Just last week the beverages got a wider release across 11 states, so customers who haven't seen the beverages in their area could sometime this year.
Starbucks also rolled out Ready-to-Drink menu staples—including the Pink Drink and Caramel Frappuccino—to grocery stores across the country in April.
Inclusivity & Diversity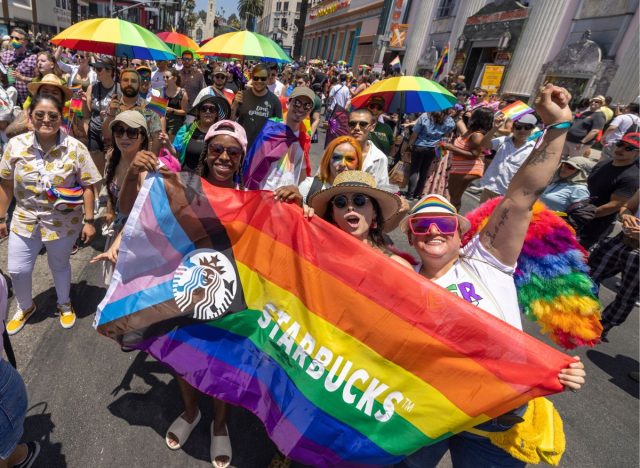 Starbucks has made a few moves to support the LGTBQIA2S+ community as a whole, from advocating for the Equality Act and opposing the country's discriminatory policies to hiring LGBTQIA2+ partners and providing them with inclusive healthcare. Also, as part of the 2023 merchandise, Starbucks has launched Pride-themed items made through its Artist Collaboration Program.
In April, the brand's CEO announced Starbucks' new mission and brand promises, with the main focus being on embracing diversity and supporting better human connections. The new mission states: "With every cup, with every conversation, with every community – we nurture the limitless possibilities of human connection."
Not only does this include creating a safe third place for everyone, but it also means providing an inclusive college program, maintaining gender and race pay equity in the U.S., and setting proper representation goals for hiring more racial and ethnic minority groups into roles on all corporate levels.
Even More Expansion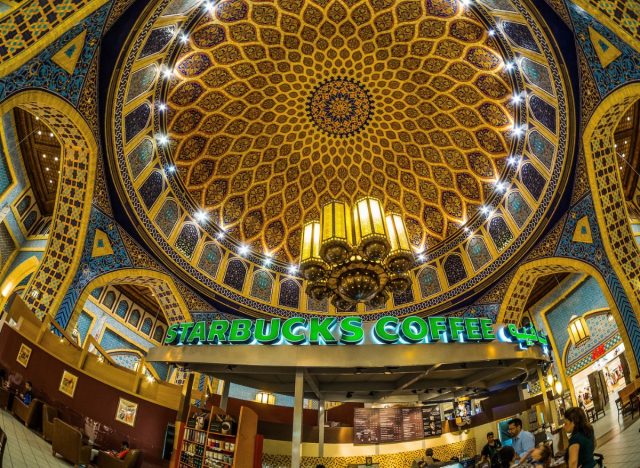 There are many novelty Starbucks locations around the world and countless cafes in the U.S., however, the company isn't ready to stop expanding. Starting in 2023, it plans to reserve 90% of new store growth to units with drive-thrus, QSR Magazine reports. 
The large coffee brand has already expanded business through a few new and unique Starbucks roasteries around the world, but that's the big moves don't stop there. The chain hit a milestone in the Asia Pacific market, reaching 5,000 store locations as of 2023. Asia is one of the company's fastest-growing regions, however, Starbucks strongly believes that the business will have 55,000 locations worldwide by 2030, Forbes writes.
New store locations could see more technological advancements and all the latest digital features Starbucks has created, as well as drive-thru and pick-up-only designs. These futuristic in-store changes could offer customers on-the-go options or the classic third-place experience, more efficient and quicker coffee machines, new in-app advancements that make for a personalized experience, and heated racks for food pickup to go smoother and remain as fresh as possible. 
RELATED: 6 Big Changes You'll See at Taco Bell This Year6254a4d1642c605c54bf1cab17d50f1e
Company Innovation & Sustainability Plans
As part of the chain's sustainability initiative, it has committed to finding better ways to support the planet and cut back on its carbon footprint, social impact, and overall waste. 
Starbucks has big plans to get away from the well-established, single-use paper and plastic cups and make the switch to a new kind of reusable packaging in order to divert millions of disposable products from landfills. In Japan, Singapore, and London, the brand has launched "Borrow A Cup", where customers can take their drink in a reusable cup that is designed to be returned to stores, professionally cleaned, and then repurposed for other Starbucks customers to use another day. Starbucks has been testing out compostable straw options to replace traditional plastic straws.
Aside from in-store changes to help the environment, Starbucks has pledged to invest in forest conservation and water replenishment. The company also supports farmers and the sustainability of coffee trees by making 10 no-cost, educational Farmer Support Centers available globally. To become a better resource for customers and partners, Starbucks has invested over $50 million in the non-profit organizations, WaterEquity, and other corporate peers, to give water access and quality water to low-income areas. This plan goes hand in hand with the company's commitment to building a more "water-positive future" by 2030. 
Jordan Summers-Marcouillier
Jordan Summers-Marcouillier was born and raised in San Jose, California and now works as a writer in New York, NY.
Read more about Jordan