7 Unhealthiest Fast-Food Coffees To Stay Away From Right Now
Dietitians make their selections for the most unhealthy fast-food coffees to stay away from.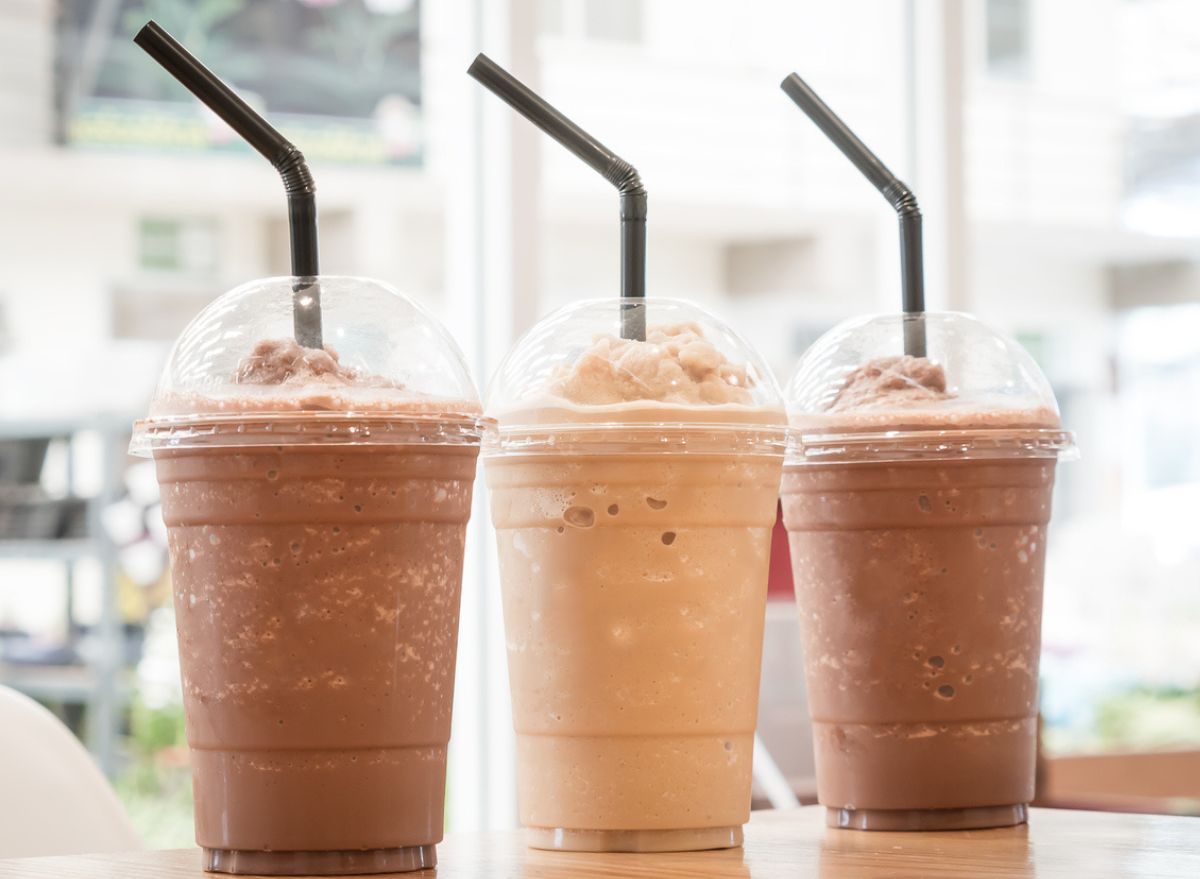 For some, the ritual of a morning spent waking up slowly, taking your time getting ready, and carefully sipping on a cup of coffee is a necessary part of starting the day. But for others, their morning reality is a bit on the hastier side, barely scraping by with a few minutes for throwing on clothes, brushing their teeth, and grabbing a coffee on the go. For those who need a quick coffee, they can enjoy on their way to work, swinging by a fast-food coffee shop can be a helpful option. Unfortunately, some fast-food coffees are far more unhealthy than you may realize.
For the most part, coffee can be a healthy addition to your day. Aside from the caffeine benefits of coffee, research has found that coffee can also help extend your lifespan, lower your risk of diabetes, and help you manage your weight. However, when you begin to add tons of cream, sugar, artificial syrups, etc., it may reverse some of these health benefits.
According to the CDC, regular consumption of sugar-sweetened drinks has been linked to things like heart disease, type 2 diabetes, kidney disease, and non-alcoholic fatty liver disease. Not only that, but drinking your sugar often eliminates the possibility of fiber, which means there's nothing to help slow down the absorption of sugar into your bloodstream, causing immediate blood sugar spikes.
These facts aren't meant to scare you away from your favorite coffee shops. Instead, we've put together a list of a few of the most unhealthy fast-food coffee drinks you can avoid in order to have a better idea of what to order next time you're in a hurry. Then, for healthier ideas of what to order, check out these 13 Low-Calorie Starbucks Drinks.
Starbucks White Chocolate Mocha Frappuccino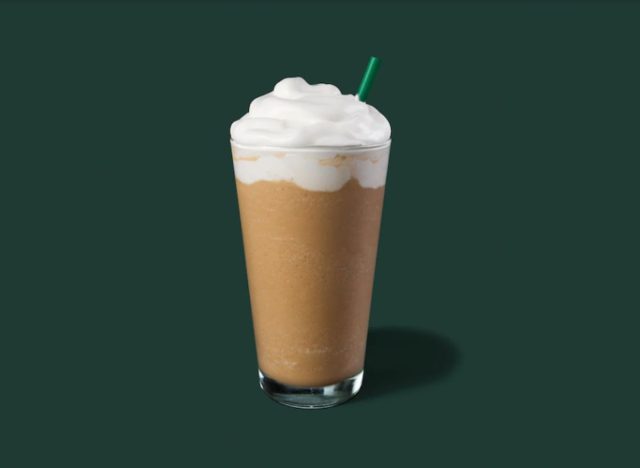 Per 16-ounce Grande
: 420 calories, 17 g fat (11 g saturated fat), 260 mg sodium, 61 g carbs (0 g fiber, 61 g sugar), 5 g protein
Starbucks is a coffee chain that provides you with the ability to have a delicious cup of coffee almost anywhere in the world. Their menu is full of choices, with everything from cold brew, espresso, hot coffee, and Frappuccinos, but some of these options have more sugar than a pint of ice cream. For instance, Tammy Lakatos Shames, RDN, CDN, CFT, and Lyssie Lakatos, RDN, CDN, CFT, also known as The Nutrition Twins, say the Starbucks White Chocolate Mocha Frappuccino is one of the most unhealthy fast-food coffees.
"In addition to having more calories than what many people should have in an entire meal, there's more than 15 teaspoons of sugar, which is over double the sugar that women should get in an entire day (6 teaspoons; men should keep it under 9 teaspoons of added sugar)," say The Twins. "A grande size also provides 11 grams of artery-clogging saturated fat, which is 2 grams less than the daily maximum amount that you should have in a day."
McDonald's Mocha Frappe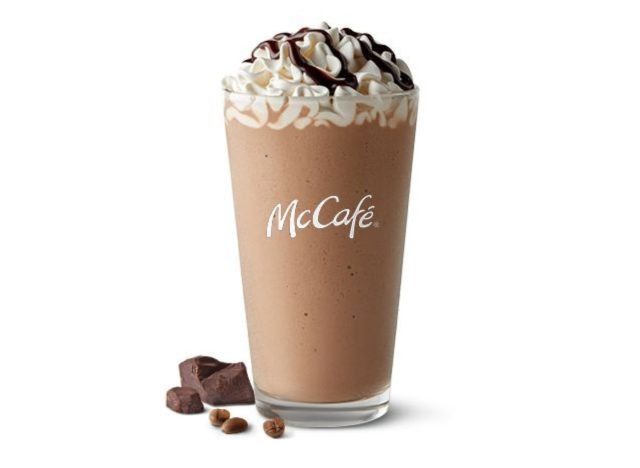 Per medium
: 490 calories, 20 g fat (13 g saturated fat), 140 mg sodium, 72 g carbs (0 g fiber, 60 g sugar), 8 g protein
If you are heading to McDonald's to grab a quick breakfast, you may be tempted to add on a creamy blended coffee drink, especially if you're needing a cool refreshment on a hot day. However, even though the McDonald's Mocha Frappe will satisfy your sweet tooth, it will also load you up with 60 grams of sugar.
"When you drink your calories rather than eating them, your brain doesn't compensate and may make you less hungry later, so you're even more likely to overconsume throughout the day," says The Twins. "This drink doesn't take it easy on the arteries either, delivering a day's worth of saturated fat (13 grams). Aside from a Big Mac being higher in sodium and calories, it's quite comparable, although the Frappe Mocha has slightly more sugar and saturated fat."
Dunkin' Donuts Butter Pecan Frozen Coffee With Whole Milk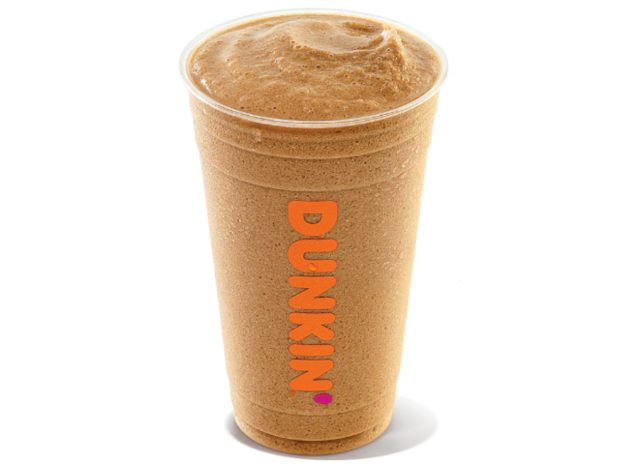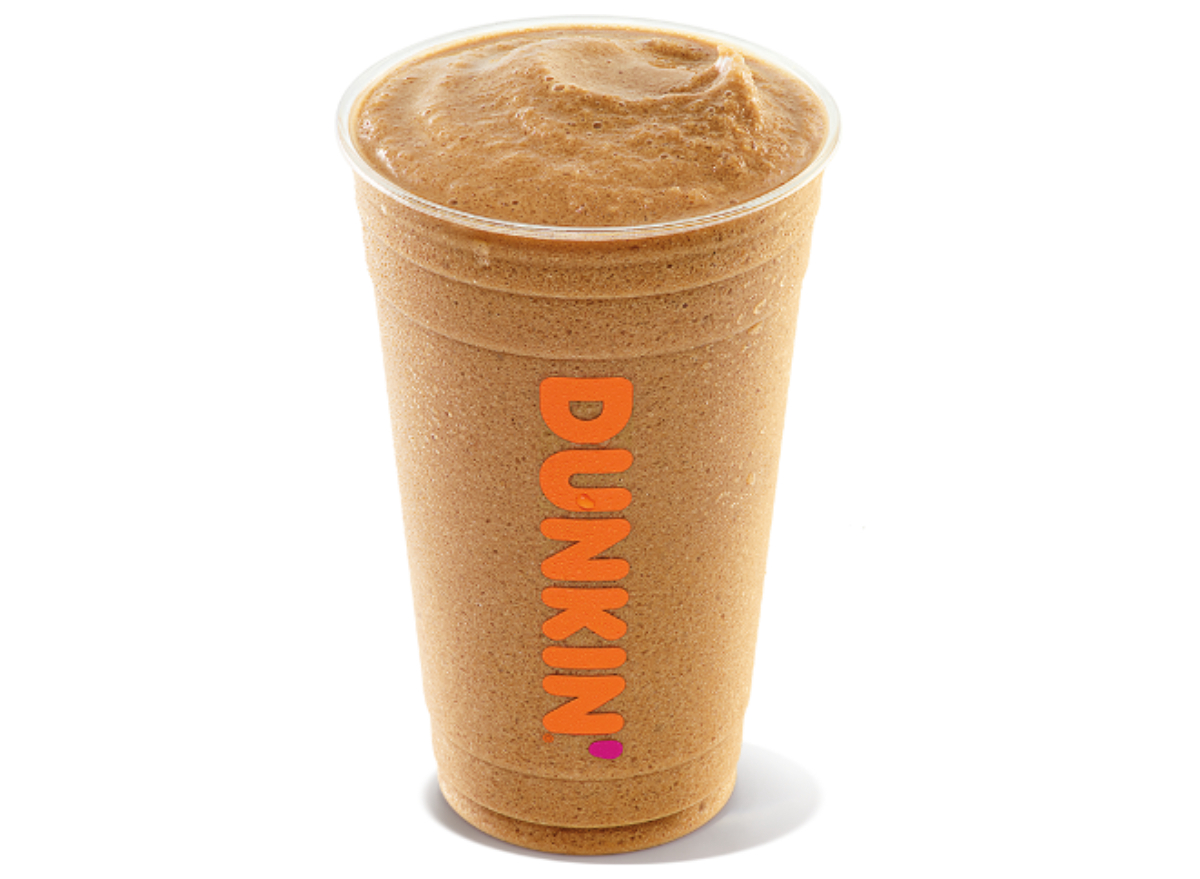 Per medium
: 720 calories, 9 g fat (6 g saturated fat), 330 mg sodium, 150 g carbs (3 g fiber, 142 g sugar), 9 g protein
Right off the bat, you can look at the nutrition information for the Dunkin' Donuts Butter Pecan Frozen Coffee and see that this drink contains a shocking 142 grams of sugar (34 teaspoons). While this is certainly one of the worst things about this beverage, the Nutrition Twins add that the scariest thing of all is the ingredients used in this fast-food coffee drink.
"There are thirty-five ingredients in this cup of coffee, and sadly, most of them are added sugars and preservatives. In fact, there are seven different forms of added sugar in this one drink—liquid cane sugar, pure cane sugar, sugar, sweetened condensed milk, high fructose corn syrup, brown sugar, corn syrup, dextrose, and caramel flavored syrup," say the Nutrition Twins. "The rest of the ingredients are mostly preservatives, and coffee is the eighth ingredient on the list."
Starbucks Caramel Ribbon Crunch Frappuccino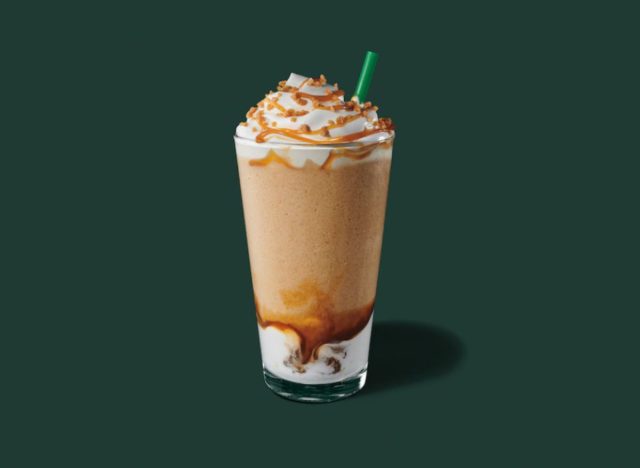 6254a4d1642c605c54bf1cab17d50f1e
Per Grande
: 470 calories, 22 g fat (14 g saturated fat), 280 mg sodium, 65 g carbs (3 g fiber, 60 g sugar), 5 g protein
With caramel syrup mixed with coffee and milk, then crowned with their famous combination of caramel drizzle and the crunch caramel topping, it's no surprise that the Starbucks Caramel Ribbon Crunch Frappuccino comes packed full of sugar.
If it's a hot day and you're truly craving a sweet, blended beverage to cool you off and satisfy your tenacious sweet tooth, try a Frappuccino with less sugar, like a tall sized Espresso Frappuccino, which still has 28 grams of sugar, but is much less than the Caramel Ribbon Crunch's 60 grams.
Dunkin' Donuts Caramel Swirl Frozen Coffee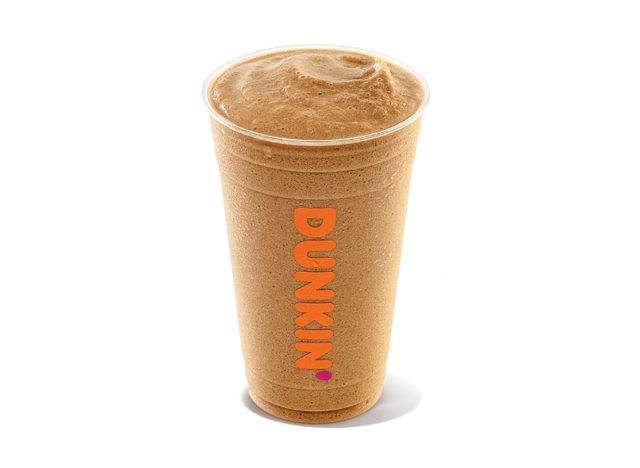 Per meal
: 680 calories, 9 g fat (6 g saturated fat), 180 mg sodium, 141 g carbs (0 g fiber, 134 g sugar), 8 g protein
According to Trista Best, MPH, RD, LD at Balance One Supplements, another choice from Dunkin' Donuts to limit or completely steer clear of is their Dunkin' Donuts Caramel Swirl Frozen Coffee.
"Consuming too much added sugar can increase the risk of developing health problems such as obesity, diabetes, and heart disease," says Best, "and the large amount of sugar in this beverage can also cause a rapid spike in blood sugar levels, leading to a subsequent crash and feelings of fatigue."
Dairy Queen Mocha MooLatté
Per medium
: 620 calories, 23 g fat (14 g saturated fat, 1 g trans fat), 240 mg sodium, 94 g carbs (2 g fiber, 82 g sugar), 11 g protein
It's safe to say that if you're headed to a Dairy Queen, you've most likely accepted that you're not going to be receiving the healthiest of meals. There's no shame in this, because we all deserve to treat ourselves to our favorite sweet treats. But if you're just looking for a daily coffee drink to grab on your way to work, the Dairy Queen Mocha MooLatté is not your best choice.
Not only is 82 grams of sugar far beyond what is recommended in a day, but the gram of trans fat is not ideal, either. According to the World Health Organization, it's important to limit yourself to no more than 2.2 grams of trans fat per day, but ideally keep your levels at zero whenever possible.
Dunkin' Donuts Signature Caramel Latte
Per medium
: 410 calories, 14 g fat (8 g saturated fat), 190 mg sodium, 61 g carbs (0 g fiber, 57 g sugar), 11 g protein
Many of Dunkin' Donuts' coffee drinks have more sugar and calories than their actual donuts, with their Signature Caramel Latte being no exception. In fact, there is more saturated fat in this coffee drink than in most of the fast-food joint's donuts, and you could eat four Dunkin' Chocolate Creme Donuts for the same amount of sugar.
Sources referenced in this article