7 Best Seafood Items to Buy at Costco, According to Chefs
From scallops and shrimp to salmon and tuna, the warehouse club is awash in top-quality seafood.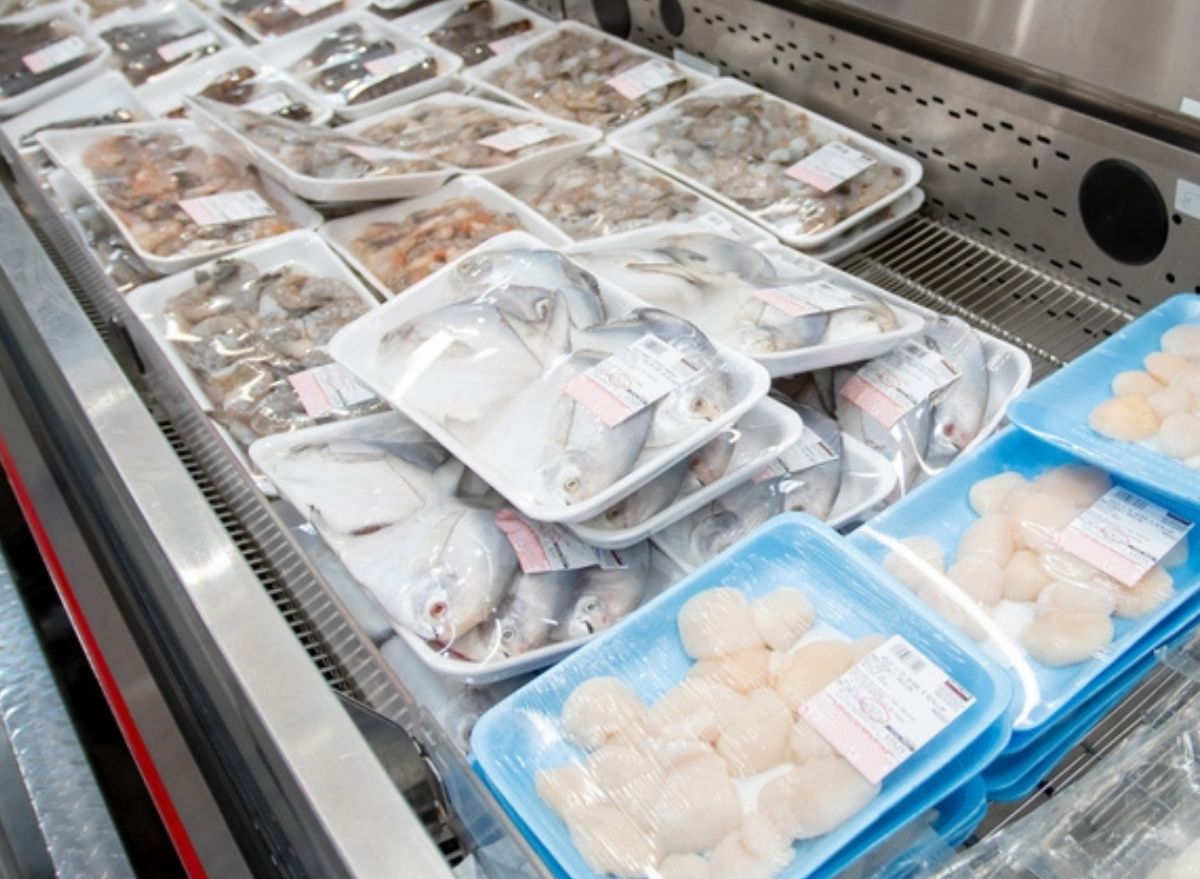 The product recommendations in this post are recommendations by the writer and/or expert(s) interviewed and do not contain affiliate links. Meaning: If you use these links to buy something, we will not earn a commission.
From quick and easy fish sticks to gourmet crab legs or scallops, Costco's seafood department is stocked with all the maritime essentials you could possibly need. But, with such a healthy amount of options to choose from, it can be difficult to navigate the waters and reel in the perfect fish choice for you and your family.
Experts in the field would tell you to look for details such as clear and glassy eyes, red gills, a firm texture, and both the harvest date and an aquaculture certification. They also say that where and when you shop plays a key factor, and if ever you're in doubt, you should simply consult with the seafood clerk at the counter.
If you're still floundering, even with this advice at the ready, you can also choose to follow the recommendations of top chefs who have plenty of first-hand knowledge on selecting top-quality fish. Find out which Costco seafood picks always earn a spot in their carts.
Kirkland Signature Farmed Atlantic Salmon
Chef George Zappas is a big fan of Costco's Kirkland Signature Farmed Atlantic Salmon. It's one of several selections that he singles out because of its freshness, flavor, sustainability, and balance between quality and value–something every Costco member can appreciate. "Costco's own brand delivers high-quality, tender salmon," says Zappas, currently the acting head at chef at CookinGenie, an on-demand personal chef service, based in Ohio. "It's not only rich in flavor but also in essential Omega-3 fatty acids, making it a healthy option."
The salmon is also raised free of antibiotics, and comes boneless and skinless–a major plus for at home chefs. You can find it in frozen 3-pound bags at the warehouse. Costco also sells it online for $39.99.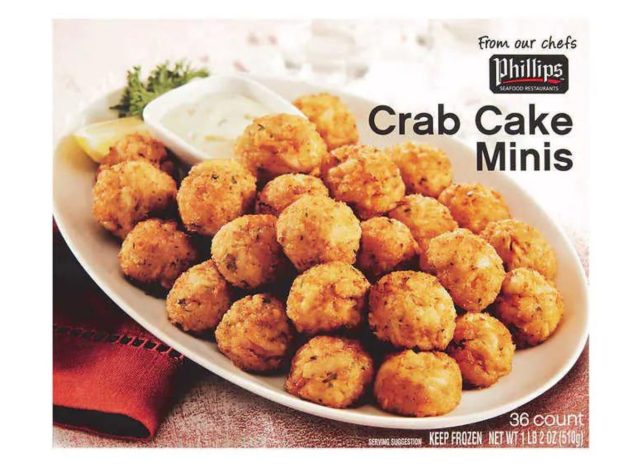 Among his other top picks, Zappas lumps in the Phillips Crab Cake Minis, starting at $18.89 online. The brand makes Maryland-style crab cakes and the mini versions are the perfect bite-sized appetizers, snacks, or even a delectable entrée for a quick gourmet meal, according to Zappas.
The  mini cakes–which come in bundles of 36 at Costco–are "packed with flavor and real lump crab meat–a rarity in many store-bought versions," he says. The Costco product does not come packed with a sauce option, but there's a recipe for a spicy aioli sauce on the back of the box.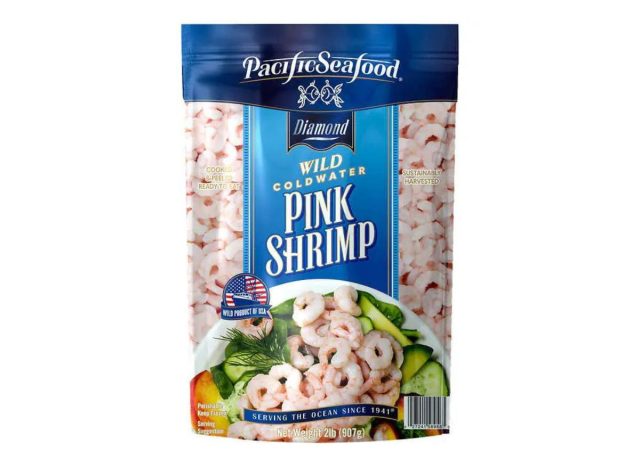 Zappas also speaks highly of the store's wild-caught shrimp selection. "Costco's shrimp is sustainably sourced and frozen quickly after catch to retain freshness," he explains. "It's versatile and can be used in a variety of dishes."
Costco has fresh shrimp options at the seafood counter, but also has an overwhelming (in a good way) amount of wild-caught choices in the frozen aisle from brands like Northwest Fish Company and Pacific Seafood. Plus, you can get them anyway you want: head-on or off, shell-on or peeled, cooked or raw–you name it!
Kirkland Signature Raw Sea Scallops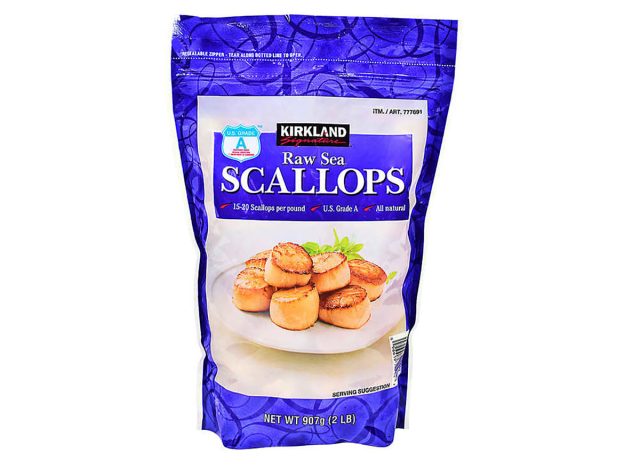 Zappas adds that Costco's Kirkland-brand Raw Sea Scallops are "large, sweet, and juicy"–everything you could possibly wish your scallops to be. Not to mention, they are also all-natural, U.S. Grade A, and come in a two-pound resealable bag, giving you and your family plenty to enjoy now or later. If you're looking for cooking inspiration, Zappas adds that "they are an excellent addition to a seafood pasta or simply pan-seared with butter and herbs."
Trident Foods Alaskan Salmon Burgers
Grill master Mike Futia, meanwhile, is partial to the Trident Foods products sold at Costco, particularly the company's Alaska Salmon Burgers. The patties are made from whole salmon filets and contain 1360 milligrams of Omega-3s at just 170 calories each.6254a4d1642c605c54bf1cab17d50f1e
They're a great option for people who may not like or eat other kinds of meat, notes Futia, the recipe developer behind the blog Grill Frenzy. "Everyone has their own choice of meat when it comes to burgers," he says. "Plus, everyone should be catered to." Futia adds that the salmon burgers are extremely versatile and pair well with a wide range of different toppings.
Trident Seafoods Wild Alaskan Beer Battered Cod
Futia's second shout-out from the Trident Seafoods family is the brand's Wild Alaskan Beer Battered Cod. "Fish and chips are a customer favorite but not everyone has the means or time to make crispy battered fish from scratch," he says. "However, Costco offers a delicious option which is beer-battered cod. All you need to do is fry it and serve it with fries to have restaurant-style fried fish." Sounds like it might be time for a neighborhood summer fish fry. And, with Costco's 10-pound box of the cod, priced at $79.99 online, you'll have more than enough to go around.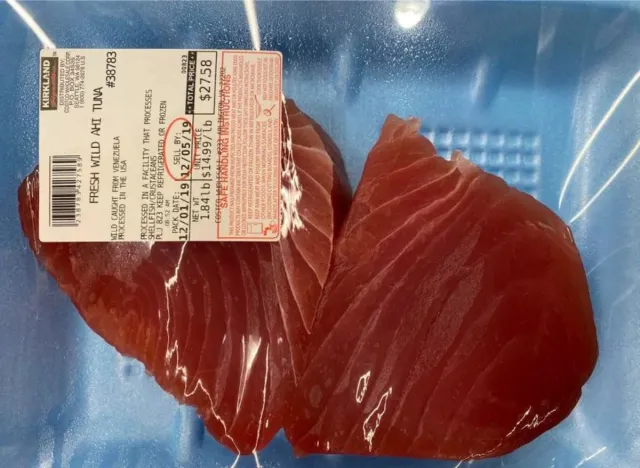 "Tuna steaks are a staple when you're on a diet but also need to eat something that tastes good," says Futia, who calls the steak-cut tuna available at Costco a "superb pick."
Costco's Ahi Tuna Steaks, sold in bulk for $219.99 online, are wild-caught, boneless, and come individually sealed for easy access and preparation. Or, if you want to spice it up a bit, reach for the frozen Sesame Crusted Ahi Tuna Steaks, which are also boneless and skinless, and Marine Stewardship Council-certified. Both tuna options come in hefty 10- to 12-pound cases, including 26 to 36 steaks each.