How Daily Harvest Will Change Your Meal Prep Forever
I tried a variety of bites, smoothies, oat and harvest bowls, and soups. Here's what I thought of each!
I have been meaning to try out Daily Harvest, a healthy frozen meal delivery service for quite some time, so I was eager to finally do a little sampling of 12 of its products. For perspective, the company boasts 65 different products ranging from smoothies to soups. The biggest appeal to this service is that you don't have to shop for or prep any of the healthy ingredients—they're all in the cup ready for you to blend or heat up. Yes, it's that easy!
How does Daily Harvest work, exactly?
It really is simple. All you have to do is go onto their website and customize your own meal plan. First, you choose how many cups you want to be delivered at a time—you can have anywhere between six and 26 cups per shipment. Next, you choose how often you want them to be delivered. For example, do you want cups delivered weekly or once a month? You can customize it so it fits your schedule. All cups start at $6.99 each, but the prices vary depending on your location. Next, you pick out which recipes you want in your plan.
Each cup, no matter if it's a latte or a harvest bowl, goes into the freezer. The instructions on how to make each recipe are listed on the side of the cup, all of which are low maintenance and super easy to follow. Daily Harvest's meal plans are flexible, too. You can switch up your box of meals each week if you want to, or you can even skip a week if you feel like it. After you've prepared the recipe, you can return the cooked or blended food to the cup and eat it on the go.
I asked the team at Daily Harvest if I could sample some of their products and they sent me a few from each category: Bites, Harvest Bowls, Oat Bowls, Smoothies, and Soups. I then did the hard job of eating all of them—someone had to, right? After trying all of these products, I can genuinely say that I will be ordering a few cups per month from Daily Harvest. Below, I review the various Daily Harvest meals I sporadically noshed on over the course of about a week and a half. I also provide tips on what to pair with each cup, as well as modifications you can make to a few to amplify the taste or make them even more satiating.
Now, here's my honest Daily Harvest review.
Bites
Cacao Nib + Vanilla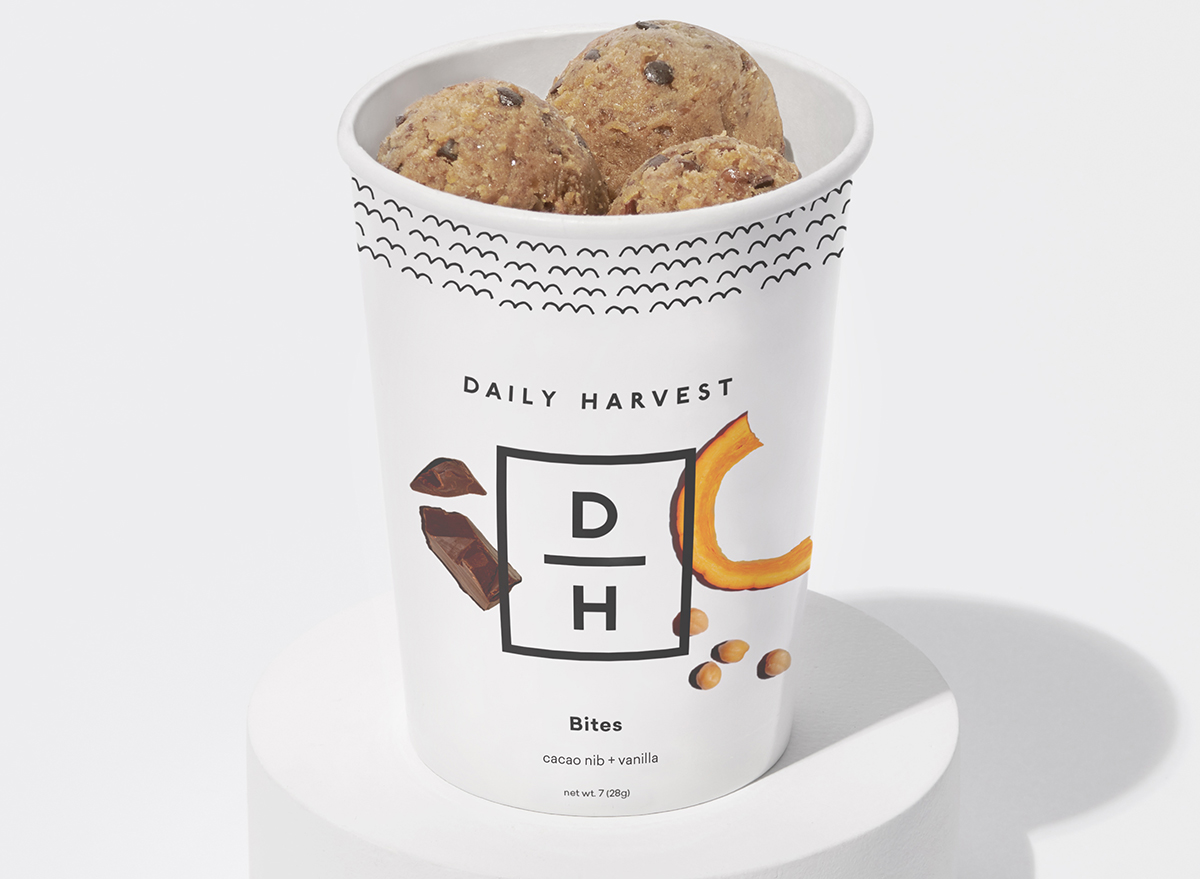 Per individual "bite"
: 80 calories, 4.5 g fat (3.5 g saturated fat, 0 g trans fat), 60 mg sodium, 13 g carbs (2 g fiber, 7 g sugar), 2 g protein
I absolutely loved these little bites and they are great pre-workout fuel—I would eat one straight out of the freezer a few minutes before my morning run. One bite is surprisingly very filling thanks to wholesome, satiating ingredients such as chickpeas, dates, and coconut oil. It gave me enough energy to get through my workout without any hunger pangs, or on the flip side, an upset stomach either. Not to mention, they taste like mini cookie dough balls. I highly recommend either kick-starting your day with these or ending your day with one (or two!) for a healthier dessert.
Hazelnut + Chocolate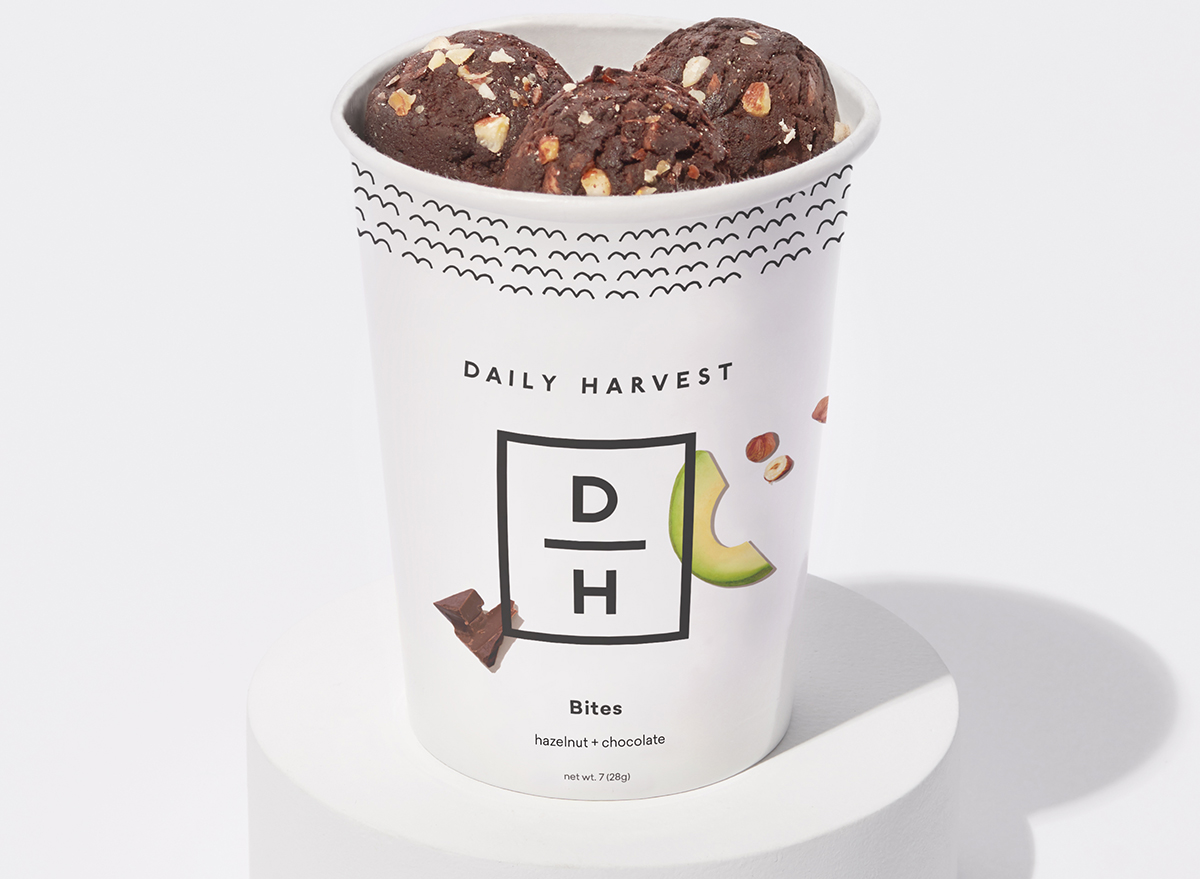 Per individual "bite"
: 90 calories, 6 g fat (0.5 g saturated fat, 0 g trans fat), 0 mg sodium, 10 g carbs (3 g fiber, 6 g sugar), 2 g protein
If you love Nutella, you'll probably be a fan of these tasty energy bites made with avocado, dates, hazelnuts, cacao, and reishi—just to name a few of the ingredients. The bite's smooth texture is more than likely attributable to the avocado; it's perfectly creamy and even though it's frozen, it somehow melts in your mouth. Imagine eating from a hunk of cold, hazelnut-infused chocolate fudge. I think these are perfect for an after-dinner dessert!
Harvest Bowl
Sweet Potato + Wild Rice Hash
Per package
: 210 calories, 6 g fat (0.5 g saturated fat, 0 g trans fat), 300 mg sodium, 35 g carbs (5 g fiber, 5 g sugar), 7 g protein
What sounds more appetizing than a sweet potato hash first thing in the morning? I really enjoyed this mix of rice, sweet potato, tomato, great northern beans, and avocado. I suggest pairing this hash with either a fried egg or a hard-boiled egg for additional protein that makes this morning meal that much more filling.
Butternut Squash + Kale Shakshuka
Per package
: 130 calories, 6 g fat (0.5 g saturated fat, 0 g trans fat), 480 mg sodium, 18 g carbs (5 g fiber, 5 g sugar), 5 g protein
I absolutely loved this combination of butternut squash and kale with the blend of Za'atar spices including cumin, coriander, and thyme. I toasted two pieces of Little Northern Bakehouse Seeds & Grains bread to go alongside with this meal since it is so low-calorie. Overall I would recommend, just make sure to pair it with something else to boost satiety. Even a yogurt on the side would have been a solid choice, especially if you like both savory and sweet foods for breakfast!
Cauliflower Rice + Pesto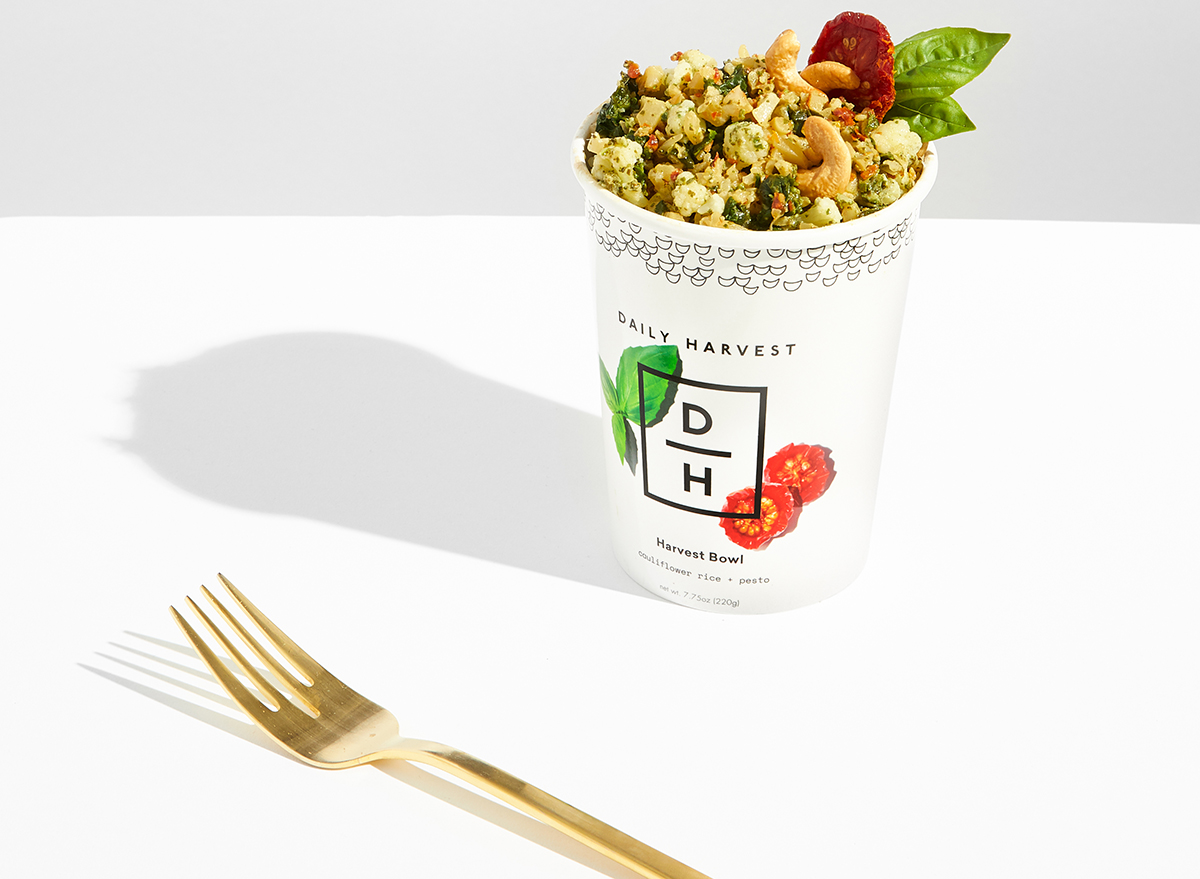 Per package
: 220 calories, 15 g fat (2.5 g saturated fat, 0 g trans fat), 500 mg sodium, 13 g carbs (5 g fiber, 4 g sugar), 7 g protein
I personally love pesto, so I was very into this breakfast bowl. I also love how the base was made of cauliflower rice—it was nice and light, while also very filling. For a primarily vegetable-based meal, it contains an impressive 7 grams of protein, largely because of the cashews. The nutritional yeast is a great substitution for parmesan cheese and adds a hint of umami flavor to the dish, as well.
Oat Bowls
Apple + Cinnamon
Per 1/2 package
: 250 calories, 12 g fat (1.5 g saturated fat, 0 g trans fat), 100 mg sodium, 32 g carbs (6 g fiber, 6 g sugar), 7 g protein
Apples and cinnamon are without any doubt a dynamite duo, however, in this oat bowl, I felt like there was something missing. I used oat milk to make a ready-to-eat bowl of oatmeal, but I felt like the cinnamon flavor was a bit overpowering. I mixed in one tablespoon of HomePlate crunchy peanut butter to add some nuttiness to the oatmeal as well as cut back on the cinnamon flavor a touch. It was perfect! I also felt full for several hours afterward, which was a bonus.
Mulberry + Dragon Fruit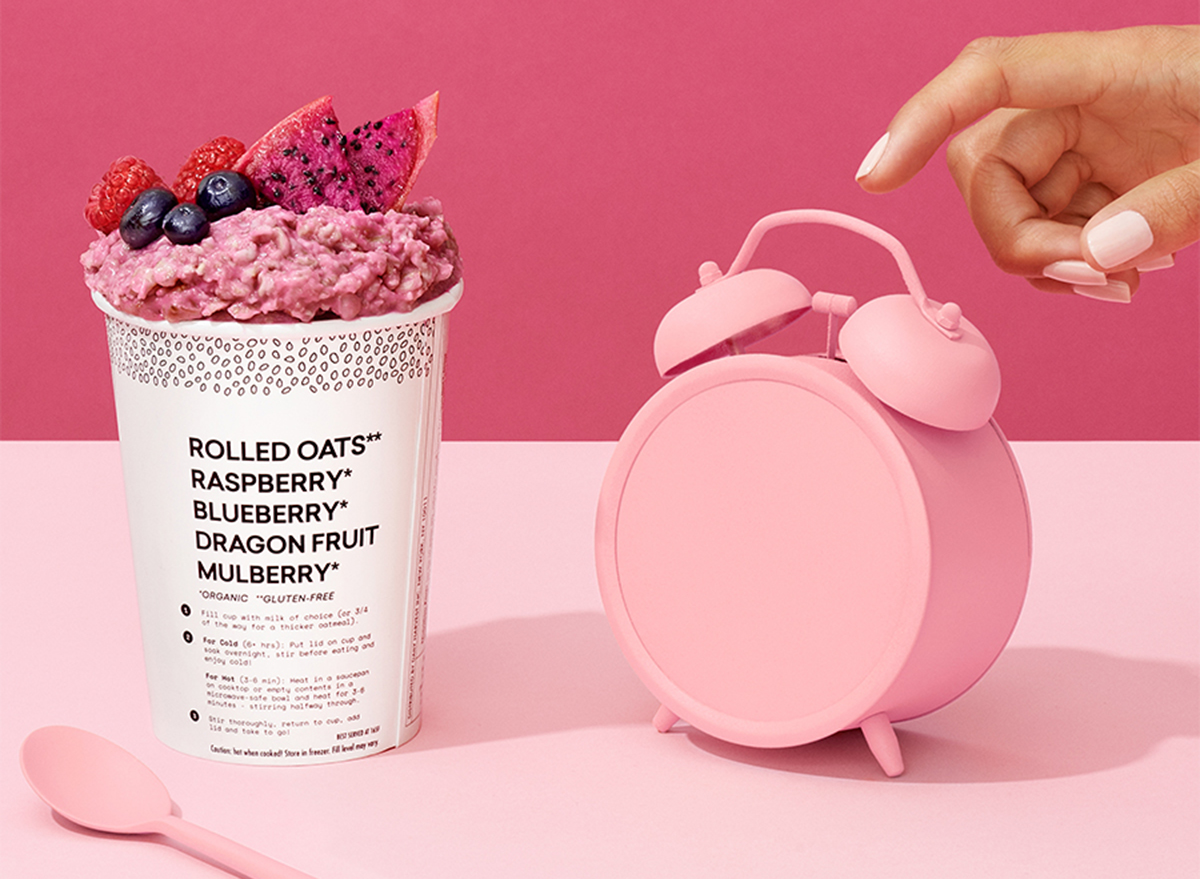 Per 1/2 package
: 160 calories, 3 g fat (0 g saturated fat, 0 g trans fat), 10 mg sodium, 31 g carbs (6 g fiber, 7 g sugar), 5 g protein
I am obsessed with this oat bowl! This is my favorite meal out of every product I tried from Daily Harvest. The combination of dragon fruit, mulberries, and blueberries is unrivaled. The texture, when cooked with oat milk, was absolutely perfect. I ate the entire container in one sitting! I couldn't get enough of it. I highly recommend this product.
Smoothies
Daily Harvest Mint + Cacao Smoothie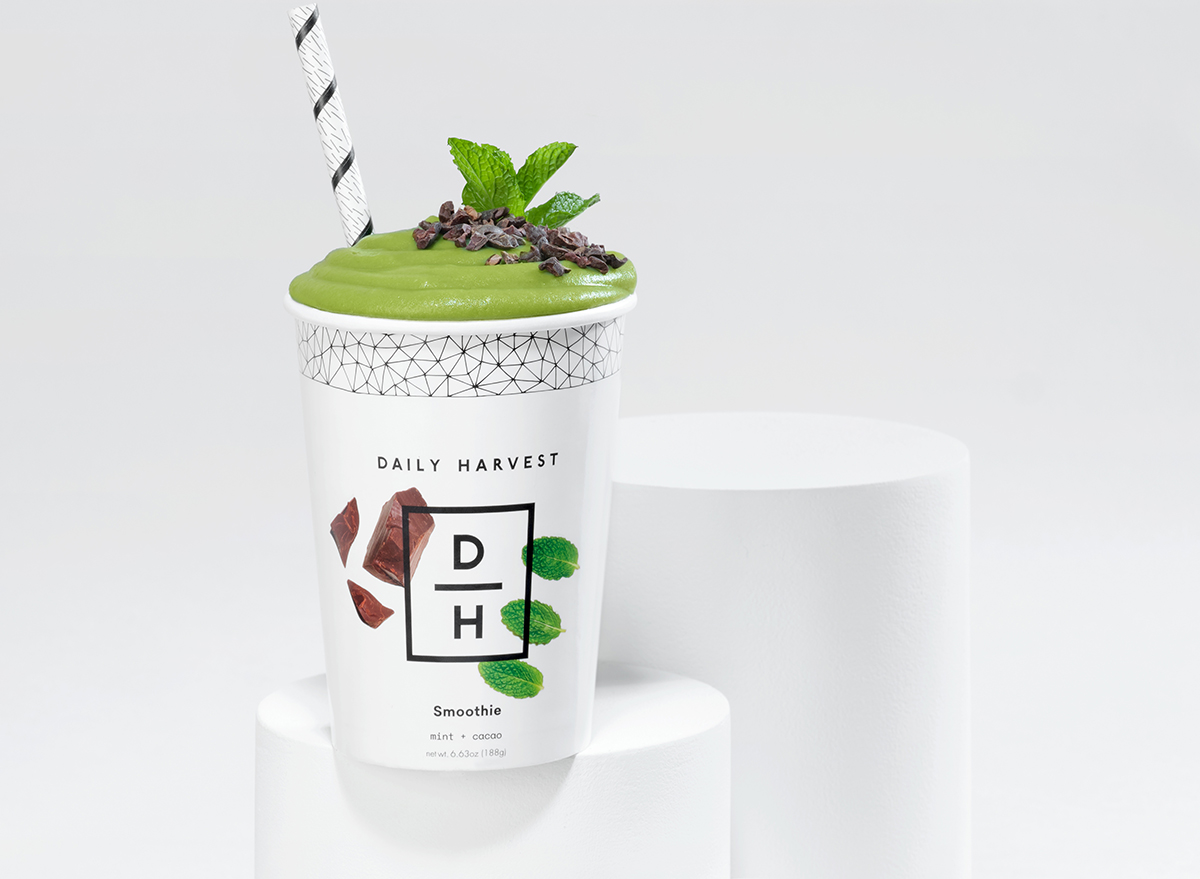 Per package
: 240 calories, 8 g fat (3.5 g saturated fat, 0 g trans fat), 35 mg sodium, 37 g carbs (8 g fiber, 19 g sugar), 6 g protein
What a refreshing mint smoothie! I really enjoyed this combination of spinach, cacao, banana, and peppermint. I made this smoothie with oat milk and added a scoop of Herbalife vanilla protein powder to thicken it even more, as well as add in an additional 15 grams of protein. As I mentioned above, I run in the mornings so I like to have proper recovery fuel!
Tart Cherry + Raspberry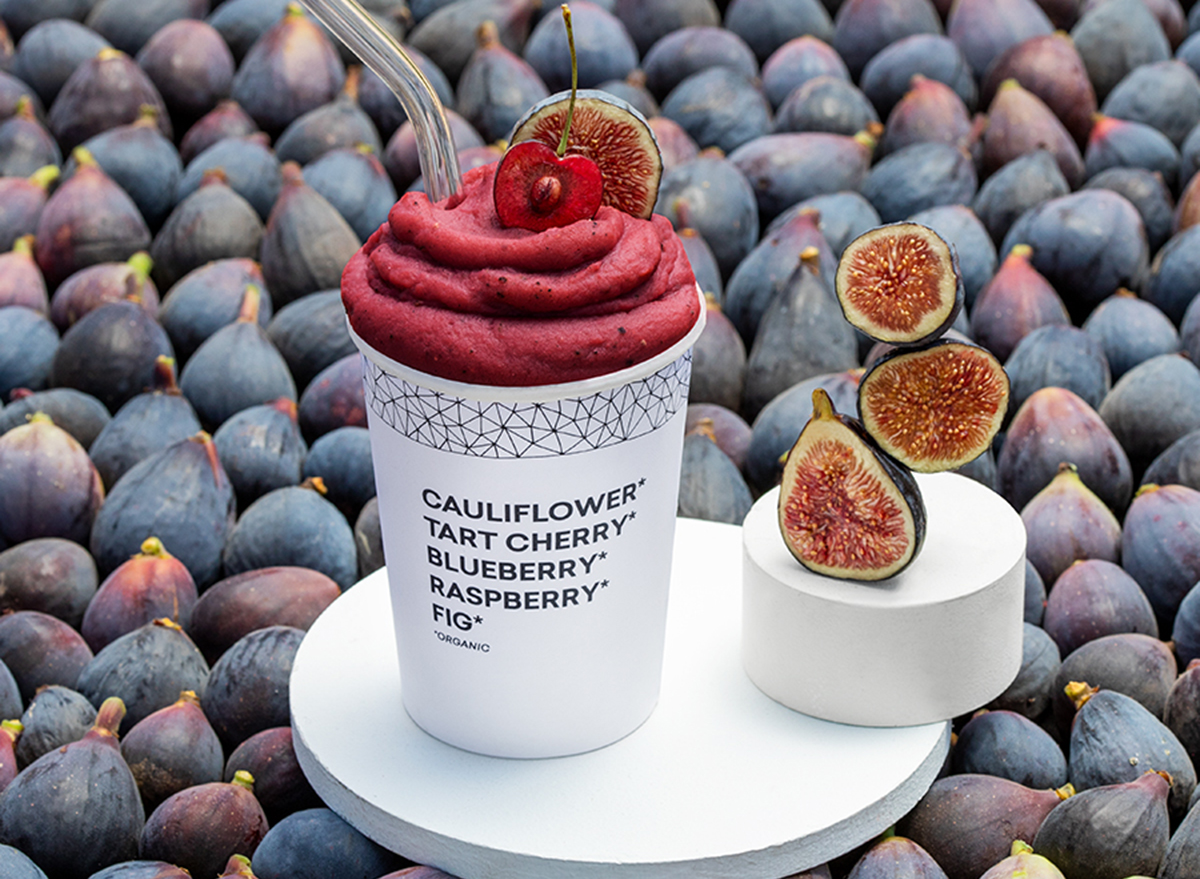 Per package
: 120 calories, 1 g fat (0 g saturated fat, 0 g trans fat), 20 mg sodium, 27 g carbs (6 g fiber, 19 g sugar), 2 g protein
I really like cherries and figs, so I was a big fan of this smoothie. The smoothie was tangy and tart, which really activated my tastebuds at 8 a.m. It also just looked vibrant and beautiful after I blended it with protein powder, oat milk, and a dash of cinnamon. I couldn't even taste the cauliflower in this product. A subtle way to add some veggies to your morning meal, indeed!6254a4d1642c605c54bf1cab17d50f1e
Cold Brew + Almond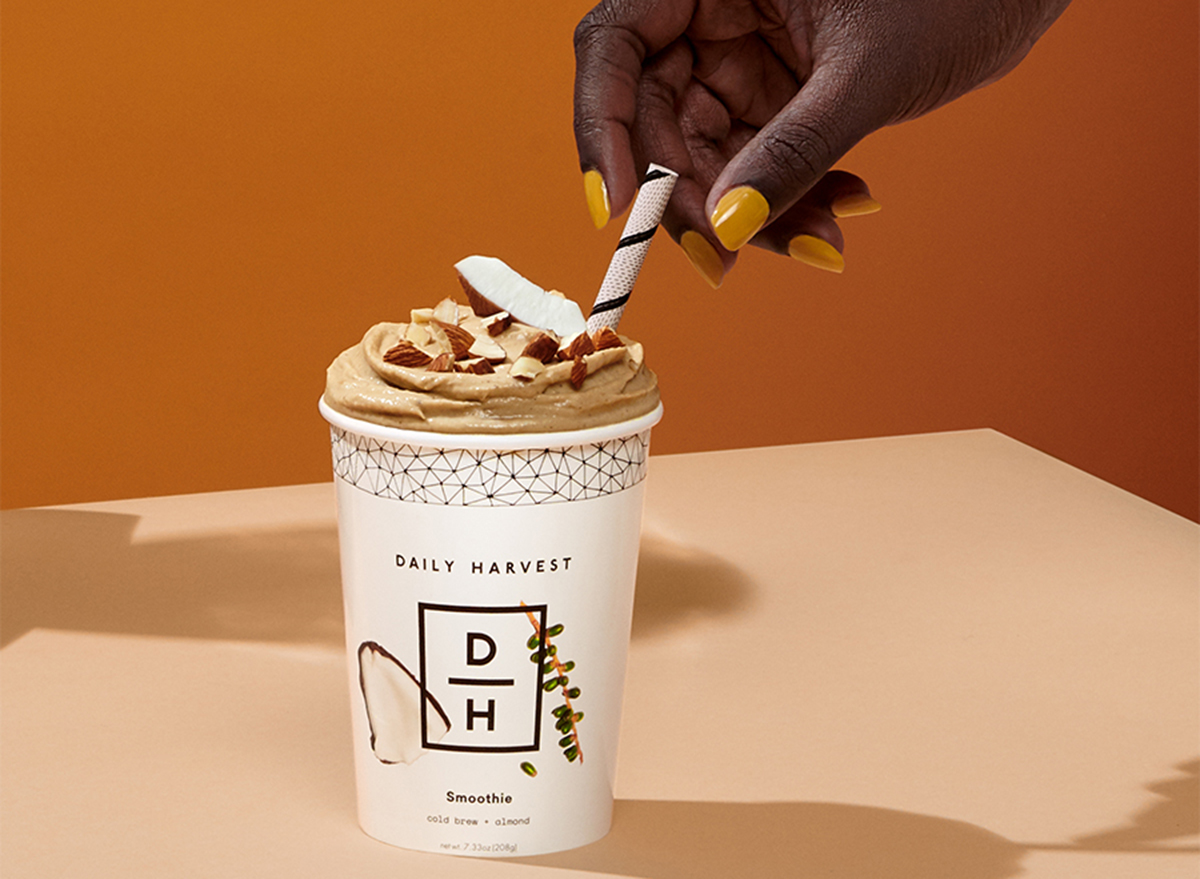 Per package
: 160 calories, 7 g fat (1.5 g saturated fat, 0 g trans fat), 20 mg sodium, 21 g carbs (4 g fiber, 10 g sugar), 4 g protein
Those who love cold brew are in for a real treat with this smoothie. I especially enjoyed this smoothie because it contains chunks of almond butter that seamlessly blend with the banana pieces, coffee, and oat milk. I added a scoop of protein powder to make the smoothie thicker and to boost the protein content, however, the texture would mimic a skinny Frappuccino with just milk alone.
Soups
Butternut Squash + Rosemary Purée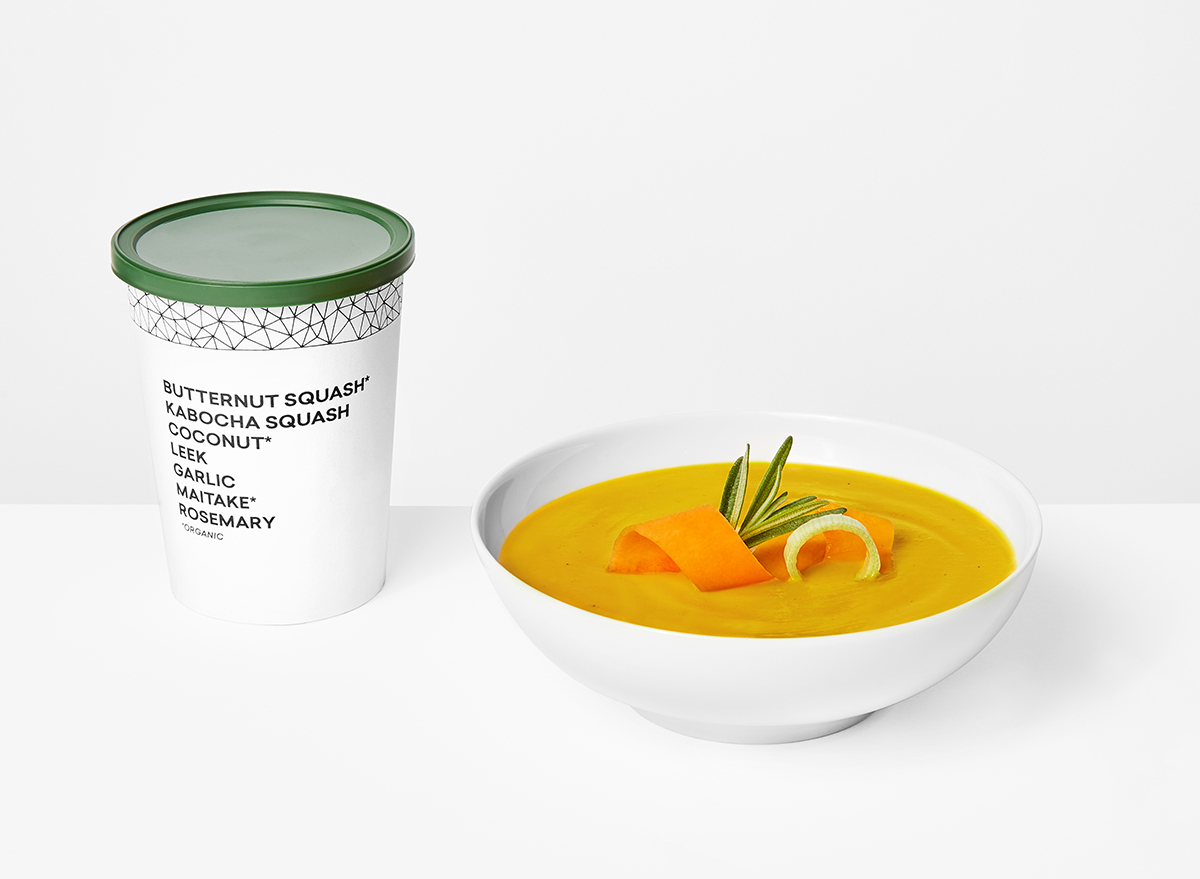 Per package
: 170 calories, 7 g fat (6 g saturated fat, 0 g trans fat), 530 mg sodium, 28 g carbs (4 g fiber, 6 g sugar), 3 g protein
This is a great soup to have for lunch in addition to a salad with either lean meat or beans and quinoa. On its own, it's not that filling, but that's to be expected as it doesn't even contain 200 calories. I do enjoy a creamy butter butternut squash soup, though, especially during the fall and winter seasons. I thought the texture was perfect and the flavor was superb; the rosemary was prominent yet not overwhelming. All you have to do is blend the ingredients in a blender and then heat the purée in a saucepan on the stovetop. I then transferred the soup into my S'well Onyx Eats thermos so it would be nice and warm for me to enjoy on my lunch break at work.
Cauliflower + Leek Stew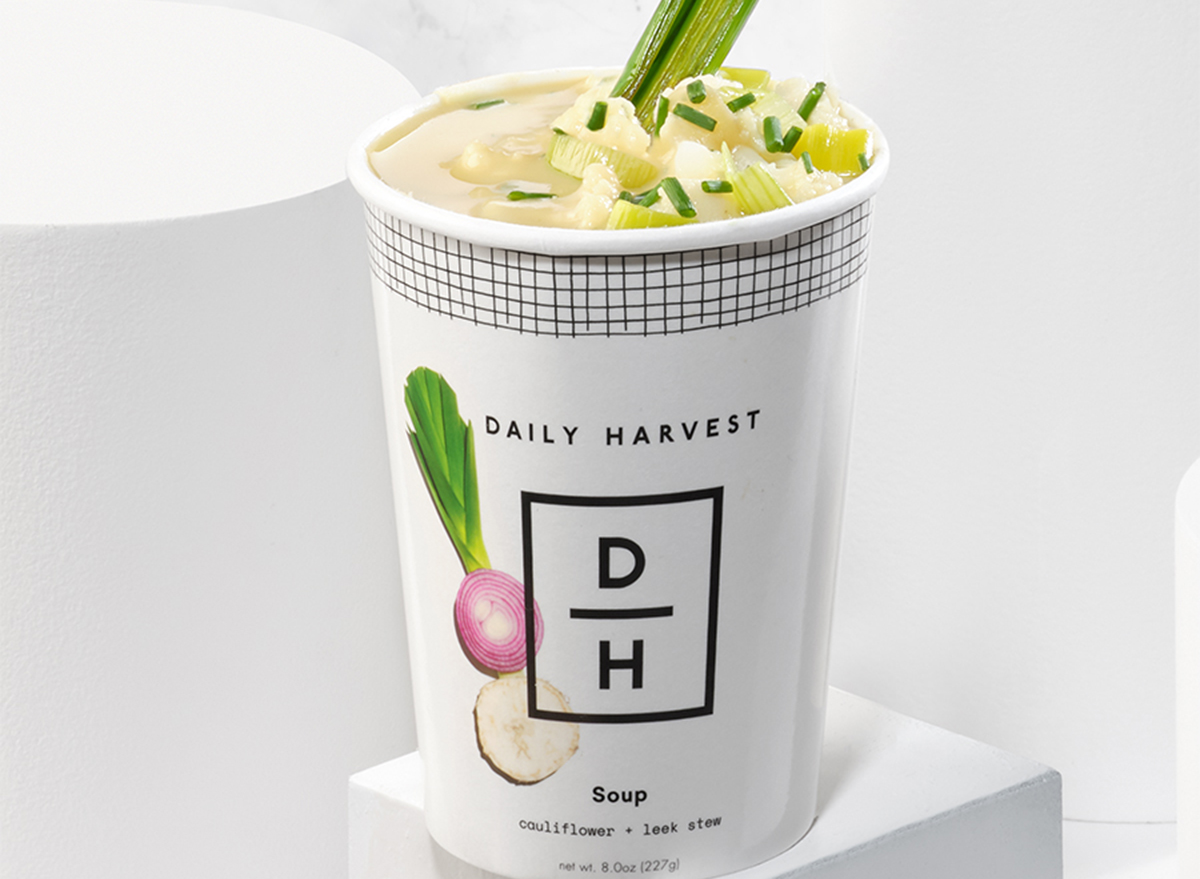 Per 1/2 package
: 35 calories, 0 g fat (0 g saturated fat, 0 g trans fat), 150 mg sodium, 6 g carbs (3 g fiber, 1 g sugar), 3 g protein
I really love this stew. The combination of leeks and celery root is both refreshing and warming at the same time. I made this stew on a cold evening after work and it was absolutely perfect. I suggest pairing it with a baked potato or maybe tossing some noodles into the mix.