The #1 Dessert To Never Order at a Restaurant, According to Chefs
Steer clear of sweet cliches.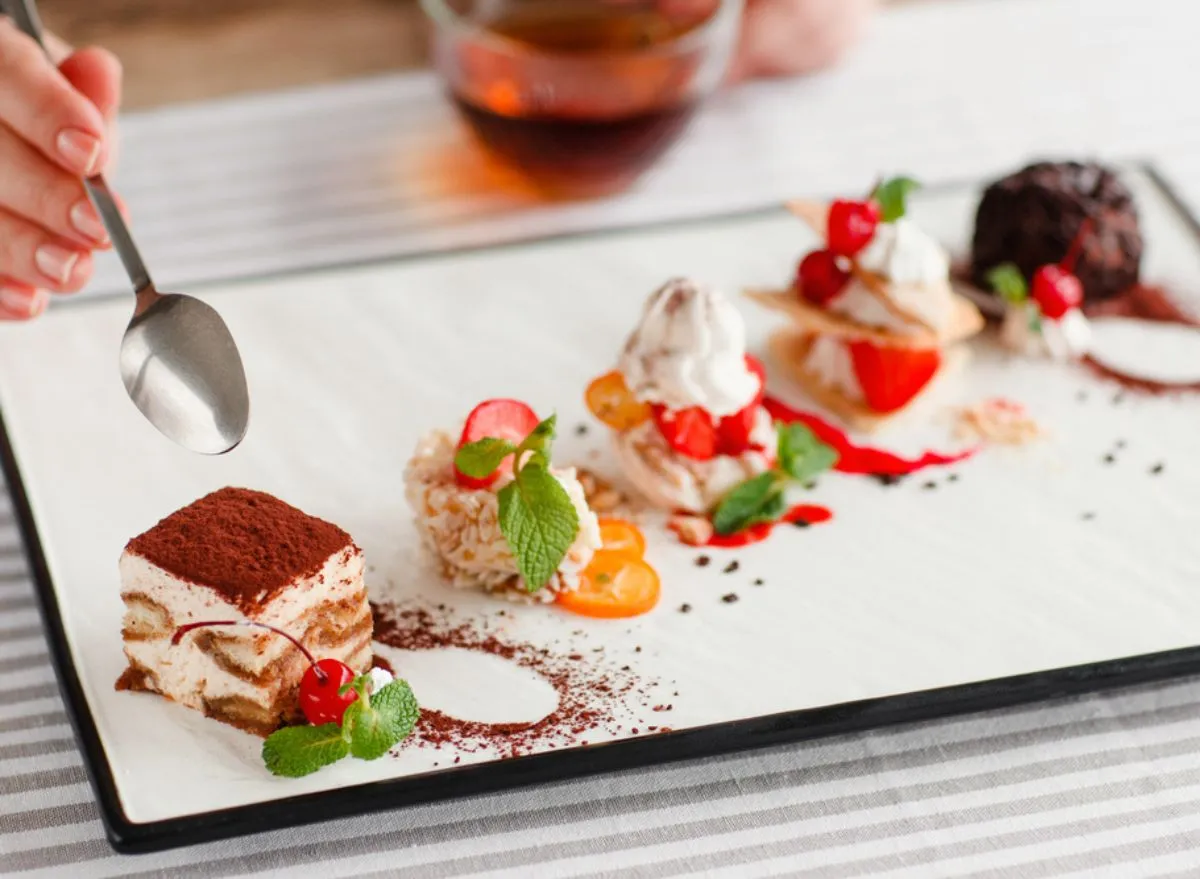 For most of us, dessert is a mandatory part of a meal, especially when dining out at a full-service restaurant that puts as much emphasis on sweets as it does savories.
But then there are those restaurants where dessert is an afterthought—or an utter gut bomb—and you're better off skipping the final act altogether.
Just as there are certain restaurant appetizers and main dishes that should be avoided at all costs, the same holds true for desserts, especially considering they're easily loaded with excess sugar, carbs, and calories. But even if some desserts aren't necessarily caloric grenades, they can still fall into the trappings of cliches that simply aren't worth the extra expense or stomach space.
And when it comes to worthwhile desserts, mundane just doesn't cut it. That's according to chefs whose discerning sweet tooths lead them to seek originality and seasonal simplicity—or simply something made in-house with passion and care, rather than brought in from a vendor just to fill the menu. From lava cake to s'mores, chocolate is an ingredient that can often fall into this lackluster stereotype.
The most straightforward chocolate iteration, a basic chocolate cake, is something that Eric Duchene, the executive chef of the JW Marriott Scottsdale Camelback Inn Resort & Spa, suggests skipping. "These are super inconsistent and you never know if you will get a dry or moist cake," he says.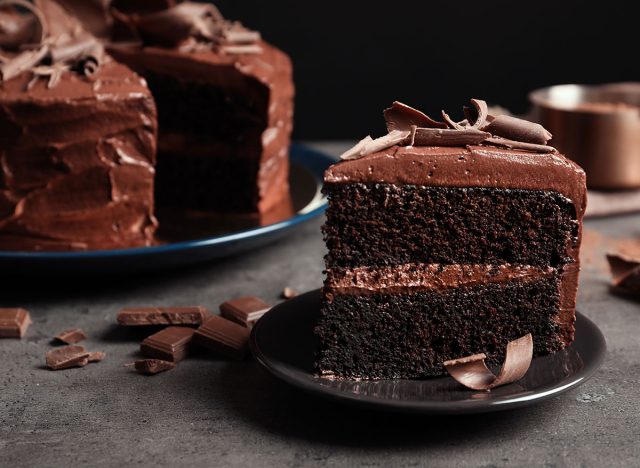 Even worse, s'mores are a surefire sign that something is lacking. "Never order anything that is a play on s'mores," cautions Saura Kline, pastry chef at Local Jones inside Denver's Halcyon hotel. "This usually means the restaurant has no pastry chef, and the dish can often be made by the savory team." Instead, she suggests ordering a scoop of ice cream or sorbet.
Chocolate lava cake is another avoidable cliche, according to Brian Hatfield, the executive chef of Surveyor in Washington, D.C., who says "the risk of springing for dessert and getting something overly mundane outweighs the possible reward." Even well-executed versions can tend to hide behind excess sugar to cover possible mistakes in technique, he adds. "Fresh, seasonal composed desserts or technically well-baked cakes are almost always a better choice."
Another dessert that Hatfield avoids, for similar reasons to lava cake, is crème brulée—a sentiment echoed by Becky Geisel, a catering and events chef in New York and New Jersey. Despite being one of her favorite desserts, she never orders crème brulée at a restaurant as past orders have too often led her to overcooked versions of it.6254a4d1642c605c54bf1cab17d50f1e
"You are dealing with delicate egg yolks plus cream that needs to be cooked in a water bath, and timing has to be perfect or it turns out terrible," she says.
As a chef who grew up on fresh eggs in farm country, Geisel is sensitive to overcooked eggs, and has much higher standards for her crème brulée. "Wholesome and natural ingredients should be revered and enjoyed in true form," she believes, crediting proper timing and temperature as important fundamentals for preparing the perfect egg—just like making the perfect crème brulée.
Key lime pie is another classic confection that can all too easily fall short in the wow department. "I always want something sweet—and, at times, tart—after the entrée, but if the restaurant offers key lime pie, I won't order it," says Yulissa Acosta, chef de cuisine of Hearth '61 in Paradise Valley, Ariz. "I find that it can be both too tart and too sweet at the same time. The crust can become too soft due to condensation from the fridge, especially if the pies are made in large batches."
Instead, chefs recommend trying something new, seasonal, original, and most importantly, made in-house.
"The number one dessert that I never order at a restaurant is the one that isn't made in-house," says Brian Motyka, executive chef of Longman & Eagle in Chicago. "There's nothing more disappointing than going to a restaurant and having an amazing meal, just to find out that the dessert you ordered is either brought in from a food company or sourced from elsewhere."
Oscar Cabezas, executive chef of Bay Area-based Telerific Barcelona, agrees. "Desserts are best when they're made in-house at the restaurant. Even if it's simple like ice cream or churros, focusing on the quality of the ingredients makes for the best treat."
Ultimately, an important dessert tip is to keep expectations in check—trying something new, while also not comparing them to childhood nostalgia. "Anything you refer to as 'my mother makes the best,'" is something you should avoid on a dessert menu, says Grant Morgan of 97 West Kitchen & Bar in Fort Worth, Texas. "You will be disappointed by it more times than not, as it will not live up to your momma."
Because ultimately, whether it's a chocolate cake, a key lime pie, or a crème brulée, no dessert can hold a candle to mom's baking.
Matt Kirouac
Matt Kirouac is a travel and food writer and culinary school graduate, with a passion for national parks, all things Disney, and road trip restaurants.
Read more about Matt