The Most Popular Dessert in Every State, New Data Reveals
Here's the sweet treat people in your state are craving the most.
Whether it's for a celebration or just your average Thursday, dessert is arguably the best part of any meal. Your preference in the sweet treat you crave has a lot to do with personal taste as well as what kind of foods you were exposed to growing up. A familiar dessert recipe has a way of transporting you back to childhood or conjuring up wonderful memories of simpler times. It's no wonder, then, that dessert cravings differ across various parts of the country.
Using a list of 40 popular desserts, life insurance company Coventry Direct analyzed Google Trends to see which dessert has been searched for the most in each state over the past year. The results show a variety of delicious favorites that Americans love to make with no one treat dominating—in fact, the most popular dessert is the winner in only five states. And unsurprisingly, many nostalgic treats lead across the U.S.
Keep reading to find out the most popular dessert in every state, and we even have some choice recipes to try when a craving strikes. For even more recipes, check out these 22 Meals to Fight Belly Fat in 2022.
Pound cake is a simple cake that actually used to be made with a pound of each ingredient. There are many variations now that tend to result in a lighter cake. For instance, Bigger Bolder Baking uses sour cream which helps to keep the denser-style cake very moist.
Get the recipe from Bigger Bolder Baking.
Is it really a surprise that this cake and ice cream confection topped with flambeed meringue is popular in its home state? If you've never had Baked Alaska and love ice cream cake, this is an old-fashioned dessert that should be on your list.
ARIZONA – Rice Krispies treats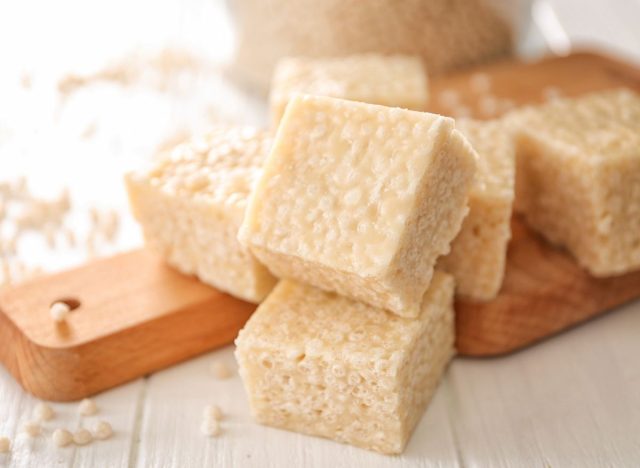 Two states love this simple, childhood-favorite. The best part about this handheld dessert is that there is no baking necessary, making these a perfect warm-weather sweet snack.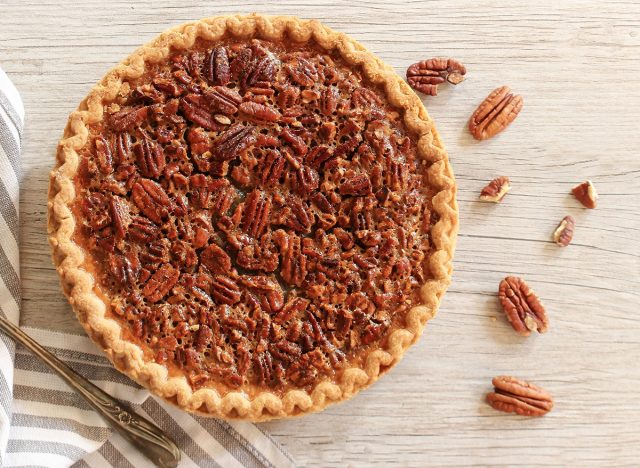 Three states adore this nutty pie. Keep this sweet treat to the holidays because just one slice can set you back over 500 calories.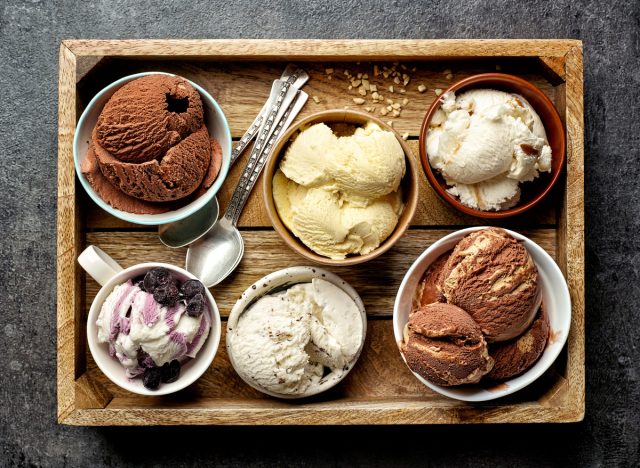 Ice cream is the most popular dessert across the state, but not as popular as you might think. Only five states claim this as the favorite.
COLORADO – Rice Krispies treats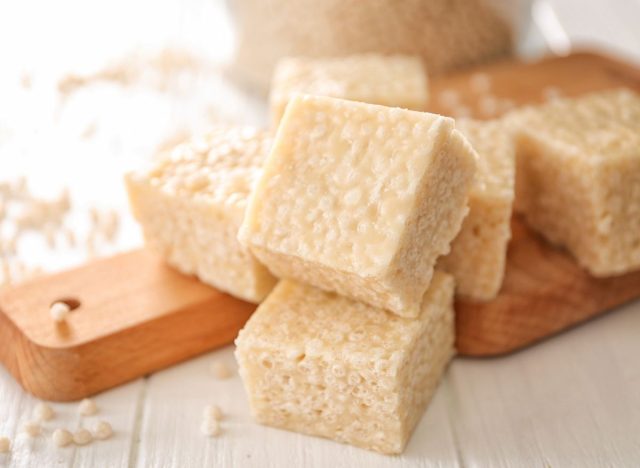 The people in Colorado love this marshmallow-based treat. Go out of the box and play around with the cereal you use to make these squares your own.
CONNECTICUT – Icebox cake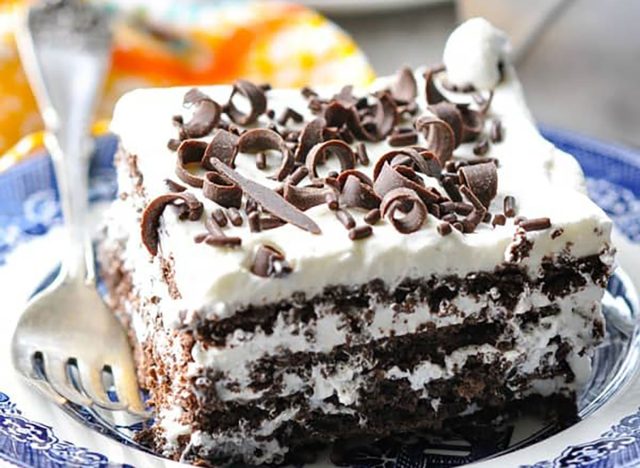 The easy-to-make old-fashioned icebox cake was likely the precursor to the ice cream cake. This cake is usually cookies and whipped cream layered in a pie pan and then chilled. This simple version from The Seasoned Mom has just five ingredients.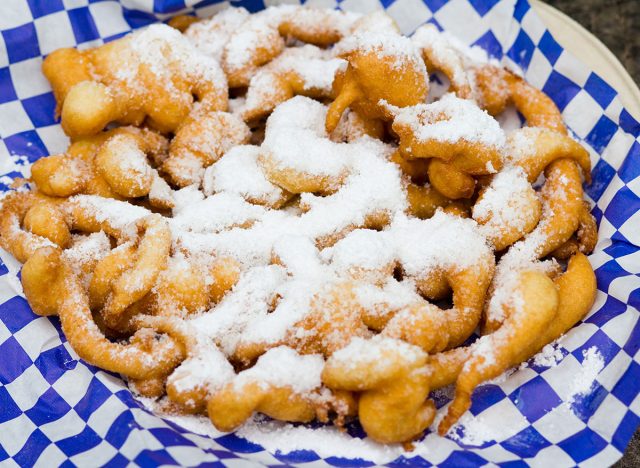 Three states love this state-fair favorite. Usually, a fluffy pancake-like dough is piped in swirls in hot oil and then showered in powdered sugar. As this is a deep-fried treat, funnel cake should be enjoyed only once per season.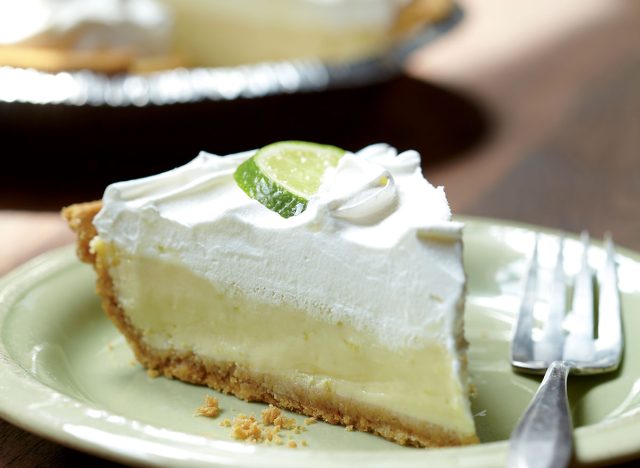 Fittingly, the tangy key lime pie, made from tiny key limes indigenous to Florida, is the favorite in the state. Try our recipe for The Easiest Key Lime Pie—it's also a bit lighter than a traditional version!
Georgia is known for its peaches, so naturally, the Georgians turn this summer fruit into a luscious cobbler. What's the difference between a cobbler, a crumble and a crisp? Find out: The Real Difference Between Cobblers, Crumbles, Crisps, and More!
Get our recipe for Healthy Blueberry Peach Cobbler.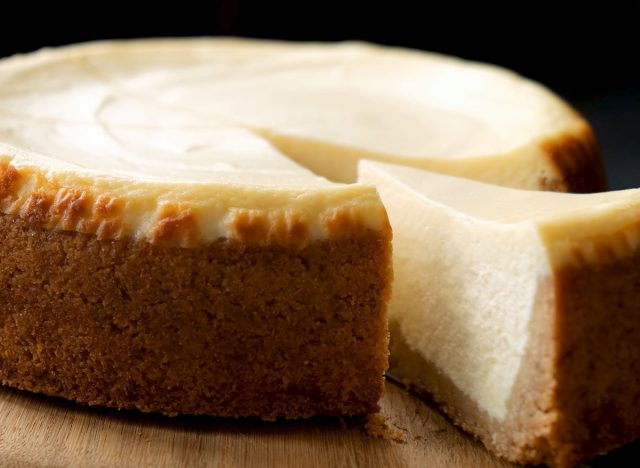 In a state filled with tropical fruits, the people love a simple, creamy cheesecake. Cheesecake doesn't have to be terrible for you, check out our 23 Healthy and Delicious Cheesecake Recipes.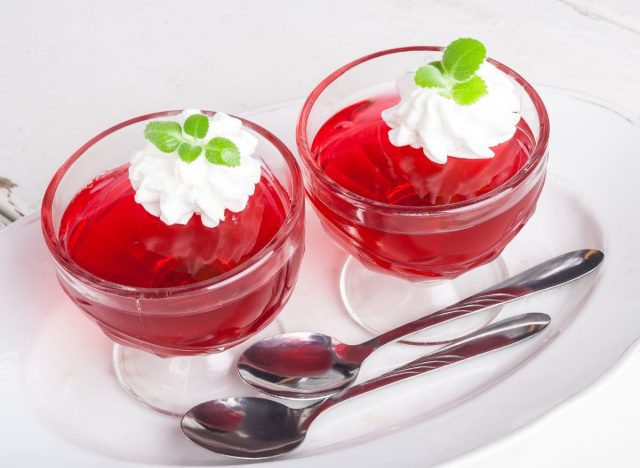 There's always room for it, especially in Idaho and three other states. Jello brings out the kid in everyone, and, despite the sugar content, it is a lighter dessert worth enjoying from time to time.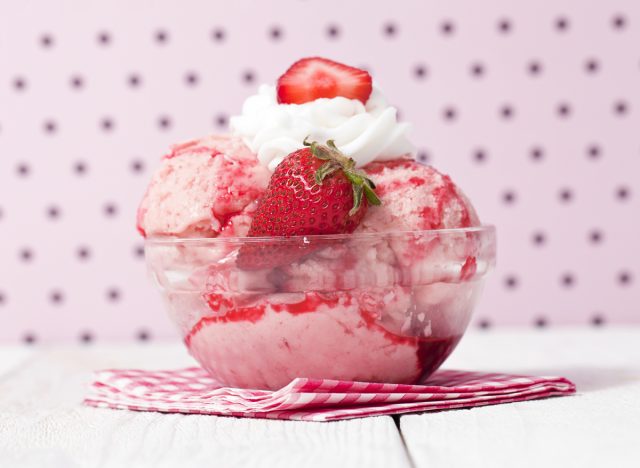 Illinois also loves a scoop or two of ice cream for dessert.
INDIANA – Texas sheet cake
A Texas sheet cake, popular in Indiana in two other states, is a simple chocolate cake made in a flat pan. After baking it's spread with fudgy frosting and topped with pecans. Interestingly, this is not the most popular dessert in Texas.
Try this recipe from Bigger Bolder Baking.
This easy cake is popular in Iowa too.
KANSAS – Texas sheet cake
People hungry for dessert in Kansas are also seeking out this foolproof cake.
Most people have eaten fudge, most likely buying it from a chocolate shop along a shore while on vacation, but what is it? According to The Spruce Eats, fudge is a candy made from crystallized sugar, butter, and milk, along with some flavorings. Fudge is one of those things that's very easy to make but hard to make right, as so much depends on temperature.
Pralines are also a candy that, like fudge, is difficult to get right. Unlike fudge, traditional pralines contain pecans in a creamy, caramel-like candy shaped into a little patty.
MAINE – Chocolate chip cookies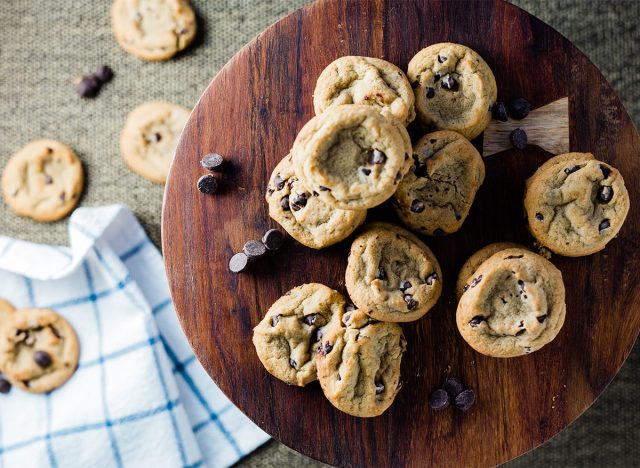 The surprise about chocolate chip cookies on this list is that only two states consider the famous cookie their favorite dessert. Perhaps a cookie is really a snack and not a dessert? After all, a slice of cake is a commitment, a cookie is just a small treat.
In Mayland, funnel cake is the most popular dessert.
MASSACHUSETTS – Ice cream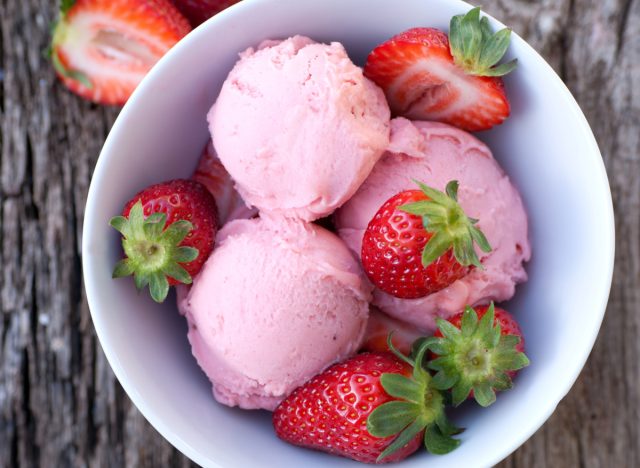 In Massachusetts, folks favor a scoop or two of ice cream after a meal.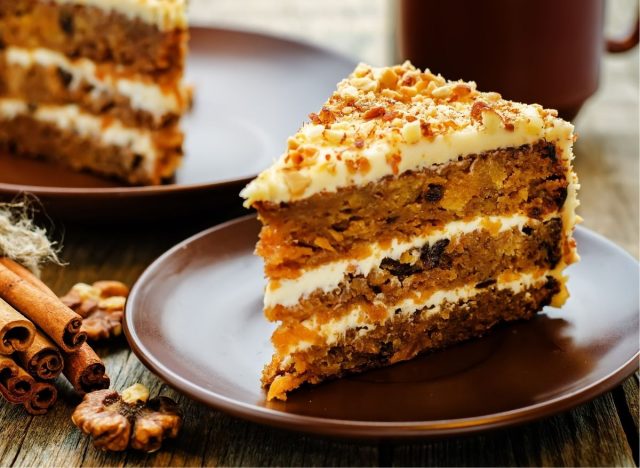 Carrot cake is the dessert of choice in Michigan and in three other states. There's so much you can do with the nutty, sweet flavors of carrot cake. Check out Flour on My Face's 25 Carrot Cake Recipes for treats like Gooey Cinnamon Carrot Poke Cake and Carrot Cake Marshmallows.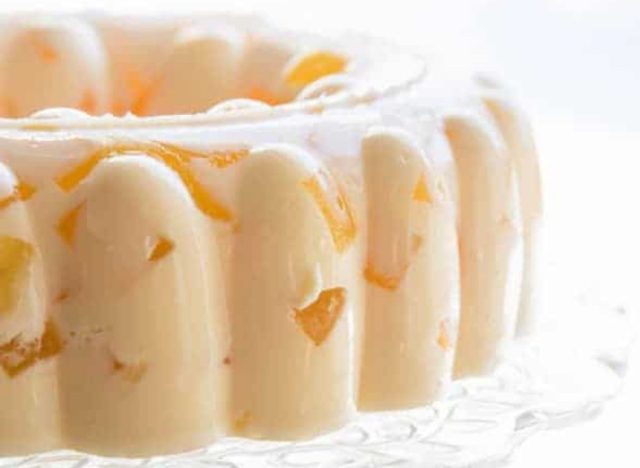 Jello reigns supreme in Minnesota. If you want to go outside of the box and recreate an iconic old-fashioned dessert, try this Creamsicle Orange Jello Salad recipe from Cupcakes & Kale Chips.
MISSISSIPPI – Banana pudding
If you've been to New York, the thought of banana pudding automatically brings up the treat from Magnolia Bakery. It just happens they shared the recipe and it's super easy to make.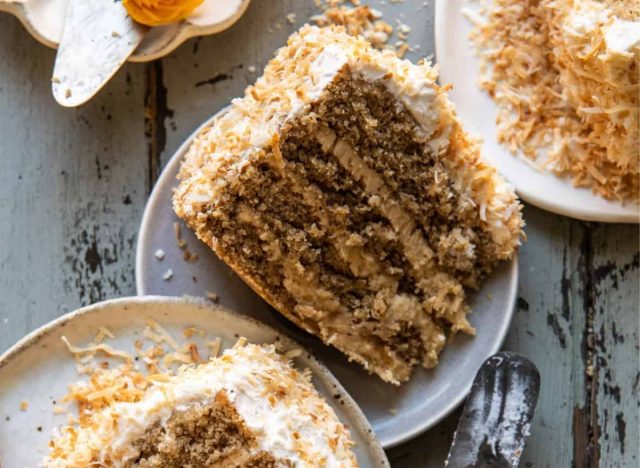 In Missouri and one other state, light and fluffy coconut cake is the favorite. One to try is Half Baked Harvest's Coconut Pecan Caramel Butter Cake. It is stunning.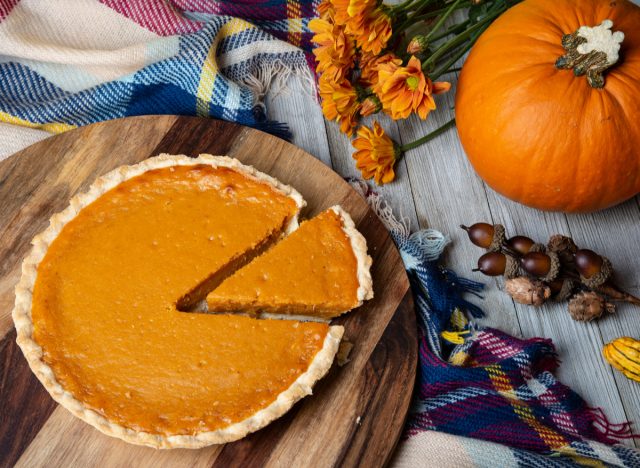 Old-fashioned pumpkin pie is the favorite dessert in Montana.6254a4d1642c605c54bf1cab17d50f1e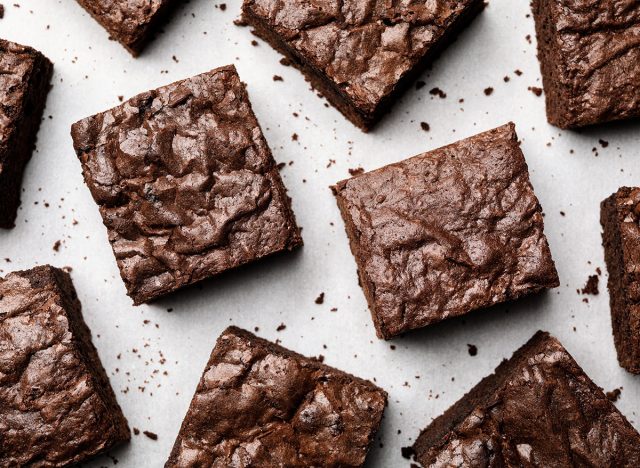 Surprisingly, there are only three states where brownies are the favorite dessert. Here are our 20 best tips for making healthier brownies.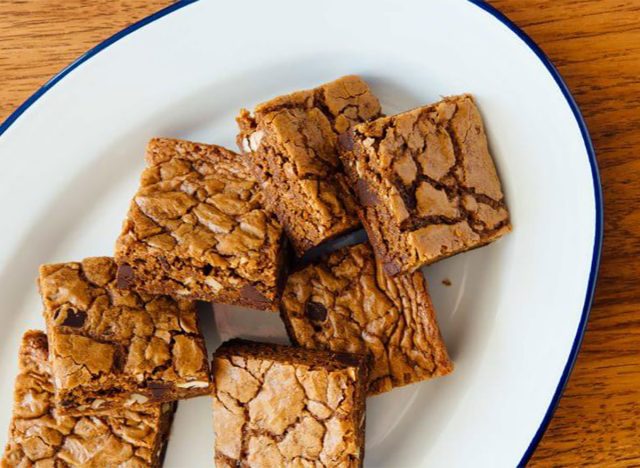 Nevada on the other hand favors brownies cousin the blondie. These delicious treats are made without chocolate or cocoa powder. Try these Coffee Chocolate Chip Blondies from Cookie & Kate.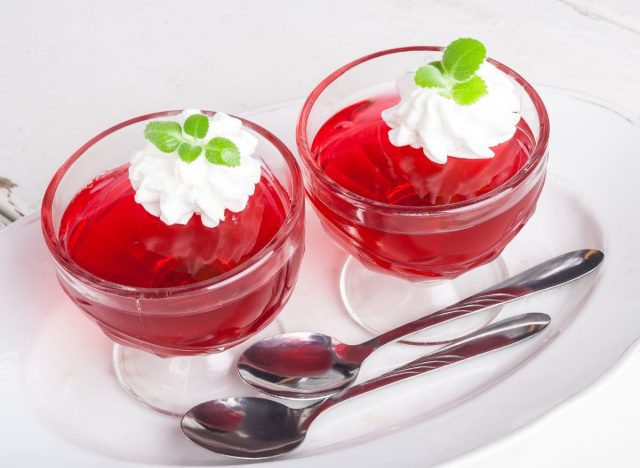 The folks in New Hampshire also love Jello.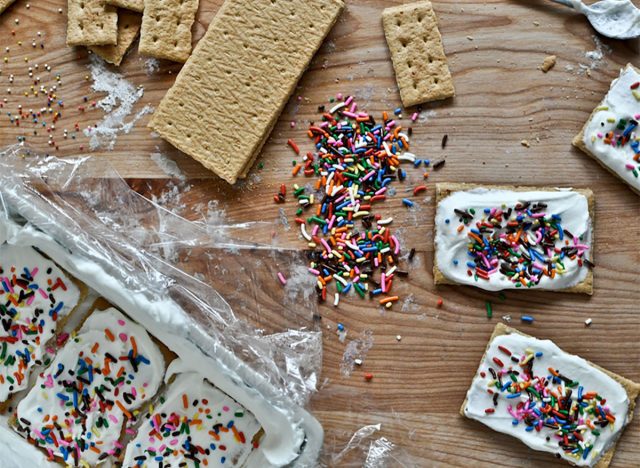 Old-fashioned icebox cake has a following in the Garden State. Try this Funfetti Icebox cake from How Sweet Eats.
NEW MEXICO – Bananas Foster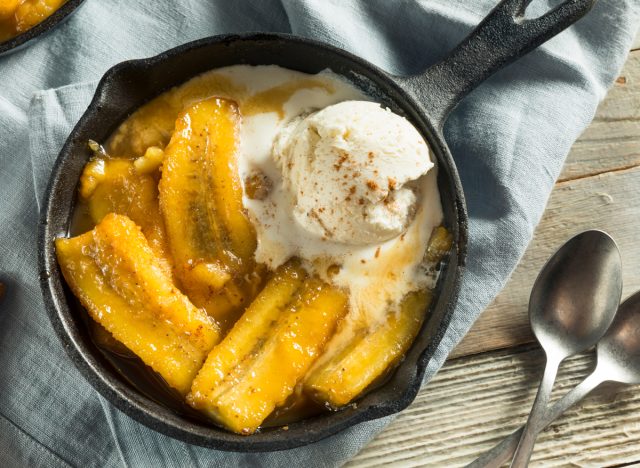 Flambeed bananas Foster is a popular dessert in New Mexico but the place to try this dessert in its birthplace: Brennan's in New Orleans.
NEW YORK – Black & white cookies
More cake-like than cookie-like, these iconic cookies are a staple in New York City.
NORTH CAROLINA – Coconut cake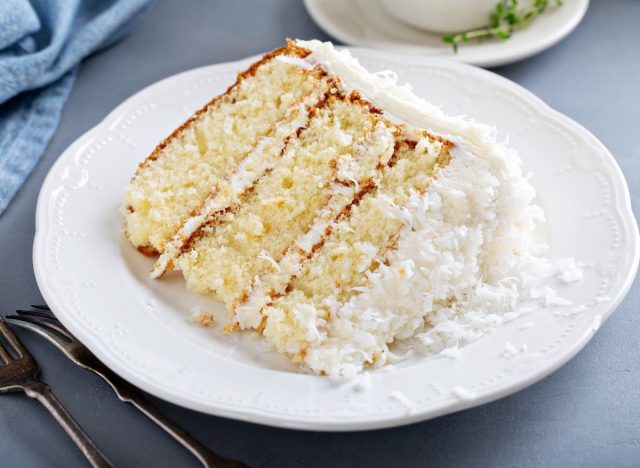 They are also fans of coconut cake in North Carolina.
NORTH DAKOTA – Banana split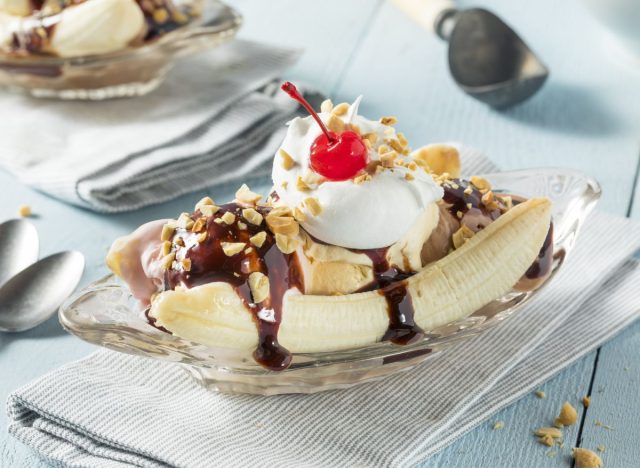 The iconic ice cream sundae made with a split banana, vanilla, chocolate and strawberry ice creams, and variety of other toppings is popular in North Dakota.
Flat and fudgy Texas sheet cake is a popular treat in Ohio.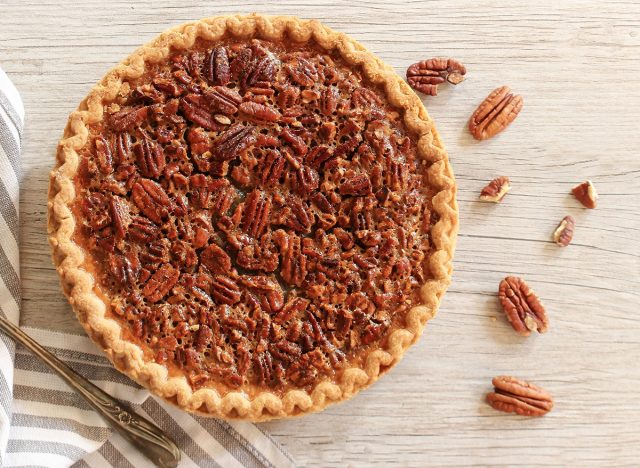 In Oklahoma, pecan pie is on everyone's minds.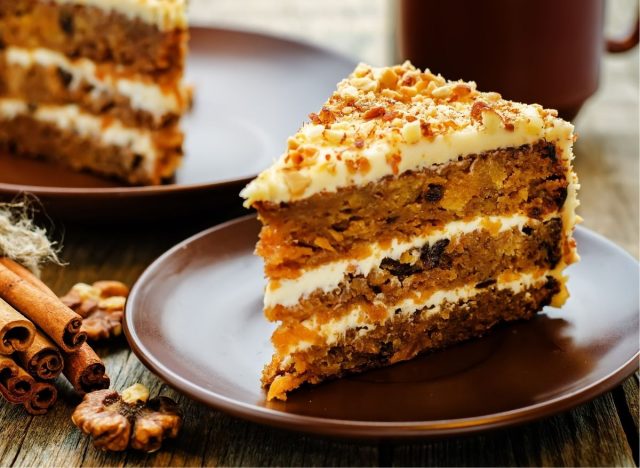 In Oregon, carrot cake is the dessert of choice.
People in Pennsylvania opt for a scoop or two of ice cream when dessert time comes. But if you're looking for these premium discontinued flavors, sadly, you'll never see them on the shelves again.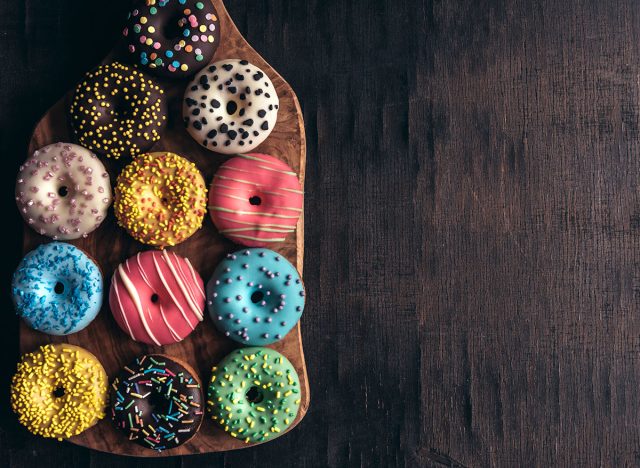 It is shocking that Rhode Island is the only state that turns to donuts for something sweet. Perhaps, these are considered more of a breakfast treat, than a dessert.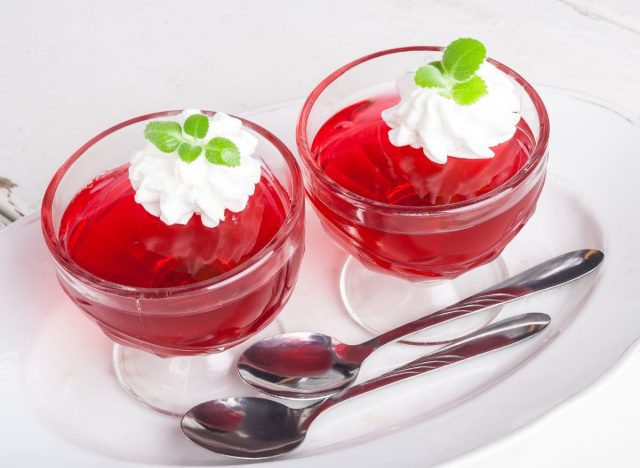 The jiggly sweet stuff is a favorite in South Carolina.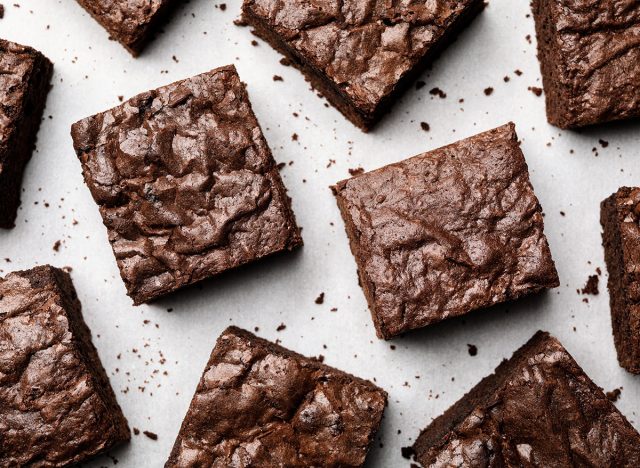 In South Dakota, home bakers are whipping up pans of brownies more than any other dessert.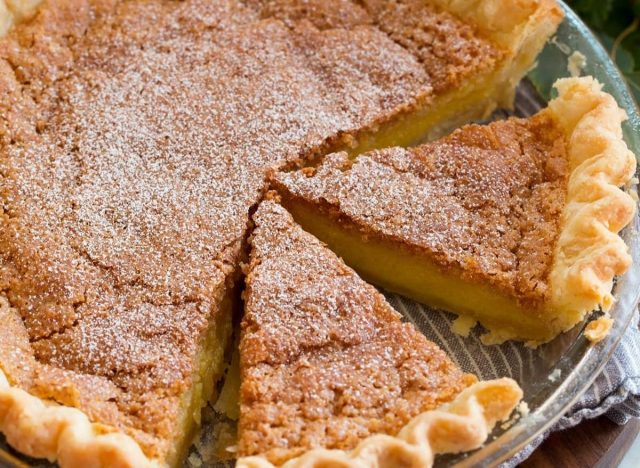 This easy pie doesn't contain any fruit. It is a mixture of eggs, milk or buttermilk, flour, sugar, and something sour to cut the sweetness like lemon. Cooking Classy's secret to the perfect chess pie is to use browned butter which will also help cut the sweetness of the pie.
As we stated above, the popular Texas sheet cake is not the most popular dessert in Texas. That spot is reserved for pecan pie.
UTAH – Chocolate chip cookies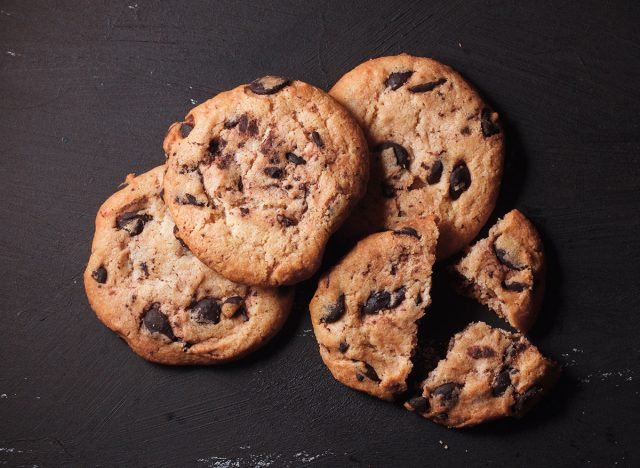 Utah is the other state that favors a simple chocolate chip cookie for dessert.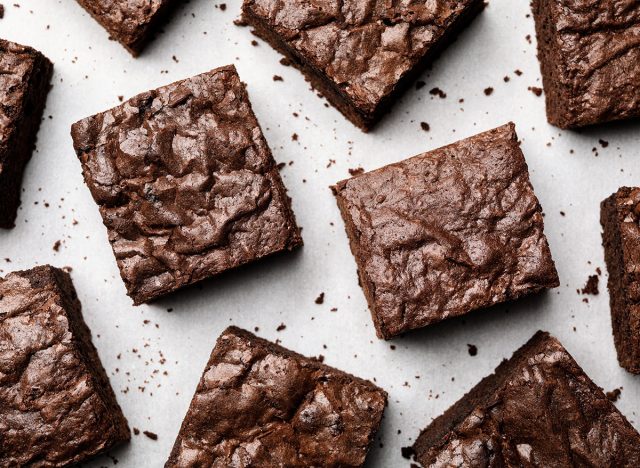 The last state to have brownies as its favorite dessert is Vermont.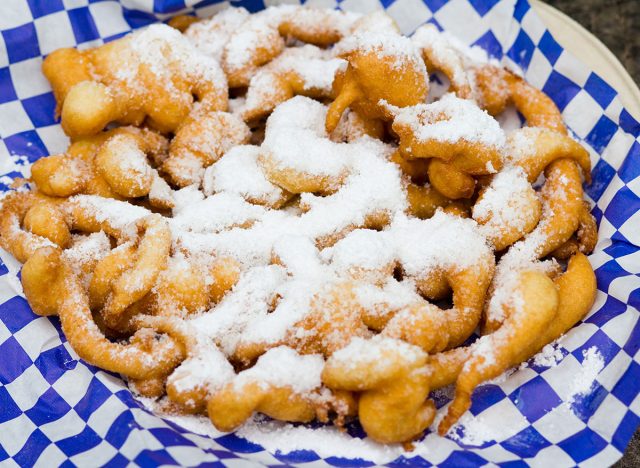 Sweet and doughy funnel cake is the favorite dessert in Virginia.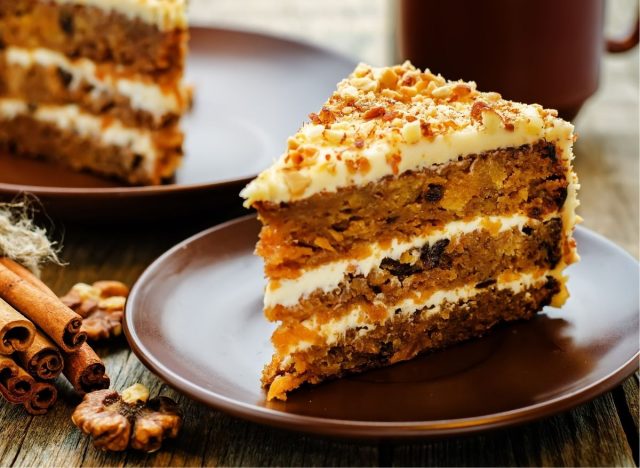 The folk in Washington love a slide of carrot cake for dessert.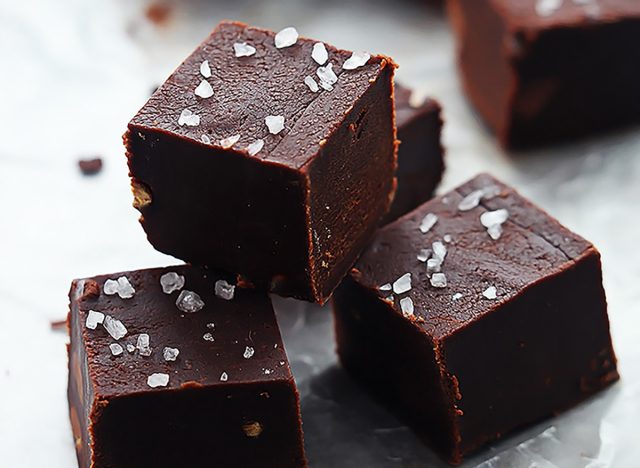 In West Virginia, fudge rules as the state's favorite sweet. Try this recipe from La Creme de la Crumb for Slow Cooker Fudge.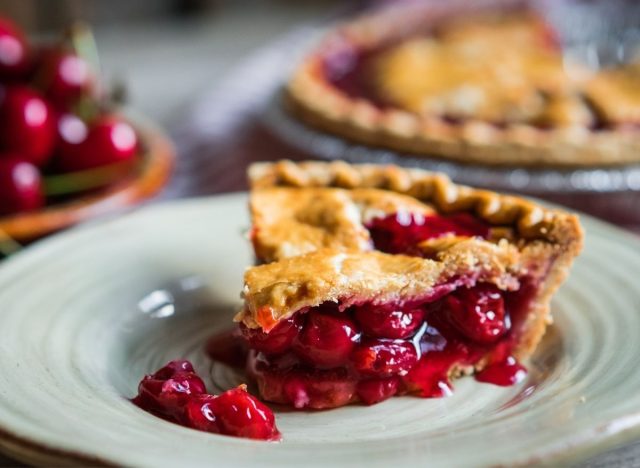 The people of Wisconsin are the only ones to favor a slice of cherry pie over all other desserts.
WYOMING – German chocolate cake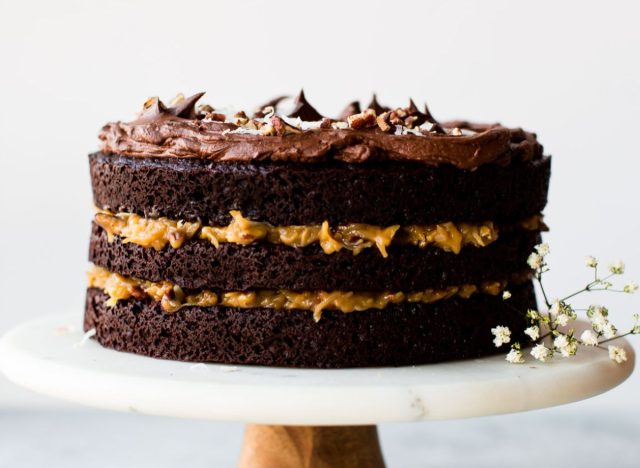 German chocolate cake is a sweet chocolate cake with a pecan-coconut filling and a thick, chocolate frosting. This recipe from Sally's Baking Addiction leaves the sides bare so that the gooey filling shows through.
Plus, if you'd like to whip up a quick cake, check out: I Tasted 6 Chocolate Cake Mixes & This Is the Best
Meaghan Cameron
Meaghan Cameron is senior editor of Eat This, Not That! overseeing food content for MSN.com.
Read more
More content from
Recipes