11 Dessert Recipes with Hidden Vegetables
Don't be fooled by these desserts indulgent exteriors. They're actually loaded with vegetables!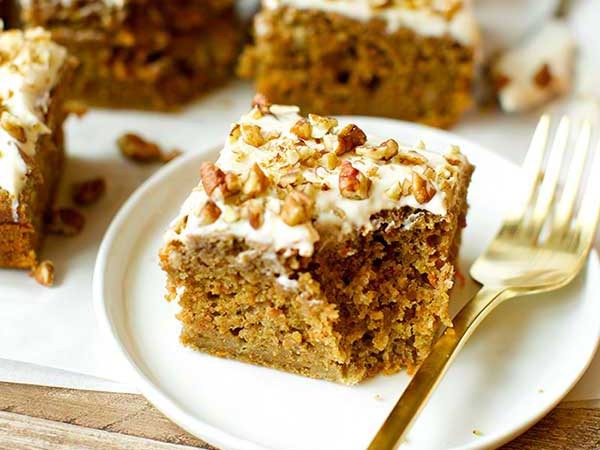 That's right, vegetables. Much like Hillary Clinton and Donald Trump, you'd never expect vegetables and dessert to ever go together, but these recipes prove that fact wrong. In fact, adding certain vegetables is a sneaky way to score more nutritious vitamins and minerals into your daily routine. And you would never know, since because the desserts still taste delicious. Here are a few of our favorite veggie-loaded dessert recipes—and if you can't enough of these treats, here are 20 Healthy Desserts for Weight Loss to satisfy your sweet tooth!
Dark Chocolate Avocado Mousse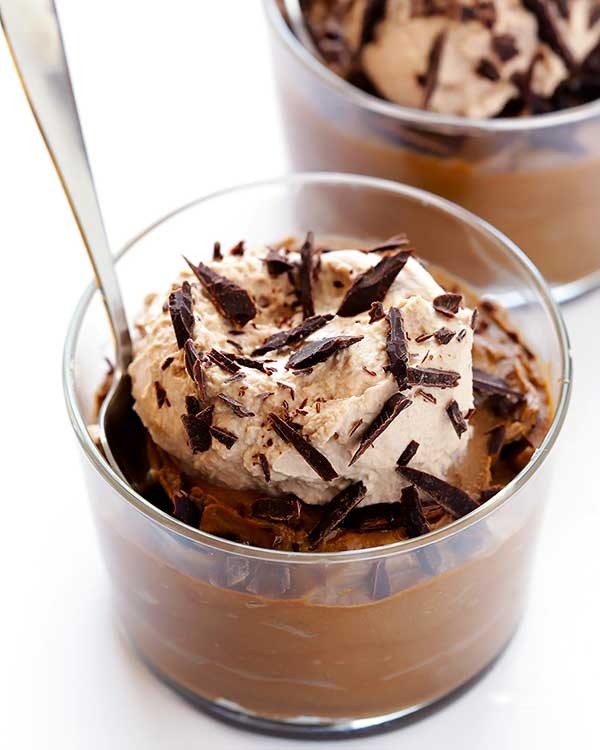 Nutrition: 334 calories, 25.2 g fat (8.8 g saturated fat), 13mg sodium, 30.5 g carbs, 9 g fiber, 16.9 g sugar, 3.4 g protein
Who would ever think that this decadent chocolate mousse is secretly packed with avocado? Avocados give the mousse that creamy texture and a nutritional boost of good fats and fiber. Not to mention, dark chocolate is another nutrition player. It has been known to be full of antioxidants, healthy fats, iron, and magnesium, making this dessert a superfood powerhouse.
*Get the recipe from Gimme Some Oven.
Lightened Carrot Cake
Nutrition: 242 calories, 7 g fat, 38 g carbs, 18 g sugar, 4 g fiber, 7 g protein
Carrot cake is one of those special exceptions of having your cake and eating it, too. On one hand, it's a deliciously sweet dessert, but you're also reaping nutrition courtesy of carrots. Carrots are high in vitamin, helps promote great skin and oral health, protects the heart, boosts immunity, and more. Check out these 20 Carrot Recipes for Weight Loss for more delicious ideas.
*Get the recipe from Fit Foodie Finds.
Red Velvet Beetroot Brownies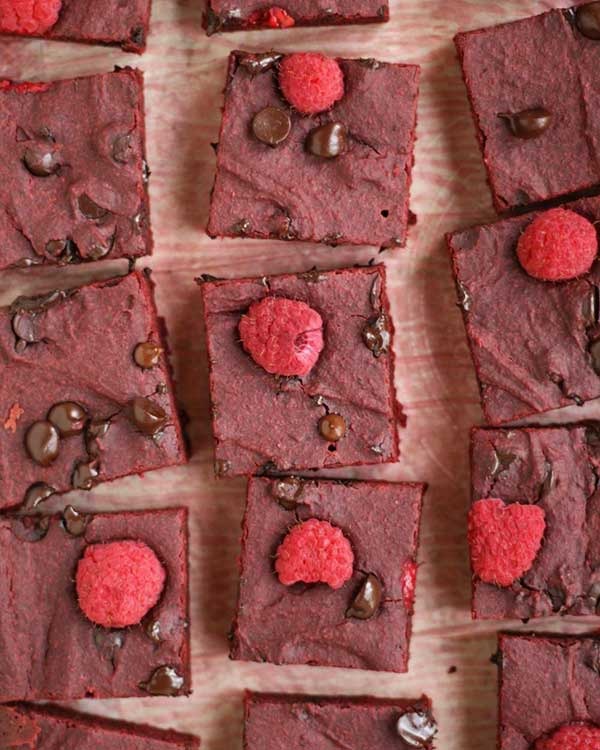 Nutrition: 180 calories, 26 g carbs, 4.3 g fiber, 5.25 g protein
Beetroot doesn't just give these brownies a pretty color. It contains betalain pigments, which serve as antioxidants and anti-inflammatory molecules. And they aren't the only vegetable hidden in this recipe. White beans are also mixed into the brownie mix for a kick of fiber.
*Get the recipe from Vegukate.
Maple Glazed Pumpkin Muffins
Nutrition: 272 calories, 9 g fat (2.2 g saturated fat), 259mg sodium, 44.7 g carbs, 1.6 g fiber, 21.7 sugar, 4.3 protein
C'mon, we have to acknowledge that pumpkin is one of the best veggies to sneak in dessert. It's a fat-burning gourd with more fiber and protein than sugar. While these muffins look like complete calorie bombs, this recipe uses olive oil and maple syrup for a lighter dessert that could also totally pass for breakfast. And since everyone is obsessed with this gourd, we need to mention these 20 Healthy Pumpkin Recipes for Weight Loss.
*Get the recipe from Pinch of Yum.
Gluten-Free Zucchini Cake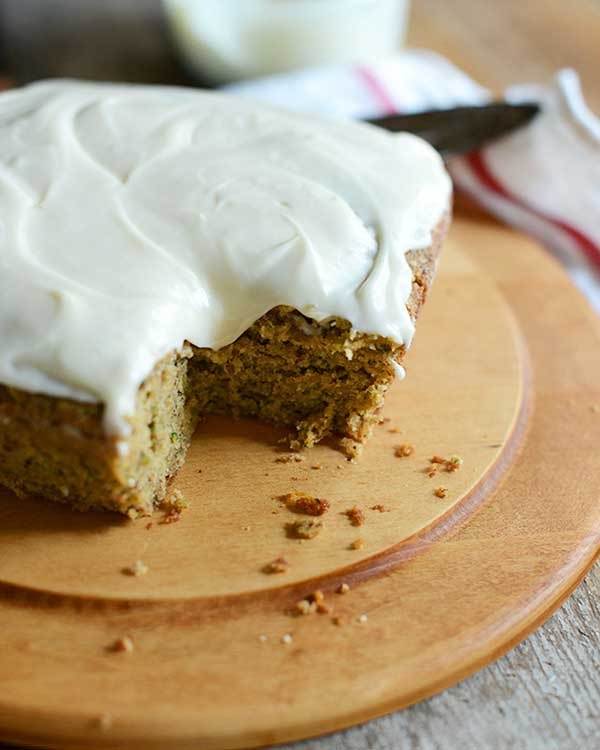 Nutrition: 385 calories, 14 g fat (2 g saturated fat), 60 g carbs, 43 g sugar, 2 g fiber, 4 g protein
Zucchini is another vegetable that can be cooked in many ways. In this recipe, zucchini adds moisture while that crumbly texture makes coffee cake so great. If you can't get enough of zucchini, then wait until you try these 21 Mouthwatering Spiralizer Recipes.
*Get the recipe from Minimalist Baker.
Black Bean and Avocado Fudge Chip Brownies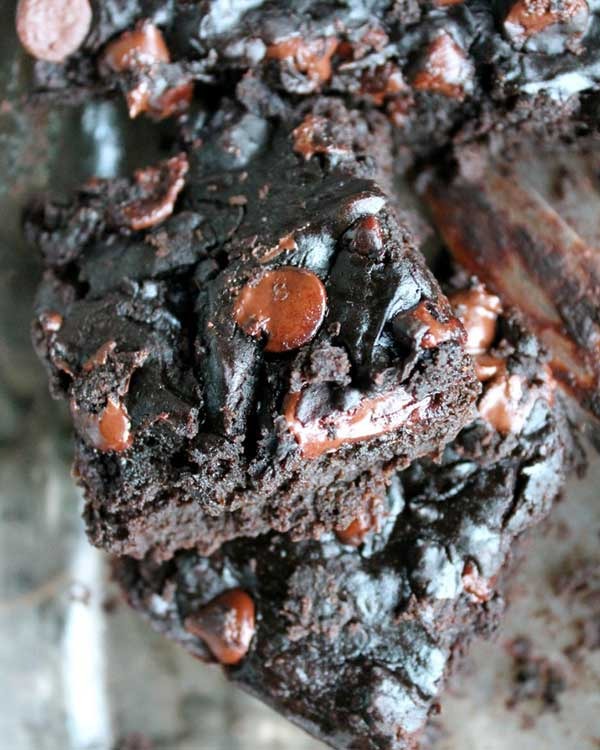 Nutrition: 138 calories, 4.5 g fat, 16.2 g carbs, 13.6 g sugar, 4.8 g fiber, 4 g protein
You're probably looking at this recipe and thinking, "What? There's no way these fudgy brownies have any trace of vegetables." Well, think again. Black beans and avocados give these brownies a lower fat content, plus some extra fiber and anthocyanins (the antioxidant that boosts brain function) from the black beans. What a bunch of smart cookies, er, brownies!
*Get the recipe from Ambitious Kitchen.
Raspberry Lemon Blondie Wedges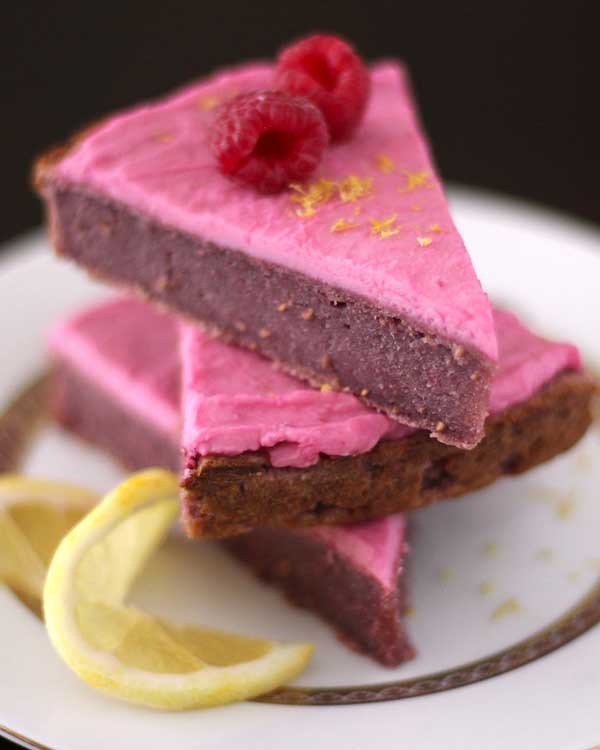 Nutrition: 190 calories, 5 g fat, (3 g saturated fat), 180mg sodium, 33 g carbs, 5 g fiber, 3 g sugar, 5 g protein
While raspberries and lemons are the stars of these delightful blondies, beets totally steal the show. This recipe calls for half a cup of beet puree, contributing to the blondies' pretty-in-pink color.
*Get the recipe from Dessert with Benefits.
Chocolate Avocado Cookies
Nutrition: 133 calories, 5.4 g fat, 202.2mg sodium, 22 g carbs, 13.3 g sugar, 2.7 g protein.
Another too-good-to-be true recipe that's true! High in healthy fats and an excellent weight loss food, avocados add to these cookies' fudgy texture.
*Get the recipe at I Heart Vegetables.
Chocolate Chip Zucchini Quinoa Muffins
Nutrition: 87 calories, 1.2 g fat, 61mg sodium, 17.9 g carbs, 1.7 g fiber, 7.7 g sugar, 1.7 g protein
Talk about a nutritional powerhouse. Zucchini is mixed with quinoa, oats, and bananas for a tasty muffin that's low in calories. On a totally somewhat related note: Did you know that muffin tins aren't just for muffins? Check out these 15 Muffin Tin Recipes for Portion Control.
*Get the recipe from Simply Quinoa.
Baked Apples Stuffed with Spiced Butternut Squash and Ginger Crumble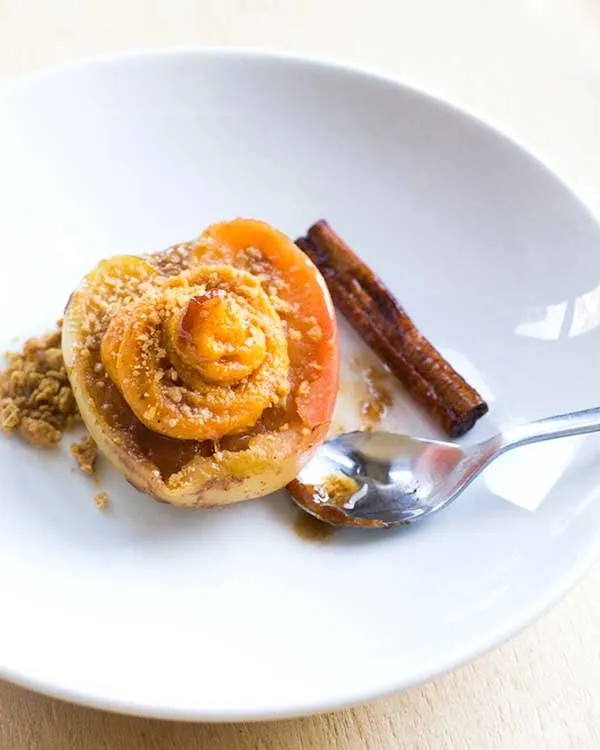 6254a4d1642c605c54bf1cab17d50f1e
Nutrition: 162 calories, 8.8 g fat (3.1 g saturated fat), 127mg sodium, 23 g carbs, 2.8 g fiber, 18.5 g protein, 0.4 g protein
So much flavor is going on in here. While apples have their own fair share of health benefits, butternut squash is the key player. Calorie dense and high in fiber vitamins and minerals, this gourd makes this dessert a healthy option.
*Get the recipe from Heartbeet Kitchen.
Sweet Potato Cookies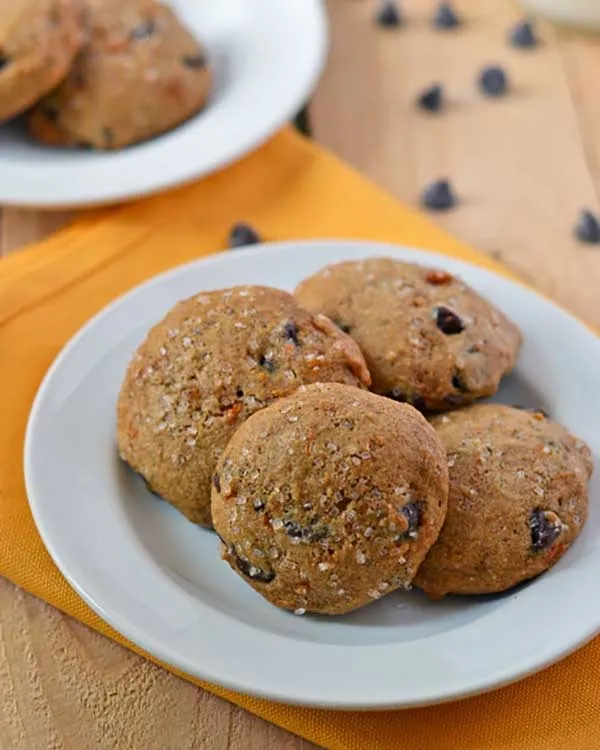 Nutrition: 71 calories, 2.8 g fat, 83mg sodium, 9.5 g carbs, 0.5 g fiber, 0.7 g sugar, 1.7 g protein
These cookies smell like fall. Sweet potato is a hot spud in the nutrition field, with its high protein and fiber content. They also have a high vitamin profile that'll help you burn energy and antioxidants that will boost your health. (And FYI, it's also one of the 25 Best Carbs That Will Uncover Your Abs.) We wouldn't call this cookie a weight loss miracle, but we will say you can definitely take seconds.
*Get the recipe from Well Plated.