15 Muffin Tin Recipes for Perfect Portion Control
Trying to lose belly fat, but can't seem to get your portions under control? Muffin tin recipes are the easy, trendy way to make sure you're not overdoing it!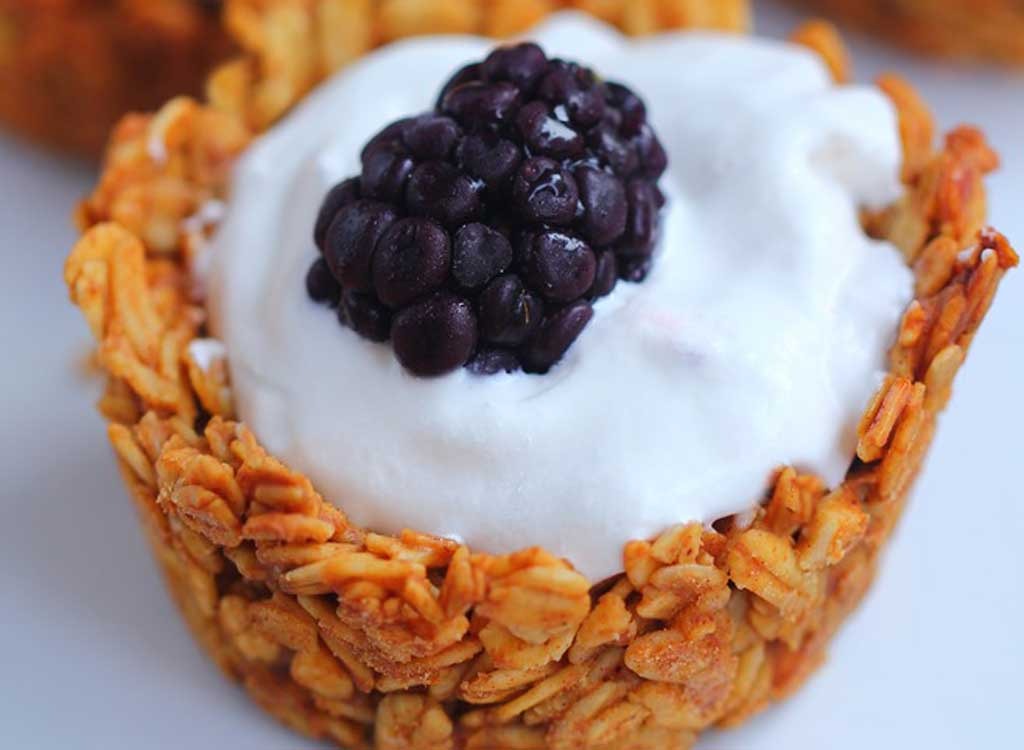 Sometimes it's hard to say no to another plate of lasagna or another slice of that chicken pot pie, despite that we all know how important portion control can be to weight loss success. And portion sizes today are so out-of-control-huge that it can be confusing! A perfect example: According to The Dairy Council of California, a turkey sandwich in the 1980s was around 320 calories; today, our supersized turkey sandwiches are closer to 820 calories! This is just one reason it's so important to find ways to control our portions without memorizing a bunch of different guidelines.
Luckily for you, there's the basic and brilliant muffin tin pan—a tool that can and should be used for way more than baked goods. With these simple muffin tin recipes, you'll know exactly what you're eating, how much, and when to say no more. Scroll through to find the healthy bites you want to whip up first and then get more easy ideas to lose weight with these 25 Ways to Cut 250 Calories!
Broccoli Cauliflower Quinoa Bites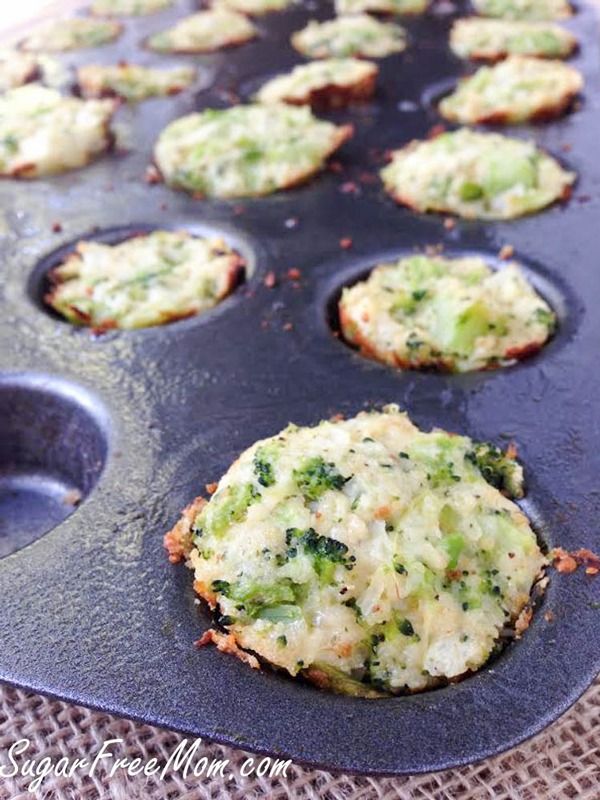 Serves: 7
Nutrition: 158 calories, 6.3 g fat (3 g saturated fat), 180 mg sodium, 12.6 g carbs, 3.7 g fiber, 2.4 g sugar, 11.2 g protein
Cheese is an easy way to add flavor to vegetables that are otherwise bland in flavor (but bold in daily nutrients!), like broccoli and cauliflower. Prepare these the night before your work week; the veggies, quinoa, and cheese mix together to make a tasty breakfast or high protein snack that is great to grab when you're in a hurry.
Get the recipe from Sugar Free Mom.
Cheese, Vegetable, and Egg Muffins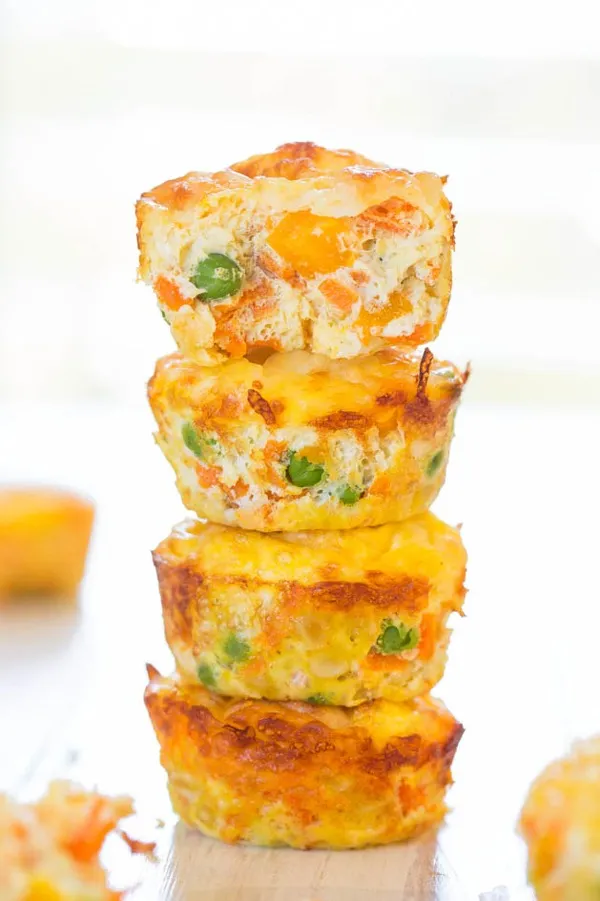 Serves: 12
Nutrition: 95 calories, 4.8 g fat (1.9 g saturated fat), 108 mg sodium, 5.9 g carbs, 1.5 g fiber, 2.7 g sugar, 7.3 g protein
You can add any of your favorite vegetables or lean meats to these little egg muffins! Eggs are a great way to start off the day; a single one is filled with 6 grams of protein! At only around 100 calories, you can even have two muffins because this combo of eggs, vegetables, and cheese is a complete balanced breakfast that will give you that morning boost of energy.
Get the recipe from Averie Cooks.
Skinny Chicken Pot Pie Minis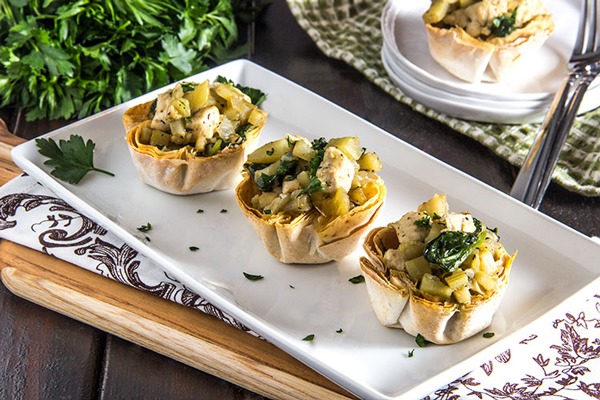 Serves: 6
Nutrition: 352 calories, 16.5 g fat ( 2.5 g saturated fat), 425 mg sodium, 31.9 g carbs, 3.4 g sugar, 4.1 g fiber, 16.7 g protein
An American comfort food made healthy, this recipe is ideal for getting that perfect portion without getting out of control! These traditionally rich pies are transformed into mini versions, minus the thick crust and heavy creams. So, leave out those unnecessary trans fat and incorporate some hearty veggies with this skinny version of an old favorite.
Get the recipe from The Scrumptious Pumpkin.
Guilt-Free Pizza Bites
Serves: 12
Nutrition: 34 calories, 1.5 g fat (1.2 g saturated fat),150 mg sodium, 1.8 g carbs, .5 g fiber, .6 g sugar, 3.5 g protein
Yes! Pizza that you don't have to feel guilty for! It doesn't get much better than that. Swapping in cauliflower is a popular trick to turn pizza into a low carb dish when your cravings hit. Since no flours or sugars are involved, these little bites are sure to make you drop those unwanted love handles. Keep these bites around for an afternoon snack or have them as a side dish with dinner.
Get the recipe from Damy Health.
Italian Meatloaf "Cupcakes" with Mashed Potato Frosting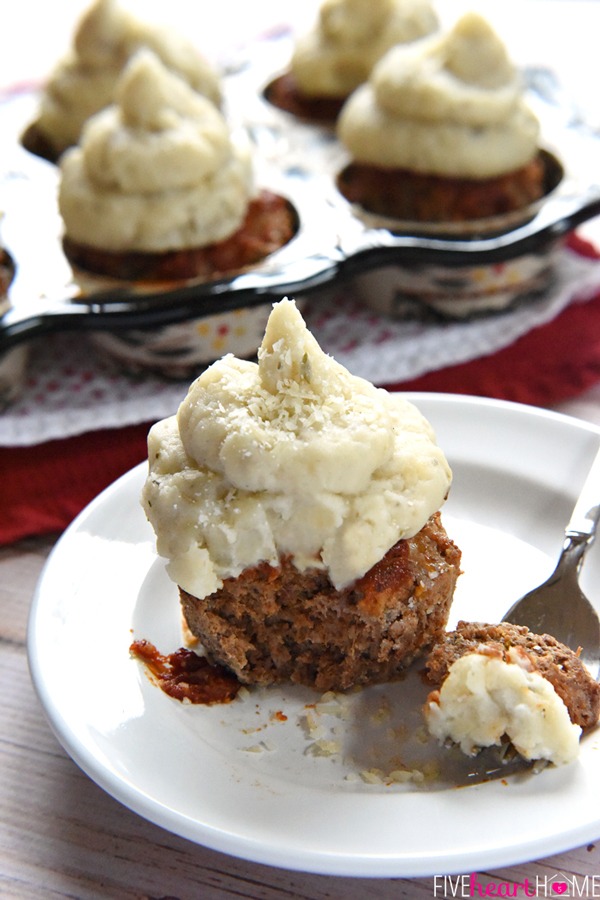 Serves: 6
Nutrition: 301 calories, 8.8 g fat (3.6 g saturated fat), 609 mg sodium, 29.1 g carbs, 1.8 g fiber, 5.4 g sugar, 24.7 g protein
These super cool savory 'cupcakes' are made up of some timeless foods. Add a side of veggies to the meatloaf and mashed potatoes to make for a perfect hearty dinner. And those potatoes we all love so much aren't all that bad for us, either; they're filled with antioxidants, vitamins, and fiber! Potatoes are also gluten-free for all you free of gluten-concerned peeps out there. So, get your mash on, because you'll be completely satisfied for the entire night after this meal.
Get the recipe from Five Heart Home.
Bacon and Egg Breakfast Cups
Serves: 8
Nutrition: 169 calories, 13.6 g fat (4.8 g saturated fat), 390 mg sodium, .9 g carbs, 10.3 g protein. (Calculated using 8 strips of bacon and no optional ingredients)
Bacon and eggs are a delish combo no matter what. But with these little breakfast cups, you can switch out the ingredients to change up flavors. Whether you add tons of your favorite veggies or just a few herbs and spices, you're sure to be pleased with whatever you decide. Try it out different ways and see what you like best; this could definitely become a breakfast staple in your house!
Get the recipe from A Pretty Life.
Breakfast Granola Cups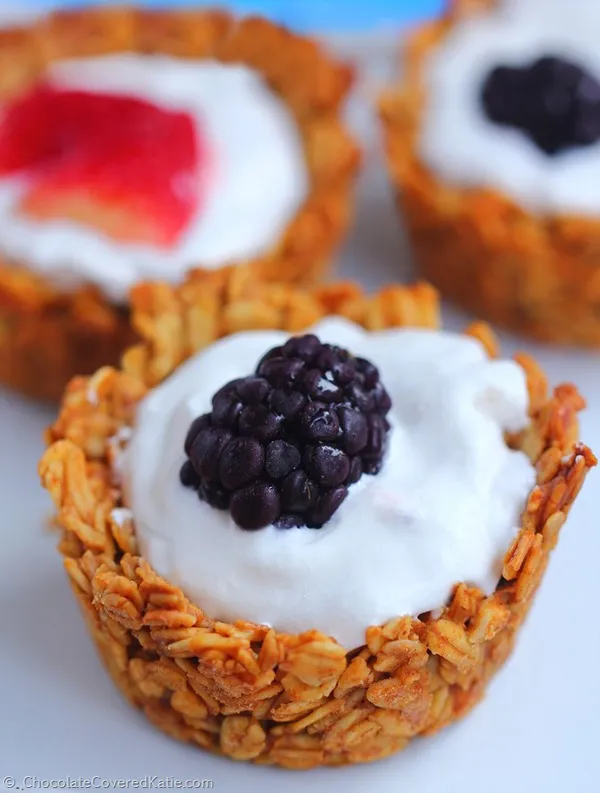 Serves: 7
Nutrition: 96 calories, .9 g fat, 83 mg sodium, 20.9 g carbs, 1.6 g fiber, 11 g sugar, 2 g protein
Here's a fun, innovative way to have your morning yogurt and granola! This muffin tin recipe is super easy to make and results in a delicious crunch. We suggest topping with berries, a sprinkle of cinnamon, and some chia seeds for some added omega-3s. Make sure to stay away from the worst yogurts for weight loss when assembling your masterpiece!
Get the recipe from Chocolate Covered Katie.
Buffalo Chicken Egg Muffins
Serves: 4
Nutrition: 224 calories, 12.1 g fat ( 4.3 g saturated fat), 544 mg sodium, 3 g carbs, 1 g sugar, 24.9 g protein
Whether it's breakfast, lunch, or dinner, these fluffy muffins are a good decision at any time of the day! The spicy buffalo sauce gives off the bar-food-feeling without all the added calories and trans fats. Eating spicy food also happens to be one of the 20 Habits Skinny People Live By. So, make these at home and keep them in the fridge to grab when you're in the mood or freeze them for later!
Get the recipe from Peace Love and Low Carb.
Paleo Meat and Veggie Muffins
Serves: 12
Nutrition: 230 calories, 20 g fat (3.3 g saturated fat), 51 mg sodium, 3.8 g carbs, 1.7 g fiber, 1 g sugar, 10.6 g protein (calculated without sweetener)
These handheld Paleo muffins are great to bring to work or school for lunch and won't leave you hungry for more. They have a great balance of lean proteins and nutrient rich vegetables to keep your blood sugar steady and your belly happy. We opted to take out the sweetener to lower the sugar intake since there is so much awesome flavor that's already going on!
Get the recipe from The Nourishing Gourmet.
Banana and Chocolate Chip Baked Oatmeal Cups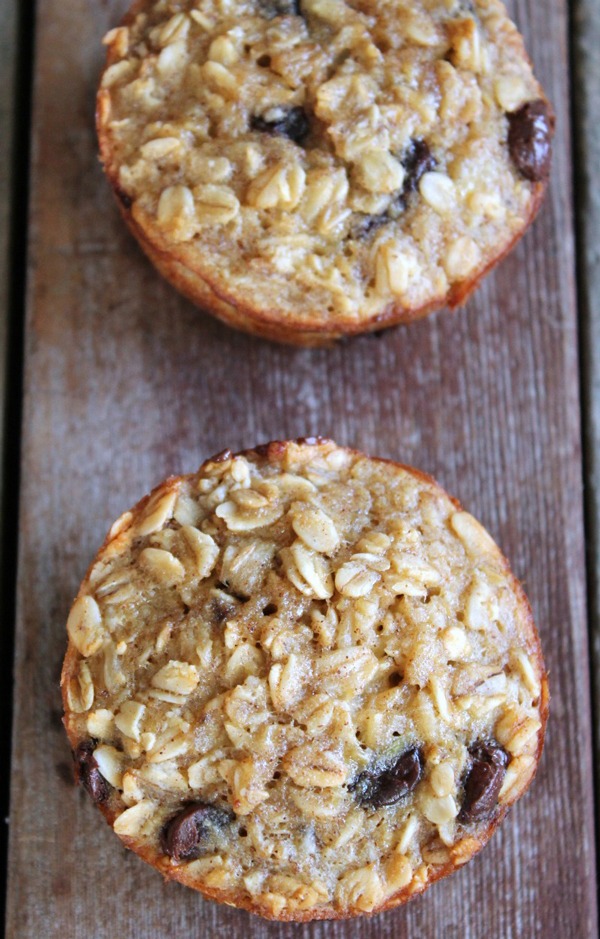 Serves: 12
Nutrition: 203 calories, 9.1 g fat (6 g saturated fat), 28 mg sodium, 36.1 g carbs, 2.8 g fiber, 9.4 g sugar, 5.2 g protein (Calculated with ½ cup chocolate chips and 2 tbsp. maple syrup)
It can get tiring trying to think of news ways to enjoy the so-called most important meal of the day—but we found a recipe that will make you excited to get out of bed in the a.m. These baked oatmeal cups are a sweet treat filled with spices and a perfect bite. They're a fun way to switch up that basic bowl of oats. Plus, you can swap out the chocolate and banana and try different nutrient dense toppings that pack on the extra flavor without the extra pounds!
Get the recipe from Organize Yourself Skinny.
Kale Cups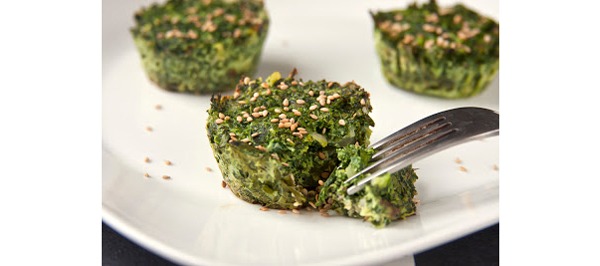 Serves: 10
Nutrition: 102 calories, 4.5 g fat (1.9 g saturated fat), 170 mg sodium, 9.5 g carbs, 1.5 g fiber, 7 g protein
Kale is proven to be one of the most wholesome superfoods out there. This muffin tin food makes a great side dish or a healthy snack when you're getting those mid-day belly rumbles. They're loaded with natural flavors and tons of beneficial vitamins and nutrients. If you've only heard of miso from the miso soup at your local sushi house, and not quite sure why it would be an ingredient in these cups, it's a soy product that is a good source of fiber and protein that adds tons of flavor (and a nice texture) to a dish!
Get the recipe from Muffin Tin Mania.
Crunchy Taco Cups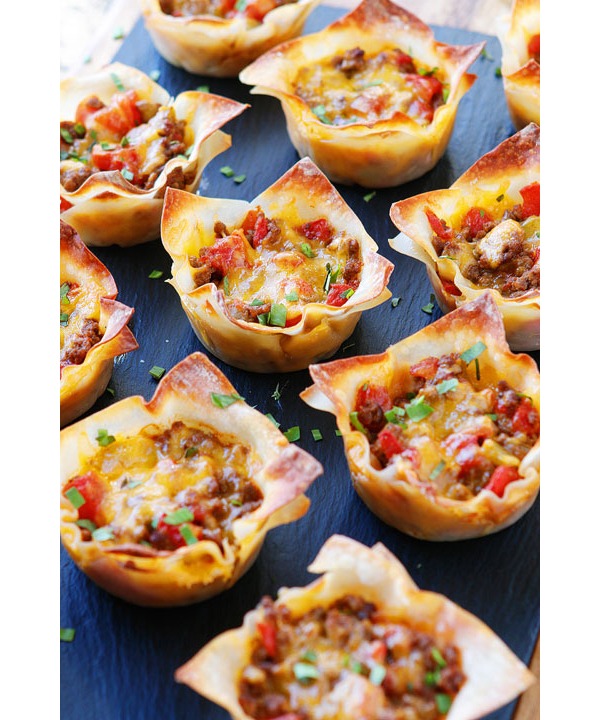 6254a4d1642c605c54bf1cab17d50f1e
Serves: 12 cups
Nutrition: 178 calories, 7.3 g fat (3.9 g saturated fat), 284 mg sodium, 10.4 g carbs, .6 g sugar, 16.8 g protein
Holy tacos! These taco cups are making our mouths water. This Mexican-inspired muffin tin recipe will surely satisfy those salty cravings with loads of protein and low sugar intake. We recommend not having more than three as a dinner with a side salad, or just one or two if you're having them as a midday lunch. The combination of textures in this recipe is one to blow your mind, though.
Get the recipe from Kevin and Amanda.
Zucchini Lasagna Cups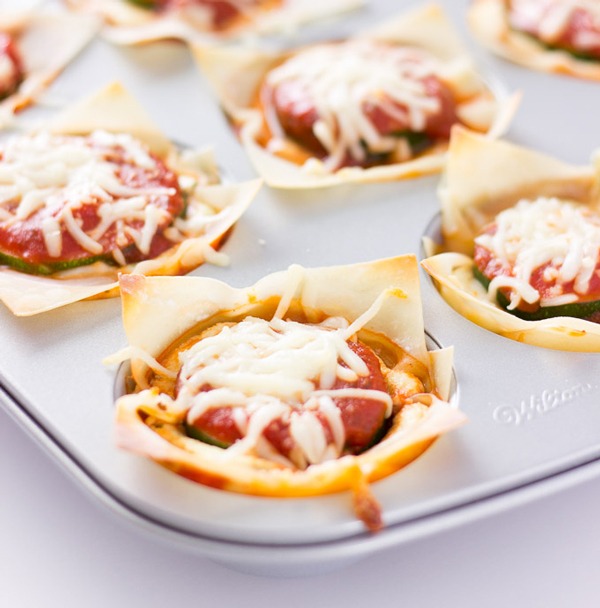 Serves: 6 (2 cups)
Nutrition: 304 calories, 13.3 g fat (7.2 g saturated fat), 28 g carbs, 2.1 g fiber, 18.3 g protein
If you're looking to host a party, these vegetarian lasagna cups are layered with cheese, sauce, and zucchini and are perfect for pleasing all your guests. Bonus: Even though they're finger foods, you won't have to worry about guests' greasy fingers touching your couch. Baking (rather than frying) also cuts back the calorie counts and reduces the fat which is a big help when you're trying to get that flat belly before summer.
Get the recipe from The Wholesome Dish.
Spinach and Feta Quinoa Bites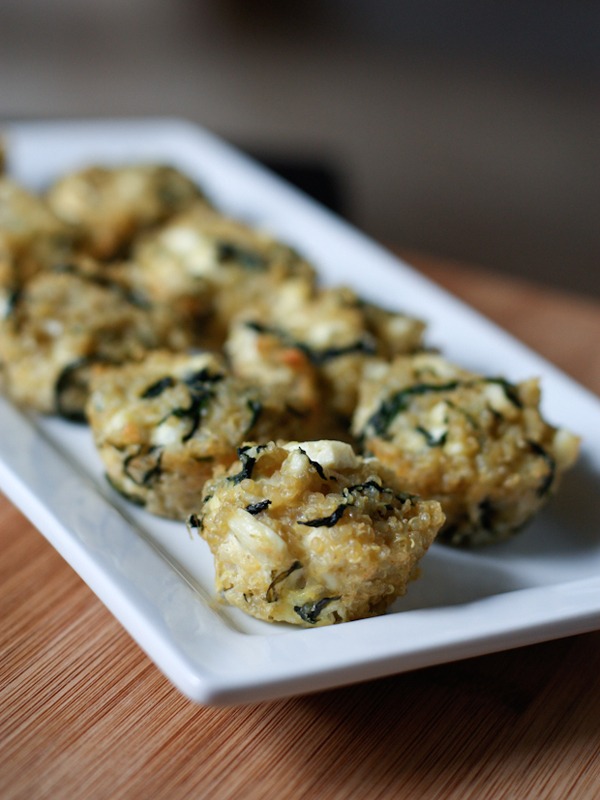 Serves: 18
Nutrition: 67 calories, 2.9 g fat (1.3 g saturated fat), 87 mg sodium, 6.9 g carbs, .9 g fiber, 3.4 g protein
Feta has a fat-to-protein ratio that beats out any other cheese. It also has a soft and earthy bite that goes great with the high-in-protein quinoa and the powerhouse spinach. And check out the minimal calories on these! Feel free to indulge in two or three throughout the day. Did you know that spinach is one of the best veggies for weight loss?
Get the recipe from Aggies Kitchen.
Spicy Tuna Cakes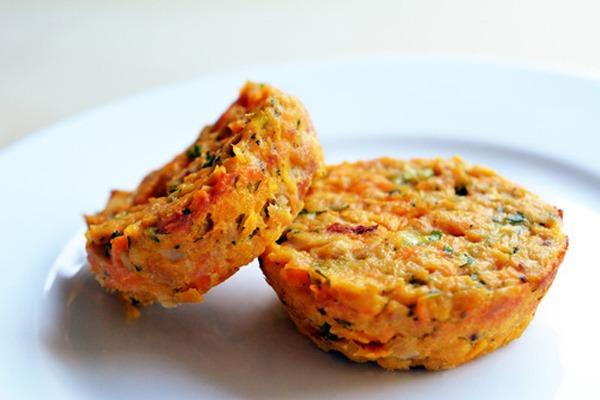 Serves: 12
Nutrition: 94 calories, 4.4 g fat ( 2.4 g saturated fat), 44 mg sodium, 7.3 g carbs, 1.4 g fiber, 2.1 g sugar, 7.2 g protein
Tuna is a fish that's recommended to be eaten two to three times a week (or up to 12 ounces). Here's a tasty way to enjoy your tuna, thanks to the combo of spicy and sweet. We recommend choosing a light tuna because it's considered a low-mercury fish, rather than a canned albacore tuna that has high levels of mercury. Check out more 40+ Popular Types of Fish—Ranked for Nutritional Benefits!
Get the recipe from Nom Nom Paleo.