4 Discontinued Items McDonald's Could Bring Back Next
It's a toss-up, but McDonald's is listening.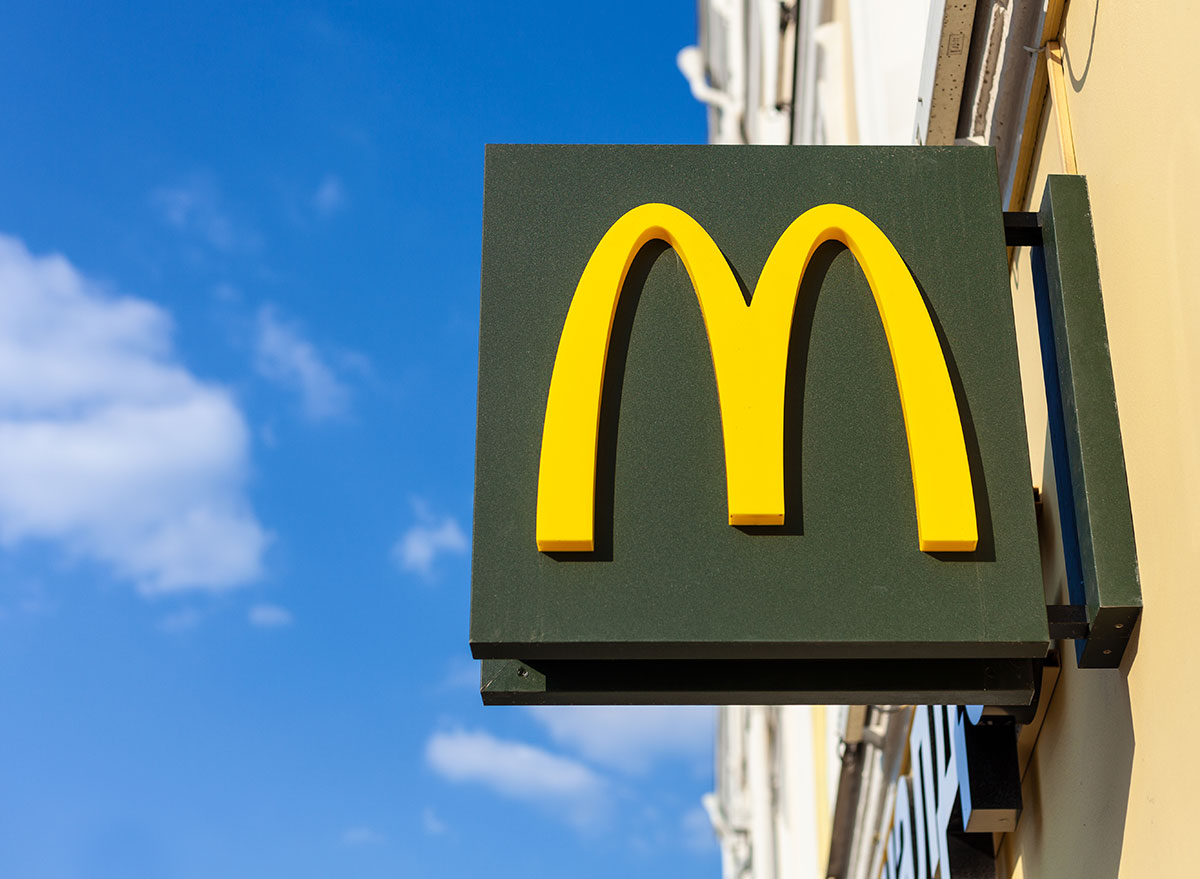 McDonald's social media team has captured the attention of the internet with its latest tweet, in which the fast-food chain appears to be teasing the comeback of something big.
"Bring back _____" the chain posted on Thursday, prompting fans to fill in the blank with their most-missed items. And fans quickly took the bait, with the Tweet racking up tens of thousands of likes, retweets, and responses in a short period of time.
Taking a peek at the comment section, you'll find all kinds of things the public is hungry to see back on the menu—from the recently departed to vintage McDonald's throwbacks.
But why this litmus test now? Is the chain actually planning on bringing back a discontinued fan favorite?
The strategy wouldn't be a new one for Mickey D's. The chain has recently been on a resurrection roll, bringing back popular menu items like the Szechuan sauce and the Spicy Chicken McNuggets—and having the two overlap for the first time in history. Indeed, McDonald's seems rather amenable to honoring customer demands right now.
While fans have cast many suggestions on this topic—from Batman Forever–embossed mugs to 29-cent hamburgers—some items have overwhelmingly dominated the Twitter thread. And if McDonald's is listening, here are some of the items that may be brought back next.
For more, check out McDonald's Newest Burger Just Got an Unexpected Popularity Boost.
Snack Wraps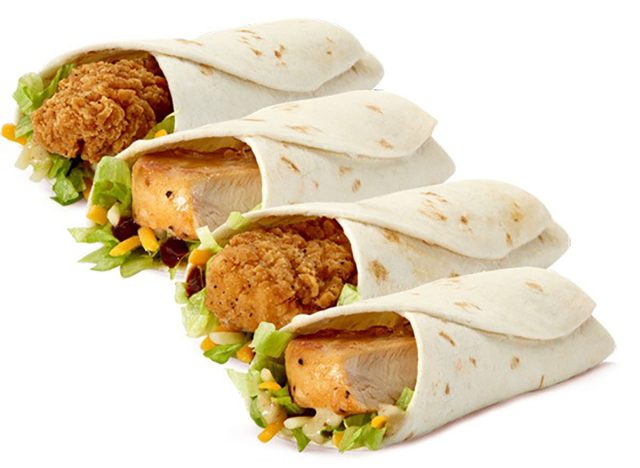 As an overwhelming winner in the number of mentions, Snack Wraps are sorely missed. While it's hard to describe just why a Snack Wrap is so good, it's clear that the world is in love with breaded chicken in a flour tortilla. (A little cheese and ranch? Yes, please.)
In fact, last year McDonald's had to dispel a rumor that circulated on TikTok, which hinted that the Snack Wrap would soon have a resurrection.
Launched in 2006, the Snack Wrap targeted those who were opting for health-conscious fast-casual chains. For ten years, customers enjoyed various iterations of Snack Wraps until their sudden disappearance in 2016, which was attributed to the simplification of the chain's operations. While the hidden lure of the Snack Wrap may never be unwrapped, customers just want it back on the menu—now.
The BTS Meal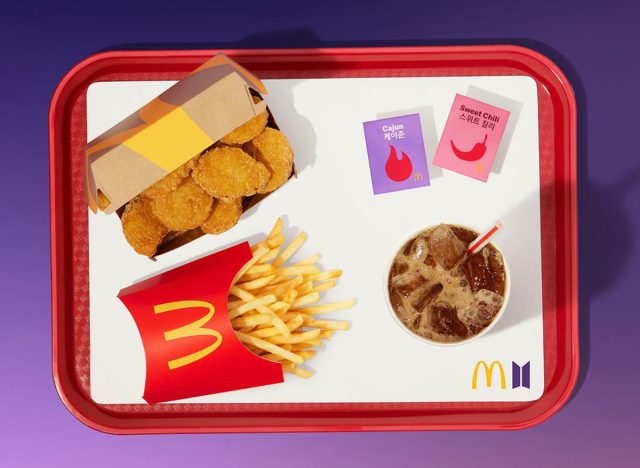 Related: 8 Worst Fast-Food Burgers to Stay Away From Right Now
The BTS Meal took the world by storm in 2021—and quickly became the most successful meal collaboration in McDonald's history. Devotees of the meal consisted of both BTS fans and fans of the two exclusive sauces—the Cajun and the Sweet Chili—that came with it. Otherwise, the meal included a pretty standard combo of 10-piece Chicken McNuggets, medium fries, and a Coke.
To support the promotion, McDonald's introduced a limited-edition line of merchandise and ran a television commercial, among other things. The meal was so popular when it debuted, that McDonald's visits were up by 12% in the United States during the first seven days of the promotion.
It's no surprise that the BTS meal has been on the comeback wishlist for fans. Not only did the sauces receive favorable reviews, but the BTS Army wants an encore.
McPizza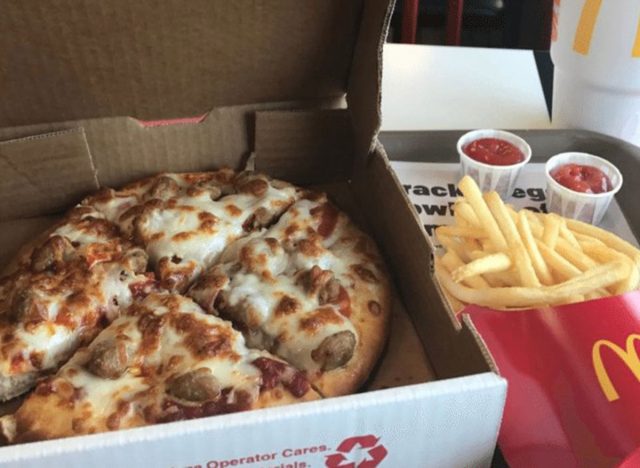 The McPizza is a surprising blast from the past, but according to Twitter, fans would welcome it back with open arms. But the pizza actually did not perform well when it was introduced in 1989.
When it originally debuted, the McPizza had many issues preventing its success. The item wasn't logistically feasible as it was only available after 4 p.m., was made to order so it required a long wait time, and generally didn't fit the theme of the menu.
While the McPizza seems to be a relic of a bygone era, there is still one place a fan can enjoy its cheesy slice. Epic McD, the world's largest entertainment McDonald's in Orlando, Fla., still sells the McPizza 24-hours a day.
For the rest of America, however, there may be a glimmer of hope in this reply from McDonald's to a customer comment.
All Day Breakfast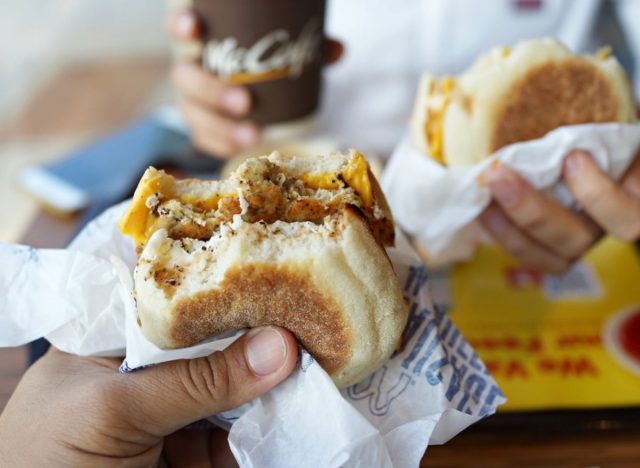 There are plenty of McDonald's fans that can't seem to get up early enough to catch the chain's breakfast, it appears. Besides asking for discontinued items, some fans just wanted certain menu items to be released from arbitrary time restrictions.6254a4d1642c605c54bf1cab17d50f1e
During the pandemic, McDonald's decided to limit its all-day breakfast hours to morning hours only. While there have been reports of some locations sticking to All Day Breakfast despite the rollback, enough Mcdonald's discontinued the practice to warrant customers getting upset.
Sources told us last year that many locations were meeting supply and demand with breakfast. Where it was most popular, it was served late or all day. Where it wasn't, it wasn't. This was mainly due to the fact that breakfast just takes a little longer to cook than lunch, which could make a difference during peak hours. As of last year, McDonald's corporate has been working with franchise owners to decide on All Day Breakfast on a case-by-case basis.
Whether McDonald's will make any final decisions about whether every customer should have the right to eat a McMuffin at 3 p.m. remains to be seen.
Amber Lake
Amber Lake is a staff writer at Eat This, Not That! and has a degree in journalism from UNF in Jacksonville, Florida.
Read more about Amber