For the First Time in History, McDonald's Is Selling These Two Rare Items at the Same Time
Attention—this is not a drill—it's a flavor combo no one saw coming.
McDonald's recently announced the return of not one but two rare fan-favorite items: the Spicy Chicken McNuggets and the Szechuan sauce. And while either release on its own would be enough to stir up major excitement among customers, this is also a unique time in McDonald's history as it's the first and potentially only chance you'll have to try the two together. And if you don't want to miss this rare occasion, we suggest you act fast.
While it may be no coincidence these two power drops have come at the same time, McDonald's isn't offering much of a peek behind the curtain. Back in 2020, as COVID-19 hit, the Spicy Chicken McNuggets had their first run, which was a huge success. These little boot-shaped pieces of chicken, coated in tempura and spices, have a real spicy kick to them, which likely helped their cause.
They ended up selling out in a matter of weeks and received hugely positive reviews. Thrillist, for example, said they were superior to Wendy's popular spicy version. McDonald's credits the Spicy Chicken McNuggets for boosting sales during the pandemic—its domestic sales jumped 7.5% in the fourth quarter of 2021, according to CNN.6254a4d1642c605c54bf1cab17d50f1e
Related: 8 Worst Fast-Food Burgers to Stay Away From Right Now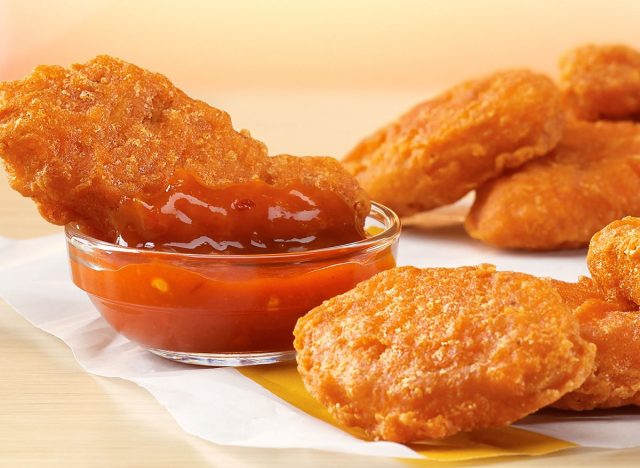 On the other hand, the Szechuan sauce's popularity comes from Rick and Morty, the animated series that gave it a shoutout in a third-season episode in 2017. While before that it had only briefly graced the menu in 1998, the Szechuan sauce was back in high demand.
McDonald's tried a brief re-release of the sauce, which went over like throwing a grenade down a bowling lane. Business Insider reported that due to the previous long lines, crowds, and angry customers who weren't able to try the sauce thanks to a limited supply, many locations this time around have implemented a contingency plan, including keeping the sauces under lock and key, in the event of similar crowds.
While the hype may or may not be real, there could be something special about this pairing. For example, one major complaint about Mickey D's gingery and sweet soy sauce-based Szechuan is that it's bland in comparison to the actual robust spice of the authentic Szechuan sauce. After all, the sauce was marketed more to fans of the 1998 Disney movie Mulan than connoisseurs of authentic Chinese cuisine. But since the dipping sauce lacks the heat that the crispy, tempura-breaded nuggets have in abundance, we're thinking the sweet and spicy combination could be a match made in heaven. At the very least, it's worth experimenting on this speculation.
Right now, customers can only order the Szechuan sauce through the McDonald's app. Both the Spicy Chicken McNuggets and Szechuan sauce are only available at select locations and in limited supply. If you do happen to find them both, give the combo a try. It could be an opportunity that only comes around once.
Amber Lake
Amber Lake is a staff writer at Eat This, Not That! and has a degree in journalism from UNF in Jacksonville, Florida.
Read more about Amber