Egyptian Spice Blend Dukkah Is a Light Way To Add Flavor
This aromatic blend of nuts and spices has all kinds of flavor and health benefits.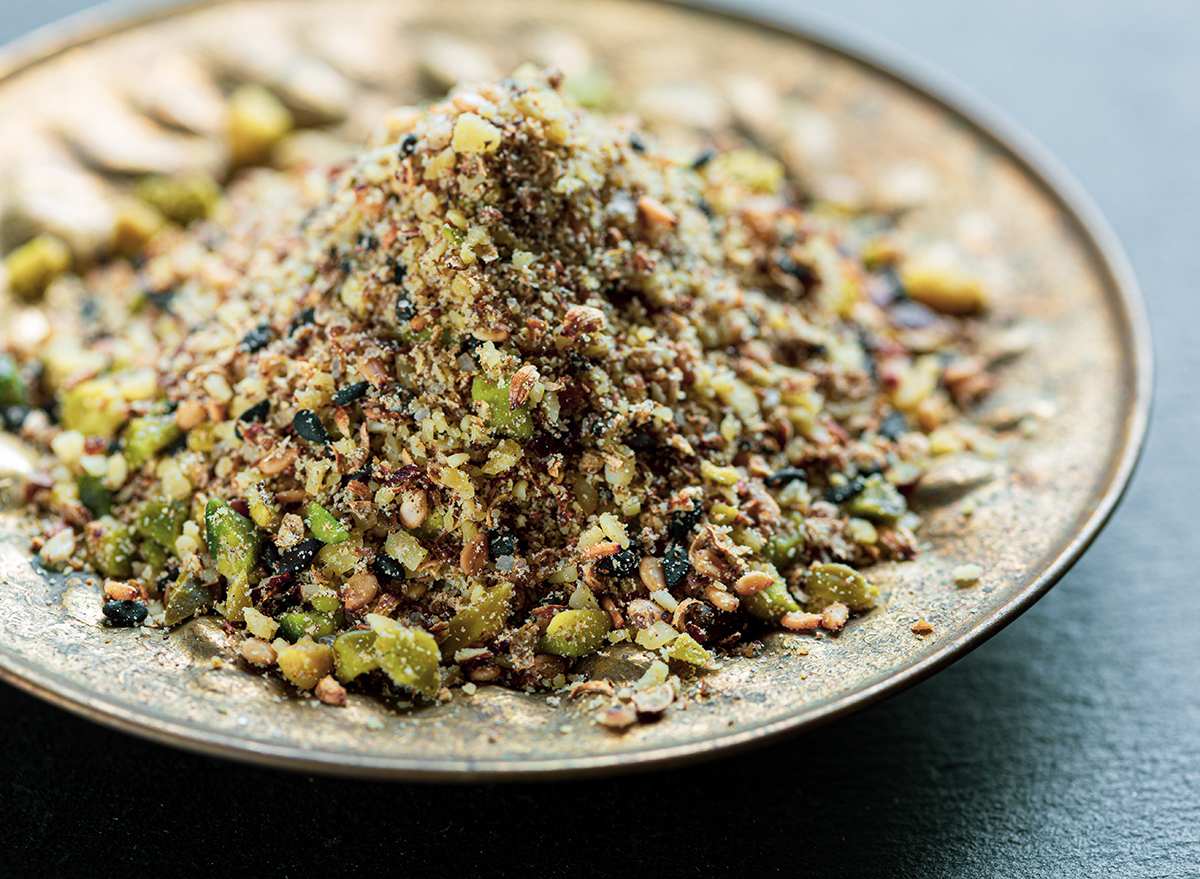 In Egypt, street vendors sell dukkah in paper cones with strips of pita bread. Customers dip the bread in olive oil and then in dukkah, enjoying the earthy crunch of spices and nuts. Dukkah is made of nuts, sesame seeds, coriander seeds, and cumin seeds. The blend originated in Egypt, where they typically use macadamia, almonds, or hazelnuts in the mix. But today there is a great deal of variety from recipe to recipe. Other ingredients, like mint, marjoram, pumpkin seeds, peanuts, sunflower seeds, cinnamon, pine nuts, and chickpeas, sometimes make an appearance.
Traditionally, the ingredients would be roasted and then crushed with a mortar and pestle.
Amira Ibrahim, the blogger behind the treasure trove of Egyptian recipes at Amira's Pantry, says, "Dukkah is a spice mix that uses any sort of nut (or a combination of several) along with salt, black pepper, cumin, and dry coriander. Nuts like almonds, pistachios, cashew, and walnuts are very expensive in Egypt. So using peanuts and sesame seeds as the vessels for spice is more common."
What are the health benefits of dukkah?
Generally, eating nuts is endorsed by many healthy eating regimens and diets. Nuts are high in fat and nutrients, and they have been shown to aid weight loss. Hazelnuts and almonds not only provide a source of protein, but they're also chock-full of antioxidants. They contain vitamin E to protect cells from free radical damage, folate to boost metabolism, and niacin to boost brain function. Folate is an important addition to food as most people don't get enough in a normal diet. Both nuts are rich in oleic acid, which helps your body efficiently burn fat.
The spices used in this blend have positive effects on your health, too. Cumin has been proven to protect against diseases, especially diabetes, hypertension, and cancer. Coriander reduces sun damage to the skin, exhibits anti-cancer properties, and fights inflammation, as well as being anti-fungal.
How to use it
Dukkah works well as a rub for meats, adding a rich, crusty layer on the chosen protein. Fish can be pan seared with a coating of dukkah, set in the pan with a bit of olive oil to keep it from sticking. It can be sprinkled over salads, scrambled eggs, roasted vegetables, or even baked into fresh bread. It also mixes well into condiments like mayonnaise, honey, butter, olive oil, yogurt, and goat cheese.
Amira likes eating dukkah the way she grew up eating it in Egypt, "I usually like to have dukkah the traditional way with boiled eggs, crusty bread, and any light-tasting oil. I also like to make a salad dressing with it, sprinkle it over vegetables, and using it as a marinade for chicken. I recommend starting with only oil and crusty bread so you get familiar with the flavors and textures in dukkah, then dip in boiled eggs for breakfast as a next step."
Vegan and gluten-free, dukkah also fits well into the keto diet to spice up salads and meats.
How to buy dukkah?
Trader Joe's makes a dukkah blend. If you don't live near a store, you can get it on Amazon. The online retailer has many other options, including bulk options from Egyptian purveyor Nomu. The Manitou Trading Company makes a North African blend, and the Merchant Spice Company makes a slightly spicy blend with red peppers and black peppercorns to round out the mix.6254a4d1642c605c54bf1cab17d50f1e