The Easiest Healthy Hack for Dinner, According to a Dietitian
Looking to eat healthier but don't know where to start? A dietitian shares her simple tip.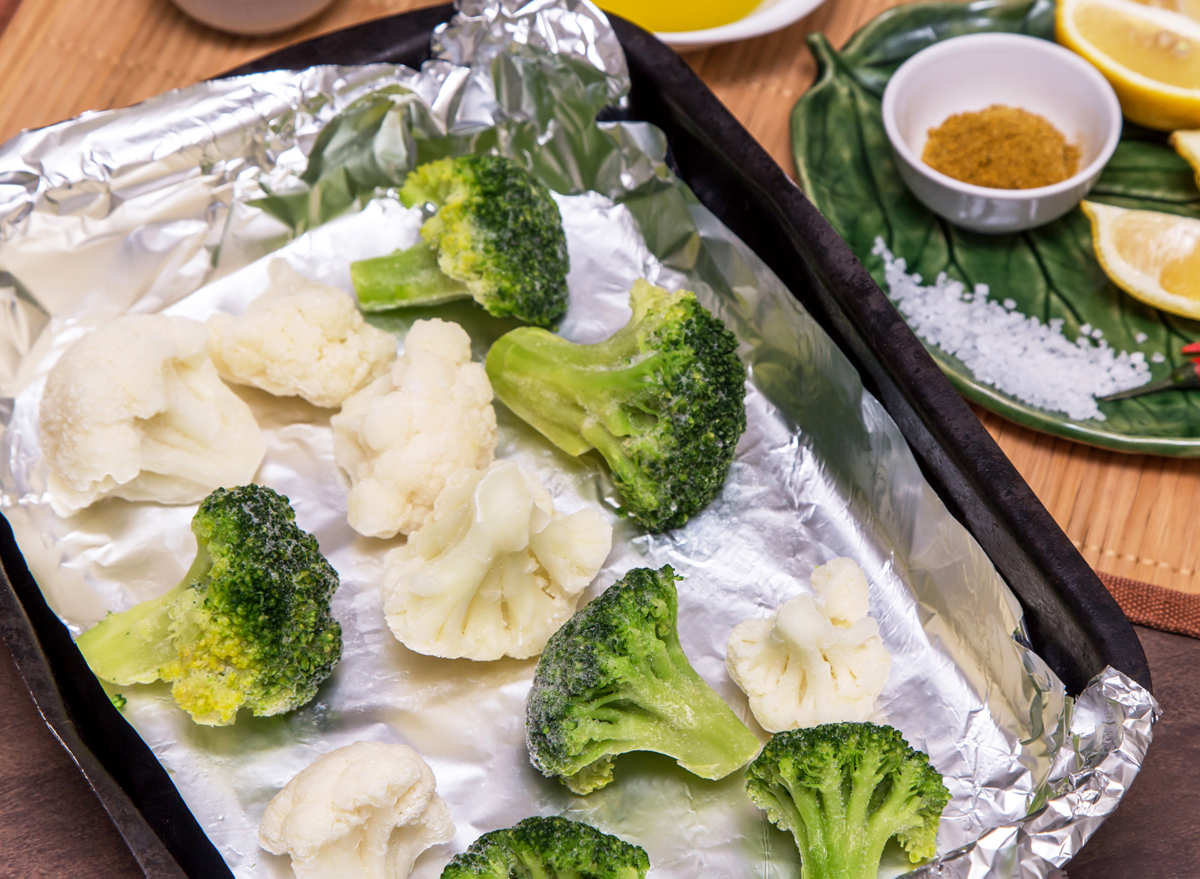 It's easy to say you want to eat healthier, but putting that mantra into practice isn't as simple as it seems. "Should I cut out this food? What foods should I eat more of? How should I prepare my food?" The questions go on and on… To help us cut down on all the nutritional chatter, we talked to a dietitian to ask her for her easy dinner hack that will actually help you to eat healthier:
"Add a vegetable! Any vegetable will do—but add one!" says registered dietitian Isabel Smith, MS RD CDN, founder of Isabel Smith Nutrition and Lifestyle, and member of our medical review board. To make this healthy dinner hack even easier, keep frozen vegetables in your freezer. Because frozen foods are easy to keep on hand as they last longer than fresh vegetables (not to mention they're less expensive), using frozen vegetables makes it more convenient to employ this healthy dinner hack. More on that in a minute, but to start, let's talk about why eating more vegetables can improve your health.
The reason why adding a vegetable to your dinner is the easiest healthy hack is simple: "this ups the fiber, ups the nutrients, and will keep you fuller for longer," says Smith.6254a4d1642c605c54bf1cab17d50f1e
Vegetables are the only source of fiber in our diets, and fiber is a nutrient that is essential for promoting a healthy digestive system, supporting gut health, and keeping us full and satisfied. (Related: 13 Health Benefits of a High Fiber Diet.)
High-fiber vegetables' ability to keeping you full can prevent you from overeating excess calories that your body doesn't need, thus keeping our weight in check. In fact, a review published in the Journal of the American College of Nutrition found that dietary fiber intake is associated with lower body weight.
And like Smith mentions, adding more vegetables to your diet increases the nutrient density of your meal and the levels of beneficial compounds in your body. A European Journal of Nutrition study found that when participants increased their fruit and vegetable intake from 3 to 8 portions a day, levels of vitamin C, folate, and certain carotenoids were significantly increased over the course of 12 months. The researchers note that increasing levels of these nutrients are associated with a decreased risk of cancer, cardiovascular disease, obesity, and stroke.
Because people frequently cite that it is difficult to include vegetables in their diet, Smith recommends relying on more than just fresh vegetables.
"Leftover, frozen, or fresh vegetables work for this hack. Personally, I add whatever leftover veg I have in the fridge — or freezer anytime I make dinner!" says Smith.
We have one incredibly easy hack for the best roasted frozen broccoli: space them out, and put the oven on high.
Because frozen vegetables are typically coated in a layer of moisture, putting the vegetables on a sheet tray too closely together can cause them to steam rather than roast like fresh broccoli would. Keeping them spaced apart allowed the water to evaporate without steaming the neighboring broccoli. Set your oven to 400ºF, cover the broccoli with some olive oil, and pop in the oven for 20 minutes. You'll have a quick and easy veg to serve with dinner that's inexpensive, delicious, and incredibly healthy! For more ideas, check out 21 Best Healthy Cooking Hacks of All Time.
For more healthy eating news, make sure to sign up for our newsletter!
Olivia Tarantino
Olivia Tarantino is the Managing Editor of Eat This, Not That!, specializing in nutrition, health, and food product coverage.
Read more about Olivia