20 Meals That Satisfy Every Crowd
These crowd-pleasing dishes are sure to please even the pickiest of eaters.
Given various diets, preferences, and tastes, it can be difficult to find meals and snacks that satisfy every crowd; however, there are some tried and true staples out there that are healthy, delicious, and will appease even the pickiest eaters. Be it roast chicken or mac and cheese, these classic dishes have a history of being crowd pleasers and (for the most part) are ridiculously easy to prepare.
What's more? A number of these scrumptious and satisfying meals can be adapted to best suit certain preferences and tastes for every crowd. Have a relative who doesn't eat meat? Simply omit the chicken from the tasty stir fry and double-down on cruciferous vegetables instead. Not only will the dish still taste delicious, but it will still be loaded with protein and fiber as well.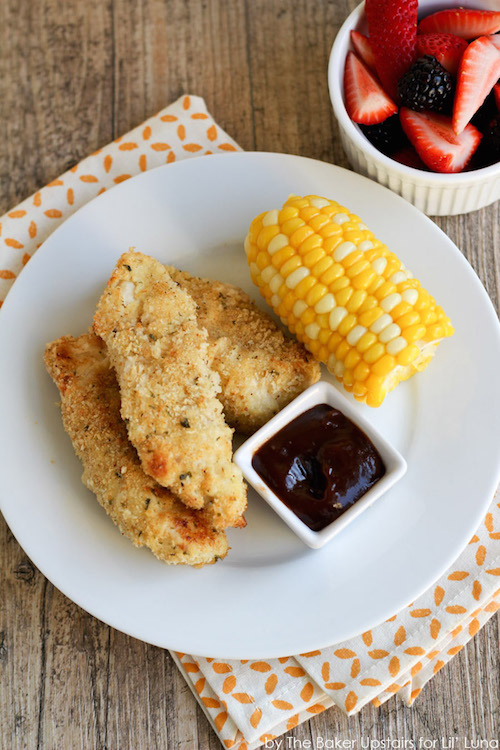 No matter how old you are, there are few things more satisfying than chicken fingers. This baked version from Lil' Luna is tasty, healthy, and quick and easy to make. This recipe uses two kinds of breadcrumbs and calls for baking the chicken instead of frying it, meaning you're saving hundreds of calories and plenty of fat.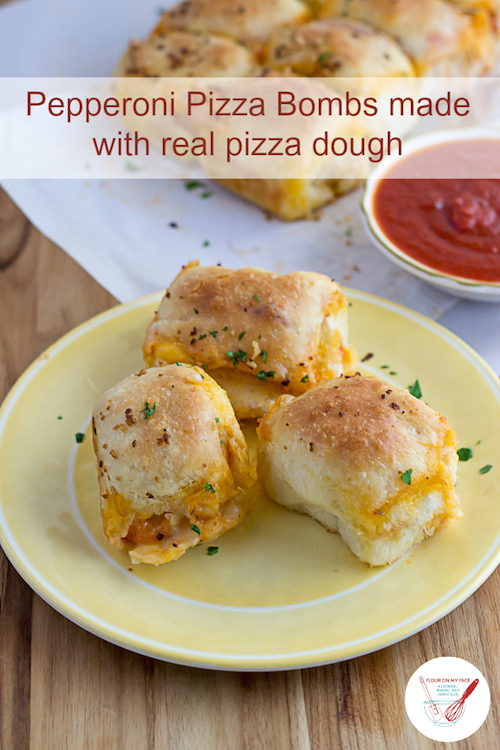 Making a traditional pizza can be tricky if you don't have a pizza stone and other accouterments. Luckily, these pepperoni pizza bombs from Flour on My Face taste just like the real thing and can be made with a baking pan in the oven. If you're feeling ambitious, you can make the pizza dough yourself, but if you're after something quick and easy, feel free to use the store-bought stuff and you'll be chowing down in just 45 minutes.
Spicy Honey Crispy Baked Chicken Wings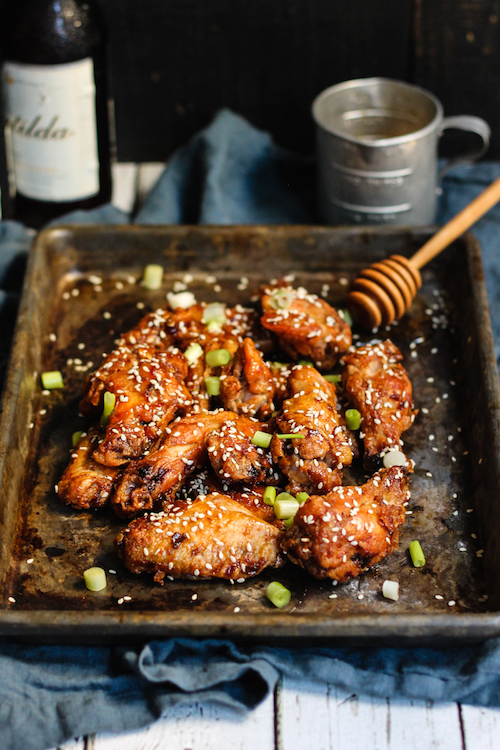 Chicken wings are a game day favorite, and these spicy honey crispy baked chicken wings courtesy of Ambitious Kitchen are simply delicious and surprisingly easy to make. Ready in about an hour, these wings are bound to please everyone thanks to a great balance of sweet and spicy flavors. What's more? This lightened up version of an American classic doesn't use any oil or flour, so go ahead and eat up!
Roasted Chicken with Butternut Squash and Brussels Sprouts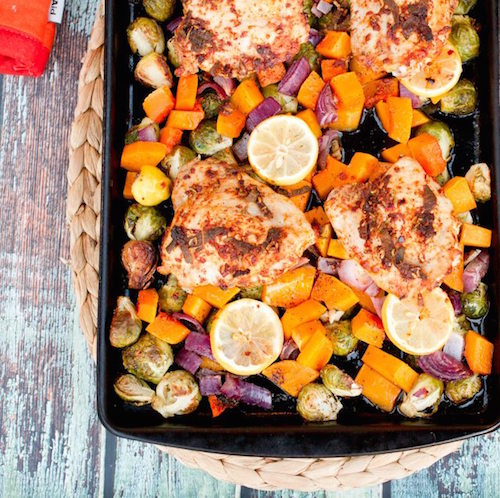 Roast chicken is one of those dishes that can please even the pickiest of eaters, and this recipe from Eating Bird Food is guaranteed to be enjoyed by all. The whole meal is roasted on one baking sheet, meaning the dish is extra flavorful and tasty, while also being very easy to prep and clean up. The recipe is also easily customizable, meaning you can use whatever vegetables you like and even sub in tofu or tempeh in place of the chicken.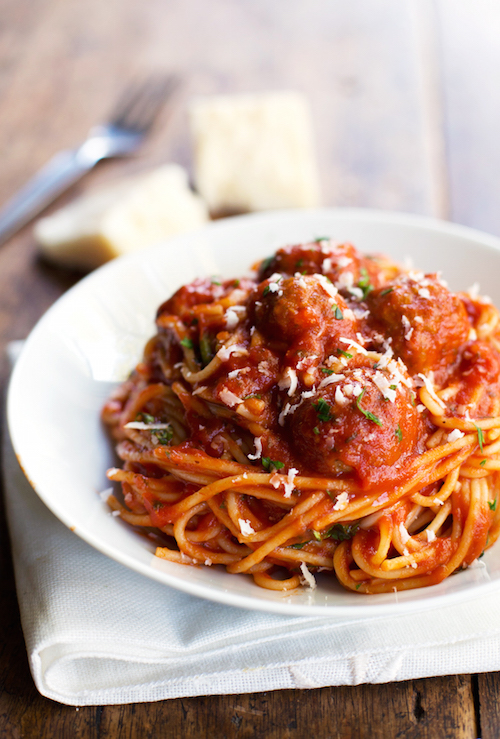 Pinch of Yum's version of spaghetti and meatballs is technically "skinny" but that's only because the meatball mixture is half chopped veggies and half lean ground turkey—a great combo for parents trying to get their little ones to eat healthier. Though spaghetti is high in carbs, the protein-rich meatballs actually make this a pretty balanced meal that can be prepared in under an hour.
Chicken noodle soup is one of those basic, comforting dishes that everyone should know how to make, especially as the weather gets colder and cold and flu season goes into full swing. Though this tasty classic is great for those who are under the weather, it's also a hit for those just looking for something cozy and delicious. This recipe from The Girl Who Ate Everything is a bit involved, but it will all be worth it once you take that first soothing bite.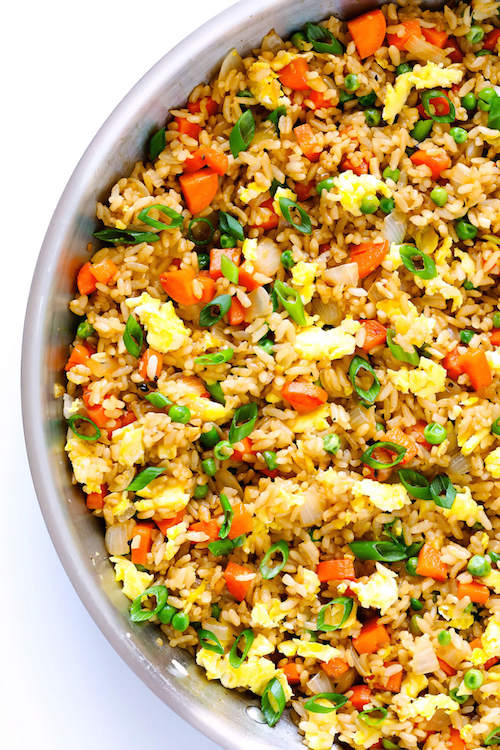 Though fried rice may look hard to make, the Chinese food classic is actually pretty simple to whip up and guaranteed to be a crowd pleaser. This vegetarian recipe from Gimmie Some Oven takes just 15 minutes to make and is customizable with any of your favorite mix-ins. While this recipe does call for veggies only, it also works with other traditional proteins such as chicken, shrimp, beef, or pork.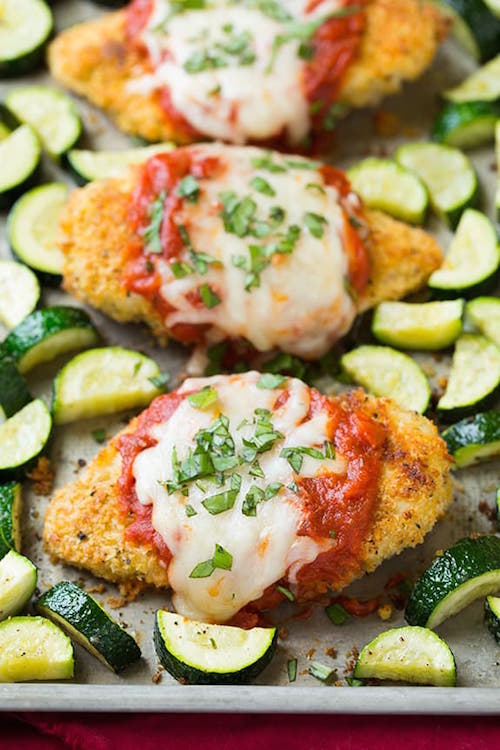 If you're looking for a classic Italian standby, chicken parmesan is right up there with spaghetti and meatballs. This recipe from Cooking Classy doesn't stray far from the original dish, and it is super easy to make. So easy, in fact, it's made in one pan and ready to eat in under an hour. Those looking for a nutrient boost will be happy to know this dish also calls for some roasted zucchini, which, in addition to pairing well with the chicken, is a great source of vitamin A, vitamin C, potassium, and fiber.
Simply put, there's nothing not to love about this garlic and lemon salmon recipe from In Sonnet's Kitchen. It's ready in half an hour, it pairs well with either vegetables or grains, and it has just the right amount of flavor that will satisfy everyone. This recipe is also high in Omega-3 fatty acids, high in protein, and low in carbohydrates–making it ideal for anyone looking for an anti-inflammatory, healthy meal.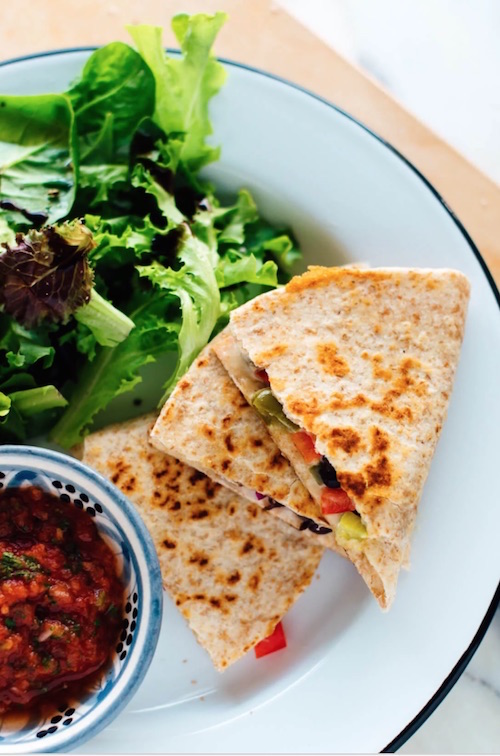 Like many recipes on this list, this quesadilla recipe from Cookie + Kate is very adaptable. While this recipe calls for vegetables only, you can easily add additional protein such as chicken, beef, or shrimp. Best of all, this tasty, protein-packed meal is ready in less than ten minutes!
Chicken and Broccoli Stir Fry
6254a4d1642c605c54bf1cab17d50f1e
Ordering in every now and again is great, but wouldn't it be better if you could make some favorites yourself? This chicken and broccoli stir-fry recipe from FitFoodieFinds tastes like it came straight from a takeout container, but it can be made in your own kitchen in less than an hour. This recipe uses chicken, broccoli, and a variety of veggies, but feel free to adapt it to suit your own tastes and needs.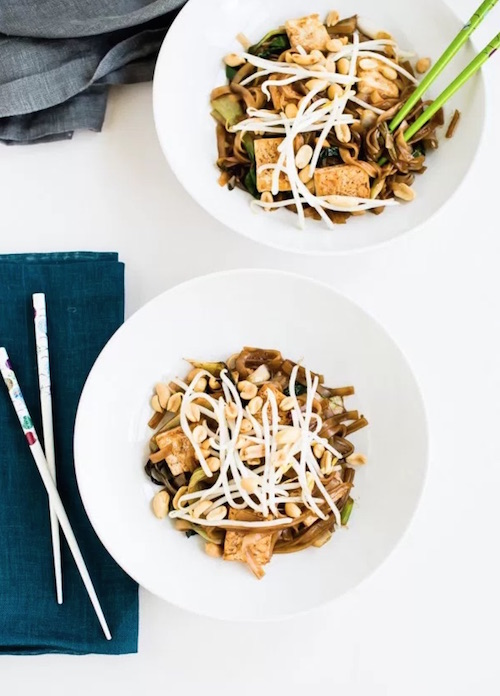 Pad Thai is another takeout favorite, and this vegetarian version from Oh My Veggie is easy to make and simply delicious. In just 45 minutes you can be chowing down on a protein-packed meal that's loaded with flavor. And because Pad Thai typically isn't vegetarian, feel free to add chicken or beef to this dish if you're looking for a bit more substance.
Spinach and Artichoke Dip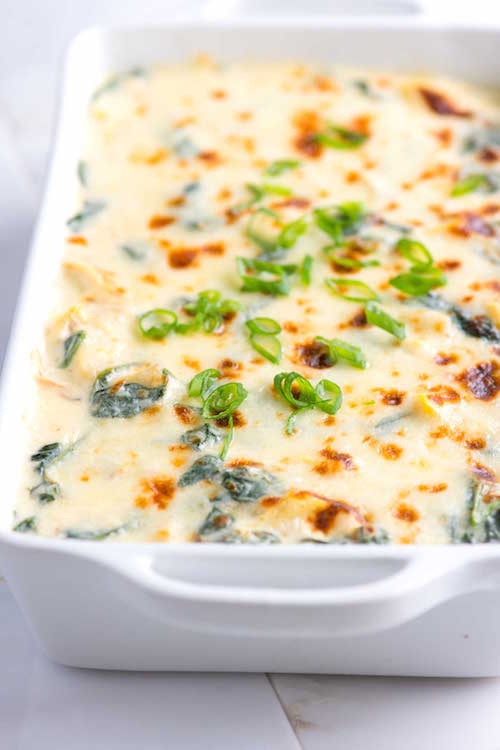 Admittedly, spinach and artichoke dip isn't the lightest thing to snack on, but there's no denying it's darn delicious. This recipe from Inspired Kitchen is especially creamy and flavorful, meaning there's nothing not to like. Whip this party favorite up in just 35 minutes, and be sure you have plenty of chips and veggies available for dipping.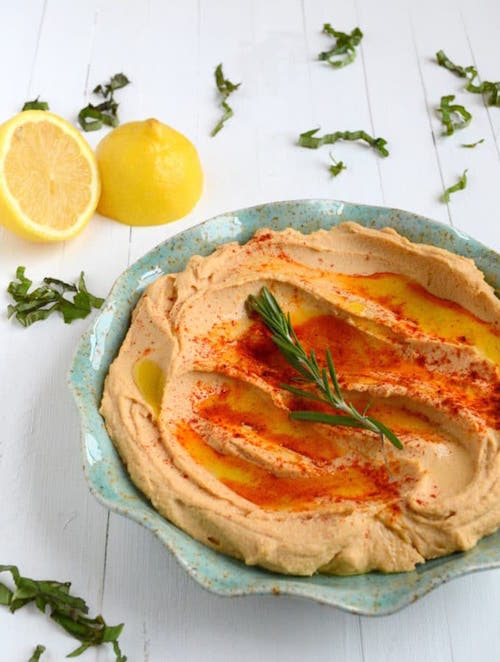 If you're looking for a lighter dip option, try this creamy hummus from Blissful Basil. Though the recipe is pretty typical from a flavor perspective, the smooth texture (thanks to shelling the chickpeas and adding a bit of cashew cream) is really something else. What's more? Hummus is packed with fiber and protein, and goes great with chips and/or nutrient-rich vegetables.
These pigs in a blanket bites (a slight variation on the classic hors-d'oeuvre) are just sophisticated enough to impress people, but not so fancy that they warrant hours in the kitchen. Instead of hot dogs, this recipe from Taste and Tell uses Andouille sausage, and in place of regular pastry dough, this dish calls for dough that's been rolled in a mustard seed and cornmeal mixture. Ready in about an hour, these bites are bound to become a fast favorite.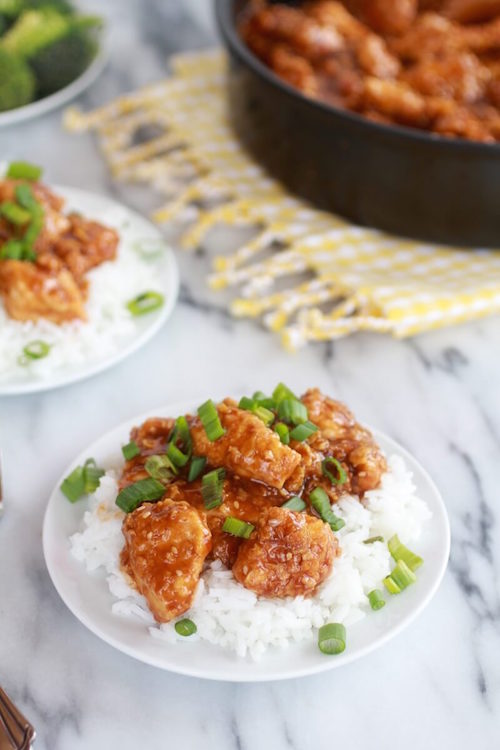 This General Tso's Chicken recipe from Half Baked Harvest is actually a lighter version of the Chinese food favorite (and sans loads of MSG), so there's no need to feel guilty while you're chowing down. The chicken is baked, not fried, and slathered in a tasty sauce that's bound to satisfy almost any eater because it's the perfect balance of sweet and spicy. Serve the chicken with vegetables or heart-healthy brown rice and you won't be disappointed!
Tortilla Crusted Fish Tacos
There's no shortage of taco recipes out there, but these tortilla crusted fish tacos courtesy of The Creative Bite are about as good as it gets. They're tasty, easy to make, and healthy. Ready in just 20 minutes, these tacos are paired with a delicious avocado crema that not only enhances the dish but also adds some heart-healthy monounsaturated fat and protein.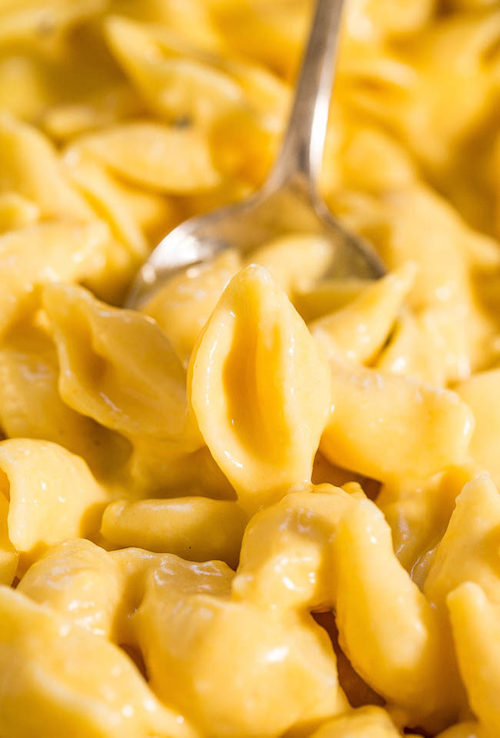 There are literally thousands of mac and cheese recipes out there (if not more) and one of our favorites is this one from Averie Cooks. It's traditional and easy—ready in just 30 minutes!—and highly adaptable. This recipe uses pasta shells, a cheddar-parmesan combo, and cashew milk, which is a great source of plant-based protein and helps make the dish especially creamy, but you can adjust accordingly based on your own preferences.
Black Bean Vegetarian Chili
This Foxes Love Lemons recipe for vegetarian chili is packed with spicy flavor and textures, and uses an array of protein-rich veggies and beans. Interestingly enough, this recipe also calls for chorizo-flavored seitan—a meat substitute that tastes suspiciously like the real thing. For a vegetarian crowd the meal is pretty perfect as is, but if you're looking for a bit more substance you can also go right ahead and add some ground turkey or ground beef.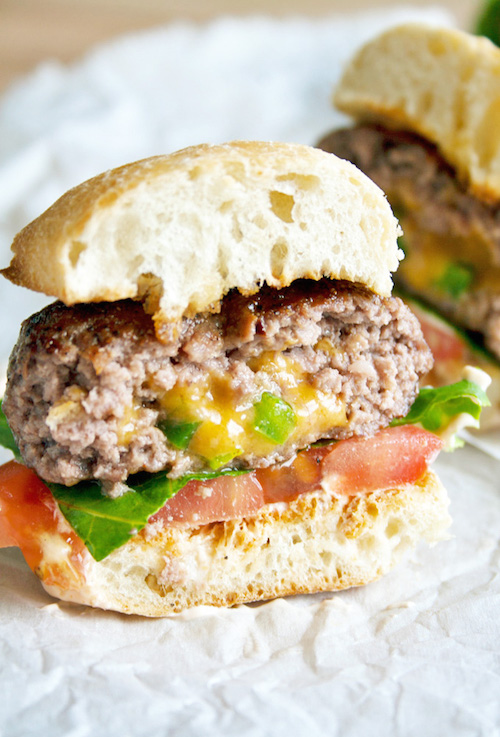 If you've ever felt the urge to combine a jalapeno popper and a slider, these jalapeno popper sliders from A Happy Food Dance are definitely for you. As you may have guessed from the name, this recipe actually combines two party favorites into one tasty bite. Ready in about an hour, these sliders are bound to become a game day and holiday party favorite.