The Best & Worst Boxed Mac-and-Cheese Brands
Your favorite creamy comfort food doesn't have to be disastrous for your waistline—if you pick the right box, that is.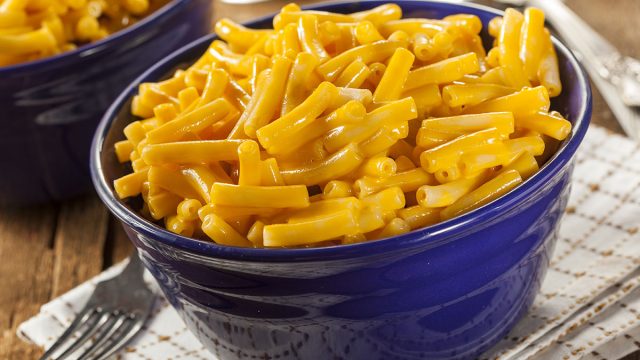 Whether you're young or old, mac and cheese is a timeless classic that makes even the most diligent low-carb dieters weak at the knees. And with the ingenious invention of boxed macaroni and cheese dinners, even those who are slightly cooking-challenged can easily succumb to their favorite cheat meals any time of the day. But their ease of access and simple instructions shouldn't be enough to warrant an indulgence, as not every boxed mac and cheese is made the same.
In fact, with some of the calorie, sodium, and fat counts, many of these boxes of gold should make you think twice before you pick them off the shelf. You can thank the saturated-fat-laden butter, milk, cheese—or the scientifically-developed chemical alternatives to each of these natural ingredients—and refined-flour noodles for this dish's downfall. But not all boxes have to be sad mistakes for your diet.
We've compiled a list of the best and worst of the boxed mac and cheese available in supermarkets, so you can indulge in nostalgia without totally derailing your diet. Check out the list below, ranked from not so bad, to the worst of the bunch. And while you're taking a trip down memory lane, be sure to check out these 15 Classic American Desserts That Deserve a Comeback.
Banza Plant-Based Mac with Chickpea Pasta
Per 1 cup
: 210 calories, 3.5 g fat (0 g saturated fat), 660 mg sodium, 35 g carbs (6 g fiber, 3 g sugar), 14 g protein
Banza is made with chickpea pasta, which is naturally a healthier alternative. This variety, which happens to be gluten-free and vegan, comes in at whopping 13 grams of protein and a solid six grams of fiber per serving. Plus, it's the lowest-carb option on this list. And for a modest 210 calories? You can't ever really go wrong with this dairy-free option. While it is a bit higher in sodium than some others, overall, it's one of the best options out there. (You can't really go wrong with any of the Banza flavors, really!)
365 Everyday Value Macaroni and Cheese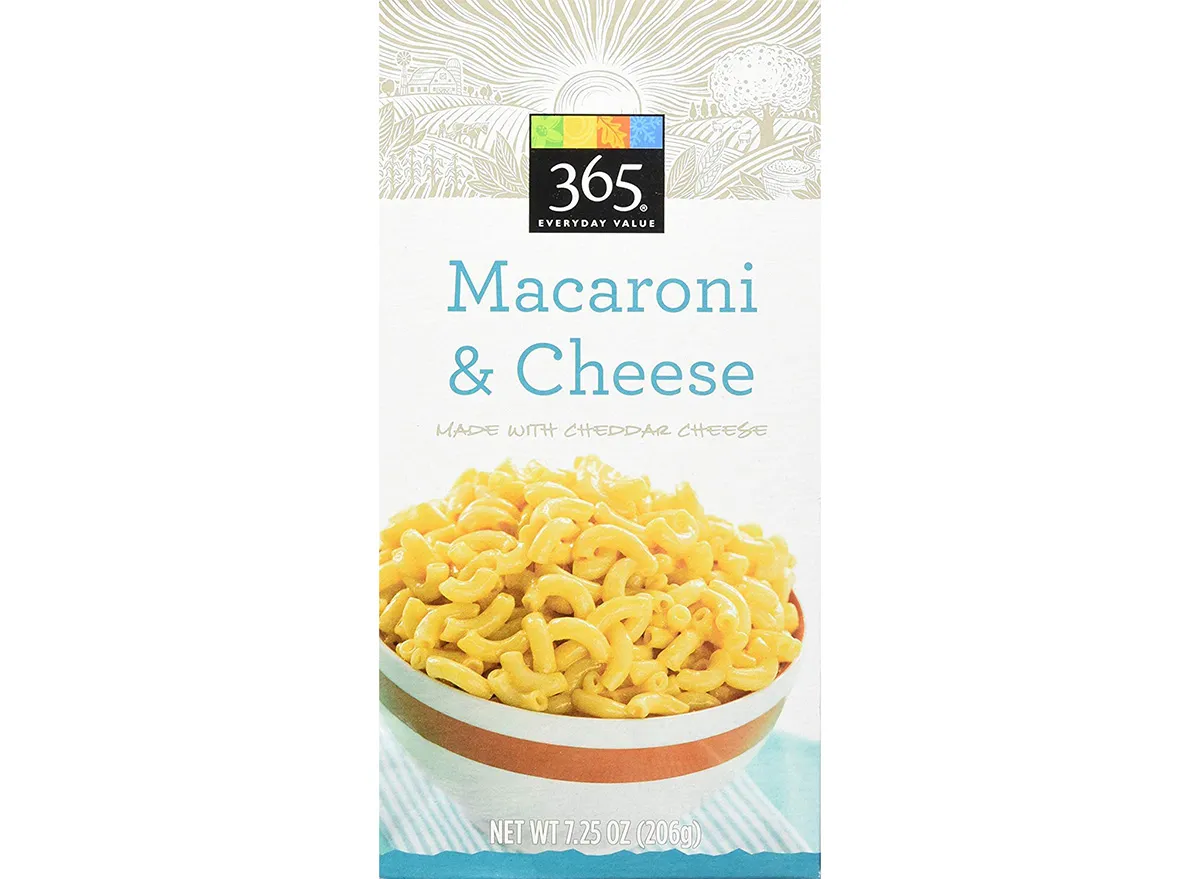 Per 1 cup
: 250 calories, 1.5 g fat (0 g saturated fat), 520 mg sodium, 50 g carbs (2 g fiber, 3 g sugar), 9 g protein
The Whole Foods brand you can easily order from Amazon comes in at a—dare we say—modest 250 calories per serving and is low in fat and saturated fat. Nine grams of protein isn't too shabby of a deal either!
Market Pantry Macaroni & Cheese Dinner
Per 1 cup
: 250 calories, 1 g fat (0 g saturated fat), 500 mg sodium, 52 g carbs (2 g fiber, 9 g sugar), 8 g protein
You'll find the Market Pantry at Target and while at first glance this mac and cheese seems not so bad, you want to keep in mind this whole box is a dinner size, meaning it has two and a half servings. If you end up eating the whole box at one time, you're downing 1,250 milligrams of sodium and 130 grams of carbs.
Great Value Thick & Creamy Macaroni & Cheese
Per 1 cup
: 260 calories, 1.5 g fat (0.5 g saturated fat), 570 mg sodium, 50 g carbs (2 g fiber, 8 g sugar), 9 g protein
Great Value is a brand sold exclusively at Walmart's grocery, and while it's great there is a GF option, this one isn't necessarily the best. With one serving containing a whopping 660 milligrams of sodium, you might have to think twice about this one, although it is rather low-calorie.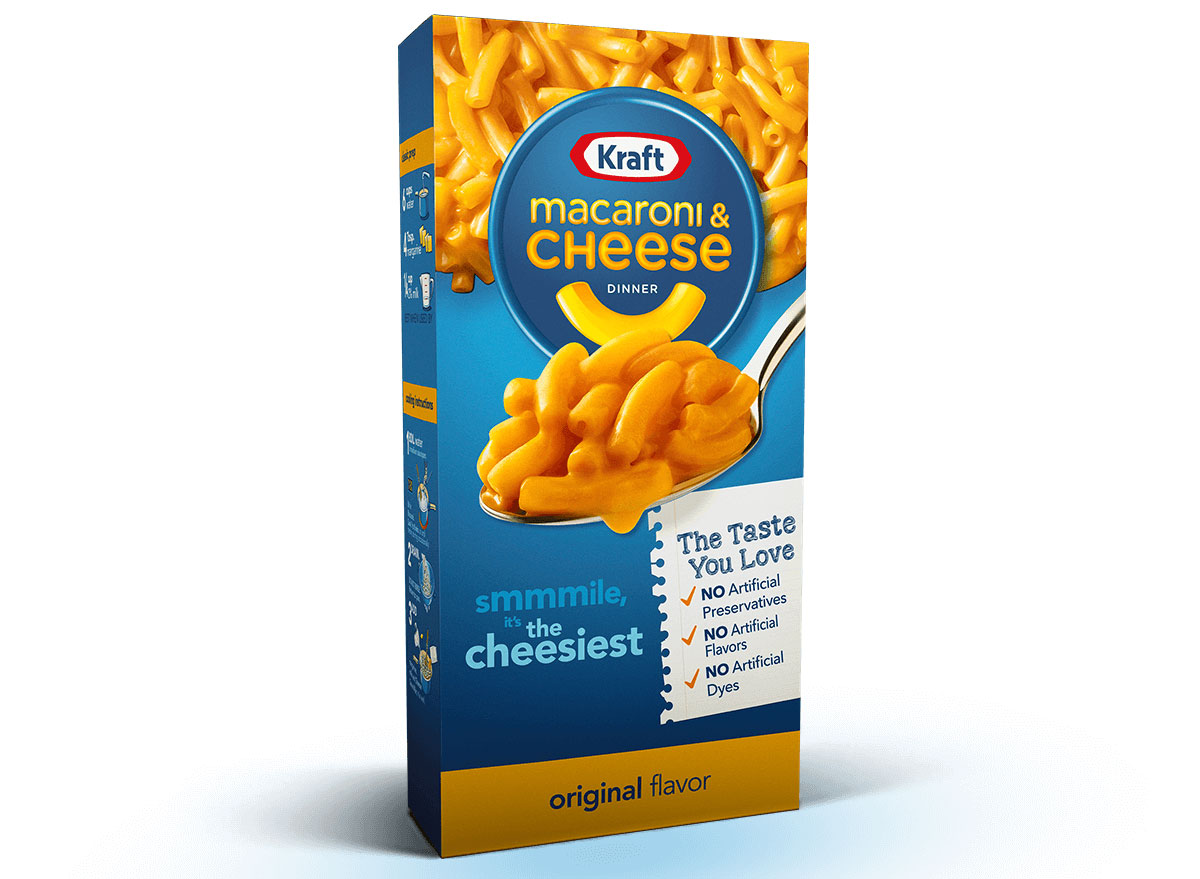 Per 1 cup
: 250 calories, 3 g fat (1.5 g saturated fat), 570 mg sodium, 47 g carbs (2 g fiber, 6 g sugar), 9 g protein
Oh Kraft, and that iconic blue box. While overall, it might not seem like it'll do too much damage, it's important to note that this variety does still have a rather high sodium count and it's brought to life thanks to that signature orange powder instead of, you know, actual cheese. One box does serve three people though so as long as you stick to the serving size, you don't have to feel too guilty about indulging in this childhood favorite every once in a while.
Annie's Spirals With Butter and Parmesan
Per 1 cup
: 270 calories, 3.5 g fat (2 g saturated fat), 630 mg sodium, 50 g carbs (3 g fiber, 6 g sugar), 10 g protein
Annie's is another beloved mac and cheese brand and while this flavor is made with creamy butter, real Parmesan cheese, and is said to "please even the pickiest of eaters," the sodium is still on the high side. Again, be sure to stick to the portion size and not eat the entire box in one sitting! Save some for later, or share it.
Looking for more helpful tips? Sign up for our newsletter to get daily recipes and food news in your inbox!
Annie's Organic Alfredo Shells & Cheddar Mac & Cheese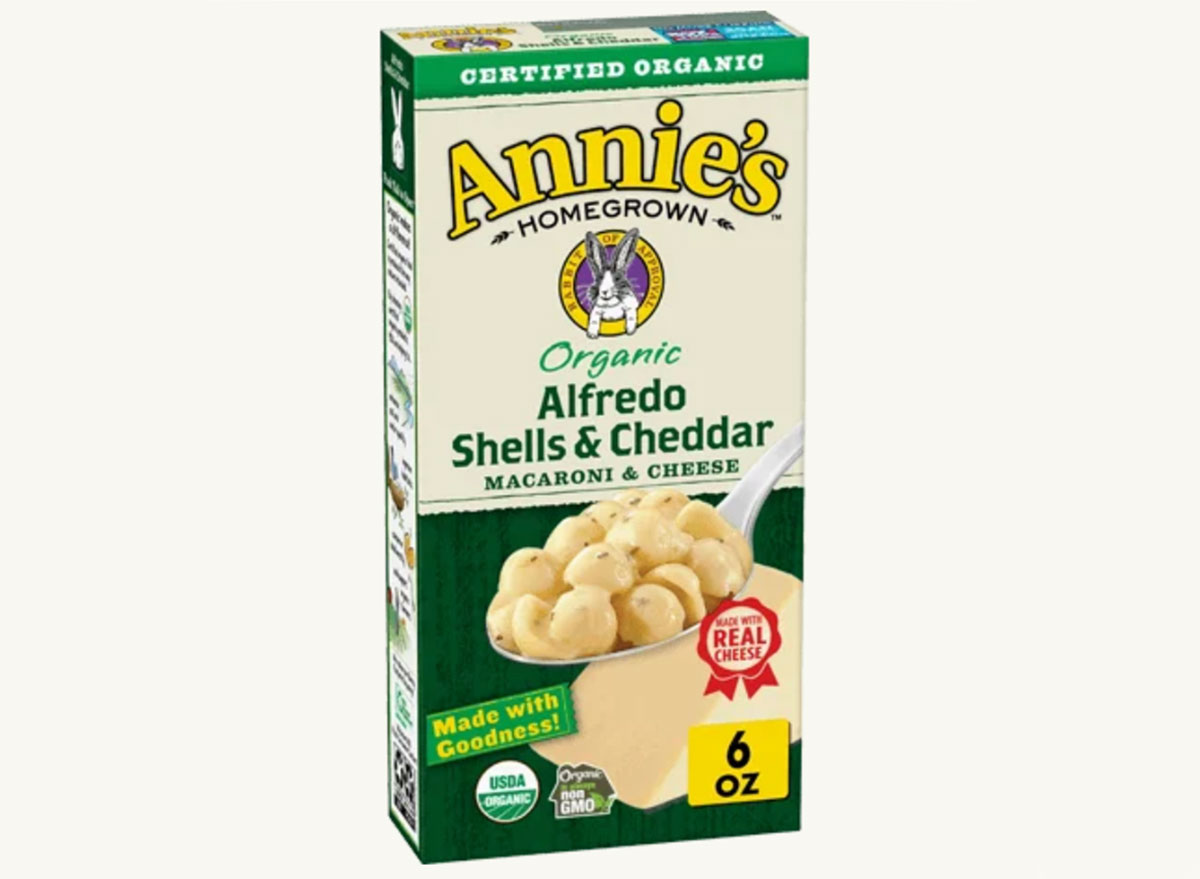 Per 1 cup
: 250 calories, 3.5 g fat (2 g saturated fat), 700 mg sodium, 47 g carbs (2 g fiber, 4 g sugar), 10 g protein
The major upside to this Annie's option is that it's made with real cheese from cows that aren't treated with growth hormone rBST. Wondering what exactly that means? rBGH, aka rBST, is a genetically engineered hormone that some farmers inject into their cows to boost milk production. But what knocks it down is the sodium, as one serving will cost you 700 milligrams. The American Heart Association recommends no more than 2,300 milligrams per day.
Modern Table Three Cheese Mac & Cheese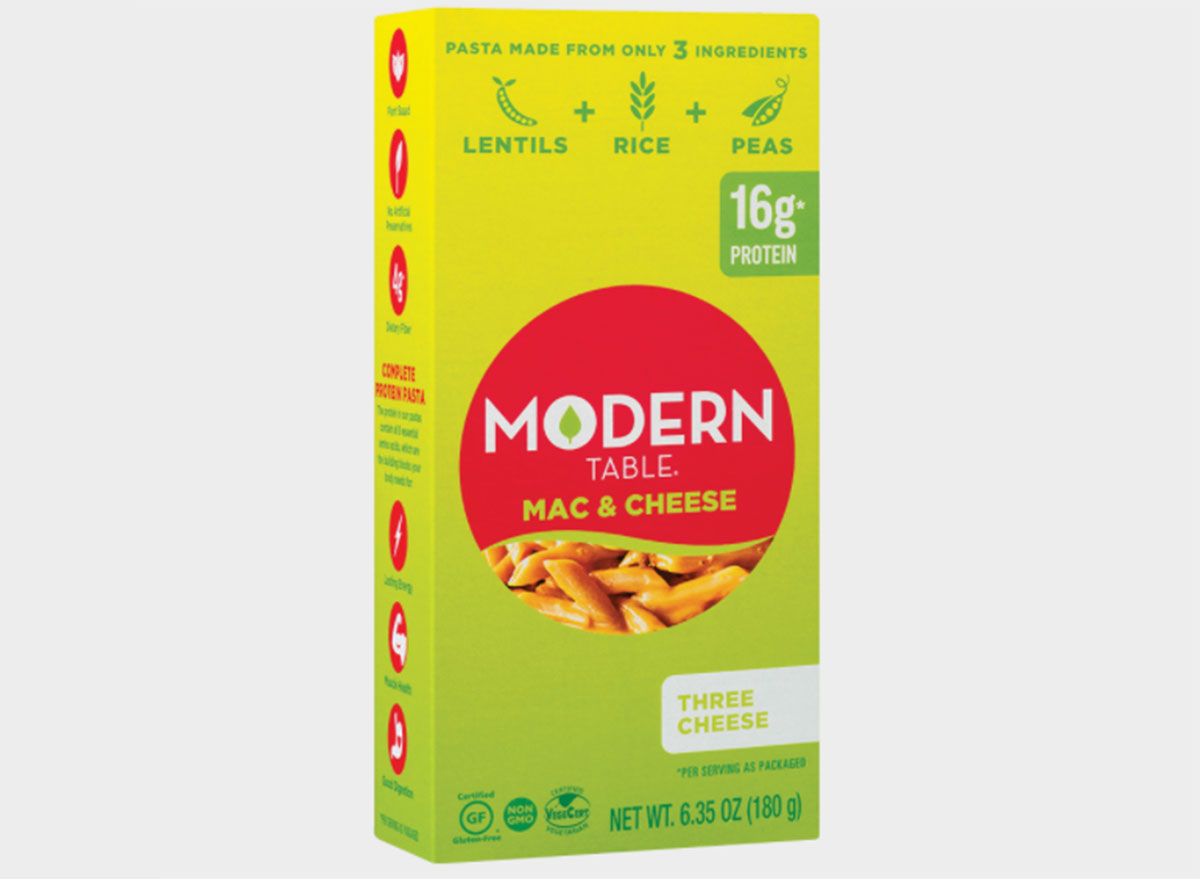 Per 1 cup
: 320 calories, 1.5 g fat (0.5 g saturated fat), 600 mg sodium, 59 g carbs (4 g fiber, 6 g sugar), 16 g protein
Modern Table is known for its high-protein options and this mac and cheese does deliver that.
Our protein-packed Three Cheese Mac & Cheese combines the power of plant protein with the joy of comfort food. Lentils, rice and pea protein make up our gluten-free, protein-packed mac & cheese, plus a three-cheese sauce we call the triple threat.
Kraft White Cheddar Pasta Shells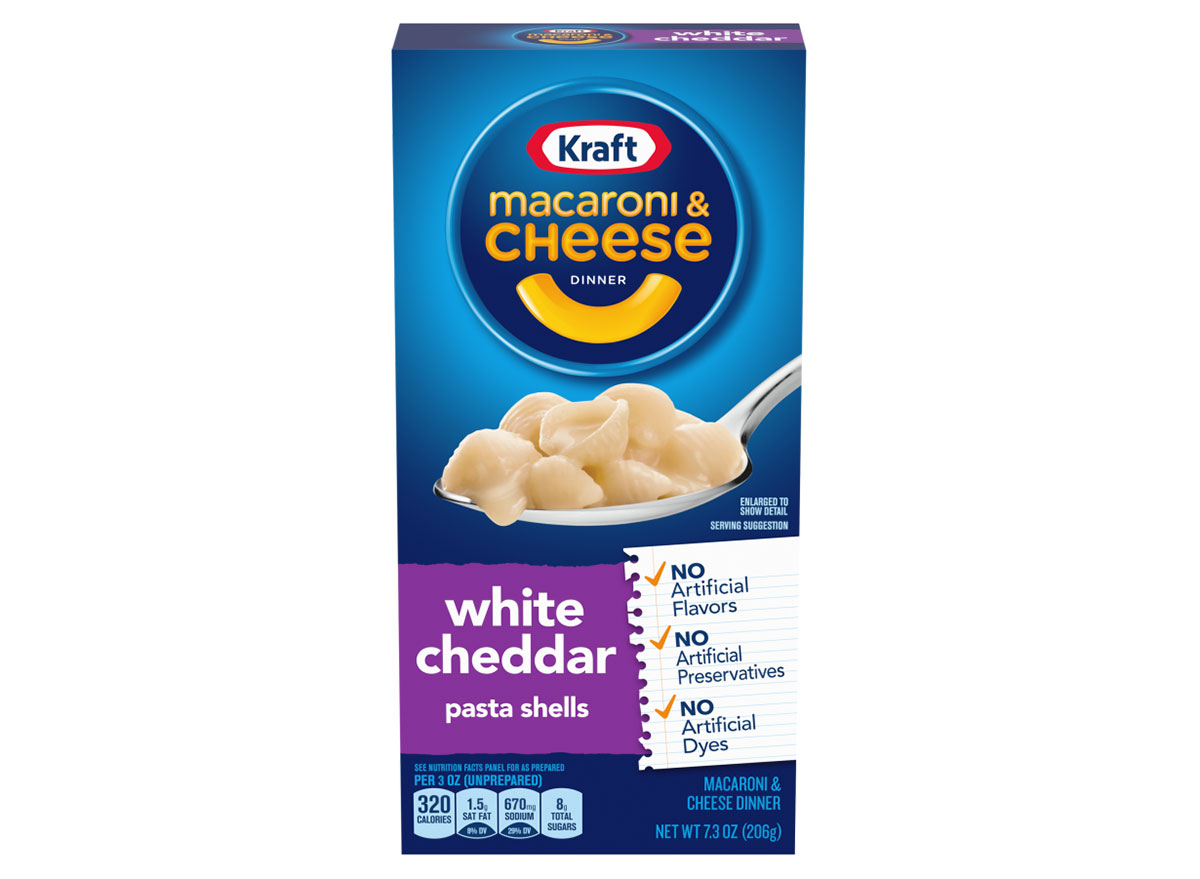 Per 1 cup
: 320 calories, 3.5 g fat (1.5 g saturated fat), 670 mg sodium, 59 g carbs (2 g fiber, 8 g sugar), 12 g protein
Kraft took things up a notch with the white cheddar cheese pasta shell version of the beloved mac and cheese. While it might bring on a wave of nostalgia digging into a bowl, one serving is more than 300 calories and has more sodium than if you ate 55 Lay's potato chips.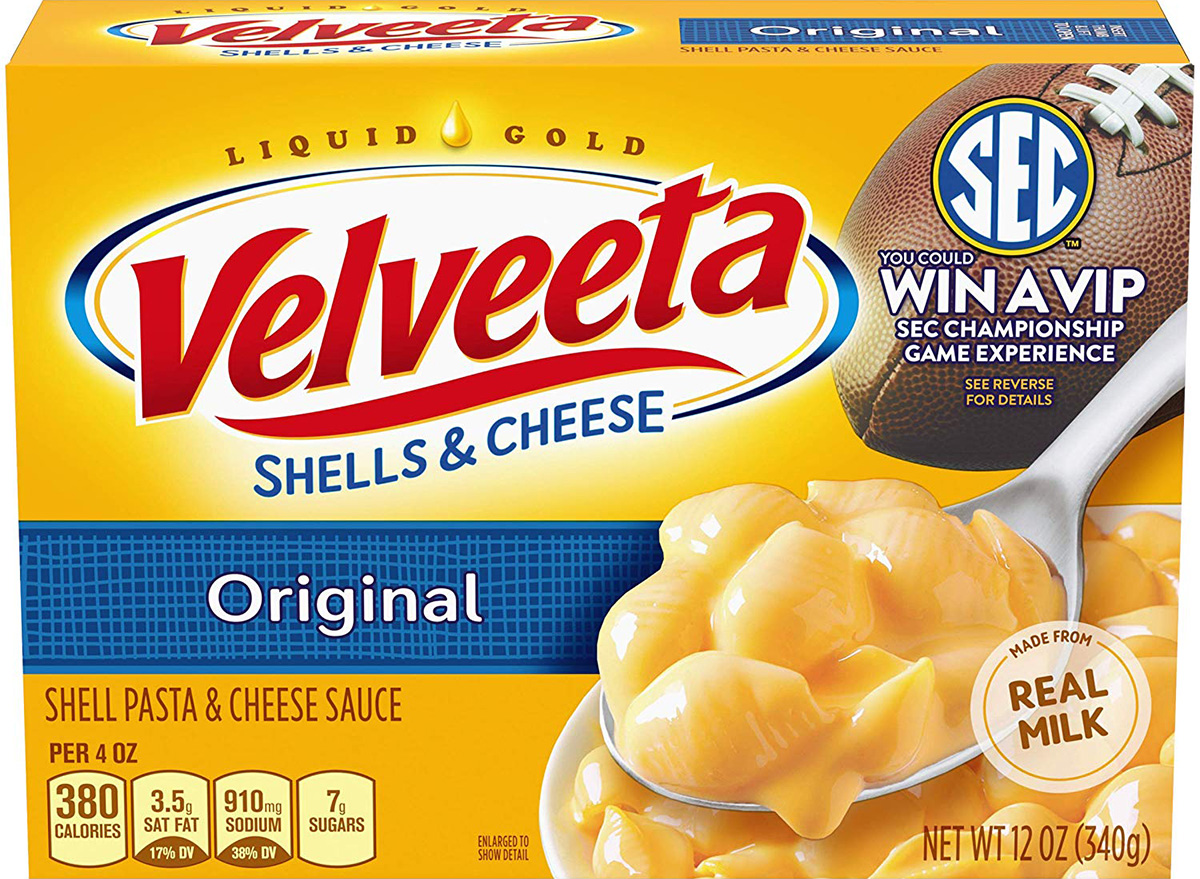 Per 1 cup
: 380 calories, 12 g fat (3.5 g saturated fat), 910 mg sodium, 52 g carbs (1 g fiber, 7 g sugar), 14 g protein
Don't let Velveeta fool you—while this mac and cheese is made with a packet of cheese sauce, it's not necessarily healthy by any means. From the 12 grams of fat and the ridiculously high amount of sodium, it's best to leave this "liquid gold" on the shelf. Keep in mind this is just one serving! You're much better off trying your hand at making your own mac and cheese from scratch.
Velveeta Broccoli Rotini & Cheese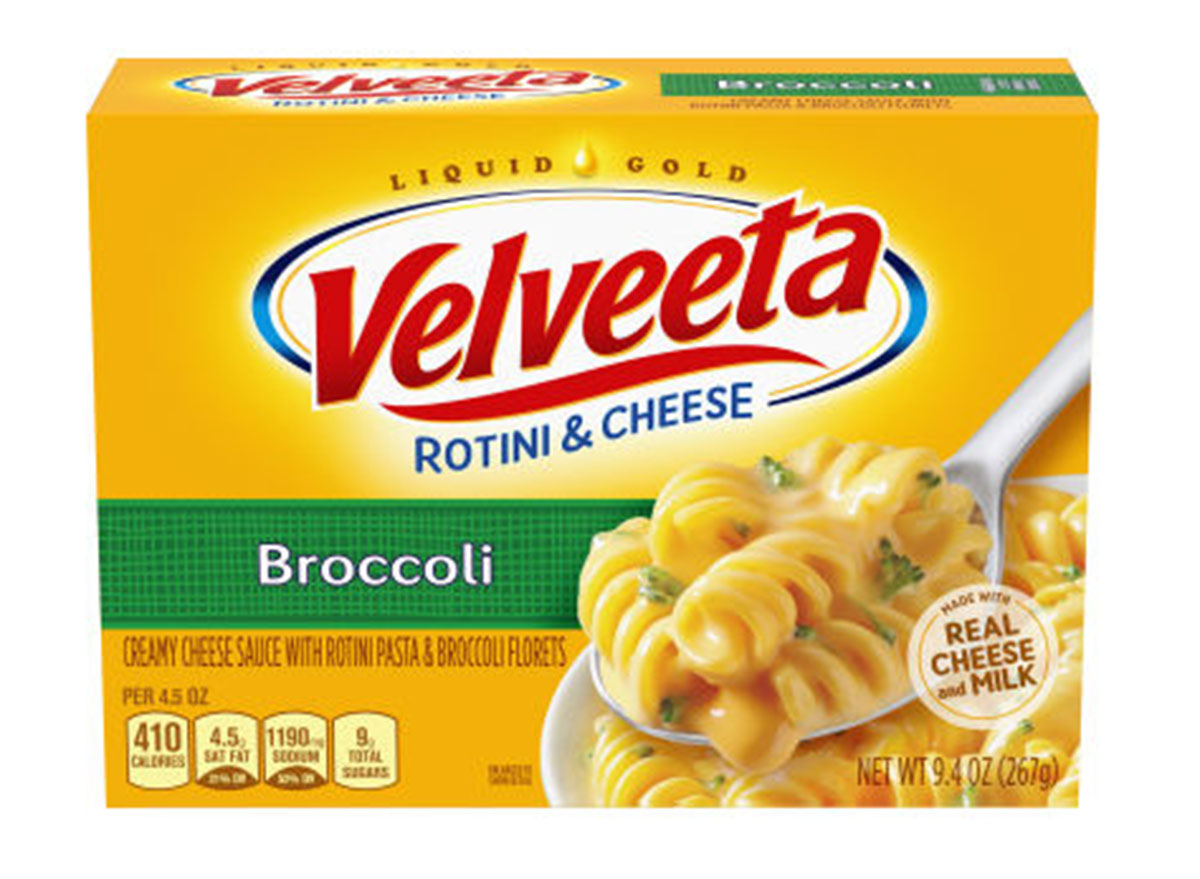 Per 1 cup
: 410 calories, 16 g fat (4.5 g saturated fat), 1,190 mg sodium, 51 g carbs (2 g fiber, 9 g sugar), 15 g protein
If you thought the Velveeta options couldn't get any worse, enter the broccoli rotini. You would think this would be a safer option, as adding vegetables to any pasta dish is always encouraged. But here, Velveeta is serving up a mac and cheese dish that is packing as much sodium as four and half medium-size orders of McDonald's French fries, making it the worst boxed mac and cheese option. Big yikes.
Inspired by
The New York Times
best-selling book series,
Eat This, Not That!
is a brand that's comprised of an award-winning team of journalists and board-certified experts, doctors, nutritionists, chefs, personal trainers, and dietitians who work together to bring you accurate, timely, informative, and actionable content on food, nutrition, dieting, weight loss, health, wellness, and more.
Read more