20 Best Healthy Chili Recipes for Weight Loss
These comforting chili recipes will keep you toasty this season without sabotaging your weight loss goals.
As the temperatures continue to decrease, what's better than coming home to a satisfying bowl of chili? Not much, we'd say. The fulfilling combination of meat, beans, peppers, herbs, and spices packs a hearty serving of fiber and protein, helping you feel fuller for longer. Plus, with a foundation that's easy to build upon and customize, our list of healthy chili recipes is sure to include at least one bowl you'll love.
So if you're looking for some chili recipes that can aid you in your weight loss efforts, here are some of our favorites.
And if you'd prefer to go out for chili, check out: The Best Chili in Every State.
Turkey Chili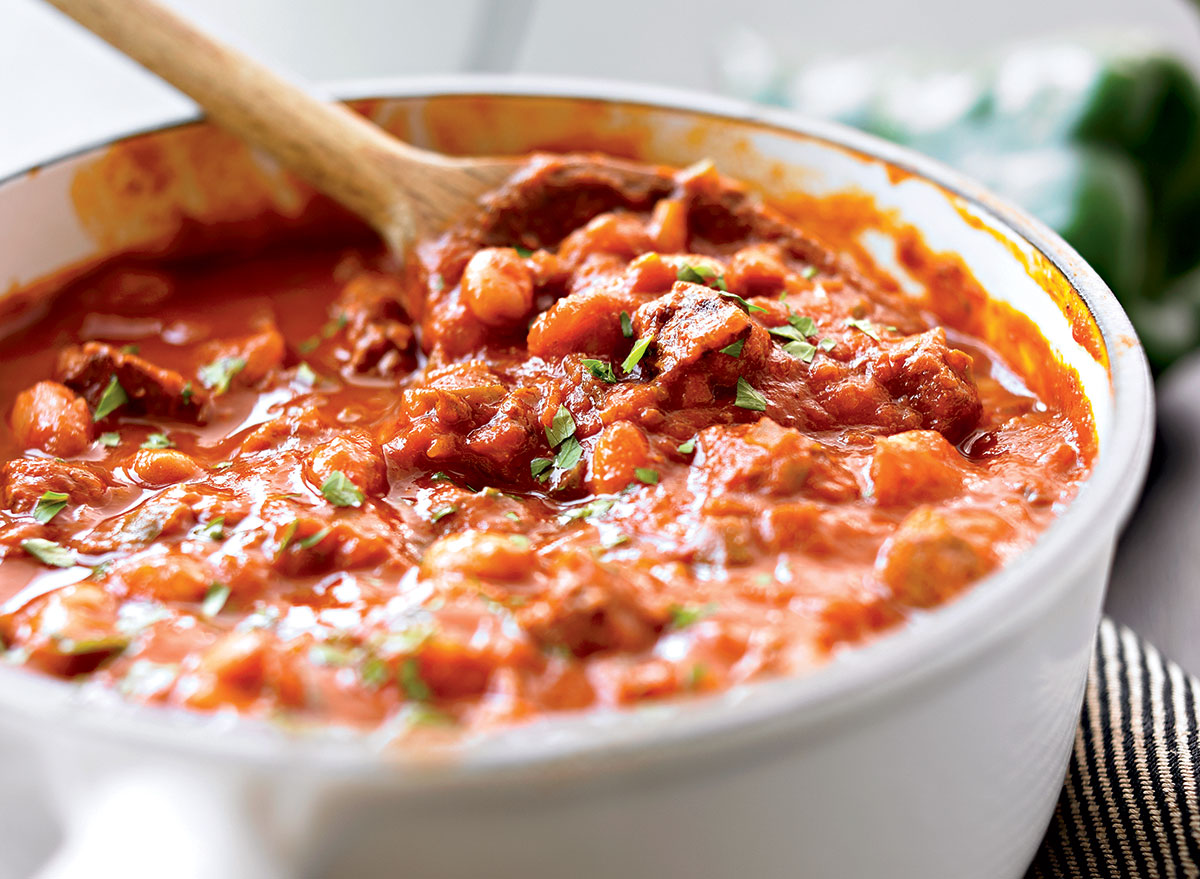 Though we've never been shy about professing our undying affection for chili, it's not without its dangers: namely, soaring sodium counts and reliance on fatty ground beef. Go lean by using ground turkey and build flavor with spices, beer, and a bit of chocolate.
Get our recipe for Turkey Chili.
Smokey Crock-Pot Chili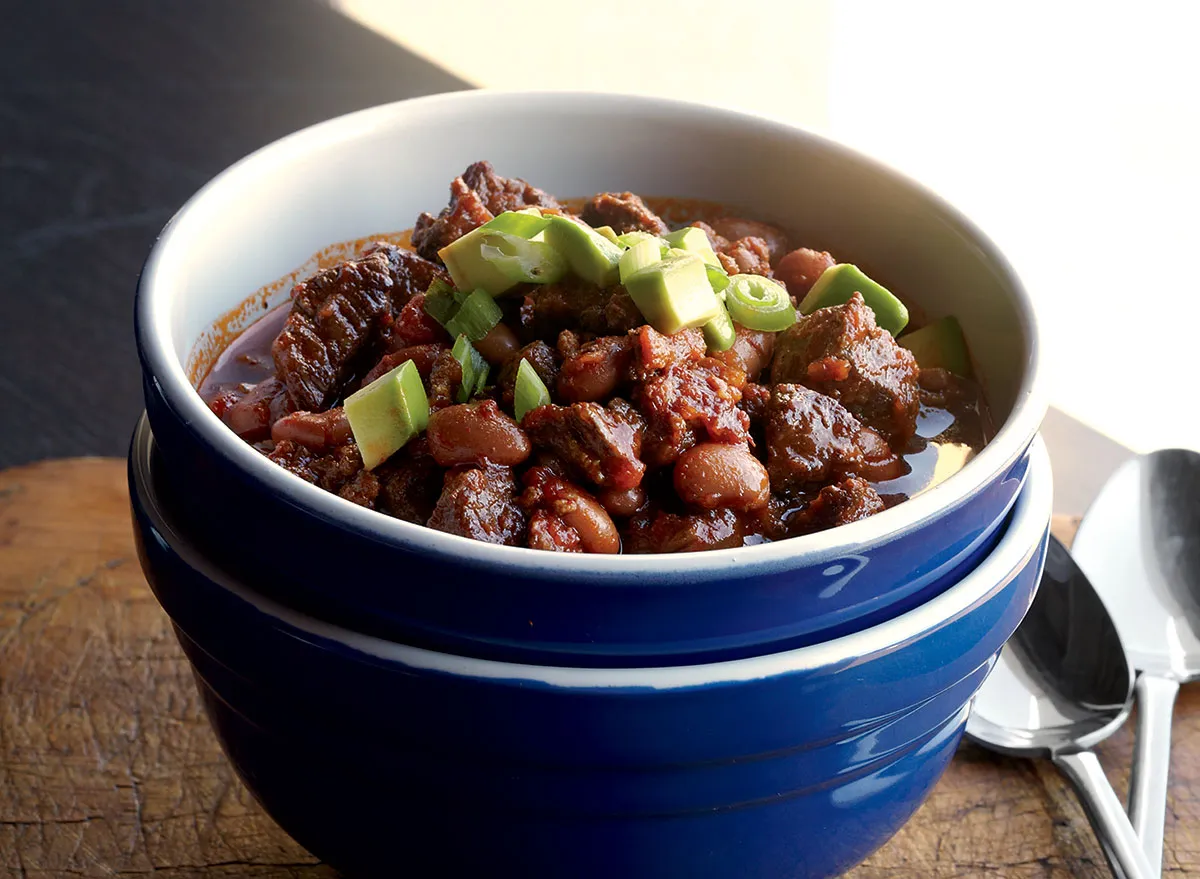 Our Crock-Pot chili recipe has big flavors in spades: smoky chipotle pepper, hoppy IPA, and plenty of cumin and chili powder to tie the whole thing together. Chili and corn have a natural affinity for each other, so we like serving this with a wedge of cornbread or a stack of warm tortillas.
Get our recipe for Smoky Crock-Pot Chili.
Slow Cooker Pumpkin Chicken Chili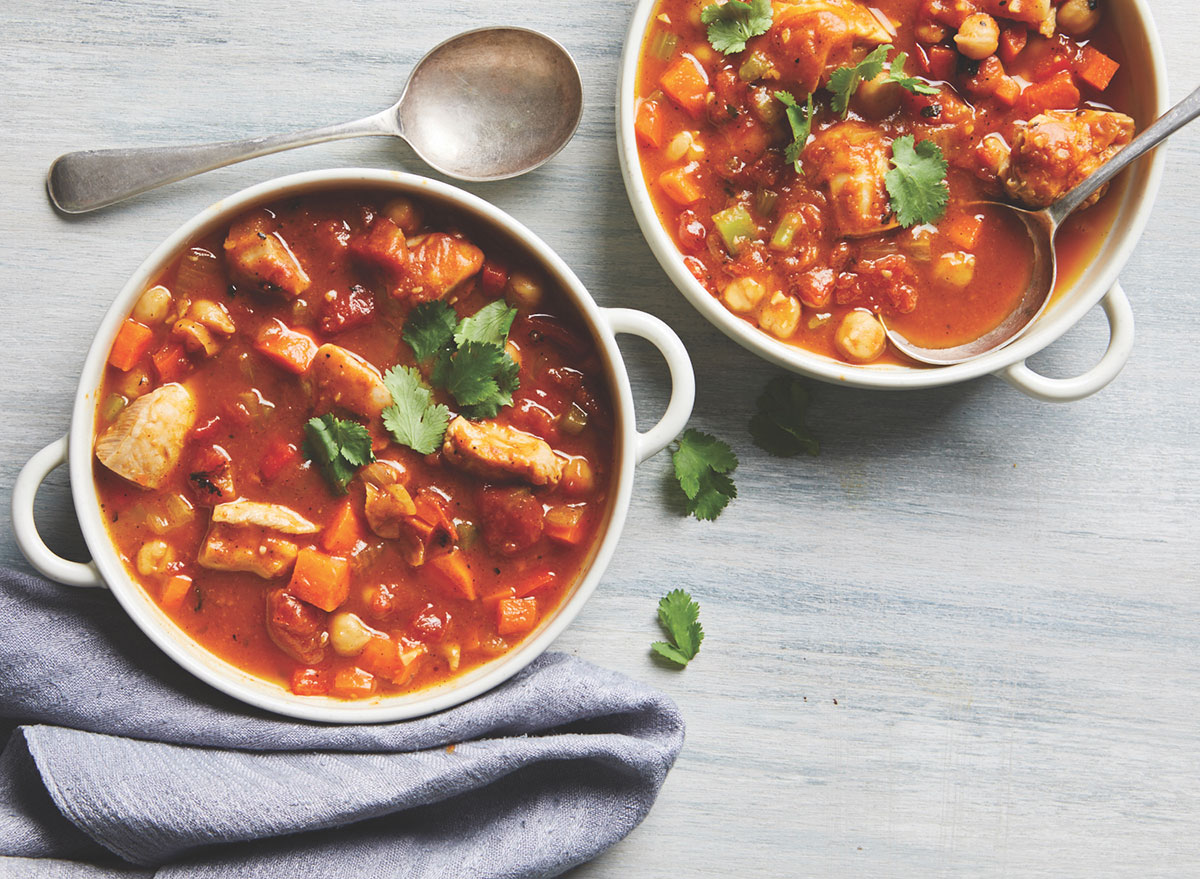 In this pumpkin chili recipe, we combine all the classic chili elements—beans, peppers, onions, celery, carrots, garlic, and chili powder to name a few—along with the chicken and pumpkin in a slow cooker for a few hours. You'll come home to a flavor-packed chili that is savory and brings a little kick you can ramp up by adding in some hot sauce.
Get our recipe for Slow Cooker Pumpkin Chicken Chili.
Easy Chili and DIY Chili Powder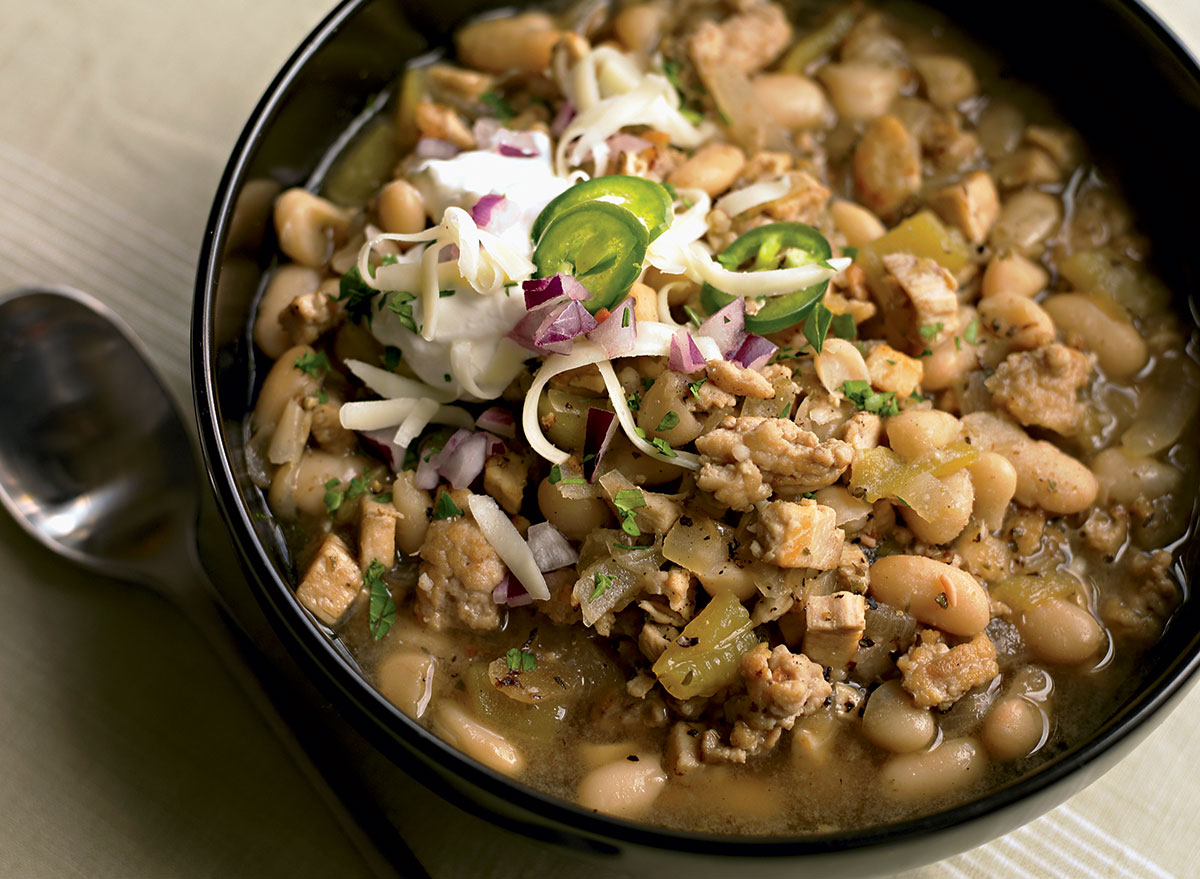 Texans and New Mexicans—both of whom lay claim to the advent of chili—disagree on most matters when it comes to this divisive dish. Beans or no beans? Tomatoes? Chunks of chuck or ground? One truth all serious chili heads can agree on, though, is the fundamental importance of a good chili powder. That means skipping the bottled supermarket stuff and making your own secret spice powder. This is a beginner powder, requiring nothing more than toasting two different dried chiles, then pulverizing them in a coffee grinder. Use leftovers to rub on steaks, spike dips, and dust on slices of mango.
Get our recipe for Easy Chili and DIY Chili Powder.
Crock-Pot Vegetarian Chili
Just because a meal doesn't have meat in it doesn't mean it can't be a hearty one! This Crock-Pot vegetarian chili is stocked with all sorts of filling foods you'll love mixing together in the slow cooker.6254a4d1642c605c54bf1cab17d50f1e
Get our recipe for Crock-Pot Vegetarian Chili.
Copycat Wendy's Chili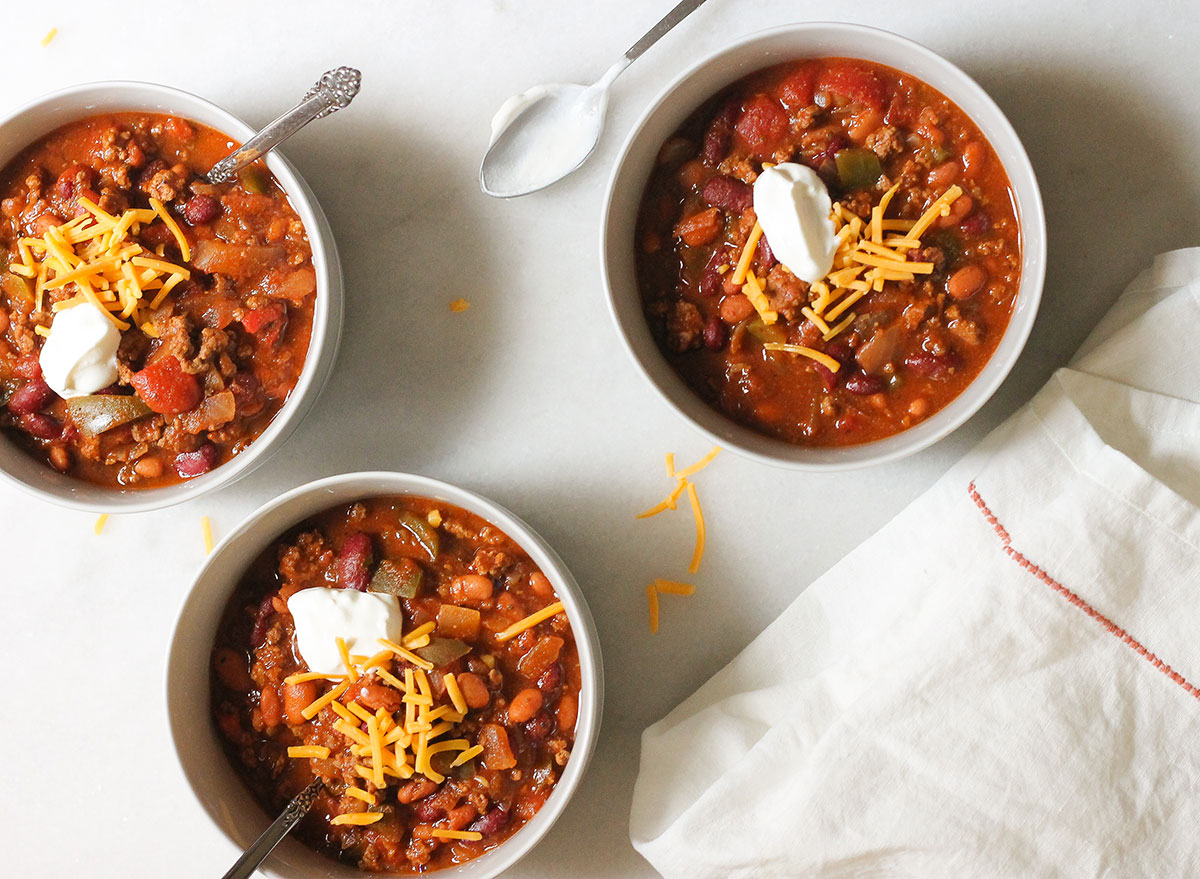 Thanks to a clear list of ingredients on the Wendy's website, it was easy to put together this recipe. According to the list, Wendy's chili has a chili base, tomatoes, chili beans, pink beans, kidney beans, onions, celery, green peppers, ground beef, chili pepper, garlic powder, and spices.
Get our recipe for Copycat Wendy's Chili.
Instant Pot Chili
You can make one of the easiest healthy chili recipes right in your Instant Pot! Plus, this recipe is perfect for anyone attempting to be on a low-carb diet.
Get our recipe for Instant Pot Chili.
Pumpkin Mole Chili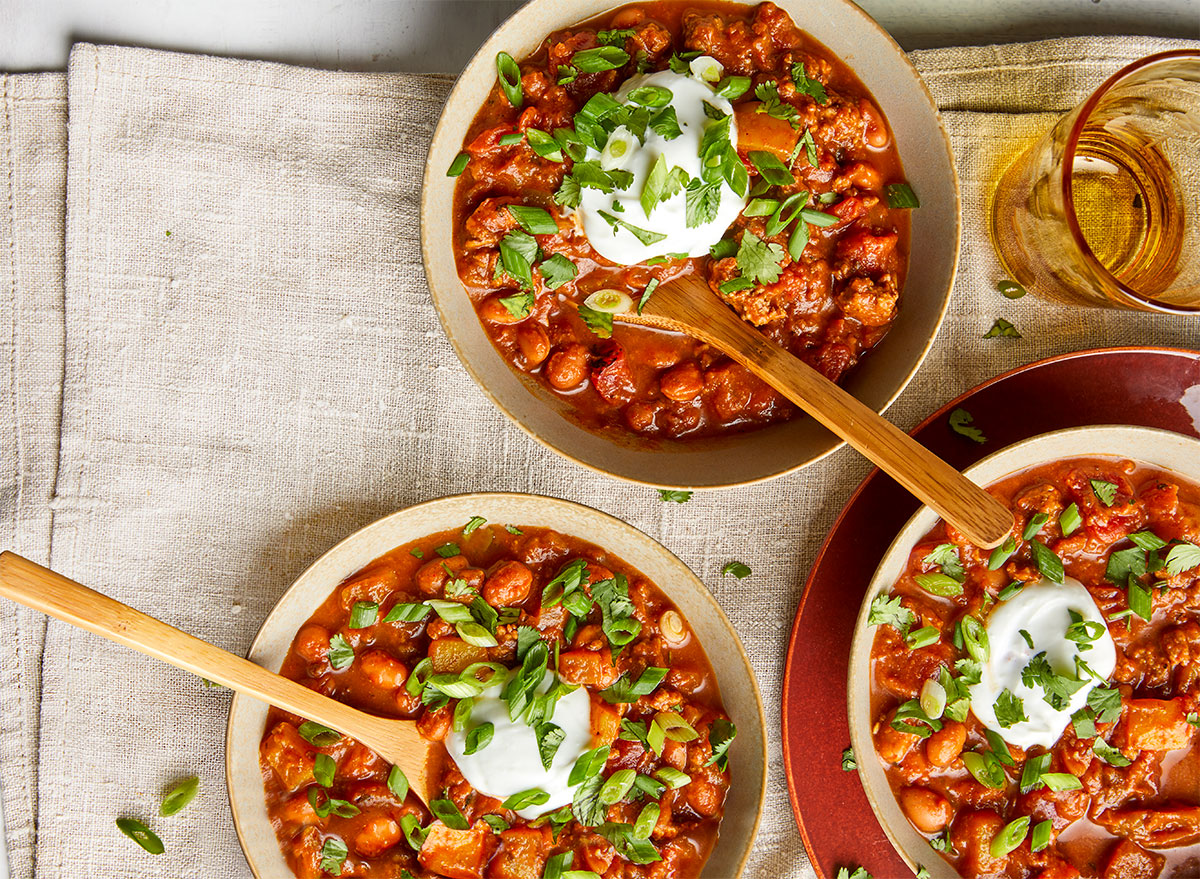 This fall recipe combines a full can of pumpkin along with classic chili ingredients like onion, ground beef, tomatoes, and canned beans. There are all the flavors and seasonings of traditional chili, along with the sweet flavor of pumpkin. And thanks to a couple of teaspoons of cocoa powder and a can of diced green chiles, this chili also packs in the flavors of Mexican mole sauce.
Get our recipe for Pumpkin Mole Chili.
Green Turkey Chili with White Beans
The Anaheim chilies and Poblano peppers add some extra tang and are sure to satisfy lovers of all things spicy. With only 359 calories per serving and 42.5 grams of lean protein, this flavorful dish won't leave your stomach grumbling for more. Skip the added salt and swap regular chicken broth for organic low-sodium broth for the perfect lunch.
Get the recipe from Against All Grain.
Slow Cooker Salsa Verde Chicken Chickpea Chili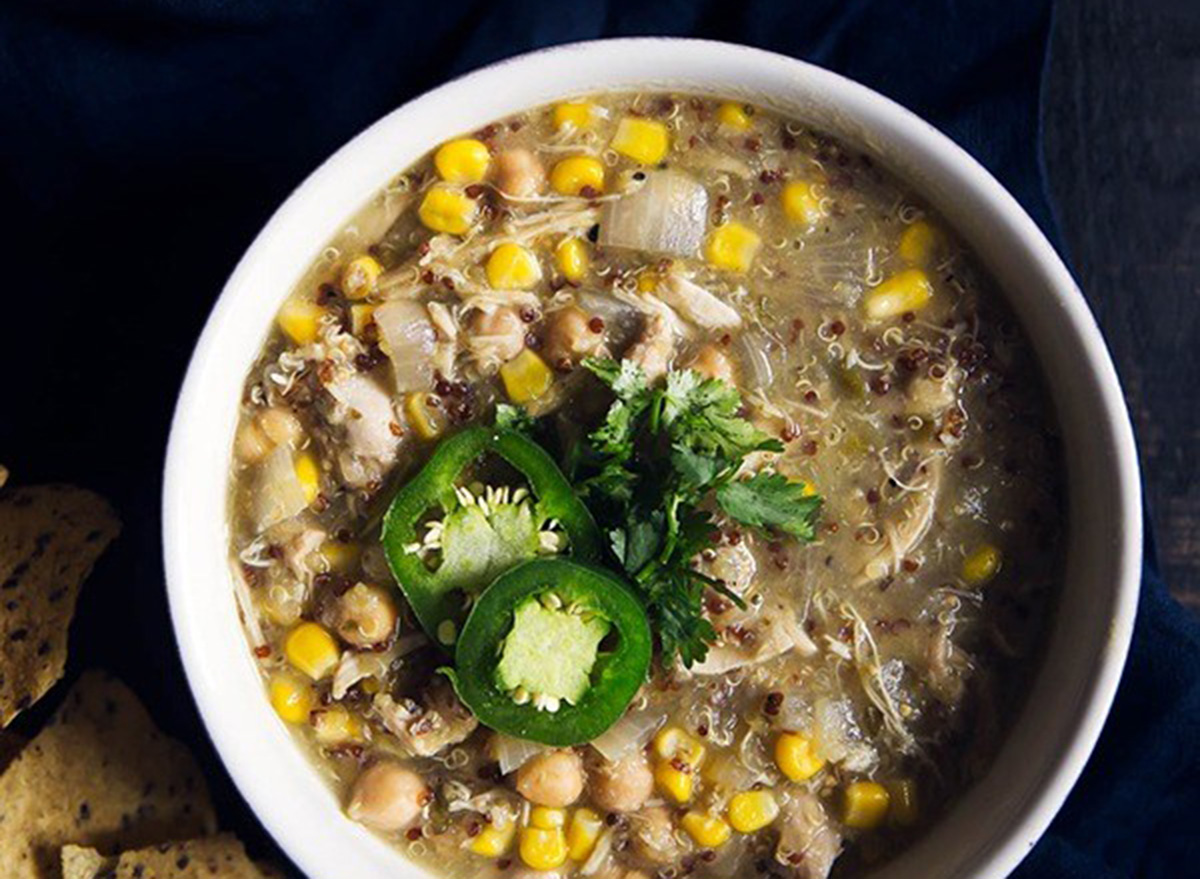 This super-easy-to-make chili recipe is sure to delight the entire family, and all you have to do is add all the ingredients to a crockpot and then wait! Nope, no additional cooking required. With only half a jalapeño pepper and one jar of salsa verde, this chili is mild but flavorful.
Get the recipe from Ambitious Kitchen.
Chili Chicken Soup with Bell Pepper and Hominy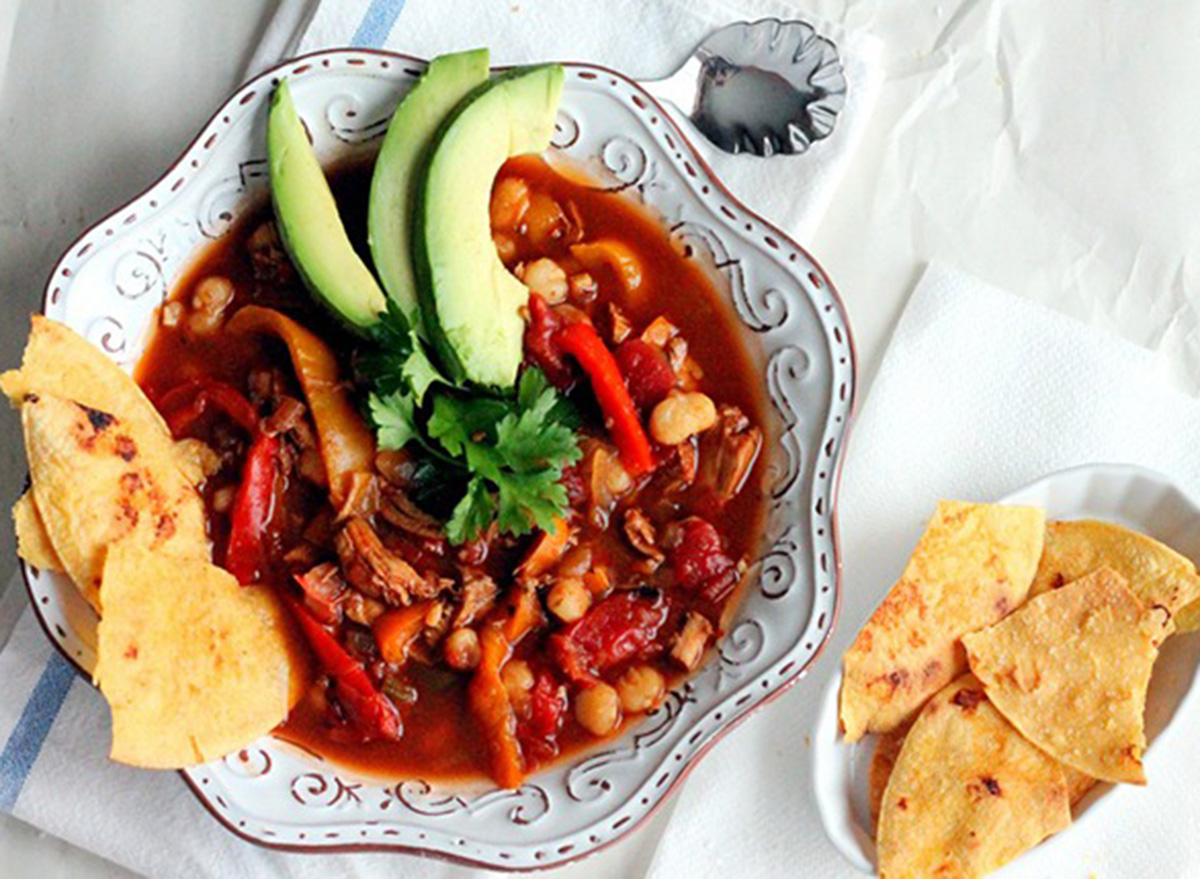 This hearty meal's got chili powder-rubbed chicken, zesty lime, and fiery sriracha that will leave us yearning for a trip to Spain. Ditch the extra salt and top your dish with creamy avocado and flavorful herbs like cilantro. This chili's whopping 42 grams of protein (thanks to the poultry) are sure to deem it one of the tastiest healthy chicken recipes.
Get the recipe from Ambitious Kitchen.
Easy 30-Minute Homemade White Chicken Chili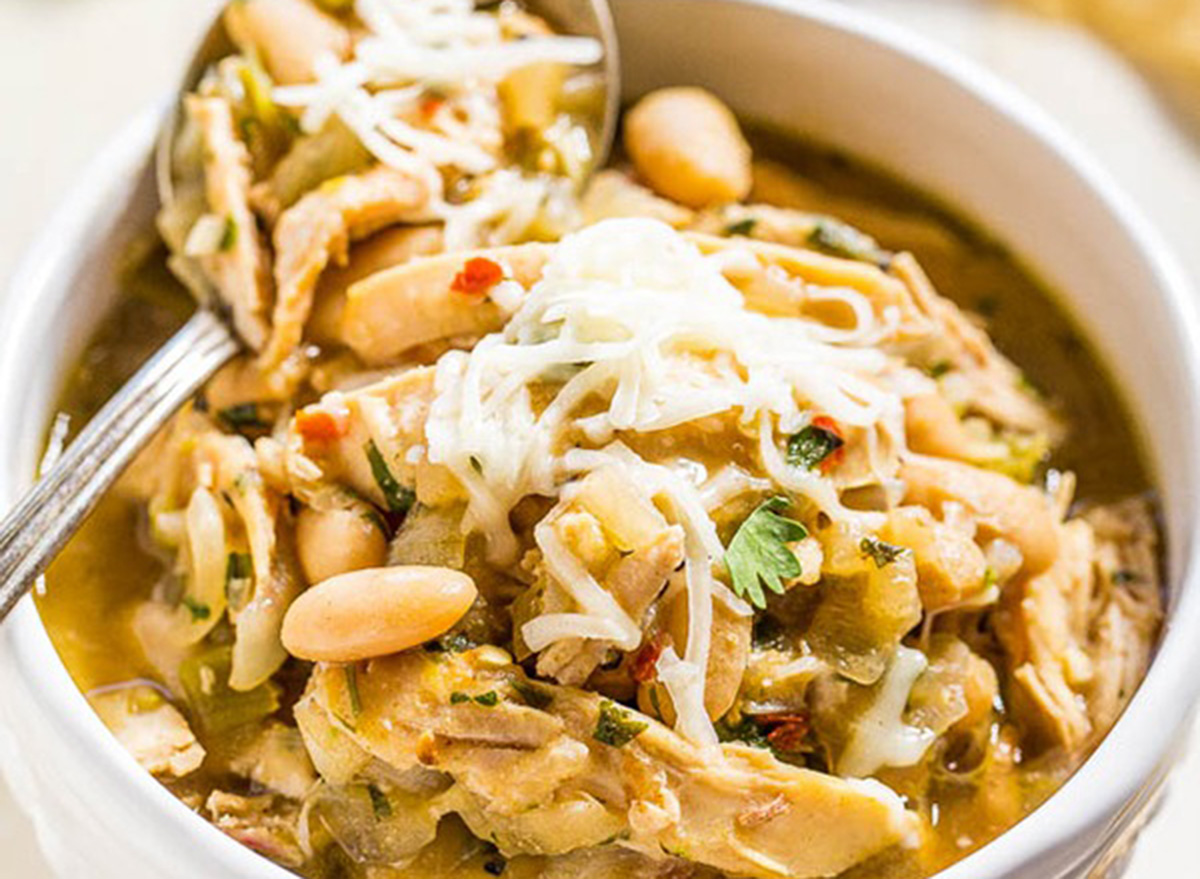 Fall calls for warm, hearty soups—and what better way to welcome the new season with a generous portion of this chili that's packed with fiber and protein? This dish is also high in vitamin B6, which will help maintain your blood sugar. Not to mention, the fragrant Vidalia onions, piquant jalapeño, and chili peppers marry to create the perfect sweet-spicy blend.
Get the recipe from Averie Cooks.
Roasted Sweet Potato and Black Bean Chili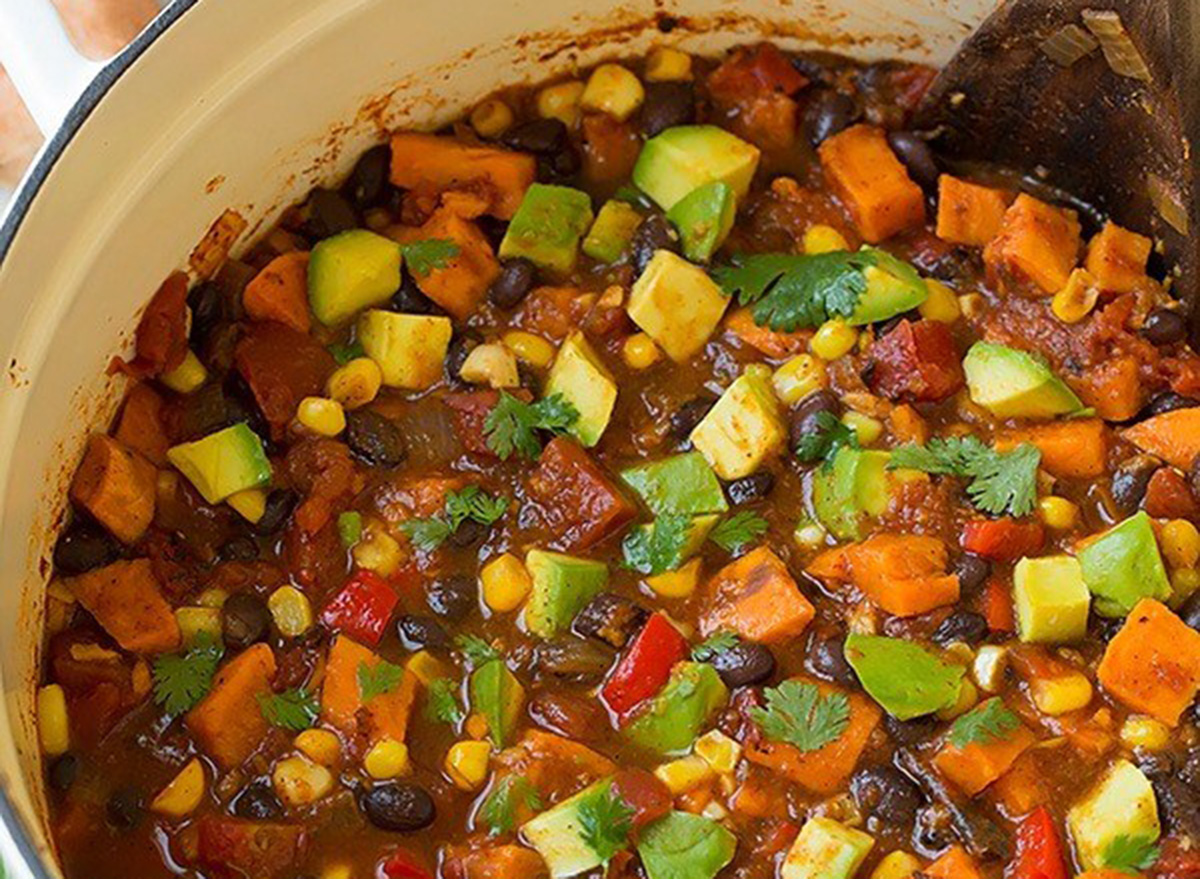 Adding sweet potato makes this meatless chili a vegetarian win. It's got 91% of your daily value of vitamin C, which makes it perfect for combating those nasty seasonal colds. Plus, vitamin C can also help boost your mood and banish stress hormones that contribute to packing on those extra pounds of unwanted belly fat.
Get the recipe from Cooking Classy.
Southwestern Chili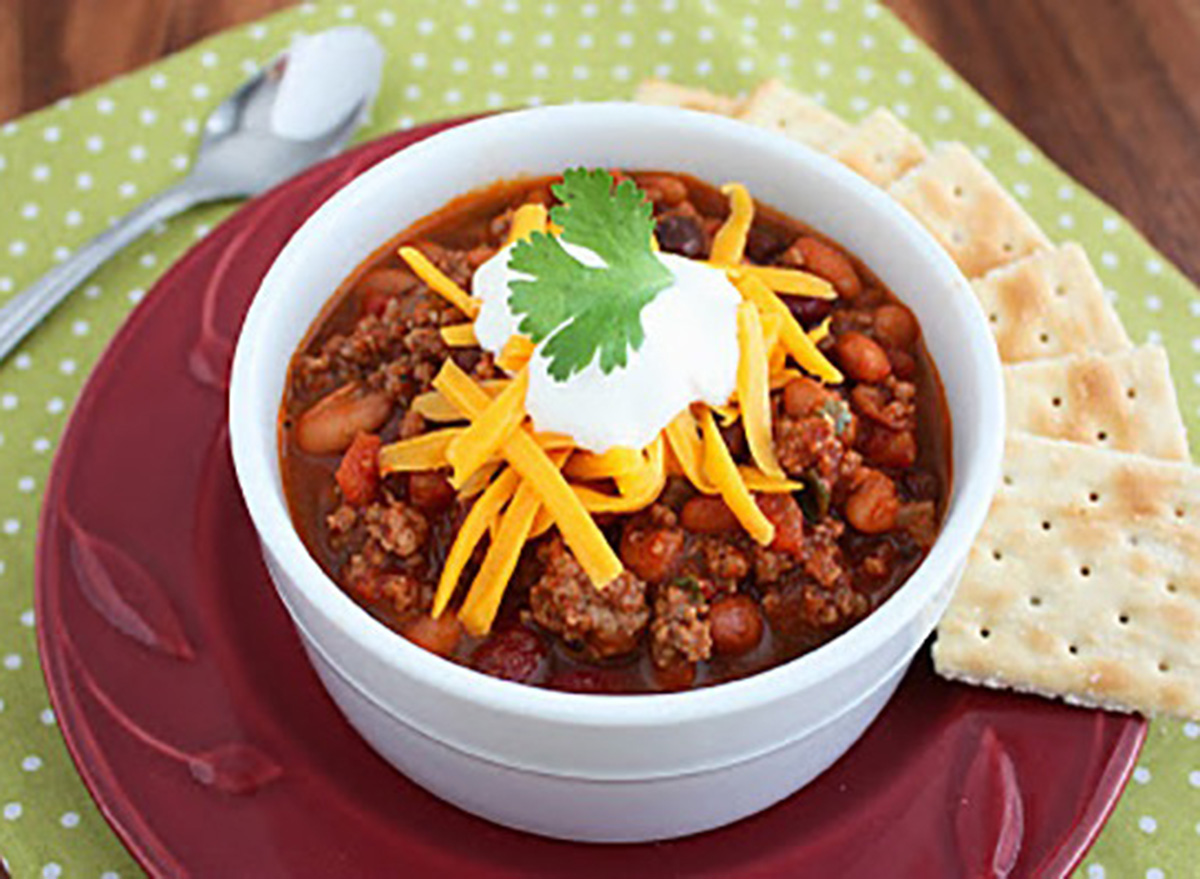 Speckled with smoky paprika and cocoa powder, this robust beef chili has loads of body, color, and flavor. Fresh salsa and lime add an extra kick to this already delightful dish. Plus, it's packed with 118% of your daily value of anemia-fighting iron, which is essential for enzyme and hormone production. It's a bit high in the calorie, carb, and sodium counts, so stick to just one bowl!
Get the recipe from Cooking Classy.
Easy Chili Cornbread Casserole
Nothing screams "comfort" more than a casserole. Although you can use any one of these chili recipes to create this delightful dish, we used Amy's Organic Low-Sodium Chili. We also subbed whole milk for skim and only used a half-cup of low-fat cheese for a healthy spin-off that still tastes like one of your favorite cheat meals.
Get the recipe from Cravings Of A Lunatic.
Slow Cooker Cream Cheese Chicken Chili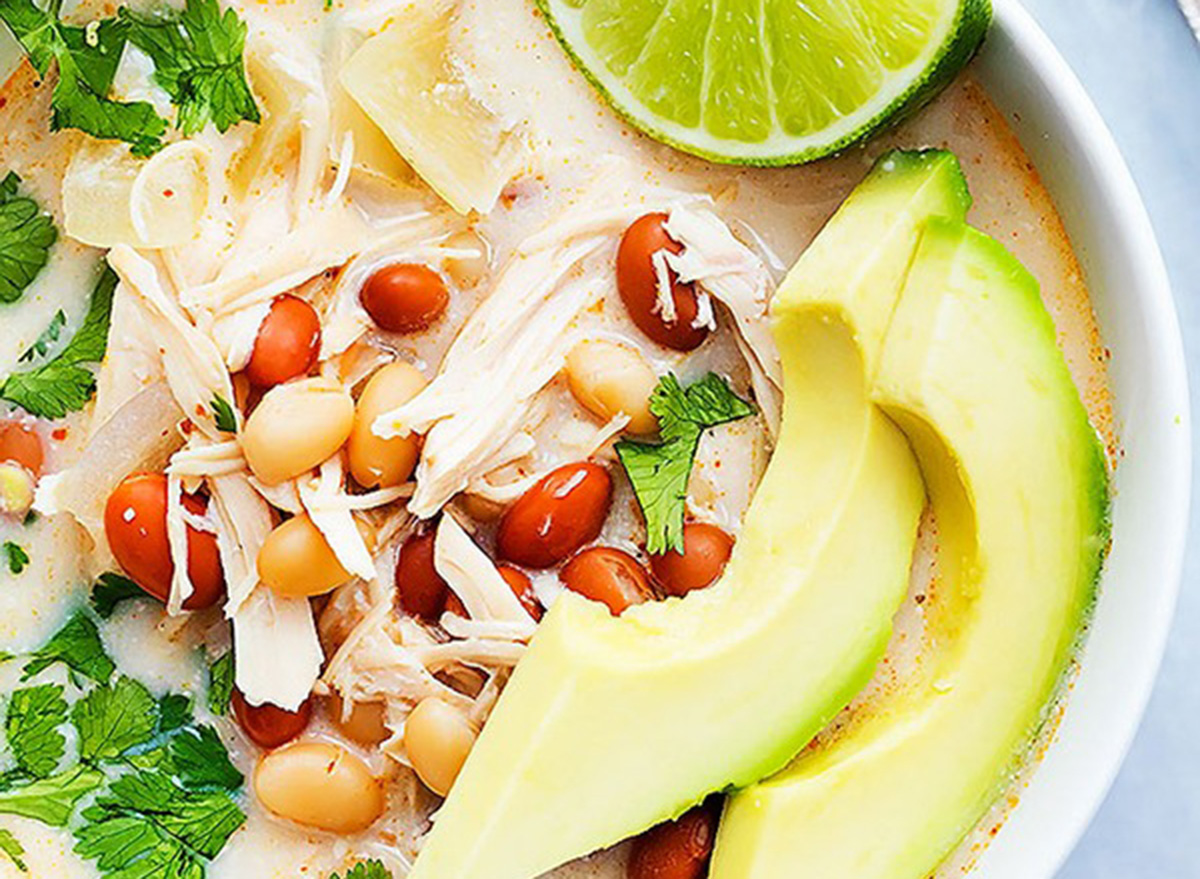 This ultra-creamy stew's got a harmonious blend of spices, smooth white beans, and protein-packed chicken breast—we don't think chili can get any better than this. Plus, it's super-rich yet still light.
Get the recipe from Crème de la Crumb.
30-Minute Chocolate Espresso Beef and Black Bean Chili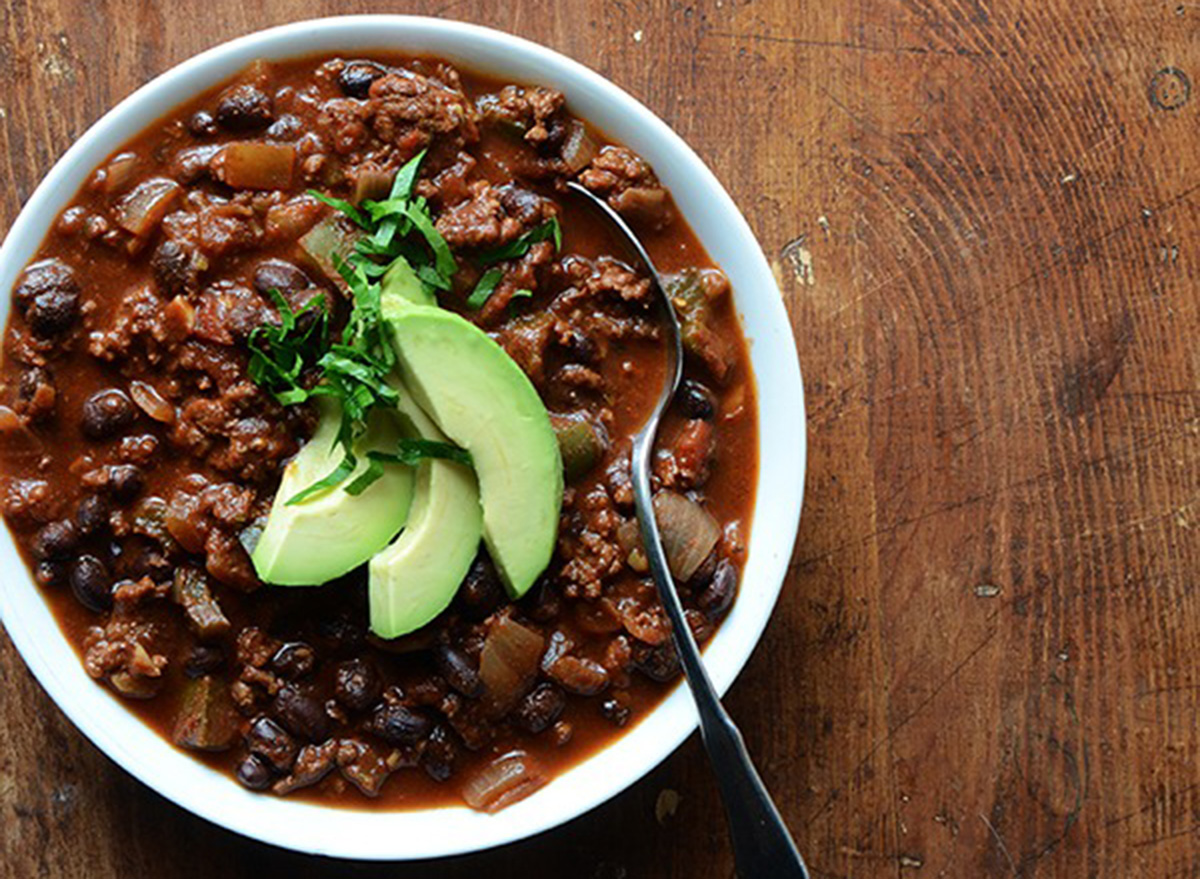 This stew, loaded with complex flavors like espresso and cocoa powders (yup, you heard us correctly) may leave you too satisfied even for dessert. These aromatic additions, along with pure honey drizzles, add a whole new realm to this beefy stew. Bonus: This scrumptious concoction can be ready in barely 30 minutes.
Get the recipe from An Edible Mosaic.
Quinoa Chili
Quinoa + chili = match made in food heaven. The quinoa maintains its texture while marinating in all the savory veggies and spices. Don't forget to toss in some corn kernels for a sweet surprise. This nutritious vegetarian pick is one of our favorite quinoa recipes yet!
Get the recipe from Damn Delicious.
Southwestern Skillet Chicken Chili Mac
Sub regular pasta for whole-grain bowties or cavatappi for extra fiber and texture in this delectable dish. The lean chicken breast adds an extra protein punch, plus selenium, a trace mineral that acts as an antioxidant and protects us from free radicals. So, don't fret those cool-weather blues; this chili's got you covered.
Get the recipe from Fearless Homemaker.
Slow Cooker Chicken Fajita Chili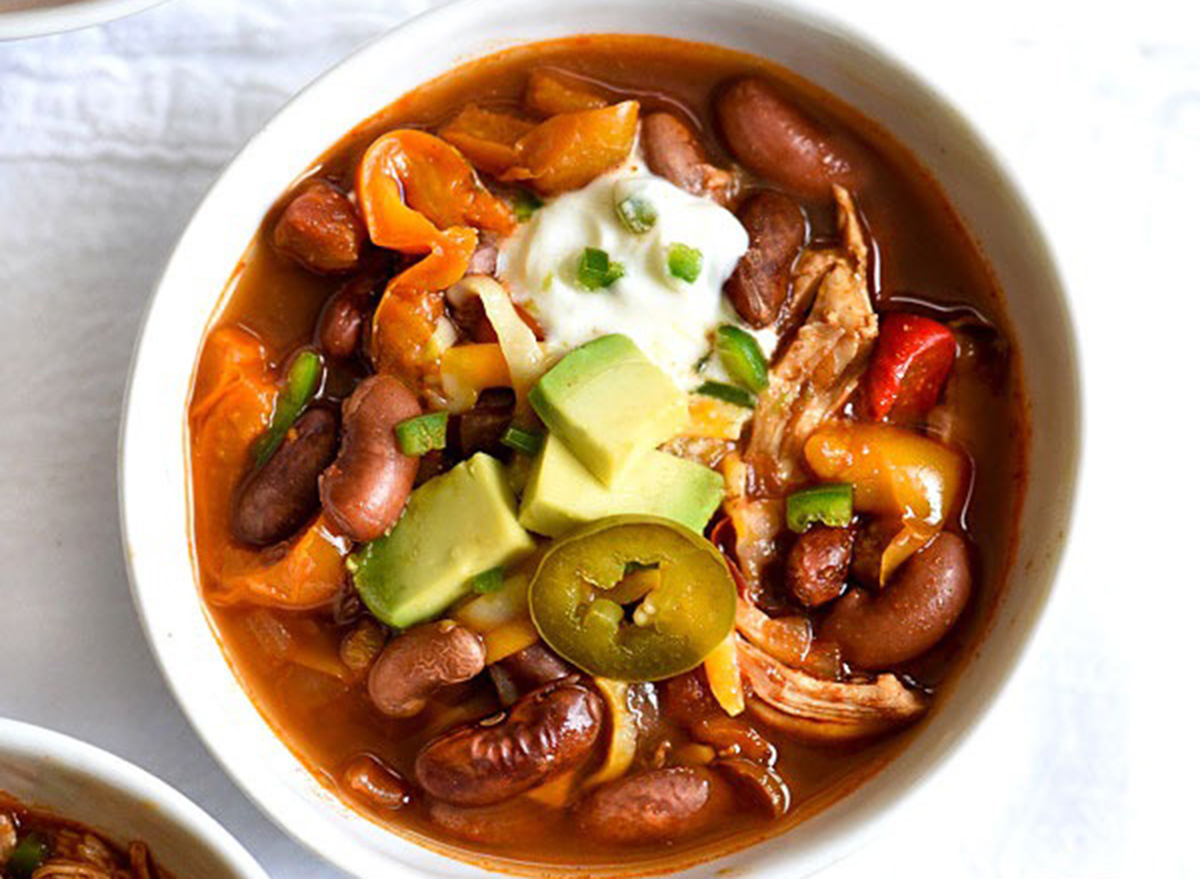 Forget Taco Tuesday and create this delectable chicken fajita chili instead. The hearty beans and rainbow peppers add a healthy dose of fiber, while the kickin' cumin and chili powder will surely benefit from a topping of cubed creamy avo. We couldn't think of a better way to give our wallets a break from Chipotle.
Get the recipe from Foodie Crush.
Read more:
We Tasted 9 Canned Chilis, and This Is the Best One!
The Best & Worst Chicken Soups on the Shelves—Ranked!
7 Canned Soups to Always Leave on Grocery Store Shelves
April Benshosan
April is a born-and-raised Brooklynite who has a passion for all things health, wellness, and tastebud-related.
Read more about April