Eggs Are Expensive and In Short Supply, But Some Grocery Chains Are Still Selling Them For Less
A dozen eggs now costs $4.25 on average, but you can find them for less—if you know where to look.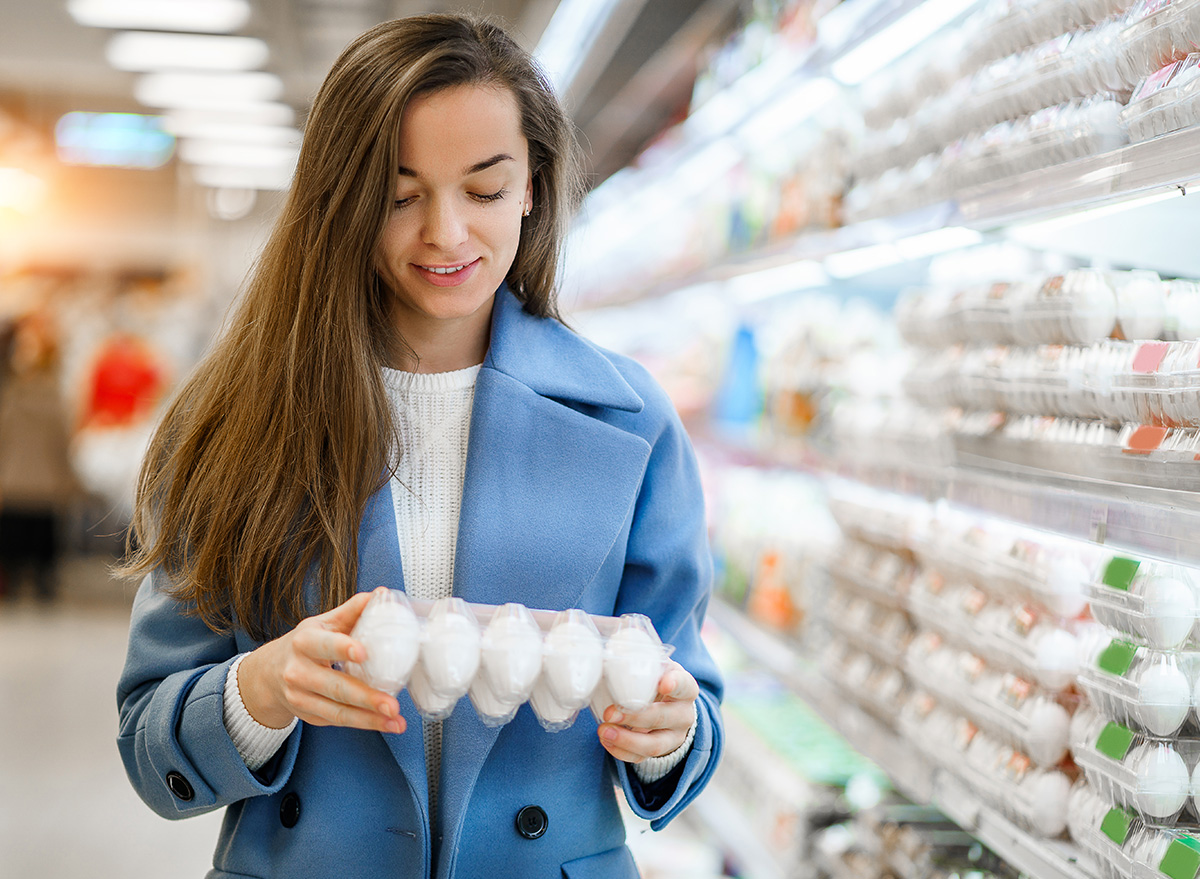 Inflation is driving up the cost of all sorts of grocery items, but none more so than eggs. A deadly avian flu outbreak—exacerbated by rising feed and energy costs, according to CNN Business—has crippled the egg supply and sent prices soaring for the basic kitchen staple.
The average retail price for eggs is now a staggering $4.25 per dozen, according to the latest figures from the U.S. Bureau of Labor Statistics, updated just this week. That's up over 18% since November, and a whopping 137% over the past year.
RELATED: 5 Beloved Costco Staples That Have Gotten Too Expensive, According to Customers6254a4d1642c605c54bf1cab17d50f1e
"Last year, the national average for a dozen eggs was below $2—now, people are shelling out two, even three times that," NBC's Today correspondent Emilie Ikeda reported on Thursday, pointing to one carton priced at $5.39. "And if you want organic eggs, be prepared to cough up even more." Ikeda went on to spotlight numerous complaints on social media about the high prices and empty shelves, including one Twitter poster who remarked: "Looks like eggs are the new toilet paper."
Yet, some stores are managing to keep their egg prices lower than others.
A recent survey of U.S. supermarkets by the US Sun found the lowest egg prices at Trader Joe's: $2.99 for a dozen of the specialty retailer's Cage Free Grade A Large White Eggs. That's 50% cheaper than other grocery stores, according to the Sun, which found Publix and H-E-B locations charging $5.97 and $6.16 per dozen, respectively. The Sun noted that prices may vary depending on your location.
After reading about these relatively affordable eggs, ETNT! trekked to our local TJ's in Brooklyn to see whether the Sun's reporting holds up. Indeed, we found some eggs priced at $2.99, but these were only a half-dozen. A full dozen of Trader Joe's Large Cage-Free Brown Eggs cost $3.49. That's still a lot lower than the national average, but a bit more in line with other retailers nearby.
Last week, we found Whole Foods charging $3.39 for a dozen of its 365-brand large brown eggs. Nearby Aldi and Walmart locations, meanwhile, charged $4.35 and $4.56 per dozen for their most basic varieties.
We did, however, find a dozen eggs for less than three bucks in Brooklyn, but not at Trader Joe's—these were spotted at Costco. Our local warehouse club charged $14.69 for its massive bulk carton of 60 eggs last week, which works out to $2.94 per dozen. The store only had a limited supply, however, and restricted customers to purchasing just two packages each.
Best advice: like most things, shop around to find the lowest price near you.
Chris Shott
Chris Shott is the Deputy Editor covering restaurants and groceries for Eat This, Not That!
Read more about Chris