10 Awesome Egg Dishes to Make for Dinner
Eggs are the All Stars of the breakfast food world. Pairing well with everything from avocados to lean meat, it's a no-brainer why eggs make it to the plates of the morning herd. But why not more egg plates in the P.M.? That all changes now.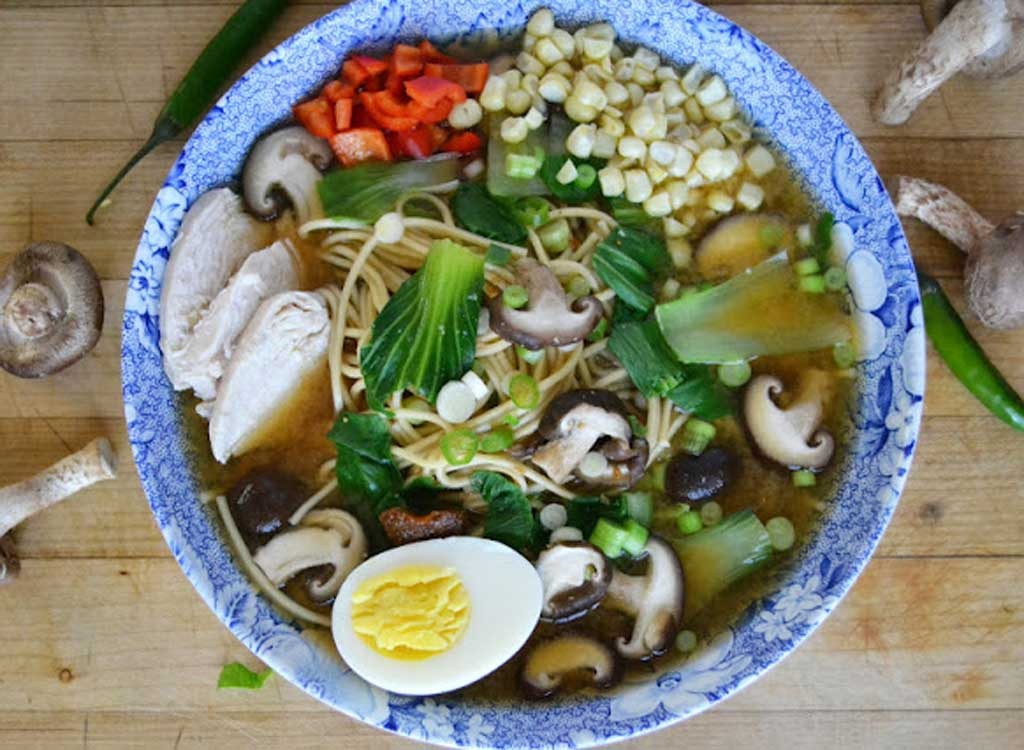 Eggs should be enjoyed any time of the day—like at dinner when you're craving a high-protein plate that fills you up without filling you out. And there's plenty of more ways to eat them than just scrambled and served with a side of toast. We've found 10 amazing, protein-packed egg dishes from around the web that are perfect for your end-of-the-day meal. And while you're at it, check out these 20 Lazy Dinner Recipes for Weight Loss!
Zucchini Pasta with Poached Egg S and Heirloom Tomatoes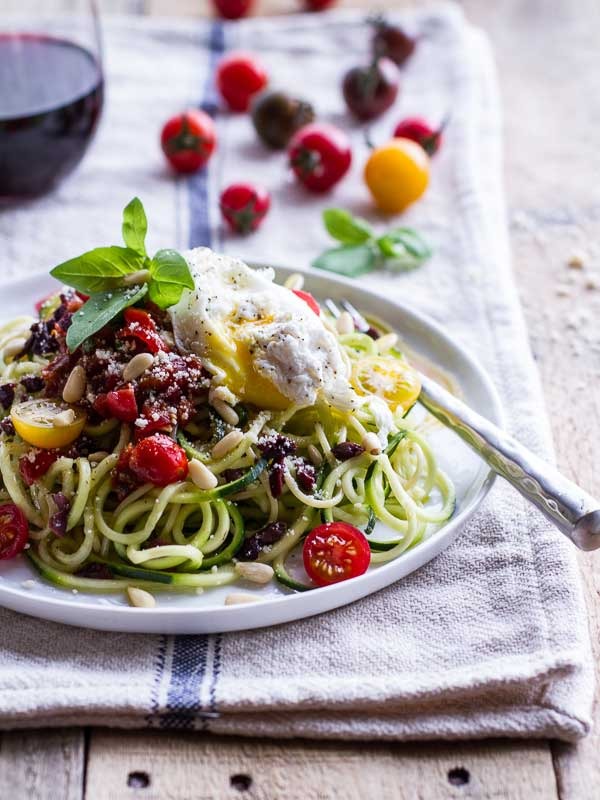 Serves: 4
Nutrition: 437 calories, 31.5 g fat (8.3 g saturated fat), 497 mg sodium, 24.9 g carbs, 7.5 g fiber, 11.3 g sugar, 22.8 g protein (calculated with 8 zucchinis and no spaghetti/angel hair pasta)
There's nothing heartier than a saucy pasta meal for dinner…but it's not exactly the healthiest choice. This dish is the exception! Made with freshly spiraled zucchini pasta, this egg recipe is anything but carb heavy. And the poached eggs create a creamy burst of flavor and a healthy dose of protein. Bonus: Poaching an egg is actually one of the healthiest ways to cook them.
Get the recipe from Half Baked Harvest.
Healthy No Crust Egg White Quiche with Vegetables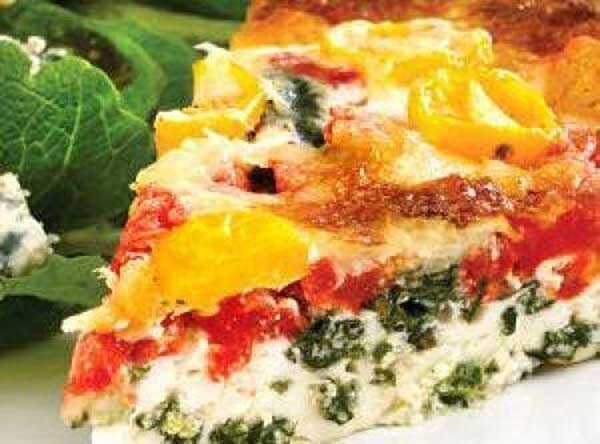 Serves: 8
Nutrition: 100 calories, 5.3 g fat (3 g saturated fat), 180 mg sodium, 4.4 g carbs, .8 g fiber, 3.2 g sugar, 9 g protein
Quiche is a staple for many breakfast fans out there—and for good reason. With its flavorful filling that's robust but never too heavy, it makes for a great meal at the end of a long day. At only 100 calories a piece, this one is crowd pleaser while also jam-packed with veggies, eggs, and Gruyere cheese for a satisfying taste you'll enjoy any time of day. Have a few pieces or combine it with a fat-burning smoothies.
Get the recipe from The Gardening Cook.
Artichoke, Kale, and Ricotta Pie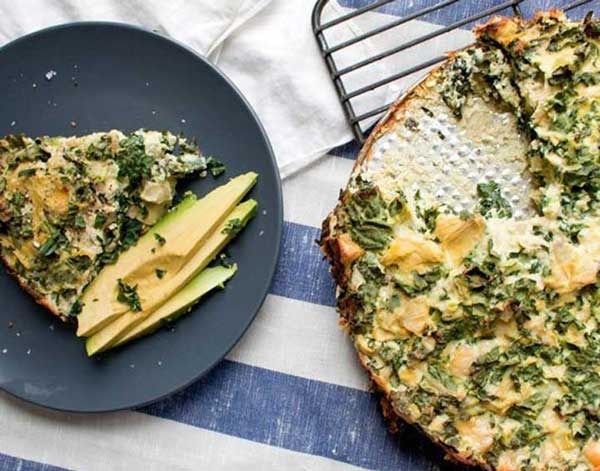 Serves: 4
Nutrition: 313 calories, 21.1 g fat (11.4 g saturated fat), 578.7 mg sodium, 9 g carbs, 3.1 g fiber, .9 g sugar, 22.7 g protein
Just looking at this will have you drooling. The bold colors from the vegetables mixed with the richness of the cheesy, eggy custard make for a gorgeous, low-sugar meal that's bound to help you lose that belly fat. Plus, it's super easy to create.
Get the recipe from the kitchn.
Thai Chicken with Basil and Cauliflower Fried Rice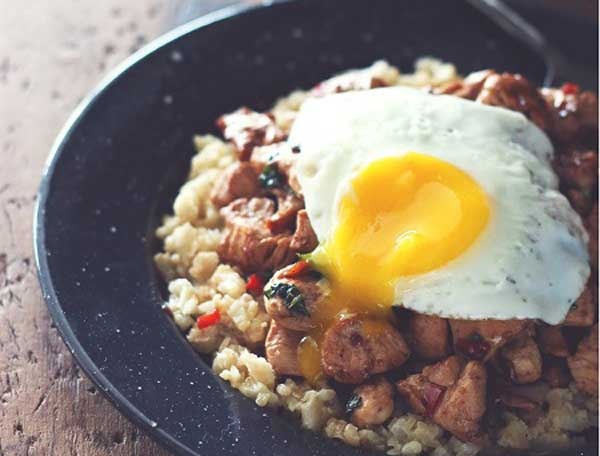 Serves: 4
Nutrition: 261 calories, 9.9 g fat (1.5 g saturated fat), 554 mg sodium, 9.7 g carbs, 3.8 g fiber, 2.8 g sugar, 33.6 g protein (calculated with 12 oz. chicken, 4 fried eggs, and only 1 tablespoon fish sauce)
An ideal recipe to curb that salt craving, this savory dish is one your taste buds will beg for time and time again. The fried cauliflower gives the texture of rice without adding the bloat while the combo of sweet and spicy flavors of the chicken is intoxicating. Topped with a crispy fried egg, this baby doesn't get much better.
Get the recipe from I Breathe I'm Hungry.
Hatch Green Chile and Tomato Casserole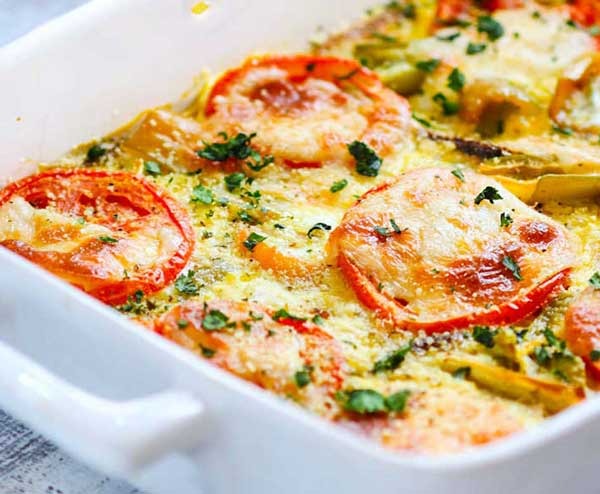 Serves: 6
Nutrition: 207 calories, 13.5 g fat (4.1 g saturated fat), 316 mg sodium, 11.9 g carbs, 2 g fiber, 2.9 g sugar, 11.2 g protein (calculated with 4 slices whole grain bread and unsweeten almond milk)
Casseroles can sometimes have a bad rap for being too heavy, but not this one. Created with vegetarians in mind, this quick and easy recipe is layered with whole grain bread crust, green chile, tomato, and a cheesy-garlicky egg medley. The result: A feel-good comfort food that's on the lighter side. Add some chicken to this egg recipe if you're looking to amp up the protein intake at dinner!
Get the recipe from Cotter Crunch.
Miso Ramen with Shitake and Chicken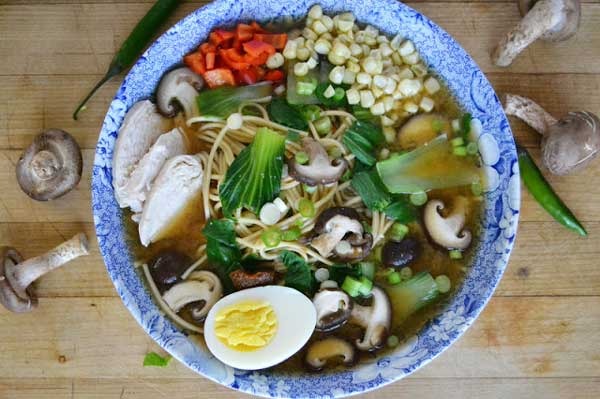 Serves: 2
Nutrition: 365 calories, 6.6 g fat (.9 g saturated fat), 919 mg sodium, 40.8 g carbs, 7.2 g fiber, 10.2 g sugar, 36.6 g protein (calculated with rice noodles and 6 oz. chicken)
For the noodle lovers out there, this one's for you. Perfectly presented, this colorful bowl is the low-fat makeover version of the trans-fat-filled take-out staple. With its fresh ingredients of chicken, mushrooms, bok choy, and hard cooked eggs, it will feed your appetite without the heap of calories and fat. Speaking of restaurants, be sure to avoid The Absolute Worst Option on the Menu at 20 Popular Restaurants.
Get the recipe from The View From Great Island.
Baked Eggs with Spinach, Ricotta, Leek and Chargrilled Pepper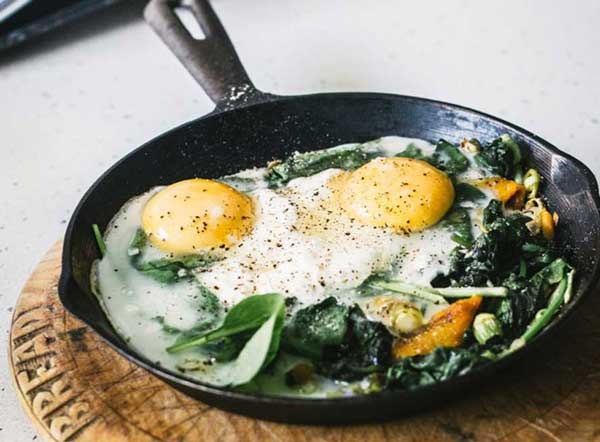 Serves: 1
Nutrition: 224 calories, 15.2 g fat (4.4 g saturated fat), 199 mg sodium, 8 g carbs, 2 g fiber, 2.9 g sugar, 15.6 g protein
From stove to table, this one-pan dish is perfect for a quick, nutritious dinner. The eggs baked over cooked spinach and thick ricotta makes for a velvety smooth, melt in your mouth experience. Reach for a slice of Ezekiel bread to wipe up the leftover creamy yolk. One egg has 6 grams of protein packed into it, so make sure to get every last bit!
Get the recipe from Top with Cinnamon.
Scrambled Eggs with Smoked Salmon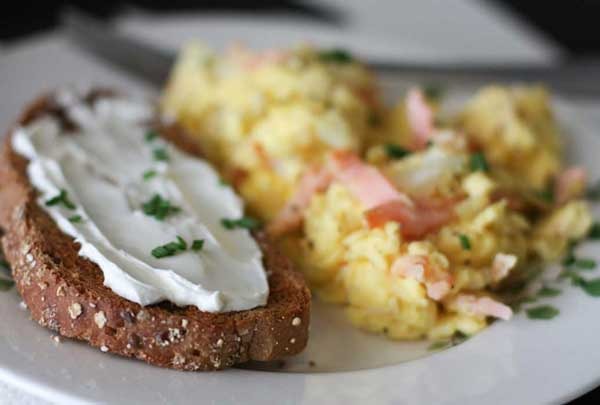 Serves: 2
Nutrition: 192 calories, 12.3 g fat (3.3 g saturated fat), 693 mg sodium, 3.4 g carbs, .6 g fiber, 2 g sugar, 16.7 g protein
Who says eggs recipes are just for the early risers? With all the events and activities you have to get to, this smoked salmon scramble is perfect to whip up when you need to fit a dinner into that packed schedule. Add herbs of your choice or top with a spicy salsa and it will be hard to go wrong with this dish!
Get the recipe from Aggies Kitchen.
Deconstructed Spaghetti Squash Carbonara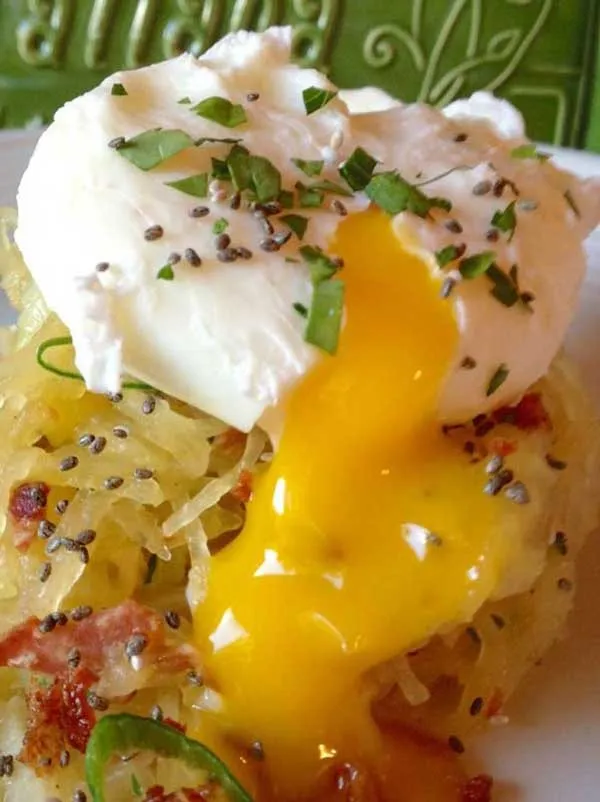 Serves: 4
Nutrition: 322 calories, 21.6 g fat ( 6.9 g saturated fat), 966 mg sodium, 11.1 g carbs, .6 g sugar, 21.5 g protein (calculated with 8 strips of bacon)6254a4d1642c605c54bf1cab17d50f1e
Here's a tasty dinner made with poached egg, bacon, and spaghetti squash. Spaghetti squash is an awesome carb replacement and a great way to help you lose weight, all while offering a similar texture as your favorite pasta. But this way you get extra health benefits and a smaller tummy.
Get the recipe from Popular Paleo.
Sweet Potato and Mozzarella Egg Skillet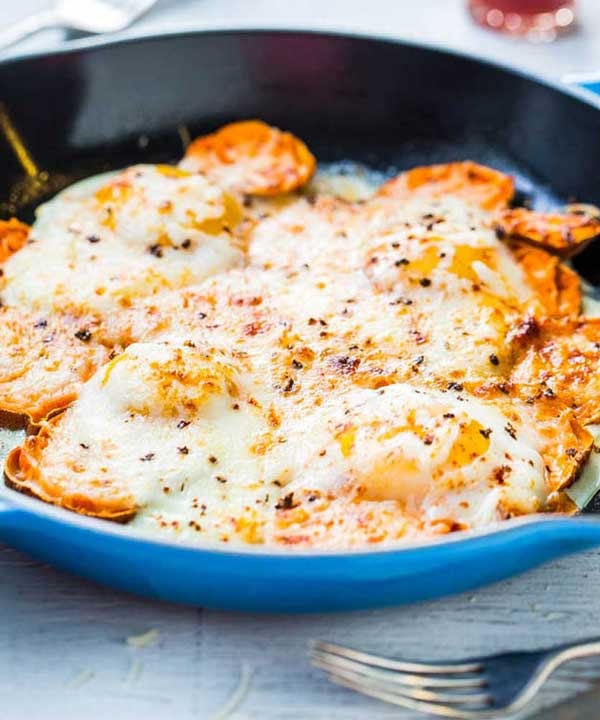 Serves: 2
Nutrition: 306 calories, 15.2 g fat (6.1 g saturated fat), 343 mg sodium, 20.7 g carbs, 3.2 g fiber, 6.7 g sugar, 22.5 g protein
This simple dinner is made by combining sweet potato, eggs, and mozzarella cheese, a.k.a. the perfect balance of protein, fiber, and fats. Sprinkle with smoked paprika, and presto! If you're looking for even more substance to help ward off hunger and stay healthy, try adding quinoa or a lean meat.
Get the recipe from Averie Cooks.
Eat This, Not That!
Inspired by The New York Times best-selling book series, Eat This, Not That! is a brand that's comprised of an award-winning team of journalists and board-certified experts, doctors, nutritionists, chefs, personal trainers, and dietitians who work together to bring you accurate, timely, informative, and actionable content on food, nutrition, dieting, weight loss, health, wellness, and more.
Read more about Eat This