This Is Why I Always Keep These Low-Sugar Ice Cream Bars In My Freezer
For when you want a sweet treat without breaking the sugar bank.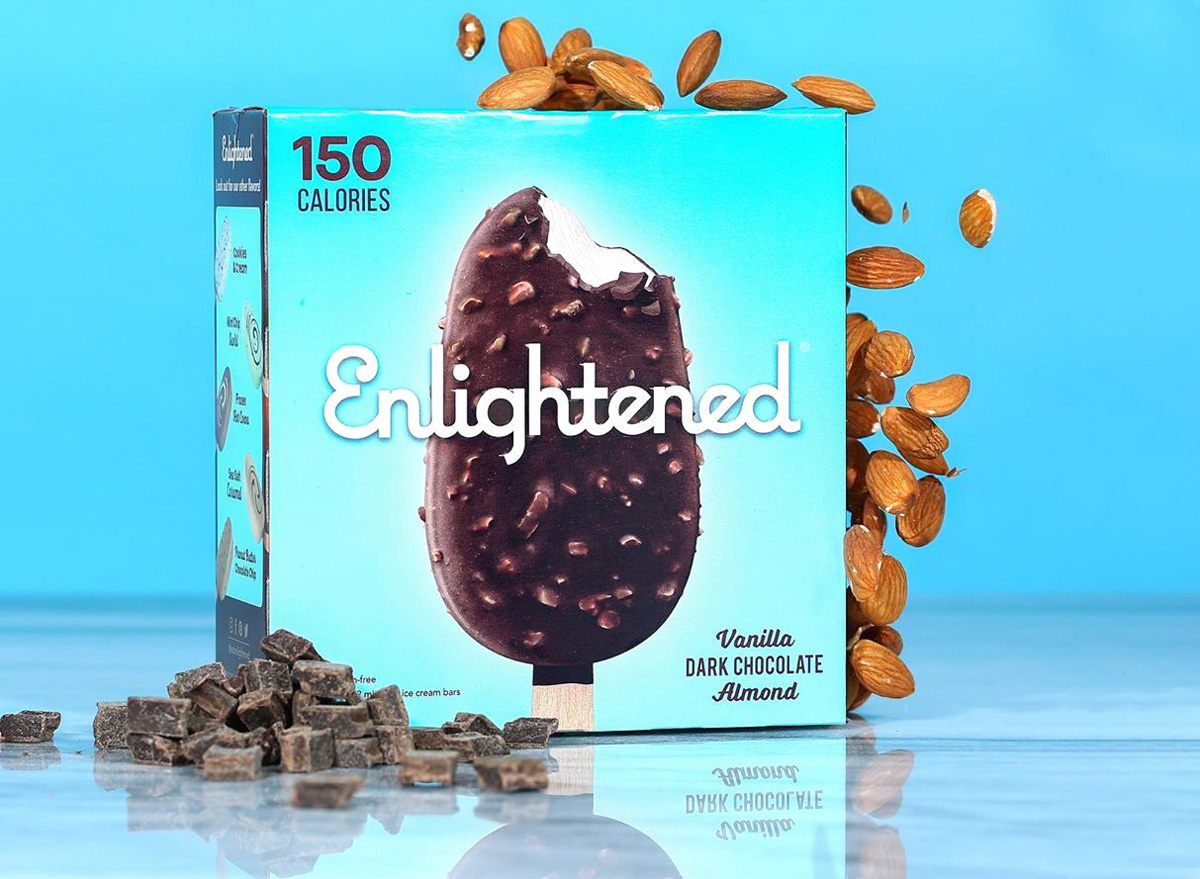 In partnership with Enlightened
It's a ritual. Just like having a cup of coffee in the morning, I always treat myself to dessert after dinner. There's just something about ending the day on a sweet note. But because I indulge regularly, my sweet treat can't be too sweet.
Most of the desserts I grew up with were—and still are—loaded with sugar despite the fact that experts recommend limiting your added sugar intake to no more than 6% of your daily caloric intake. That equates to 120 calories or 30 grams per day. It may sound like a lot, but when you think about how some of the unhealthiest ice creams contain anywhere between 23 grams and 34 grams of added sugar per serving, you soon realize how easy it is to reach that limit.
Yeah, yeah, you've heard it before. We eat too much sugar. It can lead to weight gain, fat gain, metabolic syndrome, and even heart problems.
But enough about facts and figures. Point is: we could all benefit from cutting down on sugar.
It might sound impossible, but it's actually feasible to keep your added sugar intake to a minimum and still eat dessert—as long as you pick the right dessert. (Yes, the perfect dessert does exist!)
I found the perfect, portion-controlled, low-sugar dessert
My sugary problems were solved when I came across Enlightened's light ice cream bars. You guys, they're amazing!
They check all the boxes of your favorite dessert: sweet, indulgent, crunchy, creamy, and—best of all—actually tasty. You would never guess that they were better for you than your former go-to dessert.
For me, when it came to finding a nightcap I could rely on, I was looking for something that would satisfy my cravings without having the possibility to go overboard with huge portions or tacking on extra "empty" calories to my day.
These light ice cream bars solve that problem by being packaged in single-serve pops that are made with healthy and nutritious whole food ingredients.
This is a far superior ice cream pick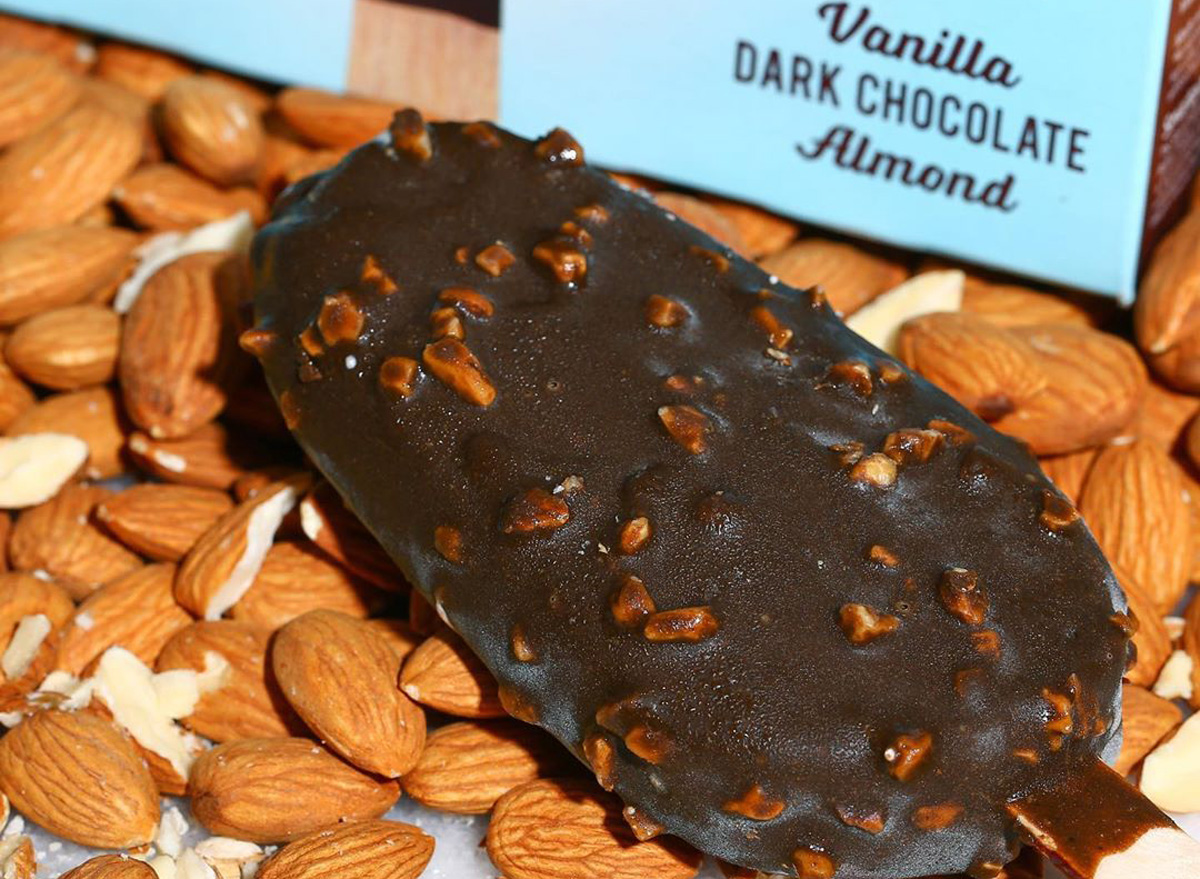 Speaking of empty calories, did you ever notice how many desserts are basically completely carbs? Think: cookies, brownies, cake… I wanted something substantial and satiating. That's why my go-to flavor of Enlightened's 10 ice cream bar varieties is the Vanilla Dark Chocolate Almond.
Instead of dozens of carbs, these nutty, chocolate-dipped bars boast a fairly well-balanced nutrition profile:
4 grams of fiber
5 grams of protein (just under what you'd find in an egg)
10 grams of fat.
That all comes in at just 150 calories.
To put that in perspective, a comparable regular ice cream bar weighs in at:
1 gram of fiber
4 grams of protein
19 grams of fat
Coming in at 270 calories, you could almost eat two Enlightened bars for the calorie cost of one regular ice cream bar.
How do they do it? Unlike your standard ice cream bar, Enlightened cuts back on unhealthy added sugar and uses a blend of cane sugar and natural, low-calorie sweeteners like erythritol and monk fruit extract. You go from having 18 grams of sugar to just 7 grams of sugar in an Enlightened bar—instantly.
As a bonus, because your body doesn't digest erythritol, it doesn't factor into the amount of added sugar in each bar. The result is a low-calorie, low-sugar treat with only 9 grams of net carbs.6254a4d1642c605c54bf1cab17d50f1e
Don't get me started on the ingredients…
I follow a fairly clean, whole-food-based diet (I still have a little frozen pizza here and some chips there), and I wanted that same standard to apply to my dessert pick. That's why I don't want to see ingredients like corn syrup and propylene glycol monostearate on the nutrition facts panel of an ice cream bar.
I do want to see clean ingredients like cream, cocoa butter, almonds, and vanilla—exactly what you'll find in Enlightened's bars.
At the end of the day, a dessert is still dessert, and it's something I consume in moderation, but if I'm going to indulge in a treat, there's nothing better than these ice cream bars.
If you want to try these yourself, you can order Enlightened's Vanilla Dark Chocolate Almond Bars (or any of their nine other flavors, from Brownies & Cookie Dough Bars to Sea Salt Caramel) directly from their website—with free shipping!
Olivia Tarantino
Olivia Tarantino is the Managing Editor of Eat This, Not That!, specializing in nutrition, health, and food product coverage.
Read more about Olivia