The 5 Best Exercises To Reshape Your Body After Pregnancy, Trainer Says
These safe postnatal exercises will leave you feeling strong, sculpted, and sweaty in no time.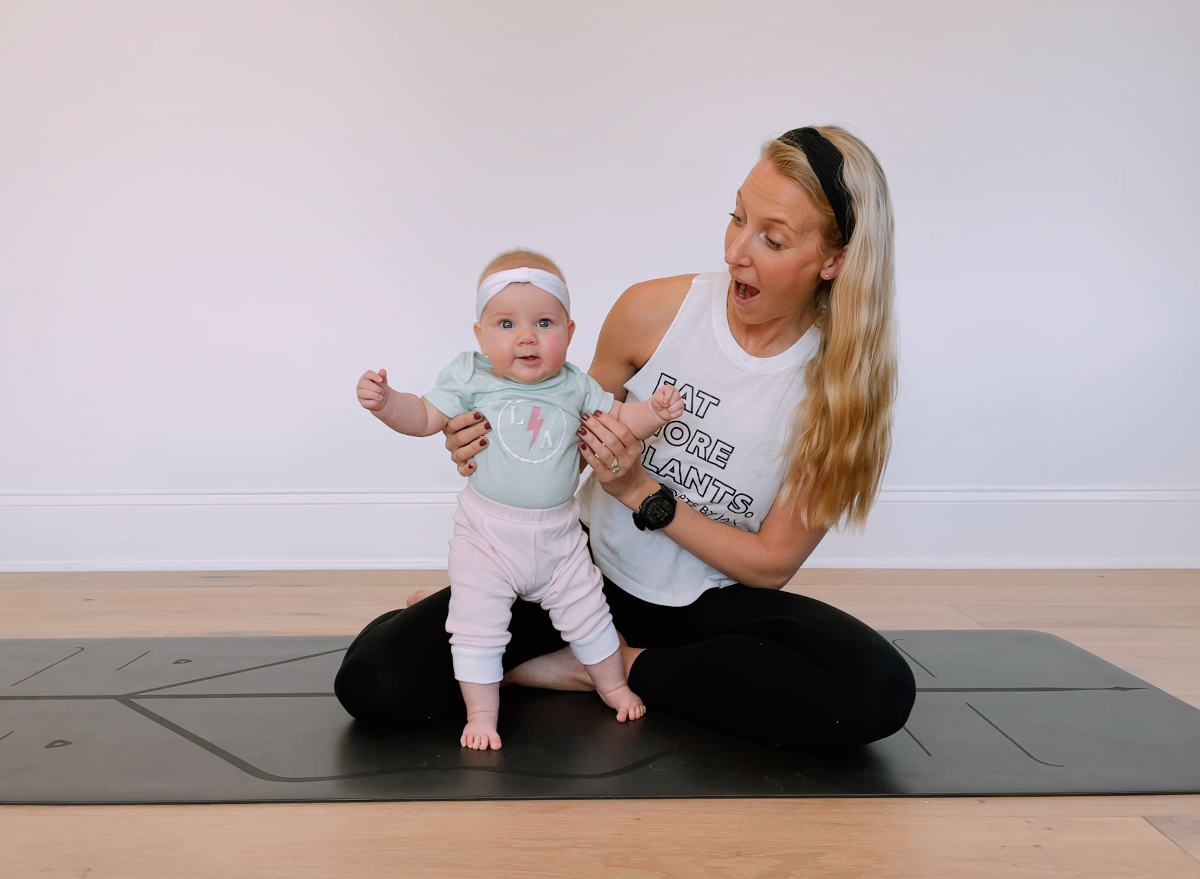 Postpartum can be a difficult adjustment period for your body. Some common mistakes I see my clients making post-birth include pushing the recovery process; doing unsafe, high-impact workouts; and worrying about "bouncing back." As a pre/postnatal certified trainer and new mama myself, I get it—I couldn't wait to feel tight and toned again, too. That's why I've put together five effective and safe exercises to reshape your body after pregnancy once you are fully ready to regain your strength, which we'll get into below.
The postpartum process often lasts much longer than 6 weeks—both mentally and physically—so it's important to listen to your body in order to heal properly and avoid further injury. Personally, I didn't feel like myself again until 6 months, and that was with very few complications. It's important for you to get the okay from your physician to get started with any exercise routine, as everyone's recovery process is unique. Once you do and feel absolutely ready to get back into the workout game, these safe postnatal exercises will leave you feeling strong, sculpted, and sweaty in no time. Sweatpants are 100% welcome!
Read on to learn more about these exercises to reshape your body after pregnancy. And next, be sure to check out The 6 Best Exercises for Strong and Toned Arms in 2022, Trainer Says.
Breathwork is one of the most powerful forms of movement for core recovery, and it can be done as early as 1 day after birth. I did 360 breathing religiously during pregnancy to keep my transverse abdominals strong for labor and childbirth and continued to use it during postpartum to re-engage and strengthen my stomach and pelvic floor.
To start, sit with your legs crossed in a comfortable position on the floor, close your eyes, and relax your shoulders. Place your hands around your rib cage—fingers in the front and thumbs in the back. Take a deep breath in, and feel your ribcage expand under your fingers and your pelvic floor relax. Then, exhale out through the mouth, like you're sipping through a straw, and pull your abdominals and pelvic floor in and up.
You'll want to do this breathwork alone and throughout your workouts, once you are cleared at 6 weeks. To advance this breathwork, hold your breath halfway on the exhale before fully releasing the air from your lungs.
Related: The Most Effective Workouts For New Moms To Get Fit, Trainer Says
While I'm a firm believer in incorporating planks into my clients' workout routines, it is not the smartest exercise for early postpartum, as it's extremely common for women to develop diastasis recti, or the separation of their 6-pack abs during pregnancy. This exercise can help to heal diastasis recti and reconnect you with your pelvic floor.
Start in a tabletop position—hands under the shoulders, knees under the hips, slight bend in the elbows, and pull your core in. Then, press firmly into your hands, and lift your knees 1 inch above the mat. Hold for 3 breaths, and then lower your knees back down. To progress this move, send your knees back for a modified plank, then extend your legs back for a straight arm plank, and finally drop down to your forearms for a forearm plank. Don't progress until you feel strong in the previous position and there is no bulging in your stomach.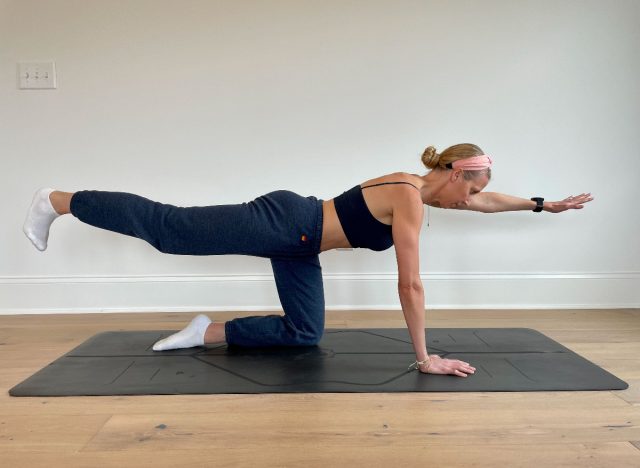 This is one of my favorite postpartum exercises that focuses primarily on your abdominals, but sneakily hits the rest of your body. Who doesn't love a two-for-one deal?6254a4d1642c605c54bf1cab17d50f1e
Remaining in tabletop position, square your hips, and extend your right leg behind you and left arm in front of you. Ensure that you are achieving length as well as strength through the body. Hold for a second, and slowly bring your arm and leg back into tabletop. Continue by alternating arms and legs. For more of a challenge, add a crunch in by connecting your knee to elbow rather than coming back into a tabletop.
Related: The 5 Best Face Yoga Exercises For Ageless, Sculpted Skin
Your chest is most likely in desperate need of an exercise that stretches and strengthens. In a standing position (with your tummy tight and knees bent) or on your knees, place your arms up in a goal post position—elbows bent, palms facing out, and elbows slightly below your shoulders. Squeeze your elbows in, and stop when your elbows are directly in front of your shoulders to activate the pectoral muscles. Then, slowly open your arms back to the starting position, and find a stretch in the chest before doing another rep. You can level up with light hand weights.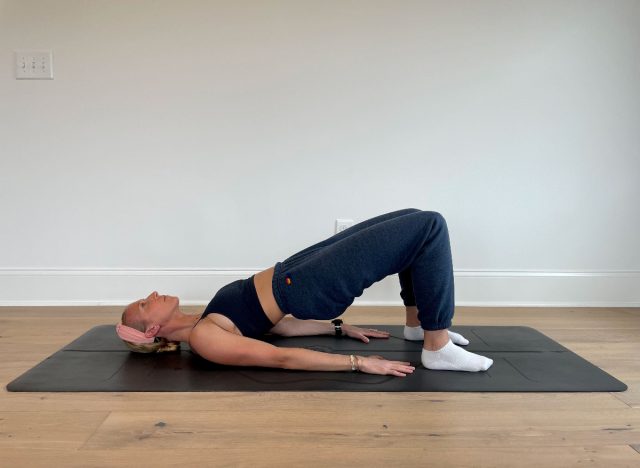 Is it just me, or did giving birth give you a "pancake" butt, too? No need to panic, as this exercise will get your booty back before beach season!
This last exercise to reshape your body post-pregnancy starts with positioning yourself on your back with your knees bent and your feet hip-width distance apart and flat on the floor. Your fingertips should be able to graze the back of your heels. Relax your shoulders, and press your forearms and palms into the floor. Grounding through your feet, lift your hips up, and engage your glutes, hamstrings, and abs. Squeeze your glutes at the top, and slowly lower down to the starting position. For more intensity, hover your bottom 1 inch above the floor instead of lowering it all the way down.
PS—Don't forget that your new body is amazing for growing and giving life to a beautiful baby (or babies). You've got this, mama!
Want additional post-pregnancy workouts to reshape your body? Try these:
10-Minute Postnatal Circuit

360 Breathing (3-5 breaths slow and 8-10 breaths fast)
Tabletop Plank (Hold for 3 breaths for 3 rounds with cat-cow stretch in between)
Bird Dogs (10x on each side)
10-second break
Chest Press (15x)
10-second break
Glute Bridges (15x)
10-second break
Bird Dogs (10x on each side)
10-second break
Chest Press (15x)
10-second break
Glute Bridges (15x)
Tabletop Plank (Hold for 3 breaths for 3 rounds with cat-cow stretch in between)
Child's Pose with 5 breaths
Jacquie Smith
Jacquie Smith is a certified integrative nutrition health coach from IIN and a fitness instructor specializing in barre, yoga, and pre/postnatal workouts.
Read more about Jacquie