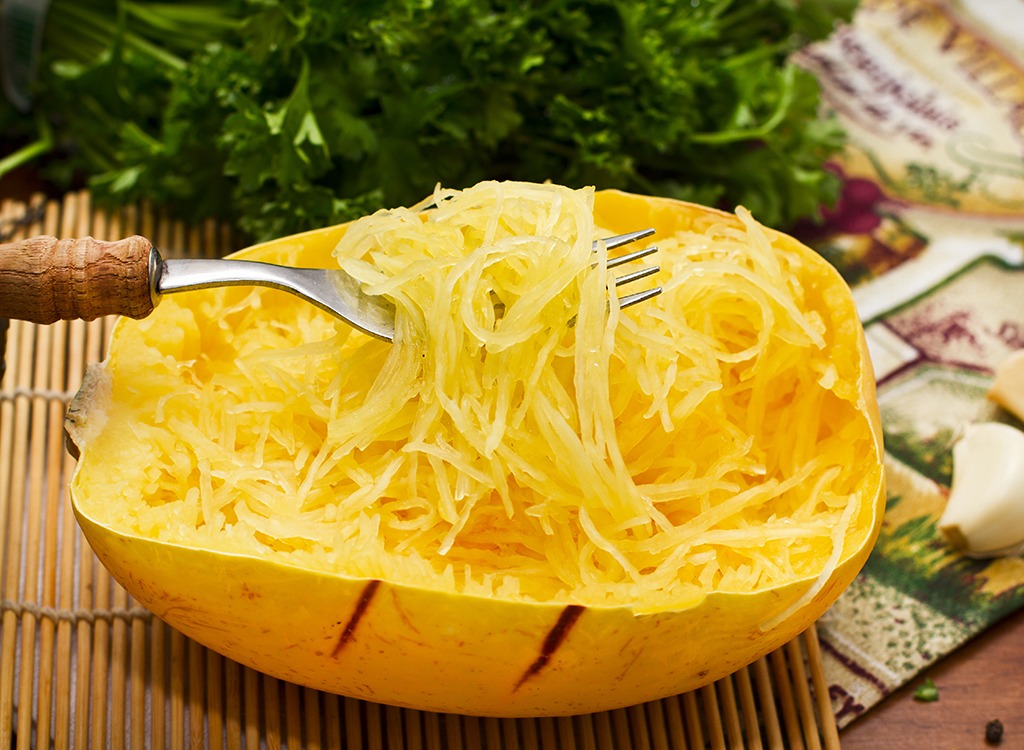 As if you really needed another reason to explore the scrumptious tastes of fall, we have at least 19. The fall harvest produces a cornucopia of superfoods: Pumpkin, pears, apples and butternut and acorn squash. High in belly-slimming fiber, vitamins, minerals and carotenoids — and low in calories — they have demonstrated fat-burning properties. We've rounded up our favorite fall superfood recipes from Instagram foodies. They're certain to please your taste buds and nourish your body.
PUMPKIN
Pumpkins should be a staple in your fall diet, and we ain't talking Starbucks. Pumpkins are rich in carotenoids, powerful antioxidants that lessen the risk of cancer, stabilize blood sugar and lower insulin resistance, which prevents calories from turning into fat. And for just $1.50 a can, you can whip up endless recipes without making a dent in your wallet.
PUMPKIN PIE SUPERFOOD SMOOTHIE
Why limit pumpkin to dessert? According to this Instagrammer, a certified nutritionist, her Pumpkin Pie Superfood Smoothie is "rich in lean-muscle-building protein, disease-fighting antioxidants, inflammation-busting fats and hormone-balancing bioflavonoids." Another benefit: Pumpkin's nutrients decrease latic acid and boost muscle recovery, a Taiwanese study showed. Click here for more Amazing Ways to Eat Pumpkin!
Adding pumpkin to comfort food like macaroni-and-cheese cuts fat and calories. It may also help you eat less. Pumpkin has more fiber and protein than sugar, making it a natural appetite suppressant.
COCONUT PUMPKIN SOUP WITH PEANUT BUTTER
Fall soup should be hearty. This Instagrammer combines the rich flavors of pumpkin, sweet potato, peanut butter and coconut to create a wholesome bowl. Adding natural peanut butter to recipes helps turn off your fat genes and adds heart-healthy monounsaturated fats.
SPAGHETTI SQUASH WITH PUMPKIN MARINARA SAUCE
Tired of the same old marinara sauce? Try a pumpkin version over spaghetti squash. Swapping squash for pasta reduces fat, carbs and calories, and it volumizes your meal, allowing you to consume more food for fewer calories. For more diet-friendly spaghetti substitutions, check out these Exclusive Spiralizer Recipes!
ACORN SQUASH
When it comes to fiber, acorn squash is #1 among fall superfoods. According to the USDA, a one-cup serving offers 9 grams (approximately one-third of your daily allowance) and 30 percent of your daily vitamin C needs. The body uses vitamin C to do more than fight off the common cold: The nutrient also aids in muscle and blood-vessel formation. Better yet, researchers at Arizona State University found that vitamin C can actually boost the fat-burning effects of exercise, making acorn squash one of the Best Complex Carbohydrates to Eat for Weight Loss.
TURKEY SAUSAGE AND APPLE STUFFED ACORN SQUASH
This recipe doubles up on fall superfoods, giving you more nutrition for your bite. Apple and acorn squash are combined with lean turkey sausage and topped with crumbled bacon. That's right, people—bacon. Despite its bad rep, the meat may not be as detrimental as we've been led to believe. "Perhaps it's not the meat that is the problem, but the dietary choices that men who eat bacon make," says urology specialist Dr. Elizabeth Kavaler. Consume it in moderation until we know more, but it's definitely worth using here.
Cinnamon-Honey Roasted Acorn Squash and Quinoa Salad
A balance of savory and sweet, this light and refreshing salad blends cinnamon-honey-roasted acorn squash, lentils, pomegranate and quinoa over a bed of mixed greens. If you're looking to shed a few pounds, one of the most powerful weapons is resistant starch—a carb that resists digestion, leading to prolonged satiety and more efficient fat oxidation. A half-cup of lentils packs 3.4 grams of resistant starch.
STUFFED ACORN SQUASH WITH RED WINE CRANBERRY SAUCE
Why wait until Thanksgiving to enjoy its spread? This recipe has maple syrup, brown and wild rice, kale, corn and garlic, stuffed into an acorn squash and topped with cranberry sauce. Stick to red bell peppers when recreating this foodie find. Allowed to ripen on the vine, red peppers have more than double the vitamin C and up to 8 times as much vitamin A as green, yellow and orange varieties. The nutrients can boost your mood and immune system.
SPICY ROASTED ACORN SQUASH
Never tried pairing sweet with spicy? If you're looking to lose weight, you may want to. Not only is acorn squash low in calories, but capsaicin (the compound that gives chiles their kick) has been shown to increase body heat, boosting metabolic rate and decreasing appetite. In fact, researchers at Purdue University found that about ½ a teaspoon of red pepper was enough to help manage appetite and burn more calories after a meal. For that reason, we've named it one the 5 Healthiest Spices on the Planet!
MUSHROOM, KALE AND QUINOA STUFFED ACORN SQUASH
Looking for a simple fall dinner recipe? This one isn't just super-easy, it's gluten-free! Sauteed mushroom and kale are combined with fiber-rich quinoa and stuffed inside an acorn squash. Quinoa is loaded with essential amino acids and protein, making it a superior whole grain for weight loss.
PEARS
Second to acorn squash in fiber content, pears provide 6 grams per medium fruit. According to Jennifer Glockner, RDN, and author of the Smartee Plate series, pears contain hunger-fighting pectin, a soluble fiber that attracts water and turns to gel, slowing digestion. Just 100 calories, they're sweet enough to kick sugar cravings without added fat.
PEARS WITH HOMEMADE YOGURT AND MUESLI
Instagrammer Stacy Clare dresses up pears with yogurt, almonds and muesli (raw oats) for a hearty fall breakfast. If you're heading to the gym for a mid-morning sweat, try this recipe. According to the Journal of the International Society of Sports Nutrition, almonds are rich in the amino acid L-arginine, which can help you burn more fat and carbs during workouts. For more nuts that fry flab, check out these 6 Best Nuts for Weight Loss!
PEARS AND WALNUTS WITH CHEESE
Pears and walnuts make one powerful duo. The fruit's rich fiber and vitamin C content combine with walnuts' heart-healthy omega-3 fatty acids to create a salad that will tighten your waist and fight heart disease. And Vitamin C is proven to counteract stress hormones that trigger the storage of dangerous abdominal fat.
HAM AND PEAR GRILLED CHEESE SANDWICHES
Today's lunch: Ham and pear grilled cheese sandwiches.
Pear and ham sandwiched between crusty bread, oozing with melted cheese—this is a foodie's dream. Opt for whole-grain bread and lower-sodium cheese, like Swiss (only 20 mg per slice), to turn up the nutrients and dial down the salt.
WALNUT PEAR OATMEAL PANCAKES
Another resistant starch, oats help keep you full long after breakfast. And a five-year study found consuming just 3 ounces of walnuts throughout the week could slash the risk of heart disease by more than half! Love oatmeal? Try these overnight oats recipes.
PEAR RISOTTO WITH PANNERONE
Pannerone, an Italian cheese, is made from full-fat milk and never salted. Although full-fat dairy packs more calories, it's also more filling. In 2013, a study published in the European Journal of Nutrition concluded that people who eat full-fat foods are actually less likely to suffer from obesity than those who opt for low-fat dairy. Additionally, according to Mario Kratz, Ph.D and coauthor of the study, full-fat milk contains acids—ones not present in nonfat varieties—that can increase metabolic activity. For more full fat foods you should be eating, read the 20 Best Full-Fat Foods for Weight Loss.
BUTTERNUT SQUASH
Like pumpkins, butternut squash wears more than one hat. Not only are they packed with potassium and fiber, they're rich in carotenoids that fight heart disease, asthma and arthritis and promote healthy vision and skin.
Ellary's Greens, a restaurant located in NYC's West Village, piles kale, quinoa and butternut and summer squashes over a bed of greens to create a lush autumn salad. This bowl is a nutrient powerhouse overflowing with fiber, protein, vitamins and minerals.
This creamy soup will send anyone running to the kitchen. Its smooth consistency is interrupted by a handful of chopped brussels sprouts, which adds even more nutrients to a superfoody dish. Just 1 cup of brussel sprouts provides 100% DV of vitamin K, which helps blood clot, and 100% DV of vitamin C.
GINGER TERIYAKI STIR FRY WITH BUTTERNUT SQUASH
Butternut squash doesn't typically come to mind when you think of stir-fry, but it should. In this Ginger Teriyaki Stir Fry, the fall superfood is combined with roasted eggplant, carrots, mushrooms, kale, onions, and chickpeas over quinoa, making this a Chinese food dish you don't have to feel guilty about. For more read Chinese Food Recipes for Weight Loss.
APPLES
This list wouldn't be complete without apple recipes. This autumn superfood is rich in soluble fiber, which has been linked to reduced visceral fat and vitamin C, an antioxidant that for protects promotes fat metabolism and enhances collagen production.
You can feel good about indulging here. Both "autumny and comforting," this stuffed apple is packed with fiber-rich oats, fat-fighting cinnamon and heart-healthy walnuts. This recipe will satisfy sugar cravings, reduce visceral fat, and keep hunger at bay!
PEANUT BUTTER AND APPLE SANDWICH
Peanut butter and apple. Not only does this duo taste divine, it's high in vitamins E and C, heart-healthy fats and genistein, a compound that downregulates fat genes. Just make sure you buy the natural stuff. Processed peanut butter is full of added sugars and man-made chemicals. PB-obsessed? Try some of these Peanut Butter Recipes for Flat Abs!